Easy, healthier recipe for the ultimate melt-in-the-mouth peanut butter chocolate chip cookies, reduced in sugar. Texture-wise they are crisp yet soft rather than chewy with a subtle saltiness that makes them irresistible.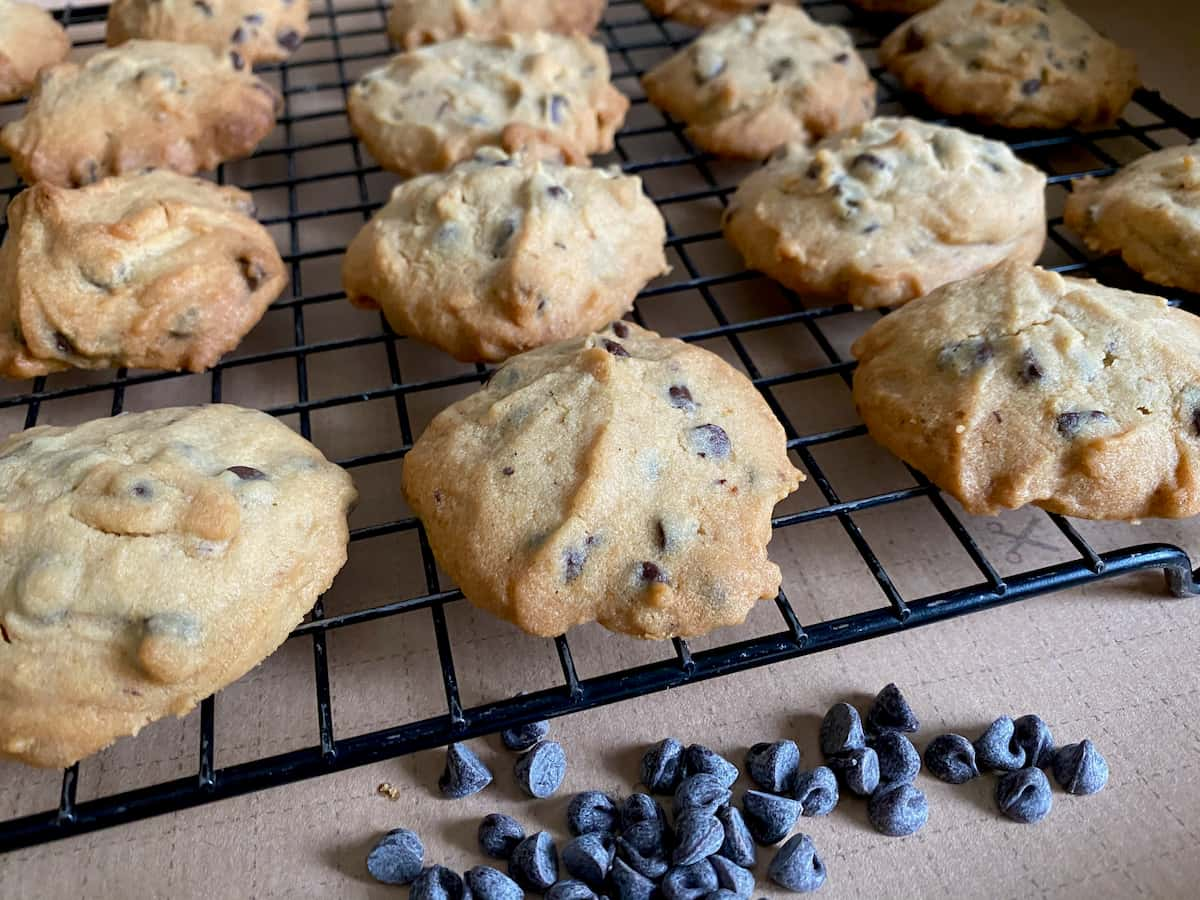 Simple Peanut Butter Chocolate Chip Cookies
These are the most simple yet delicious cookies, inspired by my kids. Apparently what I was making wasn't simple enough. Was I some kind of Bree or something? Make that French Brie (that sounds cheesy).
After 'hanging out' chez les amis ('playing' was banned a while back from our silly parent vocabulary), our kids described what they had enjoyed at various friends' homes. "You know, Maman, they made the most incredible cookies. They put chocolate chips in them - and peanut butter! Why don't we ever make them?"
I could feel myself standing to my full height. After constantly testing French pastry recipes for my second book, Teatime in Paris they'd had constant homemade French cakes from éclairs, financiers, crêpes, tarts, macarons and ice creams.
After all that, they wanted the simplest peanut butter cookies with chocolate chips.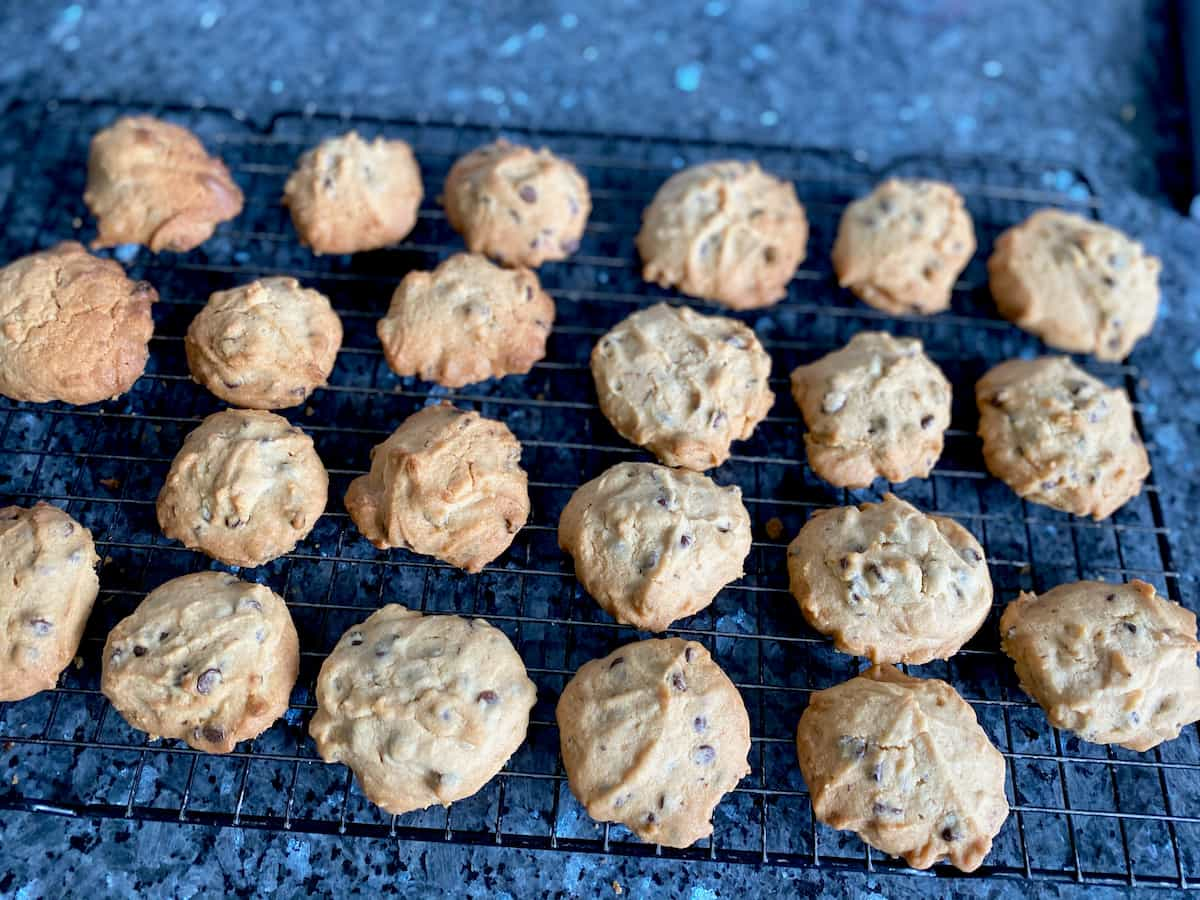 How do you Make Simple Peanut Butter Cookies Better?
So, that being said, I set about making the simplest, best ever peanut butter cookies. How could simple peanut butter cookies be even better? Firstly, use the best quality ingredients you can find.
Use good unsalted butter (best is French or European butter 82% - see more under baking tips and FAQs) and the best crunchy peanut butter. Use your favourite brand (e.g. Jif in the USA). In France, I prefer to buy the natural kinds with no added salt or sugar.
A few years ago, peanut butter wasn't something the French normally kept in their store cupboards but the choice of healthy brands is much better in supermarkets and health food stores.
Healthy Peanut Butter
There's always a great choice of peanut butter at the supermarket. Although it's tempting to stick with familiar brands, read the labels first to pick the best and healthiest products.
Whether you choose crunchy or smooth, it's the same. We prefer crunchy just for the extra texture. Most importantly, avoid those that add sugar in the ingredients. Likewise, avoid those that include extra oils - peanuts contain enough natural oil already.
Even better, make your own by simply mixing unsalted, grilled peanuts in a food processor. Mine is currently broken so I'm looking into a new machine!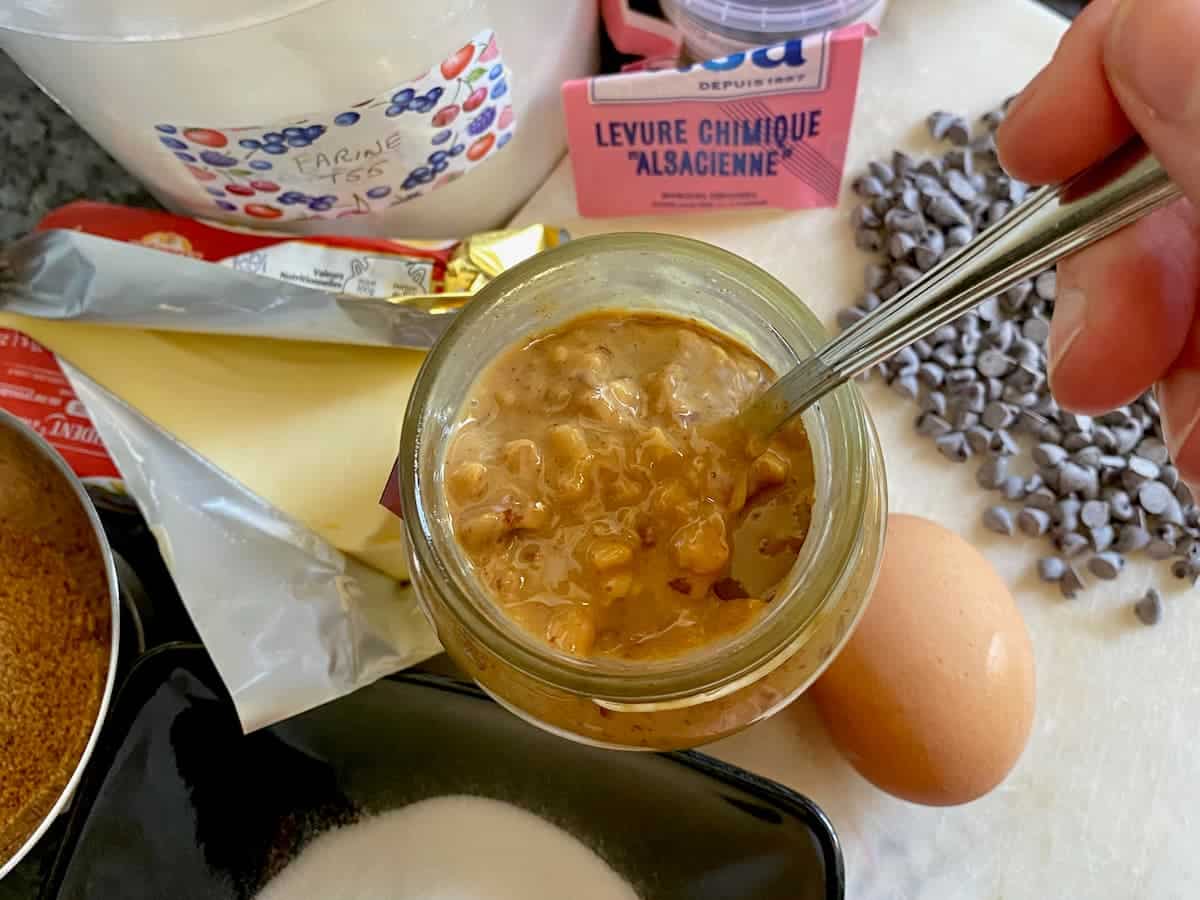 Best Peanut Butter Tip:
Ensure you stir natural peanut butter well first, as the natural peanuts and their oil separate in the jar.
Does More Butter Make Cookies Softer?
Adding more butter makes these peanut butter chocolate chip cookies slightly softer on the inside. However, they also have a delicious outer crispy texture. The particularly buttery taste means they are a bit like shortbread or softer French sablé cookie (see my recipe for salted butter biscuits, Palets Bretons).
What's more, they just so happen to be a little addictive with the slight addition of salt as a lovely surprise hidden inside.

Why do you Press Peanut Butter Cookies with a Fork?
By pressing the peanut butter cookies with a fork to flatten them slightly, this will make the cookies even crispier on the outside.
Just press them directly on the tray before baking or flatten them lightly with your fingers.
Is it Better to Brown Butter in These Cookies?
While browning butter makes French financier cakes so much better tasting, these cookies don't need browned butter. Instead, I add a little light brown or cane sugar.
If you like your cookies with a more toasted flavour, then go for a darker brown sugar such as coconut flower sugar. What's more, this kind of sugar is so strong in flavour that the amount can be further reduced.
Why are my 3 Ingredient Peanut Butter Cookies Falling Apart?
I'd suggest you add more ingredients as in this recipe below. Using just 3 ingredients will not only risk making them hard but your cookies will have much less flavour.
Their taste is so much better with the extra butter, the two different sugars and good quality dark (bittersweet) chocolate chips - not to mention best quality peanut butter! I use a little less flour than in most recipes and add the baking powder to lighten them up and make them extra fluffy.
The egg also helps bind the whole lot together but the addition of a little salt and vanilla extract/powder just give them the best taste ever. So that gives these cookies with a whopping 10 ingredients! But believe me, it's worth it.
Peanut Butter Chocolate Chip Cookies Recipe
There's no need to use an electric mixer. The children wanted a hands-on approach, which is much more fun plus gives a little arm workout as after-school sport! However, if you have a hand or stand mixer, then use it.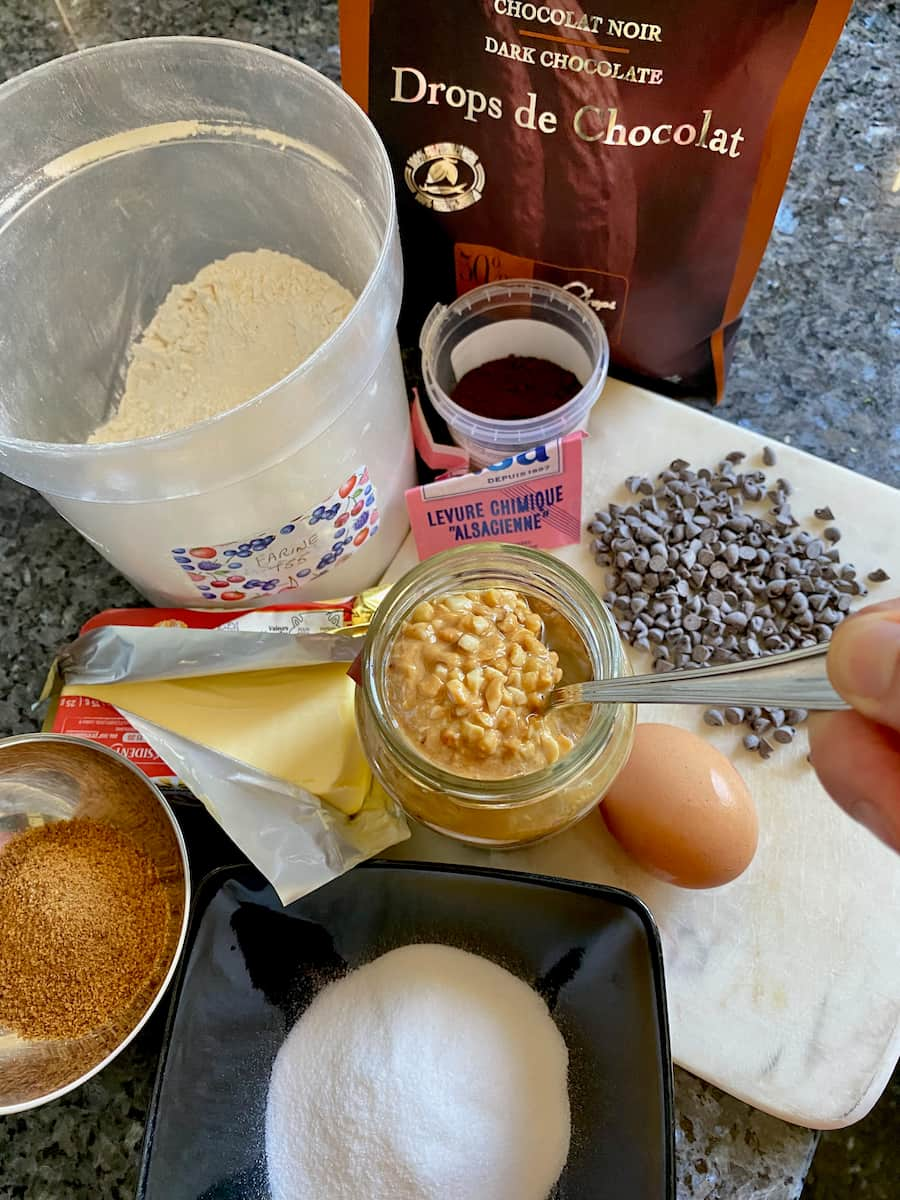 Ingredients and Step-by-Step Instructions
First take the butter out of the fridge to soften it up a bit for about 15-20 minutes. This will make creaming the butter and sugars so much easier - and make a lighter texture too.
Try to avoid melting the butter but if you do, then chill the dough in the fridge before baking.
Cream together the butter and both sugars until light and creamy - either beat by hand using a wooden spoon or mix together using an electric hand or stand mixer.
Add the peanut butter, stirred well from the jar. The better the quality, the better the cookies! A good indicator is no sugar or added oils in the jar's ingredients. Ideally, it should just contain the peanuts themselves, which are naturally oily.
Add an egg and vanilla extract or powder (please avoid synthetic vanilla aromas).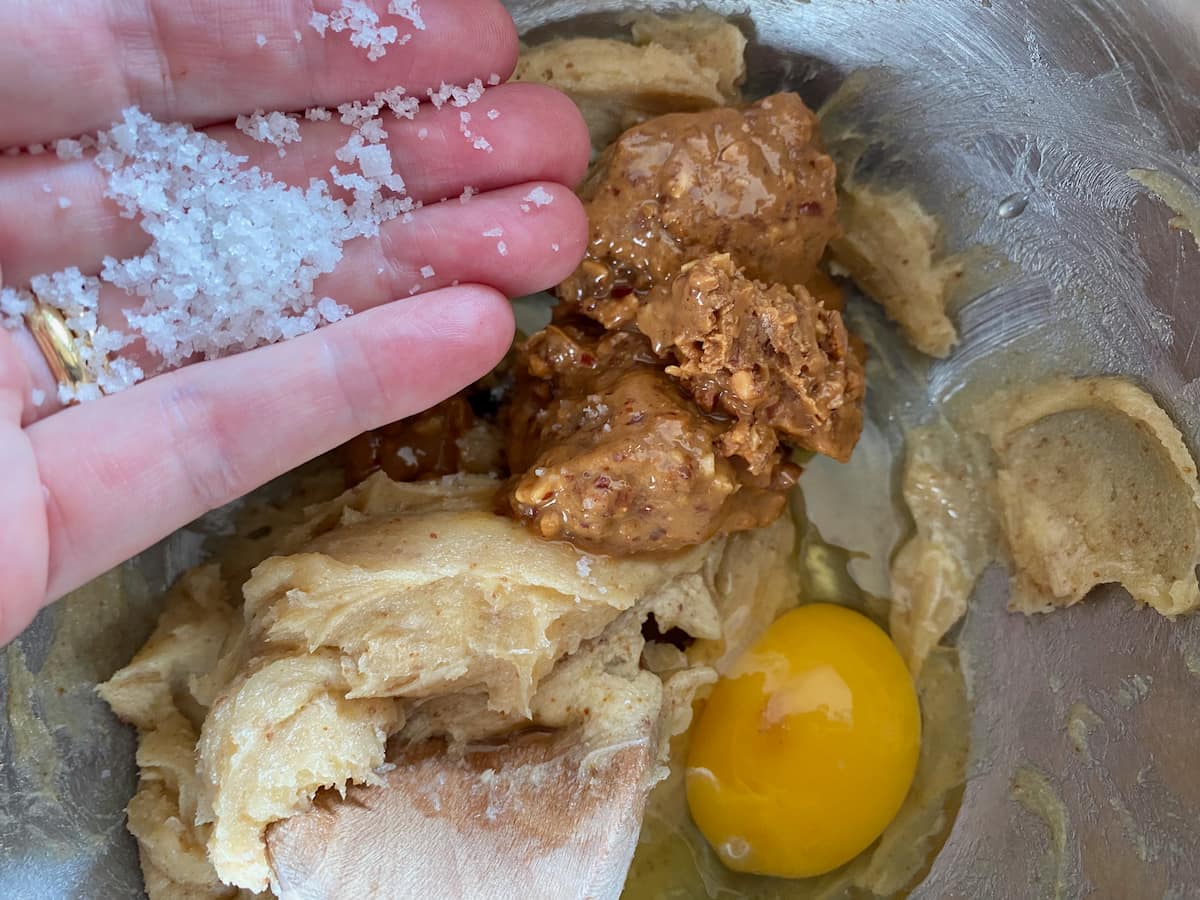 We like ours with an extra good pinch of flower salt (fleur de sel in France) in the dough, although this is entirely optional if you prefer without or just add less. Maldon or Celtic sea salt are the best equivalents of French fleur de sel.
Add the flour, baking powder and chocolate chips and stir well to combine until smooth. Line a couple of baking trays with either a silicone mat or baking parchment.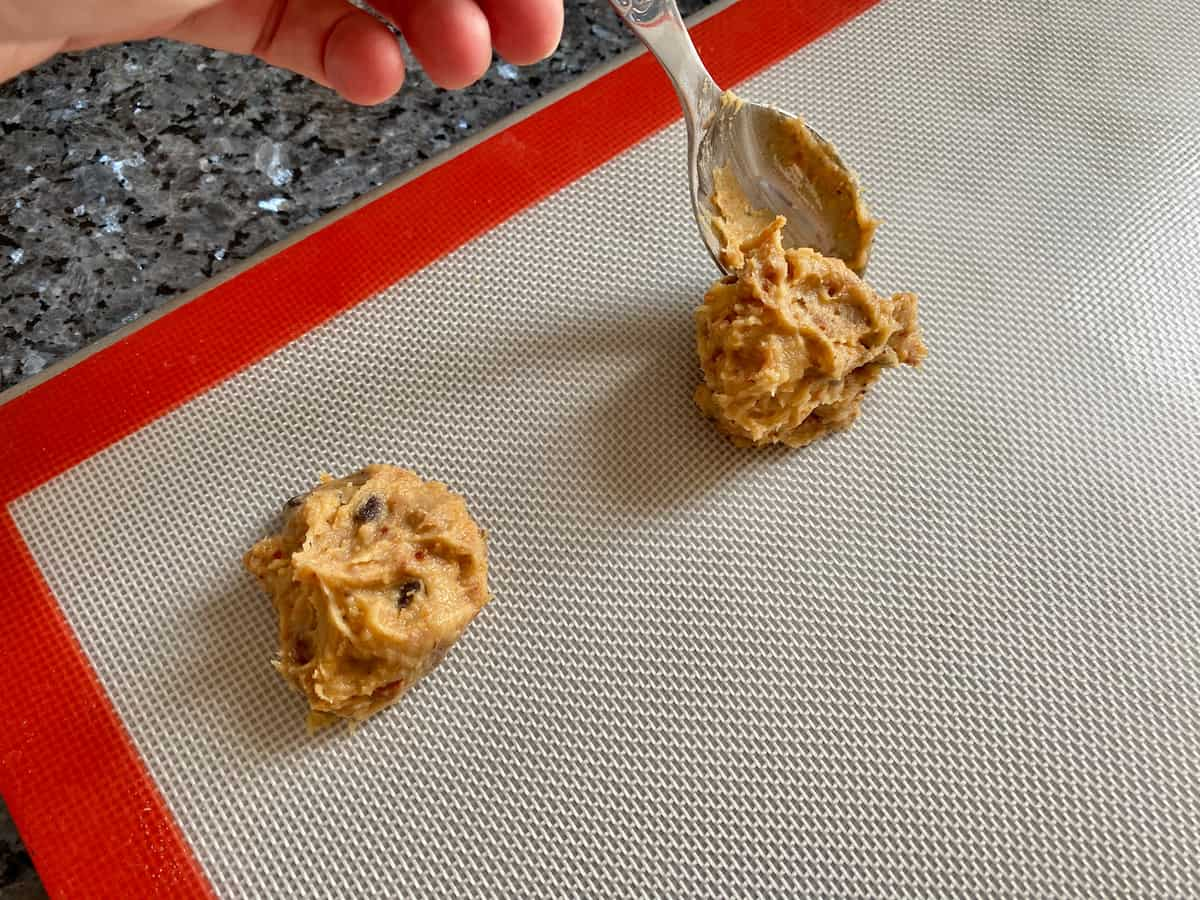 Space out the cookie dough well apart as they will spread while baking.
Either leave them in little mounds for a softer cookie or press down slightly with your hand or fork for a more crispy cookie. Bake for 10-12 minutes or until your preferred golden crispiness.
Enjoy! They're melt-in-the-mouth, not too sweet, have an appealing saltiness to them, and they're rather compulsive eating - a bit on the same lines as these sesame tuiles.
Love peanut butter? Then you'll love the taste of black sesame ice cream.
Try it and discover the similar taste sensation.
Crunchy Peanut Butter Chocolate Chip Sablé Cookies
Easy, healthier recipe for the ultimate melt-in-the-mouth peanut butter chocolate chip cookies, reduced in sugar. Texture-wise they are crisp yet soft rather than chewy with a subtle saltiness that makes them irresistible.
Ingredients
125

g (4.5oz/ ½ cup)

butter, unsalted

softened*

50

g (2oz/ ¼ cup)

sugar

25

g (1oz/scant 2 tbsp)

light brown sugar

cane or coconut flower sugar**

1

egg

organic

100

g (3.5oz/ ½ cup)

crunchy peanut butter

or smooth/creamy

good

pinch

salt (fleur de sel)

Maldon or Celtic salt

½

teaspoon

baking powder

110

g (4oz/ 1 cup)

plain (all-purpose) flour

¼

teaspoon

vanilla extract

or vanilla powder

100

g (3.5oz/ ⅔ cup)

dark chocolate chips
Instructions
Preheat the oven to 180°C/160°C fan/360°F/Gas 4 and line a couple of baking sheets with baking parchment or silicone mat.

In a large bowl, cream together the butter* and sugars** with a wooden spoon or sturdy spatula until the sugar has disappeared and the mix is pale and creamy (or mix with an electric mixer).

Gradually add in the rest of the ingredients, mixing well. (The dough can be frozen at this point if you don't use all of it.)

Spoon out small portions of the mixture onto each baking sheet, leaving a good gap in between each as they spread out.

If you like cookies slightly crispy on the outside, then flatten them slightly with a fork. Otherwise leave them as little mounds to make them a little softer. Bake for 10-12 minutes or until golden.

When cooled, transfer the cookies to a wire rack.
Notes
* Soften the butter slightly to initially cream with the sugar. This makes the cookies' texture lighter rather than with melted butter. If you do melt the butter, then chill the dough before baking, otherwise with this recipe it's not necessary.
** Using a little light brown cane sugar or coconut flower sugar adds that extra crunch to the texture. Otherwise use 75g/3oz of one kind only.
The uncooked dough is ideal for freezing for up to a month.
Store in a cookie jar or airtight tin box for up to 2 days (if you can!) We prefer enjoying them on the day of baking and cooking the dough only as necessary. So keep some dough (up to 2 days) in the fridge and bake when ready. 
278 calories for a serving of 3 cookies each.
Measures: Please note that all my recipes are best made using digital kitchen scales in precise metric grams. Both ounces (and cups) are given as an approximate guide. 
This recipe was first published February 27 2012 but is now completely updated - and it's finally possible to leave a rated review!