How to make the most delicious salted caramel macaron filling. Unlike salted caramel sauce, this recipe is much thicker and easy to fill macarons.
Recipe and excerpt from my book, Teatime in Paris: A Walk Through Easy French Pâtisserie Recipes. With thanks to my publishers, Waverley Books for permission to publish on the website.
Where Did Salted Caramel Come From?
Salted caramel is surprisingly recent: caramel au beurre salé, or salted butter caramel, was invented in the 1970s by Henri Le Roux in Quiberon, where salted butter is added to most Brittany specialities.
Now, thankfully we can taste the geniune thing in Le Roux's chocolate shop or caramélier in his shops like Rue de Bourbon le Château or in rue Saint-Dominique, in the shadow of the Eiffel Tower.
Now we see salted caramel so often around France - it's incredibly popular that it's hard to believe it's a recent French creation. You'll see it as a popular topping on crêpes at stalls around Paris.
Can I Use Salted Butter Instead of Unsalted for Caramel Macarons?
The short answer is yes, you can use salted butter in the caramel filling and omit the salt (fleur de sel) in the recipe. However, it's on condition that it's good quality French butter, ideally from Brittany or Normandy. A good quality brand that's easy to find outside of France is President. Look for the label "demi-sel".
See more on my baking chat's glossary of UK/French/USA baking terms.
On the other hand, I say on condition you can find good quality French butter.  As it's not always easy to find, I prefer using unsalted butter in the recipe and adding salt.
As a result, it's easier to control the dosage. Don't forget to taste your filling by adding just a little salt at first and add more as necessary.  There's nothing worse than too much salt and ruining the flavour of the whole batch in one go!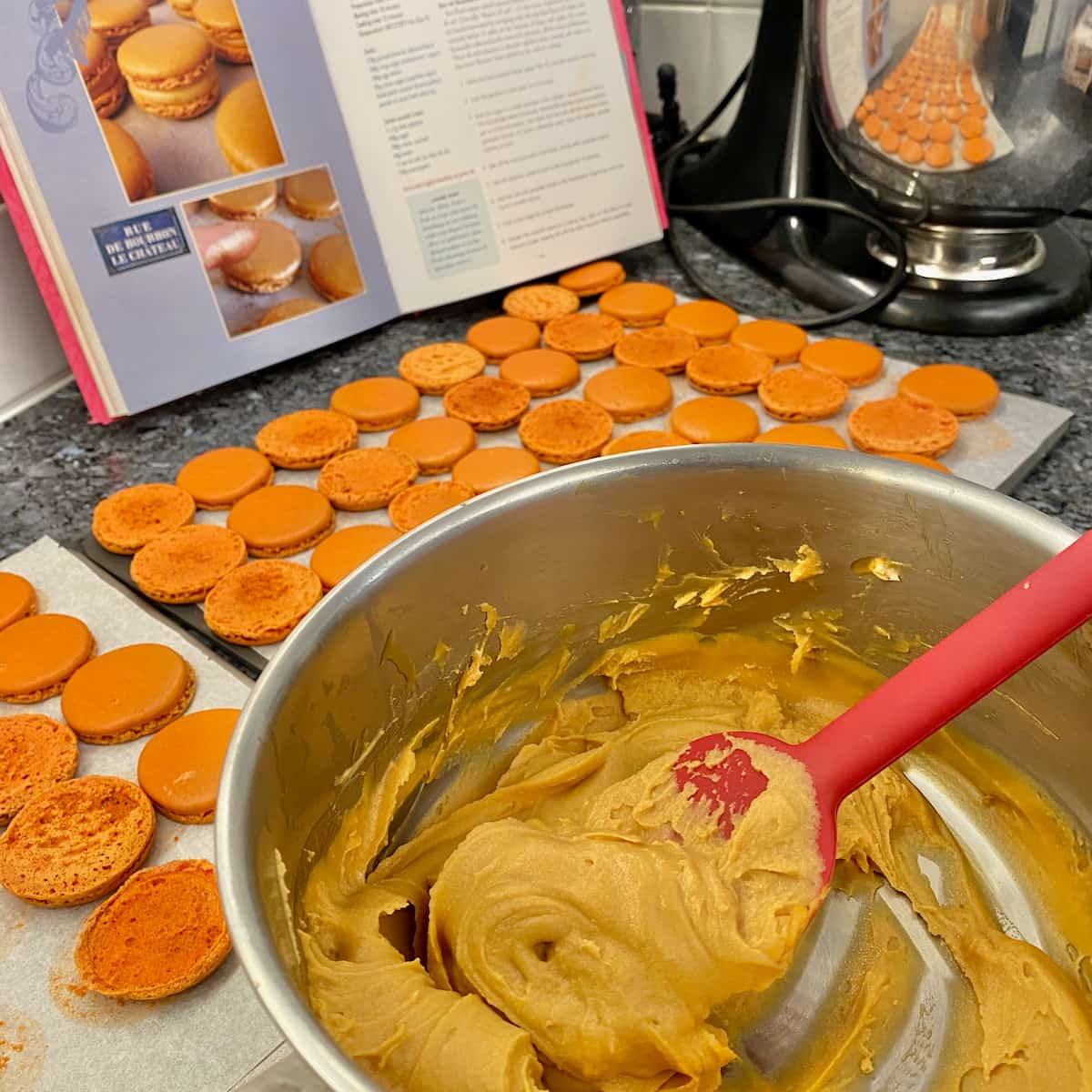 Can I make this Salted Caramel Macaron Filling Without Salt?
Of course you can.  What's more, without salt added in the filling, it's easier to add other flavours to the caramel such as orange, lemon or lime (add zest), coffee or vanilla, for example - even jasmine tea goes well too in these caramel macarons.
However, the most intriguing and classic taste with caramel is with the salt.
We usually add French fleur de sel (flower salt) from the Guérande - equivalents outside of France which work well are Maldon salt flakes or Celtic sea salt.
Why is it that salt added to caramel is so agonisingly addictive? As a result, this is one of the most popular macaron flavours - confirmed by the Parisian pâtisseries in my Top 20 Best Macarons in Paris.
How to Make Salted Caramel Macaron Filling
The method for making the salted caramel is much the same in my recipe for the first stage of a French Crème Caramel.  I even have the method explained and demonstrated here on video for making caramel.
However, if you're worried about making caramel, no worries. Just follow this easier scientific approach in this recipe for salted caramel sauce, inspired by food scientist, Raphaël Haumont. It works a dream!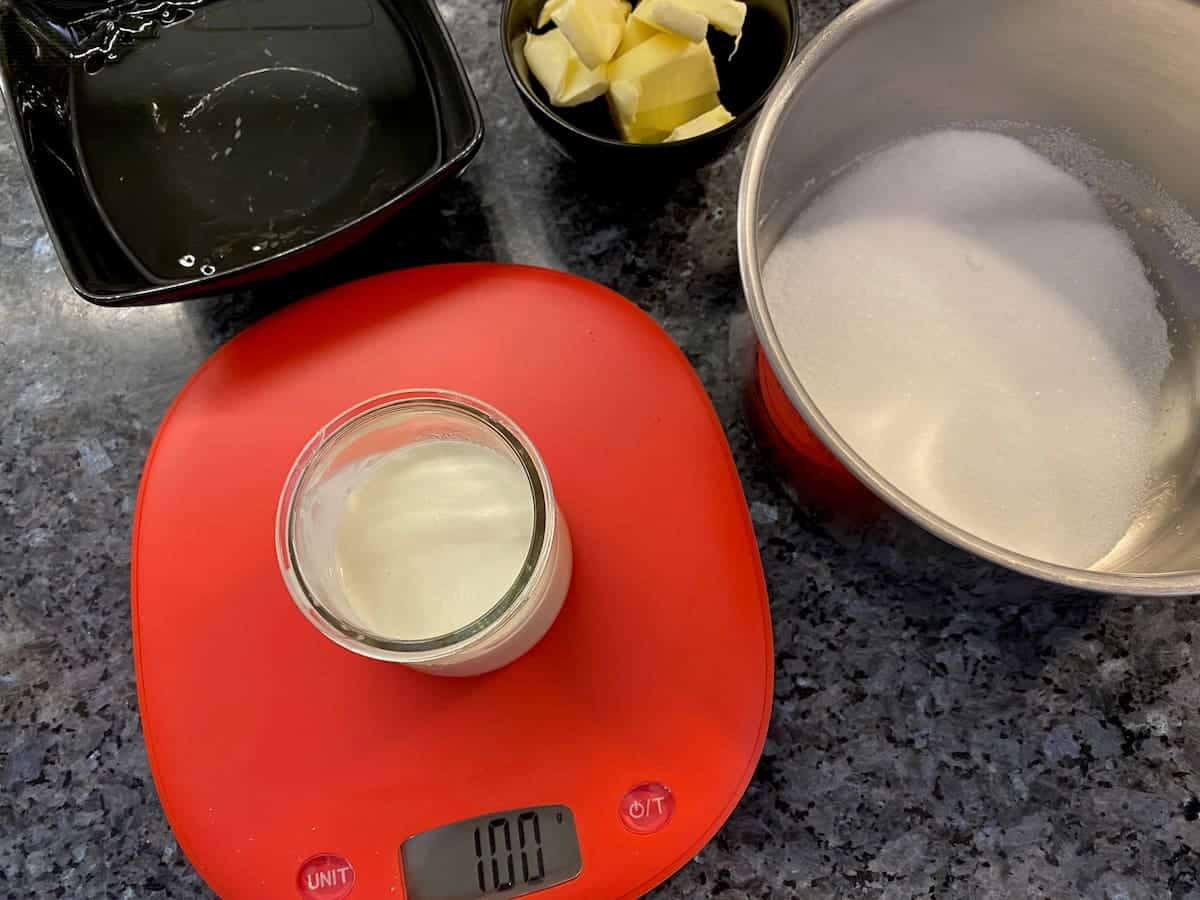 First and foremost, measure your ingredients exactly with a digital kitchen scale. This makes the difference between a runny caramel that's difficult to work with and a thicker, creamy caramel that works easily to pipe out as a filling for your macarons.
Caramel sauce only requires 3 basic ingredients: sugar, butter, cream. For salted caramel, we add the salt or use salted butter.
For making salted caramel as a macaron filling, however, I add gelatine and some mascarpone to thicken the sauce.
Step-by-Step Recipe for Salted Caramel Macarons Filling
First make the caramel by dissolving the sugar over a medium to high heat in a saucepan. Don't touch the caramel.
It will turn into a caramel within a few minutes so keep your eye on it. Just shake the pan to dissolve all of the sugar into the caramel.

Turn down the heat then add the butter and the warmed cream. Stir constantly together until the caramel becomes beautifully smooth.
Take off the heat and add the gelatine, squeezed of excess water and stir into the caramel.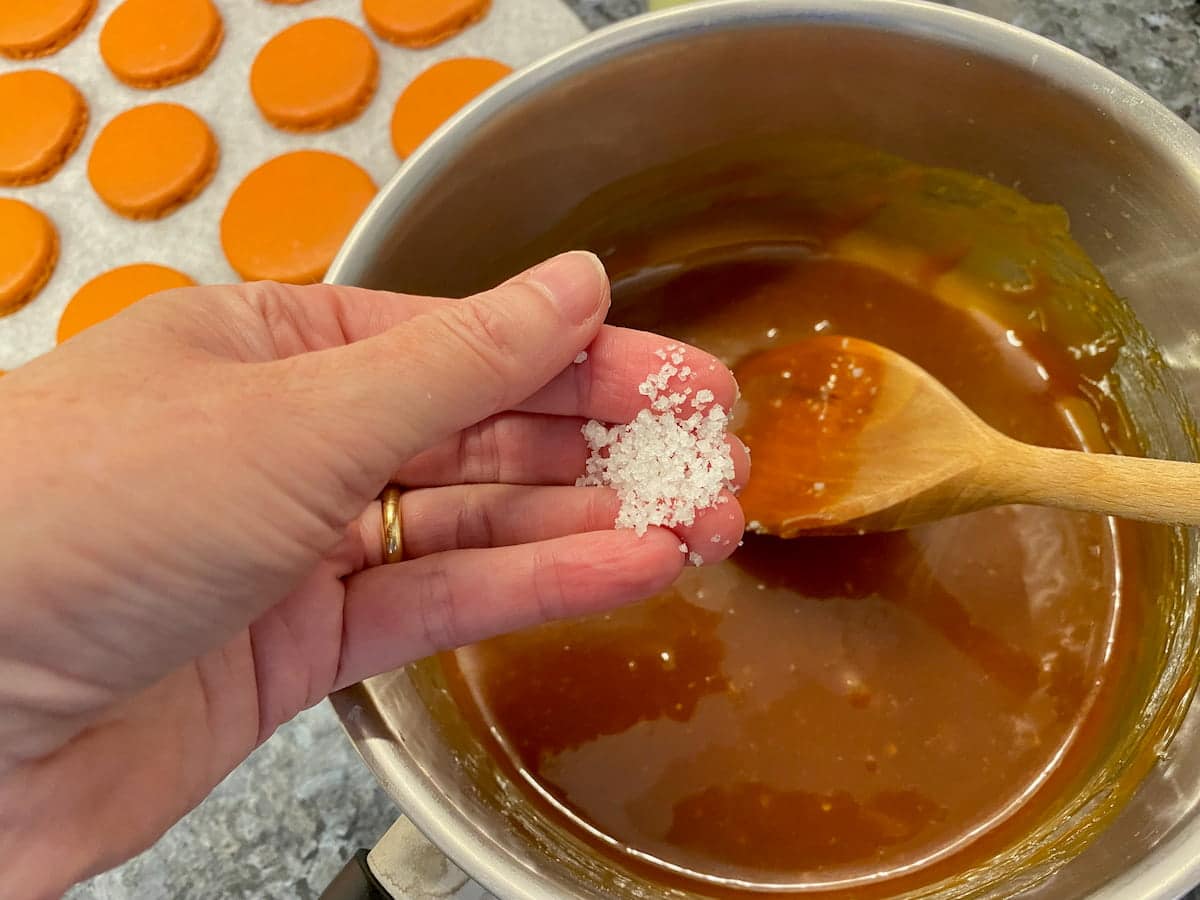 Leave on the counter to cool for about 15 minutes then add the salt (fleur de sel) and mascarpone.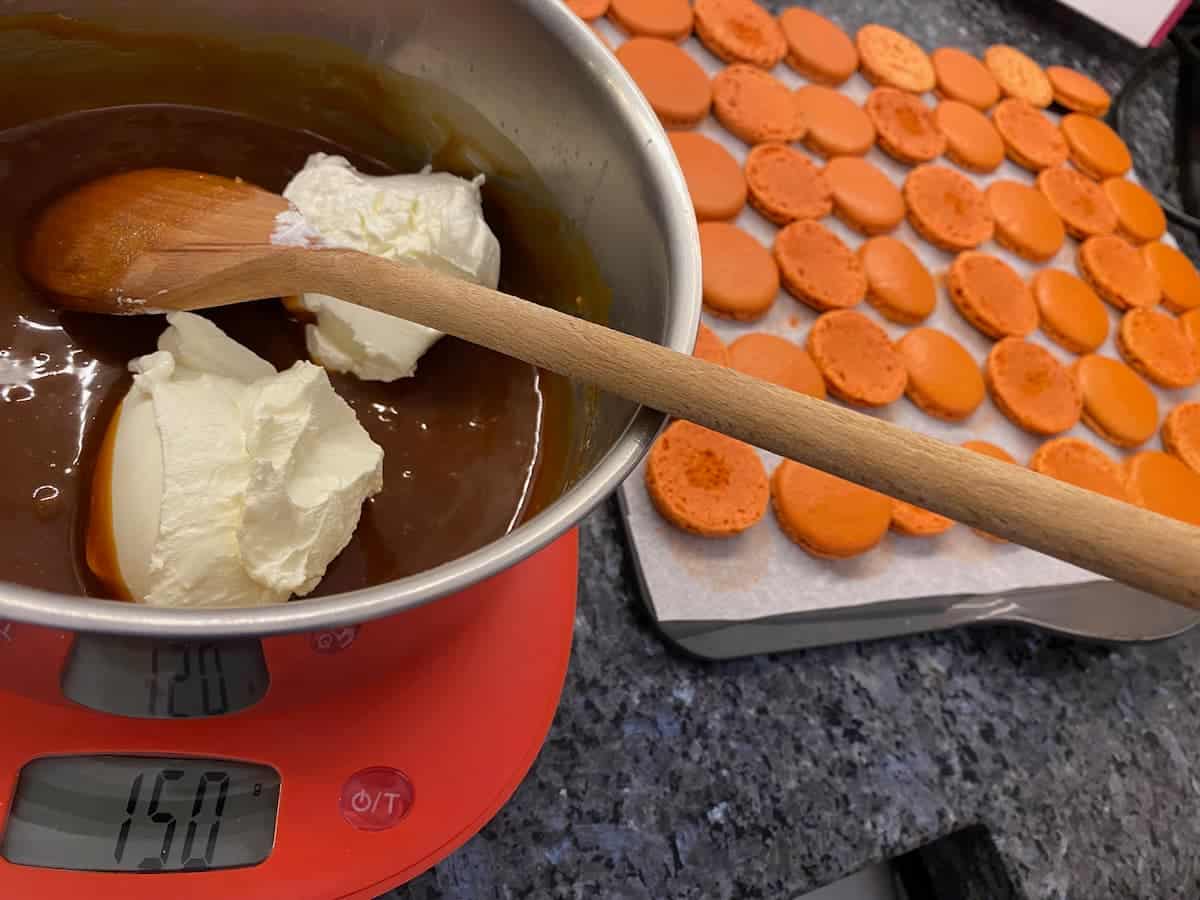 Stir or whisk together using a hand whisk then chill in the fridge for 30 minutes.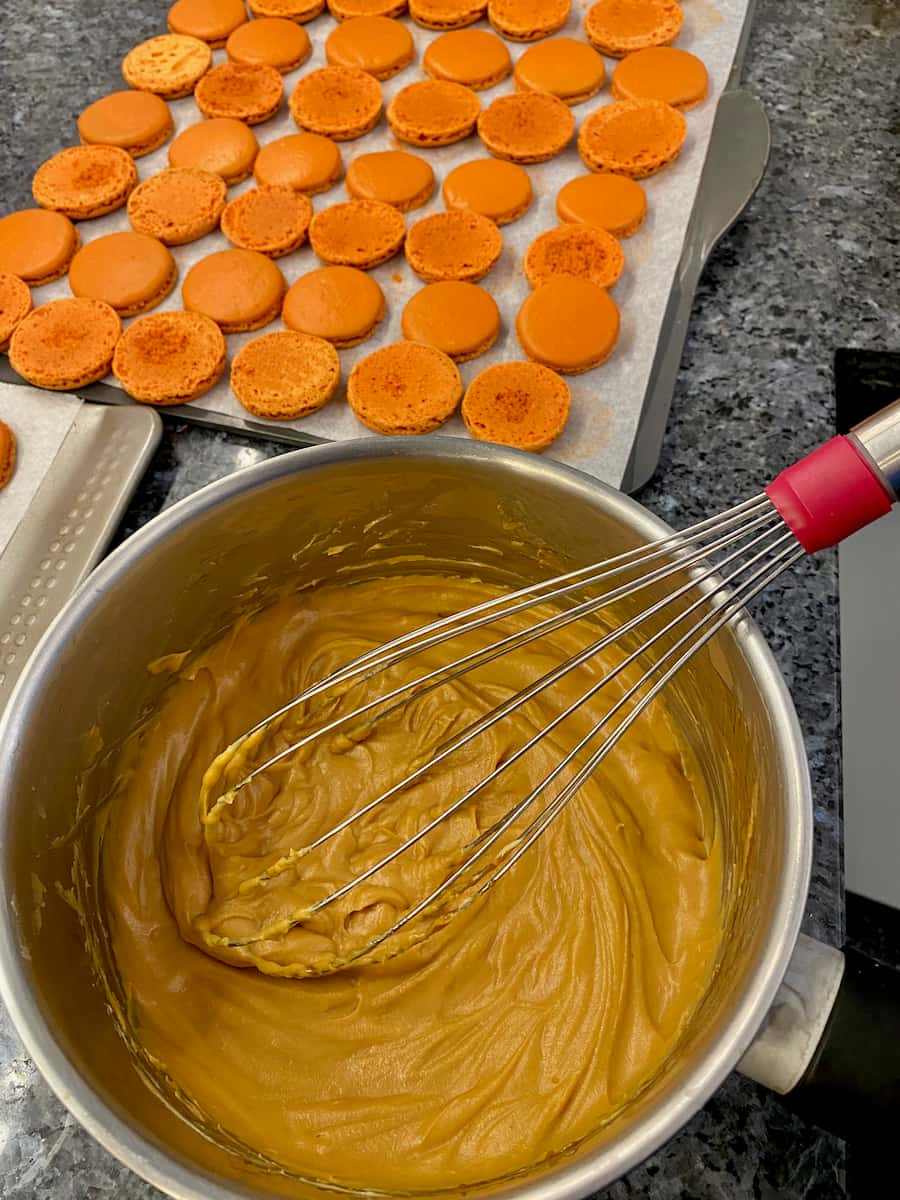 30 minutes later, the filling is thick enough. Transfer to a piping bag and squeeze out on to each macaron shell pair.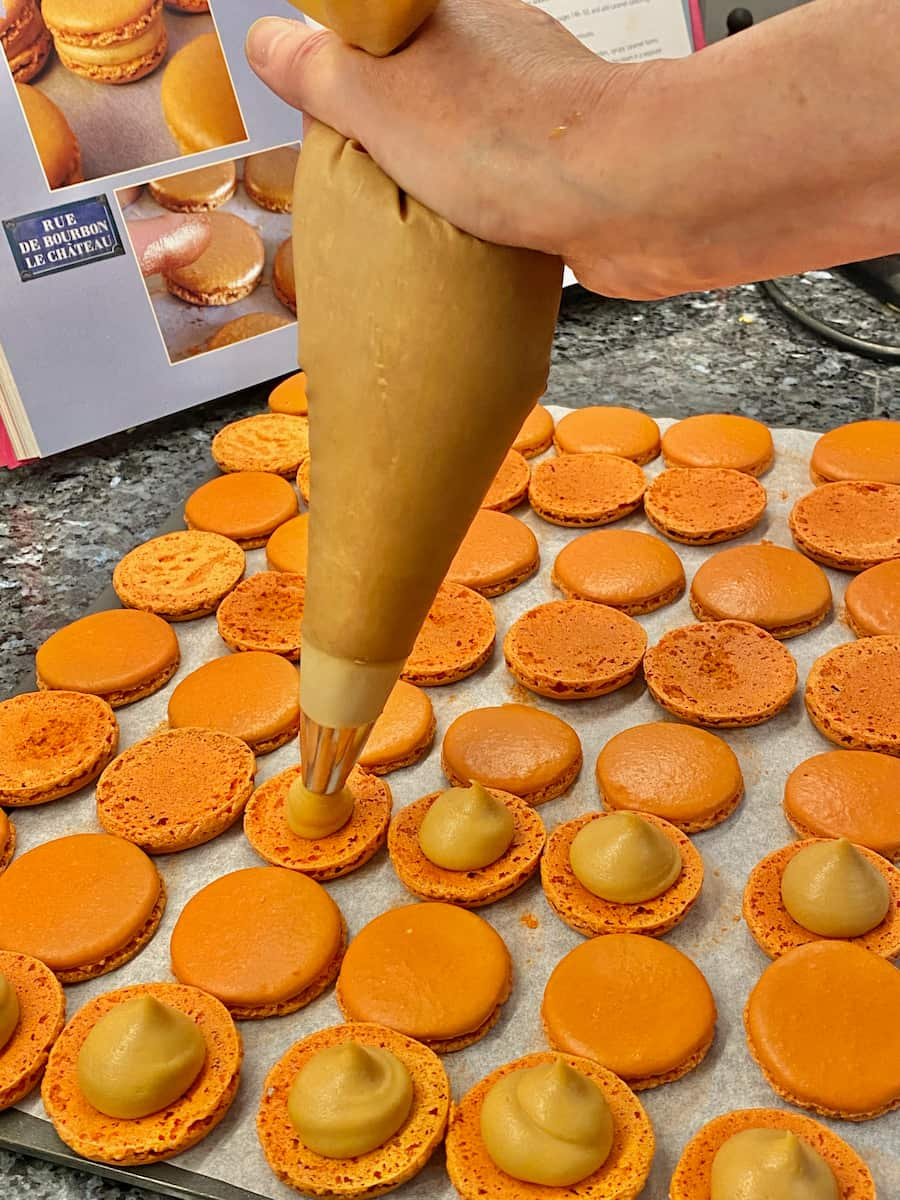 normally the left hand support the bottom of the piping bag - I just needed my hand to take the photo!
Sandwich each pair of macarons together with the filling then quickly transfer to a pastry box or biscuit tin and chill in the fridge for 24 hours.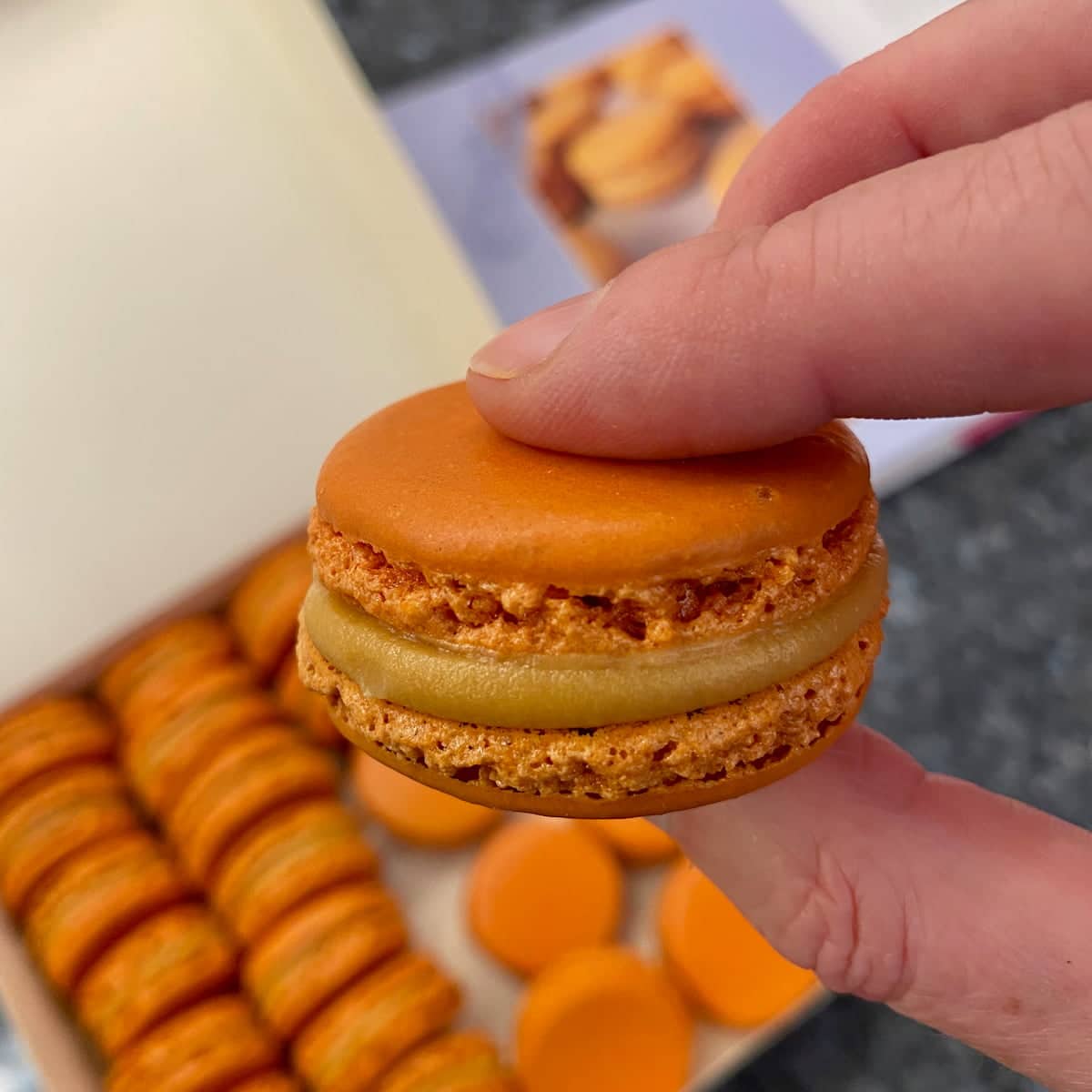 How Long Can My Macarons Keep?
Don't forget that once the macarons are filled to store them in a box and keep in the fridge for at least 24 hours before eating. Otherwise the macarons will be too dry.
By waiting at least a day, this gives the filling time to permeate into the shells, making them typically delicious macarons with a fondant inside and slightly crispy exterior.
Your macarons can keep in the fridge for about 5 days or can be frozen for up to 2 months.
Salted Caramel Macaron Filling
Recipe from Salted Caramel Macarons in Teatime in Paris by Jill Colonna. Step-by-step detailed instructions are in my books for making the macaron shells, along with all the baking tips. The macaron recipe makes 70 shells (35 macarons) using the French meringue technique.
Ingredients
Macaron Shells
120

g (4½oz)

ground almonds/fine almond flour

180

g (6oz)

icing sugar/confectioner's sugar

100

g (3½oz)

egg whites

organic (2-3 days old, at room temperature)

65

g (2½oz)

caster/superfine sugar

pinch

caramel powdered colouring

(brown/yellow)
Salted Caramel Filling
100

g (4oz)

whipping/heavy cream

warmed

1

2g

sheet gelatine

100

g (3.5oz)

sugar

60

g (2.5oz)

unsalted butter

½

teaspoon

sea salt

(fleur de sel)

150

g (5.5oz)

mascarpone
Instructions
To make the Macaron Shells
Follow the basic macaron recipe on pages 146-50 in Teatime in Paris and add powdered caramel colouring to the French meringue.
To make the salted caramel filling
Soak the gelatine in cold water for 10 minutes.

Warm the cream in a separate pan or a few seconds in the microwave.

Measure out the sugar in a small saucepan. Put on medium to high heat, without stirring, until a golden, syrupy caramel forms. Shake the pan to dissolve all the sugar when it starts to change colour. Be careful that it doesn't colour too much (i.e. it can burn quickly - and there's nothing worse than bitter burnt caramel, so keep your eye on it!). This should take no more than 10 minutes in total.

Turn down the heat and add the butter and warmed cream together.

Take off the heat and stir the caramel with a wooden spoon.

Add the gelatine (squeezed of excess water) and stir. Leave to cool on the counter for 15 minutes.

Add the salt and whisk in the mascarpone vigorously (or use an electric whisk) until smooth.

Chill in the fridge for at least 30 minutes.

Transfer the caramel cream to a piping bag, pipe on the filling to each macaron couple, topping off with the other macaron shell to assemble.
Notes
Leave to Rest: Transfer the macarons to a pastry box or airtight container and store in the fridge for 24 hours for the filling to do its magic. Please do not even try macarons in the first 24 hours otherwise they will be dry. The best macarons need patience and at least a day's rest in the fridge!
Excerpt from Teatime in Paris: A Walk Through Easy French Pâtisserie Recipes. For more detailed instructions to make the macaron shells, see the basic macaron recipe in the book. For many more macaron recipes, see my first book, Mad About Macarons.
Have you made this recipe?
I'd love to know how it turned out. Please let me know by leaving a rated review below. It means so much to have your support.
On Instagram? Share a photo and tag @JillColonna and hashtag it #madaboutmacarons. À bientôt!
This post was first published 9 November 2015 but is now completely updated with the filling recipe from my book, Teatime in Paris, with thanks to Waverley Books and with completely new images.