Our best cookies made in 37 minutes with chocolate chips and ground hazelnuts and oh-là-là so good. Recipe inspired by our local French chocolate factory in Le Pecq, near Paris.
Why make cookies when you can make macarons? The answer is simple: macarons need at least 24 hours to mature. So while we're waiting, we need our favourite, healthy chocolate chip and hazelnut cookies to satisfy us in the meantime. They're reduced in brown sugar and have that extra French touch of fleur de sel salt.
How Long do Chocolate Macarons Need to Mature?
Imagine the scene: a large homemade batch of chocolate hazelnut macarons sitting sandwiched together with gooey ganache on a baking tray and their incredible aromas are making us mad about the house with excitement. Suddenly, a numbed silence hits the air, as my chocolate macaron-loving family remember... these macarons are not ready to eat just yet. It's no use cheating, as tasting chocolate macarons after they're made isn't great: they're dry and chewy.
TIP: For macarons to be at their best - especially chocolate macarons - they need at least 24-32 hours to mature first.
They've learned over time not to pinch one. Instead, it's totally worth the wait for macarons to mature to their ultimate, crispy and fondant perfection. So, the heavy macaron-laden box disappears in the fridge for a couple of days to perform their magic.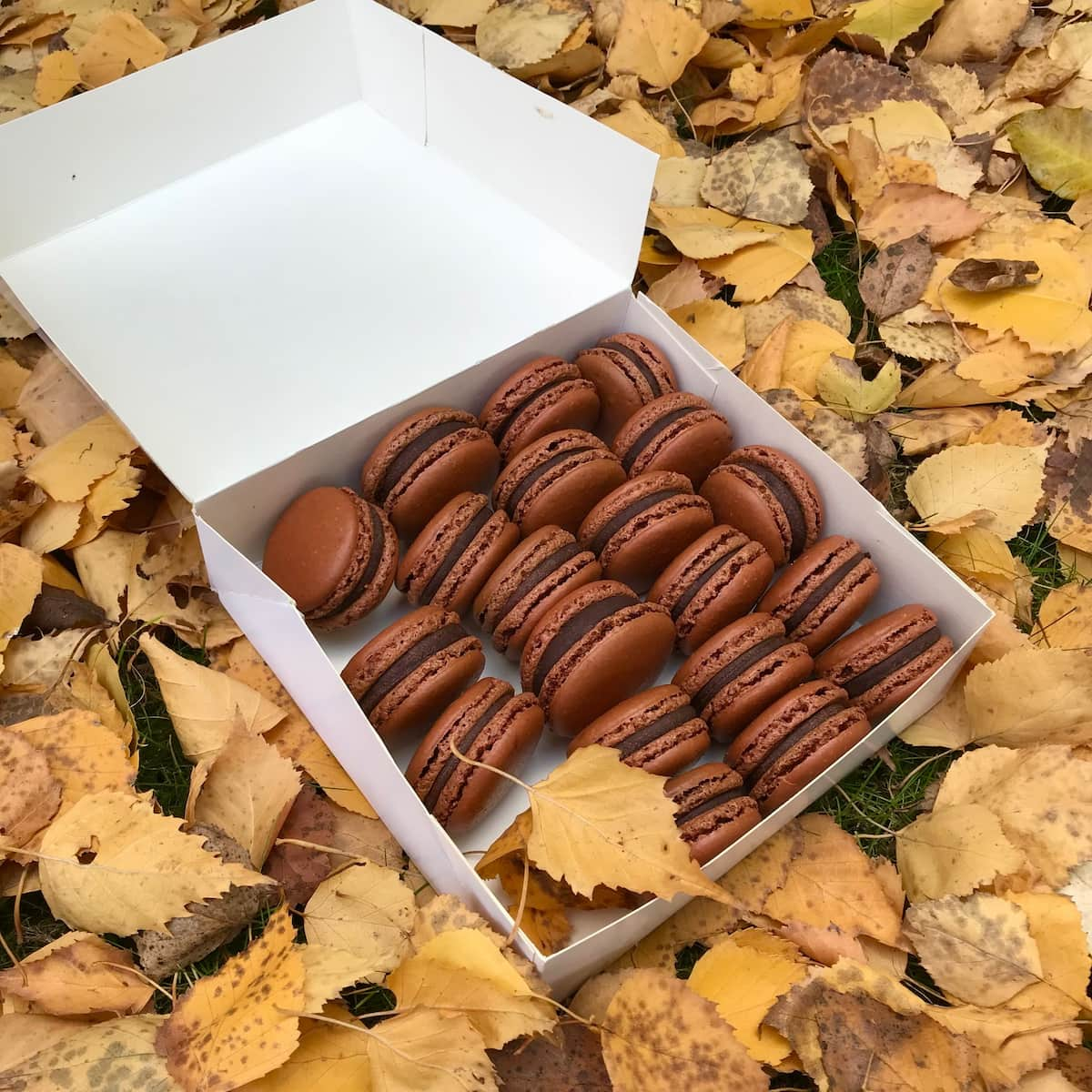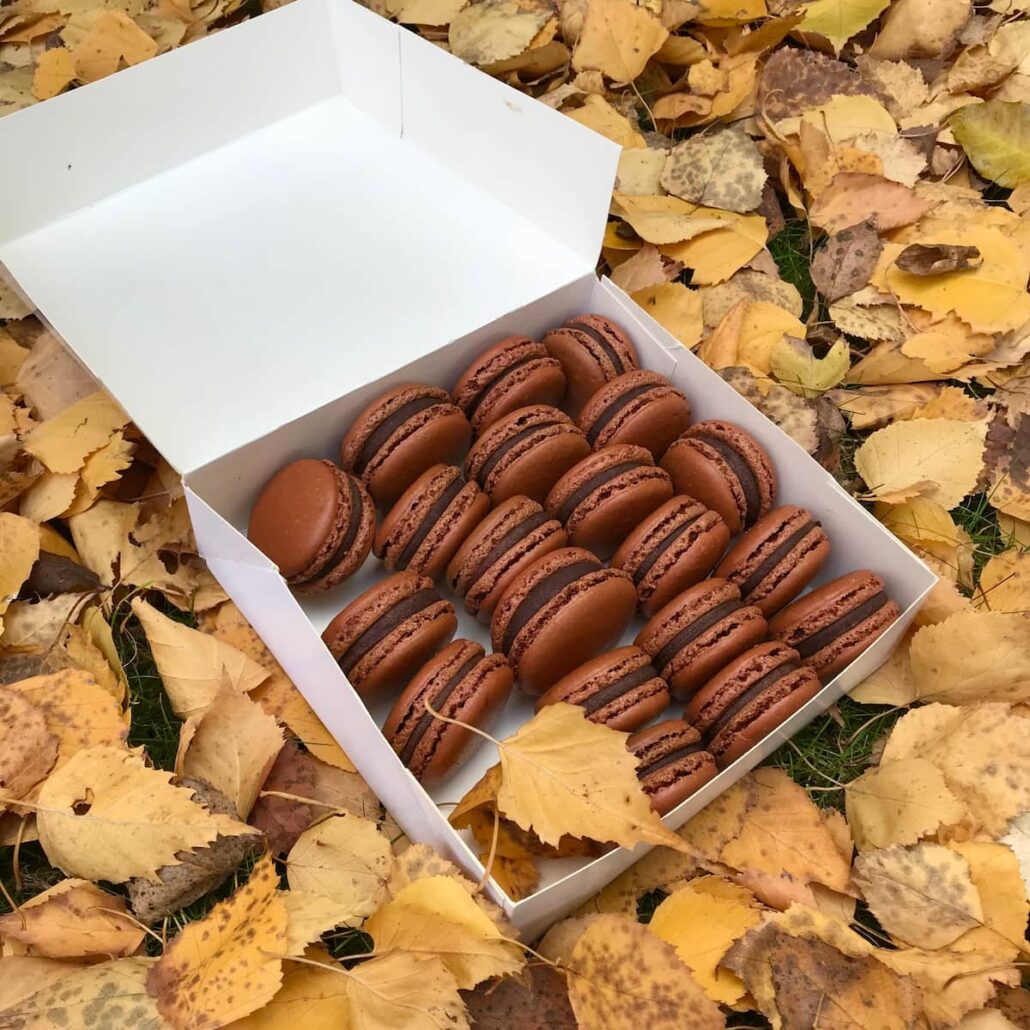 So, cue my favourite chocolate-hazelnut quick and satisfying cookies to come to the rescue.

Chocolate Cookie Recipe from a French Chocolate Factory
These cookies have been my safely guarded secret, with the recipe by our local chocolate factory. You heard me: one of our neighbours a couple of blocks away was the Chocolaterie du Pecq. Alas, I say 'was', as they permanently shut down following a fire that took place a few years ago.
Every December, they would open their doors for a few hours to the public. Us locals would queue, unusually for the French - even if it was more sideways than a normal straight British-style queue - on our allotted early morning Saturday slot. As we were tasting their latest magic (another reason for going sideways and becoming high on cacao), we'd complete our order forms for bulk packs of the most exquisite dark chocolate chips, praline, unsweetened cocoa powder and ballotins of our favourite filled chocolates.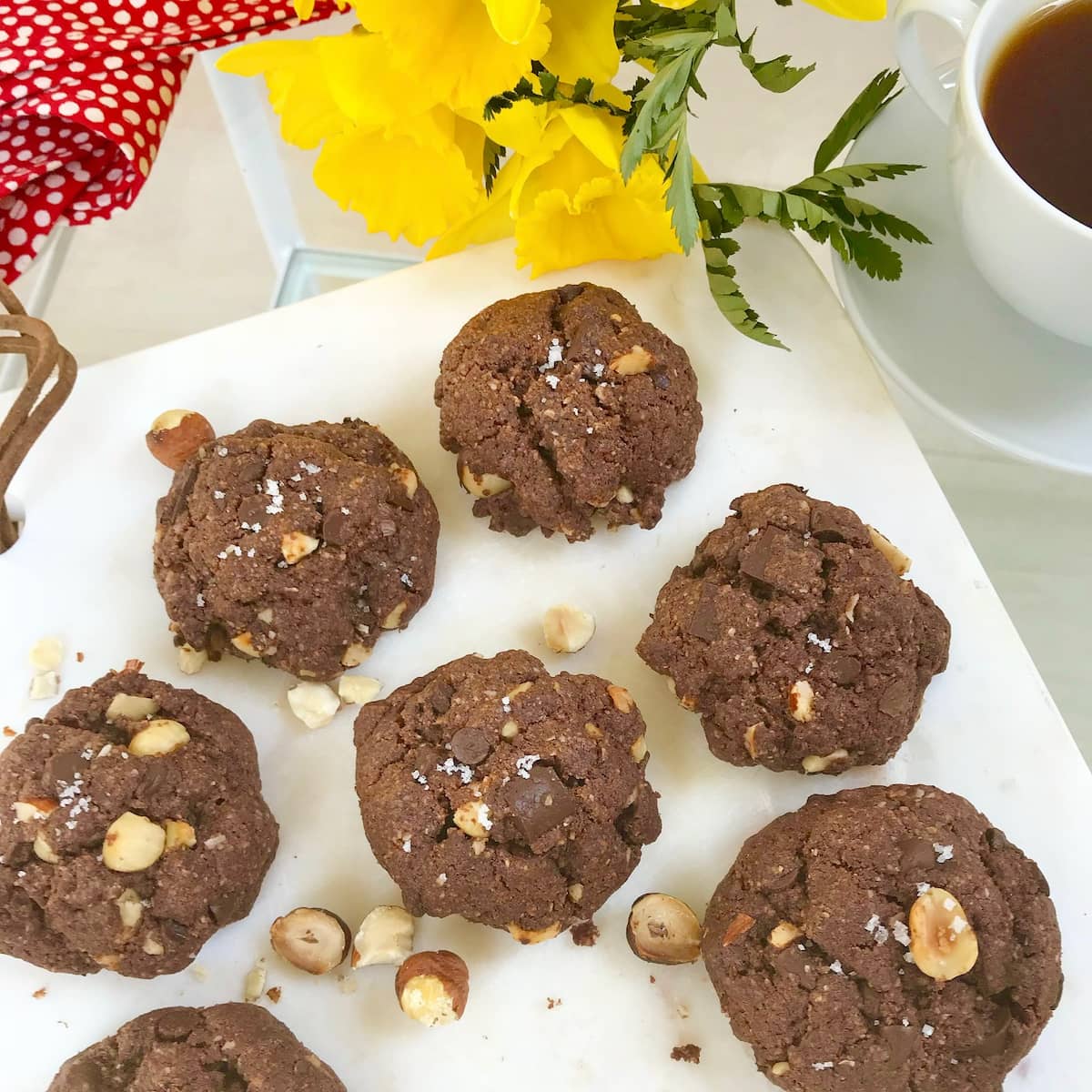 Healthy Chocolate Cookies - with Fleur de Sel Salt
Thankfully, the chocolate factory's recipes go on - and this is one of them. Over the years, I've used their original recipe which used ground almonds instead of hazelnuts but I also reduced the sugar (if it's too sweet, how can you appreciate all the flavours in there?).
Moreover, if you have a few more minutes (that's all), take the cookies to the next level: toast some hazelnuts and add a some good quality salt. It's all in the recipe below!
Have you put dark chocolate and French fleur de sel salt together? (from the Guérande, Brittany or Camargue in the south). Maldon salt flakes and Celtic sea salt are good alternatives if you can't find it. The chocolate becomes even more intense in flavour. If you've never tried this before, then I urge you to give it a go. Added to these cookies, it makes them even more compulsive eating.
Speaking of salty cookies, have you tried palets bretons, the deliciously salted butter cookies/biscuits from Brittany?
Chocolate and Chestnut Flour Cookies
There are many occasions when we run out of ground hazelnuts (hazelnut flour) and so chestnut flour comes to the rescue. The result is just as delicious! See more on chestnuts in France.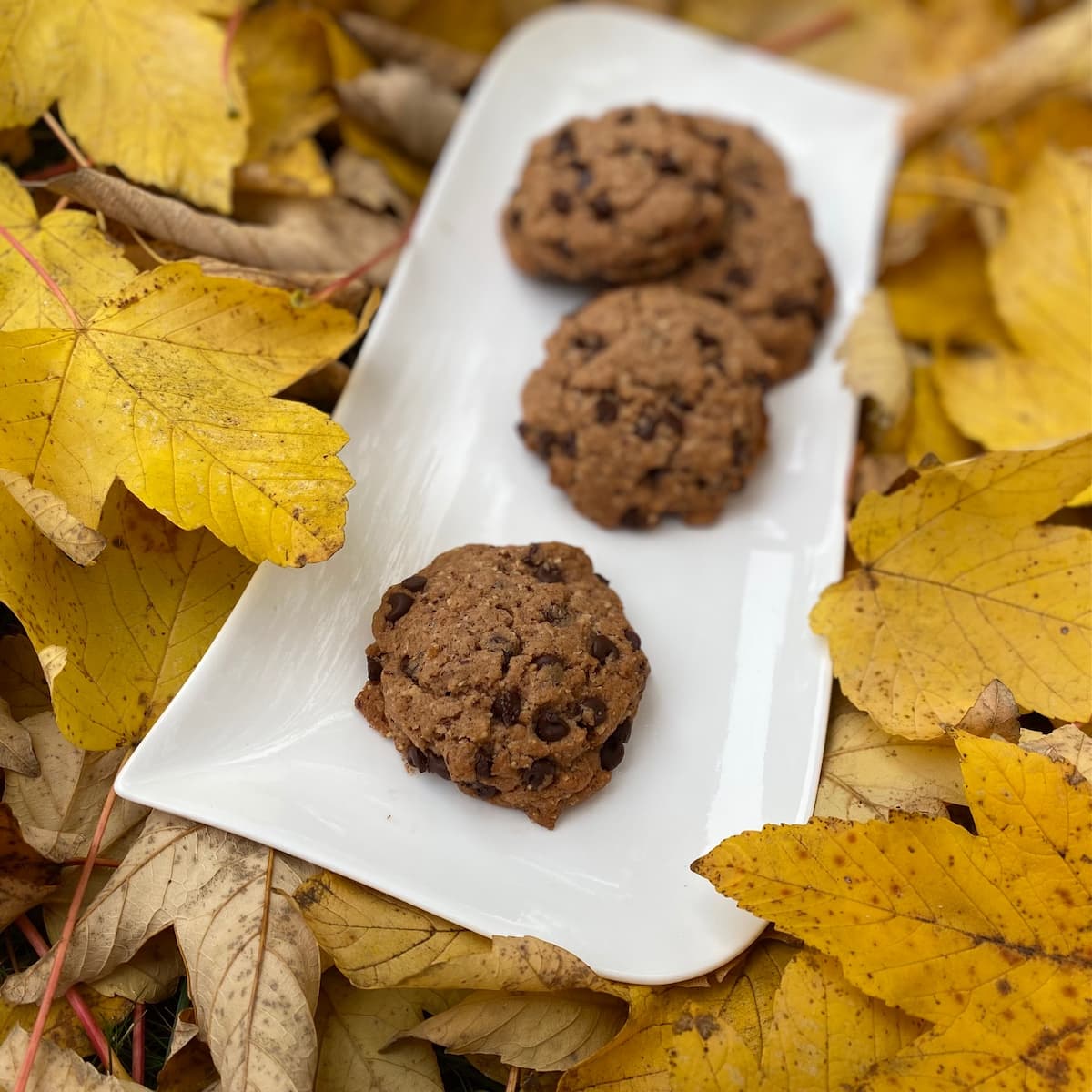 Next time you make a batch of chocolate macarons, just remember this quick and easy cookie recipe. Don't forget you can find the recipes for my macarons in both my books, Mad About Macarons and Teatime in Paris!
Chocolate Chip Hazelnut Cookies
Soft and fondant inside but crispy on the outside like macarons, these healthy cookies are almost brownie-like in fudgy texture, reduced in brown sugar and with a French touch of fleur de sel salt
Ingredients
80

g (3oz/¼ cup)

unsalted Butter

softened, nearly melted

50

g (1.75oz/¼ cup)

cane Sugar

(or Cassonade brown French sugar)

50

g (1.75oz/½ cup)

ground hazelnuts

hazelnut flour*

80

g (3oz/ ⅔ cup)

plain flour

all-purpose

1

tablespoon

unsweetened cocoa powder (I use Van Houten)

OPTIONAL

1

egg (organic)

at room temperature

1

teaspoon

baking powder

1

teaspoon

salt

fleur de sel

100

g (3.5oz/¾ cup)

dark chocolate chips

(good quality)

40

g (1.5oz/ ⅓ cup)

hazelnuts

OPTIONAL
Instructions
Preheat the oven to 180°C/160°C fan/360°F/Gas4.

In a large bowl, whisk together the butter and sugar until it's a creamy, mousse-like mixture

(Optional - If using, dry fry the hazelnuts for about 5 minutes over a high heat until toasted.)

Add all the other ingredients and mix together using a spatula or spoon. If adding the extra toasted hazelnuts, chop them roughly or break them up in a mortar & pestle or crush them in a ziplock bag using a rolling pin.

Line a baking sheet with baking parchment or a silicone mat. Using a dessert spoon or ice cream scoop, form about 10-12 balls well spaced apart. You may need a second baking sheet, depending on the size of yours.

Bake for 15-17 minutes. Remove and cool on a wire rack.
Notes
NUTRITIONAL INFORMATION per 40g serving (makes 12 cookies): 158 Calories; 3g protein; lipids 10g; glucides 14g.
Storage: Best eaten on the day but store in a cookie jar and eat within 24 hours so they're at their best.
The optional step of adding the extra toasted hazelnuts perhaps sounds complicated, but it's worth it!
*If you can't find hazelnut flour, finely ground whole hazelnuts. Alternatively, use ground almonds (almond flour) or chestnut flour.
Measures: Please note that all my recipes are best made using digital kitchen scales in precise metric grams. Both ounces (and cups) are given as a guide.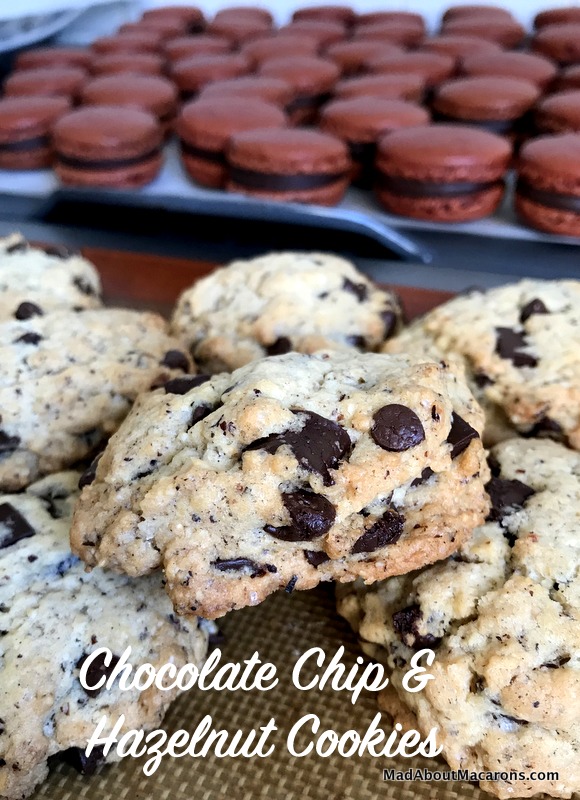 This recipe was originally published 12 March 2018 but text and photos have been updated with a printable recipe card.