Recipe for spiced plum jam, perfect on brioche, croissants and with cheese. This recipe post starts with a review of Terraillon's Neo Cook Jam-making Scale but just scroll down for the precise recipe and jam-making tips.
Terraillon Digital Jam-Making Scales
Just as I finished making a batch of French Apricot and Lavender Jam, I received these rather clever jam-making scales.
They came from the French digital kitchen scale experts at Terraillon.  As you know, I believe that digital scales are a real kitchen necessity if you're aiming at CONSISTENTLY SUCCESSFUL RESULTS  - especially in baking. For more, see my article why you need to weigh your ingredients for successful baking.
However, when I heard about these jam-making scales, I had no idea what they were. So they came just in time to make this spicy plum jam and test them out.
What makes The Jam Scale different to Classic Digital Kitchen Scales?
The Neo Cook Jam scales have a clever jam button. Here's how:
Switch the scales on, place on your container and set the scales to zero.
Weigh your prepared fruit (here it was 1.554kg), hit the jam button, and it tells you exactly HOW MUCH SUGAR IS NEEDED for the weight of your fruit.
No need to touch the scale again: just add the indicated amount of sugar (here it was 1.008kg). As you add, the amount decreases until the perfect weight is achieved, finishing at zero.
It's so easy!

Ratio of Sugar to Fruit in Jam-Making
The scales are set by default as 750g sugar to 1 kilo of fruit but this ratio can easily be changed by hitting the jam button for 3 seconds and selecting your desired amount of sugar quantity per kilo.
I easily RESET the ratio of sugar to 650g per kilo of fruit. However, as commercial jam is only officially jam at 55% sugar, I would like to be able to decrease this amount of sugar even more. For more on reducing sugar to the maximum for homemade jam, see my recipe for Fig Jam which experiments with this in much more detail.
Metric vs Imperial Measurements
No problem if you don't like working in grams, kilos or millilitres: simply set the scales to imperial ounces, lbs and fluid ounces at the switch of the unit button.
Things I particularly like About the Terraillon Jam Scales
I recommend these innovative scales even if you don't use the jam feature. I also love the additional timer and hold buttons so much that I'll be using them for other baking and cooking. (I see they're available in the UK at Lakeland, who have EU delivery.) Here are reasons why I love them for jam-making:
The Jam button is clever. This is perfect for weighing irregular quantities of fruit rather than sticking to a kilo etc. The result is no waste;
Its Timer Function is useful: I often discover mid-flow that I've finished a packet of sugar and need to find another one in the cupboards. In this scenario my previous scales would normally switch off so this is a great feature. You can set the timer for a couple of minutes or even up to 99 minutes;
There's also a pause button: useful for heavy containers or packages that may prevent visibility of the screen;
My previous digital scales use 4 AAA batteries: the Terraillon Neo Cook Jam Scale uses only two;
The scales are light-weight, slim so easy to store. They're stylish, with an easy-to-clean glass top so remain pristine;
Jam-making is made quick and easy: jams will be consistently perfect using these scales, no matter how much fruit you have each time;
Update summer 2022: I am still using the scales and find that making jam with them makes the whole process even easier. Since I have had them, in 6 years I have only changed the batteries once and they work like crazy.
---
Disclaimer: I was not compensated for this post written September 2016 and was given the new Neo Cook Jam Scales by Terraillon for the purpose of a review. I was not required to be positive and, as always, all opinions are my own.
What Kind of Plums are Best for Jam?
Any of the European plums (Prunus domestica) are ideal for making jam.
For this jam with added spices, I prefer the darker purple varieties such as Ente plums (known as Prune plum as used to make prunes), damson or the red-yellow Victoria plums. Outside of France, the Japanese or Chinese plum will also work deliciously well.
If you love greengages (Reine-Claude) or mirabelle plums, then replace the spices with vanilla.
For much more - including what flavours go well with plums - see the French market page on plums.
Do You Skin Plums Before Making Jam?
There's no need to skin or peel plums before making jam.  The process is so easy. However, I'd suggest you remove the plum stones.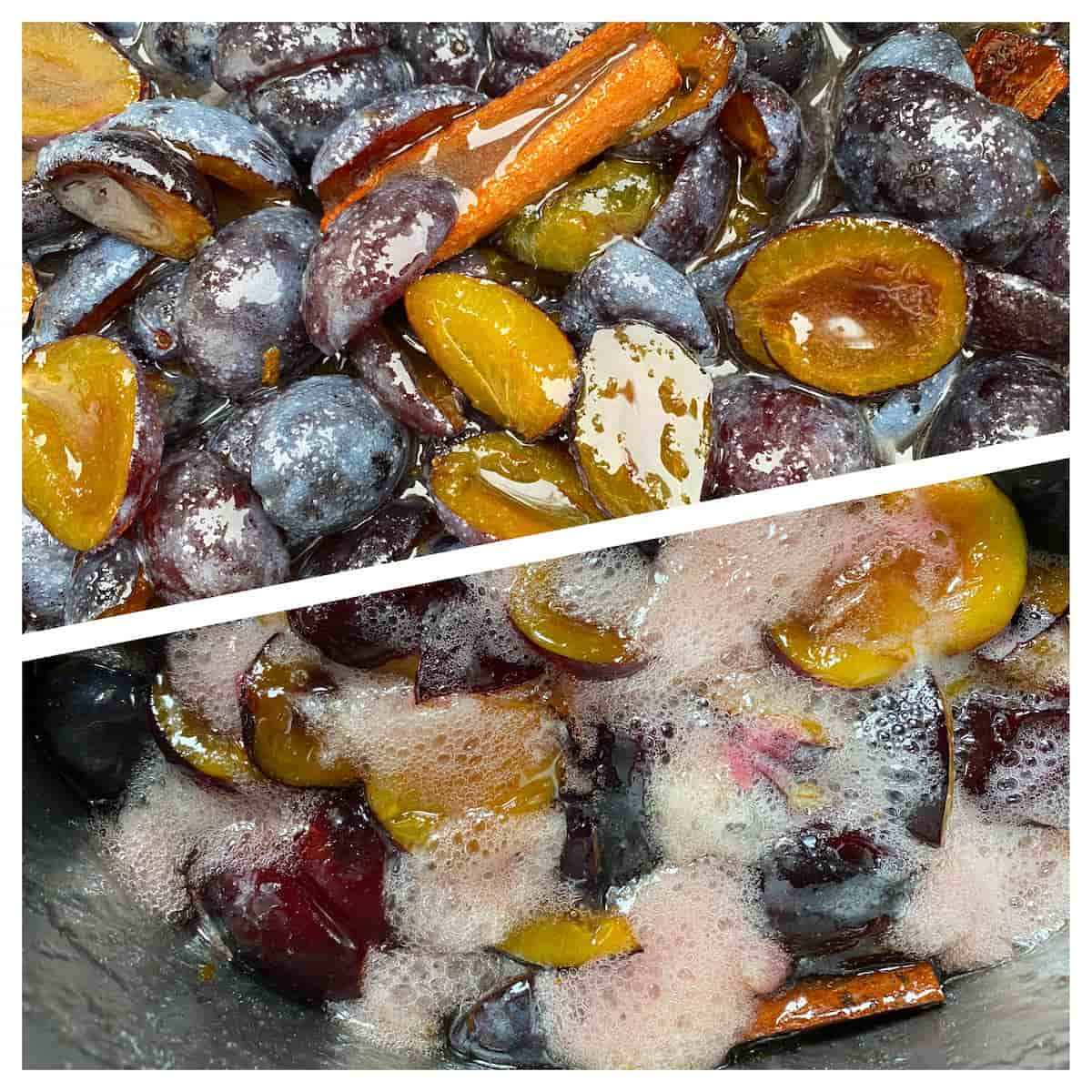 Should You Take the Scum Off Jam?
Foamy scum usually forms once the jam is heating.  This is perfectly normal and harmless. However, it's best to remove it because it will affect the final look of your jam, causing many air bubbles and taking up necessary glossy, colourful jam real estate.
So discard most of the scum using a slotted spoon. Adding a knob of butter is a quick family tip we use to lessen the amount of scum but it's not difficult to remove it, as it tends to appear in convenient clumps, as shown.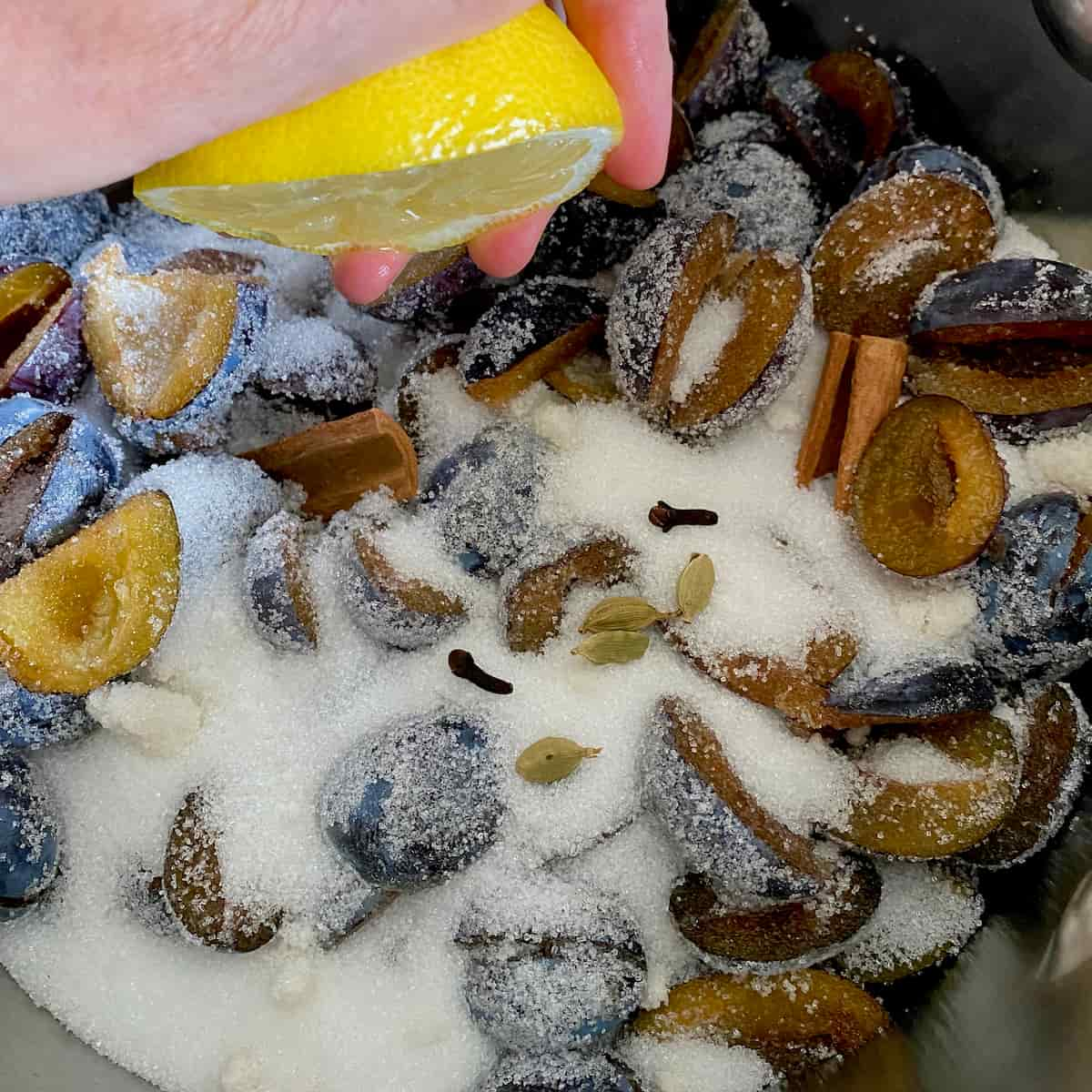 Do I Need Pectin to Make Plum Jam?
Plums are naturally high in pectin there is no need to add any extra pectin.  So, I use normal granulated sugar without the added pectin in special jam sugar. I also add a touch of lemon juice, which is also high in pectin and acidity. These two factors help the jam to thicken naturally without any help.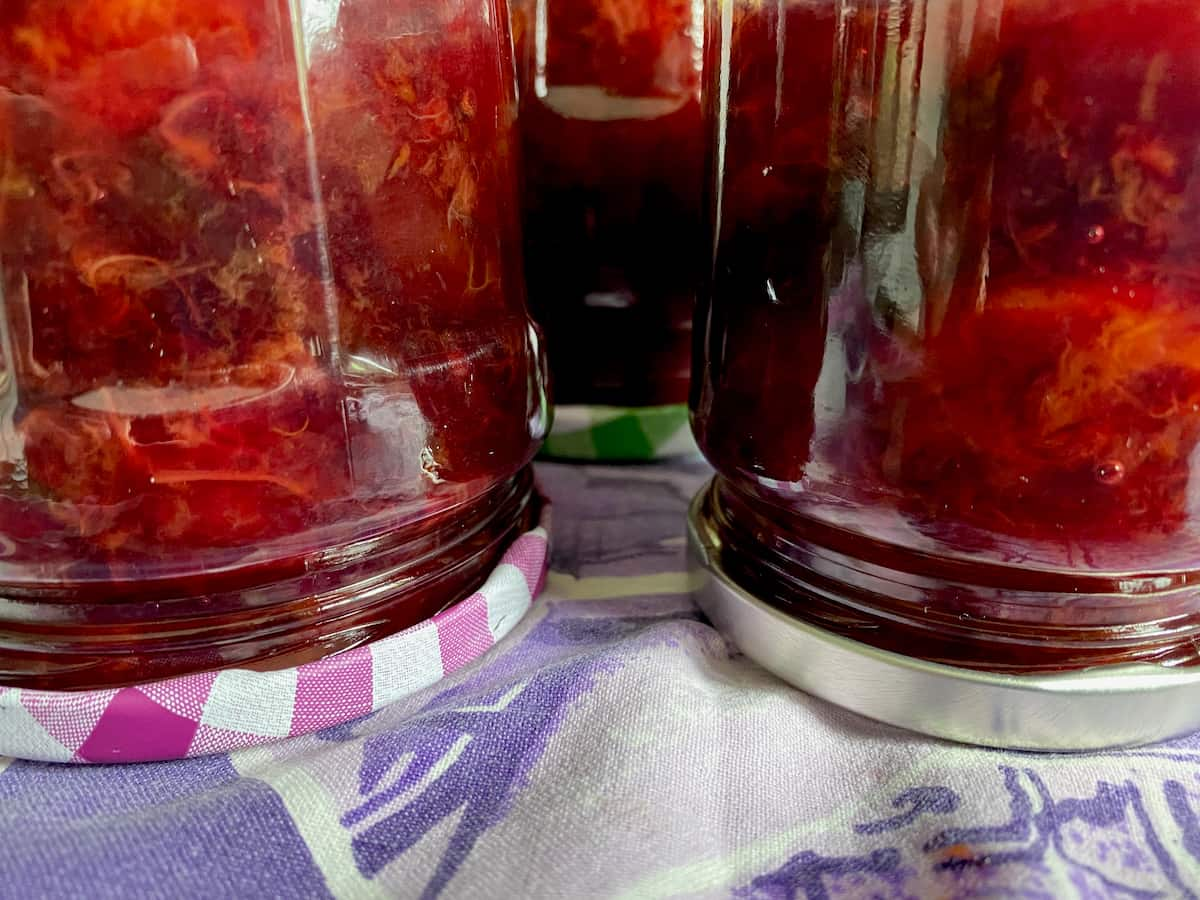 What Does Spiced Plum Jam Taste Like?
As plums are both sweet and acidic, the added sugar makes a well balanced jam that's not too sweet. As sugar is kept to a minimum, the tartness of the plums shines through.  The added spices (cinnamon, ginger, cloves and aniseed from the pain d'épices) make the taste quite warm and even slightly Christmassy.
As a result, spiced plum jam is great given as holiday gifts. It goes so well on fluffy brioche, croissants and bread.
Above all, it accompanies strong French cheeses well and foie gras for holiday menus - so don't forget to add this to a cheeseboard. If you love jam with cheese or foie gras without the spice, then try this Corsican Fig Jam.
Spiced Plum Jam
Preserve the last of the summer plums with Spiced Plum Jam. It makes ideal holiday gifts with its warming spices - and delicious on brioche, croissants or served as part of a cheeseboard or with foie gras.
Ingredients
1

kg (1lb 3oz)

Victoria or Ente Plums (ripe but still quite firm)

stones removed, skins on

650

g (1.5lb)

Granulated sugar

4

cardamoms

2

cloves

2

teaspoon

Gingerbread (pain d'épices) or pumpkin spice

1

cinnamon stick

1

tablespoon

lemon juice

(or juice of ½ lemon)
Instructions
Wash and cut the plums in half, removing the stones (there's no need to peel the fruit). Weigh the fruits and add the equivalent of sugar (I use 650g to each kilo). Add the spices and lemon juice then leave covered at room temperature for about 4 hours or overnight.

In a large high-sided jam pan, boil up the sugared spicy plums, stirring occasionally with a wooden spoon.  After 5-10 minutes, skim off and discard any scum (white foam) that appears on the surface. Continue for about another 15 mins until the fruit softens and the jam thickens.

Remove the whole spices and squeeze out the cardamom seeds into the jam.

Ladle or spoon into sterilised jars, leaving a gap of about a centimetre at the top (To sterilise: I just use the dishwasher, as machines' normal settings should be hot enough to sterilise them. If you don't have a dishwasher, clean the jars and lids in soapy water, rinse then immerse for at least 10 mins in boiling water).

Tightly screw on the lids, turn the jam jars upside down. When cool, label and store in a cool dry place.
Notes
The additional spices make this an ideal Christmas gift. Delicious served with Brioche or a great accompaniment to a festive cheese platter.
This recipe was first published on 20 September 2016 but has now been updated with new images and text that's easier to read.