How to make old-fashioned British macaroon jam tarts with a moist almond filling. Not to be confused with the Parisian macaron or the coconut macaroon. More links and recipes to the others below.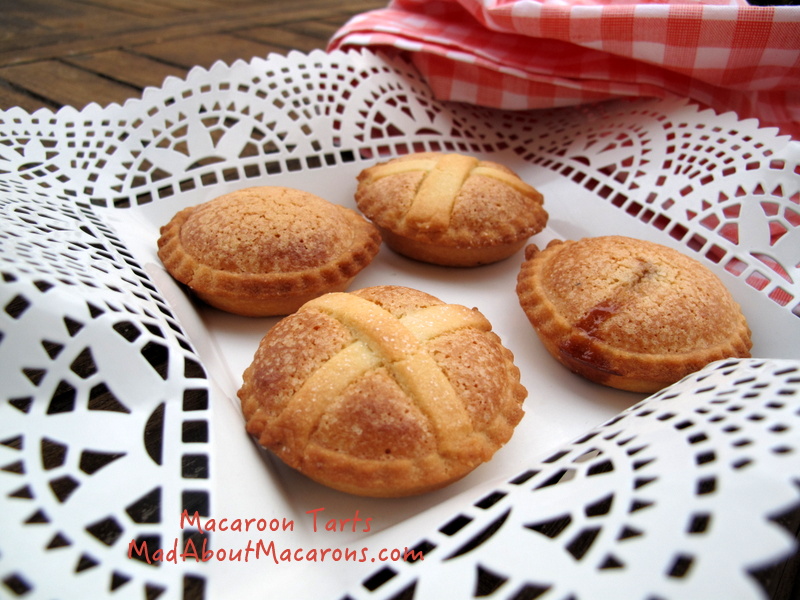 Old-Fashioned British Jam Tarts
What is a Macaroon Jam Tart? The other day, I re-discovered an old faithful British baking guide during a crazy New Year's it's-about-time-I-tidied-that-mess-up moment. Out fell a dusty 40th edition Be-Ro Flour Home Recipes book which Mum had handed me in 1992 before I left for France, a Scottish reminder to make the odd scone or shortbread now and again.
These old-fashioned British jam tarts basically jam tartlets filled with an almond cream. If you've ever tasted them in Britain, you'll immediately be whisked back in time. Our Scottish bakeries sold them as individual tarts and they included a hidden dollop of raspberry jam.
They had the same taste as a Bakewell Tart - except they were always served as tartlets. My thoughts also turned to Mr Kipling: we all knew from his evocative croaky but sexy-voiced UK adverts that he "makes exceedingly good cakes".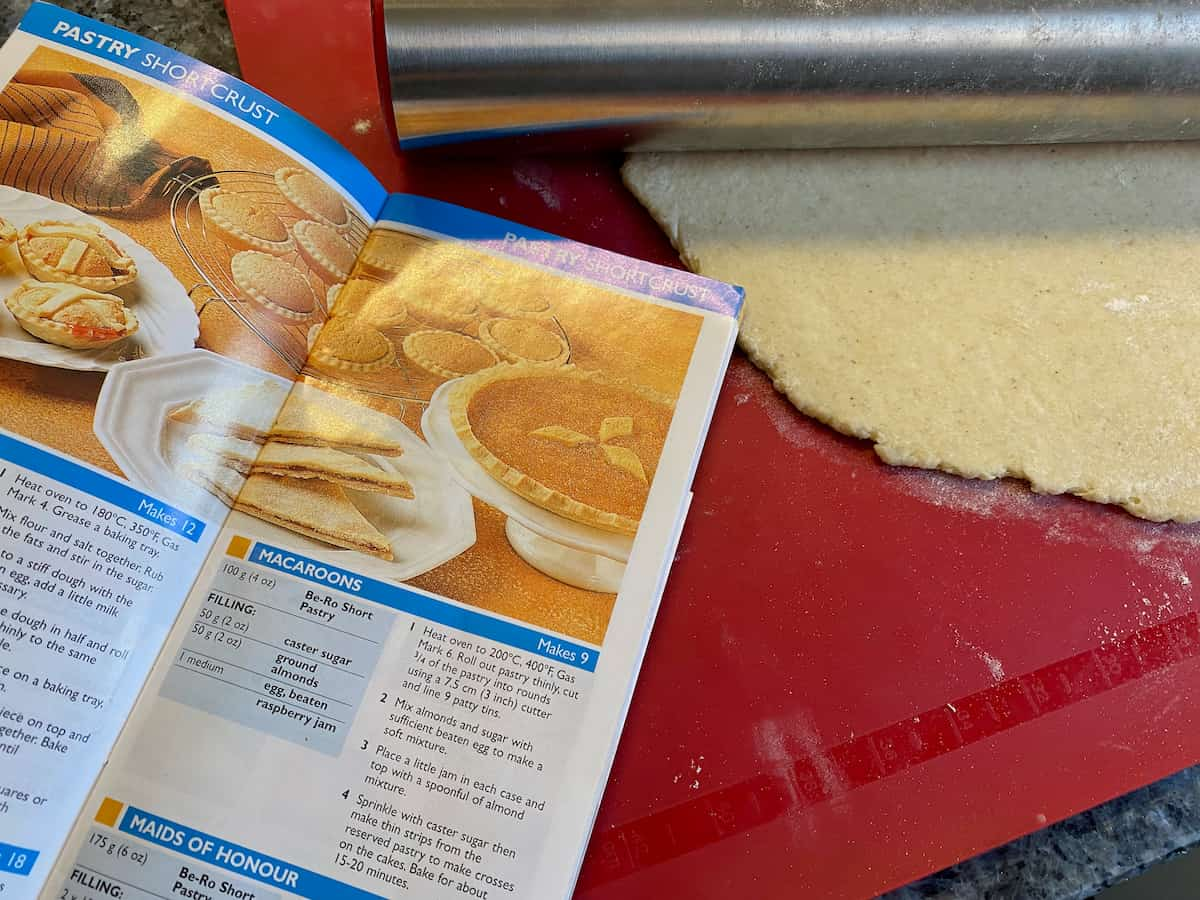 What is a Macaroon vs Macaron?
Since these childhood macaroon memories in the UK, who would have dreamed I'd have married a Frenchman with a sexy accent and moved to Paris. The British macaroon was not the same as in France.
I say maca-ron, since these days there's still some confusion between the macaron and macaroon. What's the difference? Basically:
the French macaron is made with ground almonds, sugar and egg whites;
the coconut macaroon (rocher coco in French) is made with coconut, sugar and egg whites;
the British Macaroon is yet something else completely different. Let me explain below.
What is a British Macaroon?
So, after the French macarons and coconut macaroons, how come there is yet another British version? In fact there are two kinds of macaroons in the UK:
In Scotland, there is the popular Scottish macaroon bar. It has a very sweet fondant centre of mainly icing sugar mixed with a little potato, then rolled in chocolate and toasted coconut;
See my recipe for Scottish macaroon bar snowballs;
Then there are these macaroon jam tarts. I have no idea, however, why they are called macaroon. I can only assume that they contain an almond filling but that is all that gives it any relation to a macaron or macaroon, as the word originally comes from the Italian word for paste, referring to the almond, maccarone.
How to Make Old-Fashioned British Macaroon Jam Tarts
So I took the basic short pastry recipe here from the Be-Ro flour book. It's the most basic and simple form of pastry and is insanely easy to work with.
What's more, there's no real need (or knead - pun groan please!) to leave the dough to rest in the fridge before baking with it. Use this pastry, for example, to make mince pies with this quick no-suet mincemeat recipe.
What I like about this basic short pastry recipe is that the crosses added on top of each tart are simply made by cutting thin strips out of the leftover pastry. So there is no waste!
Basic Short Pastry Recipe for Macaroon Jam Tarts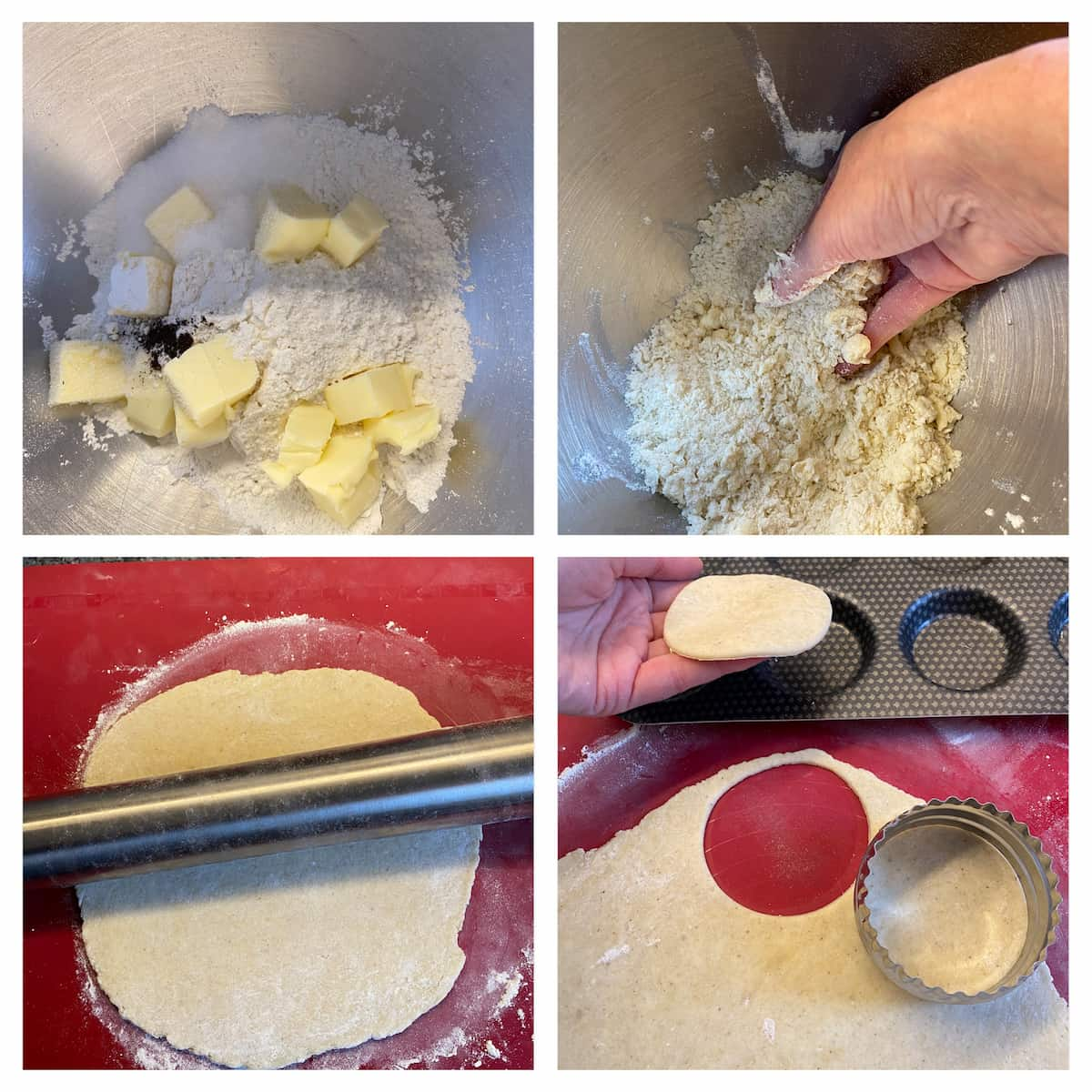 Rub the butter into the flour, salt and vanilla powder until breadcrumbs.
Add cold water to form into a dough then roll out thinly.
Cut out 9-10 7cm circles (or circles slightly bigger than the size of the tartlet cavities).
Press the dough into the pattie/tartlet or muffin tins.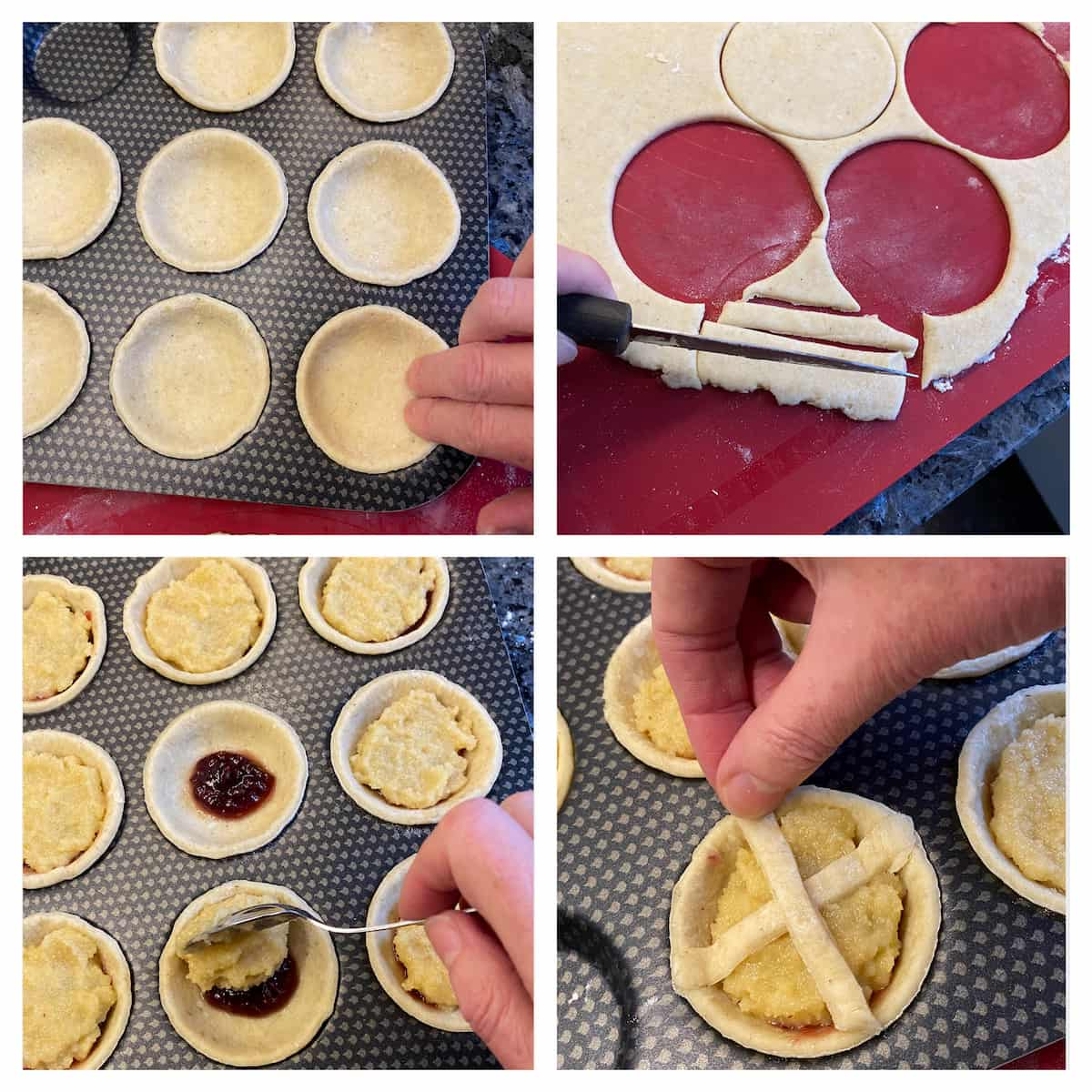 Mix together the ground almonds, sugar, almond extract and egg to a paste.
Add a teaspoon of your favourite jam in each then top with the almond mix.
No wastage with leftover pastry: cut thin strips for crosses and place on top of the jam and almond filling
Macaroon Jam Tarts: Fruity Fillings
For the jam fillings in each tart, any kind of jam is good.
Make these easy recipes for apricot and lavender jam, Corsican fig jam, raspberry, rhubarb & rose jam, and spiced plum jam.
Any of them makes exceedingly good macaroon jam tarts!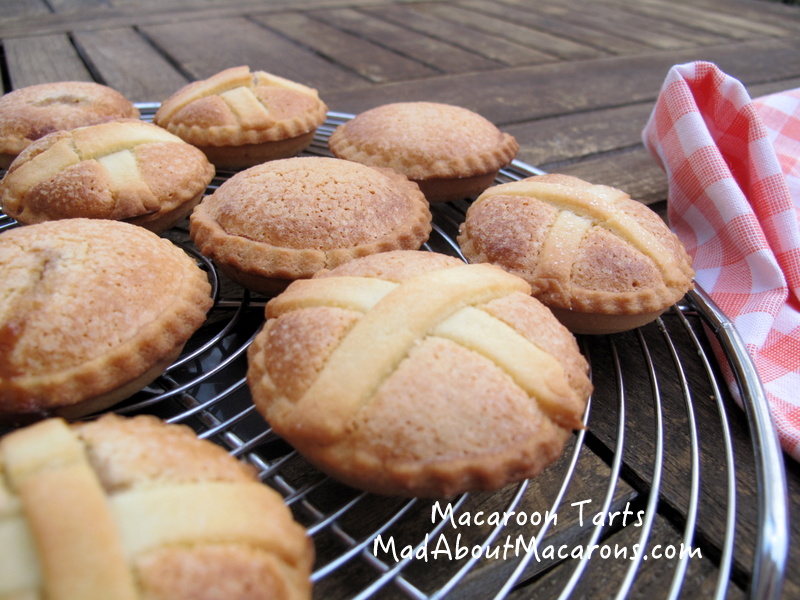 Jam Tarts (British old-fashioned Macaroon style)
How to make old-fashioned British macaroon jam tarts with a moist almond filling. Rather like individual Bakewell tarts - not to be confused with the Parisian macaron or the coconut macaroon.
Equipment
non-stick patty, tartlet or shallow muffin tins

9 cavity
Ingredients
Basic Sweet Pastry
110

g (4oz)

plain (all-purpose) flour

pinch

salt

fleur de sel (Maldon, Celtic sea salt)

50

g (2oz)

unsalted butter

softened

15

g (1 tbsp)

caster sugar

2

tablespoon

cold water
Macaroon Jam Filling
50

g (2oz)

sugar

50

g (2oz)

ground almonds (almond flour)

1

large

egg

organic

2

drops

almond extract

(or good pinch powdered vanilla)

9

teaspoon

raspberry or apricot jam

1

tablespoon

sugar

for sprinkling before baking
Instructions
To make the short pastry
Mix the flour, salt and butter together either in a stand mixer or with hands. Add the water to make a stiff dough.

On a floured mat, roll out the dough on a floured mat to about 5mm thickness and cut out 9 rounds using a cookie cutter (7.5cm/3 inch).

Press the dough into 9 patty or tartlet tins. Set aside the ends of the pastry to make thin strips to decorate the tops.
Making the almond macaroon filling
Heat the oven to 200°C/ 180ºC fan / 400°F / Gas 6.

In a bowl, mix the ground almonds, extract and sugar with the egg until a soft mixture.

Using a teaspoon, place a little jam in each case and top with the almond mixture.

Sprinkle with the extra caster sugar (don't skip this part) then make thin strips from the reserved pastry to make crosses on the tarts and press each end into the edges.

Bake for 15-20 minutes.
Notes
For Jam Fillings, see recipes:
Recipe for express Strawberry & Apricot jam in my book, Teatime in Paris.
More Almond Tarts
If you love these macaroon jam tarts with an almond filling, then you'll love:
French Saint-Germain Almond Cake: it's more of a tart with a moist, creamy almond filling with extra almond slivers and topped with a rum glaze;
Galette des Rois (King Cake): traditionally served in January at Epiphany in France, it's puff pastry stuffed with an almond cream filling with a little rum.