How to make old-fashioned macaroon jam tarts with a moist almond filling. Not to be confused with the Parisian macaron or the coconut macaroon.
Exceedingly Good Cakes
Do you remember Macaroon Jam Tarts? The other day, I re-discovered an old faithful baking guide during a crazy New Year's it's-about-time-I-tidied-that-mess-up moment. Out fell a dusty 40th edition Be-Ro Flour Home Recipes book which Mum had handed me in 1992 before I left for France, a Scottish reminder to make the odd scone or shortbread now and again.
These almond-filled treats immediately whisked me back to our local Scottish bakeries, who sold them as individual tarts and they included a hidden dollop of raspberry jam.  My thoughts also turned to Mr Kipling: we all knew from his evocative croaky but sexy-voiced UK adverts that he "makes exceedingly good cakes".
Macaroons and Macarons: What's the Difference?
Since these childhood macaroon memories, who would have dreamed I'd have married a Frenchman with a sexy accent and moved to Paris. What's more, I learned how to make the Parisian Gerbet macaron with a fool-proof recipe. I say maca-ron, since these days there's still some confusion between the macaron and macaroon.
What's the difference? One is made with ground almonds, sugar and egg whites; and the other is made with coconut, sugar and egg whites.  Here's my much more detailed answer in my article, Macaron vs Macaroon: What's the Difference?
Macaroon Tarts: Jam Fillings
However, perhaps these Macaroon Jam Tarts add even more confusion to the macaron vs macaroon debate! This recipe is British in style – just like these Scottish Mini Macaroon Snowballs. Would you believe these extra sweet treats are made with potato?
There are also plenty of macaroon recipes like this one which use pie crust and the macaroon reference here is just a mixture of almond or coconut toppings.
For the jam fillings, use these easy recipes for apricot, fig, raspberry, rhubarb & rose jam, or spiced plum jam. I also have an express one of Strawberry & Apricot in my pâtisserie book, Teatime in Paris! Any of them makes exceedingly good macaroon jam tarts!
French Almond Tart
If you love these macaroon jam tarts with an almond filling, then you'll love this French Saint-Germain Almond Cake. It's more of a tart with a moist, creamy almond filling with extra almond slivers and topped with a rum glaze….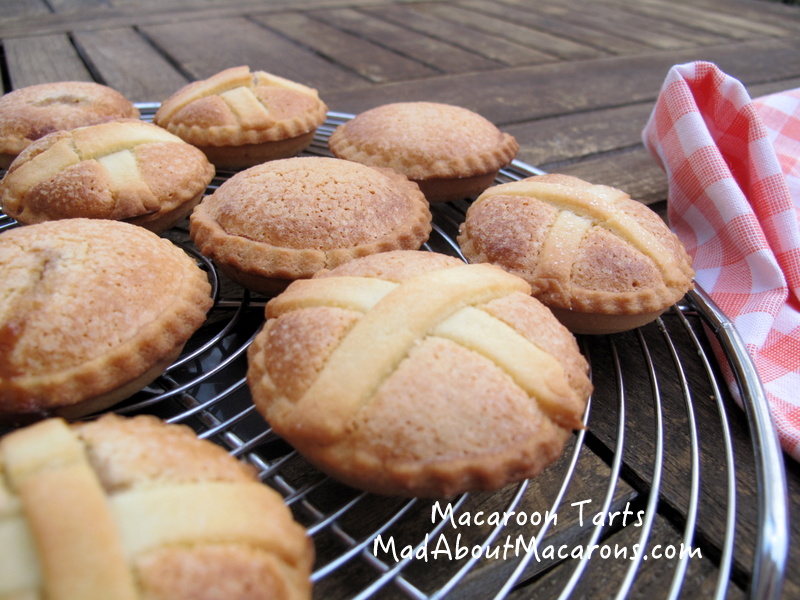 Macaroon Jam Tarts
---
Description
How to make old-fashioned macaroon jam tarts with a moist almond filling - not to be confused with the Parisian macaron or the coconut macaroon.
Ingredients
100

g (4oz)

ready-made sweet pastry

50

g (2oz)

sugar

50

g (2oz)

ground almonds (almond flour)

1

egg

organic

2

drops

almond extract

9

tsp

raspberry or apricot jam
Instructions
Heat the oven to 200°C/ 180ºC fan / 400°F / Thermostat 6. Roll out the ready-made pastry to about 5mm thickness and cut out 9 rounds using a cookie cutter (7.5cm/3 inch). Line 9 patty or tartlet tins. Set aside the ends of the pastry to make thin strips to decorate the tops.

In a bowl, mix the ground almonds, extract and sugar with the egg until a soft mixture.

Using a teaspoon, place a little jam in each case and top with the almond mixture.

Sprinkle with a little more caster sugar then make thin strips from the reserved pastry to make crosses on the tarts and press each end into the edges.

Bake for 15-20 minutes.
Notes
For Jam Fillings, see recipes:
Recipe for express Strawberry & Apricot jam in my book, Teatime in Paris.
Have you made these macaroon jam tarts? Please do leave a rated review below. It means so much. Merci