Known as Le Saint-Germain, this French almond cake with rum was invented in 1920 in Saint-Germain-en-Laye, near Paris. It's also a great make-ahead recipe, as tastes even better 2-3 days later.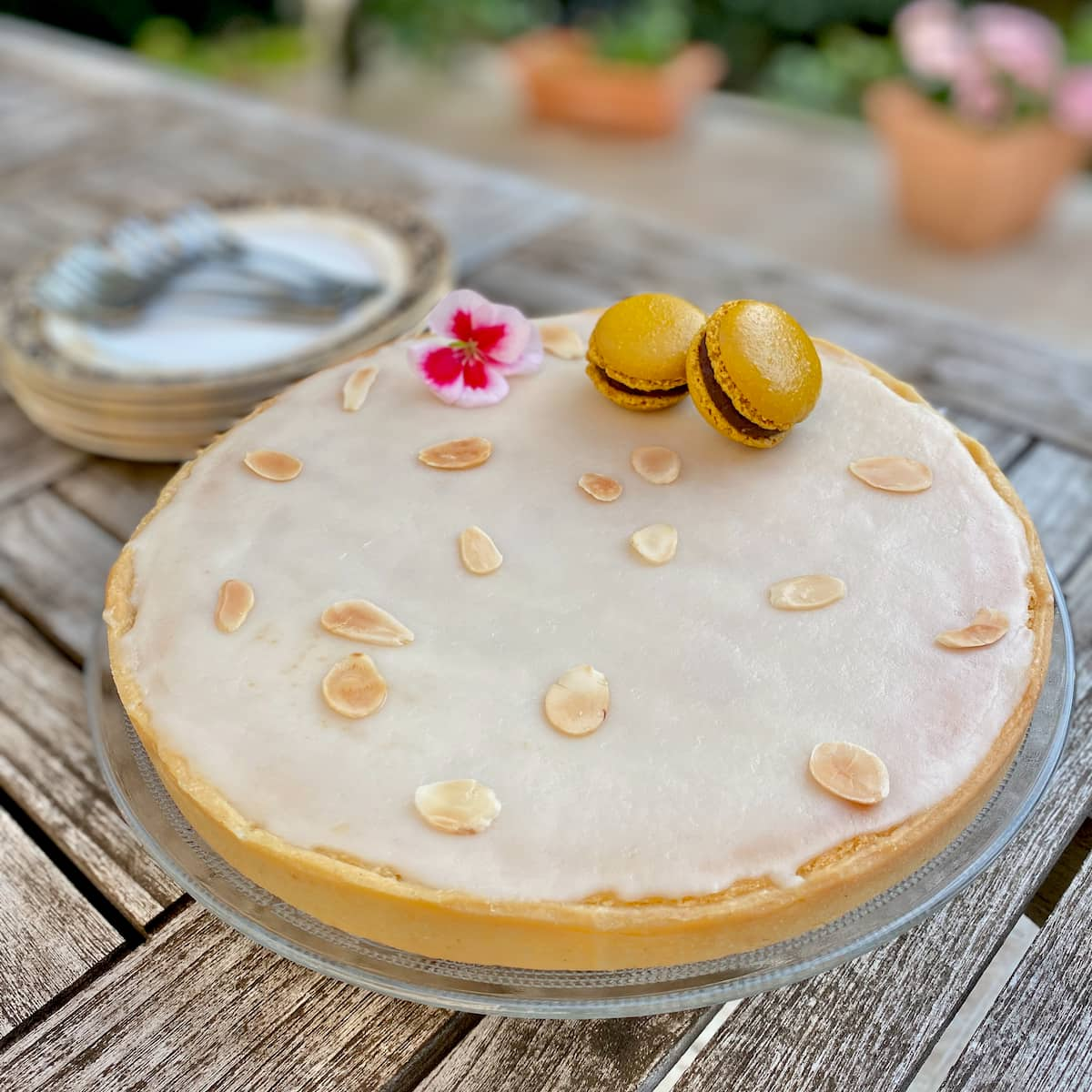 Origin of Le Saint-Germain Almond Cake
Called le Saint-Germain, this glazed almond cake was created in 1920 by the Pâtisserie Hardy in Saint-Germain-en-Laye, between Paris and Versailles.
It's not unlike the French gâteau Nantais (Nantes cake) but includes a tart pastry base as well as the almond filling and glaze.
Although the genuine recipe is a local secret by the creators at Patisserie Hardy, I have developed my own recipe for those of you who can't make it to Paris. Usually made with a tart base, it is also made without - making a moist, gluten free almond cake.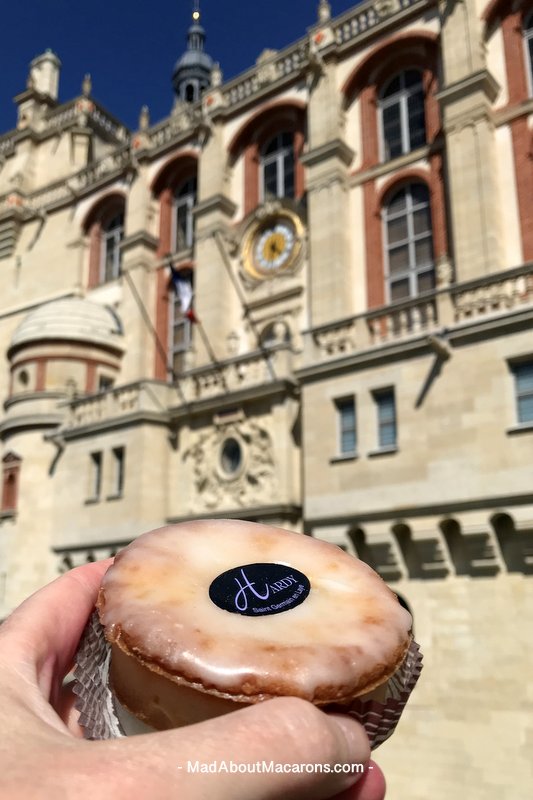 Le Saint-Germain: My Copycat Recipe
As you can imagine, I've tried all sorts of ways to be able to extract the recipe from the patisserie's creators on rue des Louviers! Each time, however, they make it clear that their secret recipe has never left the laboratory since it was created in 1920.
Fair enough.
However, not all of you can make it to Paris or Saint-Germain to taste them. So I had to make a copycat version for you to make at home. To develop a recipe, I have tasted as many Saint-Germain cakes as possible around town!
After painstaking tasting sessions of developing the secret recipe with my daughter, Lucie, I'm happy with the result. Don't tell them in Saint-Germain-en-Laye but it tastes just as good!
Classic French Almond Cakes from Saint-Germain
In Saint-Germain-en-Laye, Le Saint-Germain almond cake has various versions from different bakeries. This recipe is based more on the one made at the Patisserie Grandin in rue au Pain.
While the original Hardy and Grandin versions are made with almond flour and slivered almonds, Grandin's version is laced a lot more with rum. In fact, it's pretty boozy! As a result, this recipe is for adults only but it's easy to substitute the alcohol with a mixture of water and lemon juice.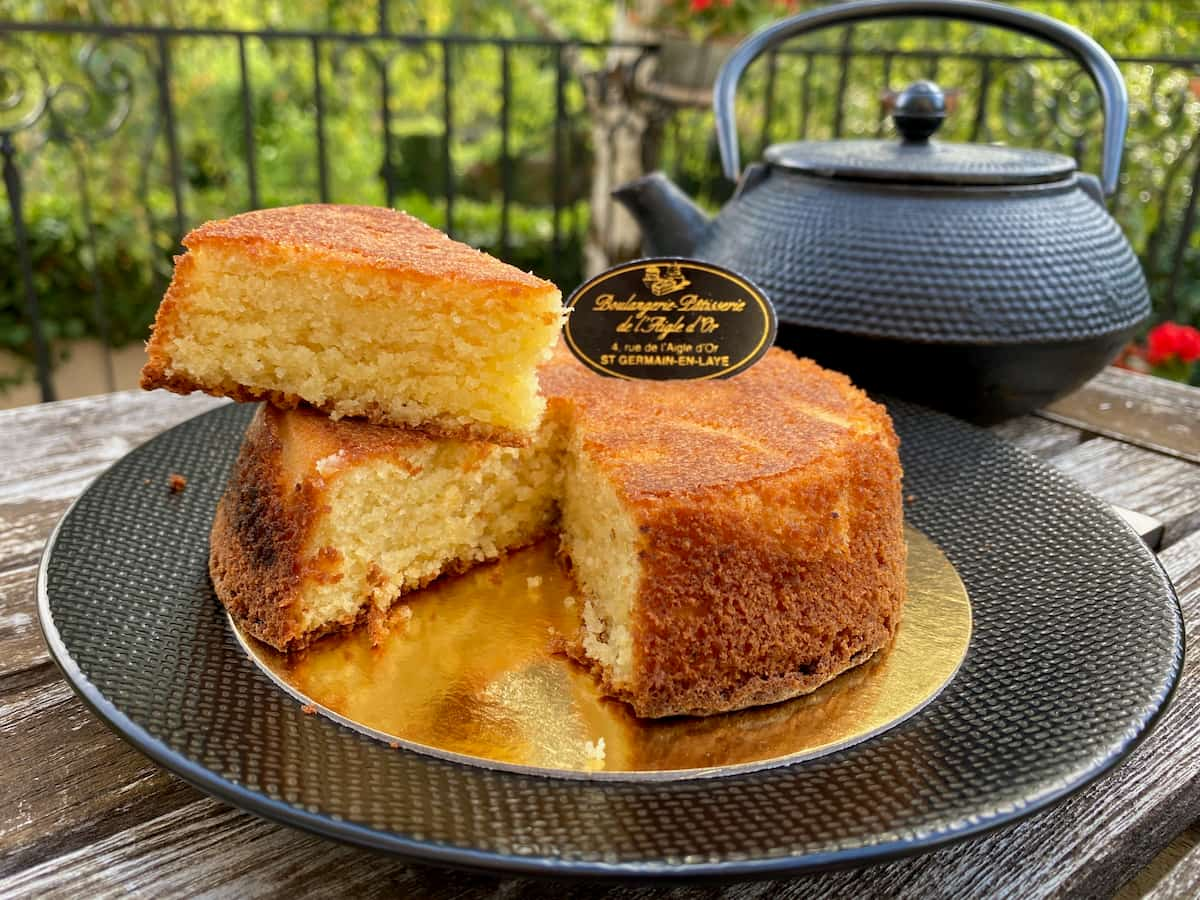 Gluten Free French Almond Cake
When I first tasted le Saint-Germain made by my French friend, Liliane, she didn't serve the cake at all using sweet pastry like the patisserie versions. It was without the the tart shell and served as a plain with a glaze.
Then I discovered the magnificent version of Le Saint-Germain made by the Boulangerie-Patisserie l'Aigle d'Or. Theirs is a complete gluten free French almond cake, made without any tart shell base and without the glaze - and without the rum, so can be enjoyed by children too.
So, if you make the recipe below and prefer to keep it a gluten free recipe, I suggest adding another egg to the cake to lighten it up to resemble this version.
I make mine with a lot of rum in the glaze. Somehow it tastes even better once matured for 2 days, as the rum seeps through into the cake. If you prefer without the alcohol, just omit from the cake and replace rum in the glaze with half water and lemon juice.
Is Light or Dark Rum Better for this Cake?
I love to say that I've tried both ways and the unanimous vote for the better rum was definitely good quality dark rum. It adds more depth to the cake.
Before I used my favourite Appleton Estate rum from the Cayman Islands. The was definitely the best. Since I ran out ages ago, I use a much cheaper rum that's easy to find in France is Saint James. It does the job nicely.
What's more, once matured, the dark rum seeps into the cake and the rum flavour is less pronounced, making way for a more fondant almond cake.
French Almond Cake Recipe (le Saint-Germain)
If using the pastry base, first prepare the tart shell following the recipe for the classic pâte sucrée. The printable recipe is now included below the recipe filling for more details.
Set the tart shell aside to cool and sprinkle with flaked almonds.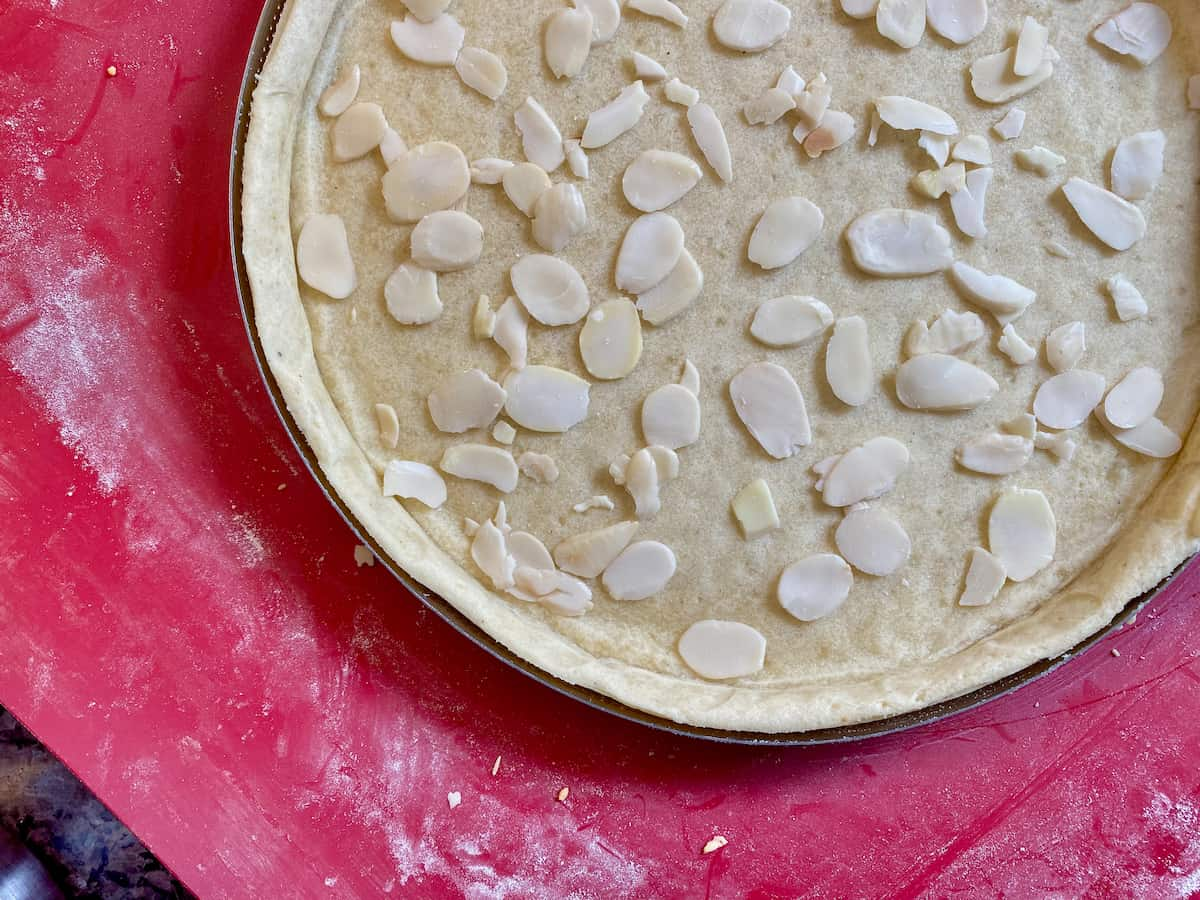 Prepare the ingredients for the filling - ideally at room temperature.
Combine the ingredients together and mix well until light and fluffy.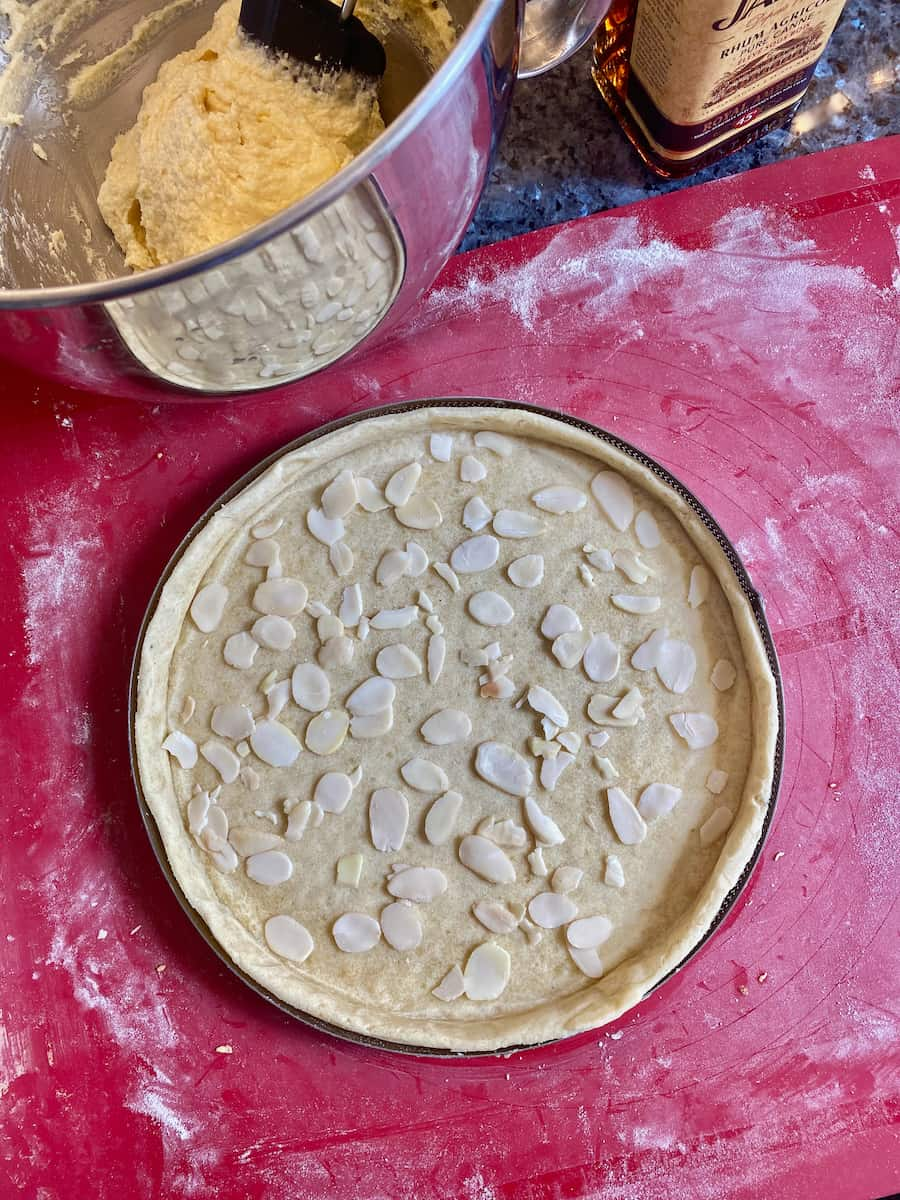 Using a spatula, spread the almond cream evenly over the tart base. It doesn't matter too much if it's not that even - it will spread out while baking.
However, if you prefer a more professional look, use a piping bag. Pipe out the filling into a spiral with a plain piping tip.
Bake in the oven for about 30 minutes or until golden.
Leave to cool completely. Either keep covered for up to 2-3 days and set aside to mature or glaze first and set aside to mature.
Evenly spread on the glaze of mixed icing or confectioner's sugar with rum (or 2 tablespoon water and 1 tablespoon lemon juice). It should be thick but thin enough and easy to spread, ideally using a palette knife.
Leave the glaze to set for about 15 minutes. Can be served but even better if you can wait a couple of hours at least.
If rum is in the glaze, that rum will be less strong the longer you wait and a little extra fondant inside.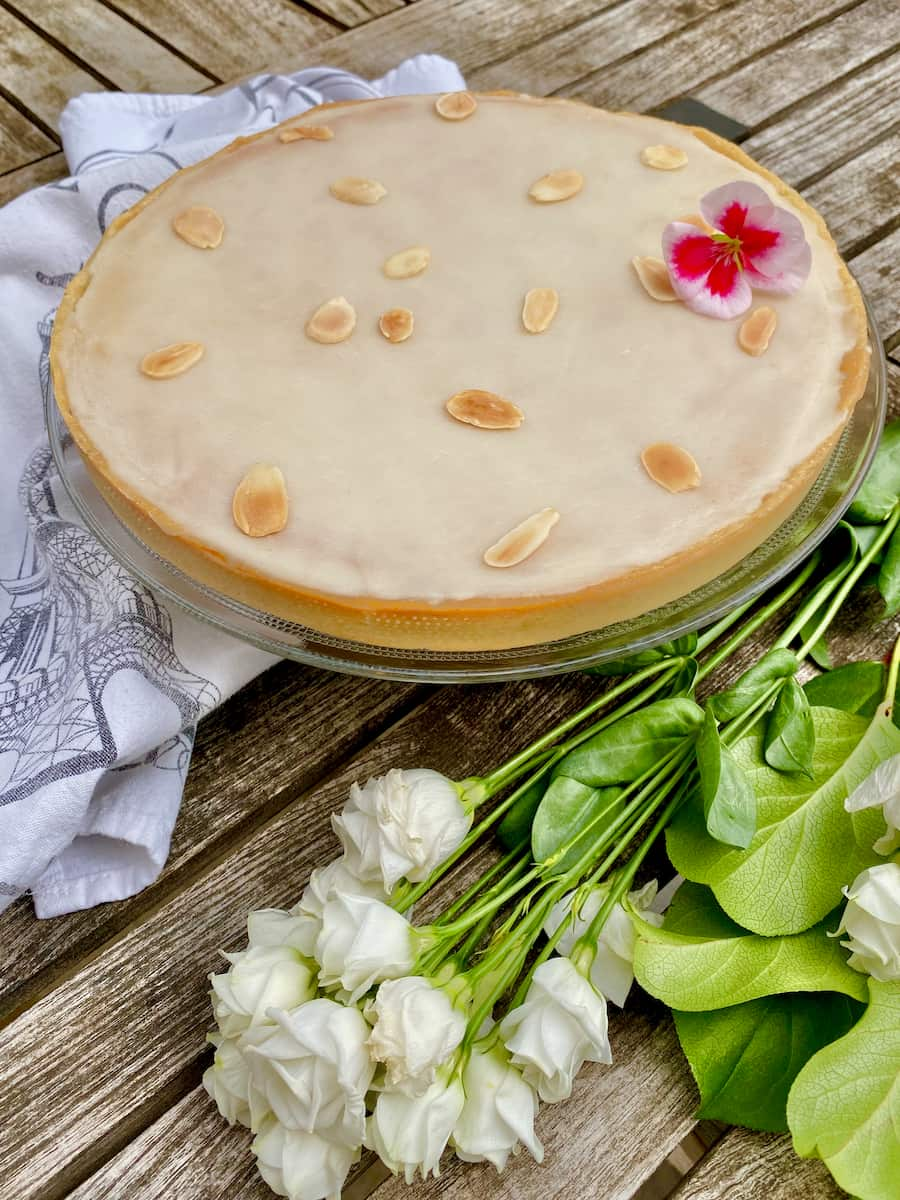 How Best to Serve
Just like macarons, this French almond cake tastes even better when matured.
So once you've made this, try and forget about it for at least 24 hours. Even my kids are patient. It's really worth the wait, believe me. Try it for yourself and taste the difference.
Store chilled in the fridge but best enjoyed at room temperature.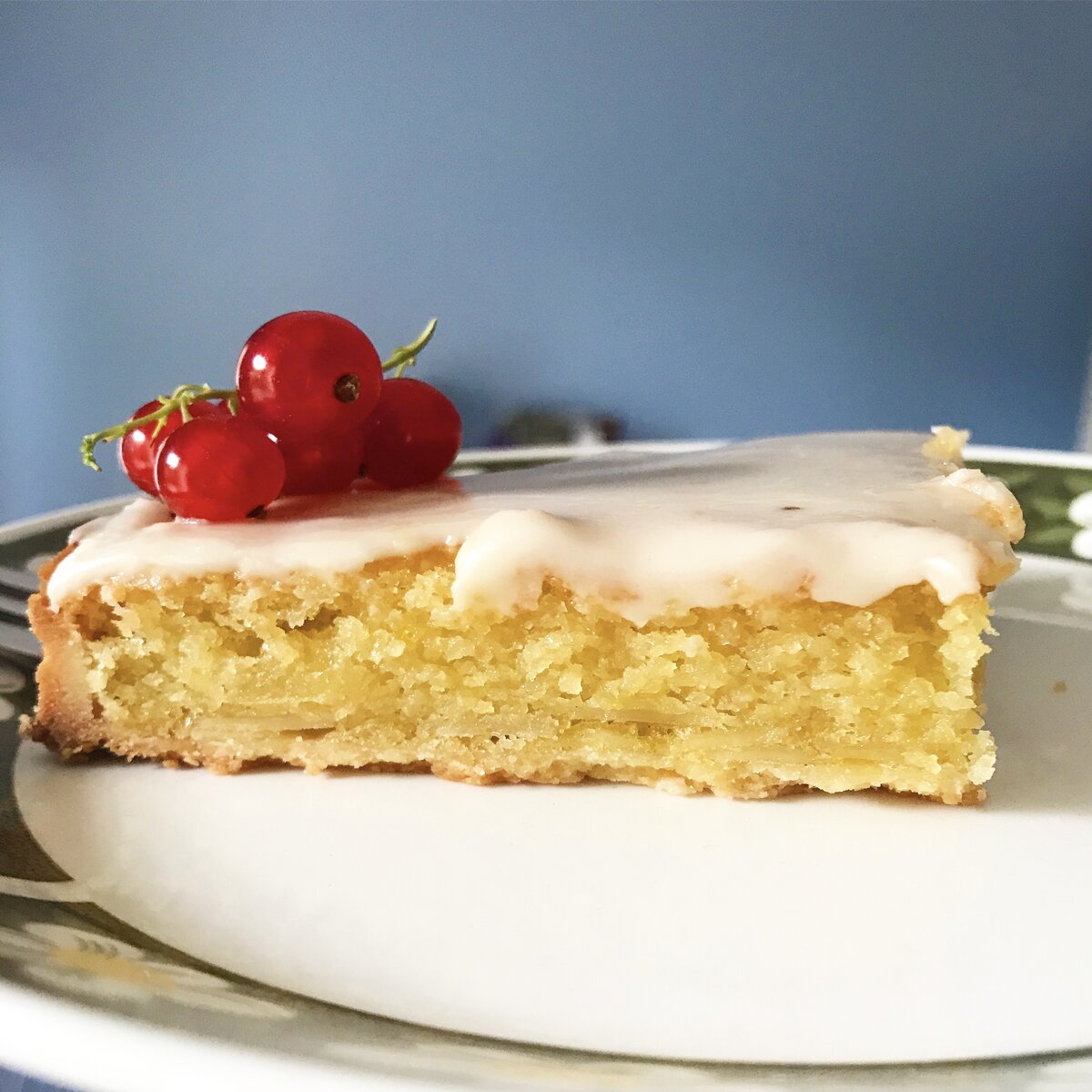 Festive French Chestnut Variation
I couldn't help be inspired by a Moelleux au Marron by chef Claire Demon's Du Pain et des Gâteaux in Rue du Bac. The French are mad about chestnuts over Christmas! Adding this extra chestnut filling with the almond is an extra treat as a French winter recipe.
Spread a layer of chestnut and vanilla paste at the bottom of the tart base (about 3 tablespoons) in step 2 and top with the rest of the almond filling. On top of the rum glaze, decorate with one or two marrons glacés (candied chestnuts).
More French Almond Cake Recipes
Looking for the name of the famous French almond cake that starts with F? Our popular almond teacakes (like friands) are called Financiers. This recipe is so quick and easy.
The almond cake with puff pastry and rum served at Epiphany in France is the Galette des Rois. Both recipes are extracts from my recipe book, Teatime in Paris.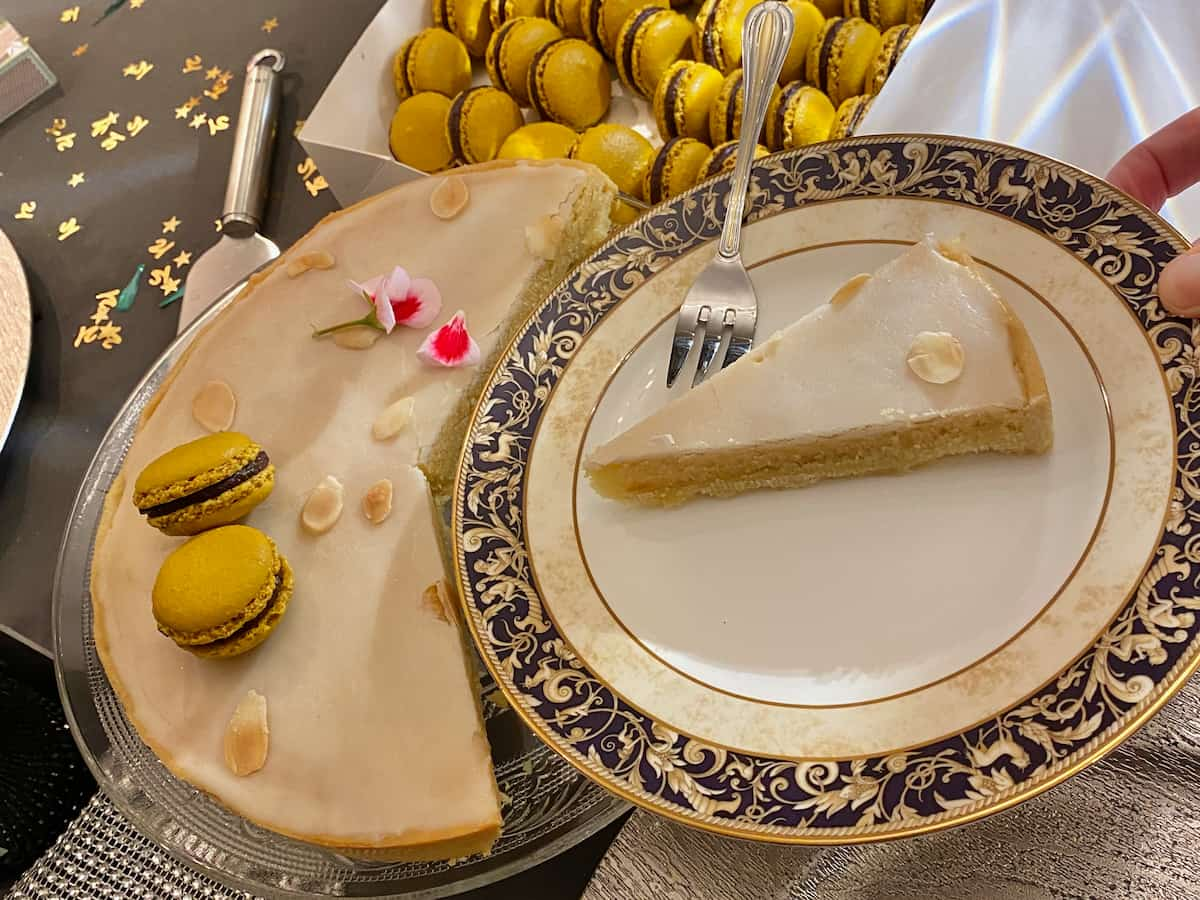 Meanwhile, I'll leave you with le gâteau Saint-Germain, dressed up to party.
This is what my youngest daughter asked for her 21st birthday cake! Plus she made the macarons from my books... my job is done.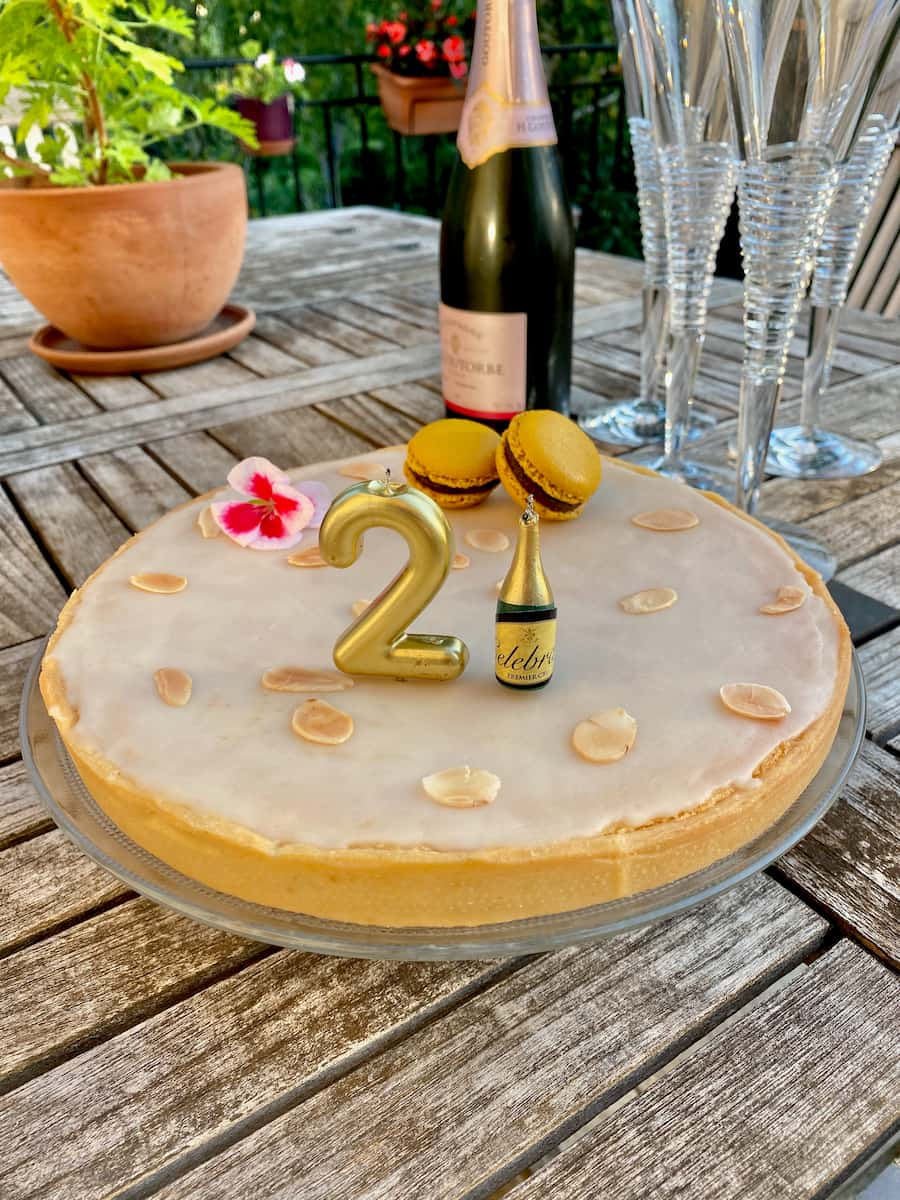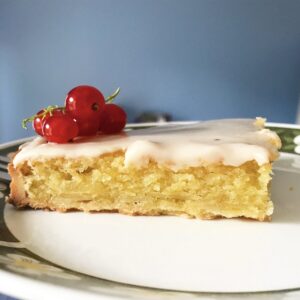 French Almond Cake (Le Saint-Germain)
Known as Le Saint-Germain, this almond cake with rum was invented by the Patisserie Hardy in 1920, Saint-Germain-en-Laye, near Paris. As the genuine recipe is a local secret, I have created something similar to recreate this at home with almond flour. Either prepared with or without the tart base.
Ingredients
Sweet Pastry Base (optional): see recipe below
Almond Filling:
100

g (3.5oz/ ¼ cup + 3 tbsp)

unsalted butter

softened

75

g (3oz/ ⅜ cup)

sugar

2

medium

eggs

organic, at room temperature

100

g (3.5oz/ 1 cup)

ground almonds

(almond flour)

1

tablespoon

dark rum

25

g (1oz/ 2 tbsp)

slivered almonds
Glaze:
6

tablespoon

icing (powdered) sugar

3

tablespoon

dark rum

or 2 tablespoon water/1 tablespoon lemon juice
Instructions
Sweet Pastry (optional):
Follow the recipe for pâte sucrée below. Blind bake first and set aside to cool (omit step 7 of baking uncovered). Instead the almond cream is added to the pastry shell and baked together.

This step can be done 2-3 days in advance.
Almond and Rum Filling:
Cream the butter and sugar together until light and creamy. Add the eggs, ground almonds and rum (see NOTES). 

Preheat the oven to 180°C/160°C fan/Gas 4/360°F.Sprinkle the slivered almonds on the base of the baked pastry base then spread on the almond filling (or pipe in a spiral). Bake further in the oven for 25 minutes (same temperature as above). 

Set aside to cool.
Rum Glaze:
Mix together the icing/powdered sugar with the rum until a spreadable consistency. Spread the glaze on to the cooled almond tart using a palette knife. 
Notes
Ideally, chill for 24 hours or overnight in the fridge as this cake is so much better after maturing. Even better 2 days later. Serve at room temperature to appreciate all of the flavours.  Although you can serve this on the day, waiting until the next day is really worth the wait. Like macarons, the flavours intensify and the result is so much better after maturing the cake. Without the Pastry Base: Sometimes this cake is made without the tart base, making it gluten free.  If making this without the sweet pastry base, add another egg to the almond filling. With Rum, this cake is for adults only. This cake is best made with good quality dark rum. If you prefer to use without alcohol, then omit from the cake ingredients and replace with half water and lemon juice for the glaze.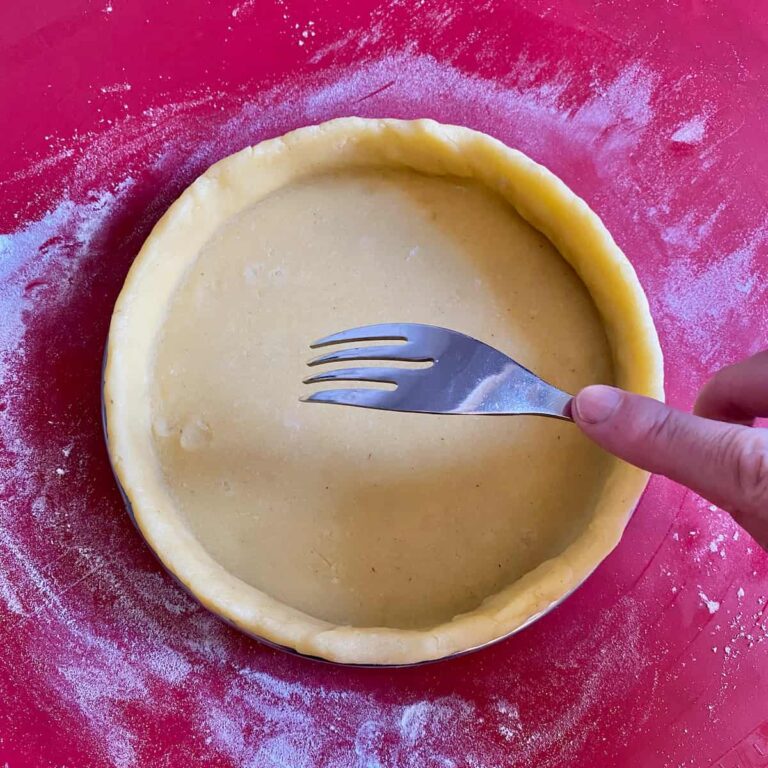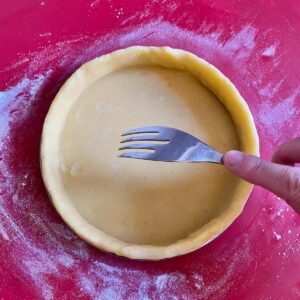 Pâte Sucrée Recipe (Sweet Pastry Dough)
French Pâte sucrée is the best all-round sweet pastry dough for tarts. This is the most basic and easiest French pie crust recipe to work with - taken from my book's tart chapter in Teatime in Paris (2015).
The result means no soggy tart bottoms, just a delicious tart pastry base with a touch of vanilla. It's perfect as a base for fruit tarts, chocolate and almond tarts. Makes 500g pastry dough for 1 large tart or 8 tartlets.
Equipment
loose-bottomed tart tin or tart ring (27-28cm/11" diameter x 3cm)

stand mixer with paddle attachment

optional as dough can be mixed by hand

Rolling Pin

with optional end rings to roll out evenly

baking beans

or washed coins, rice or dried beans
Ingredients
125

g (4.5oz/½ cup)

unsalted butter

at room temperature (not melted), cut into cubes. Chilled if mixing by hand.

75

g (2.75oz/½ cup)

icing/powdered/confectioner's sugar

½

teaspoon

sea salt

fleur de sel

1

medium

egg

organic (room temperature)

¼

teaspoon

vanilla powder

or extract

240

g (8.5oz /1.9 cups)

T45 French all-purpose/cake flour

or plain (all-purpose) flour, sifted
Instructions
Using a stand mixer with a paddle beater (otherwise mix by hand with cold butter), mix the butter, sugar, vanilla and salt until pale and creamy.

On low speed, gradually add the egg and flour and mix until combined. Half way during mixing, push the dough down the sides of the bowl and paddle with a spatula. Continue mixing just until the dough comes away from the sides of the bowl and stop.

Form the dough into a ball. Wrap in cling film and chill in the fridge for an hour. Normally you will only need ⅔ of this dough quantity - either freeze the rest or keep it chilled for up to 3 days.

Remove from the fridge and after 5 minutes (as easier to work with), roll out the pastry to 3-4mm (⅛ inch) thickness on a lightly floured surface.

When completely rolled out about 3cm (about an inch) bigger than the tart tin/ring, transfer the dough by rolling around the pastry roller and cover the tart tin. If using a tart ring, place the ring on baking paper or a silicone mat.

Press well into the tart tin or ring, leaving no air holes around the edges. Trim off excess pastry by rolling over the edges with the rolling pin. Prick evenly with a fork.

Leave to set in the fridge uncovered in the tin/ring for at least 20 minutes. Preheat the oven to 180°C/160°C fan/Gas 4/360°F.

Blind bake (top with baking parchment and baking beans - see NOTES) for 15 minutes. Remove baking paper and beans.

Bake uncovered for a further 5-10 minutes or until the pastry is golden. This step may be optional, depending on the recipe filling's instructions (such as this almond rum tart, which stays in the tin and is baked further with the filling in it).

Leave to cool for about 5 minutes then remove from the tart tin/ring. Set aside on a wire rack to cool completely before filling.
Notes
For the original detailed step-by-step recipe, see the tart chapter in my book, 'Teatime in Paris' (2015) along with many more tart recipes.
Storage: although this dough can be prepared on the day of baking, it can be made 1-2 days in advance. Keep chilled rolled in cling film until ready to roll or prepare the tart shell and keep covered in the fridge. Otherwise freezes well - either the raw dough or the baked tart shell. Just defrost thoroughly before use.
Flour: Although all-purpose flour is good, I generally prefer a finer T45 (French all-purpose) cake flour for tarts. For more, see FAQs
For chocolate pastry, add 1 tablespoon unsweetened cocoa powder to the flour in step 2.
This recipe was first published June 14, 2019 but is now completely updated with new images and more step-by-step instructions.
More on Saint-Germain
To help plan your next trip in Paris, or simply enjoy some armchair travel around France, see my gourmet travel posts:
Also find out other speciality recipes that were created in Saint-Germain-en-Laye, including the Sauce Béarnaise.