Known as Le Saint-Germain, the French almond cake was invented in 1920 in Saint-Germain-en-Laye, near Paris. It's also deliciously dosed with rum and topped with boozy icing.
Although the genuine recipe is a local secret by the creators at Patisserie Hardy, I have developed my own recipe for those of you who need a taste of Paris. Although usually with a tart base, it is also made without - making a moist, gluten free almond cake.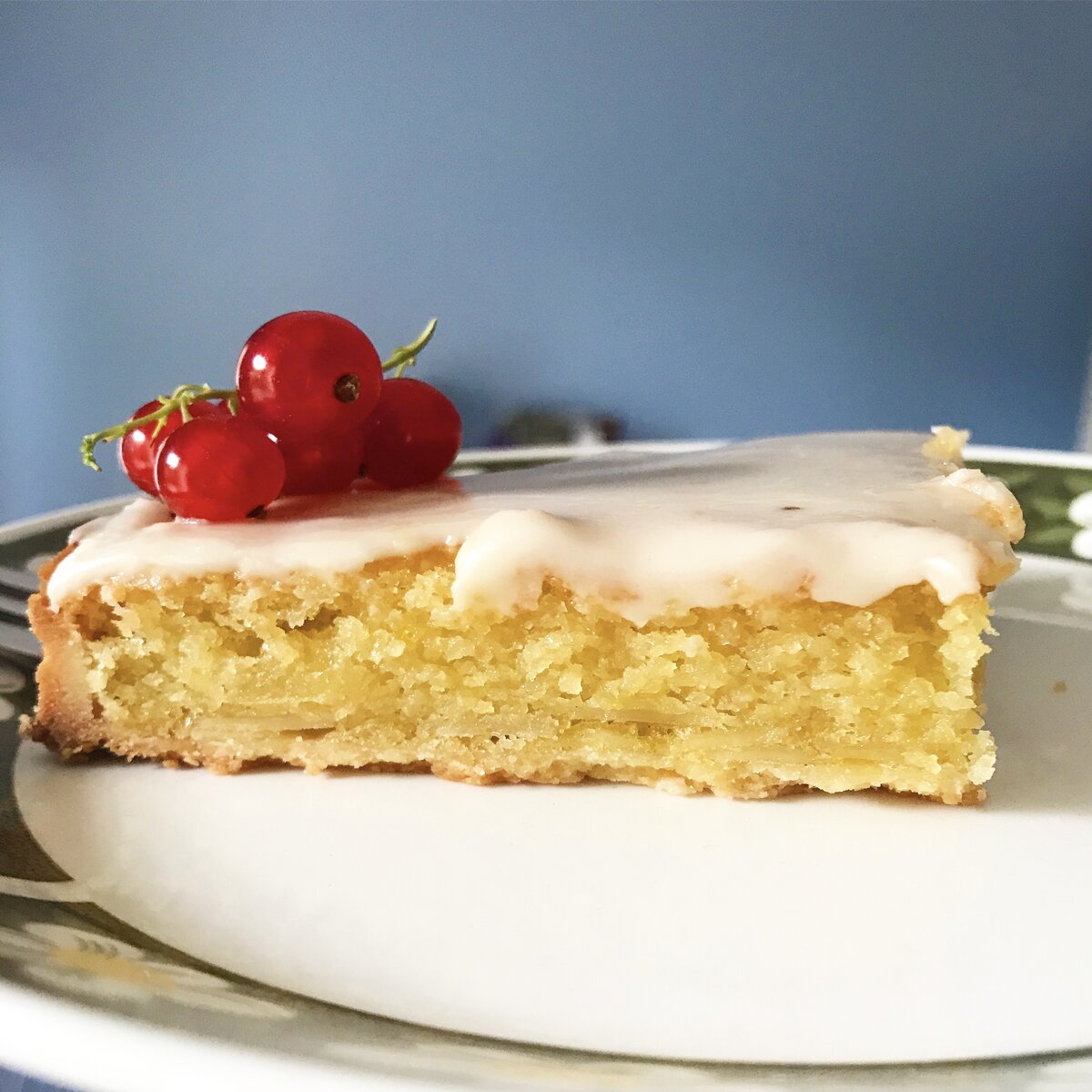 Known simply as le Saint-Germain, this almond-packed cake with a subtle hint of rum was created in 1920 by the Pâtisserie Hardy in Saint-Germain-en-Laye, between Paris and Versailles.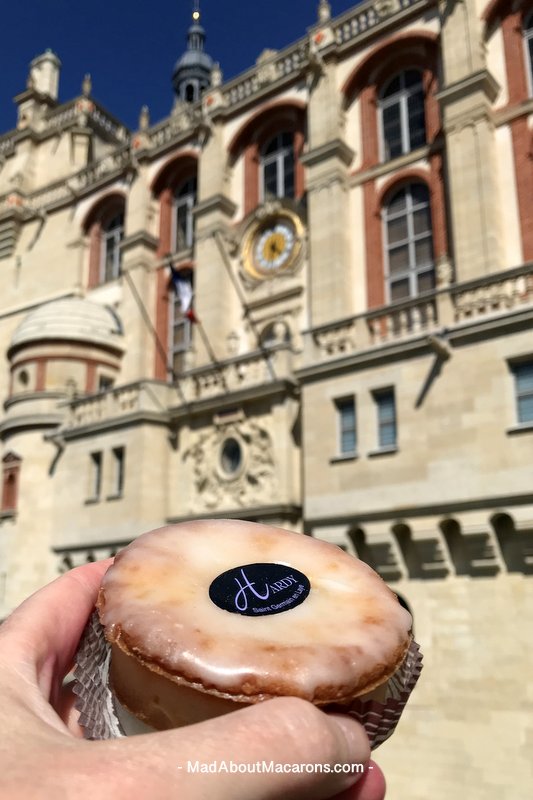 Le Saint-Germain: A Closely Guarded Secret Recipe
As you can imagine, I've tried all sorts of ways to be able to extract the recipe from the patisserie's creators on rue des Louviers. Each time, however, they make it clear that the secret recipe has never left the laboratory since it was created in 1920.  So, what's a girl to do?
The answer? Taste as many Saint-Germain cakes as possible and develop as close to the recipe myself to share a part of our delicious royal town. That way you can taste what it's like if you can't get to Saint-Germain-en-Laye, just outside Paris.
Le Saint-Germain Almond Cake Variations
In Saint-Germain-en-Laye, Le Saint-Germain almond cake is available also at the Patisserie Grandin in rue au Pain. While both versions are full of almonds and clearly have some bits of almonds in there too (not just powdered), Grandin's version is laced a lot more with rum. In fact, it's pretty boozy!
See much more on this cake and the sweet specialities in my online Saint-Germain-en-Laye Chocolate & Pastry Tour.
Not everyone loves rum but if you're like our family, we love it and a good splash in the icing is great. Add another tablespoon in the almond filling just for that extra oh-là-là kick.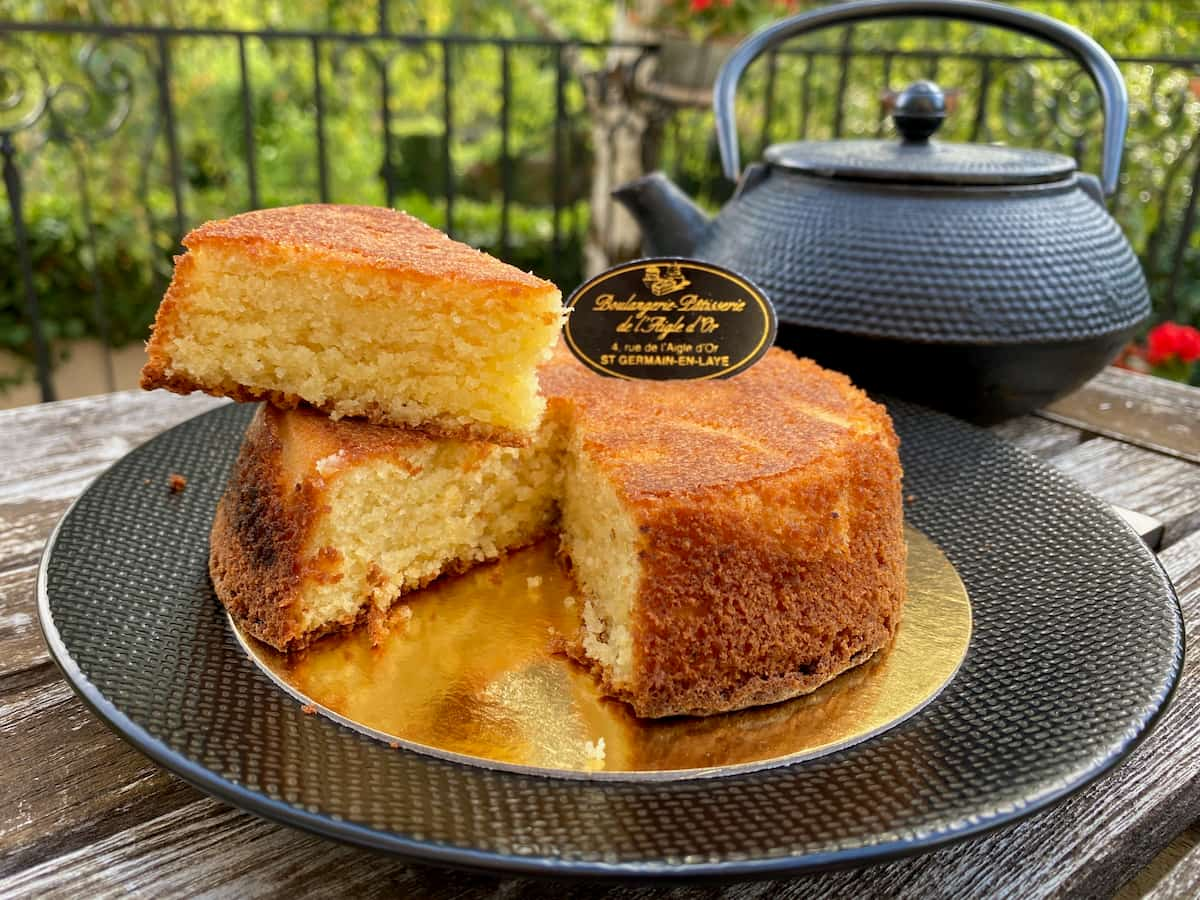 Gluten Free French Almond Cake
When I first tasted le Saint-Germain made by my French friend, Liliane, she didn't serve the cake at all using sweet pastry like the patisserie versions. It was without the the tart shell and served as a plain with a glaze.
Then I discovered the magnificent version of Le Saint-Germain made by the Boulangerie-Patisserie l'Aigle d'Or. Theirs is a complete gluten free French almond cake, made without any tart shell base and without the glaze.  If you make the recipe below and prefer to keep it gluten free, I suggest adding another egg to the cake to lighten it up to resemble this version.
Saint-Germain Almond Cake
Just like macarons, this cake tastes better when matured. So once you've made this try and forget about it for 24 hours, as it tastes even better after leaving it aside for a day to mature. It's really worth the wait.  Try it for yourself and taste the difference.
After painstaking tasting sessions of developing the recipe with my daughter, Lucie, however, I'm happy with the result as it tastes just as good.
More on Saint-Germain
To help plan your next trip when in Paris, or simply enjoy some armchair travel around France, see my gourmet travel posts:
Also find out other speciality recipes that were created here, including the Sauce Béarnaise.
French Almond Tart with Chestnut Filling
Inspired by a Moelleux au Marron by chef Claire Demon's Du Pain et des Gâteaux in Rue du Bac, this extra chestnut filling with the almond is an extra treat! Spread a layer of chestnut and vanilla paste at the bottom of the tart base (about 3 tablespoons) and top with the rest of the almond filling.  This is excellent served during the festive season! On top of the rum glaze, decorate with one or two marrons glacés (candied chestnuts).
Love chestnuts? Discover all about them and more recipes from the Chestnut page from our local French market.
More French Almond Cakes
Looking for the name of the famous small French almond cakes? They're called Financiers, our little almond teacakes (like friands) - get the Financier cake recipe, an extract from my book, Teatime in Paris.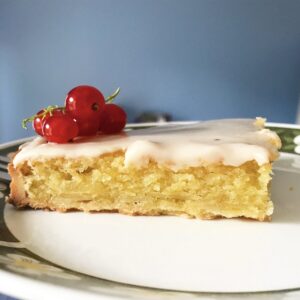 French Almond Cake (Le Saint-Germain)
Known as Le Saint-Germain, this almond cake with rum was invented by the Patisserie Hardy in 1920, Saint-Germain-en-Laye, near Paris. As the genuine recipe is a local secret, I have created something similar to recreate this at home. Either prepared with or without the tart base.
Ingredients
Sweet Pastry Base (optional):
125

g (4.5oz)

butter (unsalted)

softened

75

g (3oz)

icing (powdered) sugar

½

teaspoon

salt

(fleur de sel)

1

egg (organic)

250

g (9oz)

plain flour

(all-purpose)
Almond Filling:
100

g (3.5oz)

unsalted butter

softened

75

g (3oz)

sugar

2

eggs (organic)

at room temperature

100

g (3.5oz)

ground almonds

(almond flour)

1

tablespoon

good quality rum

optional

25

g (1oz)

slivered almonds
Glaze:
4

tablespoon

icing (powdered) sugar

2

tablespoon

good quality rum
Instructions
Sweet Pastry (optional):
Preheat the oven to 180°C/160°C fan/Gas 4/360°F.

Beat the butter, sugar and salt together in a mixer or by hand until pale and creamy. Gradually add the other ingredients until well combined then split the dough in two, cover in cling film and chill in the fridge for an hour. (You won't need all of this dough - you can freeze the rest or keep it for up to 3 days.)

Remove from the fridge until easily workable. Roll out the pastry to 3-4mm thickness on a floured surface then press into a 24cm (9") tart ring or into a pie case. Leave to set in the fridge for 20 minutes then blind bake by topping with baking parchment and baking beans and bake for 15 minutes. (For a more detailed step-by-step recipe, see my chapter on tarts in 'Teatime in Paris'.) Set aside to cool on a wire rack once turned out.
Almond Cream Filling:
Cream the butter and sugar together until light and creamy. Add the eggs, ground almonds and rum if using.  Sprinkle the slivered almonds on the base of the baked pastry base then spread on the almond filling.  Bake further in the oven for 25 minutes (same temperature as above).  Set aside to cool then chill for 24 hours or overnight in the fridge. 
Rum Glaze:
Mix together the icing (powdered) sugar with the rum and spread the glaze on to the cooled almond tart.
Notes
Set aside in the fridge for 24 hours to mature and serve at room temperature to appreciate all of the flavours.  Although you can serve this on the day, waiting until the next day is really worth the wait. Like macarons, the flavours intensify and the result is so much better after maturing the cake.
Note: Sometimes this cake is made without the tart base, making it gluten free.  If making this without the sweet pastry base, add another egg to the almond filling.
Nutritional Information: 240 Calories per serving; 6g protein.