Welcome
Meet

Jill Colonna

Bonjour ! I'm Jill, a Scot (and French citizen) living near Paris – author, home cook and photographer behind the website, wife, mum and flute player.

I created this Paris based food blog in 2010 to coincide with the release of my first book, Mad About Macarons. Today I'm building on my experience of French family life for 30 years – including a deliciously fun spell as chocolate-pastry Parisian tour guide, inspiration behind my second book, Teatime in Paris and now le blog.

France has been in my stars: childhood family holidays, studying flute in France, a passion for French wines leading to a wine diploma. The cérise sur le gateau?  My Frenchman – now husband, Antoine, who whisked me to Paris in 1992. I'm still learning the language (I wish I'd invented le and la, as I'd make it easier!) plus its fascinating food culture, picked up from French family, friends and chefs en route on this delicious adventure.

So here is where I share what I learn along the way.
Clown Girl in the Ring
French

Pâtisserie

My French jury duty so far has been for judging pâtisserie (2017, 2019).

With the lovely Mercotte (France's Mary Berry), I'm not the strict person on the jury and like to put people at ease. So I'm flattered to be invited back by my friends, pastry chef and chocolatier, Christophe Roussel's amateur pastry challenge in La Baule in June 2022.

Does this mean I have a sweet tooth? No. Quite the contrary. Along with most French pastry chefs, I'm very sensitive to sugar content in cakes: too much sugar masks all the beautiful flavours – so my recipes are reduced in sugar as much as I dare.

Check out Raphaël Haumont (far right on the photo), food scientist with Thierry Marx. See how he transforms astronaut, Thomas Pesquet's favourite French comfort food for Space.

From left: Christophe Roussel, Eric Guerin, Christophe Felder, Mercotte, Jill Colonna, Raphaël Haumont.
Originally from Edinburgh, Scotland, I met my French (Corsican) husband in Glasgow and didn't think I'd be taking a one-way ticket to Paris. Had I known, I'd have worked harder at French at school;
I play with my food. That sounds weird, so to understand what I mean, pop over to my YouTube channel. I played flute for Scotland, masterclasses (James Galway) & studied with Alain Marion in Nice. My motto? You're only as good as your last performance, so I play on;
In 2019, I was diagnosed with thyroid cancer and had it removed with the parathyroid glands. I'm thankful that this form of cancer is so treatable and encourage you to have regular checkups.  Apart from daily hormonal treatment, I just eat a healthy diet;
For my Masters degree marketing research project, I studied consumption of wines by the glass in hotels and inns around the UK. It's the most fun study I've ever had to endure;
I love the fun side of life – and finding terrible puns;
While studying in Scotland, I was overweight so tried some pretty drastic diets. Since moving to Paris, I've adapted to the French way of life and haven't dieted in 30 years…
Yet I love wine, cheese, pastries and those extra buttery croissants! I'm still wearing my clothes before the kids were born 21 years ago, so there must be something in the French way of life (find out more in Lifestyle)!
Becoming
Mad about
Macarons
It's a romantic cliché, moving to Paris to start a new life with my Corsican Frenchman in 1992. While working in Paris's chic 16th, I tasted my first Parisian macaron. What was all the fuss about and why so expensive? As it was rather a costly hobby tasting them around Paris, I set about making my own homemade macarons.
It wasn't that easy at first without a recipe explaining all the tips. So experimenting with initial delicious macaron failures, I came up with my own step-by-step recipe that worked in a non-professional kitchen. Even our French guests were impressed. By perfecting the macaron, they also accepted I could cook and, before I knew it, they were asking for my recipes (now my kids are too)! So, Mad About Macarons was born: the book and le blog where Jill Colonna is Mad About Macarons!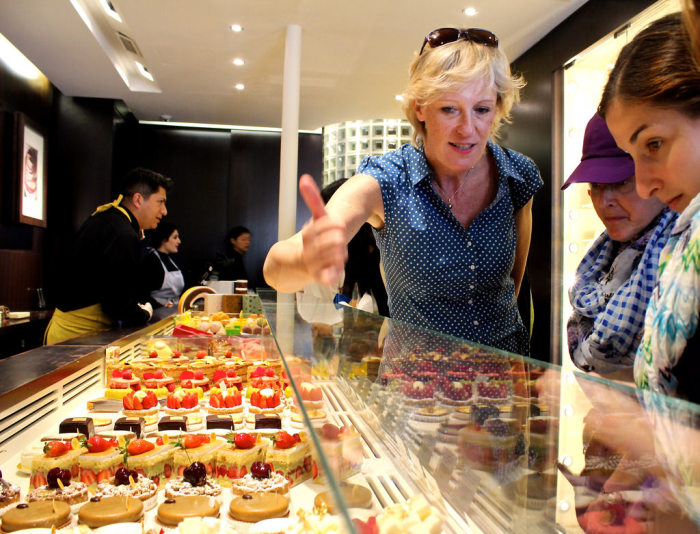 QUESTIONS?
Work with
Jill
I'd love to hear from you if you have any questions about my books or about anything on le blog. Please don't forget to comment on recipe posts and leave a review. I love to hear when you make the recipes!
I do not accept guest posts but please do get in touch for product reviews, French food/travel promotion or events that would be of interest to my francophile readers.  Contact me with your product or concept and I'll get back to you soonest.
Cheers, santé, and thank you for popping by! Now it's over to you to enjoy sharing in the recipes here…
SEE RECIPES