As author of Mad about Macarons, I am often asked what are the best macarons in Paris. Of course it's subjective. However, having lived here for over 30 years, I've probably clocked up enough tastings to finally share the best quality ones.
With about 1600 shops in the Paris area alone, there are so many to choose from - but rather than just give you just the top 5 or 10, here are my TOP 20 - your ultimate local guide.
The following list shows there are more than just two famous houses that produce them really well.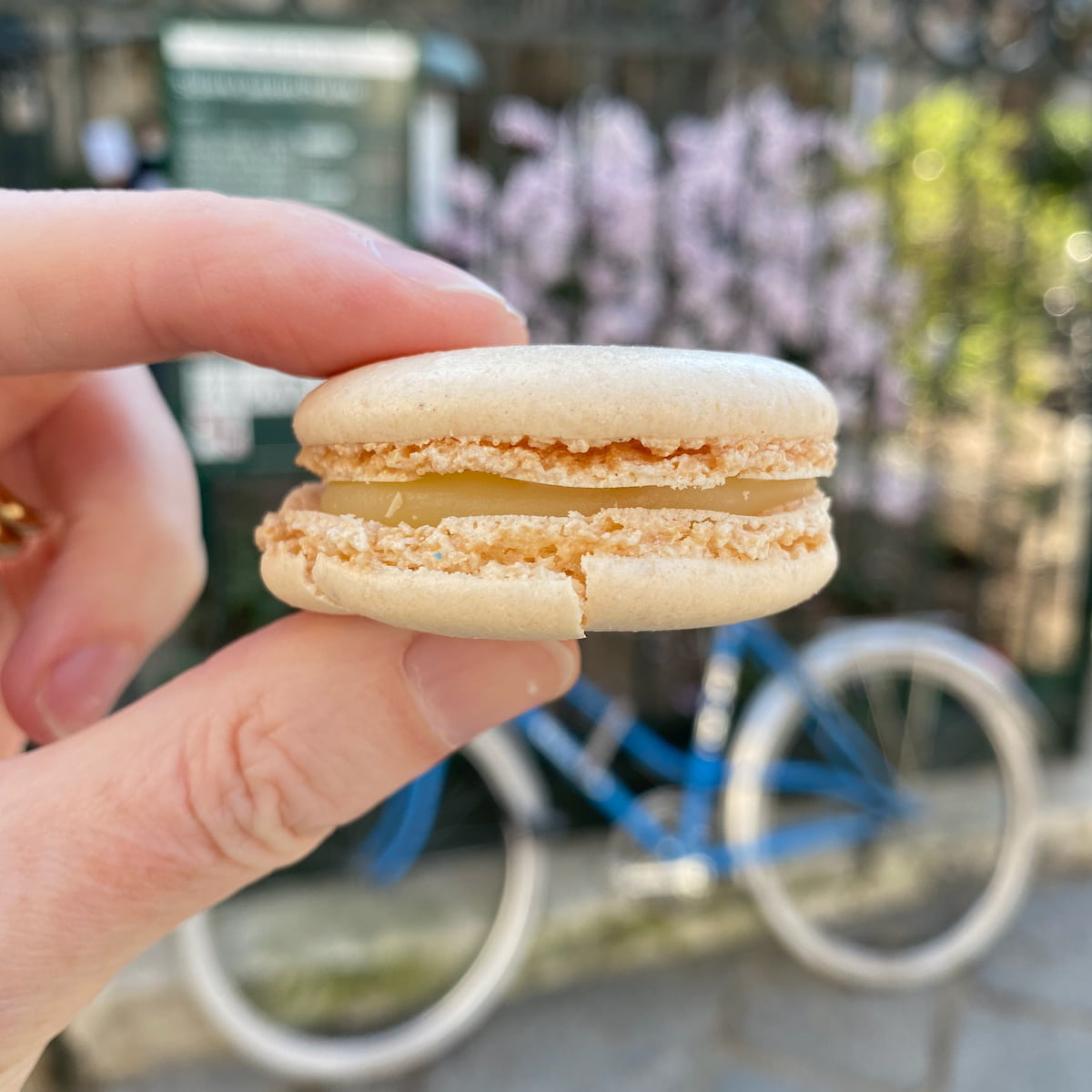 How Much Does a Macaron Cost in Paris?
I often get asked why macarons are so expensive. Well, they are a labour of love. A batch of 40 homemade medium ones of the same flavour takes 2 hours with a crucial resting time of 24 hours for the filling to work its fondant magic. So, if you see many flavours, I'll let you imagine just how much time it all represents.
Medium is the standard size of macaron in Paris and around France, particularly in the high-end pâtisseries. Many bakeries produce large ones too. So this article generally refers to the medium size.
As a result, a macaron can cost anything from one Euro in local bakeries to €4. Chain bakeries (e.g. Eric Kayser, Paul) tend to be at the cheapest price range for quality macarons, with the least expensive at McDonalds, but this article is based on the high-end pâtisseries. Although slightly smaller than average, Georges Larnicol's macs (see below) are even less than a Euro!
I'd say the cheapest way to get best quality macarons is to buy a few in a box. A box is not only better value but if walking around Paris, it keeps them more intact, as they're fragile to transport. Be prepared on average to pay €2.50 each.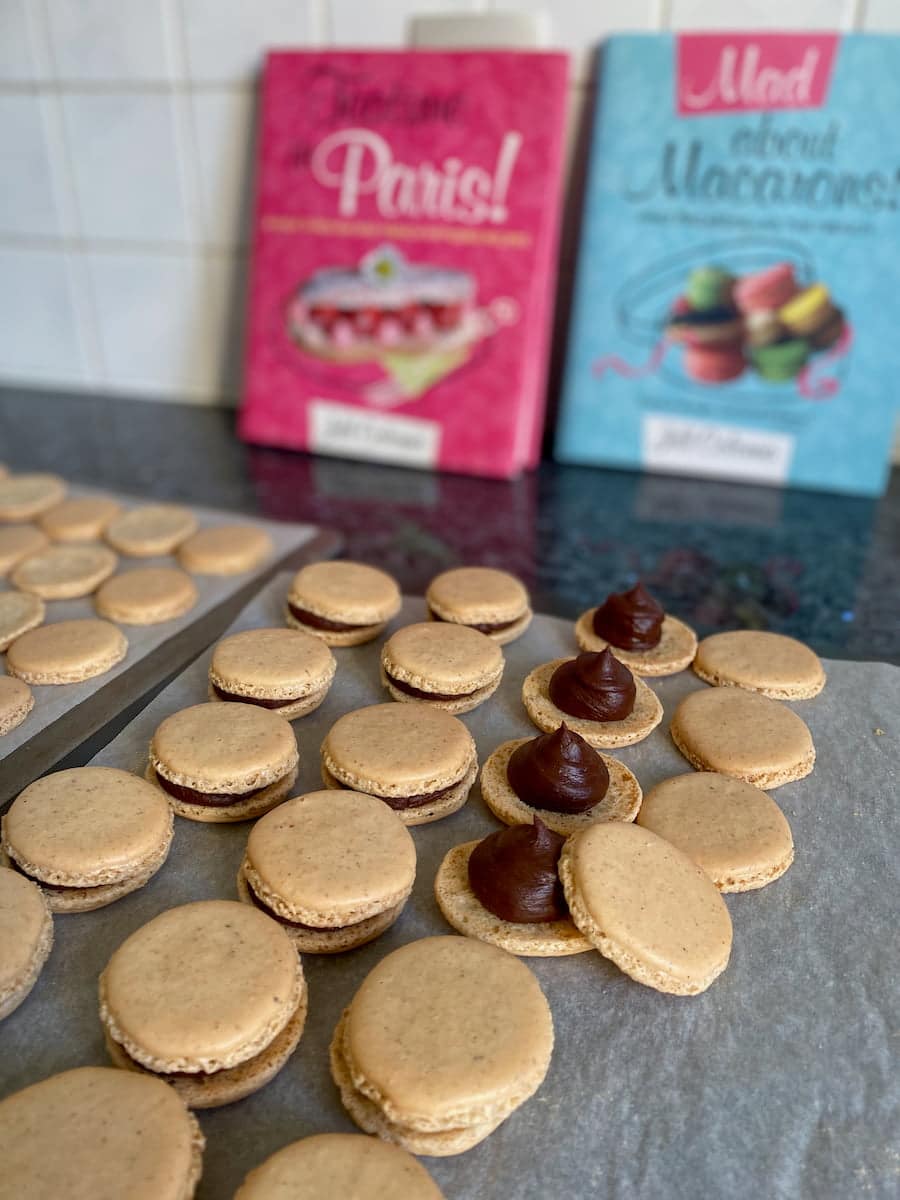 What are Macarons Made Of?
Made with finely ground almonds (almond flour), egg whites and sugar, macarons are gluten free. Between the two macaron shells with their characteristic frilly 'foot' (pied), lies the filling which flavours the macaron. Fillings typically range from fruity jam-like; dark, milk or white chocolate ganaches; and buttercream.
What are the Worst Macarons in Paris?
Conversely, others can be downright disappointing: too dry, too sweet or over-perfumed with synthetic flavourings. Macarons should be slightly crispy on the outside with a soft and fondant inside - not chewy.
Alas, they do exist even with the expensive price tag, which has often led me to make my own macarons at home! One rule of thumb and easy to spot: avoid over touristy areas, overly-synthetically coloured macs, often sitting out in the heat. If unsure, buy one just to taste then return for more. They should be slightly crispy on the outside and fudgy fondant inside, full of flavour.
Are Ladurée or Pierre Hermé the Best?
Another question I get asked - and almost every time when I led chocolate and pastry tours - is, 'Are you more Ladurée or Pierre Hermé?'
Look, it's like music; it depends on your mood, the weather, your location. Each have their speciality flavours and so try some from each. Ladurée are more into classic flavours and Hermé experiments more with flavour combinations, some pretty adventurous. So read my own preferences below. Most of the time, it will work for you too.
Why is Ladurée so Famous?
Quite simply, for creating the modern, Parisian macaron. Pierre Desfontaines, second cousin to Louis Ernest Ladurée (the house's original creator in 1862 in Rue Royale) is credited as inventing the Parisian gerbet macaron in the early 19th century.
Are Ladurée Macarons Worth it?
In short, yes - even if it's to try a few classics and experience the historical ambience. Since 2020, chef pâtissier Nicolas Haelewyn has taken over as international creative director, following Claire Heitzler. As a Breton, he has already made a name for himself with legendary salted caramel with his boutique, Karamel (see my article on Best Bakeries in Rue Saint-Dominique).
For those of you like me who love light macarons made with French meringue, Ladurée's macarons are slightly crispy with just enough soft, fondant centre. Some flavours are more up-front than others. I do prefer those that pack a wham-in-the-mouth tasting punch but not that make you feel like you've downed a few drops from a perfume bottle, either.
Their best-selling classics such as orange blossom, lemon, and vanilla are still my favourites, now with salted caramel. Seasonal macarons include chocolate hazelnut completely coated in milk chocolate (a technique also used by pastry chef, Sébastien Bouillet with his Maca'Lyon and Christophe Roussel). Although I have an aversion to eating blue macarons, their Marie-Antoinette tea is a delicious exception. There's even a caramel coconut vegan macaron from their seasonal collection.
Pierre Hermé
Pierre Hermé's macarons are so different to Ladurée. For the fan of the softer Italian meringue macaron with a generous filling as big as the shells, his macarons are much richer than the others. I personally find 2-3 in one sitting is more than enough.
"With pleasure as my only guide", Pierre Hermé has revolutionised a universe of tastes in the world of Haute-Pâtisserie. There are two main collections: his Signatures and Infiniment (meaning infinitely, as these flavours are concentrated). His seasonal theme, Les Jardins, are always on the move as he adapts and creates new flavours every couple of months.
Most macaronivores go for his classic Isaphan, the rose-raspberry-lychee creation he made while at Ladurée, inspired by the Isaphan rose that grows in Iran. Don't leave without trying Mogador (passion fruit and milk chocolate) and Infiniment Vanille or Pistachio.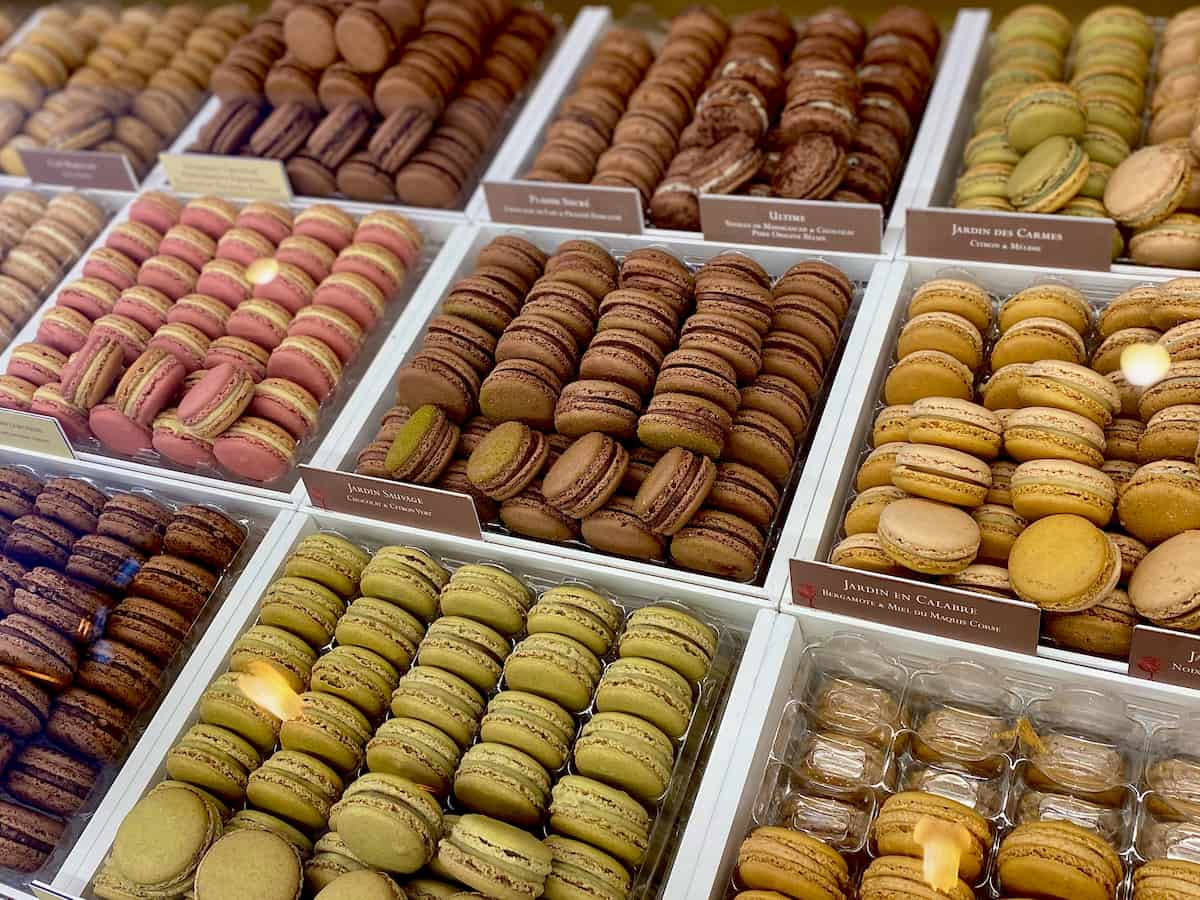 Where Can I Try the Best Savoury Macarons in Paris?
During festive season, Pierre Hermé usually adds some savoury macarons, such as fig or chocolate with foie gras. As it's seasonal, they do tend to change flavours, so keep an eye open.
Richart also make the smallest, cutest mini macarons with savoury flavours such as Tapenade Noir (black olive spread), Chèvre-Thym (goat cheese & thyme), fig and foie gras. More on Richart below.
This is where I was inspired to make my own mini savoury macarons too, as they are so much fun (especially with spice: tikka macsala, Thai curry, beet horseradish etc.).
Jean-Paul Hévin
Jean-Paul Hévin is Meilleur Ouvrier de France and chocolatier with many stores around Paris. What's more, he participates in the annual charity event, la fête du macaron run by the pastry chefs of Relais Desserts every first day of Spring.
All are made without colourings and his fillings with chocolate ganache; from intense chocolate ganaches (les Grands Crus du moment) to a combination of fruity ones. My personal favourites are Tana (Grand Cru ganache from Madagascar), Vanill'in (not too sweet), Crème Brûlée (plus one with coffee), Pistach'in, and Violette (infused with blackcurrant). If you love your chocolate extra intense, enjoy the Super Amer.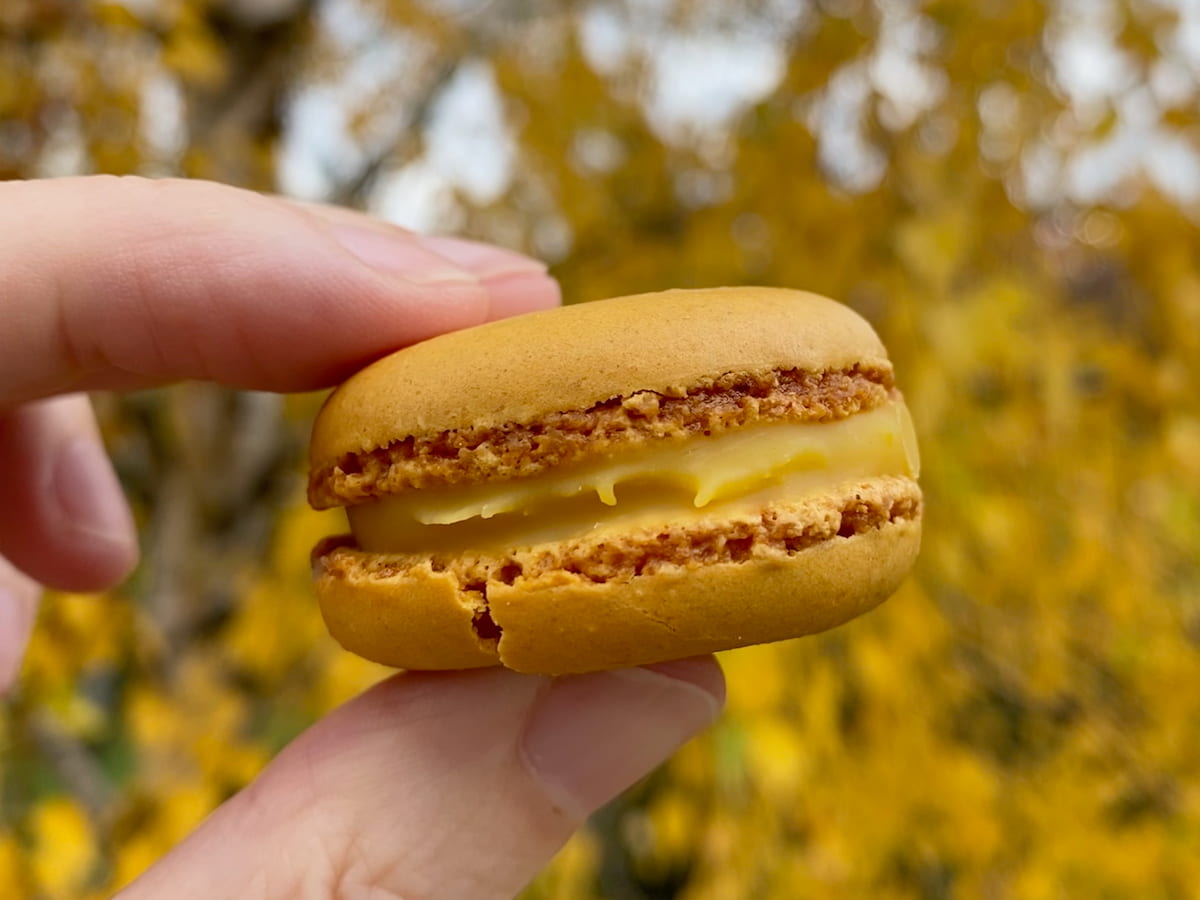 Pascal Caffet
Pascal Caffet is Meilleur Ouvrier de France in pâtisserie, twice over world champion in pastry and chocolate and specialist in the best French pralines. Moreover, he makes exquisite macarons.
Amongst my favourite flavour are praliné noisette (hazelnut praline), Chocotartiné, Chocolat passion, coconut, raspberry, caramel, cassis-violette and café – or should we say Caffet? His passion fruit and seasonal mango have the most incredible acidity with a lovely mouth-feel, like tasting a fabulous wine that lingers on the palate.

Laurent Duchêne
Laurent Duchêne's motto is that his cakes should look as good as they taste. As Meilleur Ouvrier de France (1993), he now has three boutiques in Paris, with the first opening in 2001 in the 13th arrondissement. Also participates in the annual charitable Macaron Day in Paris event.
With his Japanese pastry chef wife, Kyoko, it's no surprise that there are some incredible Nippon influences with extraordinary attention to detail. I particularly love their more acidic fruity flavours: citron (lemon) and framboise (raspberry). The café/coffee is also worth a special mention as well as other classics.
Also try their latest cardamom and pear, gingerbread (pain d'épices) and chestnut (marron) from the 2022 winter collection.

Sadaharu Aoki
Award-winning pastry chef, Sadaharu Aoki has been amazing Parisians with his distinct Japanese influences on French pâtisserie since he arrived in Paris in 1991. All of his macarons are made with a chocolate ganache - from white, milk to dark.
His tea-infused macarons are extra special such as Earl Grey, Hojicha grilled Japanese tea, and genmaïcha - which is a green tea combined with roasted brown rice. It's difficult to say which ones are really 'best' here. Houjicha and sesame are exquisite - but perhaps my personal tops are both the wasabi and pistachio. Looking to taste them with Japanese tea? The good news he has a quiet tearoom on rue Saint Dominique, which has now added a few more tables. En plus, chef Aoki participates each year in the annual Fête du Macaron charity event.
Pierre Marcolini
Don't be fooled by his lifelike artificial macarons on display. On the contrary, they're kept away from the shop floor to preserve their freshness in the fridge. Known for making his own chocolate from cacao bean to bar, Belgian chocolatier Pierre Marcolini makes his macarons with 'a little patience and plenty of passion'. Ingredients are carefully sourced using single-origin ingredients: lemon from Sicily, passion fruit from Brazil, pistachios from Iran...
En plus, I recommend tasting his house blend chocolate macaron with a touch of Madagascan vanilla, and his Belgian Speculoos (Biscoff) speciality.

Lenôtre
Pastry chef, Guy Krenzer, twice over Meilleur Ouvrier de France (1988 and 1996) continues the tradition of Gaston Lenôtre, founder of the pâtisserie-traiteur business in 1957. This is where macaron towers are popular and can be found decorating parties and special events around the city.
Like most houses, flavours change according to season: Spring's vanilla and strawberry, for example, will soon be replaced with a summer inspiration. However, classics (vanilla, hazelnut, raspberry) are always popular, including their 3-origin Chocolate ganache from Ghana, Sao Tomé and Tanzania. I'm still dreaming of the gold tinted jasmine flower they made, Saveur Royal to honour jasmine-loving Queen Marie-Antoinette.
La Grande Épicerie
Like Fauchon, this is another historical reference in the city. Their luxury food halls have an impressive pâtisserie counter and there's always a huge choice of flavours with limited edition seasonal favourites.
I'm in awe of their more citrusy flavours, such as lime and ginger plus a seasonal apple (façon 'pomme-tatin') plus their classics, coffee and vanilla.
Dalloyau
Founded in 1682, Dalloyau pride themselves with making their macarons from quality Spanish almonds from Valencia. They must be the most shiniest, pretty macarons on a visual scale too. Soft and dainty, try their raspberry, exploding with fruit pulp thanks to their own jam and the 70% Venezuelan chocolate macaron. Earl Grey tea fans will love the bergamot, not too sweet and floral.
They also participate in the annual charity event, La Fête du Macaron in Spring.

Carette
Another top reference for macarons in Paris is at Carette's original 1920s art déco tea salon in Trocadero or on Place des Vosges. This is where you can sit and enjoy them with tea or hot chocolate and either nibble daintily on one medium sized, go up to a large size - or go for the tiered assorted macaron plate.
Like their particularly acidic lemon tart, the lemon flavour is a delicious pick-me-up in the afternoon. The salted caramel also worth a long, satisfying nibble.
Angelina
Like Carette, it's where you can sit for tea and enjoy macarons 'sur place' as well as take them home. Don't miss the Mont-Blanc, its macaron version of their signature pastry since 1903. This classic is a mound of vermicelli made of chestnut paste which encases light whipped cream and a heart of meringue. So Mont-Blanc macarons are with chestnut and vanilla in meringue-like macaron shells.
La Maison du Chocolat
Since 1997, this chocolate shop has continued in the footsteps of chocolate maker Robert Linxe under the talents of creative chef, Nicolas Cloiseau, Meilleur Ouvrier de France. Like chez Hermé, macarons are given names to conjure up their mysterious flavours. Special mentions go to Abyssinie (chocolate-coffee), Macapuno (chocolate-coconut-lime), Guayaquil (chocolate-vanilla) and Rigoletto (chocolate-salted caramel) which will be music to many taste buds.
Pascal le Gac, previous creative director here for 24 years, continues to make the best macarons in Saint-Germain-en-Laye, just west of the city. Perfect for a day trip, read more about St Germain's pastry and chocolate shops in this royal town.

Georges Larnicol
A Meilleur Ouvrier de France, Georges Larnicol is hugely popular for his Kouignettes®, mini Kouign Amman cakes from his native Brittany. To date, however, I've not been a fan of his macarons; I used to call them Dolly Partons due to the pointed tip each one had.
Things have changed. They're perhaps smaller than average but great value for money, and all fabulously fondant and fruity. Violet, passion fruit, vanilla and pistachio are worth a special mention.

Jean-Charles Rochoux
The macarons at Jean-Charles Rochoux are striking. All ganache flavours are presented with a chocolate shell base and topped with a cream shell garnished with a pretty decoration to resemble the flavour. It's pure art before even tasting them and the line-up of choices is impressive. I admit I still haven't tried them all but I need to have this goal to strive for on a walk to his boutique between Saint Germain-des-Prés and Montparnasse.
Try his 'Rose des Jardins de Grasse' with a white chocolate ganache and the basil and dark chocolate (give your friends a blind tasting with this one - it's magic!). Any rum-raisin fans like my husband will also be happy macaronivores - and don't leave without tasting the caramelised pistachio praline.
Richart
The smallest, most intense macarons you'll find in Paris are at Richart. Known as micro-macarons, they're also the cutest and look too good to eat! They're also not the cheapest at a euro each for their size but then, knowing how much work goes into making the smallest macarons (I make mini savoury ones as small as I possibly can), they're great value. All the flavours are stunning. With their small sizes, it's best to buy in their pre-packaged boxes.
They also come in a regular medium size but the smallest also come in savoury, ideal for an apéritif (with pre-dinner drinks). I go crazy for Roquefort-walnut and parmesan-honey.
À La Mère de Famille and Stohrer
There are five boutiques where the oldest Parisian chocolate shop (1761) joins together with the oldest pâtisserie in Paris. This is where you'll find their macarons. Particular mention goes to raspberry.
35 rue Cler Paris 7th near Rue Saint-Dominique; 95 rue Cambronne Paris 15th; 58 rue de Lévis Paris 17th; 23 rue Lepic Paris 18th in Montmartre (and in Boulogne-Billancourt)
BEST MACARONS PARIS, MONTMARTRE
Christophe Roussel
Don't think about going to Montmartre without stopping for macarons at Christophe Roussel's Duo Avec Julie in rue Tardieu. Lucky for us, he has a shop here, as he's the pastry chef and chocolatier star of France's west coast by la Guérande.
Try the salted caramel coated entirely in dark chocolate and the 'plain' salted caramel from the Guérande; Passion Fruit and Vanilla, Coffee, chocolate and, above all, luscious lemon.
Each year, the Roussels are particularly generous for the charitable Macaron Day event. This year they gave all their macaron proceeds in aid of Ukraine for a whole week with blue and yellow lemon macarons.
Chocolat Illéné
Looking for something really original and a bit unusual? Since 2015, Koreans Hyunsoo Ahn and Hyejin Cho both created Chocolat Illèné in Montmartre following a star-studded chocolate-pastry career in Paris.
Choose from seasonal flavours or the favourites at all times of year: pistachio, caramel, sesame, black sesame and soya milk. I was most intrigued by l'Armoise. Yes, you can even taste a MUGWORT herbal macaron, which I believe should have a more scrumptious name in English, don't you?
Don't be put off with bumpy or cracked looking macarons here, as they are a mix between the classic Parisian gerbet macaron and the artisanal old-fashioned French macaron (more about this in my article, Macarons and Macaroons).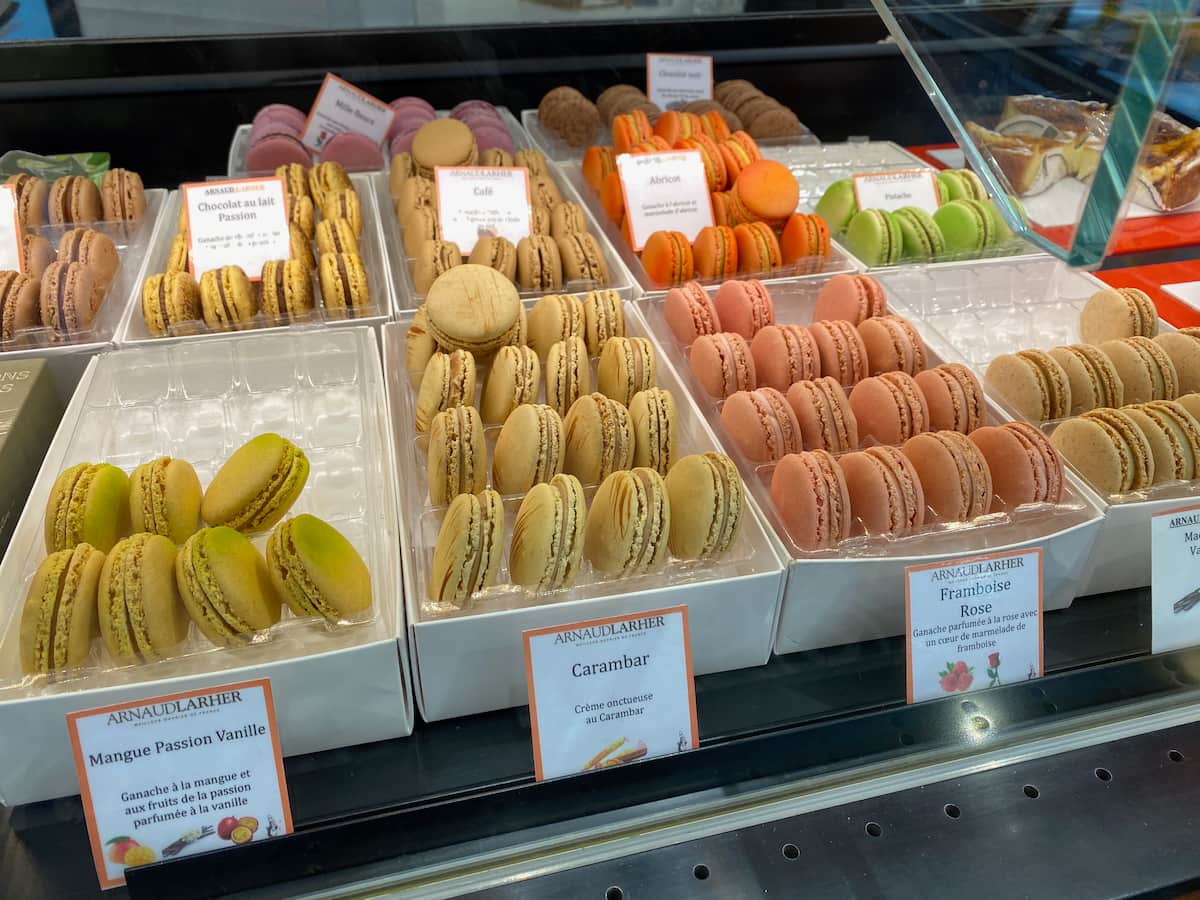 Arnaud Larher
A Meilleur Ouvrier de France, Arnaud Larher has worked with the greats, including Peltier, Dalloyau and Fauchon. Since 1997 he set up his own shop in Montmartre's rue Caulaincourt and, since 2000, has another in rue Damrémont (other in rue de Seine).
Try his classic selection: personal favourites are Mille Fleurs, Apricot, Madagascan Vanilla, Coffee (café Grand cru from South India) and Gianduja praline with hazelnut and milk chocolate. You may also fall for his macaron porcelain too. Larher also generously participates in the annual charity event, Fête du Macaron.
Plus there are fabulous macarons at Une Glace à Paris, the exquisite ice cream parlour in rue des Abbesses.
How Long Can I Keep Macarons?
The good news is that you don't have to eat your way through these best Parisian macarons all in one go! For more on how we eat 'avec modération', read this article, 5 Ways to eat like the French.
Keep macarons stored in the fridge for up to 4 days. Although many patisseries say consume within 4 days, I have often kept them 5-6 days and they're still great. Just check with each boutique when buying.
To enjoy them at their best, take them out of the fridge 15 to 20 minutes prior to serving to appreciate their full flavours.
Jill Colonna
Jill has lived in Paris since 1992 and is author of both Mad About Macarons (the recipe book and blog) and Teatime in Paris, featuring 50 step-by-step macaron recipes combined in both books - including baking tips and more about best Parisian macarons.
This post was first published 27 May 2012 but is now completely updated