With the budding arrival of Spring on 20 March, it's also the annual date of Macaron Day Paris.
Initiated in 2005 by Pierre Hermé, Macaron Day in Paris is always a charitable event organised by high-end pastry chefs throughout France, Europe and the World over who are all members of the prestigious Relais Desserts group.
UPDATE April 2022: With the exception of Pierre Hermé this year, all proceeds of macaron sales between at least 18-20 March 2022 went towards the Croix Rouge France in aid of the victims of the war in Ukraine.
€32 000 was raised - so a huge thanks to all who participated in the event.
This post was first published on 10th March 2016 and I've published various editions over the years to keep up with this annual charitable event. Welcome to the 2022 edition!
Guide to Macaron Day in Paris 2022
So between 18-20th March, if you're able to participate in Macaron Day Paris, please do help raise funds by buying as many macarons from the following participating patisseries around Paris. 100% of the sales go to La Croix Rouge to help victims of the war in Ukraine (with the exception of Pierre Hermé - see below.)
Moreover, donations to the Croix Rouge are welcome directly if you can't make it to any of the Relais Dessert pâtisseries below.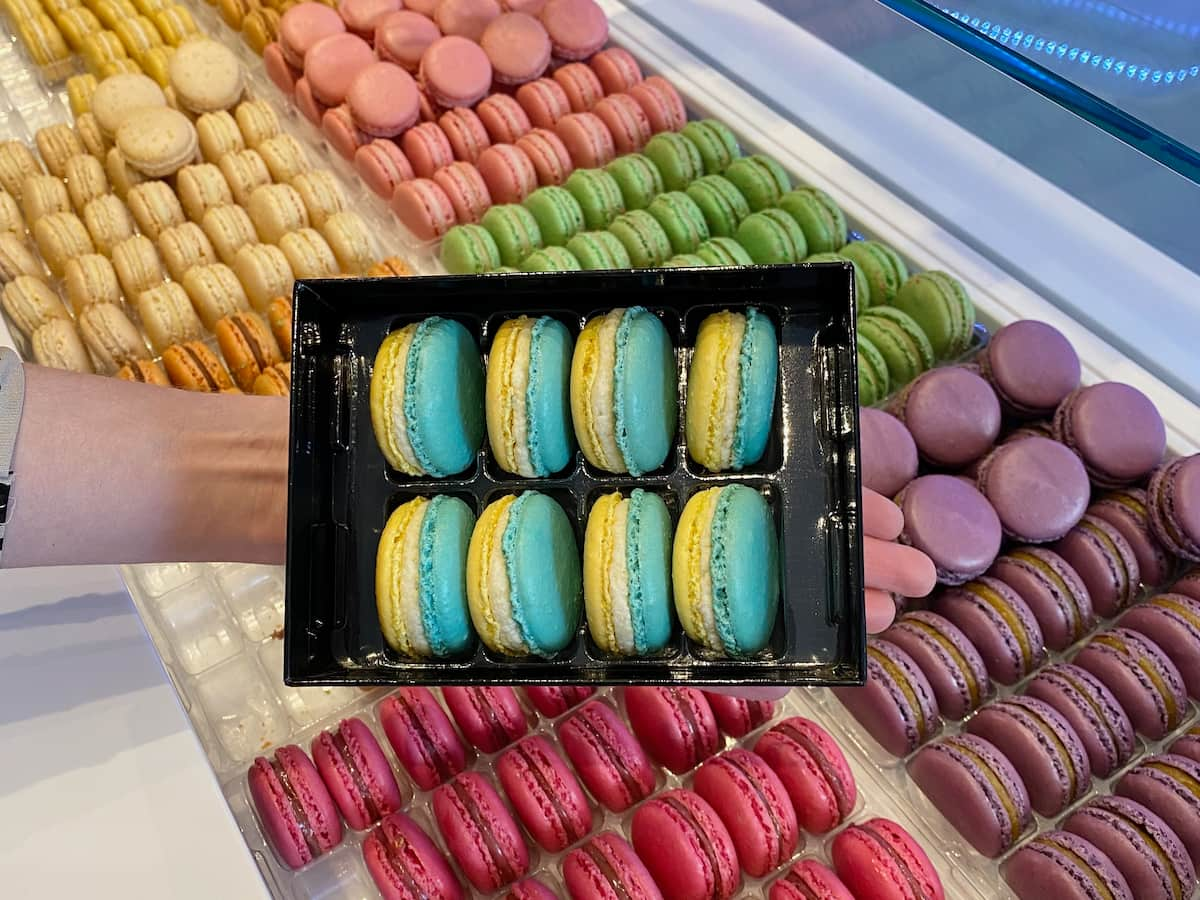 Pastry chef and chocolatier star of France's west coast, Christophe Roussel also has a boutique in Paris's Montmartre. Just at the bottom of the hill known as the butte de Montmartre, find a most generous selection of macarons to choose from. Check out my post on Christophe Roussel's macarons and chocolates in more detail. I personally love his Salted Caramel coated entirely in dark chocolate and the 'plain' salted caramel from the Guérande; Passion Fruit and Vanilla, Coffee, chocolate and, above all, luscious lemon.
For Macaron Day, the pâtisserie is selling a box of 8 lemon macarons in the Ukraine colours for 14 euros especially for the event. These boxes are on sale as of Sunday 13 March.
 5 rue Tardieu, 75018 Paris (Friday-Sunday: 10.15am-1.15pm/2pm-7.30pm)
As Chocolatier, all of Jean-Paul Hévin's macaron fillings are made with chocolate ganache, from intense chocolate ganaches to a combination of fruity ones. My personal favourites are Tana (Grand Cru ganache from Madagascar), Vanill'in (not too sweet), Crème Brûlée (plus one with coffee), Pistach'in, and Violette (infused with blackcurrant). If you love your chocolate extra intense, then you'll love the Super Amer.
For more on his boutique, see my article on Pâtisseries on rue du Bac, also known as Paris Pastry Street.
231 rue Saint Honoré, 75001 Paris  (all boutiques Friday-Saturday: 10am-7.30pm. Closed Sunday)
41 rue de Bretagne, 75003 Paris
3 rue Vavin, 75006 Paris
23 bis avenue de la Motte Picquet, 75007 Paris
93 rue du Bac, 75007 Paris
Lafayette Gourmet, 35 Boulevard Haussemann, 75009 Paris (Fri/Sat: 9.30am-9pm; Sun: 11am-8pm)

A Meilleur Ouvrier de France, Arnaud Larher has worked with the greats, including Peltier, Dalloyau and Fauchon. Since 1997 he set up his own shop in Montmartre and since 2000 has two more boutiques to dazzle us.
Try his classic selection: my favourites are Mille Fleurs, Apricot, Madagascan Vanilla, Coffee (café Grand cru from South India) and Gianduja praline with hazelnut and milk chocolate.
93 rue de Seine, 75006 Paris (Fri 11am-7pm; Sat: 10am-7pm; Closed Sunday)
57 rue Damrémont, 75018 Paris (Fri-Sat: 10am-7pm; Closed Sunday)
53 rue Caulaincourt, 75018 Paris (as above)

The legendary house of Gaston LeNôtre hasn't changed the macaron recipe since chef Guy Krenzer took over, using almonds from Valencia. Try the Madagascan Bourbon vanilla, intense raspberry (framboise), pistachio, chocolate and bitter coffee.
10, rue Saint Antoine, 75004 Paris (Fri-Sun 9am-8pm)
15, boulevard de Courcelles, 75008 Paris (opening times as above for all boutiques)
22, avenue de la Porte de Vincennes, 75012 Paris
61, rue Lecourbe , 75015 Paris
44, rue d'Auteuil, 75016 Paris
48 avenue Victor Hugo, 75016 Paris
121, avenue de Wagram, 75017 Paris

Chef Aoki's Japanese-French pâtisserie offers spectacular macaron flavours such as Matcha Green tea, Black Sesamé, Genmaicha, Hojicha, and Yuzu.
For more details, see my post on pâtisseries on rue Saint Dominique and his tea salon in my Paris Tearoom Guide.
56 Boulevard de Port Royal, 75005 Paris (Fri-Sun 11am-1.30pm/2.30-6pm)
35 rue de Vaugirard, 75006 Paris
103 rue Saint Dominique, 75007 Paris
25 rue de Pérignon, 75015 Paris
A Meilleur Ouvrier de France, Laurent Duchêne is married to chef pâtissière Kyoko and so there are some Japanese influences including chocolate yuzu macarons. Other classics include cassis (blackcurrant), chocolat praliné, framboise, vanille and citron lemon.
2 rue Wurtz, 75013 Paris (Fri-Sat: 7.30am-8pm; closed Sunday)
238 rue de la Convention, 75015 Paris (Fri/Sat: 8.30am-7.30pm; Sun: 8.30am-1.30pm)
45 Rue Raymond du Temple, 94300 Vincennes (as above)

Pierre Hermé is the exception this year for Macaron Day and is only participating in the event on Sunday 20 March. He has instead chosen to donate 10% of macaron sales to the Association Princesse Margot to help children and adolescents with cancer.
With an infinite gourmet choice of his macarons, anyone who has tasted them is bound to have their favourites. He has two collections: Signature and Infiniment®. From his signature collection: Ispahan (rose, raspberry, lychee), Mogador (milk chocolate-passion fruit), new flavours include café Marocain (coffee with spices) and Jardin des Carmes (lemon & lemon balm). From his Infinement collection: Infinement caramel, pamplemousse (grapefruit), orange, and Madagascan Vanilla.
4 rue Cambon, 75001 Paris (Friday/Saturday 11am-7.30pm; Sunday closed)
39 avenue de l'Opéra, 75002 Paris (Friday-Sunday 10am-8pm)
4 rue de Bretagne, 75003 Paris (Friday & Saturday: 10am-8pm; Sunday 10am-7pm)
18 rue Sainte-Croix de la Bretonnerie, 75004 Paris (as rue de Bretagne)
72 rue Bonaparte, 75006 Paris (as rue de Bretagne)
126 blvd Saint Germain, 75006 Paris (10am-8pm)
53-57 rue de Grenelle, 75007 Paris (as rue de Bretagne)
Publicis Drugstore, 133 avenue des Champs-Elysées, 75008 Paris (Friday-Sunday: 11.30am-8.30pm)
89 boulevard Malesherbes, 75008 Paris (as rue de Bretagne)
Lafayette Gourmet, 35 Boulevard Haussmann, 75009 Paris (Friday 10am-8pm; closed Sat; Sunday 11am-8pm)
185 rue de Vaugirard, 75015 Paris (as rue de Bretagne)
58 avenue Paul Doumer, 75016 Paris (as rue de Bretagne)
More About Relais Desserts
For more about the prestigious pâtisserie group in France and around the world, visit Relais Desserts. Thanks to all of you who participated, the wonderful news is that €32 000 was raised this year.