Looking for something deliciously simple to make with the delicate fish, John Dory? Just pan-fry in olive oil, butter, shallots and lemon, and serve with fresh herbs.
French Name for John Dory Fish
Known in France as Saint-Pierre, just like Saint Peter as it's known in America and Canada, John Dory is a popular fish here. It's oval, bronze with silvery-gold reflections with a large head but it has a main characteristic.
It's 'easy to spot' (I can't help myself, cue pun groan) by its legendary dark round 'tache' or enormous circle on the side of the skin.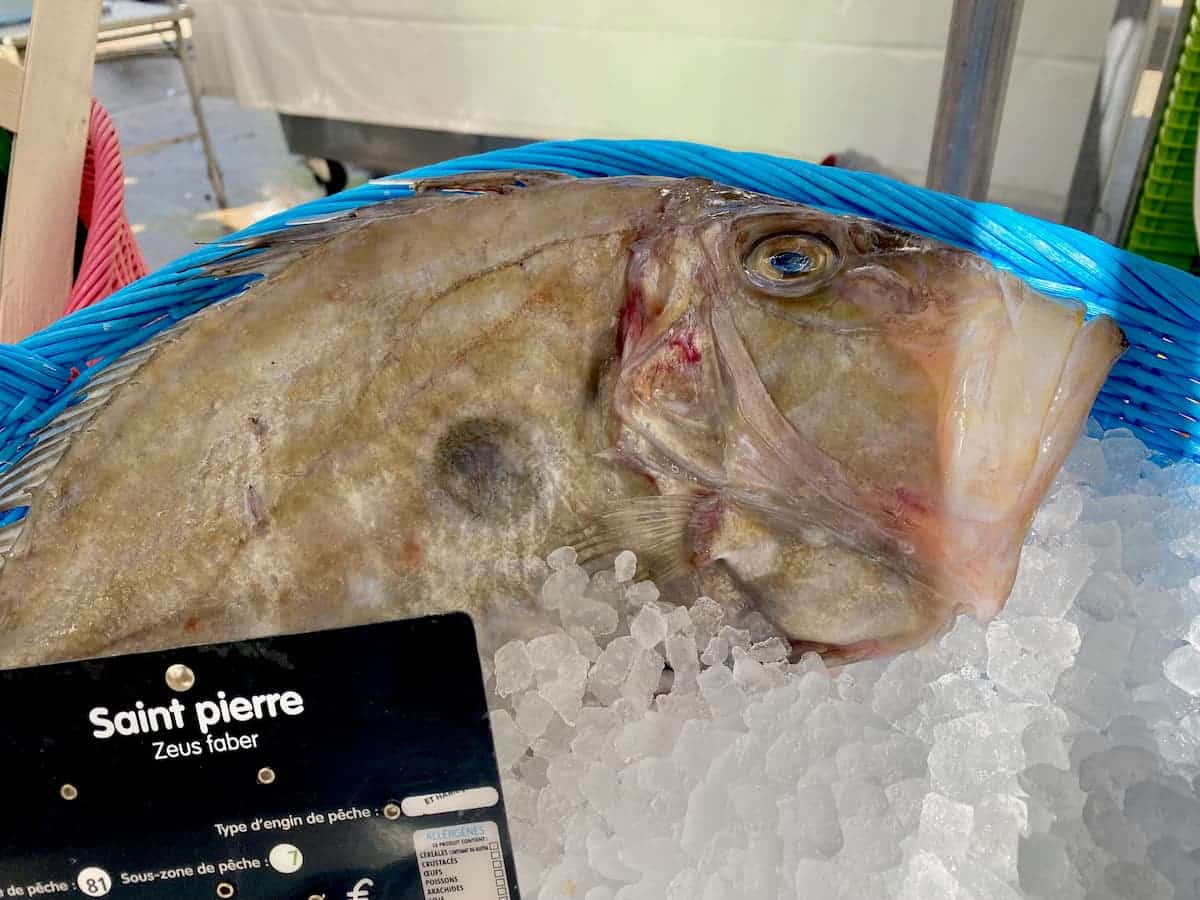 Why Saint Pierre or Saint Peter?
That large dark circle on the fish skin is said to be the thumbprint of Saint Peter. Legend has it that St Peter grabbed on to this fish and threw it back in the water as it wasn't happy about being caught.
Another story goes that the apostle took out a coin from its mouth, following Jesus's guidance.
Why is it Called John Dory Fish?
So it's strange that we call it John Dory in the UK. According to my French culinary dictionary, Larousse Gastronomique, the name is just an English change on its other French nickname, Jean-doré (pronounced 'shong-doh-ray').
That is, 'Jean' being John in French and doré meaning golden, referring to its bronze-golden shining skin.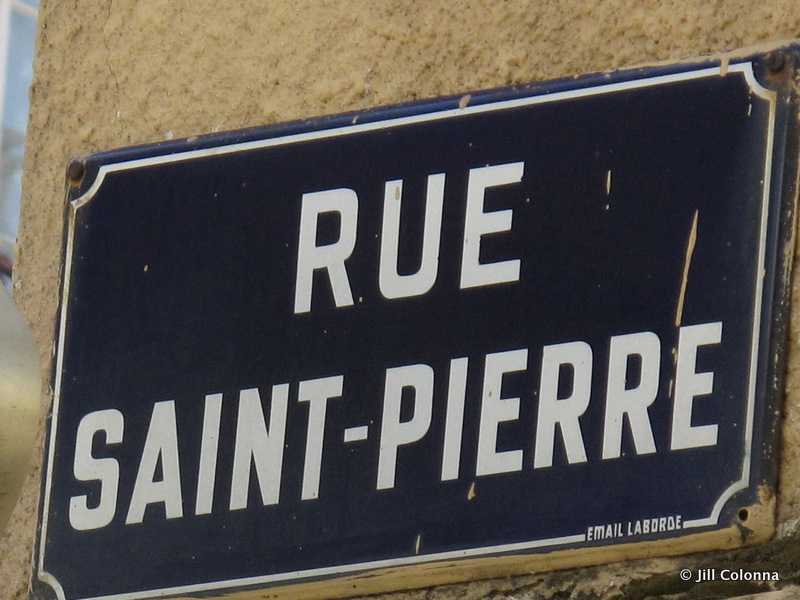 I first made this recipe with a crumbly Viennoise topping. Much that it was insanely delicious and full of crispy textures, over time I realised that this delicate fish needs a much more simple approach.
The flavours in the topping were far too powerful with parmesan and stronger herbs such as lemon thyme. As a result, it best suits salmon fillets and so you'll find this original recipe instead with Herb-Crusted Salmon.
John Dory Fish - Why so Expensive?
Being simple with John Dory was confirmed by my fishmonger, poissonier, Matthieu. He's the fastest filleter in the West of Paris (incidentally, poetically called l'Hirondelle de mer') and takes great delight in explaining all about the freshest produce at the market.
It's a poisson de mer (fish from the sea rather than river fish) and is expensive since it's one of the best white fish which is easy to detach from the skin. It has a delicate taste - even with a little hint of seaweed and low in fat.
As a result, it's enjoyed prepared simply - and in the famous Bouillabaisse stew from Marseille.
Filleting the Fish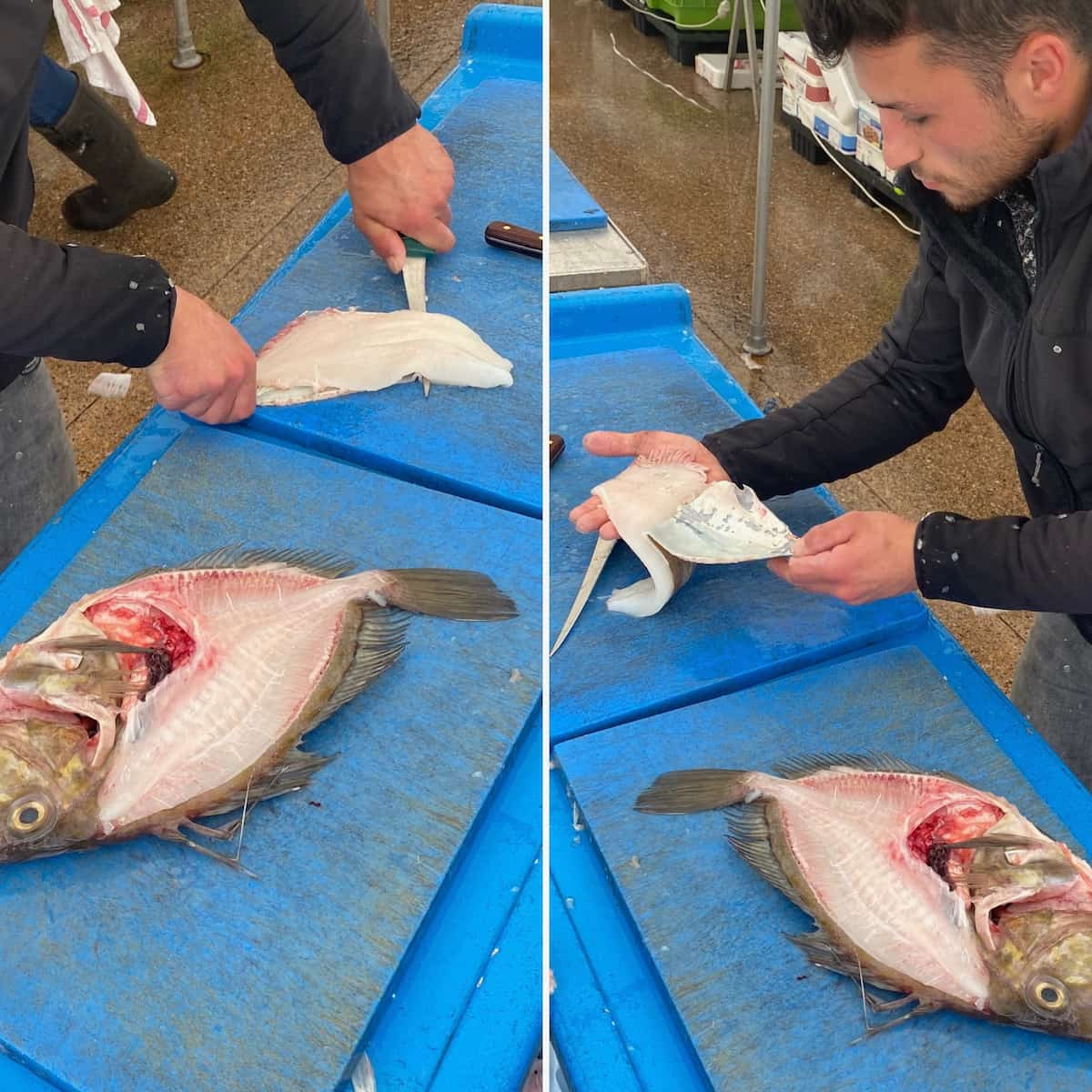 Get your fishmonger to fillet the fish for you and remove the skin.
John Dory has such a large head that, once filleted, there are 2 double white, firm fish fillets.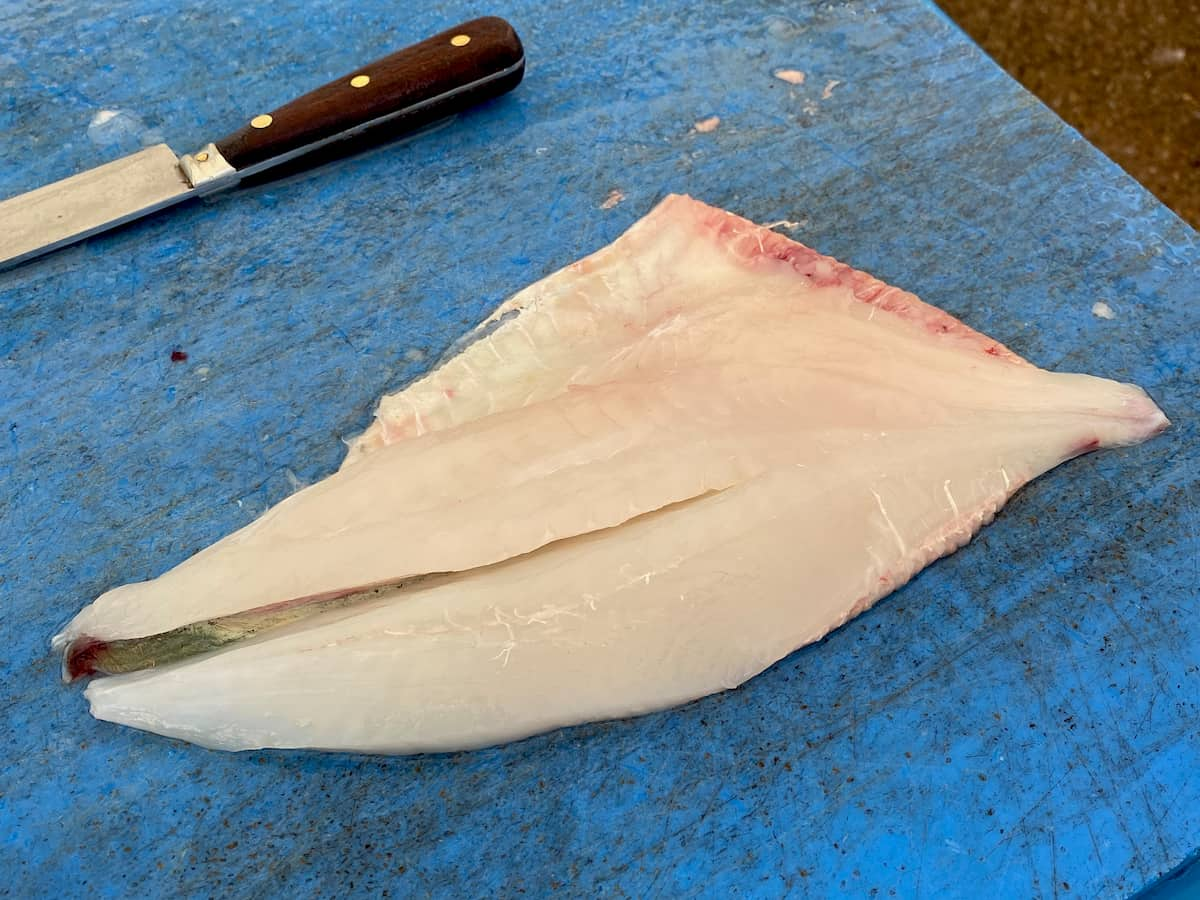 Quick Recipe for Saint Pierre
This kind of quick recipe for fish comes from my childhood watching Peter Floyd on TV. This shows my age, perhaps but he always had such elegance with his apron and bow tie - and his sense of humour was contagious. As he sipped wine, he flash-fried fish filets adding a little wine into the butter with shallots. It's so easy yet so blooming good!
See printable recipe below. John Dory fish can be replaced with Turbot, Dover sole, snapper, grouper or halibut.
Wash and dry the fish fillets and gently fry in some olive oil and butter with a small shallot until just cooked. Be careful not to overcook - so no more than a minute on each side.
Season with a little fleur de sel salt (Maldon or Celtic sea salt are best equivalents), a few turns of the peppermill. Splash in a little white wine and squeeze over the lemon juice.
Turn off the heat and cover so that the fish continues to cook gently in the juices.
Add some freshly chopped or snipped chives, or other fresh aromatic herbs such as parsley or chervil, and serve immediately.
What to Serve with John Dory
Serve the fish with a side (or on a bed) of vegetables such as fresh peas, sautéed green beans and potatoes.
For a sauce, keep it really simple with an extra wedge of lemon. For a more classic French sauce, serve with a beurre blanc sauce - or add the smoked teabag to give extra intrigue.
For something really different, serve with some rhubarb compote. It may sound strange, but the flavours marry well and the acidity of the rhubarb is fascinating. If using, then go fancy and serve with dried rhubarb chips.
Enjoy with a chilled glass of a floral white Burgundy or a more mineral white from the Loire.
John Dory Fish
John Dory fillets simply pan-fried in olive oil, butter, shallots, a splash of wine and lemon then served with fresh chives or other fresh herbs. Also works well with turbot.
Ingredients
4

150g (5oz)

John Dory fish fillets

or Turbot, halibut, snapper

1

small

shallot

finely chopped

2

tablespoon

olive oil

30

g (2 tbsp)

butter

1

lemon (juice)

organic (unwaxed)

30

ml (2 tbps)

white wine

¼

tsp (good pinch) each

pepper and fleur de sel salt

1

tablespoon

fresh chives

finely chopped
Instructions
Melt the butter with the olive oil in a non-stick pan until gently foaming over medium heat. Sauté the chopped shallot until translucent then add the John Dory filets.

Pan-fry the filets for only about 1 minute on each side, ensuring it's well coated in the butter and oil. Splash in the wine, season with a little salt and a few turns of the peppermill.

Turn the heat to low and cover the pan. Leave for 3 minutes then take off the heat.

Squeeze over the lemon juice, chopped fresh chives and serve immediately.
Notes
Serve with extra lemon, sautéed green beans, potatoes, and a beurre blanc sauce or rhubarb compote for something different.
Wines: Enjoy with a chilled glass of white from Alsace, Bourgogne, Bordeaux or the Loire such as a pinot blanc, Saint Aubin, Graves, Entre-deux-Mers or Saumur.
Nutrition per 186g serving: 24g protein, 1g carbohydrate, 12g lipids, Glycemic Index: 0.
This recipe was first published 28 July, 2011 with a crumble topping. As this type of fish deserves to be cooked more simply, you'll find the crispy topping as herb-crusted salmon.