Healthy banana coffee cake with oil, walnuts and no sugar. Easy recipe with coffee - best made using old, ripe bananas sweetened naturally. Chestnut flour adds un petit French touch although buckwheat or rye flour are also delicious.
What to do with Old Bananas?
We always considered bananas as "brain food" as the girls were growing up. So every rentrée, (return to school) and before exams, I'd buy fresh bananas for a healthy energy boost.
I'd slice them on our favourite breakfast maple granola, chocolate granola, mashed on Scotch pancakes, or just on their own for goûter or a snack after school.
Except the girls refused the lovely yellow bananas that were perfect for eating (not too sweet, not too hard), just after that green stage.
The reason? They'd preferred extra ripened old bananas in this banana coffee cake. So, each day as the bananas aged, speckled and browned to almost black, they'd ask me to make this recipe. It's the perfect healthy treat to use up old bananas.
Tip: Keep bananas out of the fridge. Once they're well ripened to make banana bread, (dark brown and heavily speckled), start baking with them. Otherwise freeze them until you're ready to bake and defrost before using.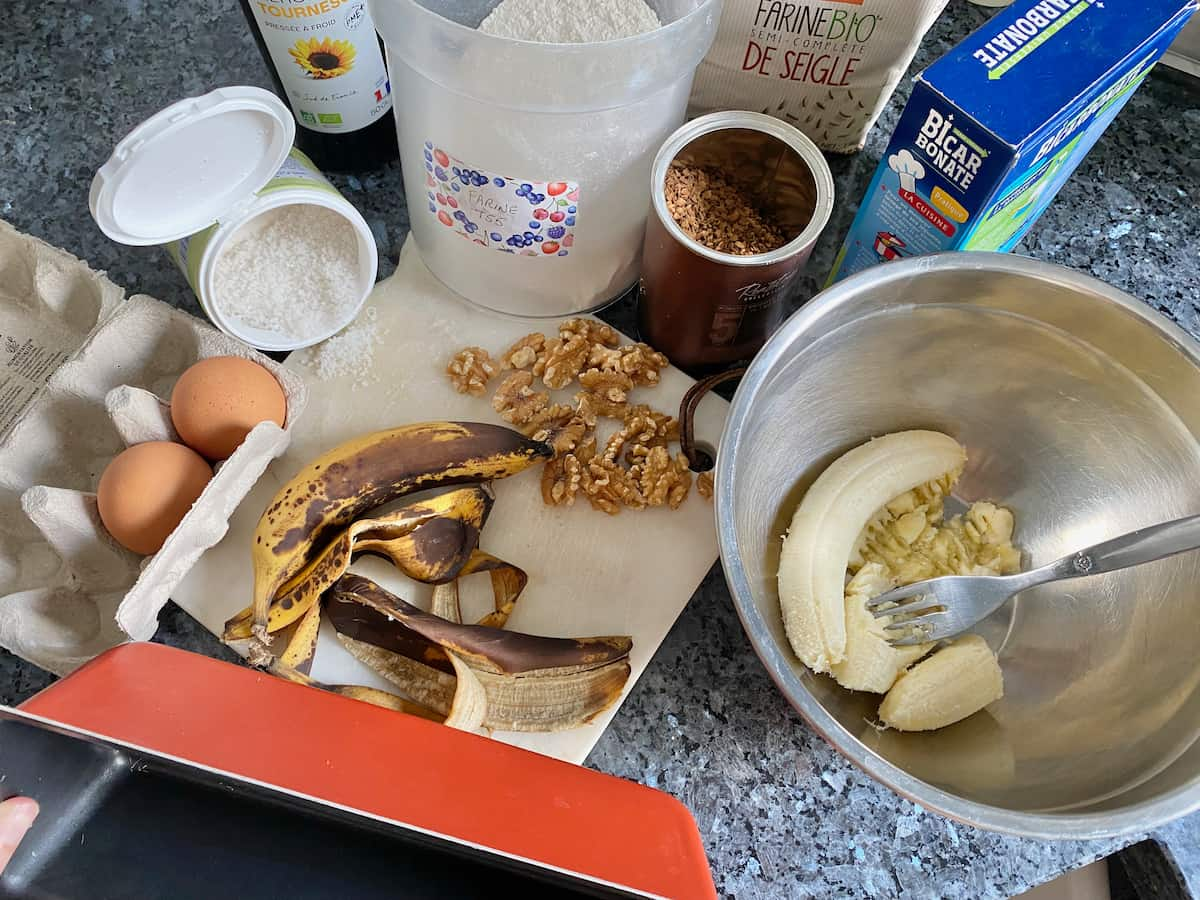 What Ripe Bananas Do in a Cake
The older and riper bananas are, the better they are in a cake. When dark brown and heavily speckled, old bananas perhaps don't look great hanging around the kitchen but their real cake 'ap-peel' is hidden inside.
The older and darker the banana, lurking underneath their heavily speckled skin are bright yellow, mushy fruit that have sweetened naturally as the starches convert to sugar. In fact, extra ripe bananas have three times more fructose than fresh greenish/yellow bananas.
So when mashed to a purée and added to a cake, the result is two-fold:
ripe bananas give an extra moist cake texture, as opposed to crumbly; and
they add a natural sweetness so that little sugar is needed, if not at all.
Mix of Banana and Coffee in a Cake
This recipe originated from Nigella Lawson's Nigellissima. I loved her ingenious addition of espresso coffee powder to banana bread for an Italian touch.
Not to be confused with a coffee cake which normally has a streusel topping and often no coffee in it, this one is plain, simple and contains coffee. It's the best combination.
Healthy Banana Coffee Cake
However, so many people just add sugar since they've always done it, I'm sure. I urge you to try this recipe without the sugar.
I first cut the original recipe's whopping amount of sugar by more than half. On tasting, the family eventually agreed that even half the amount wasn't needed. So I now remove it altogether! With the bitter coffee and natural sweet bananas, we are unanimously happy to have this cake without the sugar - and with reduced oil.
Like the Corsicans, in France we often enjoy cake like this for breakfast. My Corsican mother-in-law often makes a chestnut cake using chestnut flour, which is gluten free.
As farine de chataigne is a strong-flavoured flour (and can be expensive), we mix it with plain flour. If you can't find chestnut flour, use buckwheat flour - also gluten free. Buckwheat (farine de blé noir or sarrasin) is used to make savoury thin buckwheat pancakes (galettes de sarrasin).
This is also good with rye flour (farine de siègle) which is not gluten free and traditionally used to make a French gingerbread cake (pain d'èpices). So with rye, add some spice to festive it up a bit.
So this recipe has evolved over the years, gradually adapting to our less sweet tastes.
More Banana Recipes Without Sugar
Here are a few more recipes made with naturally sweet ripe bananas without any added sugar.
The recipe below can also make 12 banana coffee muffins. Why not add a few fresh blueberries in them?
Banana Coffee Cake Recipe
This recipe couldn't be easier. Gather all your ingredients first and weigh out 3-4 bananas to 300g without their skin. The batter is enough for one 450g or 1 pound cake tin or can make 12 muffins.
The detailed printable recipe is below.
First mash together the bananas using a fork, add a pinch of salt and beat in the sunflower oil. Stir in both eggs.
Sift the flour and add to the mixture with the baking soda and baking powder. Stir in the coffee powder until dissolved and ingredients are well combined.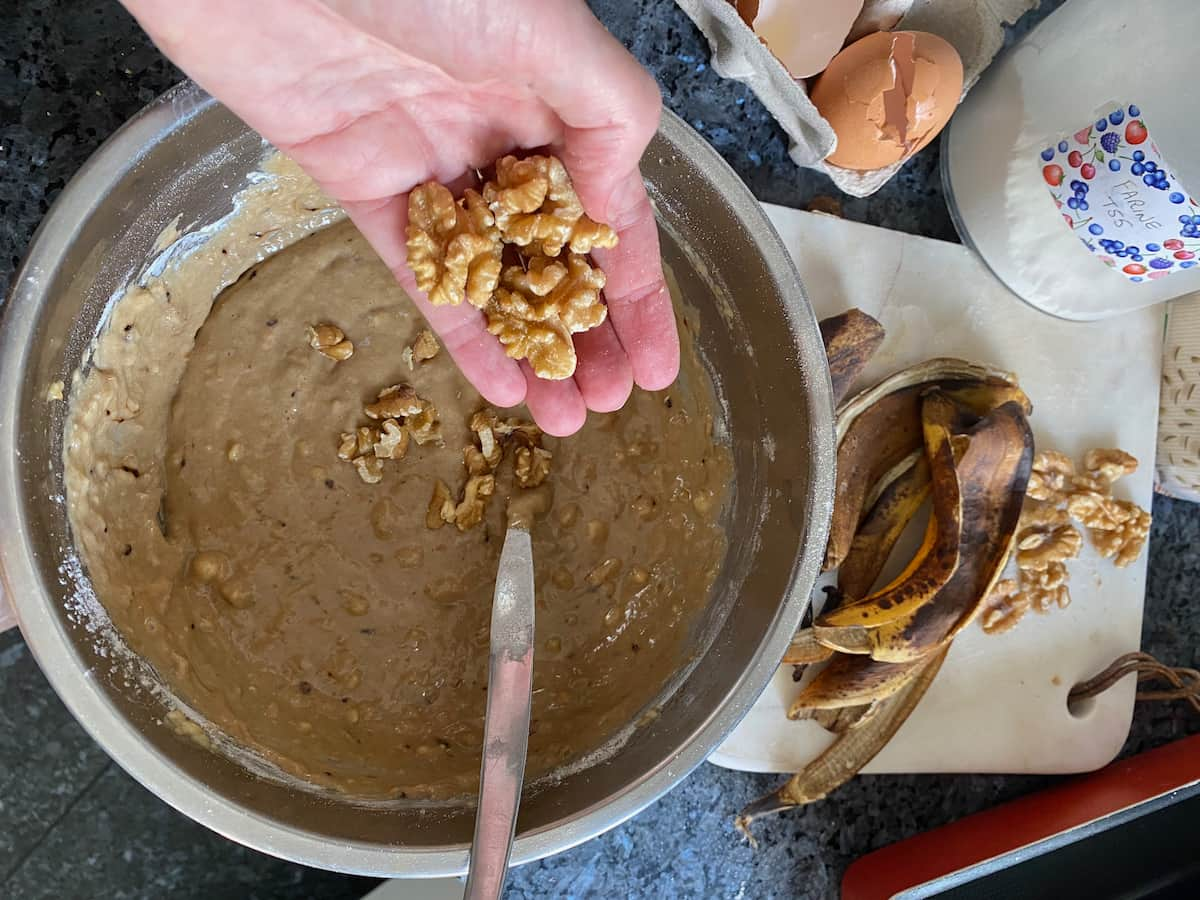 Add the chopped walnuts (or other nuts). Transfer to a non-stick loaf tin.
Bake in the oven for 45-50 minutes or until a skewer inserted in the middle comes out clean.
Leave to cool in the tin for 5-10 minutes then upturn onto a cooling rack.
How Long Does Banana Coffee Cake Keep?
Although delicious on the day of baking, the cake matures nicely and stays moist wrapped in foil or stored in an airtight container for up to 5 days. Also freezes well for up to 3 months - just defrost the night before.
How to Serve
We particularly enjoy slices of this cake on its own with a typical French breakfast bowl of coffee. Also good with cream cheese or chocolate spread.
The girls love to spread it with unsweetened peanut butter (see my notes on picking a healthy brand in my peanut butter cookie recipe). The two together pack a real energy boost without any added sugar. So it's a healthy breakfast, particularly before a long walk, running or if needing some brain food before exams!
Need more banana cake? Then try this chocolate banana marble cake.
Healthy Banana Coffee Cake (no sugar)
Healthy banana coffee cake with oil, walnuts and no sugar. Easy recipe with coffee - best made using old, ripe bananas sweetened naturally.
Equipment
450g/1LB loaf tin

non-stick (otherwise grease the tin)
Ingredients
3-4

medium

bananas (or 300g without skins)

very ripe

100

ml (3.5 floz/ less than ½ cup)

neutral-tasting oil

grape seed/sunflower oil

pinch

salt

2

medium

eggs

organic

100

g (3.5oz/ ¾ cup)

plain flour

75

g (3oz/ ½ cup + 1 tbsp)

chestnut flour

or rye/buckwheat/wholemeal flour, sifted

½

teaspoon

bicarbonate of soda

1

teaspoon

baking powder

25

g (1oz/ 2 tbsp)

chopped walnuts

1

tablespoon

instant coffee powder
Instructions
Preheat the oven to 170°C/150°C fan/340°F (gas mark 3).

Mash the bananas to a purée, add the salt and beat in the oil and eggs.

Sift the flours and gradually beat into the mixture, adding the bicarbonate of soda, baking powder, coffee powder and walnuts.

Pour the batter into the loaf tin, place on a baking sheet and bake in the oven for 50 minutes, or until a cake tester comes out clean.

Leave the cake in the tin for about 5-10 minutes, then turn out on to a wire tray to cool.
Notes
Storage: although delicious on the day of baking, the cake matures nicely and stays moist wrapped in foil or stored in an airtight container for up to 5 days.
Also freezes well for up to 3 months - just defrost the night before. Banana Cake Muffins: This batter also makes 12 muffins. Just pour into a non-stick muffin tin and bake for 20 minutes in a hotter oven 200°C/180°C fan/400°F/Gas 6. Per 61g serving: 3g protein, 16g carbohydrates, glycemic index: 10
This recipe was first published September 13, 2015 but is now completely updated