One of the most popular classics in France are the thin buckwheat pancakes from Brittany, best known as galettes de sarrasin in French. These savoury galettes are popular in restaurants yet so cheap to make at home. Easy recipe with the tips how to perfect a light batter.
Made with plain buckwheat flour, this also makes them the ultimate French gluten free pancake. Enjoy with the classic fillings, including the complète.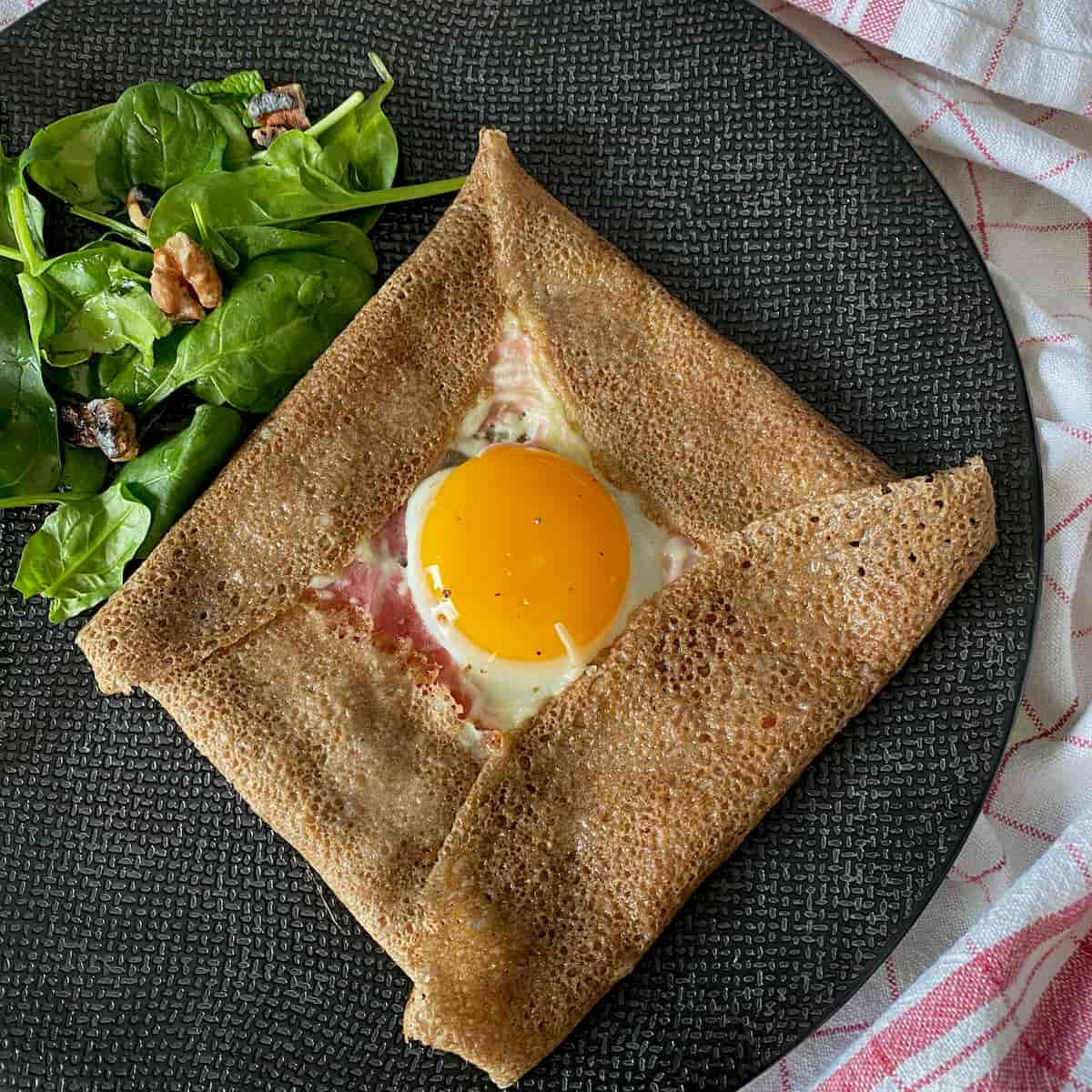 Difference Between Buckwheat and Regular Crêpes Pancakes
Many people are often confused in France between a buckwheat pancake (galette de sarrasin) and a crêpe. They are not at all the same. Basically, galettes de sarrasin are savoury, while crêpes are sweet French pancakes.
The savoury galette is made with buckwheat flour (known as farine de sarrasin or blé noir in Brittany), while regular French pancakes or crêpes are made using normal wheat flour (T45).
As a result, even their flavour is different. Buckwheat also lends its particular curious toasted taste to it, which lends better to savoury. Plus it's all in the toppings: galettes are salty, while crêpes have sweet toppings.
The only element they both have in common, however, is that both pancakes are ultra thin. C'est tout !
Note on galettes: galettes de sarrasin are not to be confused with the puff pastry galette des rois (French king cake) served in France around Epiphany. They are both unrelated.
Are Galettes de Sarrasin from Brittany or Normandy?
It's controversial in France. Ask a Breton and buckwheat pancakes are from Brittany, served with cider from Brittany; ask a Normand and they are from Normandy, served with Normandy cider! Incidentally, see my crêperie suggestions in my article, 10 Reasons to Visit Honfleur, Normandy.
They are, however, considered a speciality from Brittany with 2 recipe variations:
Known as the pays de Breizh, in Haute-Bretagne, their galettes are traditionally made of 100% of buckwheat or sarrasin in the north.
Further south, in Basse-Bretagne, they are made with a mixture of mainly buckwheat and up to 30% of white flour, known as "crêpe de blé noir" (the other name for sarrasin).
Why are Buckwheat Pancakes Good for You?
Buckwheat flour is particularly healthy as it contains more dietary fibre than regular white flour. According to my Larousse Gastronomique, buckwheat is also rich in minerals and vitamin B and less calorific than regular wheat. Considered a superfood by many, it's low to medium on the glycemic index (GI) for those with diabetes.
As it's also grain free, it's added to the growing list of gluten free recipes.
All this is just the buckwheat pancakes on their own. Of course, it all depends what you put on your pancakes.
Savoury Vegan Buckwheat Pancakes
I normally add an egg to the buckwheat batter just to give the pancakes that extra light fluffiness. However, it's not essential. To make this recipe vegan, just omit the egg for the buckwheat pancake batter.
What's more, making these vegan without the egg in the batter doesn't mean they can't be light.
TIP: To make the pancakes extra light, add a little sparkling water to the batter.
Just adapt the fillings to your favourite vegan savoury choice.
Are They the Same as Thin Pancakes Served with Caviar?
In Russia, the thin, small crêpes or pancakes traditionally served with caviar are not the same as these French Galettes de Sarrasin. Called Blini, they are much smaller, thicker and instead made at least with flour, baking powder, milk and butter.

How to Make Savoury Buckwheat Pancakes
Galettes de sarrasin are so cheap to make at home. Just plan to make the batter in advance as it needs to rest for at least 2 hours or overnight before preparing them. For precise measurements, see the recipe card below.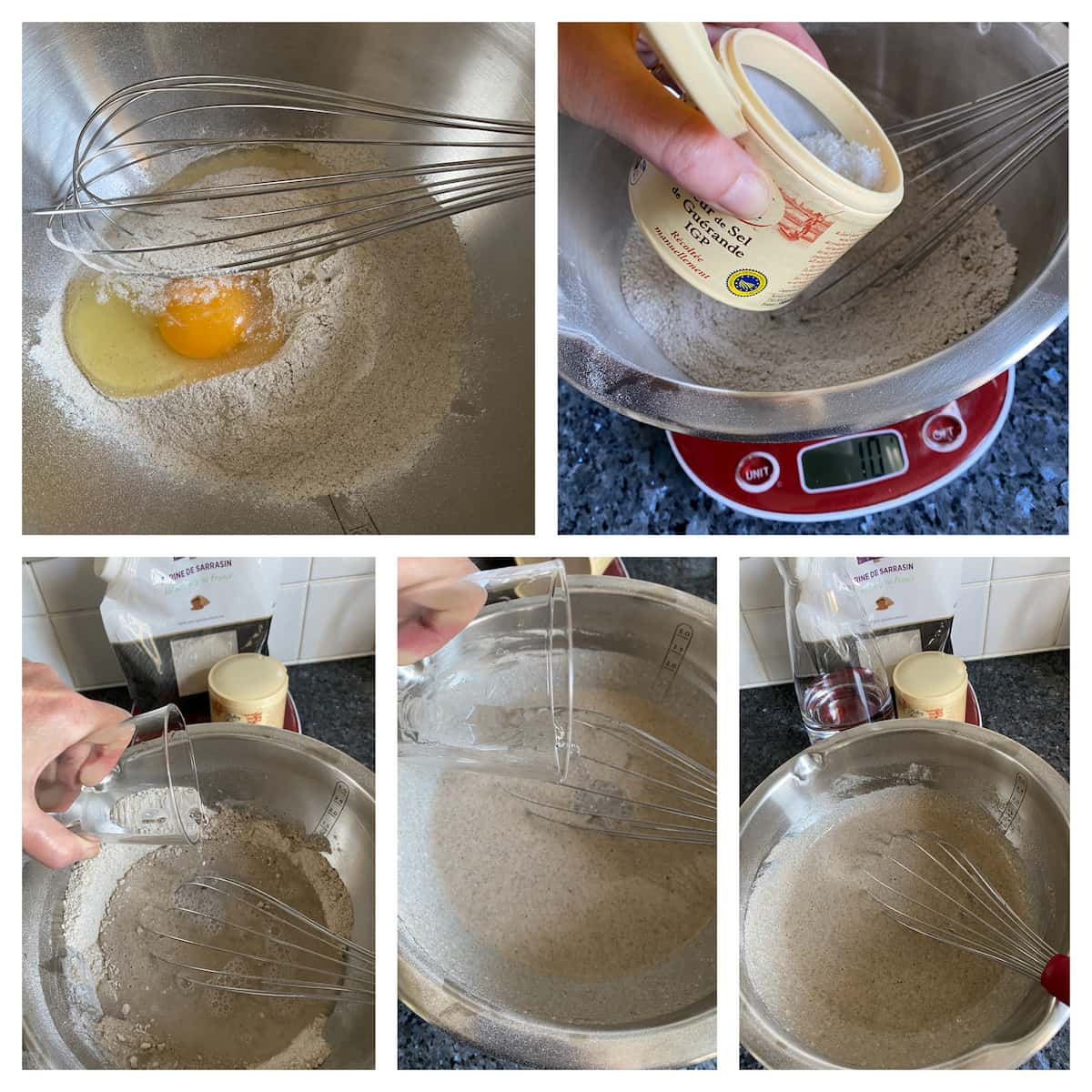 Place the buckwheat flour in a large bowl. Whisk in the fresh organic egg (or sparkling water if you prefer), the salt (ideally from Brittany's Guérande) and gradually add most of the water until well blended and smooth;
Leave the batter covered for at least 2 hours at room temperature (or overnight in the fridge). If in the fridge, bring the batter up to room temperature when ready to cook. Whisk in the rest of the water;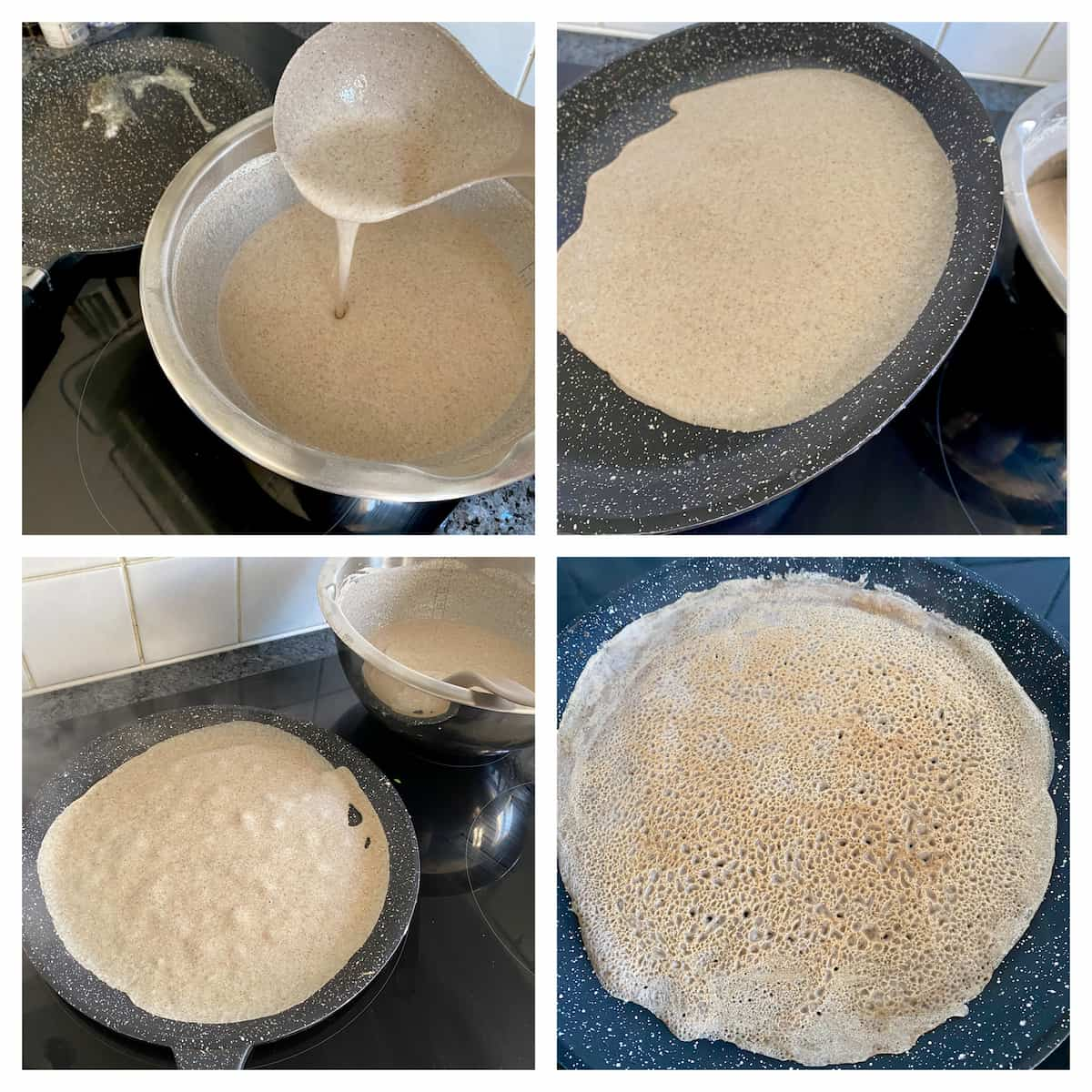 Add a knob of salted butter to a very hot crêpe pan (this will ensure the first pancake will be good too).
Using about half a ladle of the batter, work quickly by swirling the batter evenly around the surface of the pan.
Cook for a couple of minutes on medium heat then flip the pancake over for another minute, brushing with a little butter.
Stack the galettes on a plate and when finished, place an inverted plate on top to keep them moist. When ready to serve, prepare the classic fillings to your taste below.
How to Make a Complète Galette de Sarrasin
To make a classic French Complète, savoury buckwheat pancake with ham, cheese and egg:
Place the galette in the hot crêpe pan, crack an egg into the middle, spreading around the white to cover most of the surface;
Break up ham into bits and place with grated cheese around the egg yolk;
Fold over 4 times like an envelope into a square to meet the egg yolk in the middle without touching (don't pierce the egg yolk!);
Add a little extra butter on top of the pancake and serve with a green salad.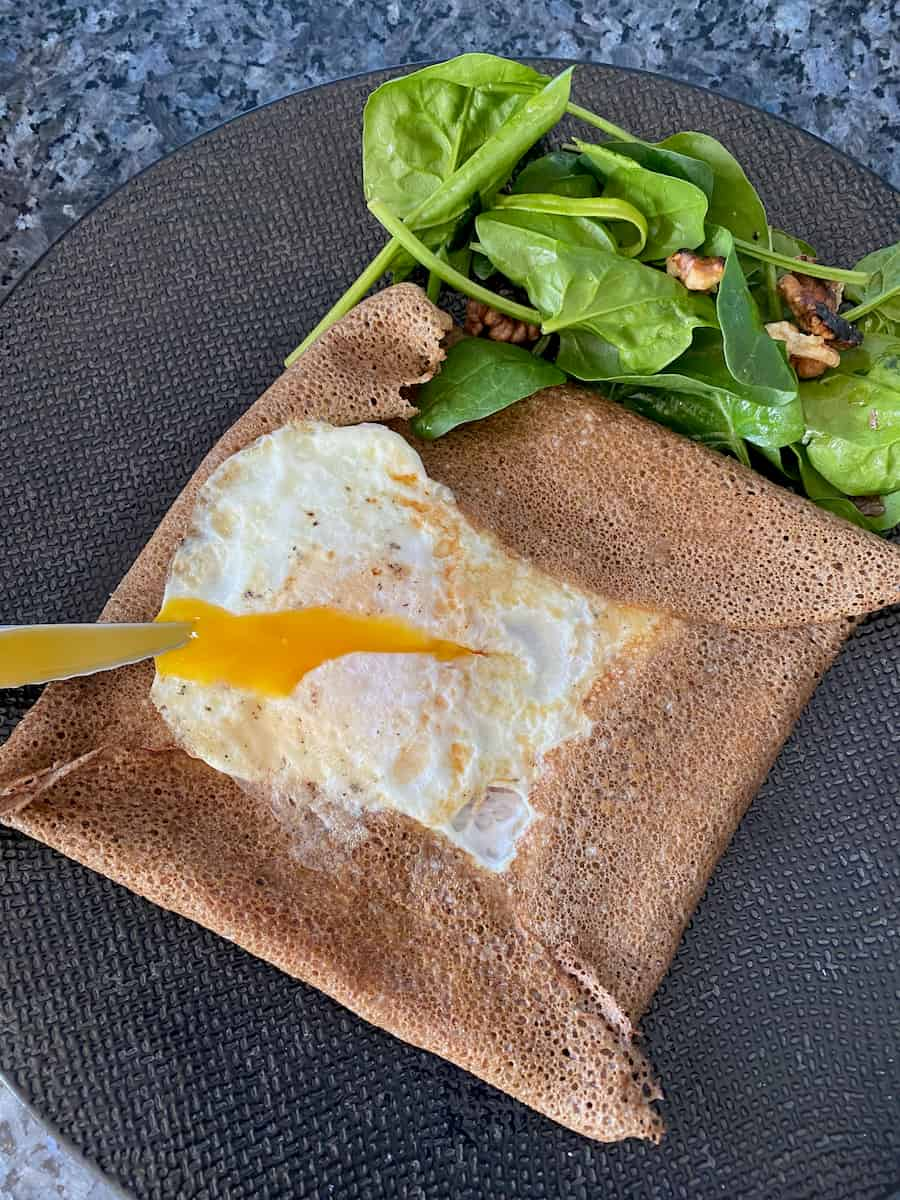 A Note on Eggs in France
As you can see from the photos, when eggs are served on a galette, they are always sunny side up (oeuf miroir). Although cooked well underneath, they do still look a little raw.
While this isn't a problem for us in France as our organic eggs are so fresh and good quality, I appreciate that some American friends reading this may be worried about serving eggs not completely cooked through.
If you prefer to cook your eggs on both sides, then flip the galette over (carefully so as not to pierce the yolk!) with the egg in the middle only for up to a minute. This will lightly cook the egg and the yolk will still be runny.
Although please remember that this isn't the norm in crêperies here in France and it's not something you should be worried about.
Classic Fillings and How to Serve
In typical crêperies around France, the following classic fillings for galettes are on every menu. Ask for 'une complète', and everyone will understand what you're asking for. The rest are normally specialities of the house - mainly around cheese, including a variation of a warm goat's cheese salad.
The simplest on the menu is "beurre": a thin, plain buckwheat pancake with melted salted butter. Worth a taste indeed! When that comes, you can be rest assured it's only with the best butter, such as Bordier.
Galettes are normally served with a little side of green salad and fresh herbs (I like to add some toasted walnuts) and une bolée (bowl) of dry cidre. For more on Cidre, see the market page on apples.
Beurre - the simplest served topped with melted salted butter;
Complète - ham, cheese and egg (jambon blanc, fromage, oeuf);
Complète oignons - as above but also with onions, typically sweet rosé Roscoff - speciality of Brittany;
Florentine - spinach, cheese and egg;
Forestière - mushrooms, cheese and egg (sometimes also with ham).
Buckwheat Pancakes (Galettes de sarrasin)
Savoury thin buckwheat pancakes from Brittany and Normandy. Easy recipe and gluten free made with 100% buckwheat flour. Serve with any of the classic French toppings (e.g. cheese, ham, egg, mushrooms) or of your choice.
Ingredients
500

g (18oz/ 4 cups)

buckwheat flour

(farine de sarrasin)

1

egg

organic (optional - otherwise replace with a little sparkling water)

750

ml (1¼ pints/3 cups)

water

10

g (2 tsp)

sea salt

fleur de sel (Maldon, Celtic)

30

g (1oz/¼ stick)

salted butter

melted (to cook)
Instructions
In a large bowl, mix the buckwheat flour with 500ml (18 floz) of the water using a balloon whisk. Whisk vigorously to let the air bubbles in. When the batter is smooth add the egg (see notes*).

Leave the batter to rest for at least 2 hours at room temperature or overnight in the fridge.

When the batter is ready at room temperature, add the rest of the water (250ml/9 floz).

Melt a little of the butter in a hot crêpe pan. Use about half a ladle of batter for each galette, quickly moving the pan to ensure a very thin layer coats all the surface. Leave on medium-high heat for about a couple of minutes then turn over for a minute.

Brush with a little butter over the top and place on a plate until ready to serve with your preferred toppings.
Notes
Yield: makes 12 galettes.  Vegans: Omit the egg and replace with a little sparkling water. When ready to cook the galettes, use your favourite vegan oil (e.g. olive oil) in place of the classic butter. To make a French Complète: place a galette in the hot crêpe pan, crack an egg into the middle, spreading around the white to cover most of the surface. Break up a slice of ham into bits and place with a little grated cheese around the egg yolk. Fold over 4 times into a square to meet the egg yolk in the middle without touching. Add a little extra butter on top and serve with a green salad. Nutrition: 164 calories per 113g plain galette. Protein 6g, 4g lipids, 27g carbohydrates;