Our easy, family recipe for French pancakes, classic ultra thin sweet crêpes that are best served for breakfast, teatime or dessert.  Either rolled or folded, serve on their own with just a squeeze of lemon. Discover a list of classic crêpe fillings below and the difference between sweet vs savoury pancakes in France.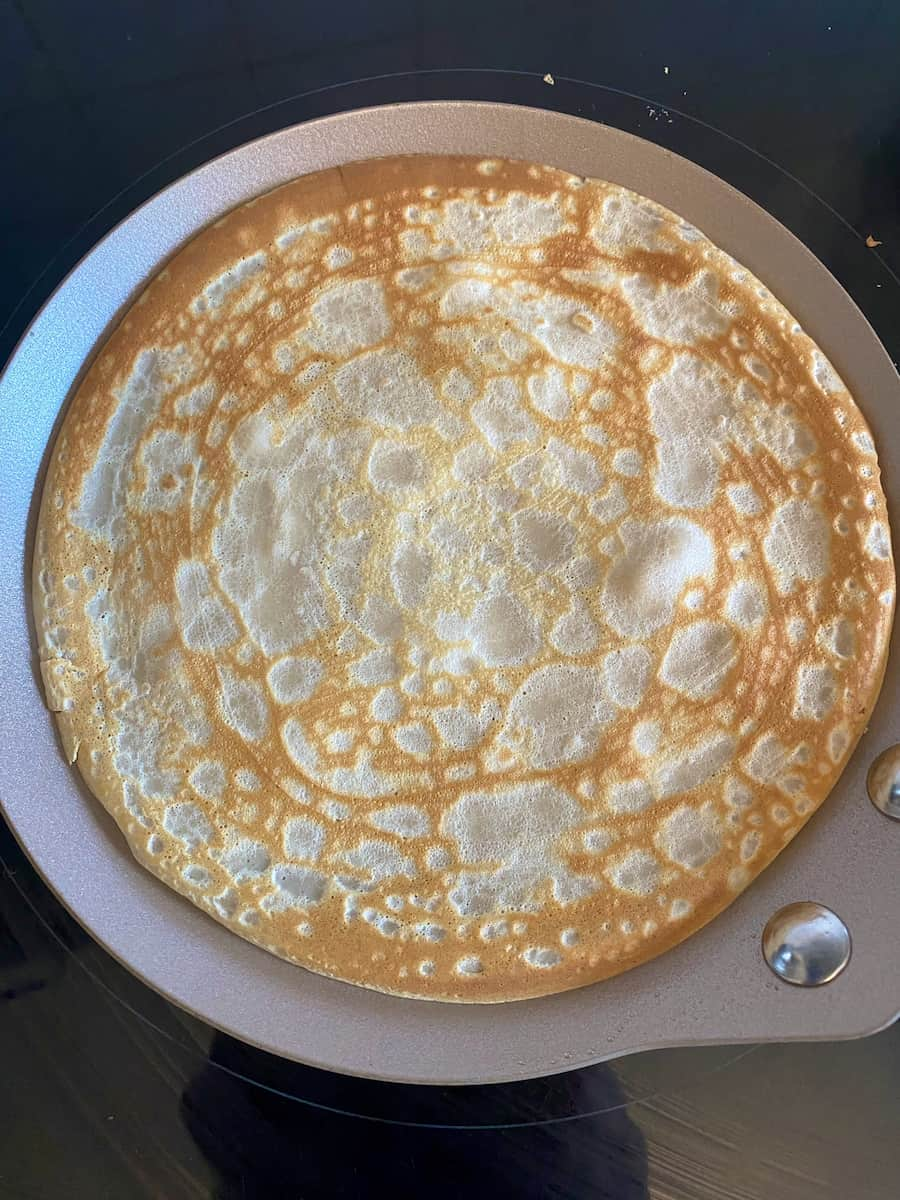 Are French Pancakes the Same as Crêpes?
Crêpes are the same as French pancakes. However, they are much thinner than the fluffy American and British style pancakes which are made with baking powder to make them rise. Instead, French crêpes don't rise and are extra thin - and are more popular in France. There are two varieties of French pancakes: sweet and savoury.
In short, French crêpes are thin and sweet. 
Savoury thin pancakes are not called crêpes but galettes and traditionally made with buckwheat flour (farine de sarrasin), also known as black wheat (blé noir) in Brittany where they are most popular.
See my easy recipe for savoury buckwheat pancakes (galettes de sarrasin).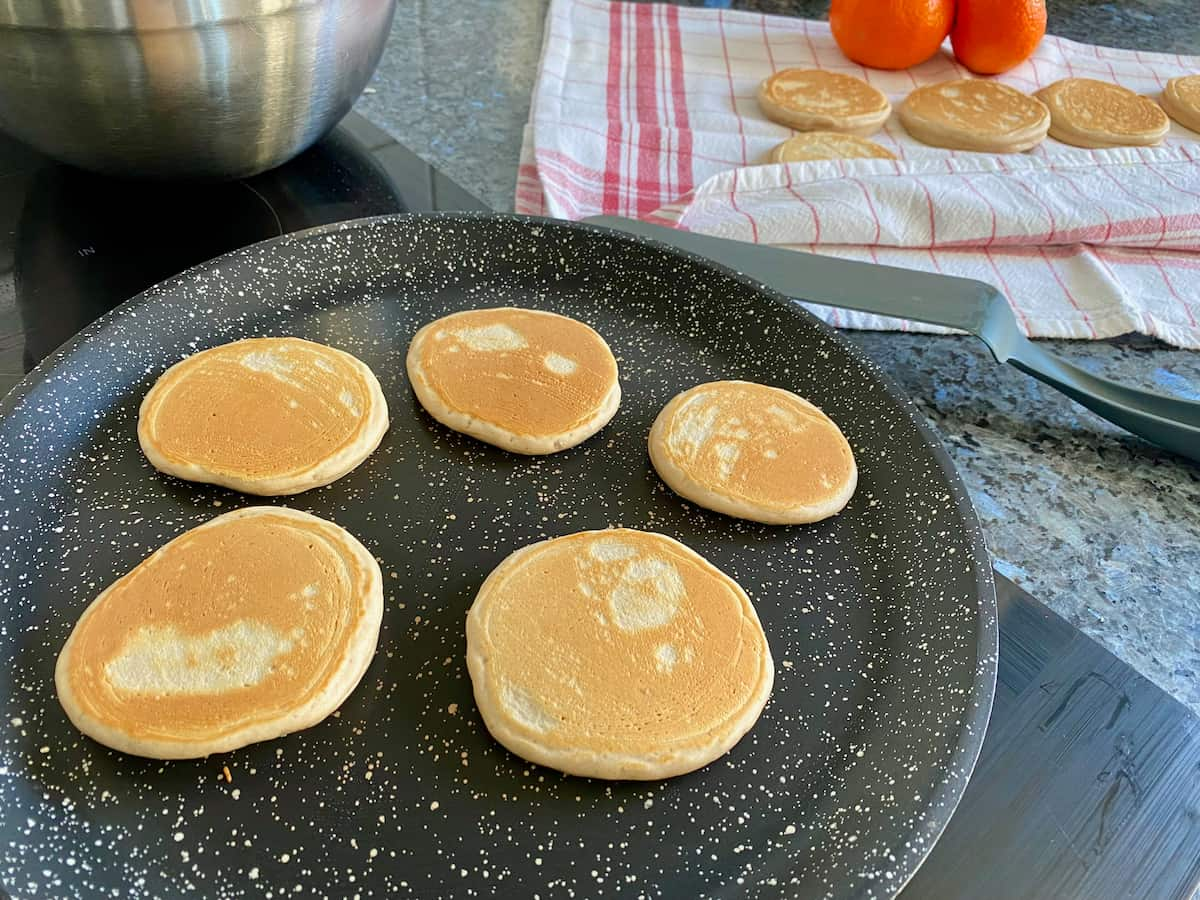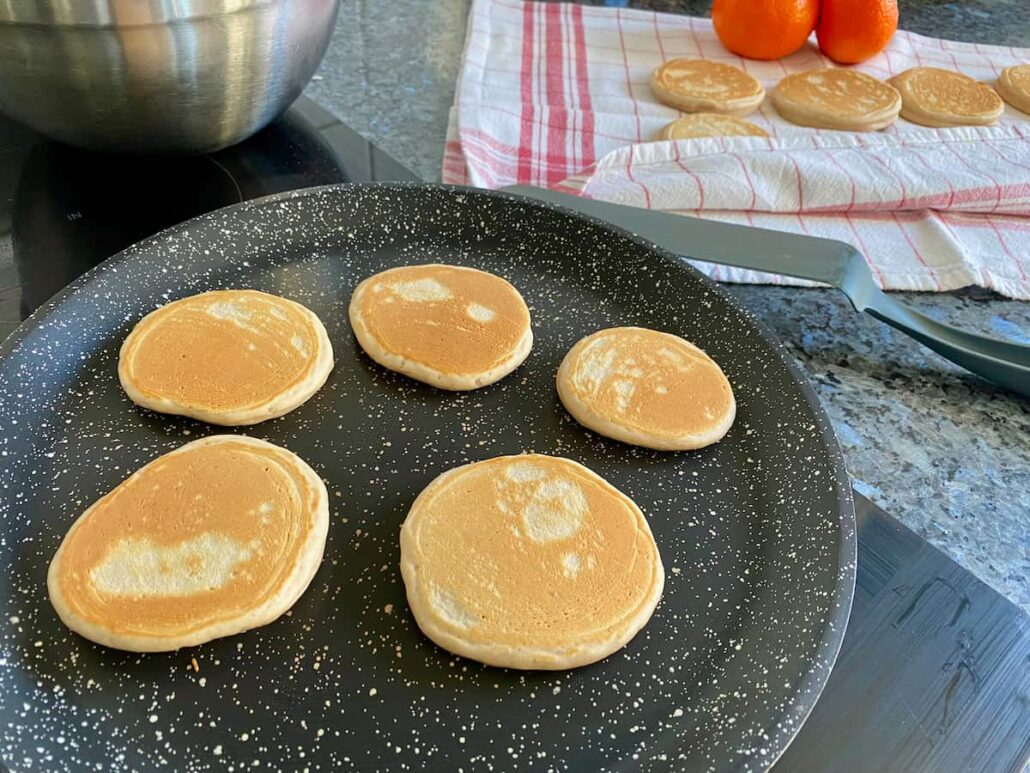 For those of you who prefer thicker pancakes, I'll make quick Scotch Pancakes using chestnut flour for my Corsican husband.  These Scotch pancakes are a married mix of Scotland and Corsica so I recommend you also try the recipe. Also known as Drop Scones, they're perfect for breakfast or teatime. Unlike French crêpes, they are normally spread with both butter and jam.
What are French Crêpes Made Of?
There are four main ingredients in sweet French crêpes: milk, flour, eggs and butter. A little sugar (not too much) and pinch of salt are added just to add to the flavour.
Sometimes, if we're feeling fancy, we'll add a little orange or lemon zest but there's no need as the toppings or fillings add to their flavour. Likewise, there is no baking powder or any other raising agent needed.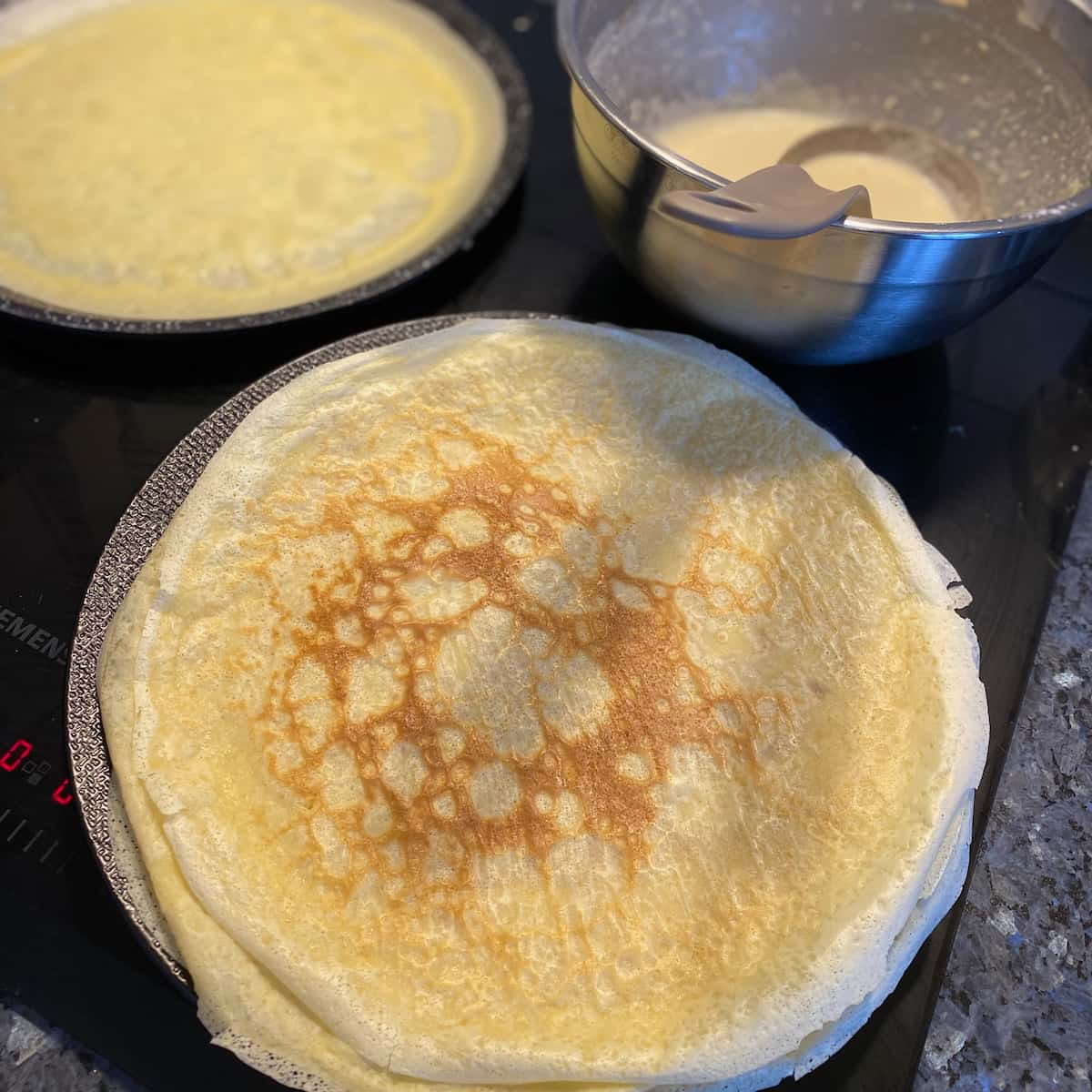 What are the Main Pancake Traditions in France?
The French not only celebrate Mardi Gras (Shrove or Fat Tuesday) with these crêpes, but they also traditionally flip them on 2nd February during La Chandeleur (Candlemass). This marks the halfway point between the shortest day and spring Equinox in February and was traditionally the first day back to work in the fields after a harsh winter.
Tradition has it since the 14th century (according to Larousse Gastronomique, cited in Le Menagier de Paris, 1393) that if you flip and successfully catch the pancake in your writing hand while holding a coin in the other, your family will be prosperous for the rest of the year.
That being said, the French flip pancakes (sweet crêpes in particular) at any time of year - we don't wait to celebrate pancake day to eat them!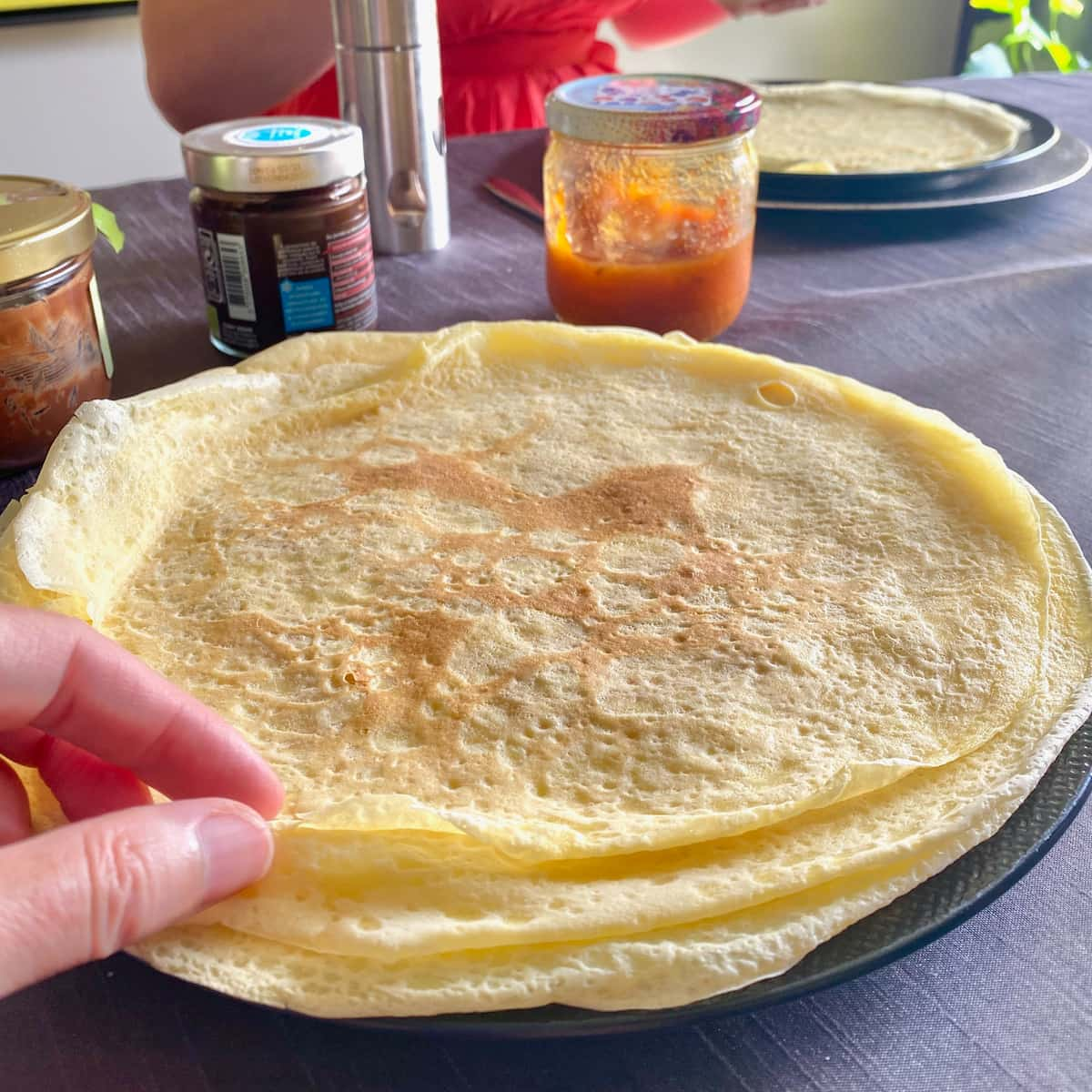 Do You Eat Crêpes Hot or Cold?
How do we eat crêpes in France? Normally they're served straight from the hot griddle so they are still warm.
If served in a crêperie in France, warm sweet crêpes are normally served flat or folded and topped with ice cream, Chantilly cream and with any of the toppings or fillings mentioned below. Conversely, at home or at crêpe stalls around Paris, crêpes are normally folded or rolled for ease of enjoying them with the least amount of mess.
Our family normally loves plain and simple sugar sprinkled on them with a squeeze of lemon. The simple is often best.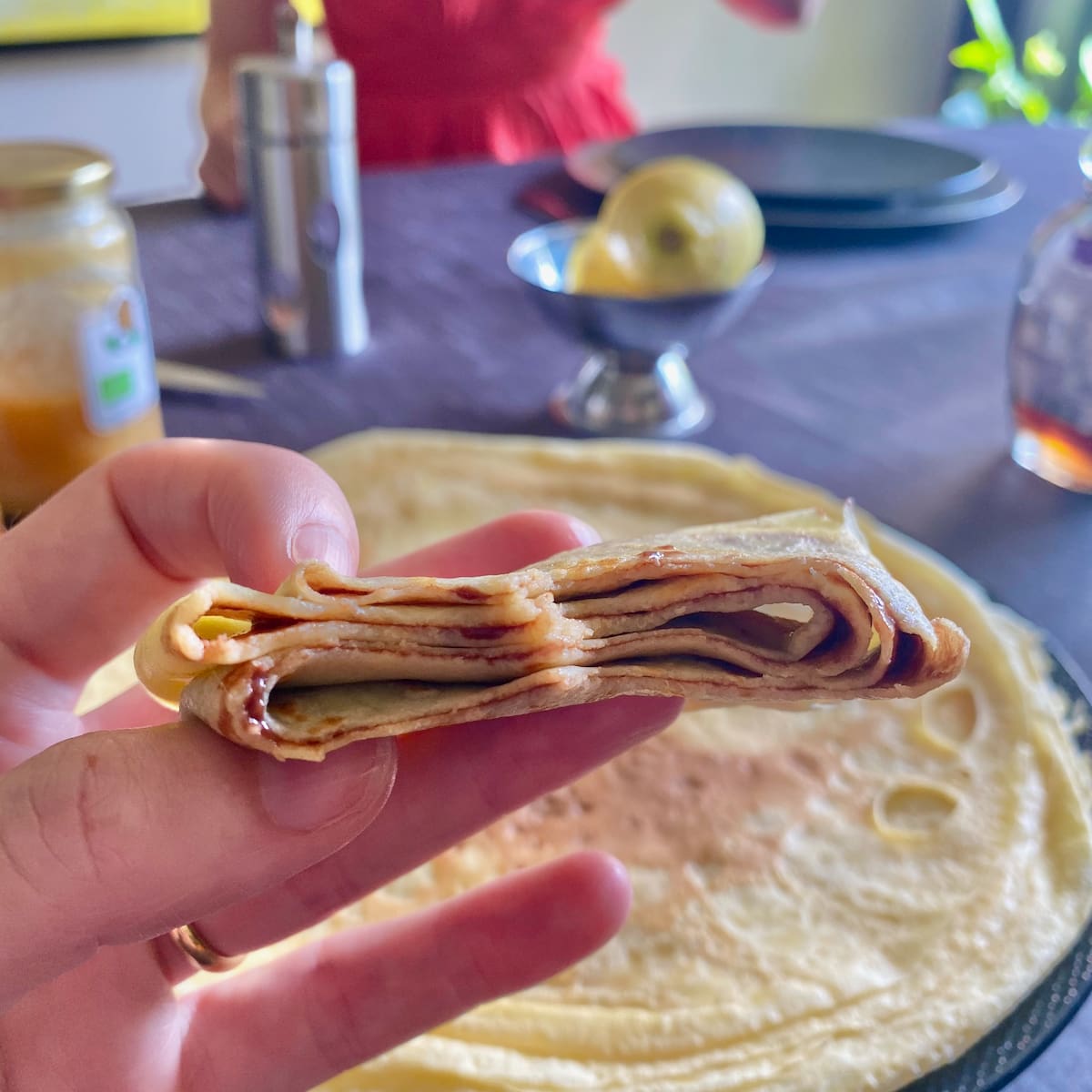 French Crêpe Fillings (or Toppings)
Here are a few more classic topping suggestions, popular in France. Either roll or fold the crêpes to turn them into fillings:
So what is the most popular crêpe? According to Monsieur Guss (who serves them at our local market in Saint-Germain-en-Laye), his mainly French clients order plain with a sprinkling of sugar (crêpes au sucre). Nothing more.

How to Make Authentic Sweet Crêpes (French pancakes)
The full step-by-step recipe for Orange Crêpes, Suzette Style, is in my second recipe book, Teatime in Paris. With many thanks to my publisher, Waverley Books, for permission to share this recipe from the book.
With only 4 main ingredients - butter, flour, eggs and milk (with a little sugar), this crêpe recipe is so quick to make.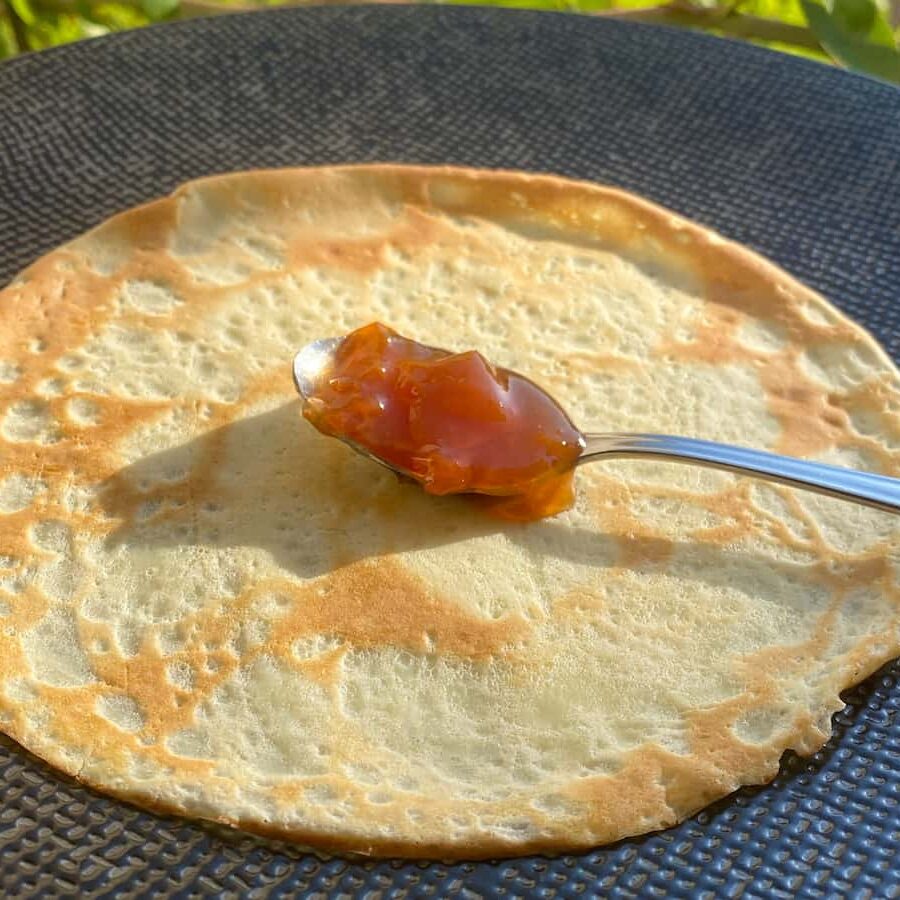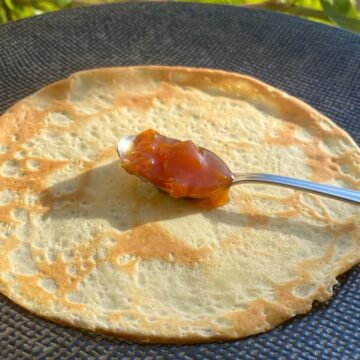 French Pancakes (Crêpes)
Easy recipe for French crêpes, best eaten for breakfast or for goûter (teatime) with sugar and lemon or with any of the classic toppings like jam, chestnut or chocolate spread, or salted caramel sauce. For dessert or teatime, serve with cidre.
Ingredients
40

g (1.5oz/3 tbsp)

butter

melted

250

g (9oz/2 cups)

plain (all-purpose) flour

½

teaspoon

salt

(fleur de sel)

2

tablespoon

icing sugar

3

medium

eggs

organic

500

ml (18fl oz/2 cups)

whole milk

(or semi-skimmed for skinny crepes)

½

tablespoon

lemon or orange zest

optional
Instructions
Sift the flour and icing sugar into a large bowl and add the salt. Make a well in the middle and break the eggs into it.

Add only about a quarter of the milk to the eggs and, using a hand whisk, beat the mixture well until you have a smooth, thick paste. This ensures no lumps. Gradually add the rest of the milk.

Add the melted butter and zest, if using and whisk vigorously to let in as much air as possible into the batter (this way no need to leave it to rest). The mix will look quite runny but this is perfectly normal.

Ladle one small quantity of the batter into a very hot crêpe pan that has been wiped with butter on kitchen paper. Swirl the batter around the pan quickly, as thinly as possible, covering the surface of the pan. Cook over a medium-high heat for about 2-3 minutes until bubbles form on the surface. Using a spatula or your fingertips, quickly flip the crêpe over and cook for another couple of minutes.

Turn down the heat slightly (but still at medium) and repeat the process, topping up with wiping of butter in the pan, until you have about 12 crêpes (depending on pan size), stacking them aside on a large plate.
Notes
Flour: if you use farine fluide ('type 45' thinner flour), there is no need to sift the flour.
Keep the crêpes warm by stacking them on a plate and cover with an inverted plate on top. 
Heard that the first crêpe not so good? Not so! Just keep the pan extra hot for the first one, then turn the heat down to medium-high for the rest.
Chocolate Crêpes: for chocolate crêpes, add a tablespoon of unsweetened cocoa powder to the flour in step one.
Makes 12 crêpes, so for 3 each is 423 calories per serving.
Measures: Please note that all my recipes are best made using digital kitchen scales in precise metric grams. Both ounces (and cups) are given as a guide. 
This was a blog post originally published on 17 February 2012 but is now completely updated to include the recipe from my cookbook, Teatime in Paris, with kind permission from Waverley Books - hence no previous reviews.
Have you made this recipe?
I'd love to know how it turned out. Please let me know by leaving a rated review below. It means so much to have your support.
On Instagram? Share a photo and tag @JillColonna and hashtag it #madaboutmacarons. À bientôt!