When apricot jam is given a touch of French style, it's divine. As apricots go so well with lavender together, this is best spread on baguettes and brioche plus it's one of the most popular jam toppings on crêpes. Also served warm as a sauce on ice cream, a tart glaze - or even as a jam filling for macarons. What's more, it's reduced in sugar.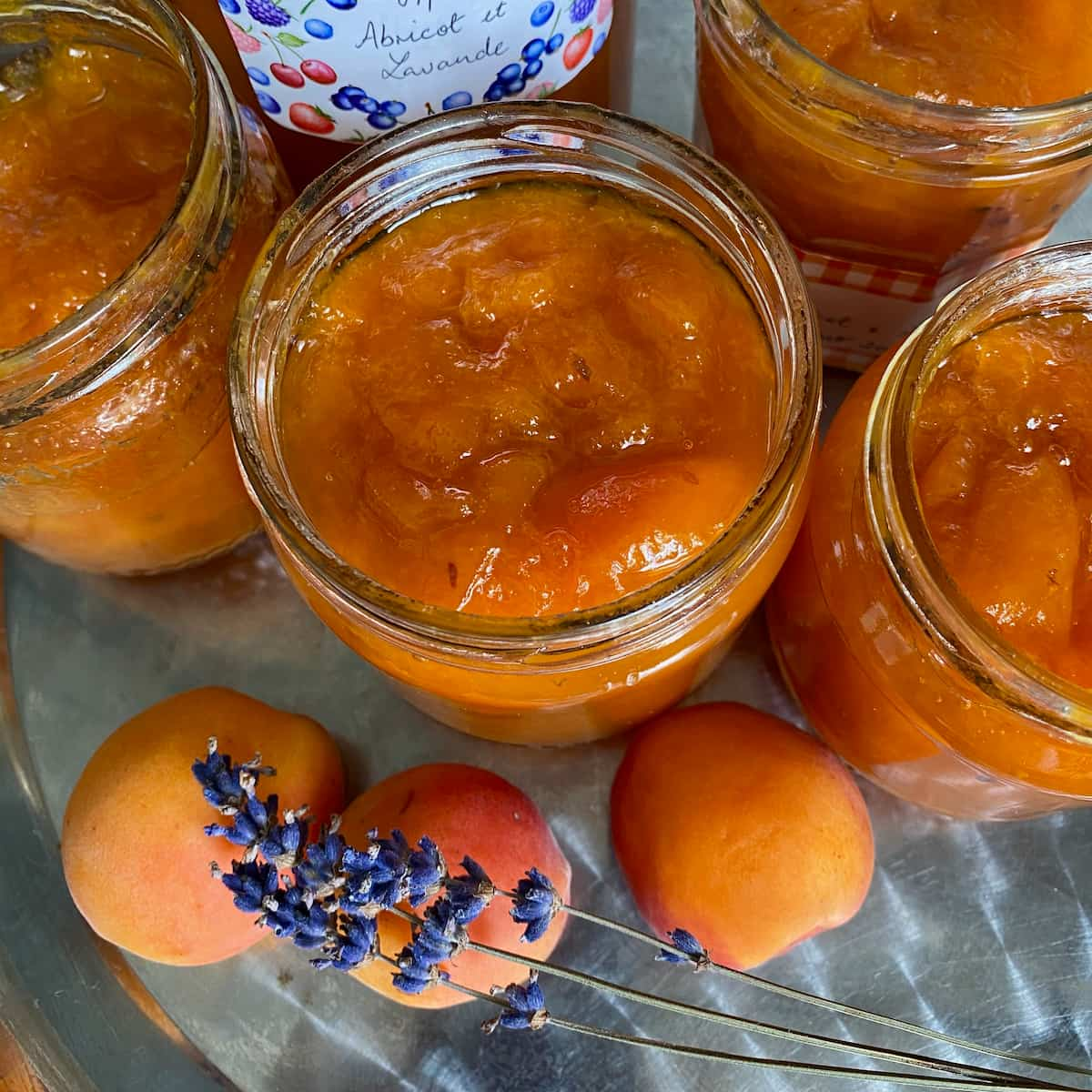 Choose the Best Apricots to Make Jam
Imagine my surprise at the summer market, seeing this crate of blushing apricots just waiting to be pounced on. I thought the apricot season was nearly over but here they were, blushing up at me at our farmers' market.
The market apricots came with a sign announcing, 'Abricots - pour la Confiture'. They were specifically jam apricots, as they were smaller and riper. I asked if I could taste one, just to check if it was full of flavour.  Bingo! It didn't take much convincing otherwise to make a batch of my all-time favourite apricot jam.
To make the jam, please don't skip the first macerating process.  By leaving the sugar, lavender and apricots together in the pan for 4 hours or overnight, this brings out all the flavours together.
What Flavours Go with Apricot Jam?
As apricot season coincides with lavender, it's nature's way of confirming that lavender and apricots go so well together. They're a gourmet match in summer heaven. As long as apricots are full of flavour and fragrance, they're perfect together in making jam.
On the other hand, if you discover back home that your apricots are tasteless, don't despair.  The best way of cooking bland apricots are to roast them for just 20 minutes, - as in my simple recipe for baked apricots.
Flavours such as lavender, lemon verbena and vanilla go well with apricots - combinations that are very popular in France. So, if you prefer without the lavender, replace with lemon verbena leaves or a vanilla pod/bean or powder.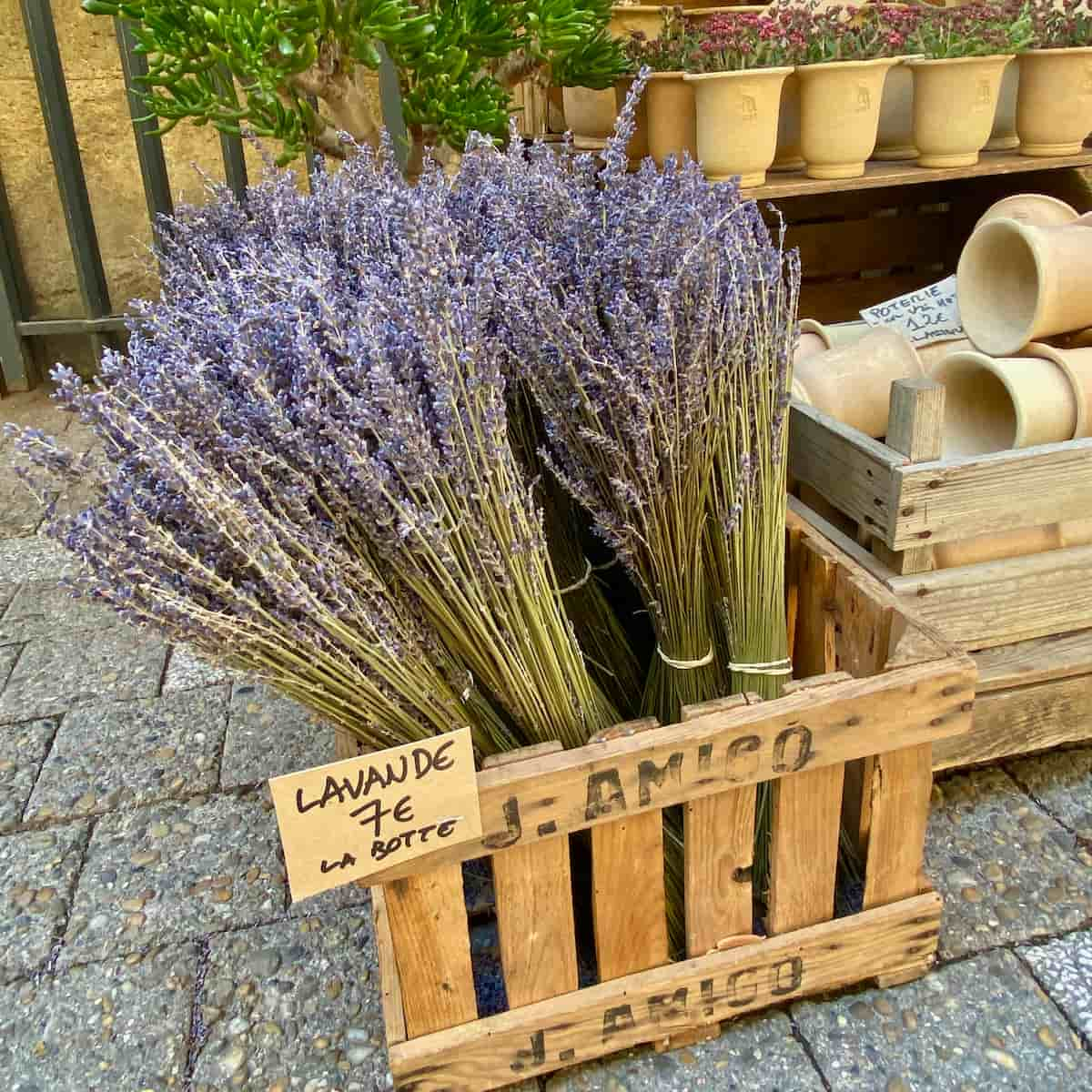 What is Lavender Good For?
That French touch of lavender just gives this apricot jam a buzz of Provençal lavender fields. Our garden lavender isn't quite the same thing but the heady aromas are a constant reminder of summer in Provence. My parents-in-law live on a hill overlooking a lavender distillery on the road to Apt and during summer, the fragrances waft from its chimney after the lavender harvest, ready to add to perfumes and oils on sale at the market.
Lavender oil is good for its calming properties but ask my girls, and they have another heady reminder of the scent. Every rentrée return to school in September, we would be braced for crying outbreaks of nits (les poux). Rather than buy expensive sprays and lotions at the Pharmacie, rub a drop of lavender oil behind the ears. It works!
Enough of this subject on a food blog! Back to jam - I much prefer to infuse some dried lavender flowers to add a special French touch to this apricot jam. Either keep the flowers in the jam or sieve them out if you prefer.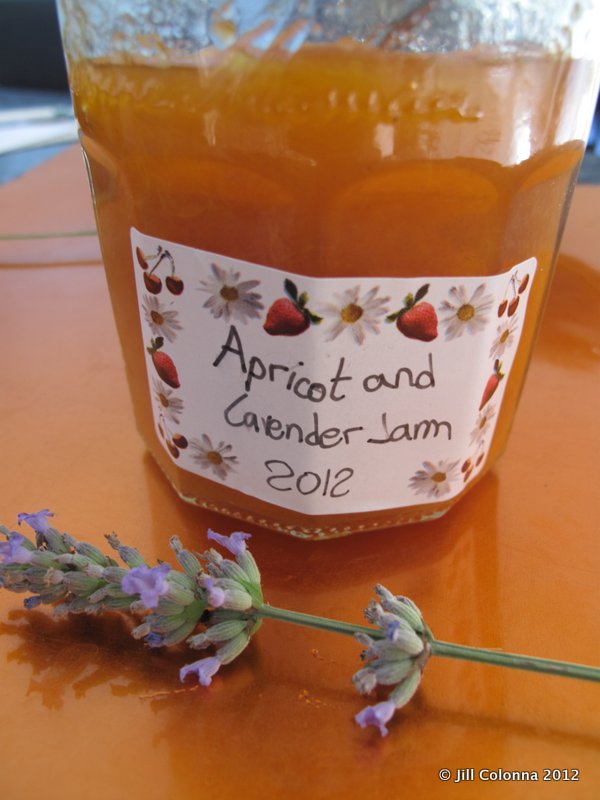 How Much Can I Reduce Sugar in Jam?
Anything sold and labelled as jam or confiture by law has to contain a minimum of 55% of sugar. It strikes me as being a high amount of sugar.
As I prefer to use at minimum, half sugar to fruit and less, this homemade 'jam' doesn't last as long as commercial jams. It's best to consume reduced sugar apricot jam within the year, kept in a cool and dry place and refrigerated once opened.
Tip to avoid Scum on Jam
It's only natural that white foam floats to the surface of the pot as you're boiling up the jam.  This white foam is known as scum, as it's the impurities in the jam floating to the surface. As a result, the scum should be discarded.  Just go around the sides with a slotted spoon to take off.
Is there a way to avoid too much scum? Yes there is! The addition of butter is our top family tip used by my both my Mum and Mother-in-law. Adding a little butter to this apricot jam helps to avoid too much scum floating to the top during the jam-making process.
Why Do You Add Lemon Juice to Jam?
In all our family recipes, lemon juice is added and I have often wondered why.  It simply conserves the natural vibrant colour of the fruit plus as it's naturally high in acid and pectin, it helps to set the jam better.  As apricots are low in pectin, this is an important ingredient in apricot jam.
Does Apricot Have Pectin?
Likewise, as apricots are low in pectin, thickening apricot jam will be more difficult than in naturally high pectin fruits in spiced plum jam. In fig jam, it's low in pectin but somehow it works - but I add orange (highest amount of pectin in fruit).
So how do you thicken apricot jam? As I mention above, add the lemon juice as it's a natural jam thickener.  I also use special preserving sugar with added pectin just to speed up the process, making the taste of the apricots shine through rather than over boiling. Attention when using special preserving sugar, read the label first as many brands are good and others contain weird ingredients such as palm oil.
If you prefer not to use sugar with added pectin to make this, just boil up the jam for longer - but don't forget the lemon juice!
How do you Know When the Jam is Set?
The old-fashioned way I still stick to is to add a little jam on a chilled plate or saucer. If it thickens - I say, wrinkles, then it's time to stop the cooking.
If you prefer to do it scientifically, then heat the jam to 104°C using a candy thermometer. Pour into sterilised jars and you're set!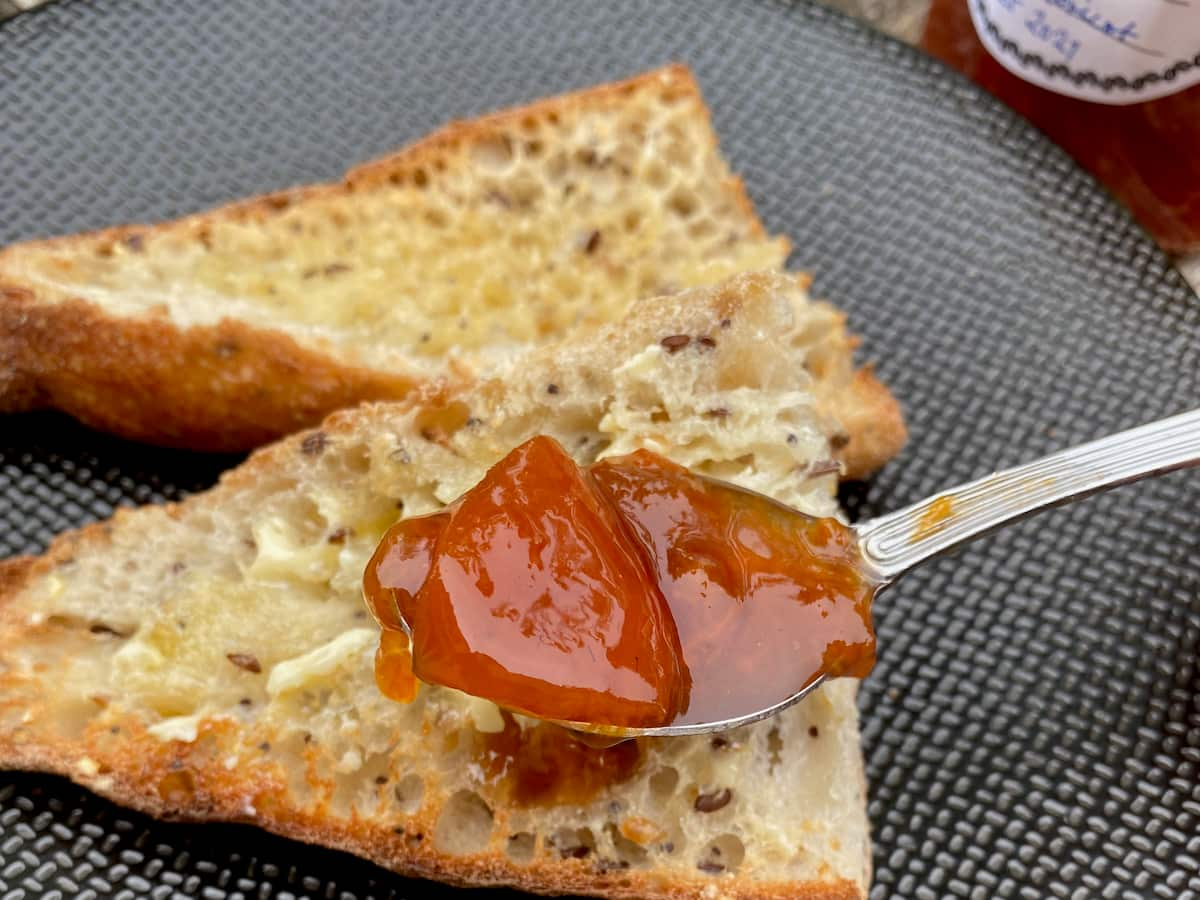 What Is Apricot Jam Used For?
It's a real winter treat to open up a jar of this golden sunshine. Apricot and lavender jam is delicious simply smothered on slices of brioche, croissants or fresh baguette - even better, on a breakfast tartine (toasted baguette slices, the most popular French breakfast).
It's also a popular topping on crêpes (thin French pancakes) or even Scotch pancakes for a 4 o'clock official French snack, the gôuter or teatime.
As a sauce and glaze: apricot jam is also a handy pantry stable as it can be warmed and dribbled over as a sauce on Plombieres (Candied Fruit) Ice Cream or used as a glaze on a French apple tart.
As an Apricot Glaze on a Tart
Did you know that in France, there's even an expression 'to apricot a tart'?  Abricoter une tarte, means to brush some warmed apricot jam over the top of a tart (such as this apple custard tart) to give it a delicious shiny glaze finish.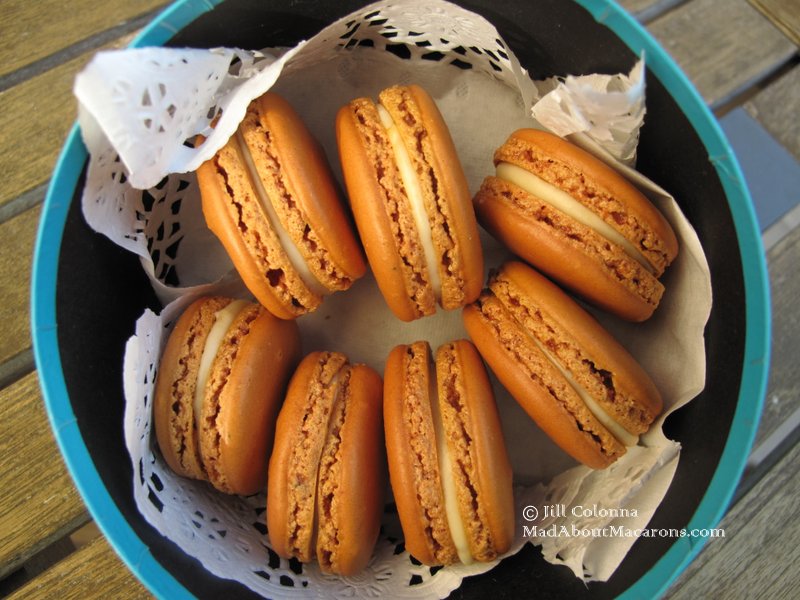 Use as a Macaron Jam Filling
Plus it goes without saying (ça va sans dire in French - love that phrase!) that you can sandwich your macarons with jam and leave them for 24 hours before eating.
Here's How:
Colour your macaron shells either orange or purple and fill with this jam to make apricot and lavender macarons. The beauty with macarons is that you can make any flavour of your imagination.
Either fill directly with this jam or add it to a ganache. Here, I used the white chocolate ganache filling recipe on page 74 of my book, Mad About Macarons for the liquorice macarons. I just replaced the 30g of liquorice for the jam.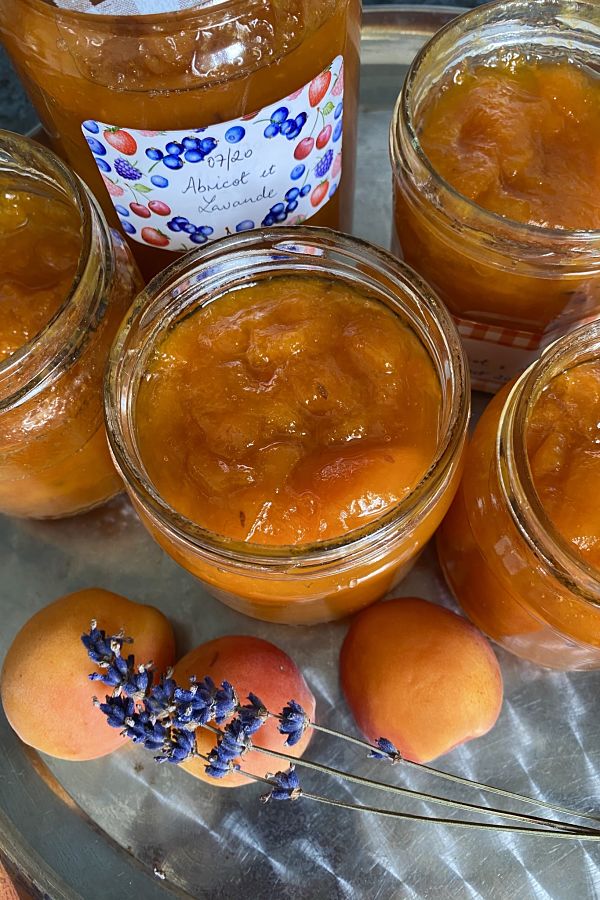 How to Make Apricot Jam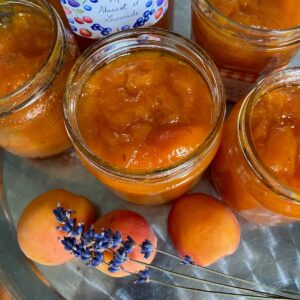 Apricot Jam with Lavender
A deliciously easy and versatile French style jam - not just for spreading on baguettes, brioche or crêpes but also good warmed and served as a sauce with ice cream, a glaze on apple tarts or as a filling for macarons.
Ingredients
1

kg (2.5 lb)

apricots

washed and cut in 2 (stones removed)

400

g (14oz)

granulated sugar with added pectin

(preserving sugar) *

juice of a lemon

2

fresh lavender flowers

or 2 tsps dried lavender in a tea infuser

1

knob of butter
Instructions
Mix together the above ingredients (except the butter) in a large bowl and leave to macerate and infuse with the lavender overnight or about 4 hours.

Remove the full lavender flowers or the tea strainer with the dried lavender.

In a heavy high-sided pot (as I use induction heat, but traditionally - if you can - use a copper pot), bring the ingredients to a slow boil over a moderate heat for at least 45 minutes. Stir occasionally using a wooden spoon and add the knob of butter.

Meanwhile, chill a saucer in the fridge to quicken the setting process.

Turn down the heat and leave to simmer for another 15 minutes until thickened. Test the jam on the chilled saucer. If it wrinkles, it's set. If not, then continue to boil the jam and try again.

Pour directly into hot, sterilised jars to the top, seal and turn the jars upside down to seal the jam inside. Leave to cool then label.
Notes
Storage: Store in a cool place for up to a year. Once opened, store in the fridge. Note on Pectin for Apricot Jam: As apricots are naturally low in pectin (which helps set jam), use special preserving sugar with pectin to speed along the setting process (read the label that ingredients don't contain palm oil).
If, however, you prefer without, use plain granulated sugar and boil to reduce for longer. Continue to use the lemon juice, as it's naturally high in pectin and the acid helps set the jam naturally.  Scum on Jam: Although optional, the knob of butter is an old family trick we use to reduce the scum that forms on jam.
This post was first published 17 August 2012 but is now completely updated with new images and text that's easier to read.