Quick and easy Scotch Pancakes (also known as Drop Scones) are light, small and fluffy for teatime or breakfast. Ready in just 30 minutes and budget-friendly too.
With a little rustic chestnut flour and orange for an optional Corsican twist, these Scottish treats are Ec-corsais!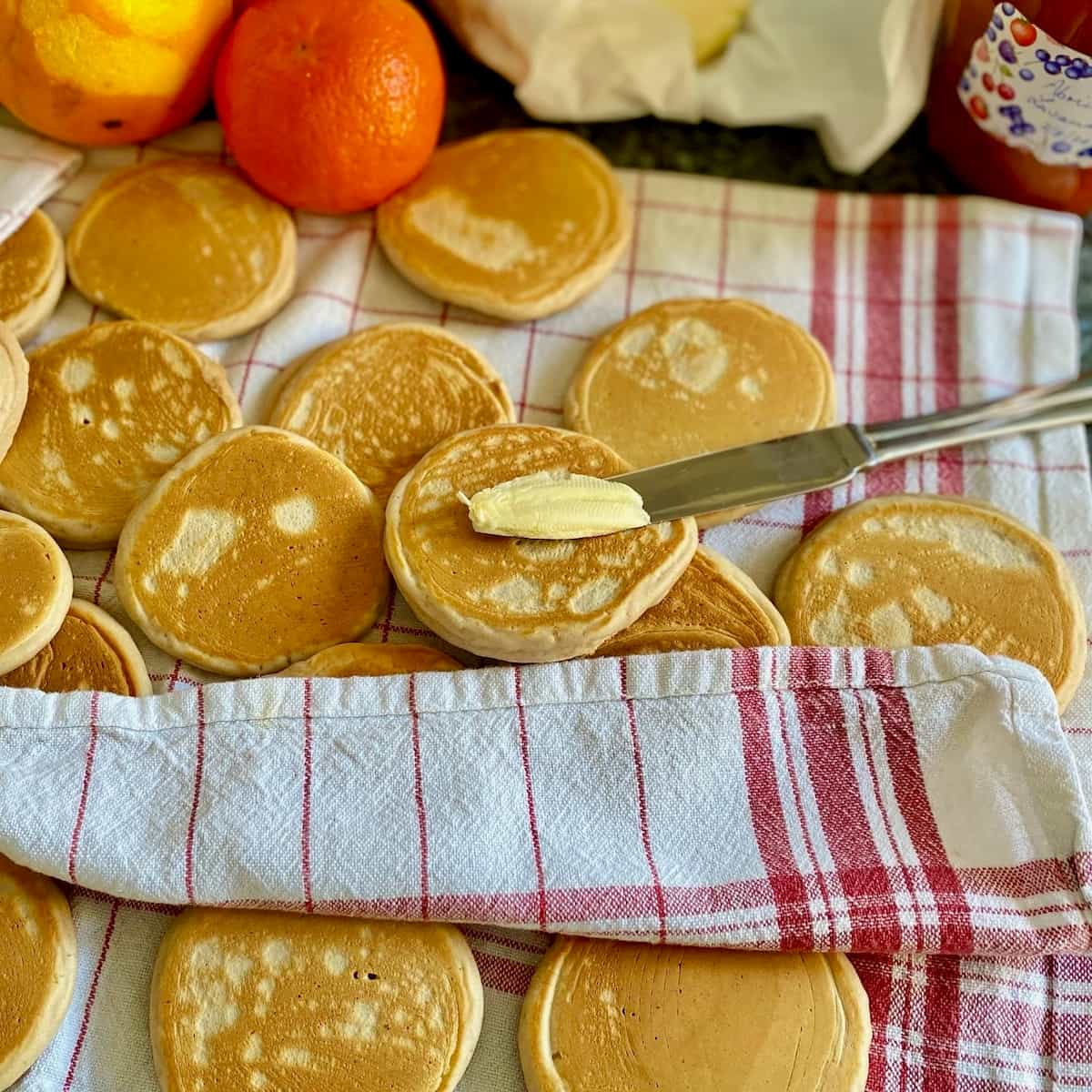 What are Scotch Pancakes Made Of?
Made with just simple, basic ingredients, Scotch pancakes contain just flour, sugar, an egg, milk and a pinch of salt. They don't contain any alcohol.
So they're great to make on a budget with everyday pantry staples. A typical Scottish recipe, Queen Elizabeth II particularly loved them when at Balmoral Castle.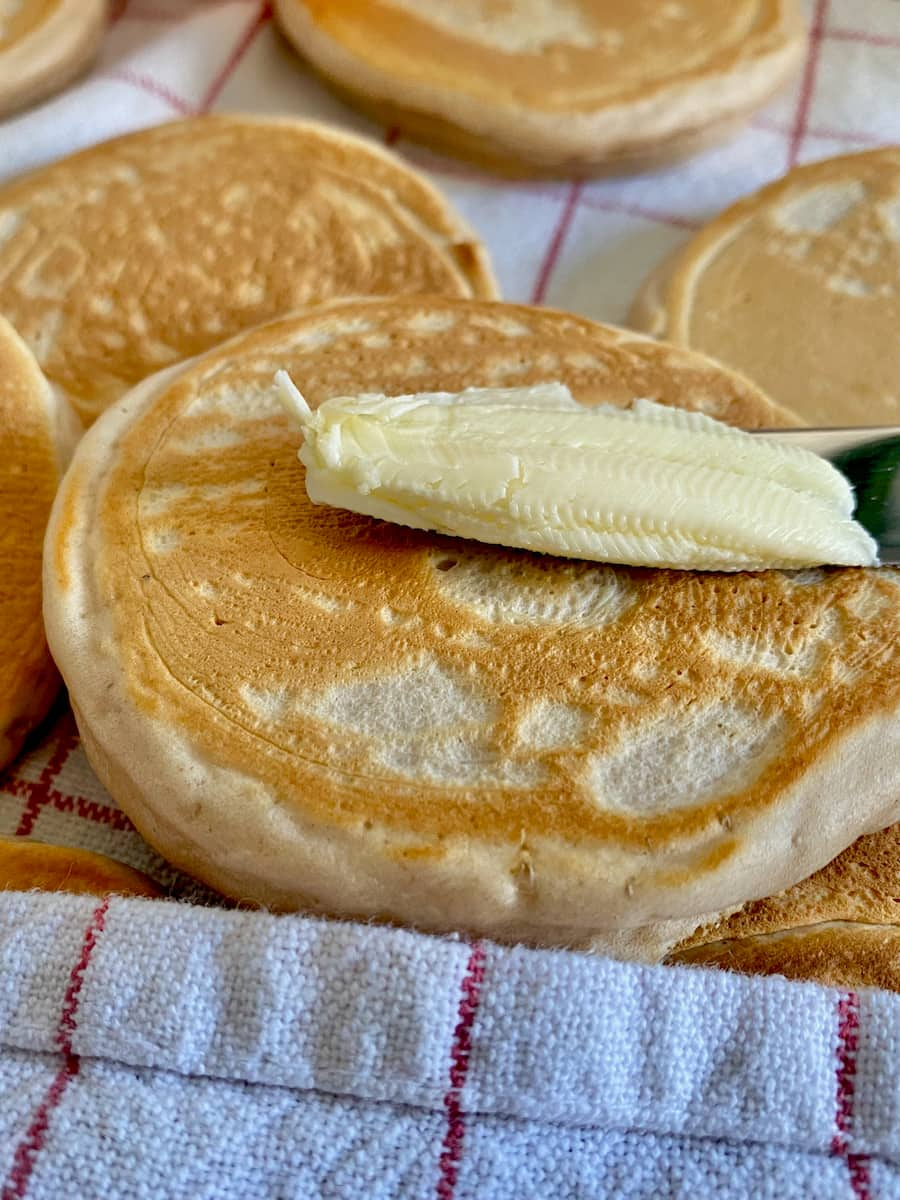 What's the Difference between Scotch Pancakes and American Pancakes?
Scotch pancakes, also known as drop scones or griddle cakes in the UK, are not like the usual fluffy stacks of large American pancakes dribbled with maple syrup. Instead, these are much smaller and normally spread with butter and/or jam or curd.
They're also known as Drop Scones, as the batter is particularly thick (not runny like American pancakes).
American pancakes don't really have an equivalent in France, as our French pancakes, or sweet crêpes, are much thinner and don't use any rising agent like baking powder or soda.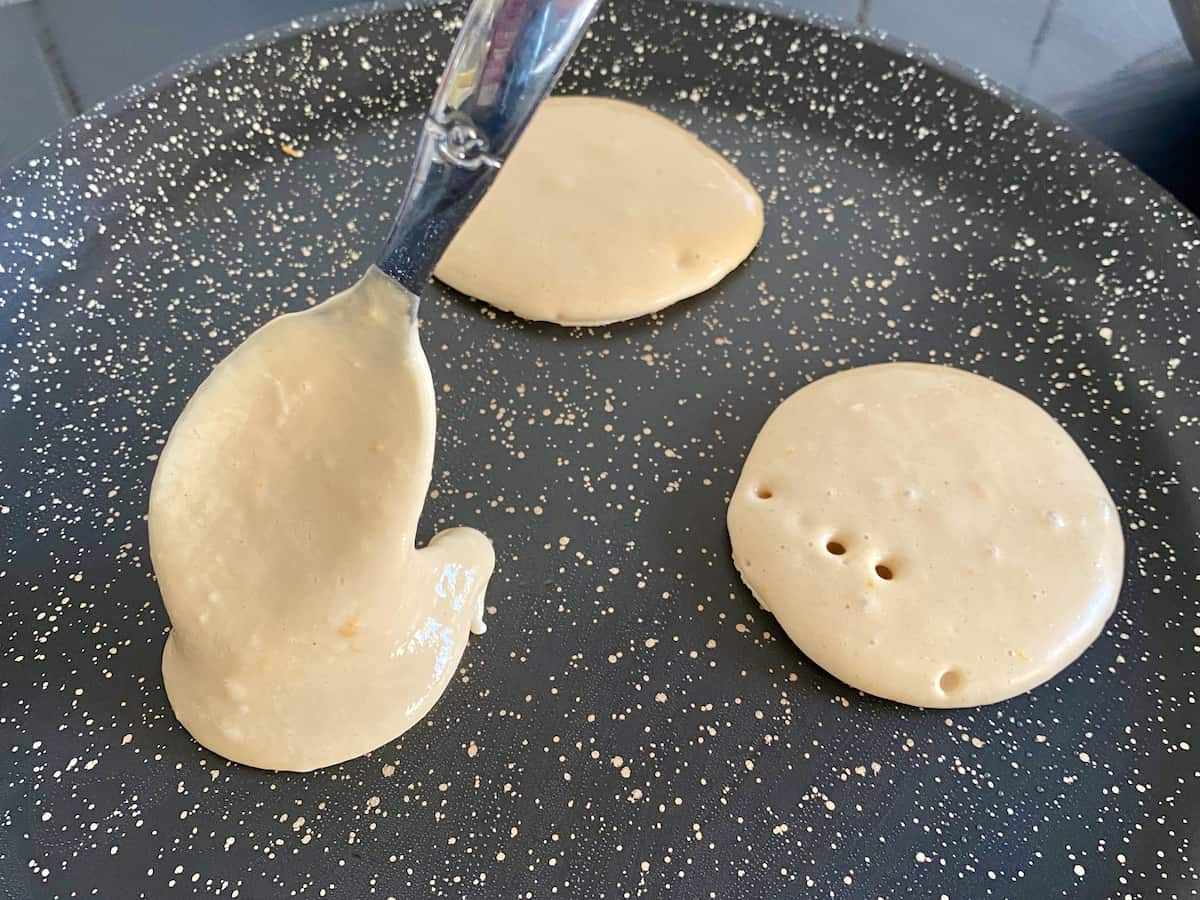 Why is it Called a Scotch Pancake?
Said to have originated in my homeland of Scotland, Scotch pancakes are what my family always called them.
According to my Collins Scots Dictionary (1995), in Scotland:
A Pancake is a round flat cake cooked on a griddle, smaller and thicker than an English pancake and usually eaten cold with jam, butter, etc. In England it is known as a drop scone or a Scotch pancake.

Collins Scots Dictionary (1995)
The name of drop scones is due to the thicker batter, which just drops from a spoon on to the hot griddle or pancake pan.
This recipe is Scottish and what my Gran seemed to live on, as they're so easy and quick to rustle up. Every time we visited her in Edinburgh, the girdle (yes, that's what we also call it in Scotland) sat pride of place on the kitchen stove.
Likewise, on the table, there was a tea towel - filled with Scotch pancakes. I often wondered if she ever got fed up with them, but no. She normally just served them with lashings of butter. Only sometimes we'd see a spoon or two of jam or honey. For more on serving ideas, see below.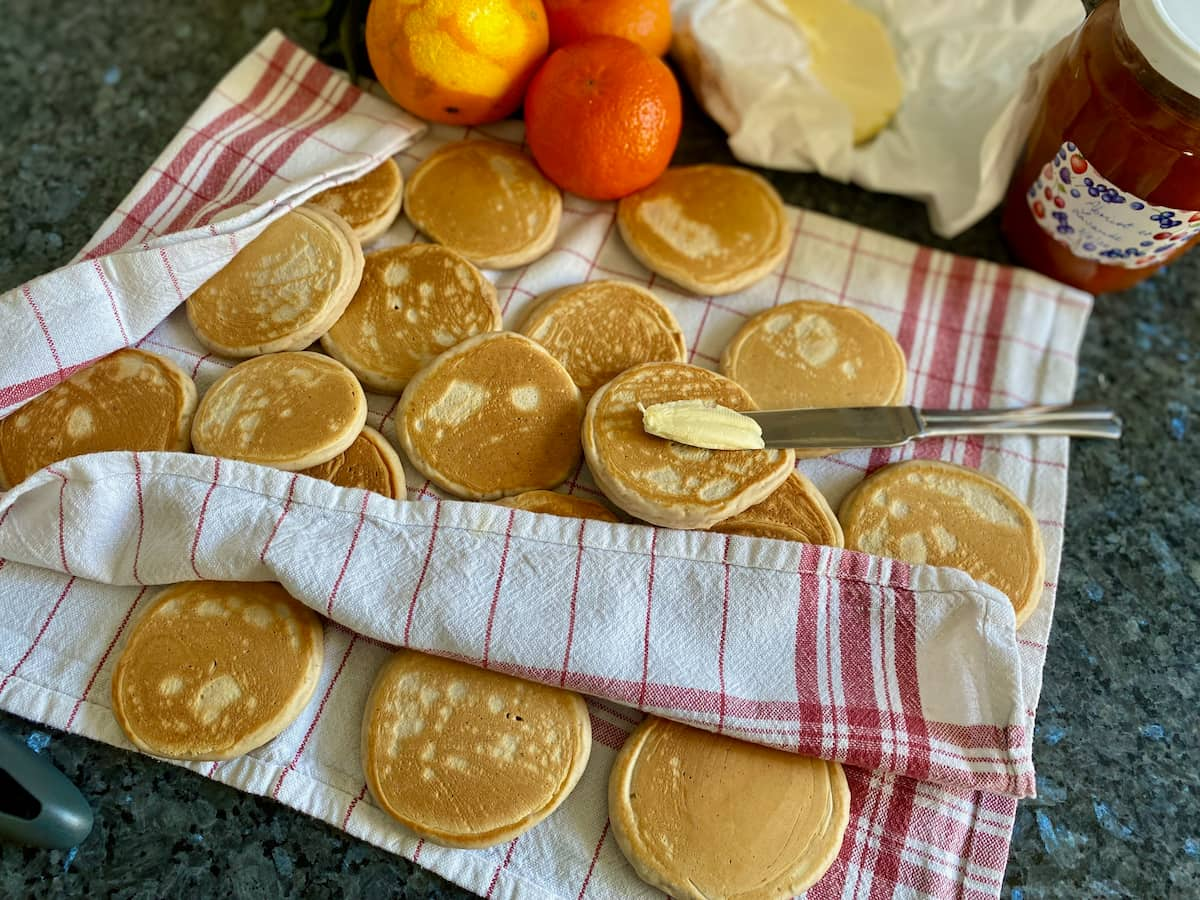 Are they the Same as Scones, Pikelets and Crumpets?
Drop scones are not the same as scones that we also make in Scotland - see my savoury scone recipe for fluffy cheese scones.
They are also not the same as pikelets in the UK, as they are thin crumpets with holes.
However, I see that Scotch pancakes (drop scones) as we know in the UK are the equivalent of what are called pikelets in Australia and New Zealand.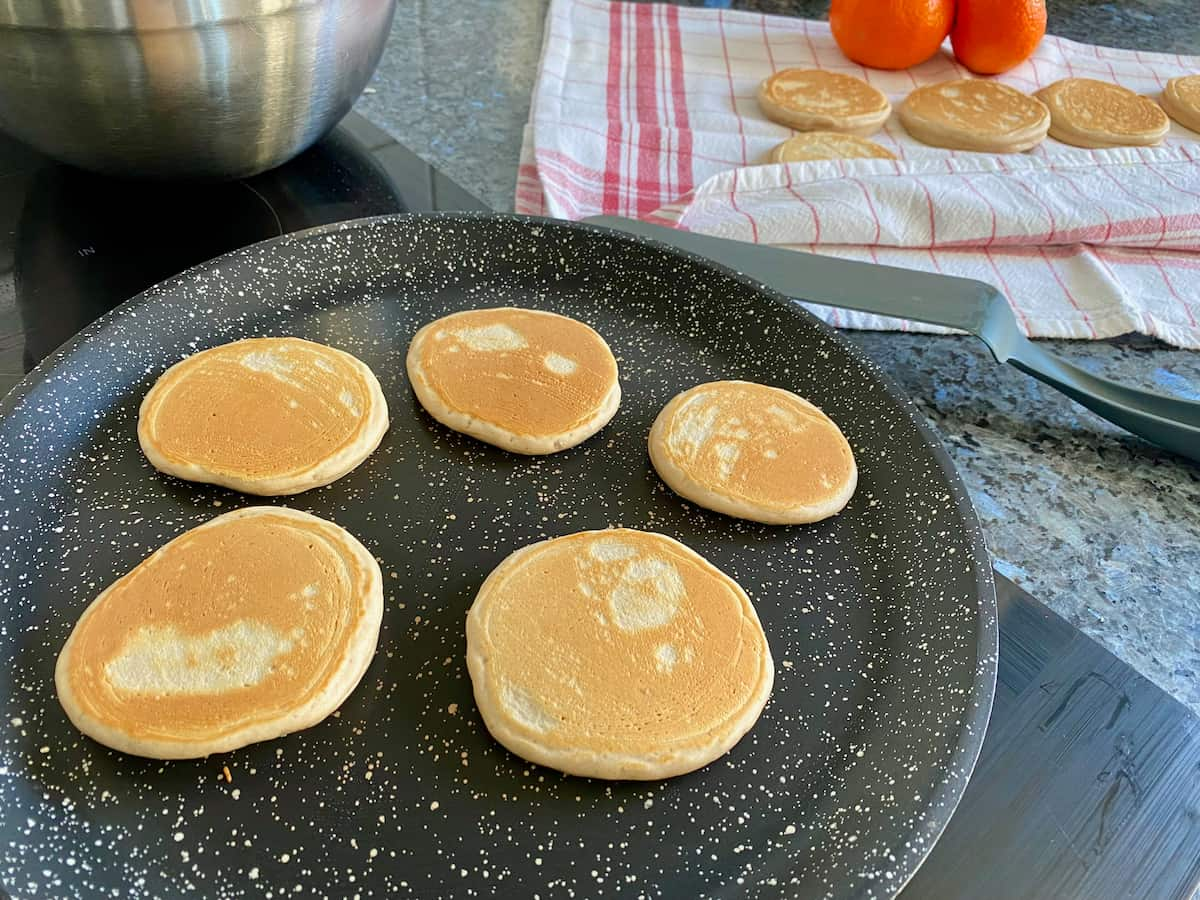 Adding Chestnut Flour to Scotch Pancakes
To keep Corsican hubby happy, I developed this Auld Alliance recipe version, merging Scotland and Corsica in a simple Scotch pancake. The addition of just a little chestnut flour is a typical rustic flour used in Corsican cuisine and easily found in health food stores or the healthy section in supermarkets.
Chestnut flour adds a nutty, rich texture and goes beautifully when paired with orange. If you can't find it, no worries. Just complete with plain flour - or use a little wholemeal flour.
For more recipes using chestnut flour, check out the chestnut page.
How Do You Eat Scotch Pancakes?
Serve Scotch pancakes (or drop scones) slightly warm, if possible immediately freshly made with a scraping of butter. You can also eat them without heating them but they really are at their best when warmed.
They also go well with honey, jam or lemon curd.
For a French touch we like spreading on some sweetened chestnut and vanilla spread too (crème de marrons) - particularly delicious with clementine oranges. Also enjoy with the following jams and curd:
However, Gran preferred them with just plain butter, slightly melted, warm and moist from the tea towel.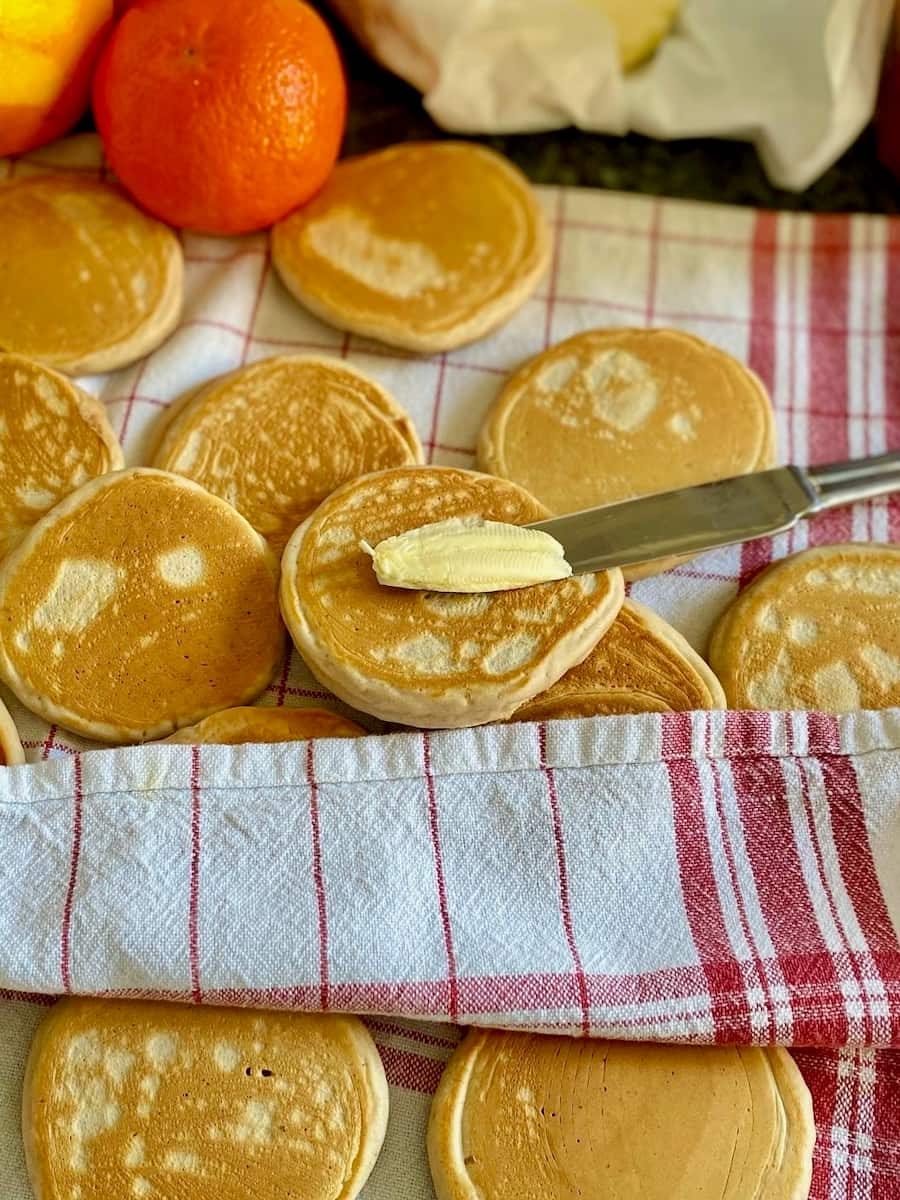 How to Make Scotch Pancakes (Drop Scones)
This recipe is so easy and quick to make. The batter doesn't need to rest - just like these regular French pancakes or crêpes. For the savoury version of thin French pancakes, see my easy recipe for buckwheat pancakes (galettes de sarrasin).
Made with just simple, basic ingredients of flour, sugar, an egg, milk and a pinch of salt, it's up to you to add the optional orange and chestnut flour. They don't contain any alcohol.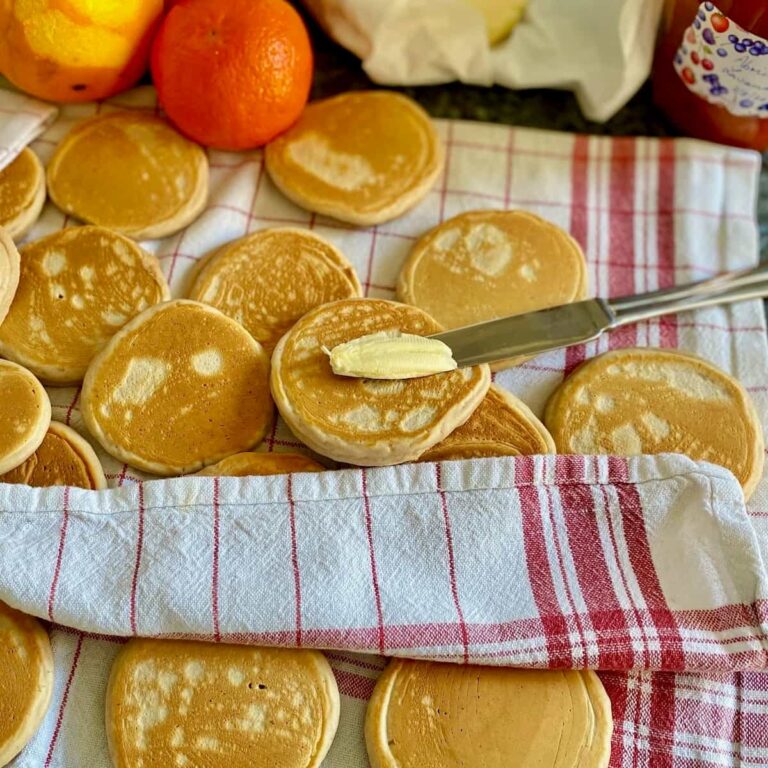 Scotch Pancakes
Quick and easy recipe for Scotch Pancakes. Made with simple, basic ingredients of flour, sugar, an egg, milk and a pinch of salt with an optional Corsican twist of orange and chestnut flour. Also known as drop scones, as the batter is so thick it should just drop from a spoon.
Equipment
non-stick crêpe/pancake pan or griddle
Ingredients
125

g (4.5oz/ 1 cup)

plain/all-purpose flour

(or self-raising flour)

2

teaspoon

baking powder

(omit if using self-raising flour)

25

g (1oz/ 3 tbsp)

chestnut flour

sifted * (see notes)

good

pinch

salt

(fleur de sel)

25

g (2 tbsp)

caster sugar

1

large egg

organic

150

ml (4oz/ ⅔ cup)

whole milk

½

teaspoon

grated orange zest

organic (unwaxed)
Instructions
Sift the flour(s), sugar, baking powder & salt in a large bowl.

Make a well in the centre.  Whisk in the egg, orange zest and gradually add in the milk until thick and smooth. Adding one at a time in this order will avoid any lumps in the batter.

Lightly grease a griddle/pancake pan or heavy frying pan over moderate to high heat.

Cook in batches.  When the pan is hot, drop the equivalent of 4 spoonfuls of the mixture spaced apart and cook for 3 minutes until bubbles rise to the surface.

Turn the pancakes over and cook for a further 2 minutes.
Notes
Makes about 18 Scotch pancakes with 350 calories per serving of 3.
To serve: enjoy freshly made, spread with butter, jam or curd. If not eating straight away, cover with a clean tea towel.
* Flour: If not using chestnut flour, use wholemeal flour for a slightly nutty flavour. If using just plain flour (150g), then use slightly less milk.
Measures: Please note that all my recipes are best made using digital kitchen scales in precise metric grams. Both ounces (and cups) are given as an approximate guide. 
This recipe was originally published 2 March 2011 but is now completely updated.