Looking for something a bit different for breakfast or teatime? Here's an easy Scotch Pancake recipe – so quick to make, there's no need to let the batter rest. Also known as drop scones, as the batter is so thick it should just drop from a spoon. 
With a little chestnut flour and orange for a Corsican touch to these Scottish treats – they're Ec-corsais! They're rustic and a bit nutty!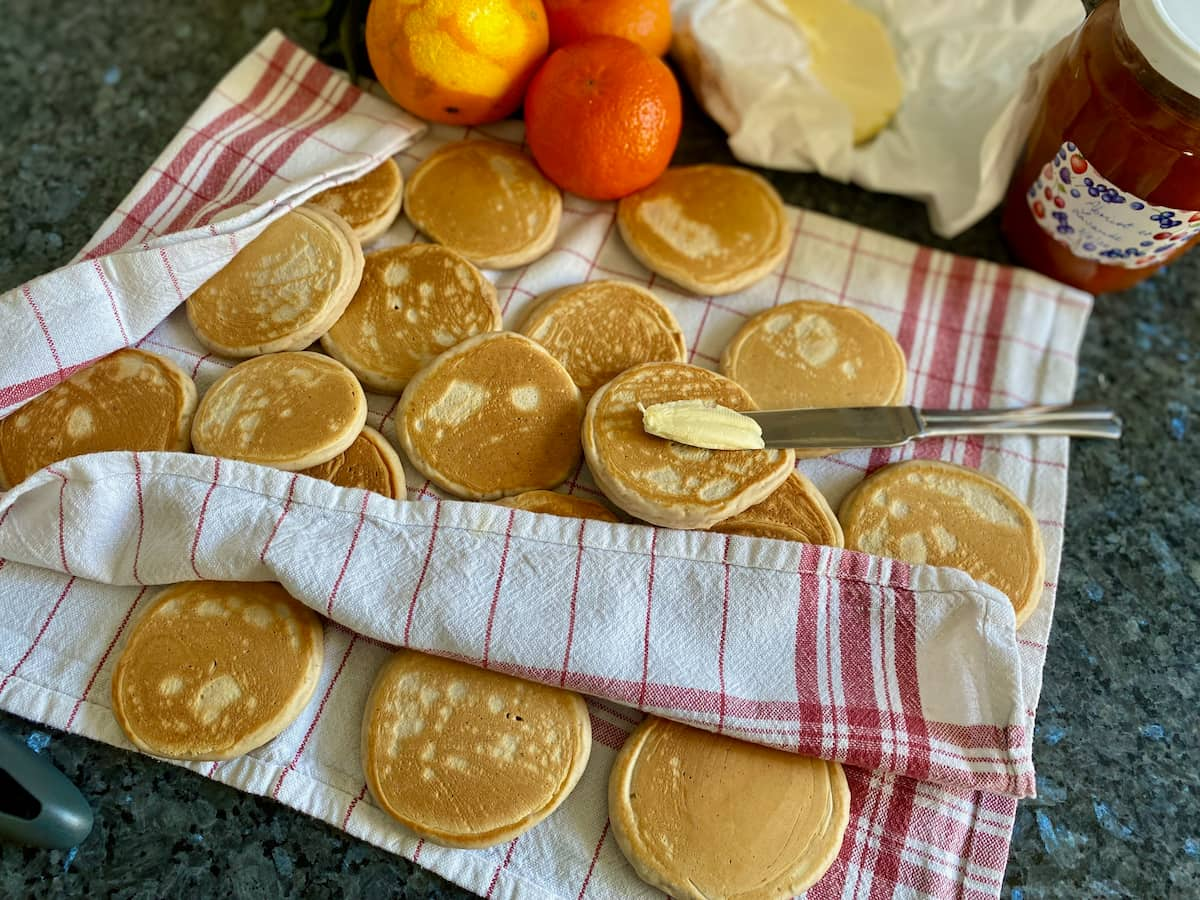 What's the Difference between Pancakes and Scotch Pancakes?
Scotch pancakes, also known as drop scones or griddle cakes in the UK, are not like the usual fluffy stacks of American pancakes dribbled with maple syrup. Instead, these are much smaller and served normally with a scraping of butter and with jam or curd.
They're also known as Drop Scones, as the batter is particularly thick (not runny like American pancakes).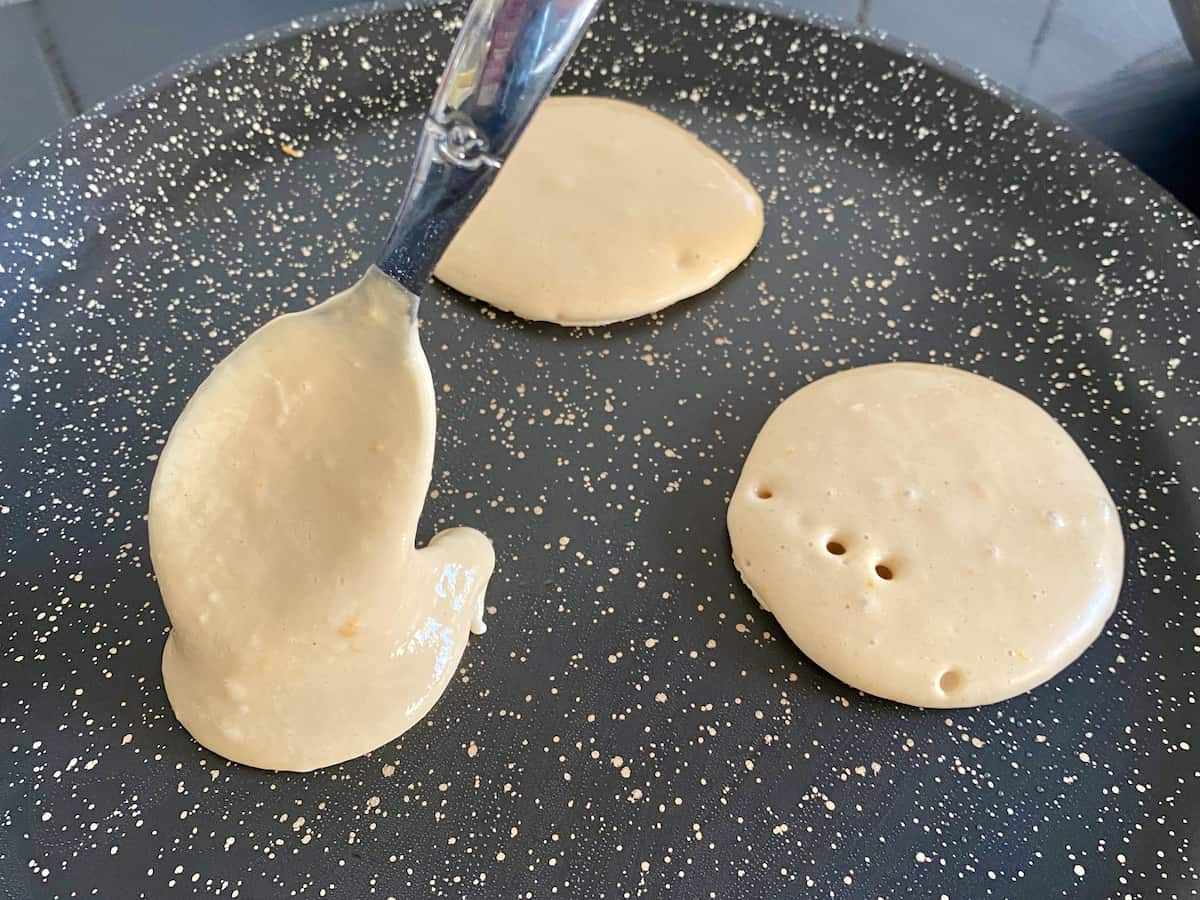 The result is the batter just drops from a spoon on to the hot griddle or pancake pan. What's more, the batter doesn't need to rest so they are even quicker to make.
This recipe is Scottish and what my Gran seemed to live on, as they're so easy and quick to rustle up.  Every time we visited her house in Edinburgh, the girdle (yes, that's what they also call it in Scotland) sat pride of place on the kitchen stove.  Likewise, on the table, there was a tea towel – filled with Scotch pancakes. I wondered if she ever got fed up with them, but no.  She normally served them just with lashings of butter and sometimes a spoon or two of jam or honey.
Are they the Same as Scones, Pikelets and Crumpets?
Drop scones are not the same as scones that we also make in Scotland – see my recipe for fluffy, high rise cheese scones.
Moreover, they're not the same as pikelets, as pikelets in the UK are thin crumpets with holes.  However, I see that Scotch pancakes (drop scones) in the UK are the equivalent of what are called pikelets in Australia and New Zealand.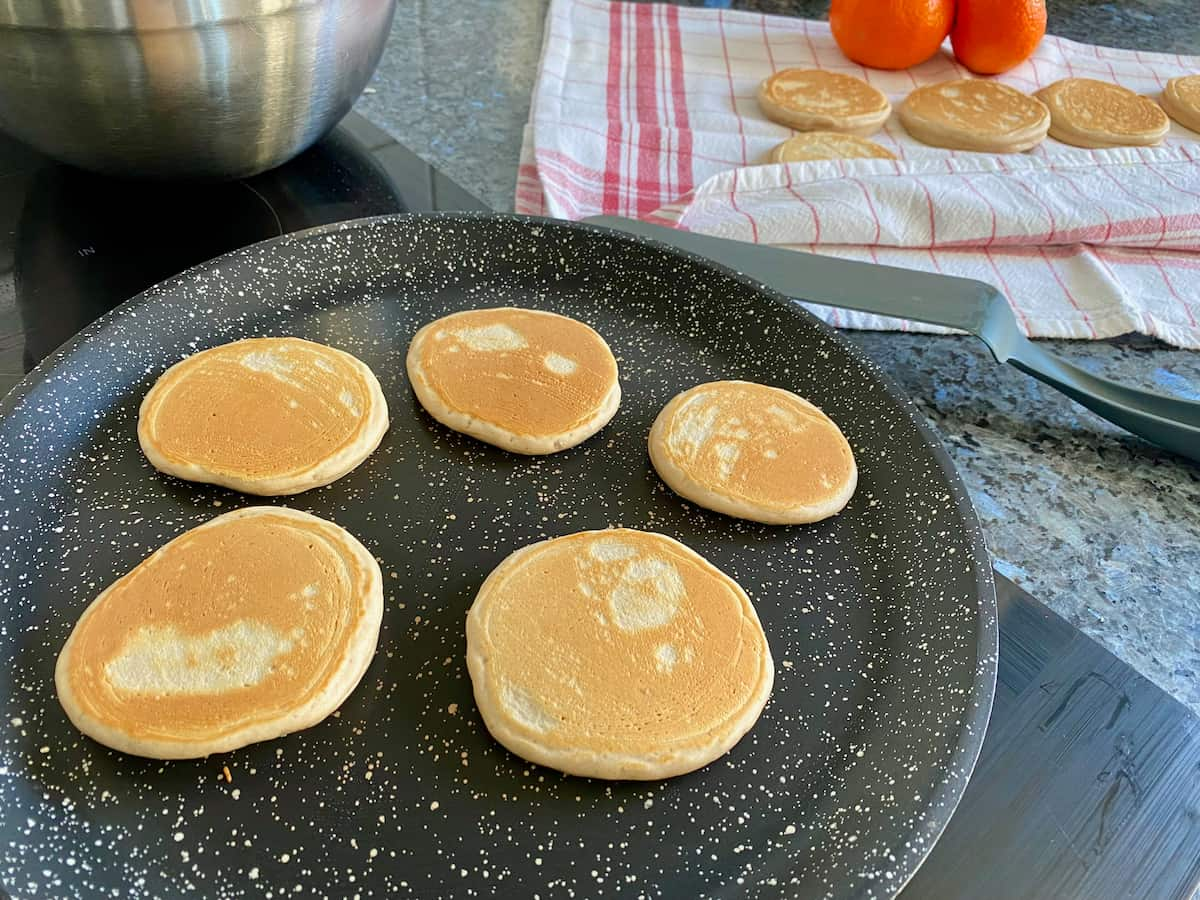 Adding Chestnut Flour to Pancakes
To keep Corsican hubby happy, I came up with an Auld Alliance version, merging Scotland and Corsica in a simple Scotch pancake. The addition of just a little chestnut flour is a typical rustic flour used in Corsican cuisine and easily found in health food stores or the healthy section in supermarkets. It adds a nutty, rich texture and goes beautifully when paired with orange. If you can't find it, no worries. Just complete with plain flour – or use a little wholemeal flour.
For more recipes using chestnut flour, check out the new chestnut page from our local French market.
How Do You Eat Scotch Pancakes?
Serve them slightly warm, freshly made with a scraping of butter. Scotch pancakes (drop scones) also go well with honey, jam or lemon curd. For a French touch we like spreading on some sweetened chestnut and vanilla spread too – and a clementine or two, just to add some fruit for the day. Also enjoy with the following jams and curd:

How to Make Scotch Pancakes – or Drop Scones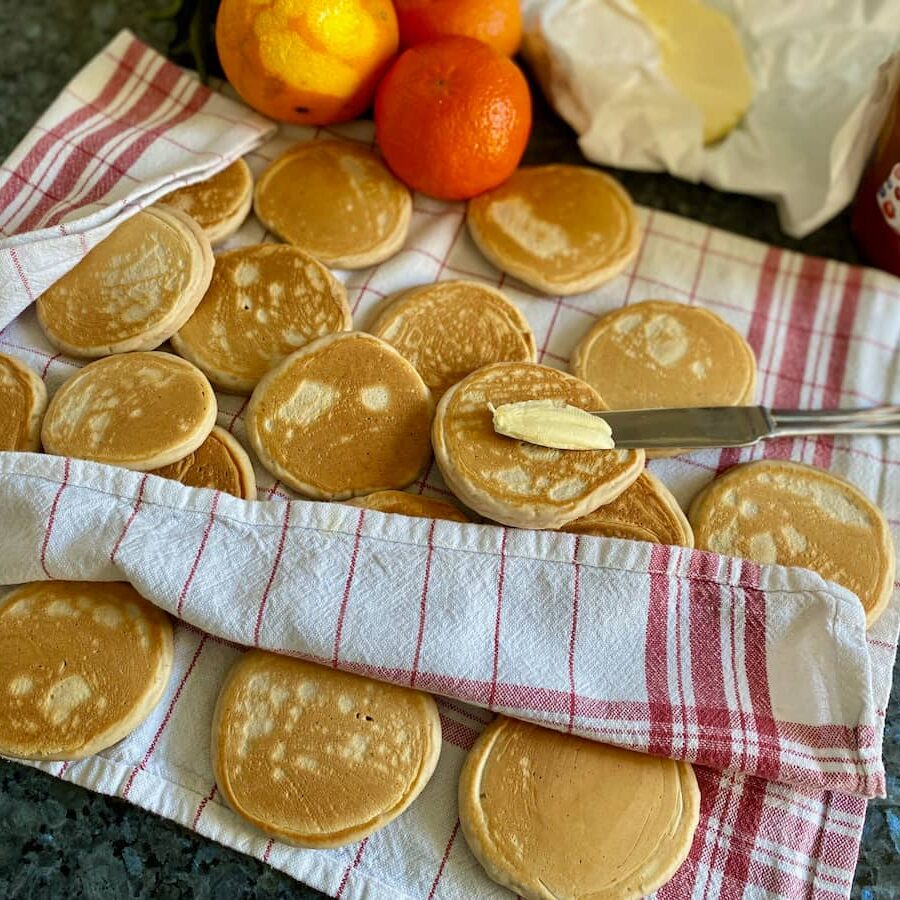 Easy Scotch Pancakes
Servings :
6
people (calorie serving: 3 each)
---
Description
Quick and easy Scotch Pancake recipe with a Corsican twist with chestnut flour and orange. Also known as drop scones, as the batter is so thick it should just drop from a spoon.
Ingredients
125

g (4.5oz)

plain flour

(all-purpose)

25

g (1oz)

chestnut flour

sifted * (see notes)

2

tsp

baking powder

good

pinch

salt

(fleur de sel)

2

tbsp

caster sugar

1

large egg

organic

150

ml (4oz)

whole milk

1/2

tsp

grated orange zest

organic (unwaxed)
Instructions
Sift the flours, sugar, baking powder & salt in a large bowl.

Make a well in the centre.  Whisk in the egg, orange zest and gradually add in the milk until thick and smooth.

Lightly grease a griddle/pancake pan or heavy frying pan over moderate to high heat.

Cook in batches.  Drop the equivalent of 4 spoonfuls of the mixture spaced apart for 3 minutes until bubbles rise to the surface.

Turn the pancakes over and cook for a further 2 minutes.
Notes
Makes about 18 Scotch pancakes with 350 calories per serving of 3.
* If not using chestnut flour, use wholemeal flour for a slightly nutty flavour. If using just plain flour (150g), then use slightly less milk.
If not eating straight away, cover with a clean tea towel.
Serve freshly made, spread with butter, jam or curd
This recipe was originally published 2 March 2011 but has now been updated with new images and text.