Easy recipe for rhubarb hibiscus rose jam, using pectin sugar and infused with dried hibiscus flowers (or tea) to turn green rhubarb red.
How to Turn Green Rhubarb Pink
A few years ago, I found a solution to our not-so-pretty green rhubarb found at our local French market.  I didn't want to add strawberries to give it a pink look; instead I wanted JUST the rhubarb. So I experimented with the addition of hibiscus and red fruit tea to this Rhubarb compote. Bingo!  It worked.
Not only did it look much prettier in pink, but it also tasted fabulous.  As I normally add a touch of rose syrup to my rhubarb jam, the addition of hibiscus just gives it that extra wow factor.
How Much Sugar for Rhubarb Jam?
Normally I love to use the least amount of sugar in jam making, and in order for it to be called jam, the amount of sugar has to be 650g per kilo of fruit.  In the case of rhubarb, 750g is best to compensate for its intriguing tartness, although ensure that you eat the jam within the year, as lower sugar jams don't keep as long. However, I had some from over a year and it was still fabulous, so it's just a rule of thumb.
Pectin or No Pectin for Rhubarb Jam?
I normally use a pectin sugar since, like strawberries, it needs that bit of pectin in order for it to set more easily.  If you don't have pectin sugar, you can still make it with normal granulated sugar but bubble it up slightly longer for it to thicken.
Ideal topping for crêpes or Scotch pancakes.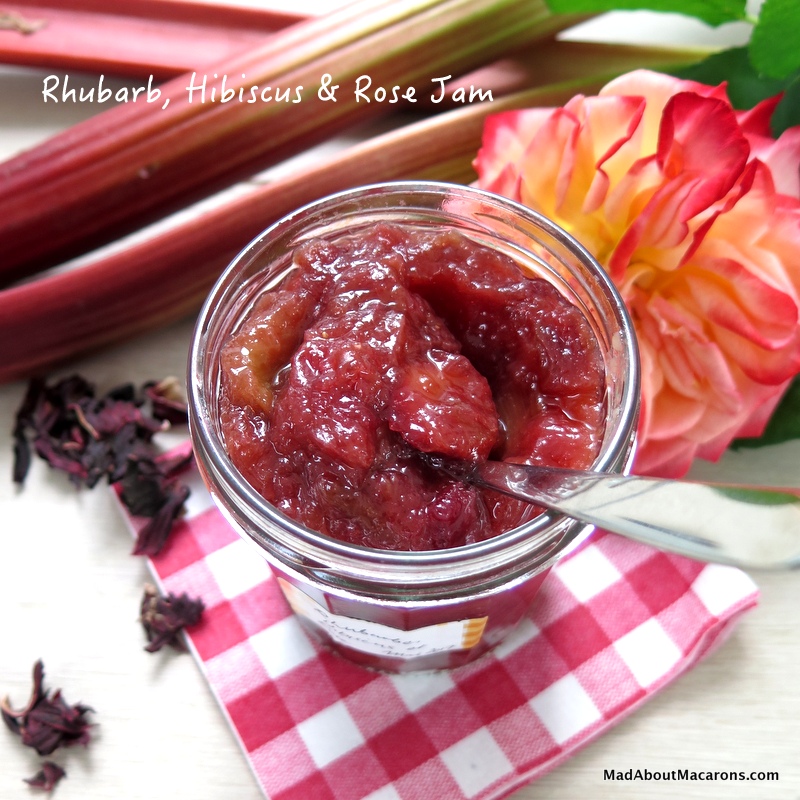 Rhubarb Hibiscus & Rose Jam
---
Description
Easy recipe for rhubarb jam with dried hibiscus and rose.
Ingredients
1

kg (2lb 3oz)

Rhubarb stalks

750

g (8.5oz)

sugar with pectin

(or granulated sugar)

2

tbsp

dried hibiscus flowers

(carcadé or a hibiscus teabag)

2

tbsp

rose syrup
Instructions
Sterilise 3-4 jam jars to ensure they are spotlessly clean. I normally just clean them in the dishwasher but if you prefer, leave them to soak in boiling water for a few minutes and set aside to dry on a clean kitchen towel.

Wash, trim off the end stems (ensure there are no trace of the rhubarb leaves as these are toxic) and cut the rhubarb into slices.

Measure the rhubarb in a large bowl and add the sugar.  Cover the bowl and leave the rhubarb to macerate in the sugar overnight or for a couple of hours, until the sugar turns liquid.

Sieve out the liquid into a thick-bottomed pan. Reserve a small amount of liquid into a bowl and add the hibiscus flowers or teabag to infuse.  Place this in the microwave or in a small saucepan to heat gently until the hibiscus has infused, leaving the liquid a pretty dark pink. Return the pink liquid to the big pan.

Throw in the rhubarb and heat on high for 20-25 minutes or until thick. Add the rose syrup after 10 minutes.

When thick enough, spoon the jam into the jars, and close the lids.
Notes
Store in a cool, dry place and consume within the year.
Serve spooned on fresh brioche or great as a rhubarb and rose filling for dark pink or red macarons (see basic recipe in both my books).
NUTRITIONAL INFORMATION: 250 Calories per 1/4 of a pot.