How to choose and prepare rhubarb with links to easy rhubarb recipes, perfect if you have a lot during the season.
When is Rhubarb in Season?
Rhubarb is in season from April to September in France. Spring; Summer;
What is Rhubarb?
It's a plant that grows mainly in northern France and is easily homegrown, as it doesn't need much care and needs not too much heat and plenty of water.
While the leaves are inedible, the stalks are delicious and can grow up to a meter, growing quickly as of April.
According to Larousse Gastronomique, rhubarb originated in Asia and was brought to Europe by Marco Polo in the 16th century. However, it was only made popular in cooking by the British (hence pies and crumbles) and came to France in the 19th century.
Today rhubarb is one of the prides of the Potager du Roi in Versailles - if you visit, be sure to try their rhubarb nectar from the farmer's shop. It's the most wonderful juice with just the right acidity which gives rhubarb its delicious appeal;
Low in calories but always needs sugar added, as extremely acidic.
Due to its acidity, rhubarb contains potassium, magnesium, iron and vitamins - and is particularly high in calcium;
What Can I Do With Excess Rhubarb?
If you're one of these lucky people like my neighbours that grow lots of rhubarb, then there are plenty of ideas of what you can do with it. Somehow rhubarb hasn't managed to grow in our garden as it's over-exposed to the sun.
As a result, we go crazy during rhubarb season and buy tons of it at the market.
If you have excess rhubarb, make batches of this delicious rhubarb compote (also on video). It's low in sugar, keeps well and freezes well in jam jars.
Rhubarb goes so well with almonds - so try it in this upside-down almond tart with roasted rhubarb. See more rhubarb recipes below.
How to Prepare Rhubarb
Always discard the rhubarb leaves as they are toxic.
Do you peel rhubarb before cooking it? It's not always necessary and depends on the size and thickness of the skin. Normally we don't but if yours is particularly stringy, then just peel these bits off.
Choose firm stalks and store in the fridge as little as possible before they wilt. Freezes well.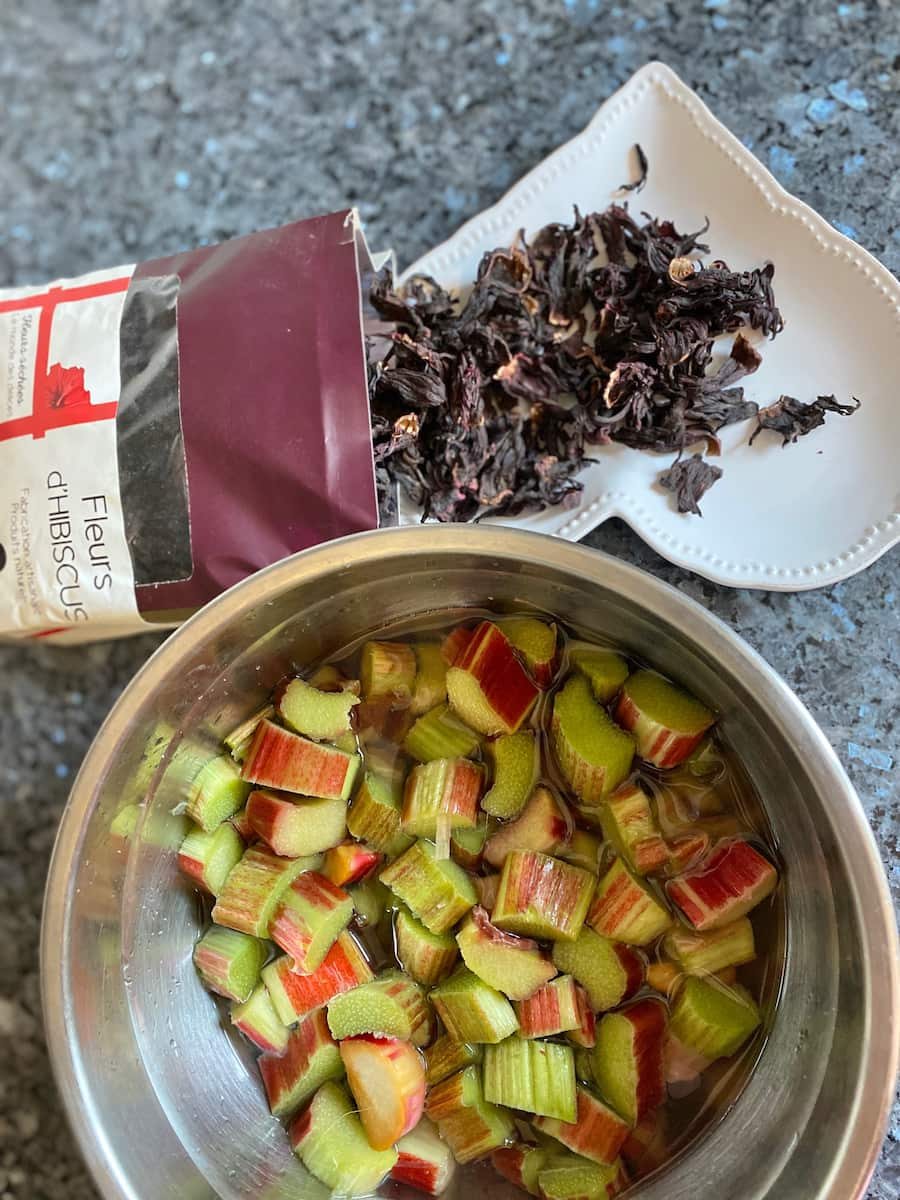 What Does Rhubarb Go With?
In French home cooking, used mainly in healthy compotes as toppings and in pâtisserie.
Its acidity makes a good accompaniment to fish and roast chicken too.

See my video: how to make rhubarb compote - how to prepare rhubarb, including a tip to make green rhubarb red;
Rhubarb Recipes
The most versatile rhubarb recipe which freezes well, is this rhubarb compote. With only 2 essential ingredients, it can be enjoyed on its own or used as the basis for many desserts - or just dolloped on ice cream.
It's rhubarb money in the bank over the winter!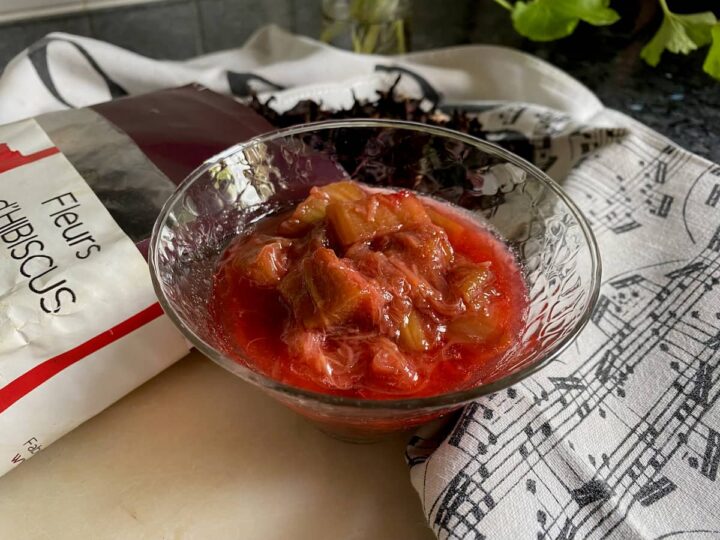 Rhubarb Sorbet - it's so easy and doesn't need an ice cream machine. Basically blend this compote and freeze.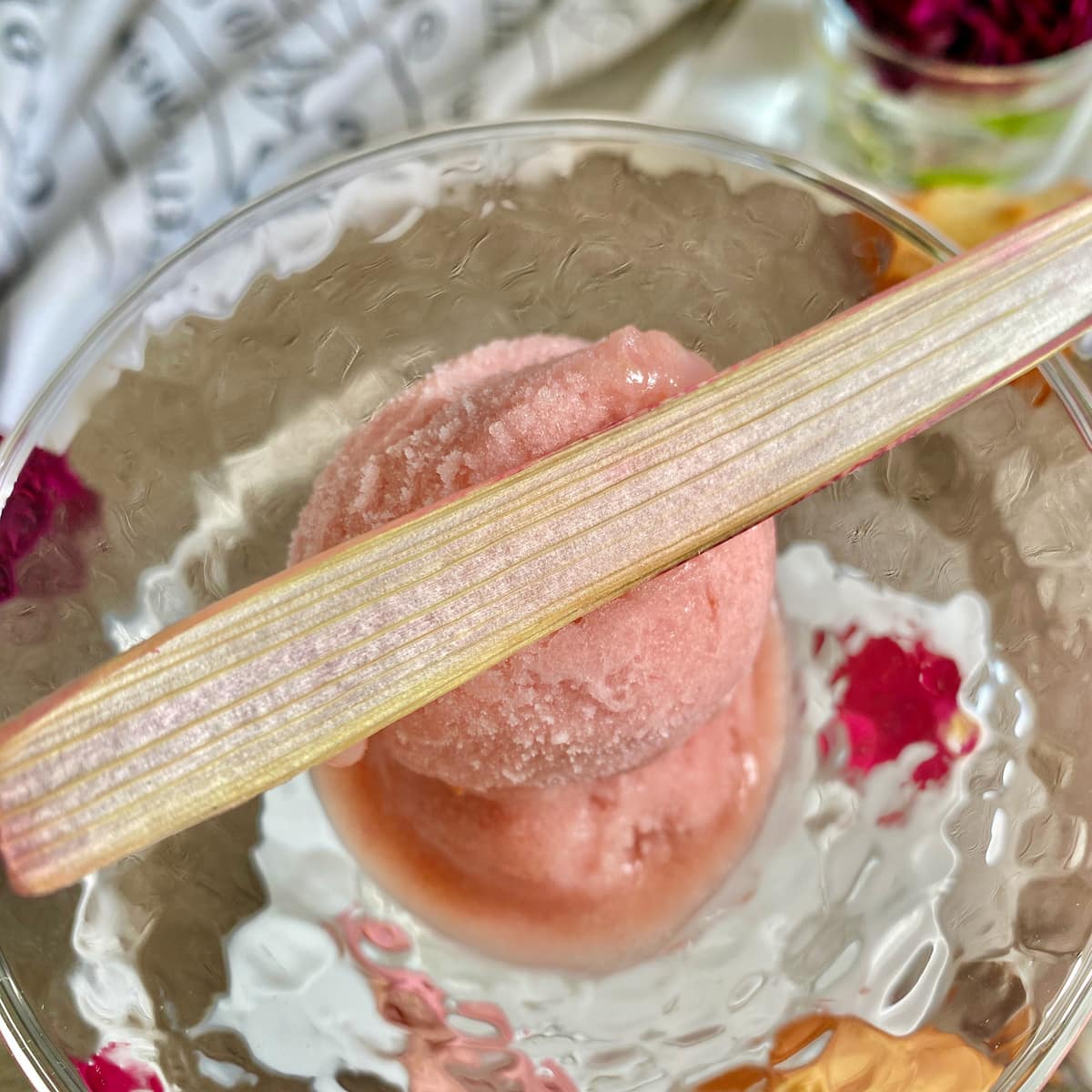 Delicious with these rhubarb chips.
Pre-roast rhubarb (although optional) in this French Rhubarb Cake. Extra moist made with almonds and a hint of orange and rose.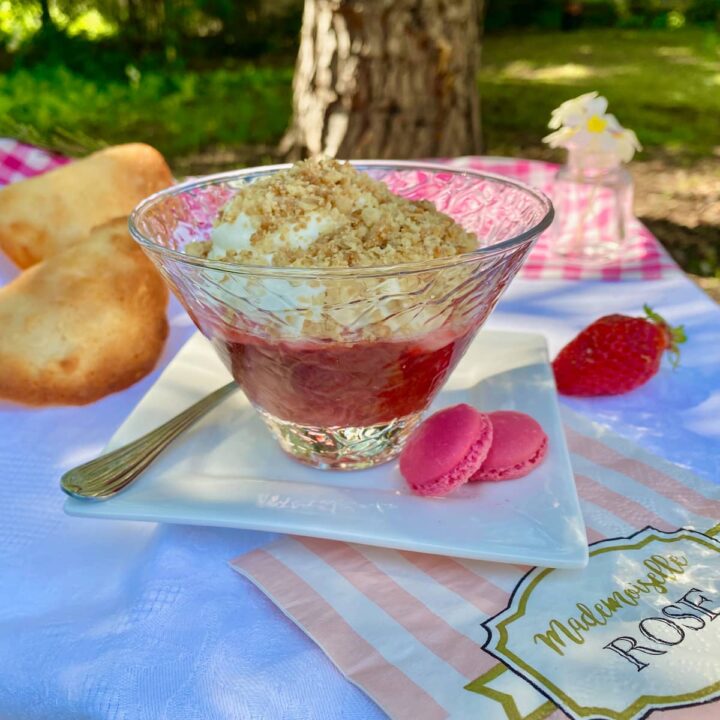 Rhubarb Crumble - my French dessert twist to the British classic. Topped with Toasted Oats and White Chocolate & Rose Mousse. It's easy to assemble in advance and great for entertaining.