Easy recipe for Lemon Ice Cream, made with the best lemons and extra creamy with egg yolks. Serve with strawberries and homemade macarons for a creamy, elegant French dessert.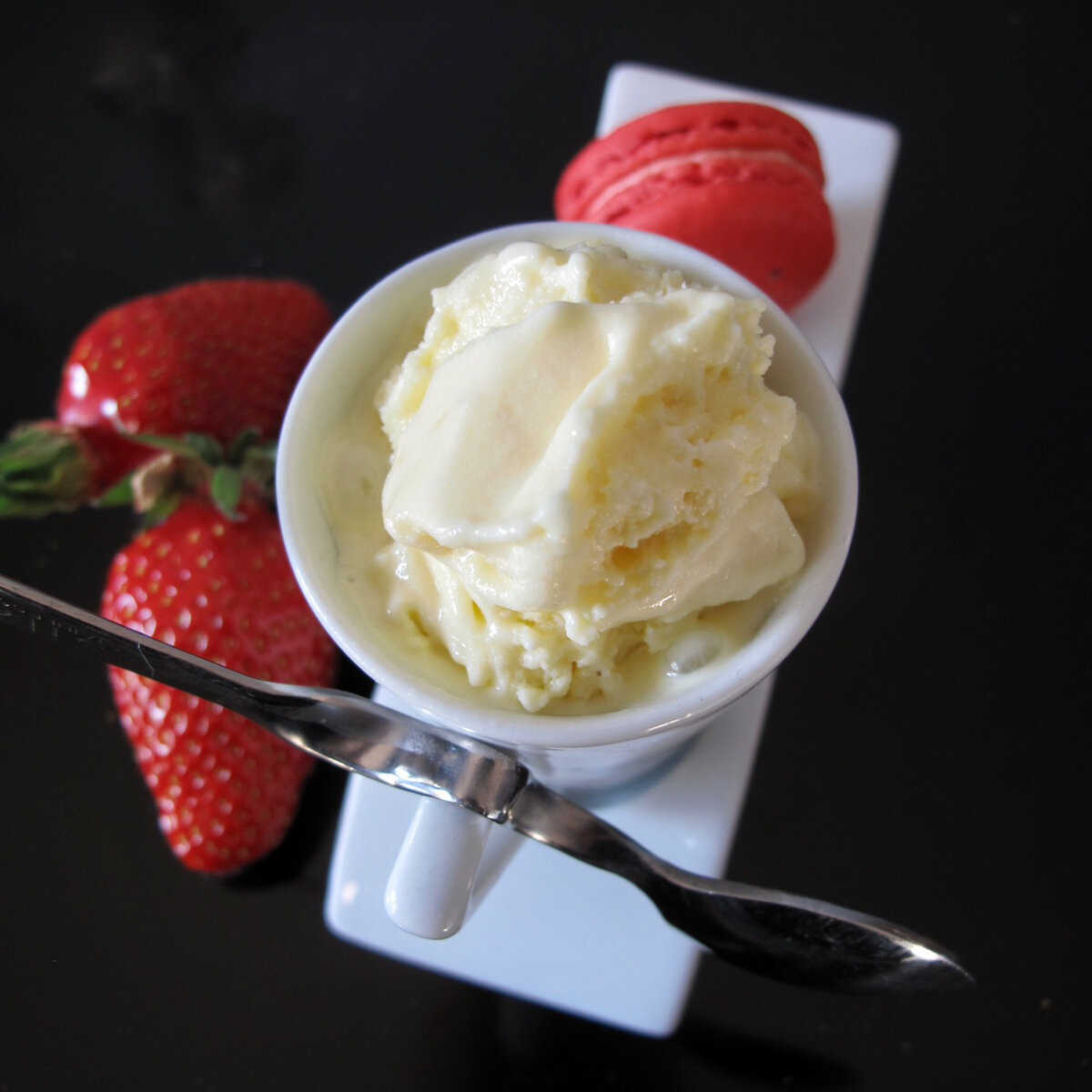 Screaming (and Dancing) for Lemon Ice Cream
Not long after publication of my first macaron recipe book, I had a wonderful surprise. Maureen, aka The Orgasmic Chef, was cheering and doing the macaron dance with my chocolate macaron recipe. She'd perfected making them from 'Mad About Macarons' although adapted my recipe for her blog post about them. It was one of these proud, Auntie Mad Mac'Jill moments to hear that she'd made picture perfect macarons and they were delicious to boot!
Maureen surprised me again with her other dynamic project as a natural interviewer for Food Writer Friday (sadly, the site has disappeared since) and I made my favourite recipe for creamy lemon ice cream for her. The recipe is adapted from my book, Mad About Macarons, from the vanilla ice cream recipe in the egg yolk recipe index.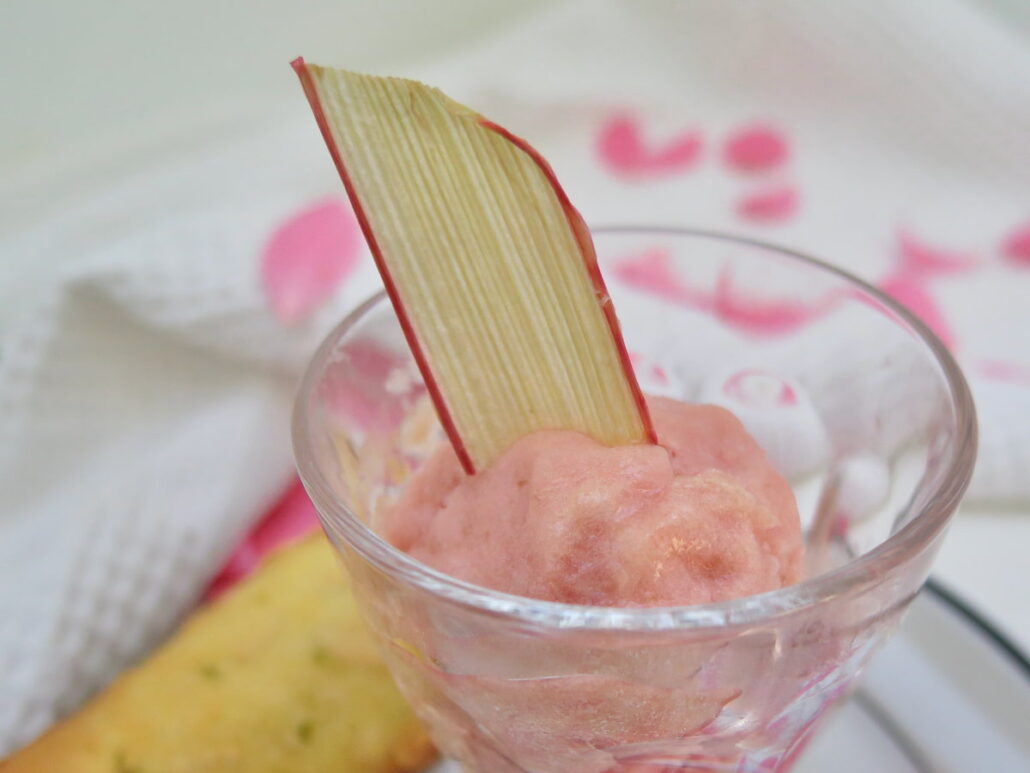 Ice Cream vs Sorbet
Not to be confused with a sorbet which is made without cream, this recipe is extra creamy, the reason why I particularly love it. If you love sorbets, then try my recipe for rhubarb sorbet with rose.
What is Lemon Ice Cream Made Of?
It's an easy recipe. To make your own homemade lemon ice cream, you need 2 large lemons, a little sugar, whole milk and heavy (whipped) cream and egg yolks.
For an extra creamy ice cream, I use 8 yolks to make a custard and a tablespoon of dried milk powder. Although optional, that extra touch of a spoonful of Limoncello lemon liqueur just takes it to the next level.
To make the best lemon ice cream, please use 2 of the freshest lemons you can find. Lemons should be untreated, unwaxed and organic so that its zest is full of flavour.
For more on French lemons and more recipes,
see the French market guide to lemons and limes.
This Lemon Ice Cream Won't Curdle
I deliberately use just the lemon zest in the cream mixture to make this recipe extra easy. As you know, adding lemon juice to milk will make it curdle - in fact, that's how we make a quick version of buttermilk if we can't find any to hand.
However, if you want to use the lemon juice, this ice cream will not curdle as we're using heavy or whipping cream too. The cream makes it harder to curdle. So I often replace the Limoncello liqueur with the lemon juice.
What to do with the Leftover Egg Whites?
As this recipe uses up a whopping EIGHT egg yolks, what do you do with the leftover whites?
It's easy. Put the whites aside in a clean jam jar or glass and cover with a lid or cling film. Chill and store in the fridge for up to 5 days or even freeze them.
When ready to use, make macarons from my books, either Mad About Macarons! and/or Teatime in Paris (this recipe book includes popular French pastry recipes).
Otherwise make the lightest dark chocolate mousse with egg whites.
For more ideas, see my growing collection of egg white recipes.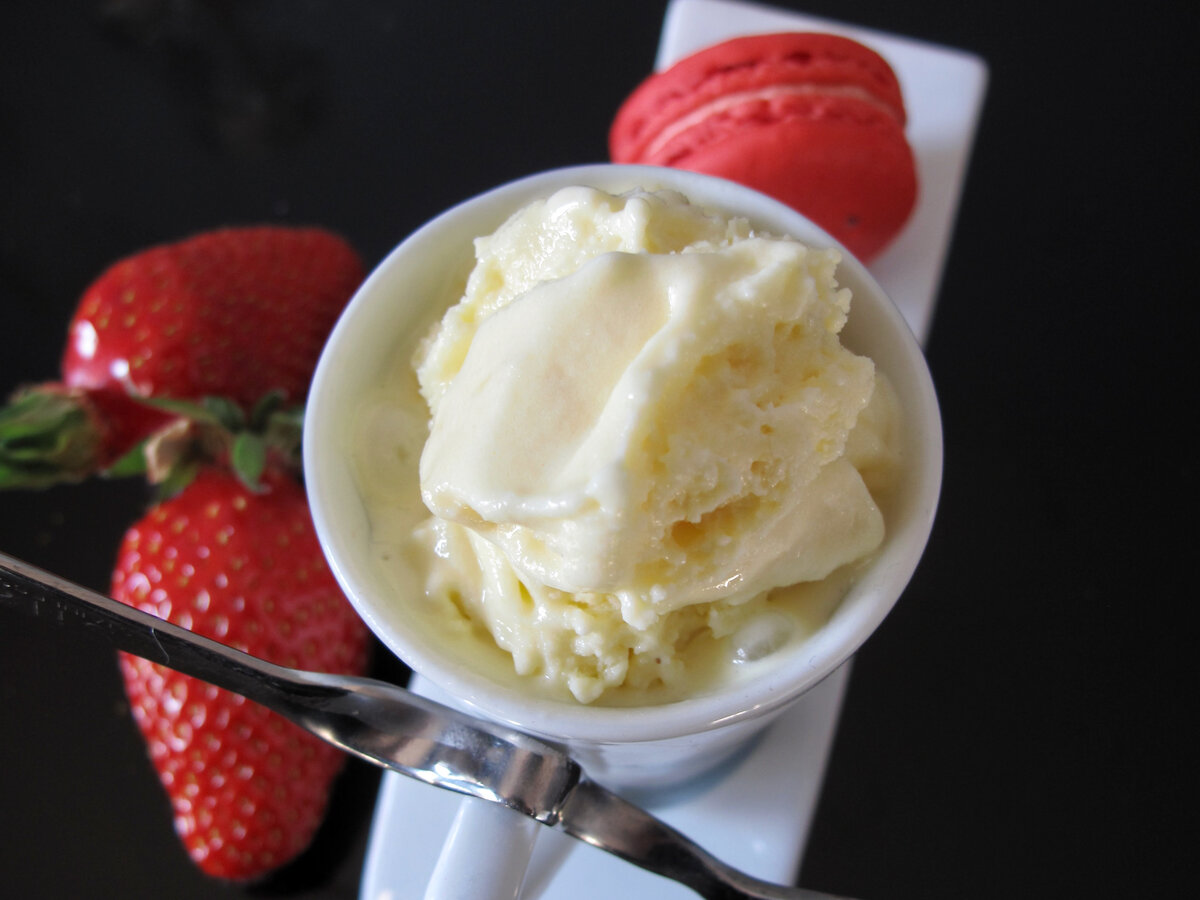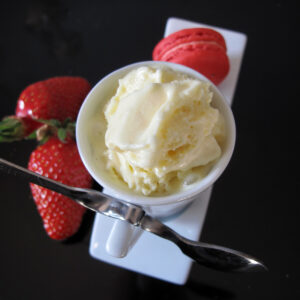 Creamy Lemon Ice Cream
Easy recipe for lemon ice cream, made with the best lemons and extra creamy with 8 egg yolks. Serve with strawberries and homemade macarons for a creamy, elegant French dessert. Recipe requires an ice cream maker.
Equipment
ice cream maker or sorbet attachment for stand mixer
Ingredients
300

ml (11 floz/ 1¼ cups)

whole milk

(full fat)

200

ml (7 floz/0.85 cups

whipping or heavy cream

2

large

fresh lemons - zest only

unwaxed/organic

100

g (3½oz/½ cup)

caster sugar

8

egg yolks

organic

1

tablespoon

dried milk

1

tablespoon

Limoncello

(optional, or replace with lemon juice)
Instructions
Cool a bowl in the fridge until step 5.

In a medium saucepan, heat together the milk and cream with the lemon zest.

In a separate bowl, whisk together the sugar, dried milk and yolks until pale and creamy.

Pour the warmed cream over the mix and return to the pan over a medium heat, whisking constantly until the cream thickens. It's ready when it can coat a spoon.

Pour the mixture into the cooled bowl and leave to cool in the fridge for at least 2 hours.

Once chilled, transfer the mixture to an ice cream maker and churn until ready (following manufacturer's instructions). Spoon in to an ice cream carton, seal and freeze for about 2 hours or more.
Notes
Tip for grating lemon zest: ensure lemons are organic and not waxed, washed and dried. Grate the yellow zest finely and avoid grating the white pith underneath, as this is bitter. Measures: Please note that all my recipes are best made using digital kitchen scales in precise metric grams. Both ounces (and cups) are given as an approximate guide. 
This recipe was first published 2 August 2013 but is now completely updated