Easy recipe for Rhubarb Sorbet with rose plus secrets how to make a good sorbet not too hard, not too soft. Gluten free, vegan and dairy free.
Don't have an ice-cream maker? No problem: get my tips below.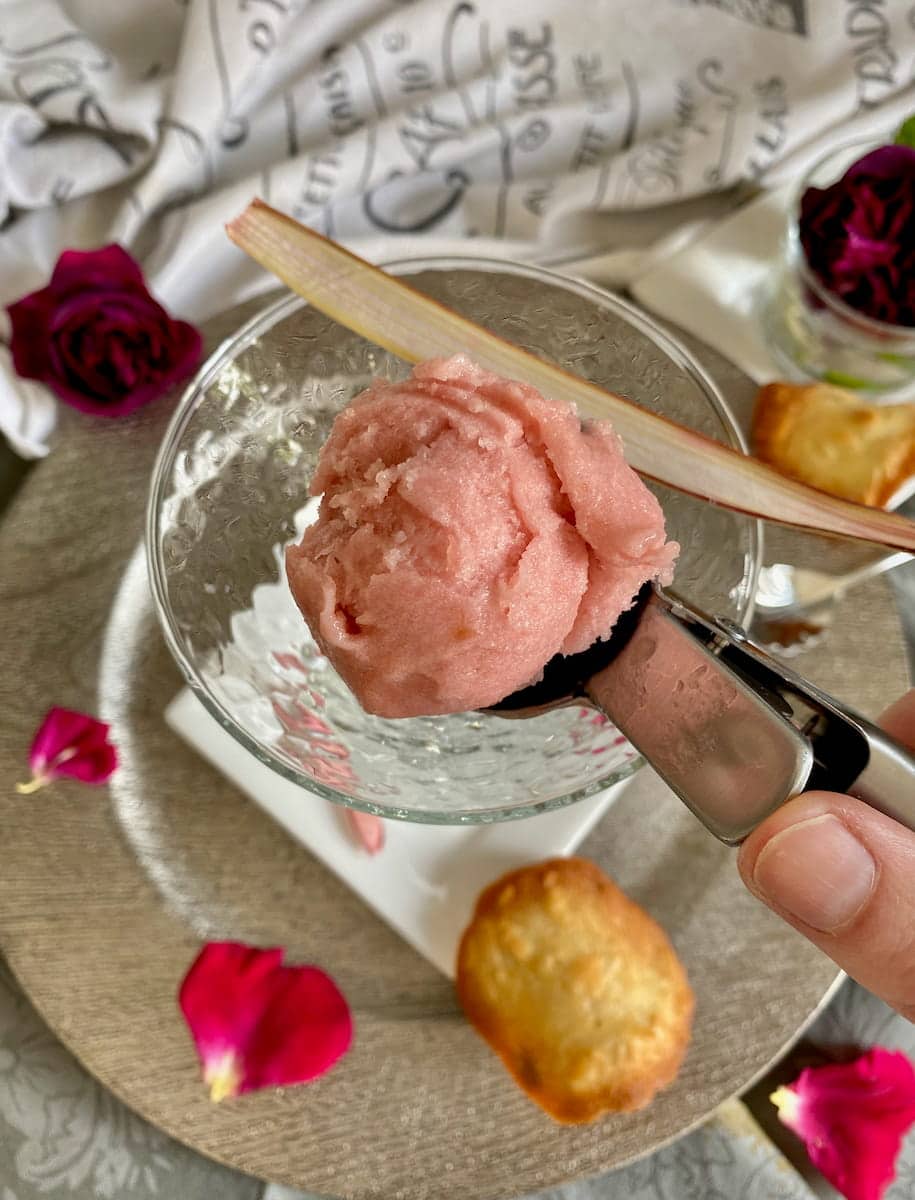 Best Rhubarb Sorbet
I'll be honest. I'm more of a creamy dairy ice cream fan and not normally the greatest fan of sorbets. Unless the fan is on at full blast and it's terribly hot outside!
Recently, however, during our Parisian heatwave (canicules are becoming more frequent in France), I discovered the best rhubarb and rose sorbet at our popular French frozen-food store, Picard. I was so hooked, I'd marked it in my diary to develop my own homemade version as soon as it was rhubarb season.
Well, the time has come to share it! It's simple, low in sugar, bursting with fruit and dairy-free.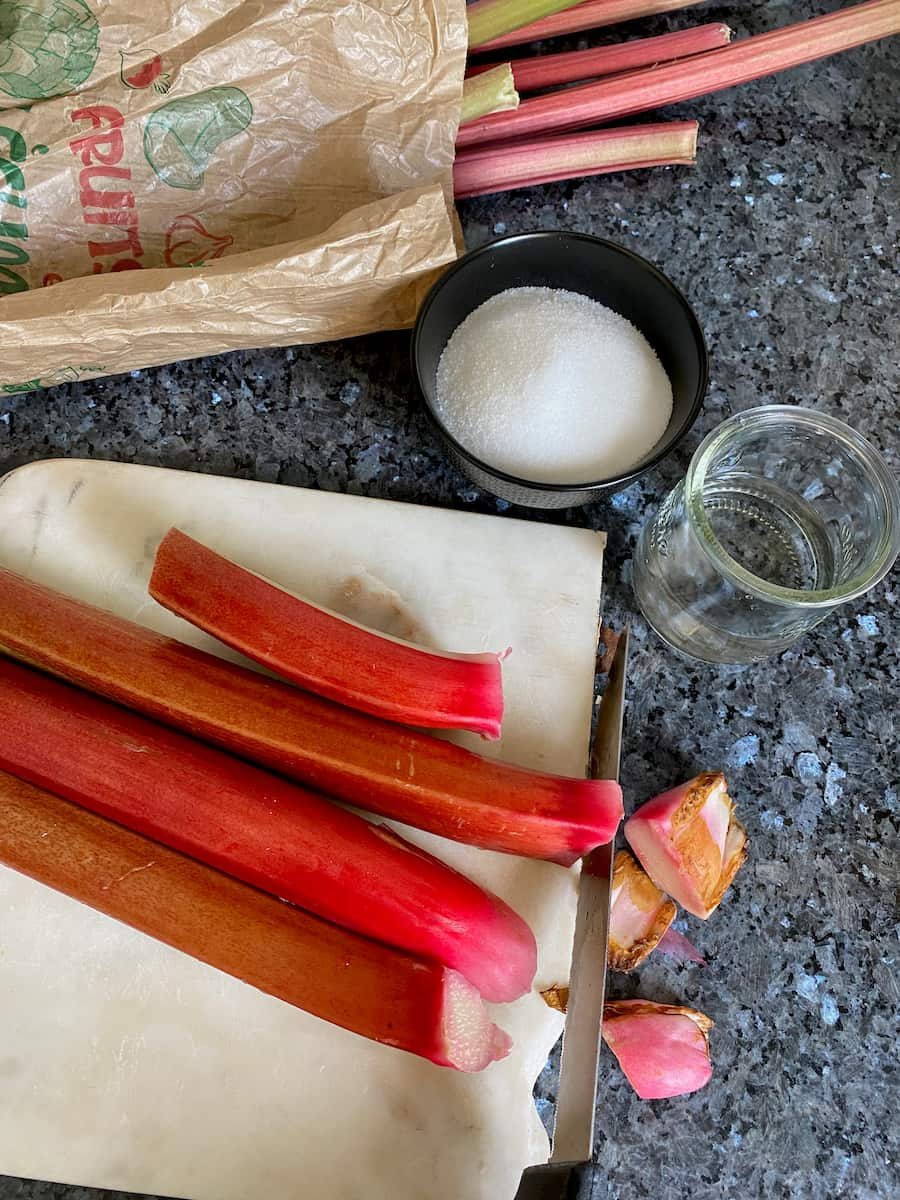 What is Fruit Sorbet Made of?
Fruit sorbet is made with 3 simple ingredients. It's basically puréed fresh fruit in a little syrup made of sugar and water. For this sorbet, the fruit needs to be softened or stewed first in order to purée it.
Fruit sorbets are so healthy as long as not too much sugar is used.
In this rhubarb sorbet, I use only a quarter of sugar to the fresh rhubarb. If you don't have fresh rhubarb, then use this rhubarb compote or store-bought compote (although this has more sugar content) and freeze.
Please don't use frozen rhubarb, as it should not be re-frozen.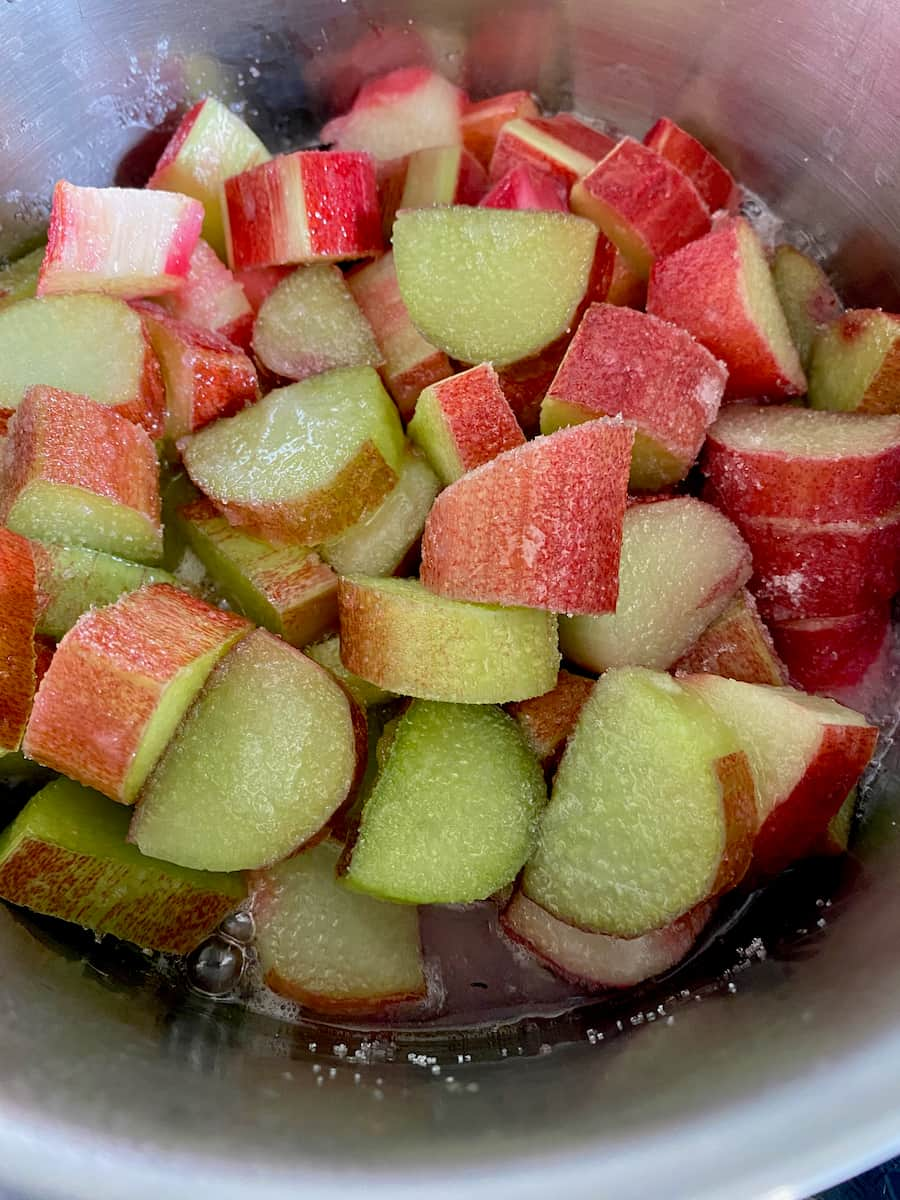 How to Make a Good Sorbet - my Secrets
The first secret to a good sorbet is to ensure the quality of your fruit.
For this recipe, aim for the freshest rhubarb and keep the skins on. This will not only give a wonderful bright pink colour but includes its valuable fibre.
Next is the quantity of sugar. Too much and it will overpower the taste of the rhubarb. Too little and the sorbet will be so hard and difficult to scoop.
Likewise, don't use too much water. As fruit already contains so much water, only use a little to make the fruit syrup.
Rhubarb Sorbet Without an Ice Cream Maker
I don't have an ice cream maker but use a sorbetière ice cream attachment for my Kitchen Aid stand mixer. If you don't have either of these, no worries! It's easy to make this without an ice cream maker.
Without an ice cream maker, simply freeze the sorbet and after 30 minutes, stir it well. Repeat the process a few times until it looks like the right consistency.
Alternatively, you can make your own homemade granita. Just freeze it for at least 2 hours.
How to Make a Rhubarb Granita
So, to make a granita, it takes 2 hours to freeze. Take the mixture out of the freezer every 30 minutes and stir around the ice crystals until it eventually forms into a delicious Rhubarb Rose Granita!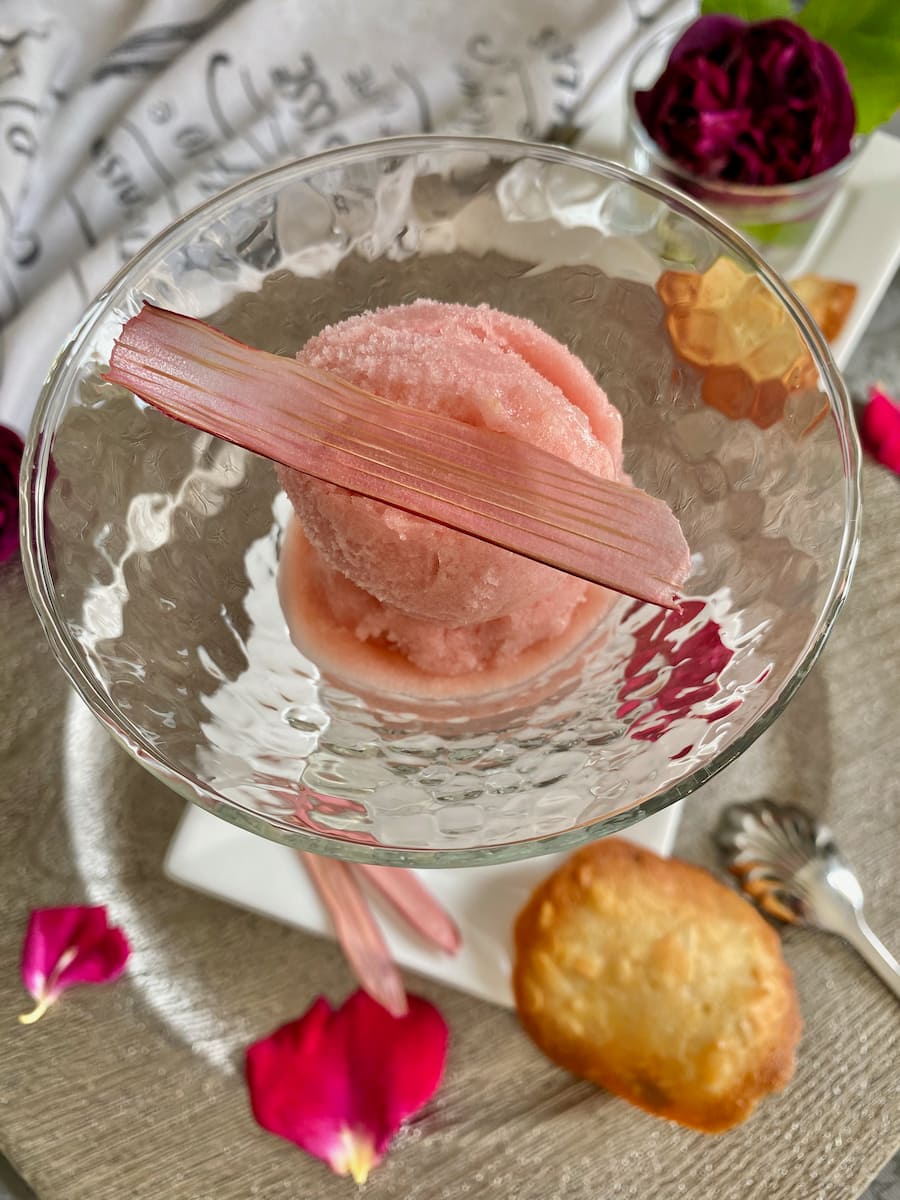 What to Serve with Rhubarb Sorbet
Rhubarb sorbet with rose is particularly good served with the following:
If serving for Mother's Day, then don't forget a bunch of roses on the side for Maman!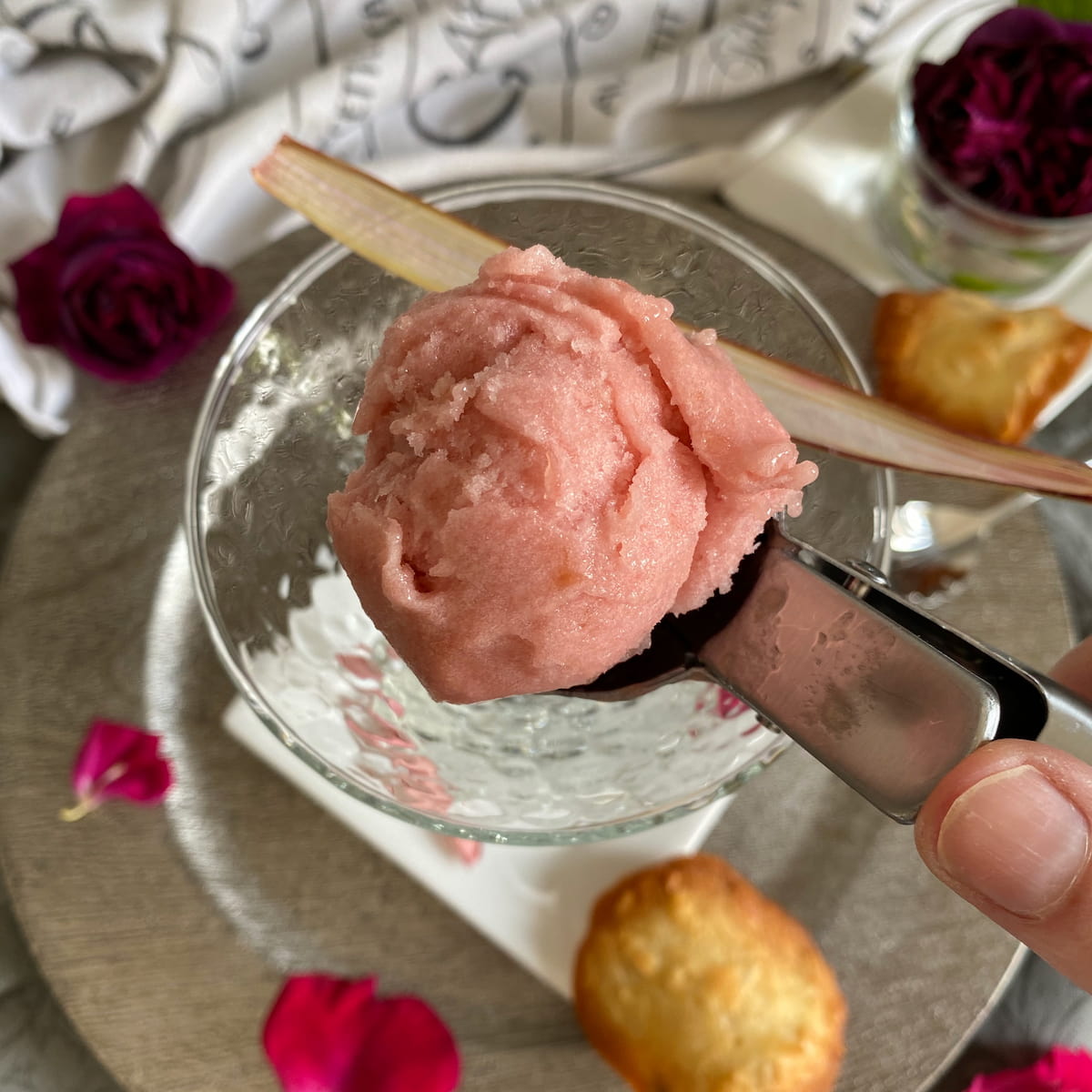 Rhubarb Sorbet
Easy recipe for Rhubarb Sorbet with rose (dairy free, gluten free and vegan). Although an ice cream maker is preferable, this can be made without.
Ingredients
500

g (13oz)

Rhubarb

sliced (skins left on)

125

g (4½oz / ⅔ cup)

Sugar

80

ml (3fl oz/ ⅓ cup)

Water

2

tablespoon

Rose Syrup

or 1 teaspoon rosewater
Instructions
In a saucepan, bring the rhubarb, water, sugar and rose syrup to a boil for about 10 minutes, covered. Leave to cool then purée in a food processor or mix with a stick blender.

Churn in an ice cream maker or sorbetière for about 10-15 minutes, following manufacturer's instructions.

(If you don't have an ice cream maker, then transfer to a container with a lid and freeze for 30 minutes a time, taking out and breaking up the ice crystals every 30 mins with a spoon over the next 2 hours until you have a homemade sorbet or granita.)

Transfer to a sturdy container and freeze for at least 2 hours.
Notes
Delicious served with dried rhubarb chips, tuile cookies or rose macarons or rhubarb & poppy macarons (recipes in my books).
NUTRITIONAL INFORMATION: 96 Calories per portion; 19g carbohydrates; 0 fat; 0 protein. Dairy free.
This recipe was first published May 5, 2016 but has now been completely updated.