Facts about French strawberries, how to choose the best ones, store them, their benefits of eating them and links to strawberry recipes. There's even a French expression with them!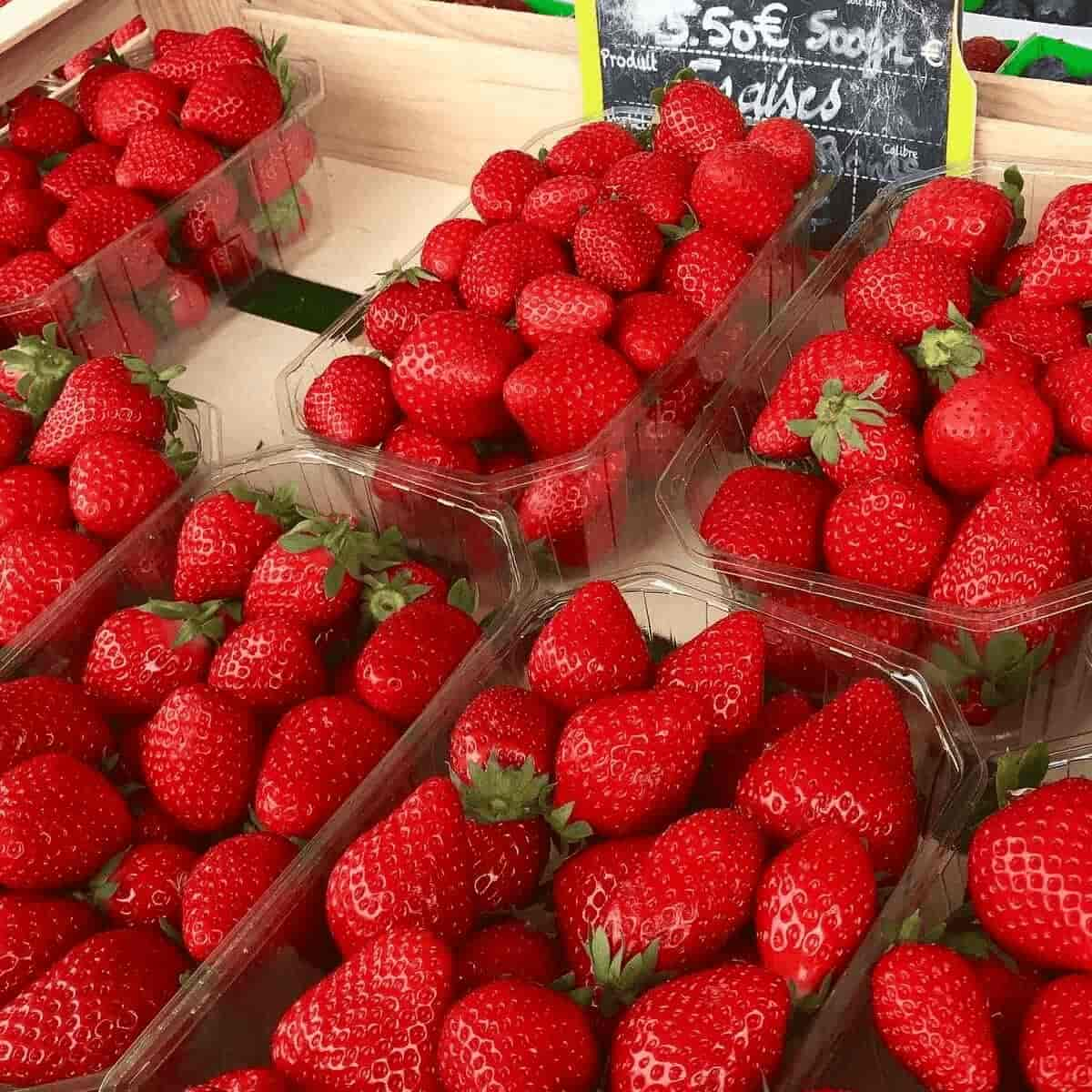 Strawberry Seasons
April - June (Spring; Summer); Some varieties now available up until September;
August/September for wild berries (fraise des bois) in the mountains.
Strawberries (Fraises) in France
Louis XIV's botanist, La Quintinie, grew strawberries for the King at the Potager du Roi in Versailles. It wasn't until the 18th century that botanist and explorer, Amédée-François Frézier (pronounced like the word for strawberry plant in French, 'fray-say-aye') brought over more varieties from Chili and planted them in the famous strawberry area of Plougastel, Brittany (see Tourisme Bretagne's list of local producers for more). There's even a small Musée de Fraise in the village of Plougastel-Daoulas.
Thanks to Monsieur Frézier, les fraises have grown to about 600 varieties today. According to the French Ministry of Agriculture, over 78,000 tons were harvested in 2022.
Most popular are the French Gariguettes (long, thin and slightly acidic), one of the first strawberries to arrive in Spring until mid July.
Then come the juicy and aromatic lighter Ciflorette, the deep red Clery and Charlotte and as of July, the extra fragrant Mara des bois taste like wild strawberries.
How Best to Choose and Store
Are darker strawberries sweeter? In general they are usually sweeter if darker - but some varieties can fool you. Some deep red strawberries can actually be more acidic than lighter ones. My general rule of thumb is to pick the shiniest red with an intact green pedoncule, calyx or stalk.
Strawberries are best stored outside the fridge and consumed within 2 days.
If stored in a single layer (not piled on top of each other as they are often sold), they can last longer. So best to buy small quantities and consume quickly;
Best eaten at room temperature to appreciate their flavour;
Health Benefits of Strawberries
Strawberries are a good source of vitamin C, fibre, good antioxidants and a low-glycemic fruit.
To best keep their vitamin content, wash them using a damp cloth before hulling and cutting them. Never soak them in water.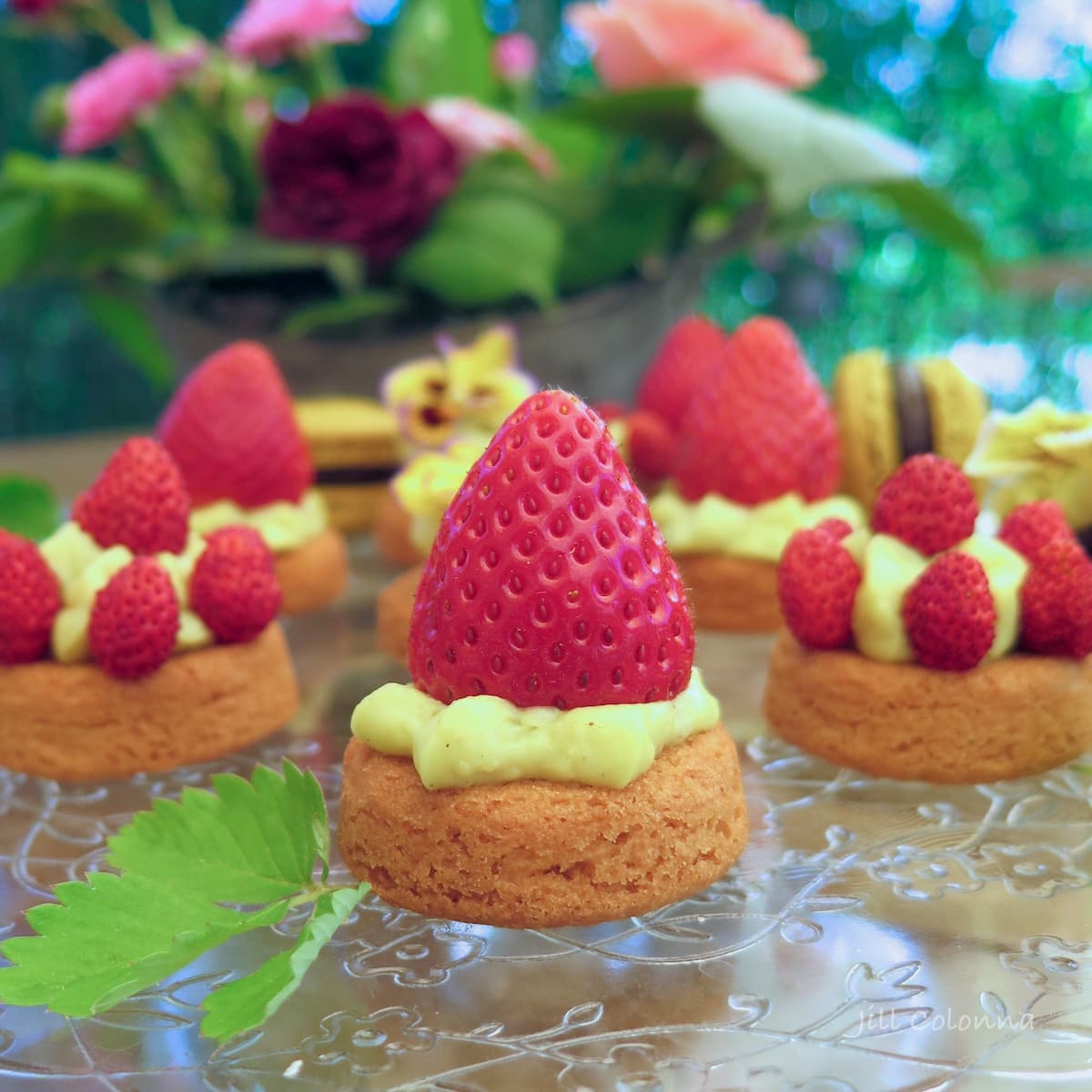 Ramener sa fraise
Literally translated as bringing your strawberry, means talking too much about your opinion when nobody has asked you and has nothing to do with you.

Familiar French expression
What Goes With Strawberries?
Strawberries are delicious paired with rhubarb, elderflower (see my strawberry and elderflower recipes in my book, Teatime in Paris), vanilla, rose, orange blossom, apricots, mango, redcurrants, melon, mint and basil.
With vanilla: serve them with a crème caramel and in a berry crème brûlée.
With pistachio: top them on pistachio ice cream, pistachio pastry cream in pistachio tartlets and on top of these Palets Bretons.
Strawberry Recipes
Strawberry Clafoutis - traditionally made with cherries in France, try making this baked custard with strawberries. This recipe is gluten free and adapts to most summer fruits.
Rhubarb Crumbles with Strawberries and Rose - my French twist to a British crumble. These are individually served chilled with a rhubarb and strawberry compote, a white chocolate and rose mousse and topped with toasted oat crumble.
Strawberry Almond Tart - This looks like a cake but it's an upside down almond cream tart filled with strawberries. Decorate with even more.
Berry Gratin - A light crème brûlée for the summer, except doesn't require a water bath in the oven. Instead it's bathed in a vanilla custard and just toasted under the grill. Just make it with strawberries or add other berries.