A classic British Sherry trifle given a French touch replacing sponge fingers with Parisian macarons. The result is an easy no-bake recipe for Macaron Berry Trifle. Perfect as a celebratory red, white and blue dessert.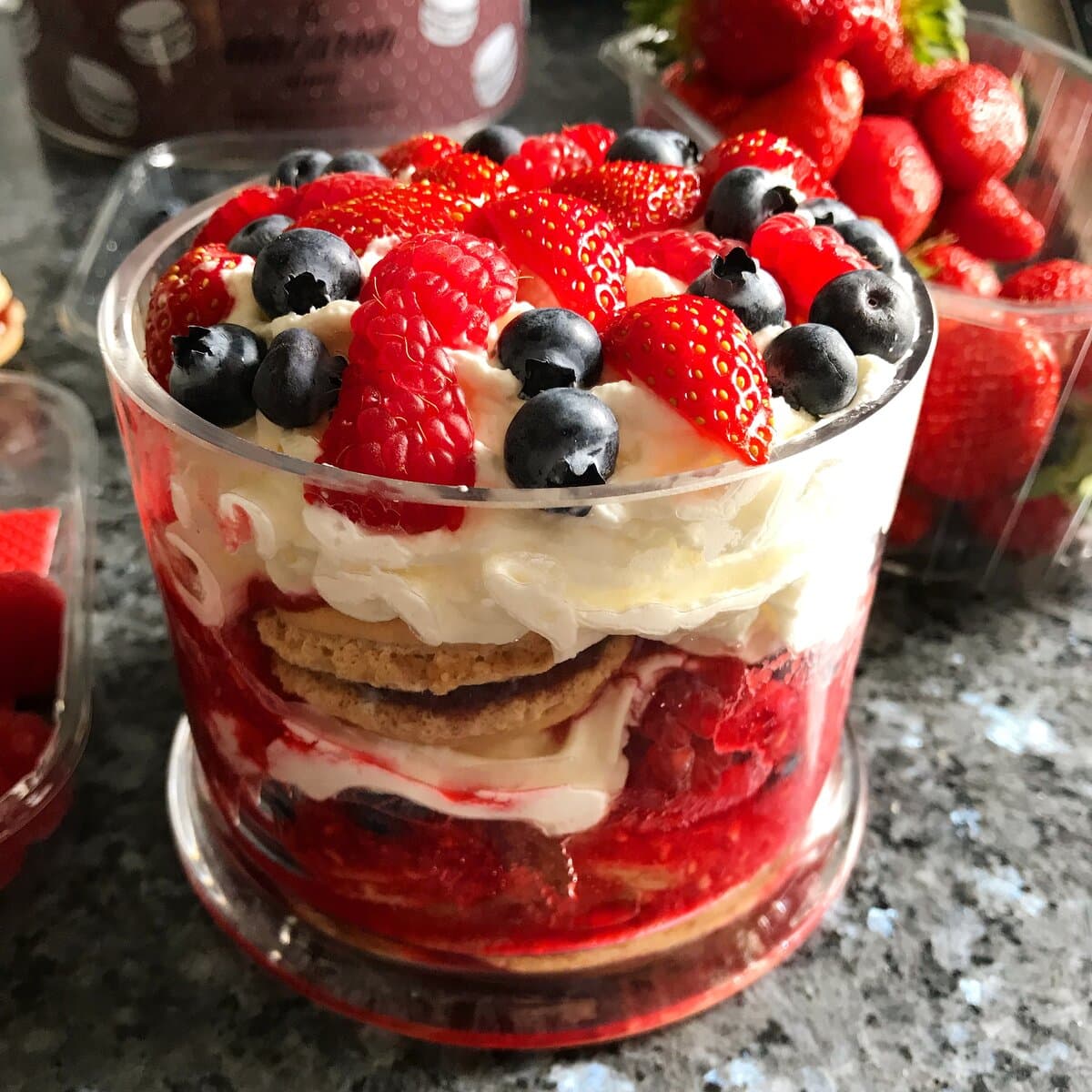 British Trifle Meets Gluten-Free French Macarons
A good sherry trifle is a must dessert as part of a patriotic Best of British party table. From watching or celebrating a Royal Wedding, to Wimbledon strawberry parties this summer, then you're covered with this easy no-bake, yet adult - Macaron Berry Sherry Trifle. For Francophiles, decorate this as the French flag for Fête Nationale (Bastille Day) on 14th July, or enjoy this for any occasion right up until Thanksgiving, Christmas and New Year!
It celebrates the freshest of sweet berries in season with ready-made macaron shells soaked in berries and sherry then topped with the lightest elderflower Chantilly cream.  And if you want to make a Union Jack decoration with berries, then this is a perfect quick dessert to fly the flag.
Easy Make-Ahead Individual Desserts
Bake a batch of macaron shells in advance (and even store them in the freezer) and this trifle is an easy dessert to assemble on the day.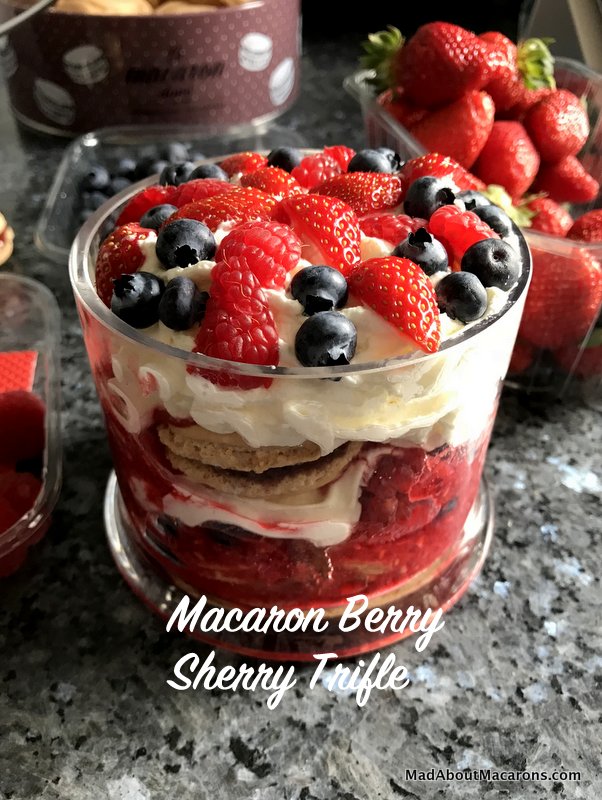 Elderflower with Strawberries
If you know my recipes in 'Teatime in Paris', then you'll know I adore the combination of sweet, fresh strawberries with elderflower - I have a most delicious strawberry éclair with an elderflower pastry cream that will make you forget to watch the wedding or the best shots in Wimbledon - but that's another story.  Here, I've just added a hint of elderflower to the trifle's Chantilly Cream to add some intrigue.
If you can't find elderflower cordial or syrup, then you could always use St Germain elderflower liqueur - added with the sherry already in there, and your party will swing!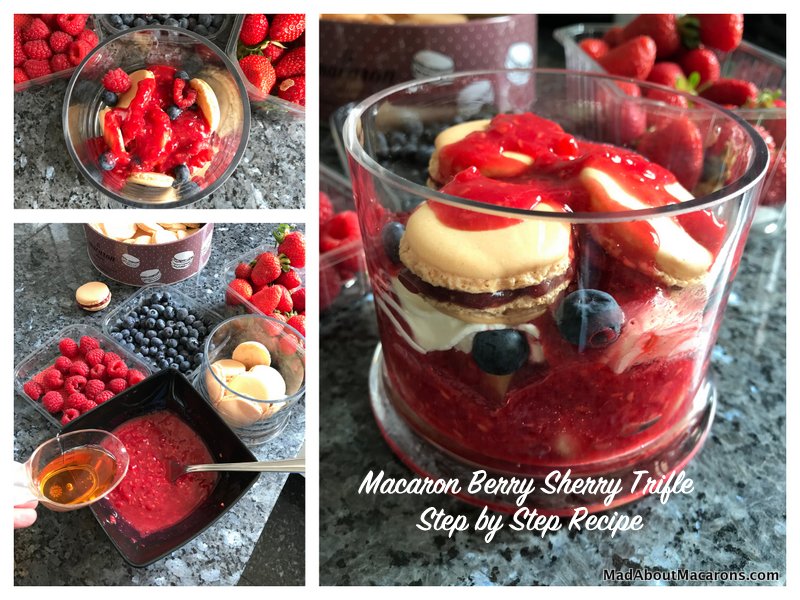 Celebratory Red, White & Blue Dessert
This is an ideal Red, White and Blue dessert to fly the delicious flags: from the British Union Jack, the American flag for 4th July desserts - to the French flag for Bastille Day or Fête Nationale on 14th July.
Looking for more berry desserts? See the market pages for recipes with blueberries and strawberries.
Serve with Darjeeling tea, the Champagne of teas - or a glass of fizz!
Although the photos for this recipe are made as a romantic dessert for 2 large portions, the recipe below is for 8-10 people. Let's be honest: I don't have a lovely party-sized glass bowl!
More Trifle Desserts with Cracked Macarons
If you love trifle, try my other easy versions with gingerbread or make them gluten free with macarons!  Cracked macarons? Please never bin them! They'll taste delicious and disguised in these easy trifle recipes: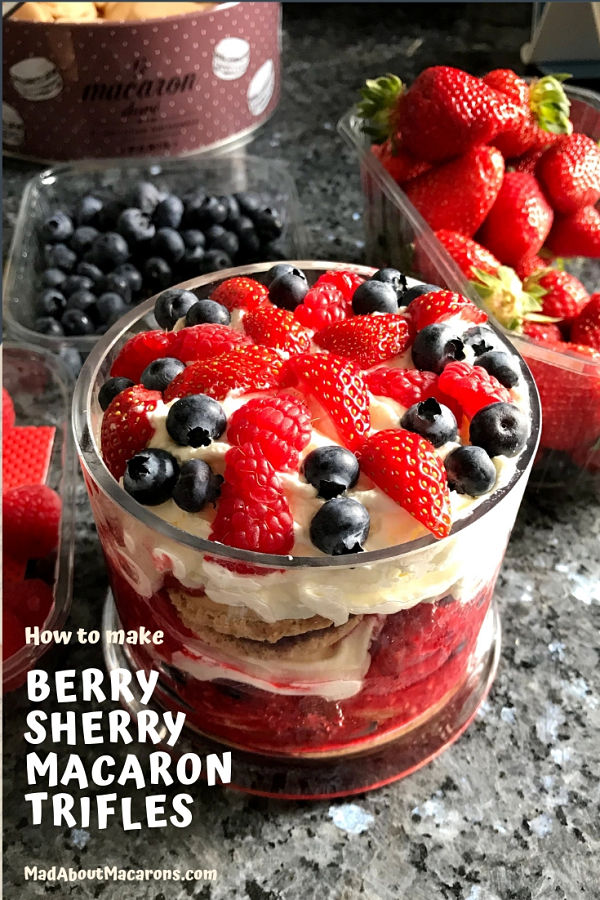 Sherry Trifle with Macarons and Berries
Macaron Berry Sherry Trifle - a traditional British party dessert, replacing classic trifle sponges or lady fingers with gluten free Parisian macaron shells. 
Ingredients
40

macaron shells

250

g / 9oz

fresh raspberries

250

g / 9oz

fresh blueberries

250

g / 9oz

fresh strawberries

200

g / 7oz

dry Sherry

3

tablespoon

raspberry jam
Elderflower Chantilly Cream:
300

g / 11oz

whipping cream

chilled (at least 30% fat)

3

tablespoon

elderflower cordial or syrup

(or caster sugar + vanilla essence)
Instructions
First, chill a large bowl in the fridge or freezer for the Chantilly cream.


In a large glass bowl (if making one large trifle) or individual glass serving dishes, place half of the macaron shells at the bottom. Top with half of the blueberries.

Liquidise half of the raspberries and strawberries with the sherry in a food processor (or just mash the berries with a fork to keep things easy) and pour the boozy pulp juice over the macarons.

With the remaining macarons, sandwich them together with the raspberry jam, so that there is the equivalent of one macaron per person. Plop the macarons on the top.

To make the cream: whisk the chilled cream in the chilled bowl until soft peaks form. Add the elderflower cordial/syrup (or sugar with a few drops of vanilla extract) and continue whisking until firm peaks form.

Top with the cream by either spooning or piping it out. Refrigerate until ready to serve and decorate with the remaining fresh berries.
Notes
For the elderflower Chantilly cream, I use Ikea's cordial or Monin's syrup (their elderflower/sureau is particulary good).
If you prefer trifle with jelly, use the homemade raspberry & rose jelly used in my recipe for raspberry, rose & lychee mini macaron trifles.