Imagine the surprise: a tray of cracked macarons on opening the oven door. Don't despair - it can happen and there are easy reasons why (read on below). In the meantime, make these deliciously easy Black Forest Creams using the cracked macaron shells.
They're so good you'll want to make macaron shells just for this recipe - either with cherries or raspberries.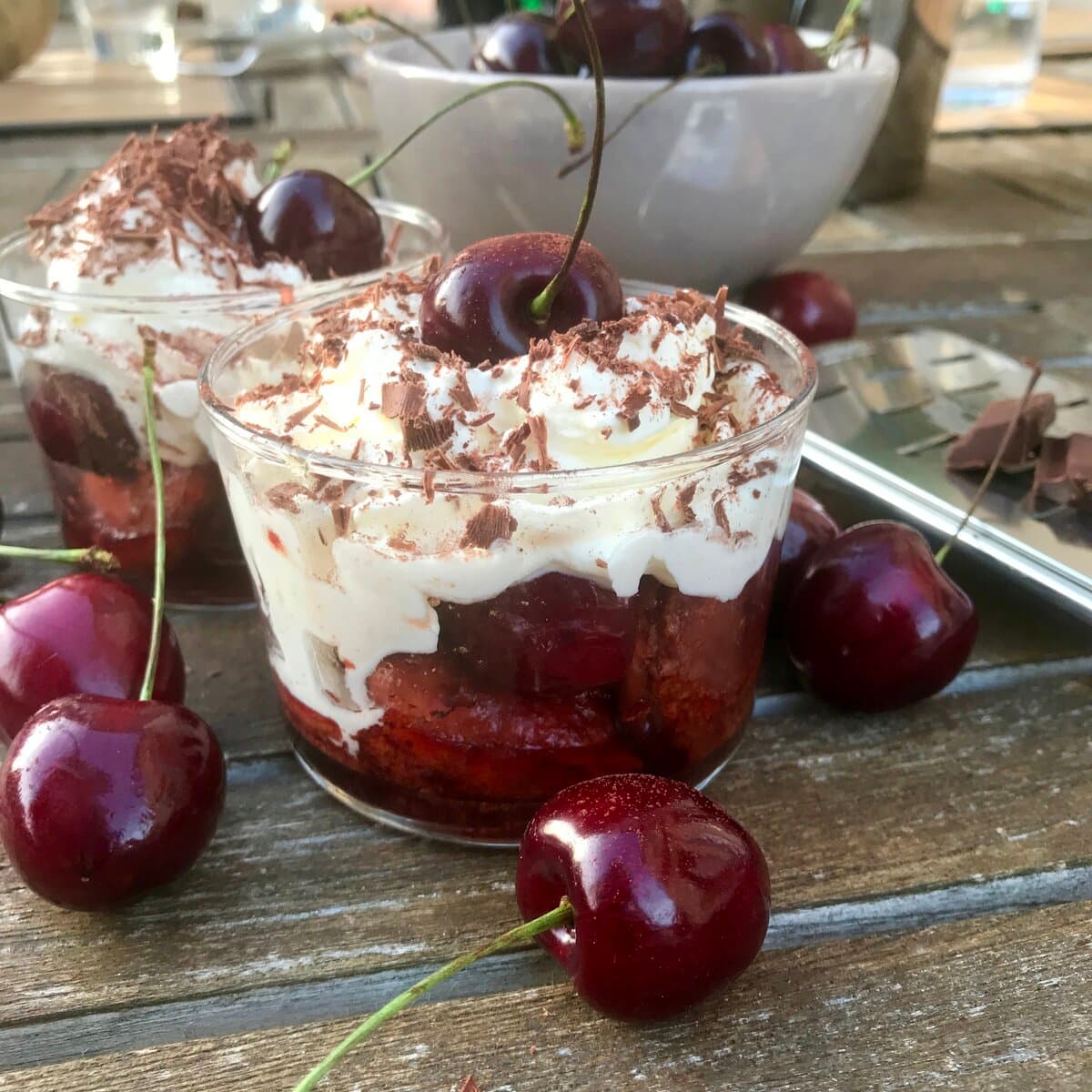 They're so good, you'll want to make a batch of macaron shells (perfect or otherwise) just for this gluten-free dessert!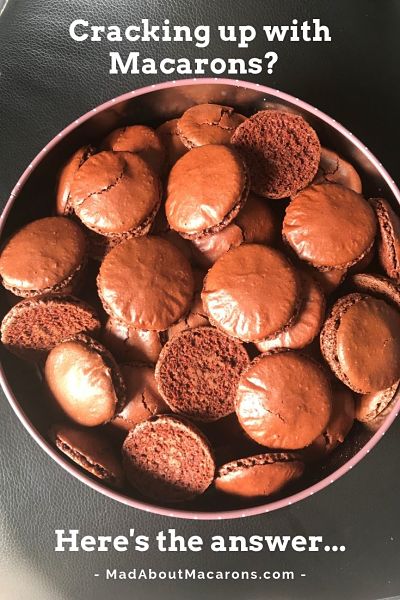 Why are My Macarons Cracking?
It can happen at times - even with a good macaron recipe.  On opening the oven, there are a few cracked macarons - or even a whole tray of cracked macarons.  Why did they crack? It's not the end of the world. Jings, even in some expensive Parisian patisseries, I've seen them sell a few cracked macarons and they still taste amazing!
In my first book, Mad About Macarons, I have a whole section on troubleshooting all sorts of macaron problems using my French macaron recipe. Cracked macarons are probably because either:
Your batter is too runny (making the shell weak);
The egg whites weren't initially beaten enough;
Too much final mixing of the batter (macaronnage);
Too much humidity in the oven.
In our case recently, I made a whole batch and much of this lot cracked simply because I hadn't cleaned the oven.  Lingering oil on the oven base creates humidity and so the chocolate macarons just cracked up in there.  However, they still tasted wonderful.  I have a neighbour who chucked a whole batch of Italian-meringued macarons in disgust and I never forgave him - perfectionist or not.  Please don't waste perfectly good macaron shells!  This gluten free dessert below is the answer before your next batch.
Why Don't My Macarons have Feet?
AN EXAMPLE: Another case something went wrong was when Lucie and I made chocolate macarons side-by-side together, preparing them for school.  It was a wonderful time in the kitchen together with her Japanese rock at full blast - but I didn't think to check over her weighing out exactly all the ingredients.
As you can see from the above photo with both our macarons on the same baking tray, her macarons (using the same ingredients, same oven, same baking sheet) didn't produce feet. Why?  She realised afterwards that she hadn't measured out the ingredients properly using digital scales: instead of 250g icing (powdered) sugar, she only measured out 100g - that's a whopping difference!
So, measure out your ingredients exactly as in the recipe. However, the ingredients used were still so good and they were perfect candidates for the base of this chocolate cherry boozy dessert.
Cracked Macaron Black Forest Creams
If you've made these gluten free Macaron Tiramisu desserts, you'll remember that we left the macaron shells to soak in coffee and Amaretto.  In this case, we're doing the same but using a Kirsch syrup.  Either pour on the syrup on a filtered tray on top of another tray or simply pour over the macarons in a shallow dish and turn the macarons over, ensuring that each shell is fully coated in the lush boozy syrup and leave overnight or for at least an hour.
Make it with Cherries or Raspberries
Cracked Macaron Black Forest Creams are not just great with boozy cherries but also delicious with raspberries too! Just replace the Kirsch with Chambord raspberry liqueur.
Love Chocolate and Cherries?
Try these Black Forest Chocolate Cream Desserts, as part of the egg yolk recipe collection and save the whites for making macarons. It's a never-ending delicious cycle! It's a great recipe using fresh cherries when in season or using Griottine® cherries, preserved in alcohol - or even just good quality tinned cherries.
Make this chocolate cherry macaron ganache to make chocolate cherry macarons.
Cracked Macaron Black Forest Creams
Cracked chocolate macarons? Make these easy Black Forest creams with Kirsch-soaked macaron shells topped with roasted cherries and Kirsch Chantilly cream. A gluten-free dessert for cherry season or any time of year.
Ingredients
125

g (4.5oz)

macaron shells (ready made: 36 needed)

macaron recipe in either of my 2 books

50

ml (2 fl oz)

water

50

g (2oz)

sugar

(+ 1 tablespoon for roasting cherries)

60

ml (2.5 fl oz)

Kirsch liqueur

36

cherries (fresh or jarred such as Griottines*)

(6 per person)

300

g (10.5oz)

whipping cream (chilled)

(30% fat)

1

tablespoon

icing (powdered) sugar

2

tablespoon

unsweetened cocoa powder

25

g (1oz)

dark chocolate, grated

(optional for decor)
Instructions
Make the Kirsch syrup: in a saucepan gently heat the water, sugar and 40ml (1.5fl oz) Kirsch together and stir until a thicker syrup forms. Set aside to cool. Chill a bowl for preparing the Chantilly cream.

Using a shallow dish filled with the macaron shells, pour over the syrup. Turn over now and again until all the macarons are fully steeped in the juices then leave for at least an hour to soak.

Roast the cherries in 190°C fan/210°C/410°F/Gas 6: place the cherries in a roasting tin, sprinkle with sugar and splash with the rest of the Kirsch. Roast until the juices are released (about 10mins) then cool.

Make the Chantilly Kirsch cream: using an electric whisk, beat the chilled whipping cream in the chilled bowl with 1 tablespoon icing (powered) sugar until soft peaks form. Add 1 tablespoon Kirsch or the roasted cherry juice and beat again until the peaks hold.

Place the soaked macarons at the bottom of 6 serving dishes, sprinkle with chocolate powder, top with 6 cherries and top with Kirsch Chantilly cream. Either sprinkle on more cocoa powder or good quality grated dark chocolate.
Notes
* Note: If making with 'Griottine' cherries (cherries jarred in liqueur), then this recipe is even easier! Just pour over the boozy cherry juice from the jar on your macarons instead of making the syrup.
This recipe is also delicious made with raspberries instead of cherries. Simply replace the Kirsch with Chambord raspberry liqueur.