Where France meets Italy for dessert. We love tiramisu macarons but what about making a tiramisu dessert with Parisian macaron shells to replace the traditional savoiardi ladyfinger biscuits? The result is a gluten free version of the Italian creamy coffee classic.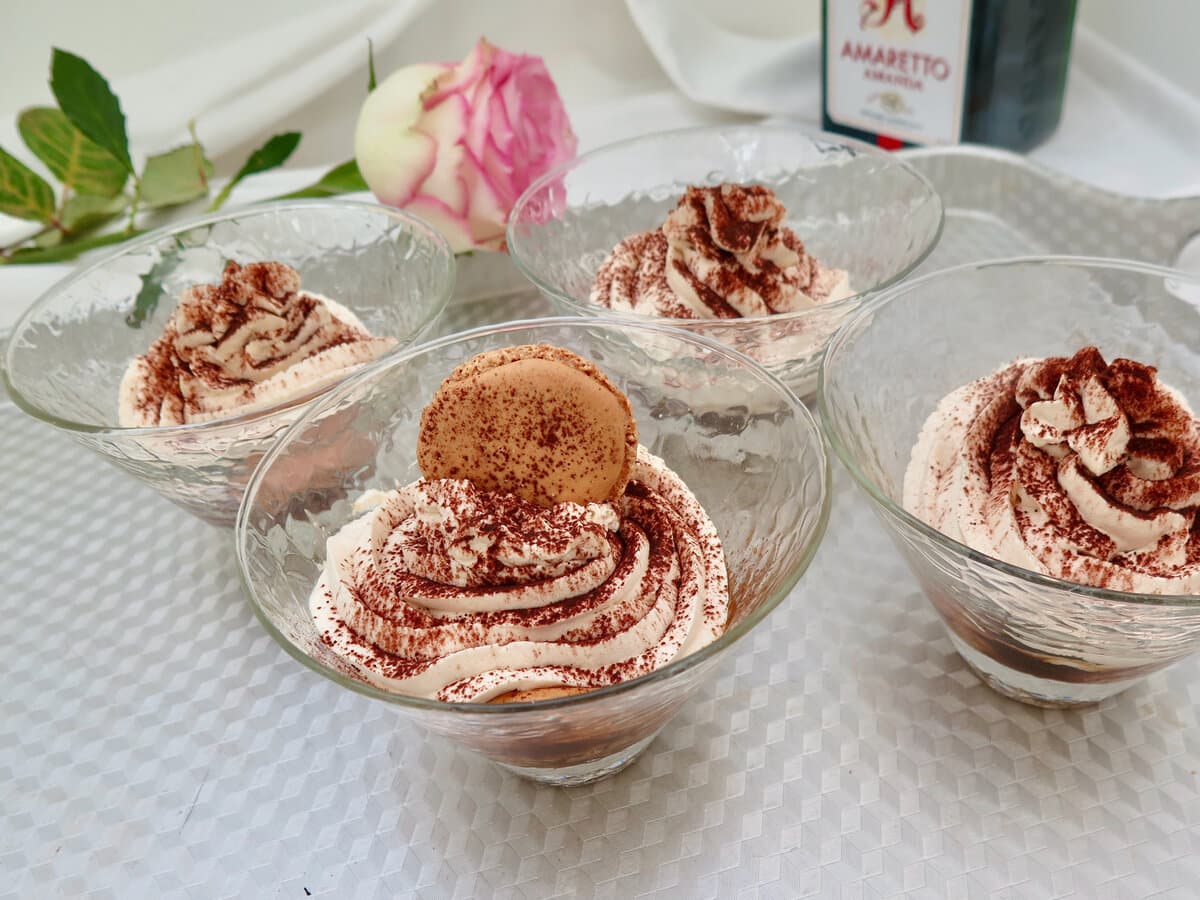 Inspiration of Coffee, Amaretto and Almond Flavours
Who would have thought that a bottle of Amaretto liqueur would be marked suddenly as URGENT on our shopping list? What's more, it was added by our daughter, Lucie, who doesn't even like wine or alcohol. She was, however, so excited to make individual tiramisus for dessert back home.   She had learned to make them during an exhilarating week's work experience at our local Italian traiteur in Saint Germain-en-Laye, La Pizza du Dimanche Soir as part of her last year at French Collège (Year 10 or 9th Grade).  Can you imagine how happy she was all day, learning to make Italian pizza and Tiramisu desserts with a friendly, dynamic Italian-French team?
So, complete with a squeezy bottle, she began dousing her Savoiardi biscuits with Amaretto mixed with espresso coffee. This was deliciously serious.
Suddenly the Amaretto liqueur's almond fragrance caught my macaron sensor. Let's use gluten free macarons as a base instead of the traditional Savoiardi ladyfingers. Back in my first book, I already made a giant coffee macaron and topped it with a mascarpone coffee cream (macarons and mascarpone are both gluten free).
Do Ladyfingers have Gluten?
Taking inspiration, this Macaron Tiramisu dessert was born, making this a gluten free version of the Italian classic, which normally would contain gluten. Traditionally, ladyfingers (Savoiardi or Pavesini) are used which are normally made with wheat flour. However, I see that there are gluten free versions of Savoiardi biscuits now available, so keep a look out for them if you want something more traditional.
Likewise in France, boudoir biscuits (often use to replace them) also contain gluten. They tend to soak up liquids faster as they are dry and frankly, not as good.
In the meantime, all the ingredients here are gluten free, if you're needing to watch this in your diet.
How to Make a Tiramisu Macaron Dessert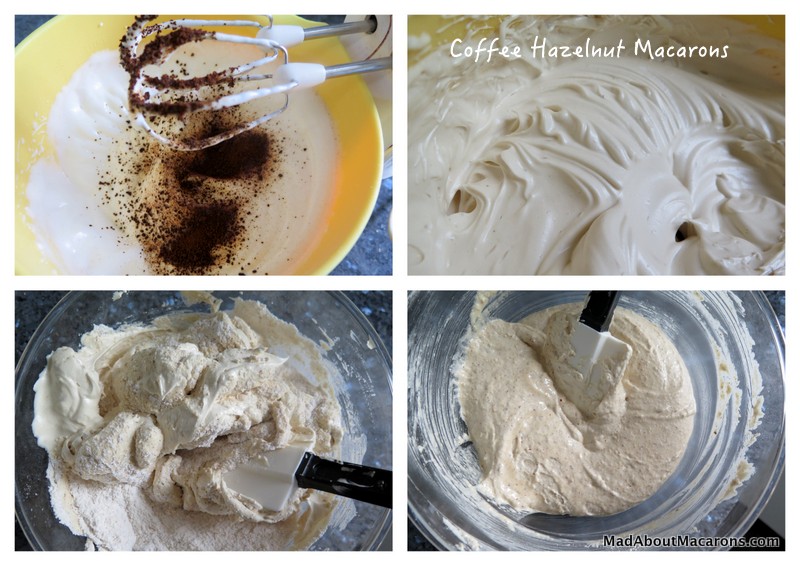 Make a batch of macaron shells by adding good quality instant coffee powder while whipping up the whites, using half quantity of ground hazelnuts to replace the almonds (see Mad About Macarons, Tiramisu Macarons page 80-81).
My basic macaron shell recipe is all explained step-by-step in detail in either of my two books.
Great Make-Ahead Recipe
Prepare macaron shells in advance! They keep up to 2 months in the freezer. Macarons in the freezer is like money in the bank.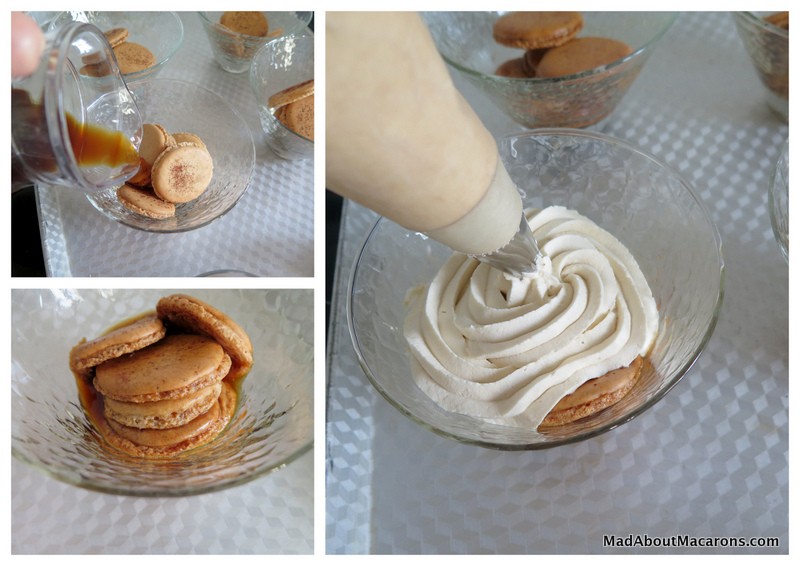 Soak macarons with coffee and Amaretto, top with mascarpone and whipped cream.
Then dust with unsweetened cocoa powder.
What is the Origin and Meaning of Tiramisu?
It was in the 1950s in Tolmezzo (North-East Italy) that Norma Pielli served a dessert at her hotel-restaurant, Albergo Roma. The name she gave it was for her clients who loved to walk in the mountains needing a boost, literally meaning to pick-me-up as "tireme su" in the local dialect.
Later in the 1960s in Treviso near Venice, the owner of Le Beccherie restaurant, Alba Campeol asked pastry chef, Roberto Linguanotto to come up with a dessert to please their clients and it was put on the menu in 1972. For much more detail on this fascinating story, see the Accademia del Tiramisù (don't you love there's an Italian Academy for this?)
Both recipes used fresh eggs in the original recipe but as there are egg whites in the macarons, I'm avoiding this extra step in my recipe version below.
Is there Always Alcohol in Tiramisu?
According to Marielle Guadry (On Va Déguster l'Italie, 2020), the traditional Tiramisu recipes of both Treviso and Tolmezzo don't contain alcohol.  However, either a little Marsala (Sicilian liqueur) or Amaretto (Lombardian almond liqueur) is more widely used.
I personally like to add either liqueur, as it brings out the almond flavours of the macarons, which contain ground almonds (almond flour). Just remember that the alcohol isn't cooked, so will be quite potent. I don't recommend this to be served to children or pregnant women in particular. So, if you prefer without, then omit the Amaretto and double up the quantity of espresso coffee.
Tiramisù Day
Did you know that, since 2017, Tiramisù Day is on 21 March (same day as Macaron Day in France)?
Plus there's an annual Tiramisù World Cup for non-professionals organised in Treviso (October)? Check out my Tiramisu friends, Cynthia of What A Girl Eats (I was her papparazzi in Venice when she and I were there in April 2022) and Christina's Cucina, who are both participating. Christina has a popular Limoncello version.
Why were these sweet dates from 2017? As there was controversy over who invented it (Treviso vs Tolmezzo), a decree from the Italian Ministry of Agriculture added Tiramisù to the PAT list of traditional food products (Prodotti Agroalimentari Tradizionali).
Gluten Free Tiramisu with Macarons
Either make one big Macaron Tiramisu in a rectangular dish or individual Tiramisus in glass dishes.
So not to be confused with Italy's classic tiramisu, perhaps I should call this Jillimisu? Or a Tiramacsu?
How to Serve: Normally served with just a dusting of cocoa powder, I recommend serving these gluten free versions with a macaron on top, a fresh or Amareno cherry, or with roasted figs, which go so well with coffee.
Macaron Tiramisu
Where France meets Italy for dessert. A gluten free version of Tiramisu using Parisian macarons.
Ingredients
36

macaron shells (6 per person)

See recipes in either of my books

60

ml (2fl oz/¼ cup)

strong double espresso/instant coffee

60

ml (2fl oz)

Amaretto liqueur (or Marsala)

150

g (5.5oz/ ⅔ cup)

mascarpone

150

ml (5.5fl oz/ ¾ cup)

Whipping / heavy cream

(30% fat)

2

tablespoon

icing (confectioner's) sugar

3

teaspoon

unsweetened cocoa powder
Instructions
Put a mixing bowl in the fridge. Prepare a double espresso using a machine or boil the kettle to prepare the instant coffee and pour into a jug. Add the Amaretto liqueur then leave to cool.

Place 6 macaron shells (or 5 and leave the 6th as decor) at the bottom of individual serving bowls or glasses. Pour the cooled liquid over them, reserving a bit of liquid (enough for if there was a 7th glass).

Using an electric hand whisk, whip the cream in the chilled mixing bowl, adding the sugar.  When billowy peaks form, add the mascarpone and the rest of the liquid and whisk briefly just until mixed.  If the cream looks too thick, then add another tablespoon of Amaretto liqueur.

Spoon over the softening macarons with the cream, or alternatively transfer the cream to a piping bag and pipe out into the glasses.

Dust with the cocoa powder and top with either another macaron shell or with a tiramisu macaron.
Notes
* Macaron Shells: Use the basic macaron recipe from Teatime in Paris or from Mad About Macarons adding 2 teaspoon good quality instant coffee powder to the egg whites. Either use the full quantity of ground almonds (almond flour) or half and half with finely ground hazelnuts. Tiramisu without Alcohol: If you prefer to omit alcohol, just double up the quantity of coffee.
This recipe was first published 27 February 2017 but has now been updated with easier-to-read text.