Where France meets Italy for dessert. A gluten free version of the Italian classic using Parisian macaron shells, making a delicious Macaron Tiramisu.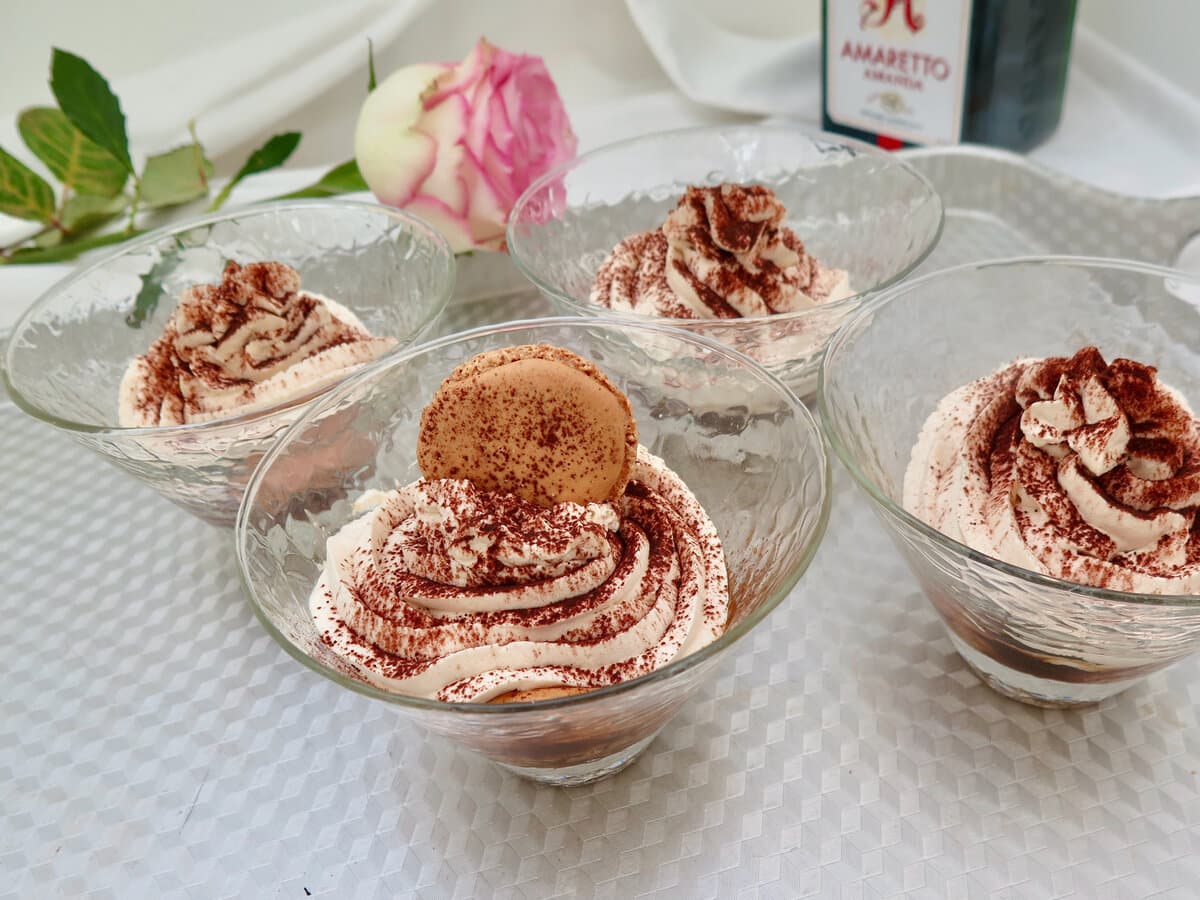 Last weekend my daughter, Lucie, was so excited to make individual tiramisus for dessert.  She had learned to make them during an exhilarating 5-day work experience at our new gourmet Italian shop in Saint Germain-en-Laye, La Pizza du Dimanche Soir as part of her last year at French Collège (Year 10 or 9th Grade).  Can you imagine how happy she was all day, learning to make Italian pizza and Tiramisu desserts with a friendly, dynamic Italian-French team?
Who would have thought that a bottle of Amaretto liqueur would be marked suddenly as URGENT on our shopping list? and so she began dousing her Savoiardi ladyfinger biscuits with the sweet liquid mixed with coffee in a squeezy bottle.
Suddenly the Amaretto liqueur's almond fragrance caught my macaron sensor.  What could be better than gluten free macarons as a base instead of the usual sponge fingers?
How to Make Macaron Tiramisu Dessert
So the Macaron Tiramisu dessert was born, making this a gluten free version of the Italian classic with a touch of Paris!
Gluten Free Macaron Tiramisu
It works beautifully.  Either make one big Macaron Tiramisu or individual Tiramisu portions.
Prepare macaron shells in advance! Even better, prepare some tiramisu macaron shells in advance (they keep up to 2 months in the freezer). It's money in the bank.
I made a special batch of macarons adding good instant coffee powder while whipping up the whites and used half quantity of ground hazelnuts to replace the almonds – my basic macaron shell recipe is all explained in detail in either of my 2 books.
So not to be confused with Lucie's classic tiramisu, perhaps I should call this Jillimisu? Or a Tiramacsu?
Macaron Tiramisu
---
Description
Where France meets Italy for dessert. A gluten free version of Tiramisu using Parisian macarons.
Ingredients
36

macaron shells (6 per person)

See recipes in either of my books

60

ml (2fl oz)

strong double espresso coffee

(or 4 tsp instant coffee)

60

ml (2fl oz)

Amaretto liqueur (or Marsala)

150

g (5.5oz)

mascarpone

150

ml (5.5fl oz)

Whipping cream (30% fat)

2

tbsp

icing (confectioner's) sugar

3

tsp

unsweetened cocoa powder
Instructions
Put a mixing bowl in the fridge. Prepare a double espresso using a machine or boil the kettle to prepare the instant coffee and pour into a jug. Add the Amaretto liqueur then leave to cool.

Place 6 macaron shells (or 5 and leave the 6th as decor) at the bottom of individual serving bowls or glasses. Pour the cooled liquid over them, reserving a bit of liquid (enough for if there was a 7th glass).

Using an electric hand whisk, whip the cream in the chilled mixing bowl, adding the sugar.  When billowy peaks form, add the mascarpone and the rest of the liquid and whisk briefly just until mixed.  If the cream looks too thick, then add another tbsp of Amaretto liqueur.

Spoon over the softening macarons with the cream, or alternatively transfer the cream to a piping bag and pipe out into the glasses.

Dust with the cocoa powder and top with either another macaron shell or with a tiramisu macaron.
Notes
* Macaron Shells: Use the basic macaron recipe from Teatime in Paris or from Mad About Macarons adding 2 tsp good quality instant coffee powder to the egg whites. Either use the full quantity of ground almonds (almond flour) or half and half with finely ground hazelnuts.