Roasted figs in port with honey and lavender. Best eaten for dessert on its own, with ice cream, coffee desserts –  or great served with cheese.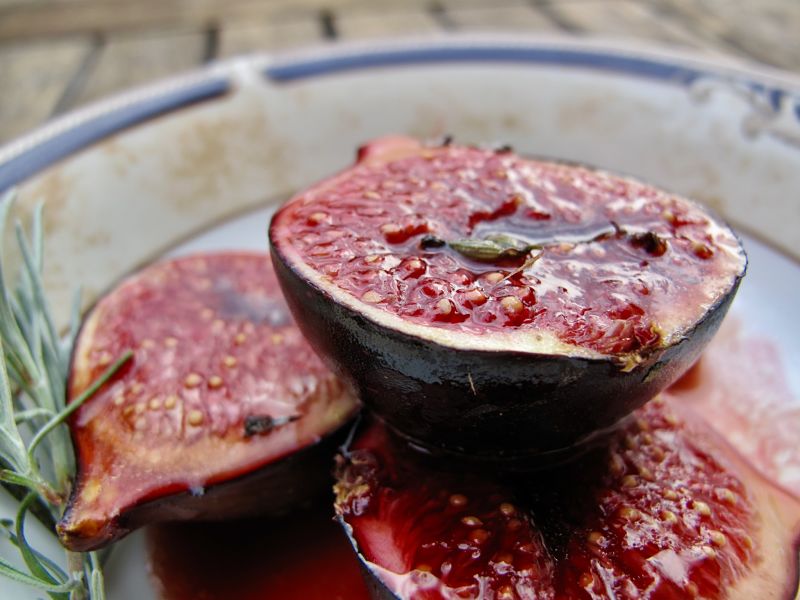 They can say what they like.
I do give a fig.
Fig. Season. Is. Far. Too. Short.
What Are the Best Things to do with Figs?
When figs are on show end Summer, beginning Autumn, I go crazy mad. What can you do with fresh figs? Well – we simply eat them raw on return from the market (washing them first, of course). Biting into a fresh, sweet fig has to be one of life's most satisfying pleasures! And yes, you can eat the skin.
Apart from throwing them freshly sliced over maple granola – or chocolate & coconut granola – I love decorating cakes with them.
For example, add it to this banana and chestnut cake and the marriage is FIG-aro, figaro, figaro! (Yes, I'm proud of that one…)
On top of that, they're beautiful sliced on top of a quick orange blossom almond paste in my Fig Tart Recipe (book, Teatime in Paris). It's so gorgeously simple, it's hardly even a recipe!
Did you know that figs have a high source of calcium as well as fibre? See more about figs at French market produce.
Figs Served with Cheese and Savoury Food
Figs are delicious served fresh on their own with cheese. Enjoy with a good roquefort, gorgonzola or goat's cheese. If you have lots of figs, then make this Corsican Fig Jam to enjoy at any time of year – it's particularly good with strong cheeses.
However, these roasted figs can also be a more original partner with cheese if you're entertaining. As the cheese board comes before dessert in France (it's the other way around in the UK: dessert then cheese).  In fact, just make it the cheese and dessert course in one. That way it keeps all guests happy if some are not partial to cheese or dessert. It's up to you if you want to keep the lavender or not. Both work well.
Moreover, they're just as good added to savoury dishes too. Great in salads served raw. But for a cooked, savoury dish – omit the prunes and add a few halved figs in the last ten minutes (no more than 10 minutes!) of cooking in this Moroccan chicken tagine. The sweetness balances so well with the spices.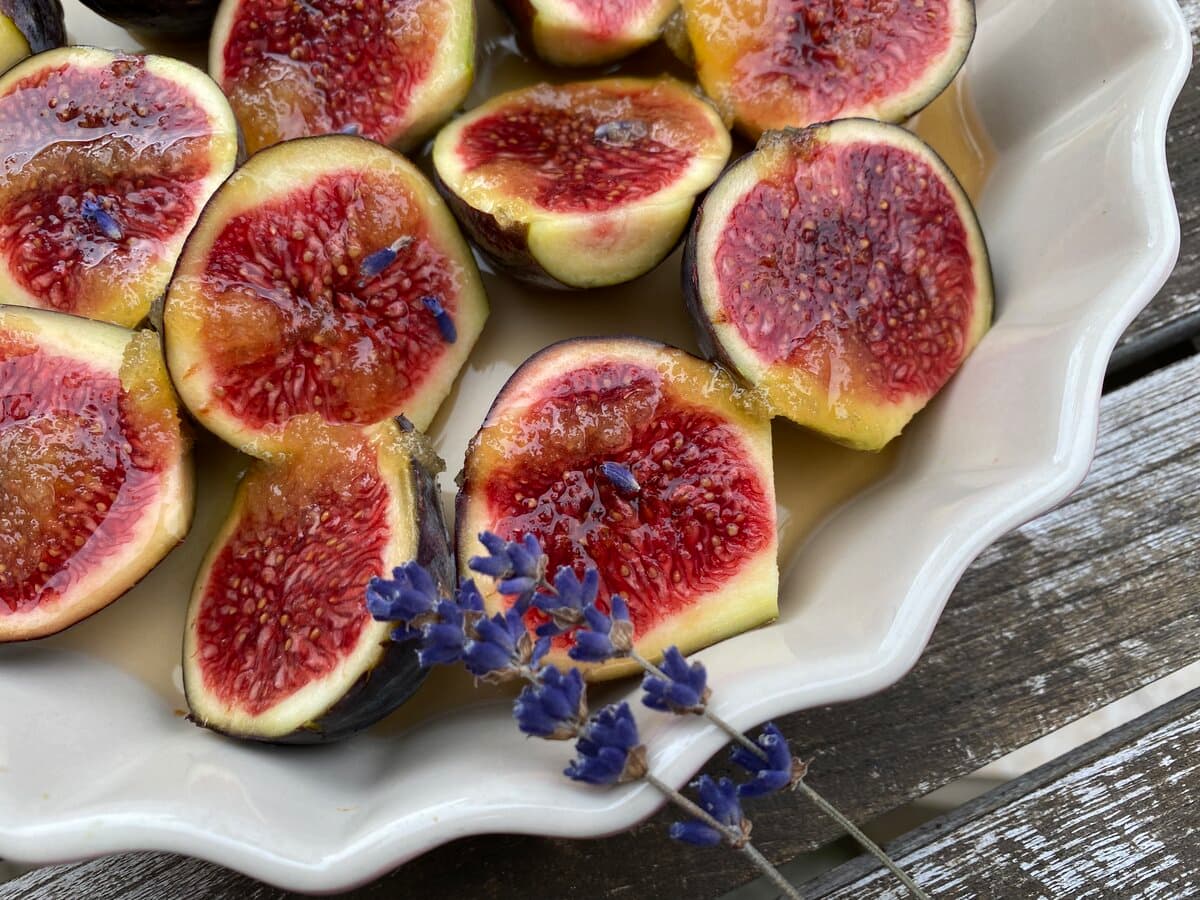 Quick Roasted Figs in 15 minutes
Roasted figs couldn't be easier – or quicker. The reduced, splashed-in-at-the-last-minute port ends up as a reduced, syrupy sauce out of the oven. Careful not to roast them too long, as the sauce will disappear quite fast. If you need another 5 minutes, go ahead but no more!  
I recommend adding a touch of lavender. I had completely forgotten to cut them in our garden and so they have dried up. Wow! Their fragrance is like walking into a crowd-wrestling tourist shop in Provence, with mechanical cicadas, herbes de Provence and lavender bags lining the walls.
I use port (white or red) but sherry is also good. If you're in Scotland, I suggest half and half of Whisky with Crabbies Ginger wine.  I had this a few times as a Scottish student and so if you have access this is a winning combination (without the lavender).
They're a real treat when accompanying Giant Coffee Macarons with Tiramisu Cream (see page 116 of Mad About Macarons). Likewise, with or without lavender, with a Macaron Tiramisu.
Go on. Spoil yourself.
How do you Cook Figs?
See how easy this recipe is. Simply cook figs with the skin on and bake for 15 minutes.
Roasted Figs in Port with Honey
---
Description
Quick roasted figs in Port with honey and a touch of lavender served chilled for dessert. Also delicious served with cheese.
Ingredients
12

Plump violet figs

4

tbsp

Port

(or Sherry)

2

tbsp

runny honey

(Acacia)

1/2

dried lavender flower

(optional)
Instructions
Preheat the oven to 180°C fan (200°C/400°F/Gas 6). Cut off the tops and slice figs in half, place them cut-side up in a roasting tin or baking dish.

Pour over the port (or sweet sherry), the honey and sprinkle over the equivalent of half a dried lavender flower.

Roast in the oven for 15-20 minutes. Leave to cool then chill before serving.
Notes
Serve chilled or at room temperature, either on its own or with vanilla ice cream and topped with crushed amaretti biscuits or macarons. Particularly good with the giant tiramisu macaron dessert from my book, Mad About Macarons and Macaron Tiramisu Dessert.
This recipe was originally published 23 September 2011 but is now updated with new photos and a printable recipe card.