An easy Moroccan chicken tagine recipe with prunes. Traditionally chicken tagine recipes are made with olives and preserved lemons but this is based on a lamb tagine made instead with chicken.
It's deliciously spicy comfort food served with semolina, toasted almonds and coriander.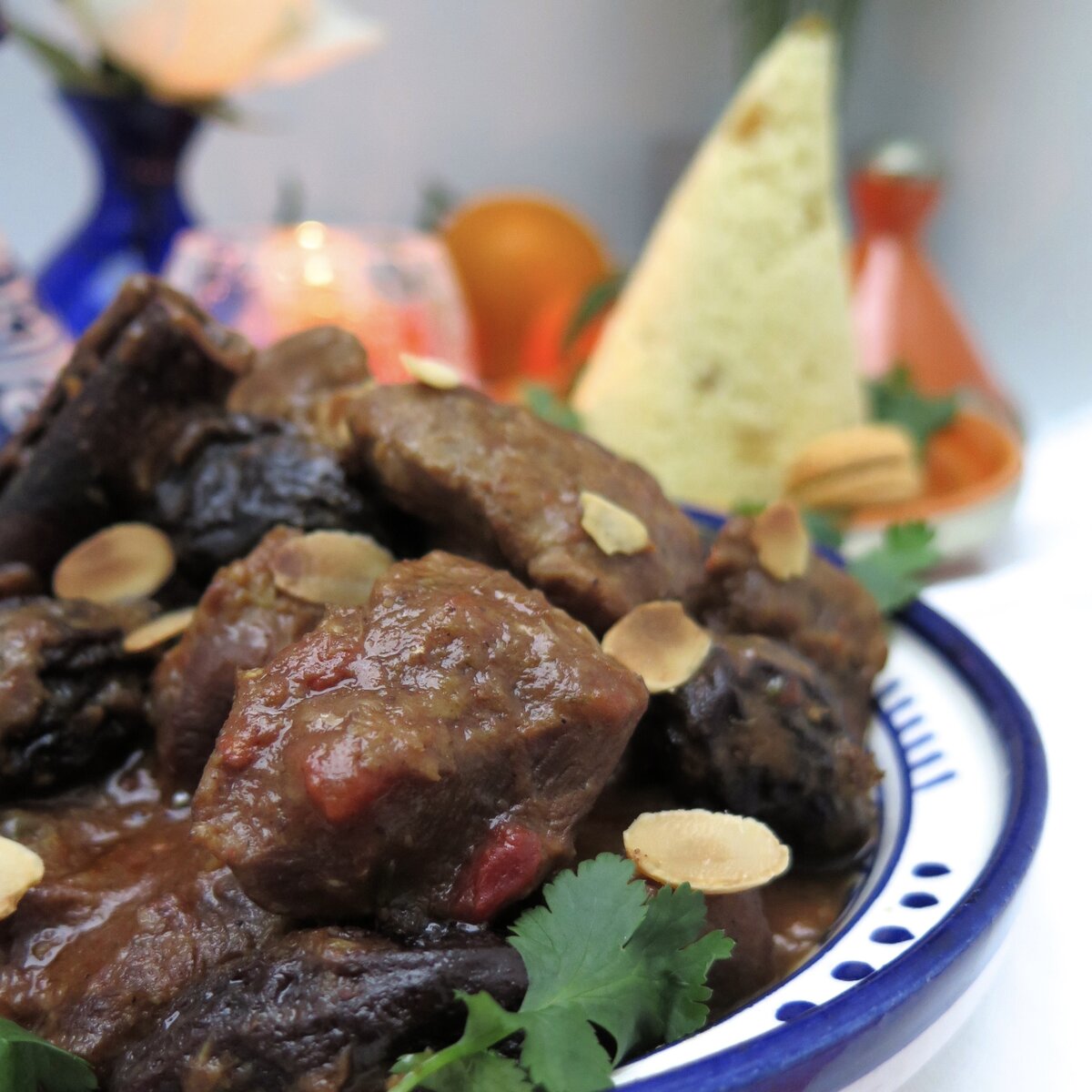 What is a Tagine?
What's so special about a tagine, also known as tajine, is it's named after the dish they're traditionally cooked in. On family trips to Morocco, these dishes are seen everywhere at the markets with beautifully hand-painted patterns and vibrant colours. Alas I need to return, as I have broken not one - but two! - beautiful tagine dishes. This one left for my photos is far too small but you can see how it looks.
The dish itself is conical with a wide, round base. The speciality of the conical shaped lid is that it fits into the base wide-rimmed bottom dish. As the tagine cooks slowly inside, steam escapes out of the top conical funnel.
The result is a slow-cooked, one-pot casserole that's lightly spiced and has a bit of the exotic around it.  It's also healthy, as it doesn't contain a lot of fat. So, during the colder months, this is one of our best slow-cooked spicy stews.
Although it's cooked in a traditional tagine dish, this is just as good cooked in a heavy crock pot or Dutch oven.
Tagines in Paris
A Tagine is, broadly speaking, the French's answer to the British curry. The French go Moroccan with spicy stews.
When I first arrived in Paris in 1992, Indian curry houses were rare; on the other hand, Moroccan Couscous restaurants were - and still are - extremely popular. Tagine restaurants tend to have elaborate entrances and an ambiance as if stepping into a restaurant in Marrakesh.
Orange blossom fragrances dominate as candles are lit and it's all pretty romantic. Personally, I love coming to a Moroccan restaurant in Paris, as it feels like being transported to another land for the evening.
Easy Chicken Tagine Recipe
This is by far my best chicken tagine recipe. Luckily I now have it on the website, as my written out go-to recipe has been splashed and become rather tattered over the years. It started out from a magazine cut-out for lamb tagine - then each time I made it, I added notes like 'add more garlic', 'add saffron' and 'fresh coriander a must'. Add this and that. Most importantly, can I try this without the lamb?
So, this recipe started out as a more traditional lamb tagine with prunes but gradually, as the family have been eating meat less, we wanted this made with poultry.  We've replaced it with something a bit more 'meaty' than chicken (see below) - even although chicken is super for this recipe.
Not keen on prunes? Then replace with dried apricots - it goes so well together.
Even our French/Spanish family members that live in Morocco approved this recipe, which is the ultimate compliment.
What Does Tagine Taste Like?
Traditionally, chicken tagine is usually made with olives and citron confit or preserved lemon. As this version can be a bit acidic, the kids prefer this moreish chicken tagine version with prunes.
It tastes like a very mild curry but instead of the usual Indian spices (garam masala, turmeric etc.), the flavours are predominately with cinnamon, cumin and ginger. Is it hot? That's up to you - I like just a little heat but if you want more, then up the quantity of the cayenne pepper.
What's more, with the prunes, it's slightly sweet which balances out the spice.
What to Do with Oyster (fowl)?
So what's the special poultry meat that can fool us into thinking that it looks like lamb yet tastes slightly lighter? We find it at many local boucheries or at the local market: known as Sot l'y laisse or huîtres de poulet. 
They are Oyster Fowl - two oyster-sized rounds of darker poultry meat, found near the thighs. This kind of meat is perfect for making a chicken tagine. It's thanks to our local market that when I asked what to do with it, the 'poultry lady' suggested I made tagine with it. Brilliant! It's the best idea indeed.
Cooking on a Budget: Cheaper Cuts of Chicken
They're rather large - so large that, by rule of thumb, we usually have 3 per person and they can be each cut into 3.  They resemble pig's cheeks (joues de porc), another interesting ingredient for spicy dishes.
What do they have in common? They're so much cheaper and just as tender as lamb in a slow-cooked casserole.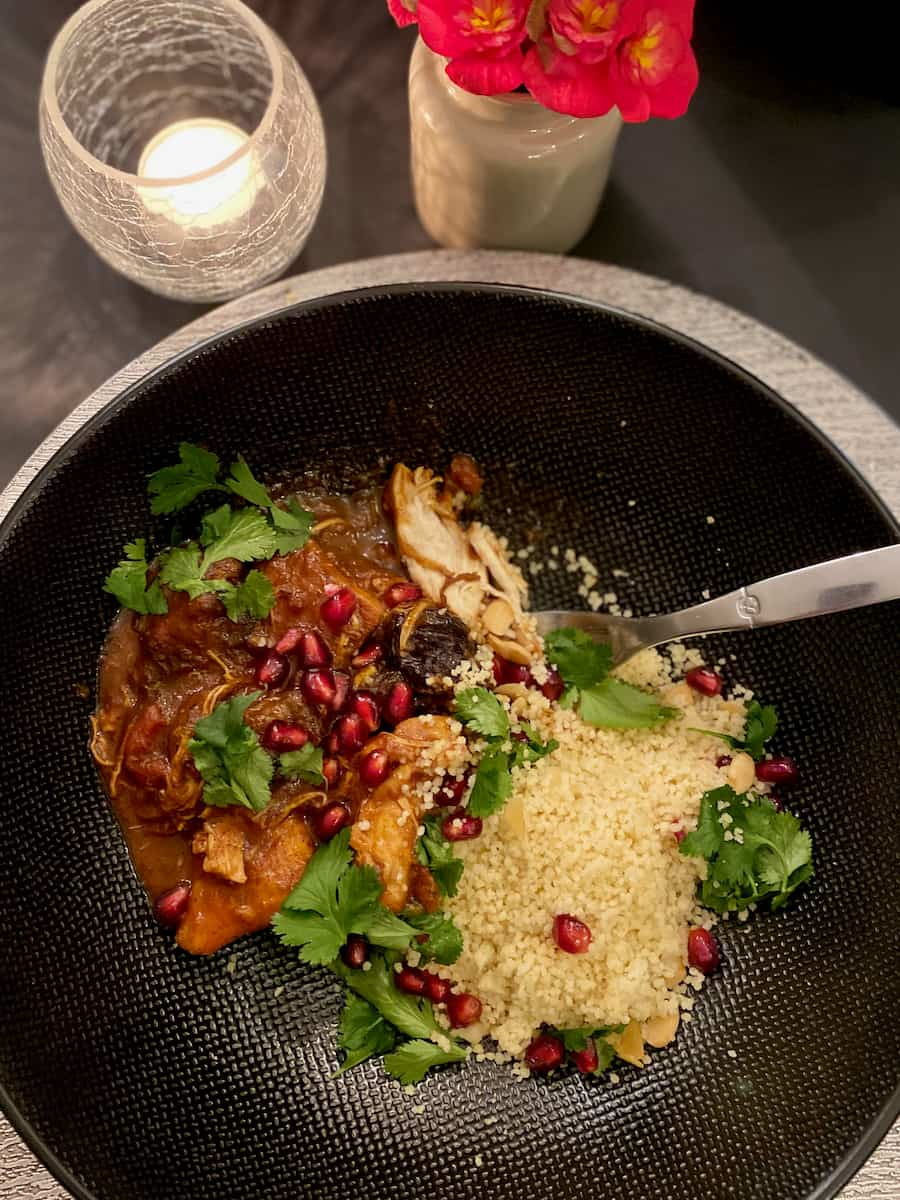 What do you Eat With Chicken Tagine?
Serve this Chicken Tagine with medium sized semolina (couscous), toasted flakes almonds and fresh coriander leaves. Fresh pomegranate seeds are also delicious and add an extra crunchy texture. It's also pretty as well as healthy - they look like gleaming red jewels.
For the semolina:
Use about 100g (3.5oz) semolina per person with the same amount of water and cook according to packet instructions.
So for 4 portions, use 400g (14oz) of semolina, tossed in a tablespoon of olive oil, salt, pepper and 400ml of liquid: water topped with 2 teaspoons of Moroccan orange blossom water and mixed with a handful of golden sultanas, then heat.
Original Accompaniment for Tagines
What? Serve with a mini savoury macarons? Spot the mini cumin spiced macaron? It's one of my savoury macarons from Mad About Macarons which uses mainly cumin and is ideal for serving before or during a fun spicy evening.
It's a taste sensation that tickles the senses: pop in a mini mac and hit the cayenne spice then the second that follows, the (reduced) sugar in the macaron shells put out the fire. Taste it and see!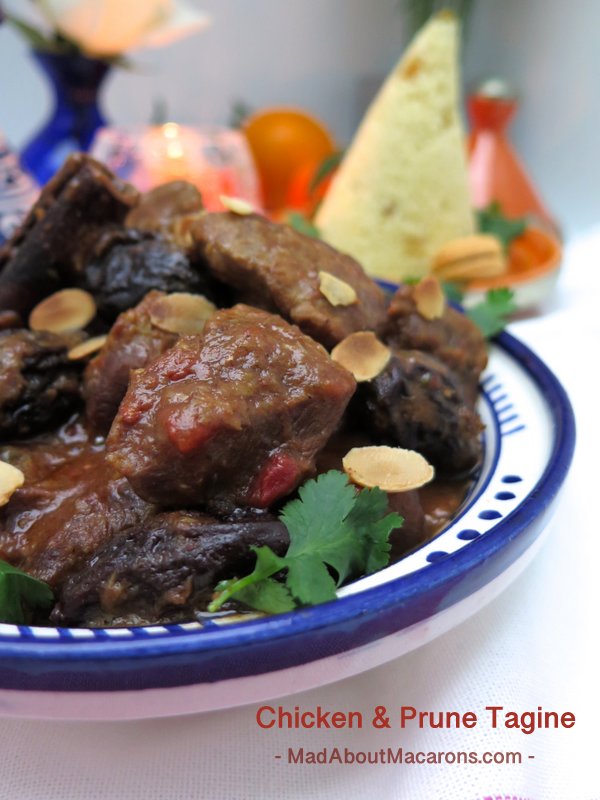 Can You Freeze It?
Absolutely! This is a great dish for entertaining. Prepare it in advance - even the day before. What's more, it freezes well. If intending to make this ahead of time and freeze, make this without the prunes then cool and freeze. Once defrosted thoroughly, add the prunes and reheat.
Add the rest of the accompaniments (mentioned above) and it's a make-ahead recipe that's incredibly handy - it means you can spend the extra time saved making dessert.
What's Best to Serve for Dessert after a Tagine?
No need for a heavy dessert afterwards, either. The best dessert following this? Sliced juicy table oranges, with a hint of orange blossom water and more grilled almonds - so save some almonds aside for later. We had this as a dessert often when on holiday in Morocco.
What about a orange and prune macaron? (I have the recipe in my first book, Mad About Macarons!). Any dessert with a hint of orange would be ideal. This is by far my favourite after it: White chocolate mousse with orange blossom and rose.
Chicken Tagine Recipe with Prunes
Based on a lamb tagine with prunes but made with chicken or oyster fowl instead.
Chicken Tagine with Prunes
A lightly spiced chicken tagine with prunes, served with orange blossom and sultana semolina and topped with toasted almonds and fresh coriander - perfect winter comfort food. Savoury macarons optional!
Ingredients
1.2

kg (2lb 12oz)

chicken breasts or whole chicken cut into 12 pieces

(or oyster fowl)

75

g (5 tbsp)

plain flour

T45

2

tablespoon

olive oil

5

cloves

garlic

peeled & grated

5

cm

piece fresh ginger

grated

¼

teaspoon

cayenne pepper

(or more if you like it hot!)

2

tablespoon

ground cumin

1

tablespoon

4-spices powder

(cloves, cinnamon, ginger, pepper)

1

tablespoon

ground coriander

1

cinnamon stick

600

ml (1 pint)

chicken stock

sprig

fresh thyme

3

tomatoes

chopped (or ½ tin chopped tomatoes)

24

juicy Agen prunes

(without stones)*

Pinch

saffron

ground or strands (optional)
Tagine Garnish
25

g (1oz/ 1 tbsp)

almond slivers

toasted under grill, for garnish

1

tablespoon

fresh coriander leaves

for garnish

pomegranate seeds

(optional)
Instructions
Coat the chicken in flour and fry in olive oil in a large non-stick casserole dish. When browned on all sides, strain and remove from the pot. Keep aside on a plate. Add the grated garlic, ginger and cayenne, frying for a minute. Add the rest of the spices and fry for a further minute.

Add the chicken back to the pot with the chicken stock and thyme.

Cover and cook on low heat for at least an hour. 

After an hour, add the tomatoes, prunes (and saffron, if using). Cook for a further 30 minutes. Prepare the semolina, as per packet instructions and serve with toasted almond slivers and the fresh coriander leaves.
Notes
The prunes can be replaced by dried apricots - works very well with the chicken.
Tagine Serving Suggestions
Serve with semolina (100g per person/100ml water including a tablespoon orange blossom water, a tablespoon olive oil for 6, pepper, salt, olive oil), prepare as of packet instructions and add a knob of butter when reheating.
Goes well with a Moroccan red wine (we love 'Tandem', a syrah fruity/peppery red made as a joint effort by Alain Graillot and Ouled Thaleb winery near Casablanca).
Make Ahead Recipe
The tagine can be made the day before and reheated before serving.
Also freezes well in advance. Make the first part without the prunes. Cool, chill & freeze then after defrosting, reheat adding the prunes and continue the rest of the recipe.
This serves 4 good portions or 6 if for a smaller appetite.
This recipe was first published 25 January 2019 but has now been completely updated and made easier to read.
Love winter warming slow-cooked casseroles? Then try these classic French stews: