I'm allergic to gluten. Do you have any recipes for me?
Absolutely! See my collection of over 100 gluten free recipes. There are also low gluten recipes, which can be adapted easily to be made gluten free by replacing the regular flour with cornflour/cornstarch or rice flour, for example.
Why are the recipes in grams and ounces?
Although I have added measurements in cups for my American readers, please note these are there purely as a guide. I strongly urge you to bake and cook using grams like the French by WEIGHT, not volume (cups) - particularly for making macarons, tarts and other French pastries which are precise. This achieves consistent successful results in your cooking and baking.
Digital scales are inexpensive and an essential item in your kitchen. If you're used to ounces, with digital scales you can simply switch the button over to grams and we're all talking the same language.
For much more in detail, see my post explaining why I recommend digital scales.
How do you line a cake tin?
Lining a round cake tin is simple with just baking parchment and scissors. There's no need to measure its size to fit perfectly:
Cut out a square of parchment/baking paper that can fit the cake tin (turn it upside down to see the circumference best)
From the centre of the tin, fold the paper in half - then in half again, half again twice until you have a thin triangle
Then with scissors, cut the end of the paper triangle to go around the edge of the tin
Open the paper out to a perfect circle that fits your cake tin.
I use good quality classic unsalted French butter known as 'beurre doux', with 82% fat. Why unsalted? As it's easy to control the amount of salt used in the recipes.
In Brittany, for example, we typically use salted butter (beurre salé or demi-sel) with around 3% salt content for authentic recipes such as Palets Bretons, salted caramel sauce (caramel au beurre salé) and in the filling for salted caramel macarons. As I know it's not often easy to find good French salted butter in the rest of the world, I use unsalted butter and add fleur de sel salt in order to get the closest possible.
So to get as close to our French recipes, please use European-style unsalted butter with 82% fat.
How much vanilla extract for a pod/bean?
A vanilla bean/pod is preferable for many recipes – but are expensive. I often cheat and buy cheaper vanilla and steep them in rum in a jar to swell them – for more, see my tip how to store vanilla beans.
If you prefer to use extract or powder, then use it quite sparingly depending on the brand you use. I say use a teaspoon but taste the custard first. If it needs more, add more but better to dose carefully. If you add too much you can't go backwards! Some brands use much more – see Nielsen Massey's instructions.
Is ground almonds the same as almond flour?
Absolutely! As I'm British-French, I may use words a bit different if you're in America. No worries, just refer to the Glossary of UK – USA baking terms if you're not sure. I give our equivalents in France for UK and USA terms. Still can't find what you're looking for? Contact me.
How do you eat all those pastries and stay so slim?
I get this a lot and should have written a whole book about it – although I have a chapter on this in my 2nd book, Teatime in Paris!
Since arriving in France in 1992, in 30 years I have never needed to diet, just by sticking to the French way of eating. French people are healthy in general, as they tend to make meals from scratch with smaller portions - these pastries, croissants and cakes are occasional treats. Don't believe the myth that in France we always cook with butter. Read my daughter's article on Five Ways to Eat Like the French.
Basically I stick to the 3 mealtimes (including one main meal with moderate portions) and never snack or graze. If I have the occasional tea and patisserie in the afternoon it's officially goûter but will therefore have an even lighter lunch.
I also walk a lot; I walk when I can instead of driving or taking the metro, take the stairs and walk about 5km a day.
Most importantly, I avoid processed foods and eat fresh. That's why I share my recipes here, to show that it's easy to cook and bake from scratch!
I'm coming to Paris. Do you give cooking classes?
At present, I'm completely on my own without a team to help as I'm working hard for you on this website to share my recipes for free as well as many updated Paris food guides. As a result, I have no extra time to give classes.
However, I am making free demonstration videos on my YouTube channel. So please do pop in and support me there by liking and subscribing.
For macarons, get my books! My macaron classes are detailed step-by-step in my first book, Mad About Macarons also in the macaron chapter and much more in Teatime in Paris: A Walk Through Easy Pâtisserie Recipes.
I'm coming to Paris. Can I still enjoy pastries with food allergies?
Luckily Paris is becoming more aware of the rise in food allergies. Here are the main ones:
What's the difference between a macaron and a macaroon?
Ever since my pastry and chocolate tours in Paris, I have had this question so many times I wrote an article on it in detail:
My macarons have cracked. What can I do?
Don't throw them away! They will still taste delicious. I have plenty recipes you can crush them up or use them to make:
As for the cracked macarons, it's included in a troubleshooting section in my book, Mad About Macarons. Many are easy to solve – it could be just down to your oven or even your egg whites!
I would be delighted for you to share!
However, the recipes and images on the website are ALL copyright Jill Colonna. If you wish to link to the recipes on the site, then please contact me with credit to Jill Colonna at MadAboutMacarons.com.
For the recipes in the books, Waverley Books by law has the copyright and license to publish them, so they are uniquely in the books. If you wish to use a recipe from either book, please contact Liz Small at Waverley Books (info(at)waverley-books.co.uk) first for permission. Many thanks!
I'm a bookshop/trade customer. How do I order your books ?
Please contact my publisher, Waverley Books (The Gresham Publishing Company Ltd.), directly: info(at)waverley-books.co.uk or their UK distributors at BookSource.
For orders or enquiries Tel: +44 (0) 845 370 0067 or via Gardeners Books Wholesalers
Distributor for USA/Canada: Interlink Publishing.
Distributor in France: OLF via Relay H.
A question not answered here?
Contact me either via the Contact Form or by email jill(at)madaboutmacarons.com or directly under the relevant (recipe) post where I'll be happy to answer you as soon as I can. Don't forget I live in France so allow for the time difference.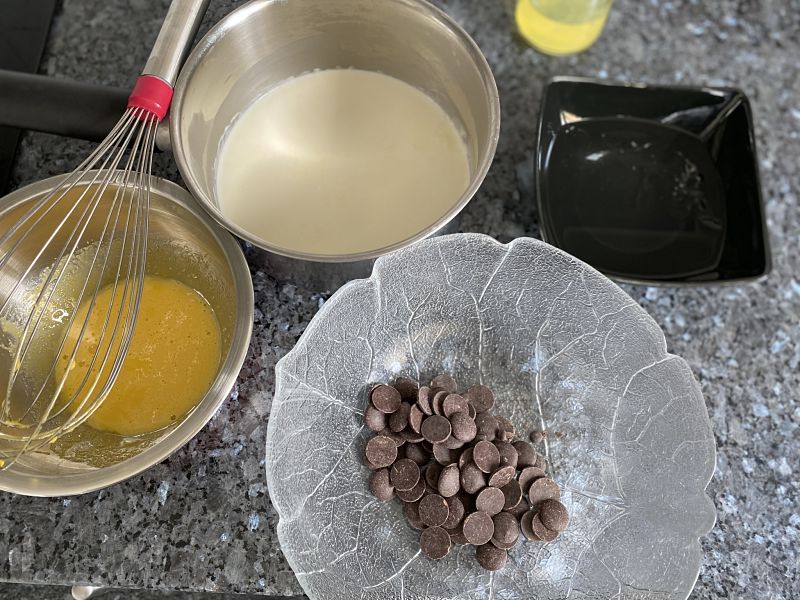 | Fan ºC | Fan ºF | Gas mark | Normal oven ºC | Normal oven ºF |
| --- | --- | --- | --- | --- |
| 120 | 250 | 1 | 140 | 280 |
| 130 | 270 | 2 | 150 | 300 |
| 140 | 280 | 2 ½ | 160 | 320 |
| 150 | 300 | 3 | 170 | 340 |
| 160 | 320 | 4 | 180 | 360 |
| 170 | 340 | 5 | 190 | 375 |
| 180 | 360 | 6 | 200 | 400 |
| 190 | 375 | 6 ½ | 210 | 410 |
| 200 | 400 | 7 | 220 | 425 |
| 210 | 410 | 8 | 230 | 450 |
Glossary of UK-US Baking Terms
Confused with the difference between plain flour or powdered sugar?
I have you covered in this listing of UK-US Glossary of Terms.