There's no English translation for these caramelised vanilla and rum cakes. Known just as Canelés - or Cannelés de Bordeaux - these fluted cylindrical cakes are a Bordelais speciality but found in most Parisian pâtisseries and enjoyed all around France.
This authentic recipe is an extract from my 2nd book, Teatime in Paris: A Walk Through Easy French Pâtisserie Recipes with kind permission to my publisher at Waverley Books.
The Famous Bordeaux Cake's Origins
As egg whites were used to clarify Bordeaux wines, the local nuns of the Couvent des Annonciades saved the yolks and with them invented canelas in the 18th century. As Bordeaux was a major port, rum just happened to be handy, along with exotic vanilla. Over the years these vanilla and rum cakes took on various different looks and names around the Aquitaine region, such as canole and canauliers.
Canelé or Cannelé?
It's funny to see that even the French are sometimes confused about how to spell this: either cannelé de Bordeaux or canelé. 
Apparently, as of 1985, one 'n' was officially dropped by the Confrérie de Canelés de Bordeaux (Brotherhood of Canelés). Don't you love how there's a formal protective clan for these French cakes?
Now its true identity can be found in famous pâtisseries around Bordeaux (Lemoine, Baillardran, Luc Dorin, La Toque Cuivrée, San Nicolas) and the rest of France - still with both spellings.
Pronunciation is the same for both spellings: "can-eu-lay".
Note that their name shouldn't be confused with the French word for cinnamon, which is cannelle.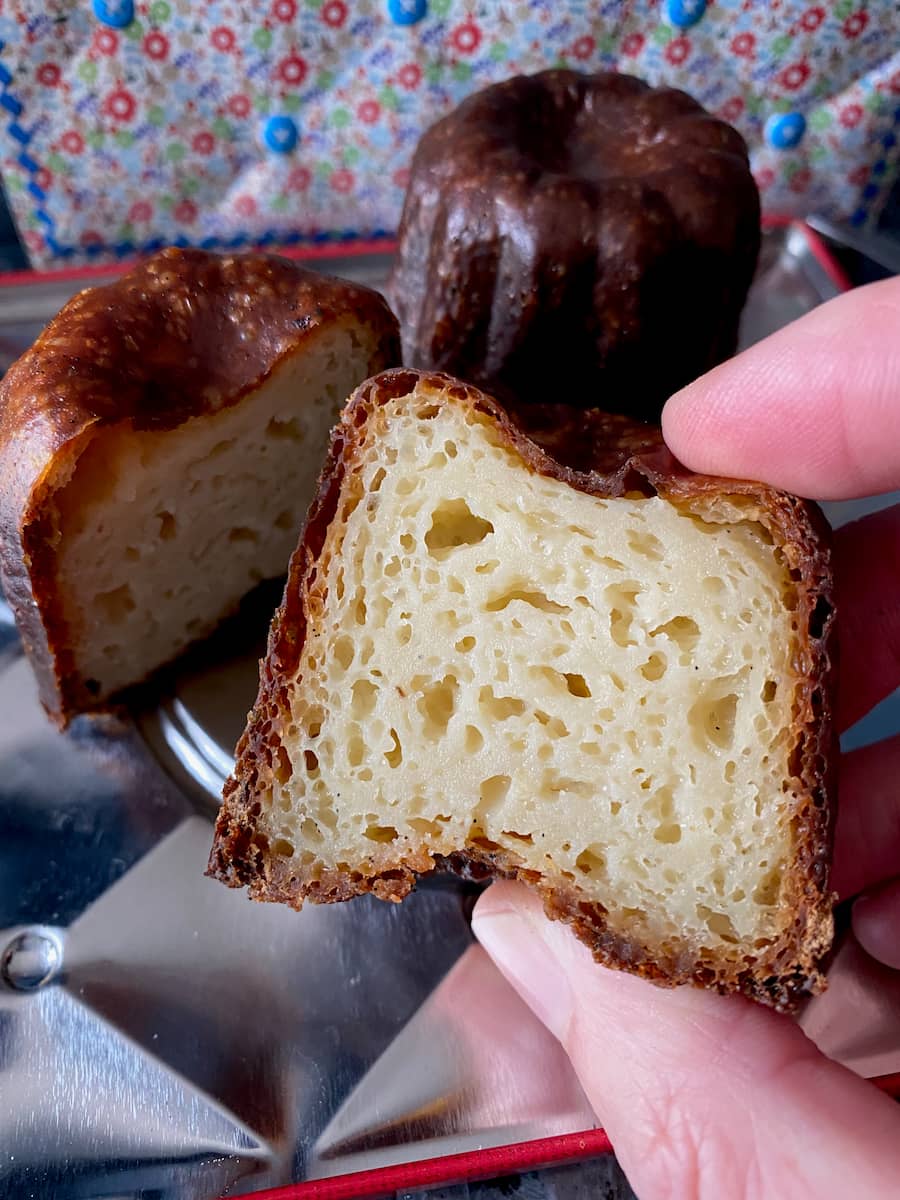 What do they Taste Like?
What makes the cannelé so delicious is its extra dark, caramelised crispy outside while the soft interior is bright, custard yellow, airy and spongy firm.
Traditionally fragranced with good vanilla (please don't use synthetic aromas - the taste is not at all the same), it's also French-kissed with dark rum.
What are Cannelés Made of?
Cannelés are made up of simple ingredients: whole milk, plain flour, organic eggs, egg yolks, sugar and a little unsalted French butter. However, a cannelé is only authentic if made with good vanilla pods/beans and good quality dark rum.
Want my tip how to store vanilla beans/pods and make them extra sticky?
Read the tips in my recipe post for Confiture de Lait and How to Store Vanilla Beans.
If you can't find good pods or beans, then I suggest vanilla powder or paste or a top quality extract. Never use aromas, as they are so synthetic and the resulting flavour will be disappointing.
For more recipes using up yolks, see all my egg yolk recipes.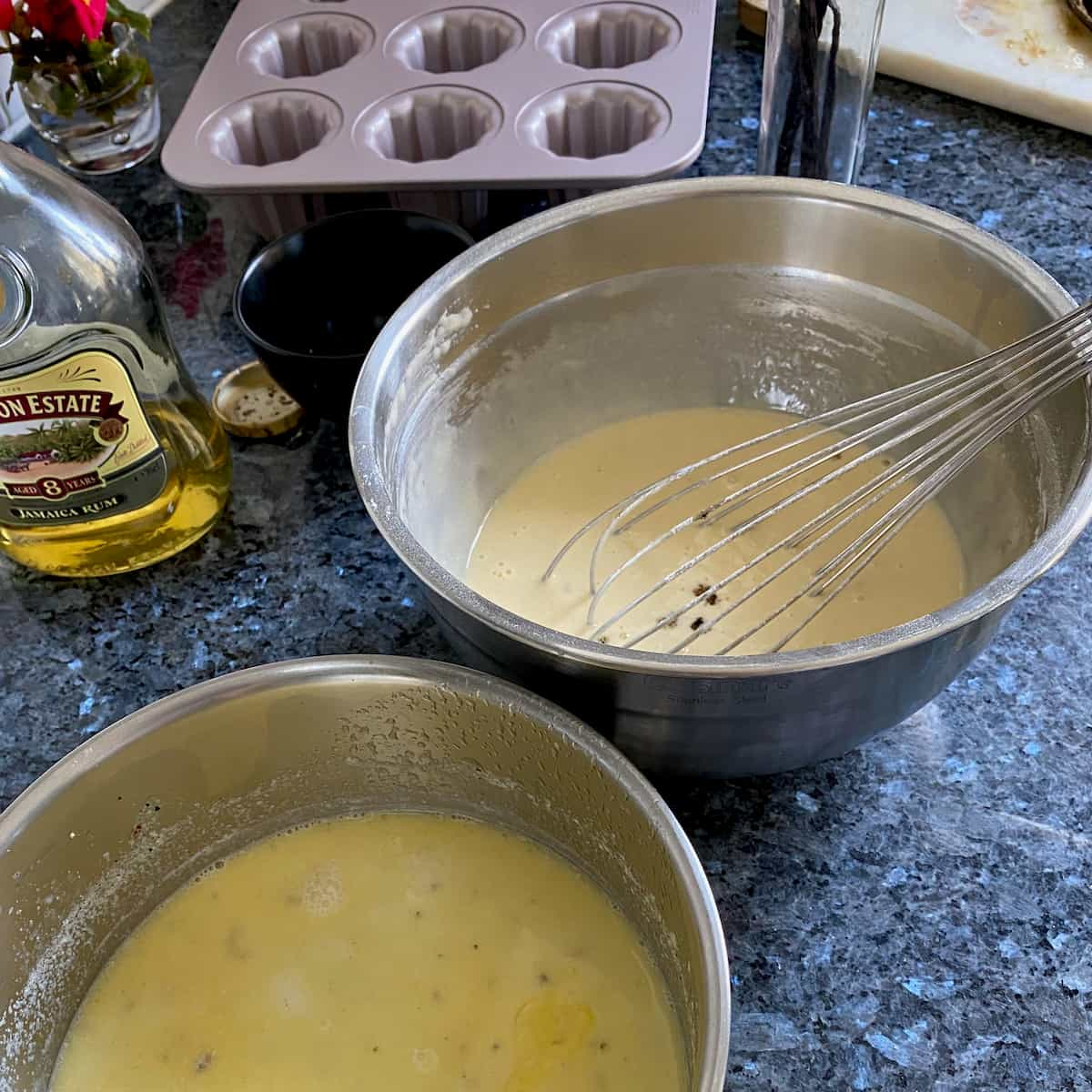 How to Make Them
As you can see from the recipe below, it's very straightforward.
The cakes' batter is best made the day before. Vanilla pods/beans (or powder) are heated and infused in whole milk then butter is melted in.
Meanwhile, in another bowl, eggs and yolks are whisked together with the flour.
To avoid any lumps (like the method for crêpes), the buttery vanilla milk is gradually added to the flour and egg mix. Once whisked until smooth, it's covered and left in the fridge overnight.
Next day, it's just a matter of whisking the batter all together again (there's a film that forms which is normal) and pour into the moulds.  Bake for about an hour, depending on the size of your tins.
Cannelés Moulds
The traditional French way to make cannelés is with copper moulds. French pastry chefs stipulate greasing them with beeswax although it's easier to spray them with culinary non-stick oil. Alas, authentic copper moulds are very expensive and so I adapted the recipe to bake them in silicone cannelé moulds.
Silicone moulds are perhaps not quite as "pro" as the classic copper, but they are easier to find, easier to wash, and they are more budget friendly. What's more the final product tastes just as good! Just ensure that you bake them long enough. If they come out too golden, they are not ready yet. Don't be afraid to take them out of the oven until they look quite dark.
Since my recipe book was published, I am also happy to have found non-stick metallic cannelés moulds, which some of you may have seen on my Instagram and Facebook pages. As they are slightly bigger than the silicone moulds, baking time needs to be increased to about an hour and a quarter.
Some moulds have a deeper hollow (depression) at the top, making the cakes a bit lighter at the concave centre which is perfectly normal. Other moulds are straighter at the top, making a more even and darker cake throughout.  How you like your cake (extra dark to slightly less dark) is a question of personal preference.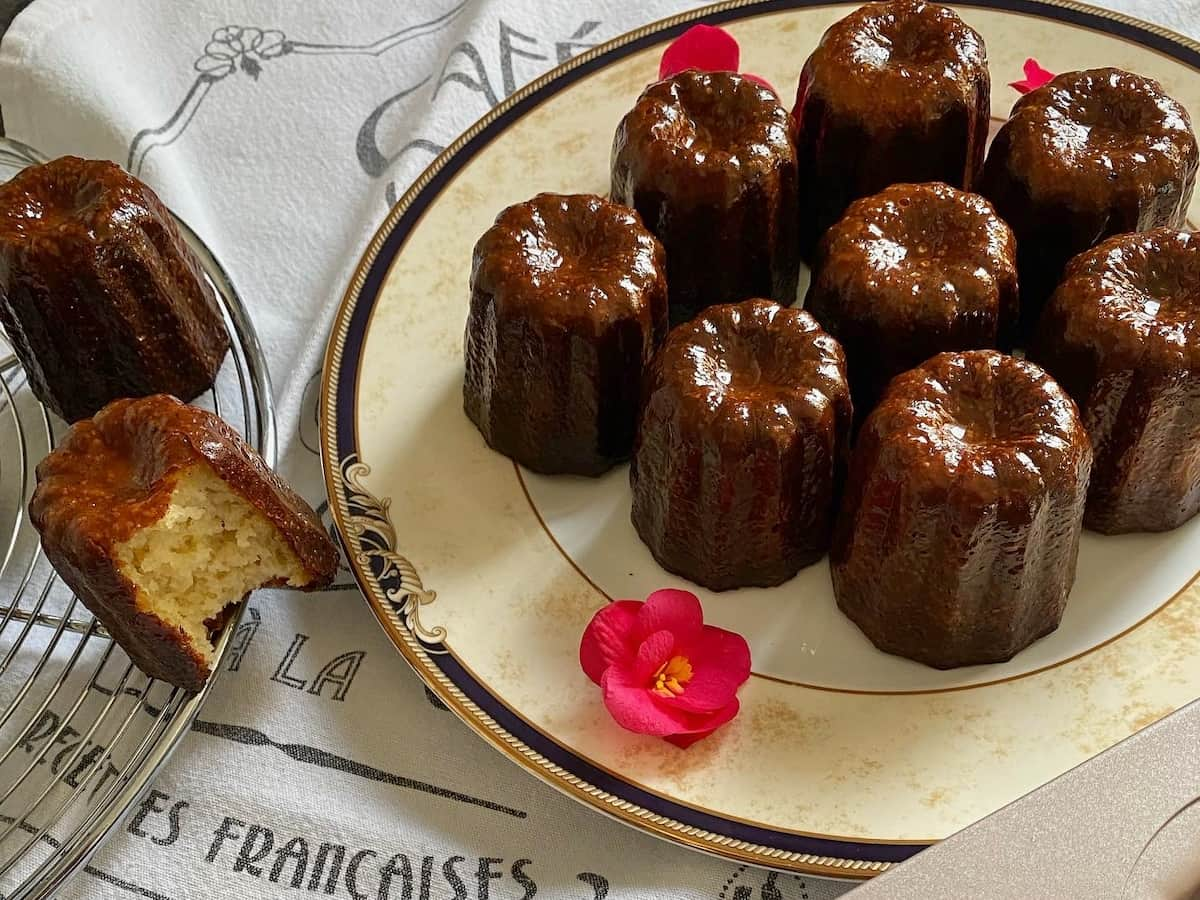 How do you Eat Cannelés?
Cannelés are best served at room temperature and enjoyed mainly at teatime with tea, coffee or hot chocolate. For tea amateurs, in my book I suggest serving with either a Ceylon or Keemun tea to accompany the caramelised flavours of the vanilla and rum.
They also make a great teatime treat during the festive season. Sometimes we even like them for breakfast or at brunch. Although there's rum in them, the oven temperature is so hot that the alcohol disappears but leaves a beautiful flavour.
Cannelés de Bordeaux make ideal festive food gifts.
Speaking of gifts, don't forget to grab a copy of my book, Teatime in Paris: A Walk Through Easy French Pâtisserie Recipes published by Waverley Books.
Cannelés de Bordeaux
Authentic recipe for Cannelés de Bordeaux - or Canelés. Dark, crispy and caramelised cakes on the outside with a soft vanilla and rum firm custard inside.
Ingredients
2

vanilla pods/beans

500

ml (18 fl oz/2 cups)

whole milk

120

g (5½oz/1 cup)

plain flour (all-purpose)

200

g (7oz/1 cup)

sugar

2

eggs

organic

2

egg yolks

organic

50

g (2oz/ 3 tbsp)

butter

unsalted

3

tablespoon

dark rum
Instructions
The Day Before (or 8 hours before baking)
Split the vanilla beans/pods lengthways down the middle using a sharp knife and scrape out the seeds. Add the seeds and pod to the milk in a saucepan and, as soon as it comes to the boil, take off the heat, cover and leave the vanilla to infuse for at least 20 minutes.

Sift and mix together the flour and sugar. Add the eggs and yolks all in one go and hand-whisk briskly until there are no lumps but a smooth, thick paste.

Remove the vanilla pod from the milk and gently reheat (but don't boil).

Cut up the butter roughly and melt into the hot vanilla milk.

Gradually whisk the hot milk into the egg mix, so there are no lumps. The batter will be smooth and runny, almost like a batter for crêpes.

Add the rum then leave the fragrant mix to rest covered in the fridge for 8-12 hours or overnight.
Next Day
When ready to bake, preheat the oven to 180°C fan/200°C/400°F/Gas 6.

Hand-whisk the chilled batter well for a minute and, using a pouring jug, fill the moulds nearly to the top.

Place on a rimmed baking sheet and bake for about 50 minutes to an hour (or more depending on size of moulds) depending on whether you like them dark gold or dark - almost black. Don't be afraid to see them going pretty brown at the top after 40 minutes; leave them in for another 10-15 minutes, as you'll discover that they'll still be spongy yet firm and light on the inside.

Turn the canelés out of the moulds straight away and leave to cool on a wire rack.
Notes
Resting Time: The batter requires a resting time of 8 hours or overnight. To Serve: cannelés are served at room temperature and enjoyed mainly at teatime with tea, coffee or hot chocolate. In my book, I suggest serving with either a Ceylon or Keemun tea to accompany the caramelised flavours of the vanilla and rum. With thanks to my publisher, Waverley Books for kind permission to publish my recipe from my 2nd book, Teatime in Paris: A Walk Through Easy French Pâtisserie Recipes (© Jill Colonna, 2015). Calories: 288 calories based on 2 cannelés per person.
Looking for recipes with the leftover 2 egg whites? Make any of the following: