Have a couple of leftover egg whites? These French Tuile cookies (pronounced 'tweel') are made in just 30 minutes. Deliciously crispy on their own or with chocolate mousse, ice creams and sorbets.
What's more, the recipe for tuiles doesn't need baking moulds. Normally made with almonds, these are also good with sesame seeds.
Tuiles - What are They Made of?
I'm calling them tuile cookies, as that's what many people call them in the USA, but in France we simply call them Tuiles. Traditionally, tuiles are made of egg whites, butter, sugar, flower and almonds.
Almond Tuiles
I experimented using the basic Almond Tuiles recipe in my book, Teatime in Paris. Moreover, this recipe is also delicious using sesame seeds! The bonus? They can keep even longer in a biscuit tin - if you can resist the temptation.
What is a Tuile in Cooking Terms?
A Tuile, literally translated from French, means a roof tile because of their curved shape just like a tile. They are curved into their classic shape straight out of the oven - forming as they cool over a bottle, jam jar, sieve, or between the grooves of a cooling rack.
Incidentally, did you know that the Tuileries Gardens in Paris are so named as the gardens were designed where a tile factory was previously?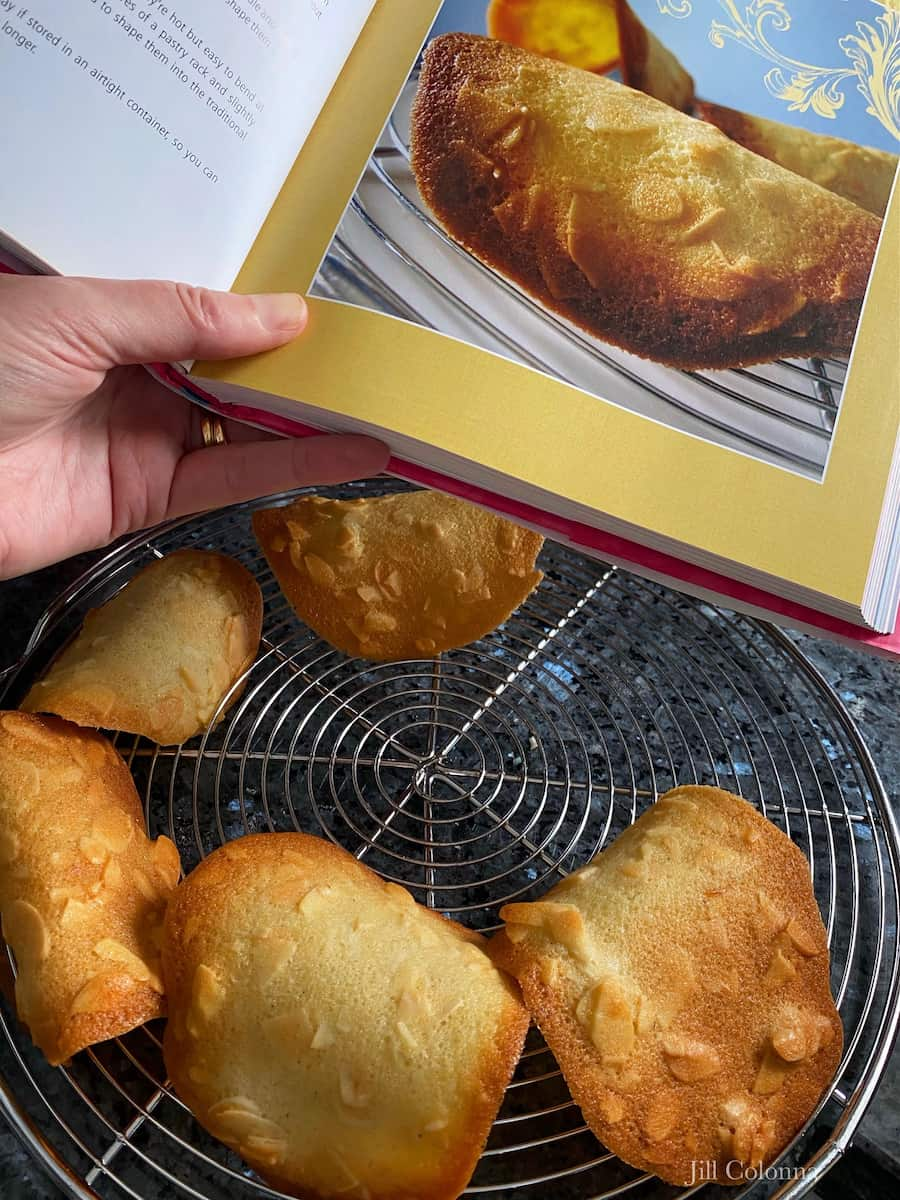 Sesame Seeds - Healthy & High in Calcium
Why Sesame Tuiles? Well, for the last 4 months, I've had trouble balancing calcium levels following the removal of my thyroid - and especially parathyroid glands. Even if you don't have thyroid issues, we need calcium in our diet for healthy bones.
Sesame seeds are naturally high in calcium, so I've been sprinkling them on more or less everything: on breakfast oat granola, on my favourite goat's cheese salade de chevre chaud, soups like corn chowder and grilled Béarnaise chicken. It has worked! What's more, sesame seeds are also a naturally high source of iron.
So I replaced the almonds with sesame seeds in my favourite, easy-and-fast-to-make Tuiles. They're not as sweet as the classic French almond tuiles.
Recipe for Using up 2 Egg Whites
Whether you need more calcium or not in your diet, I urge you to try them: you'll discover that Crispy Sesame Tuiles are also rather compulsive eating. What's more - you need only two egg whites!
You may also like to vary the pleasure and add a touch of orange, lemon or lime zest to the batter.
What is the Purpose of a Tuile?
These tuile cookies are meant to be eaten on their own with a cup of tea or coffee for teatime. However, they are also delicious served with many desserts - their purpose to scoop up ice creams and mousses.
Here are some ideas to serve with some of our favourite desserts:
In the recipe I have used white sesame seeds but try black sesame too. What about serving sesame tuiles with this Black Sesame ice cream, inspired by our gourmet visit to Japan.
How do you Make French Tuiles?
Here's how to make French tuile cookies - the recipe is so simple, as you can see in the below video.
First weigh out the egg whites, melt the butter and mix all the ingredients together.
Chill in the fridge for 10 minutes to thicken the batter slightly, making it easy to spoon and spread out with the back of the spoon.
Ensure each are well spaced apart, as they will spread out during baking.
Bake for about 10 minutes or until they're golden with brown around the edges.
As soon as they're out of the oven, loosen with a knife and immediately shape them either on a rounded bowl, bottle, jam jar, rolling pin or sieve.
Alternatively hook either end of each tuile into the grooves of a cooling rack. As you can see, there's no need for any special moulds - just find whatever is easiest to use in your kitchen.
How Long Can Tuile Cookies Keep?
They can keep for up to 2-3 days if sealed in an airtight container or wrapped in aluminium foil. Otherwise best eaten on the day of baking.
How to Make French Tuile Cookies on Video
Tuile Cookies
A variation of French Tuiles (literally translated as 'roof tiles' by their curved shape) using sesame seeds instead of almonds - and high in calcium. Recipe adapted from French almond Tuiles from my book, Teatime in Paris.
Ingredients
70

g (2.5oz)

Egg whites

from approx. 2 eggs

65

g (2.25oz)

sugar

(or superfine/caster sugar)

65

g (2.25oz)

butter

melted

35

g (1.25oz)

plain flour

(all-purpose)

65

g (2.25oz)

sesame seeds

pinch

salt

(fleur de sel)
Instructions
Preheat the oven to 190°C/170°C fan/375°F/gas 5.

Place all the ingredients in a bowl and stir together with a spoon until well combined.

Leave to chill in the fridge for 10 minutes - this will make your batter easy to spread out thinly on the baking sheet.

Line 2 baking sheets with baking paper or a silicone mat and spoon the mixture into oval discs - using the back of a spoon - to about 6cm (2.5") in diameter. Space them apart, as they will spread out during baking.

Bake in separate batches* (one tray at a time) for about 10 minutes - keep your eye on them as of 8 minutes, as they cook fast. They should be toasted around the edges and cooked but golden in the middle.

Straight from the oven, transfer each flat tuile (using a palet knife or pie slice) to a rolling pin (jam jar, sieve, bottle) to shape them to their tuile (roof-tile) shape. They cool and shape quickly. Otherwise slightly fold the ends into a wire rack to cool and shape.
This recipe was first published 12 August 2019 but is now completely updated with new images and includes a video.
Have you made this recipe either here or from my book?
Please leave a rated review below. It means the world. Thank you.
Love French cookies? Then make Palets Bretons, the salted butter cookies from Brittany with the leftover egg yolks!