Easy recipe for French Tuiles, classic crispy thin cookies made in just 30 minutes. Delicious on their own, as petits-fours after dinner, or to accompany elegant desserts such as chocolate mousse, ice creams and sorbets.
Tuiles don't require any special baking moulds. Traditionally made with almonds, try them with sesame seeds - they're just as good!
Why are they Called Tuiles?
A Tuile, literally translated from French, means a roof tile because of their curved shape just like a tile. They are curved into their classic shape hot, straight out of the oven and their curve forms quickly as they cool over a rolling pin, bottle, jam jar, sieve, or between the grooves of a pastry rack.
I'm calling them tuile cookies, as that's what many people call them in the USA. In France we simply call them Tuiles (pronounced 'tweal').
History of Tuiles
Did you know that the oldest jardins in Paris, the Tuileries Gardens were so named, Tuile-ries, as the gardens were originally built in 1564 on a previous Parisian tile factory? Read more in my Tuileries Gardens article.
Apart from the origin of their curved tile shape like those on the roofs of the traditional houses in the Ardèche, l'Avéyron and Provence in France, I honestly have tried to find out their history in all my French culinary sources but have found nothing reliable.
What is a Tuile Made Of?
Classic French tuiles are made of egg whites, butter, sugar, almond flakes and a little flour.
Sometimes other variants can be added such as vanilla, orange, lemon or lime zest or cocoa to the batter. After trying them 'plain', I'm sure you'll agree they don't need anything else.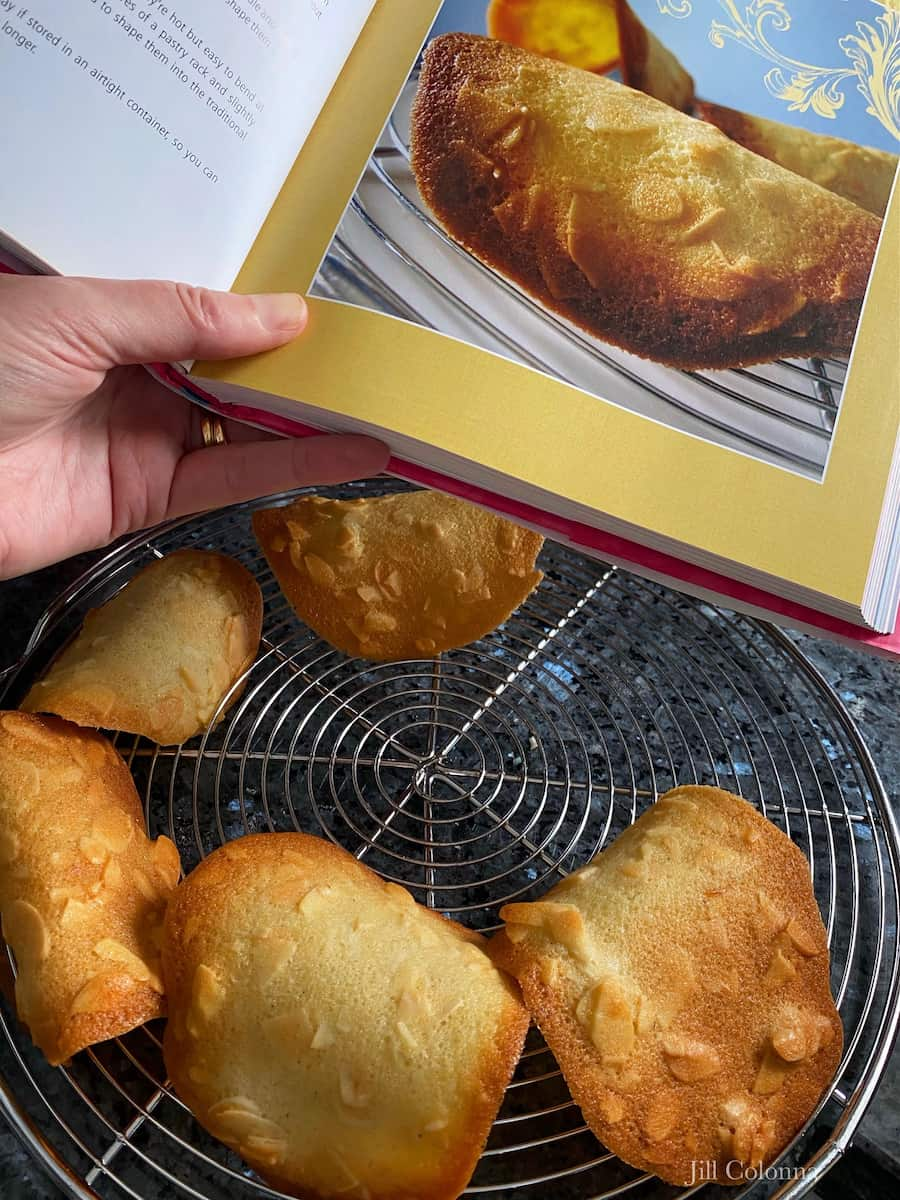 Recipe for 2 Egg Whites - and Using up the Yolks
As this recipe uses 2 egg whites, save the yolks for another recipe - see recipes with 2 egg yolks.
Alternatively, make the yolk recipe first and freeze the whites to make more egg white recipes. Just defrost thoroughly before making the tuiles.
Easy Tuiles Recipe
Making French tuiles is both quick and easy.
I experimented using the basic Almond Tuiles recipe in my cookbook, Teatime in Paris using sesame seeds! The result is just as good and the bonus? They can keep even longer in a biscuit tin - if you can resist the temptation.
First weigh out the egg whites from 2 organic eggs. Melt the butter and mix all the ingredients together.
Chill in the fridge for 10 minutes to thicken the batter slightly, making it easy to spoon and spread out with the back of the spoon.
Ensure each are well spaced apart, as they will spread out during baking.
Bake for about 10 minutes or until they're golden with brown around the edges.
As soon as they're out of the oven, loosen with a knife and, while still hot, immediately shape them either on a rounded bowl, bottle, jam jar, rolling pin or sieve.
What Happens if they Cool Too Quickly?
They cool quickly so work fast and handle with care. If you shape them when cool, they will break so if this happens, either leave them flat or return to the oven for another couple of minutes.
Alternatively hook either end of each tuile into the grooves of a cooling rack.
As you can see, there's no need for any fancy moulds - just find whatever is easiest to use in your kitchen.
Alternatively, they do taste just as good flat, cooled straight from the baking tray!
How To Keep Tuiles Crispy
The longer you keep tuiles, the less crispy they keep, especially almond tuiles. Sesame tuiles do last a little longer. They can be stored for up to 2 days if sealed in an airtight container (even better with a silicone gel sachet) or wrapped in aluminium foil.
However, it's best to eat them on the day as they stay crispy. If you don't plan to eat the whole batch, make them in smaller quantities. Keep the batter covered in the fridge for 2-3 days and you have a quick teatime treat or dessert accompaniment in a jiffy!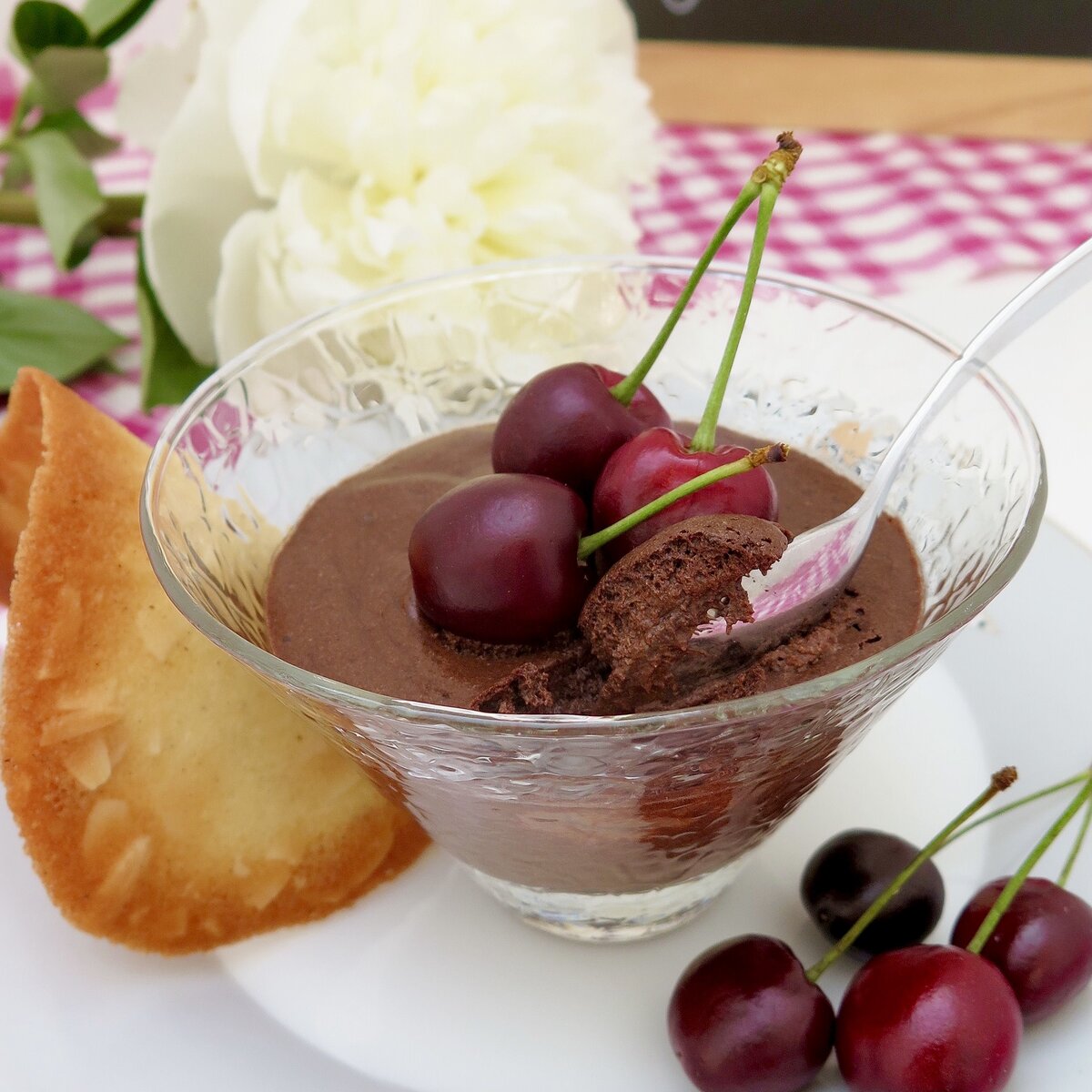 How to Serve Tuiles Cookies
These versatile tuile cookies are enjoyed on their own with a cup of tea or coffee for French 'goûter' (teatime) or as extra small petits-fours (mini biscuits/cakes like financiers) served with infusions or coffee at the end of dinner.
They are extra delicious served to accompany many desserts, as their curved shape is ideal to scoop up mousses and ice creams. Some ideas to serve:
Love classic French cookies? Then make Palets Bretons, the salted butter cookies from Brittany with the leftover 2 egg yolks.
Tuiles
Easy recipe for French Tuiles, thin and crispy cookies made with flaked almonds or sesame seeds. No moulds needed - just shape while hot on a rolling pin or a bottle and they curve instantly as they cool. Enjoy as a petit-four on their own or to accompany desserts such as ice cream, sorbets and chocolate mousse.
Recipe extract from the Tuiles in my cookbook, Teatime in Paris.
Ingredients
70

g (2½oz)

egg whites

from approx. 2 eggs

70

g (2½oz/ ⅓ cup)

sugar

(or superfine/caster sugar)

70

g (2½oz/ ⅓ cup)

butter

melted

35

g (1¼oz/ ¼ cup)

plain flour

(all-purpose)

70

g (2.5oz/ ¾ cup)

sesame seeds

or flaked almonds

pinch

salt

(fleur de sel)
Instructions
Preheat the oven to 190°C/170°C fan/375°F/gas 5.

Place all the ingredients in a bowl and stir together with a spoon until well combined.

Leave to chill in the fridge for 10 minutes - this will make your batter easy to spread out thinly on the baking sheet.

Line 2 baking sheets with baking paper or a silicone mat and spoon the mixture into oval discs - using the back of a spoon - to about 6cm (2.5") in diameter. Space them apart, as they will spread out during baking.

Bake in separate batches* (one tray at a time) for about 10 minutes - keep your eye on them as of 8 minutes, as they cook fast. They should be toasted around the edges and cooked but golden in the middle.

Straight from the oven, transfer each flat tuile (using a palet knife or pie slice) to a rolling pin (jam jar, sieve, bottle) to shape them to their tuile (roof-tile) shape. They cool and shape quickly. Otherwise slightly fold the ends into a wire rack to cool and shape.
Notes
Serve on the day of baking either on their own with tea, as petits-fours after dinner or with desserts such as chocolate mousse, ice creams and sorbets.
Storage: tuiles are best crispy when freshly made. Otherwise eat within 2 days if stored in an airtight container or in aluminium foil.
* If not using all the batter, keep covered in the fridge for 2-3 days.
Although traditionally shaped into a curved tile, leave to cool on the baking sheet and they're just as good eaten flat!
Measures: Please note that all my recipes are best made using digital kitchen scales in precise metric grams. Both ounces (and cups) are given as an approximate guide.
This recipe adaptation with sesame was posted 12 August 2019, taken from my cookbook, Teatime in Paris (May 2015) but is now completely updated with new images, a video and measures in cups.