A light yet intense bittersweet dark chocolate mousse, a French classic recipe with egg whites, no cream and happens to be gluten free. Serve on its own or with Palets Bretons (French salted butter biscuits) with the remaining egg yolks.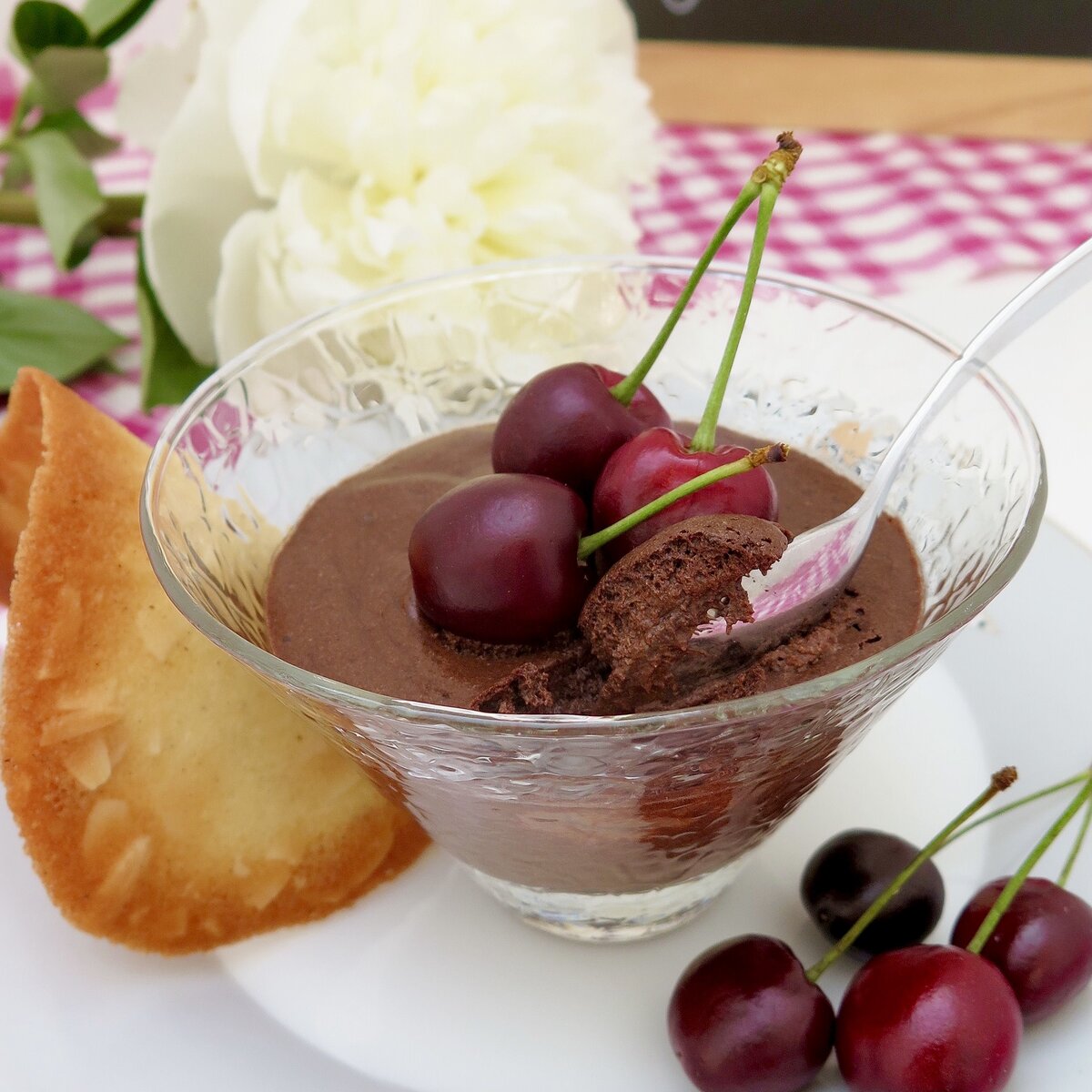 How to Make Chocolate Mousse from Scratch
Trust the French to transform just four simple yet good quality ingredients into a most elegant dessert. This recipe essentially consists of 70% dark chocolate with whipped, organic egg whites making it extremely light. It's a fluffy yet still an intense, dark French chocolate mousse without cream!
It's not unlike this egg white-based light-as-a-feather white chocolate mousse with orange blossom.
Meanwhile, how do you make chocolate mousse from scratch? Here's how in the step-by-step recipe below – and it's a healthy dessert too, full of feel-good endorphins. Tried the recipe? Please do leave your review below – your feedback is much appreciated.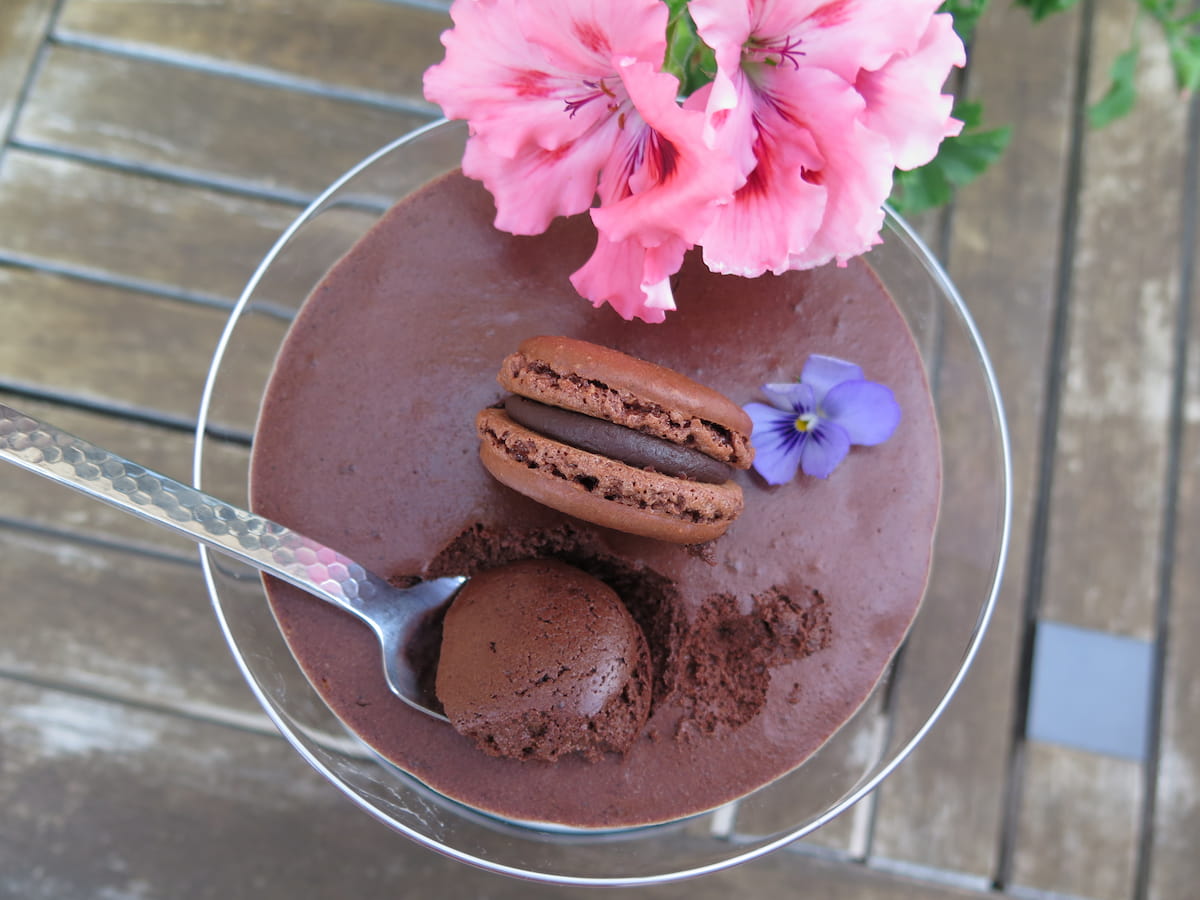 What Chocolate is Best for Chocolate Mousse?
In this chocolate mousse recipe, I use 70% bittersweet (dark) couverture chocolate. The better quality the chocolate, the better this mousse will be. One of my best-loved cooking chocolate is Nestlé's Corsé tablets with 64% cocoa or Lindt's intense dark cooking chocolate.
If you fancy something even more intense in chocolate, then I like to use Cacao Barry's 72% Venezuelan chocolate: it has complicated flavours of wine, black olives and woodiness that comes from using two cacao beans, Criollo (the most sought after) and Trinitario. Alas, I'm not sponsored in mentioning them, but just sharing what I normally use for this recipe.
What Can Go Wrong With Chocolate Mousse?
The recipe is easy, using a few best quality ingredients: good bittersweet (couverture) chocolate – I use 70% cacao; a spoonful of unsweetened cocoa powder, a little sugar, fresh & ORGANIC egg whites and only one egg yolk.
However, what can possibly go wrong when making chocolate mousse?
It doesn't matter for the egg whites, but if the yolk is cold and added to the chocolate it will seize the chocolate up while added.  If this does happen, then just add a spoon of boiling water to fix it.
So, my recipe tip?
Ensure your egg yolk is at room temperature.
Moreover, to make it EVEN EASIER, add the egg yolk to the whites at the END of whipping.
Seizing of Chocolate Problem completely solved!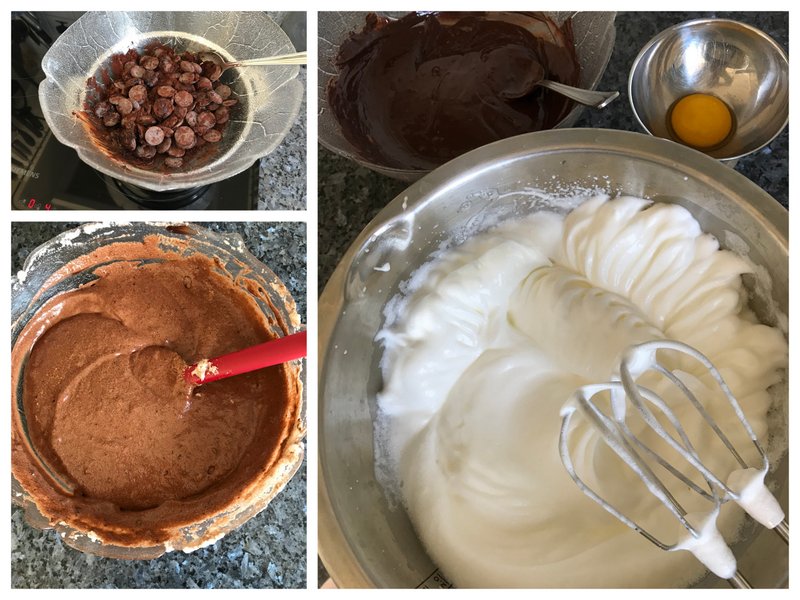 Classic French Chocolate Mousse Recipe
As you can see from the recipe card below, the recipe is so easy: it's basically melting (good quality) dark chocolate and unsweetened chocolate powder together over a pan of simmering water, then folding in whipped egg whites with a little sugar and an egg yolk as if as  an afterthought. Although slightly tweaked with more dark chocolate, less cocoa powder and the addition of salt, this is my favourite recipe originally inspired by chef Raymond Blanc. I also added the yolk in the egg whites rather than adding it to the chocolate.
Egg Yolk Recipes to Store Whites for Making Chocolate Mousse
Speaking of Blanc, this recipe uses SIX fresh egg whites. Only ONE egg yolk is used, so I'd suggest making any of the recipes from the egg yolk recipe database in advance.
That way you can put aside 5 egg whites (I normally store them in a clean jam jar in the fridge for up to 5 days) to make this mousse – and indeed, homemade macarons and financiers!
French Classic Chocolate Mousse Without Cream!
A classic French chocolate mousse like this recipe has no cream. The egg whites make this light and fluffy to appreciate the good quality of the chocolate.
According to my Larousse Gastronomique, a French Mousse is literally a foam and can be savoury as well as sweet.  It's created by whipping up many egg whites to achieve this and cream is normally not used – although many recipes add a touch of cream to lighten it up.  Personally I prefer it without the cream; that way the chocolate shines through completely.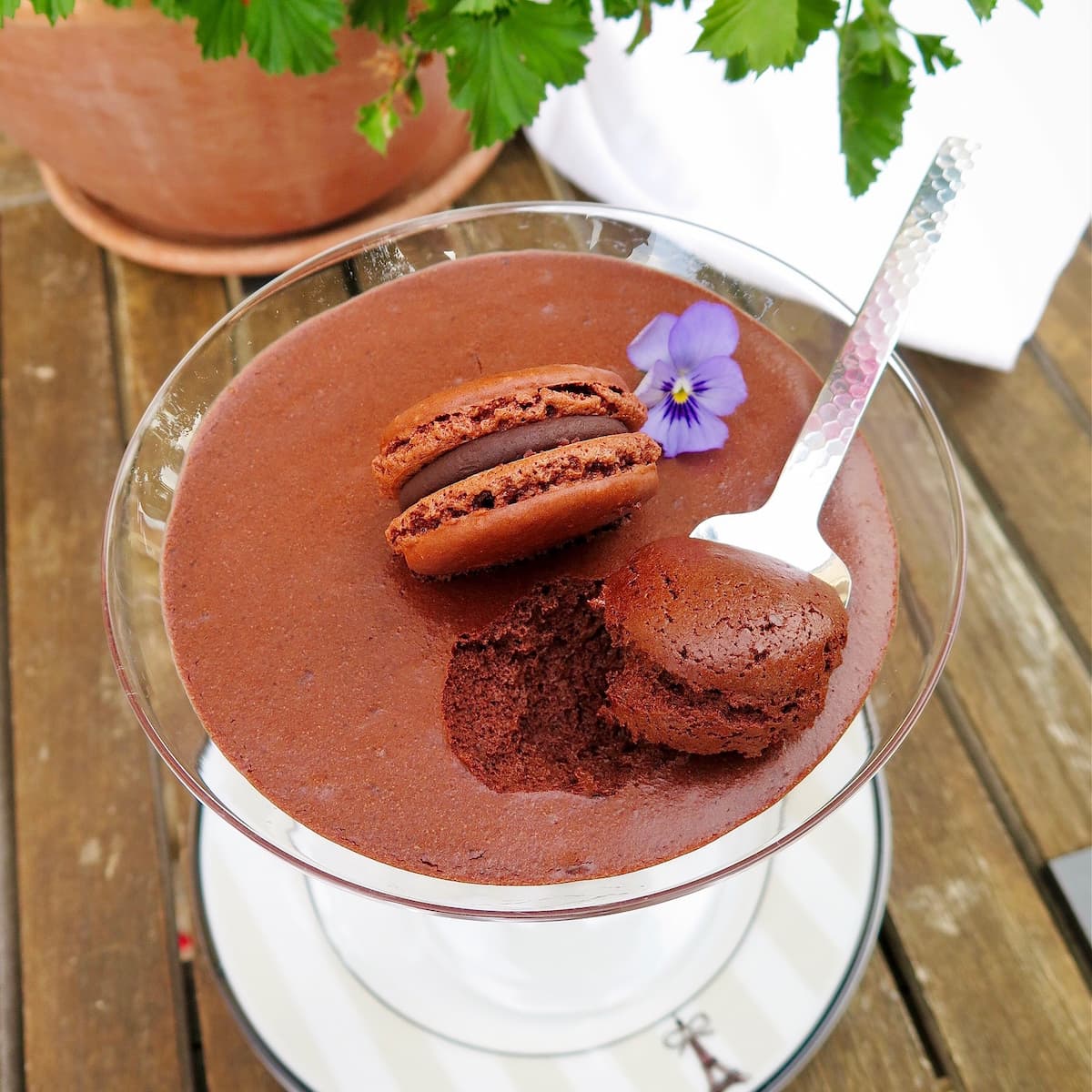 Low Sugar Chocolate Mousse
Little sugar is used in this healthy chocolate mousse.  Too much sugar not only makes the mousse become grainy but it also interferes with the flavour of the intense chocolate. Too much sugar masks the chocolate, so chocolate mousse with low sugar is the answer.
What's the point of having good quality ingredients if you mask it with too much sugar? I agree with many French pastry chefs that shout this motto out from the Parisian rooftops here!
How Long Does Chocolate Mousse Take to Set in the Fridge?
This light and fluffy French chocolate mousse only takes about 2 hours to set in the fridge.  What's more, if you have any leftovers, it can keep in the fridge for 2-3 days.
More Chocolate – in Montmartre Paris
While we're on the subject of chocolate, stay tuned for the most incredible Parisian chocolate shop personality just 5 minutes' walk from Le Moulin Rouge in Montmartre, à l'Etoile d'Or with Denise Acabo. Moreover, I have a chocolate shop self-guided tour around Montmartre too!
Ideas for Chocolate Mousse Garnishes
Serve with macarons, edible flowers or simply top with a dusting of unsweetened cocoa powder.  I love to top it with fresh cherries in summer or in winter with boozy cherries, clementines or candied chestnuts.
More Chocolate Recipes
Like this mousse? Then for an exotic version also made without cream, make this fluffy chocolate mousse with passion fruit, topped with soft, nutty caramel.
Please do browse this full list of chocolate recipes on le blog, including more gluten free desserts.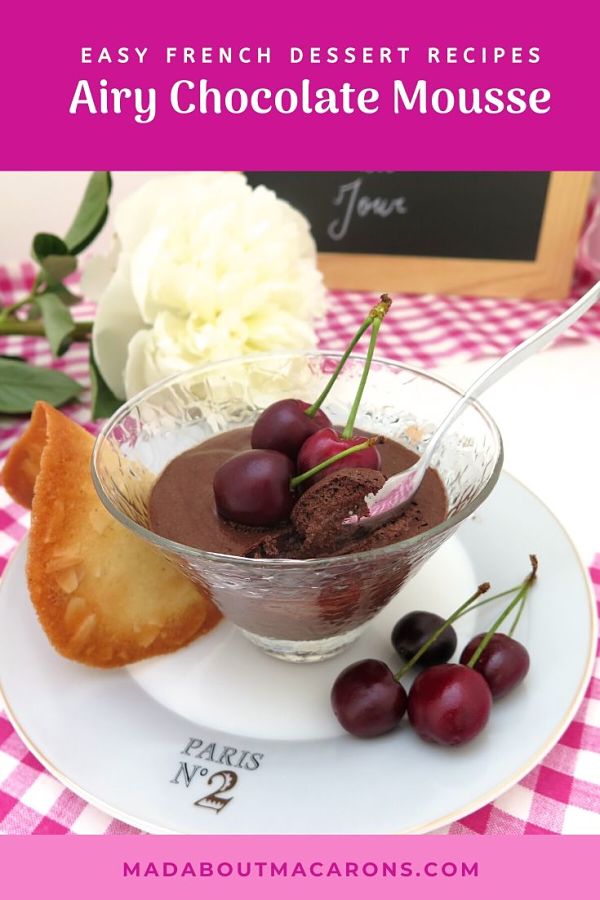 French Dark Chocolate Mousse Recipe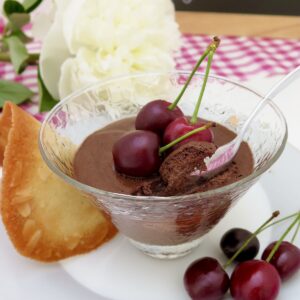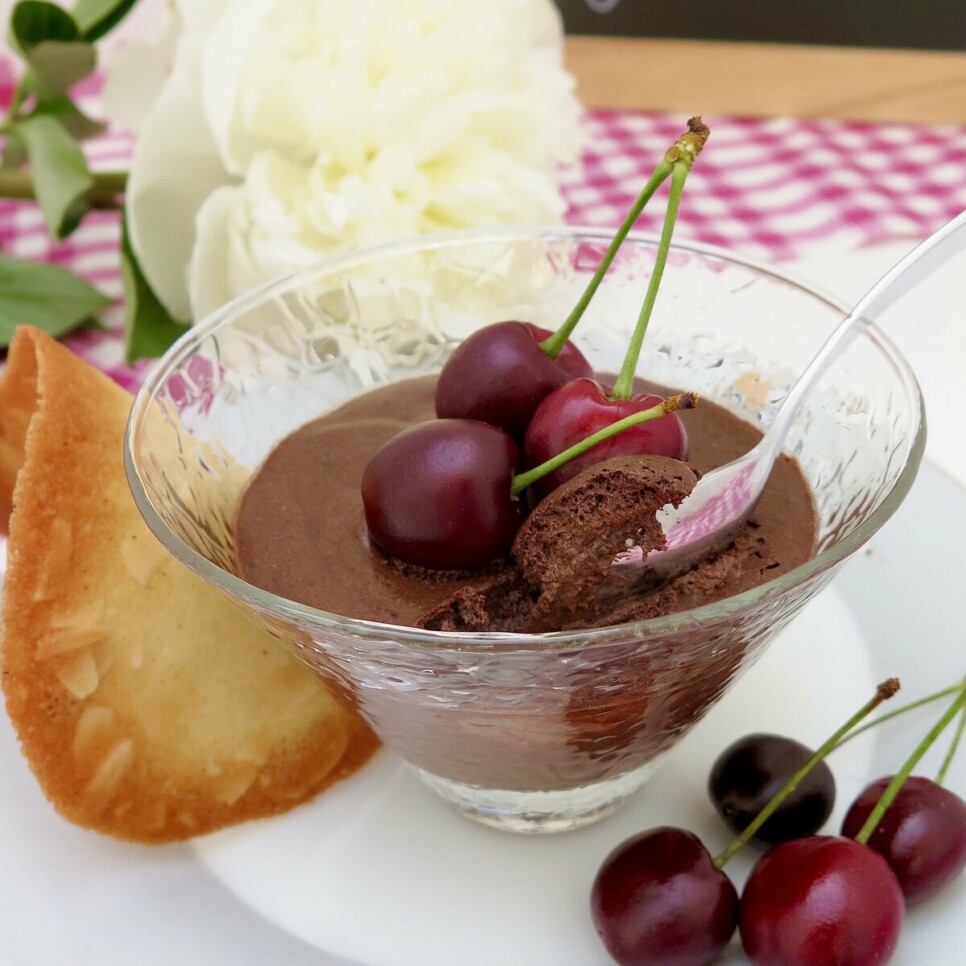 French Dark Chocolate Mousse
---
Description
A French classic dessert without cream: a fluffy, intensely bittersweet dark chocolate mousse for serious chocolate lovers who love their chocolate rich and airy.
Ingredients
170

g (6oz)

70% dark (bittersweet) cooking chocolate

(a cup)

10

g (2 tsp)

unsweetened cocoa powder

(I use Van Houten)

170

g (6oz)

organic egg whites

(from 5 large fresh eggs)

30

g (1oz)

sugar

1

organic egg, separated

(at room temperature)

pinch

salt

fleur de sel*
Instructions
Melt the chocolate and cocoa powder together in a bowl over a pan of simmering water (Bain-marie), taking care not to overcook the chocolate (don't have the water at a rolling boil, just simmering gently). As soon as the chocolate begins to melt, switch off the heat and stir until completely smooth, then take the bowl off the heat.

Separate the extra egg, keeping the yolk aside for later (it's important the yolk is at room temperature).

In a clean bowl, whisk the egg whites (using a stand mixer or electric beaters) with the sugar until soft and strong peaks form. Add the extra egg white and continue to whisk.

When the whites are strong and hold well, continue to whisk in the egg yolk and add the fleur de sel.

Gradually add the whipped egg whites to the chocolate using a strong yet flexible spatula, folding each carefully until well blended together. Repeat folding gently until the consistency is completely mixed together, light and airy.

Either transfer the bowl to the fridge or pour/spoon into serving glasses and place in the fridge to set for at least 2 hours until ready to serve.

Serve chilled and top with fresh fruit, shaved chocolate or a sprig of mint.
Notes
Serve chilled with chocolate macarons (see the recipes in both my books), crispy almond tuiles, or garnish with a sprig of mint, edible flowers, boozy cherries or clementines. If you really want the cream, add a dollop of freshly whipped Chantilly cream.
* Variations: Omit the salt and add a teaspoon of soluble coffee granules for a mocha treat - or add the zest of an orange or lime for a citrus take on the recipe. Add a tablespoon of Cognac or Grand Marnier liqueur for a special occasion (adults only). 
Note: see list of egg yolk recipes for the leftover egg whites needed for this recipe.
See recipe on video.
A version of this recipe was originally posted on 8 October 2018 but is now updated to better explain the recipe process along with a video.