Chocolate Fondant cake, an easy French classic dessert with an added kick of candied ginger. Usually served with a thin custard, we love to add more spice intrigue with a Chai crème anglaise sauce. What's more, it's a perfect make-ahead recipe for entertaining.
What's more, it tastes even better next day! So, even although it's quick to make, prepare this fondant a day before serving and you're already prepared for tomorrow's dessert.
French Chocolate Fondant Cake
There's nothing really mind-boggling new really. Based on a classic French flourless chocolate cake, a speciality of the Aquitaine region, the ratio is normally the equivalent amount (200g) of good quality dark (bittersweet) chocolate, butter and sugar with 4-5 eggs.
Over the years, however, I've lowered the sugar to appreciate the chocolate better - and, ever since I discovered Trish Deseine's idea of adding just a tablespoon of flour "as an afterthought" (from her wonderful book, Nobody Does it Better), I've used this version and cut down the sugar. If you prefer to keep this cake gluten free, then omit the flour (or replace with almond flour).
This is my family's favourite version with lowered sugar and added candied ginger - as we adore chocolate ginger macarons!
How to Use Candied (Glacé) Ginger
Have I told you before about the fantastic candied (glacé) ginger we can get in France? The best hails from the market town of Apt in the Luberon (Provence), where it's the world Capital of Candied Fruits. Apt Union is the address if you're heading in that direction. Buy by the kilo, as it's great value for money (incidentally, I see they only deliver in France). If you can't find it, no worries - use stem ginger in syrup. It tends to be a lot hotter, so thinly slice it and add only as much as you dare! (update: I see you can buy candied ginger from Trader Joe's, Amazon and Walmart in the USA)
Add candied ginger to chocolate macarons (as I do in the recipe in Mad About Macarons) and it's the best surprise ever to bite into the middle of a fudgy, fondant macaron.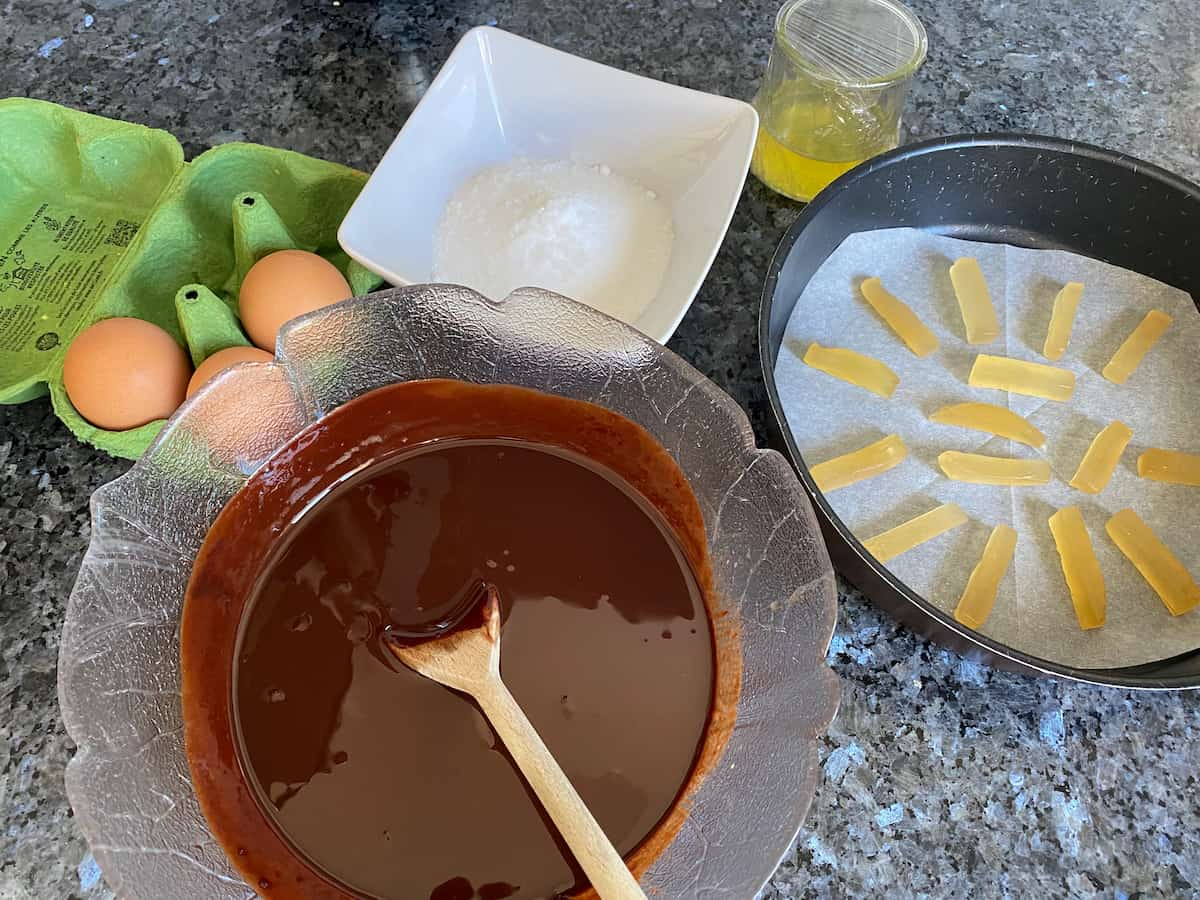 Add That Extra Touch to Chocolate
As with many plain chocolate fondant cakes (including those chocolate coffee individual fondants), I adore melting a teaspoon of coffee granules into the chocolate.  It brings out the earthiness of the chocolate and renders it extra smooth. If you prefer without the coffee, a couple of good pinches of salt (fleur de sel, Maldon or Celtic salt) is just as good, as I use in this recipe.
For spice lovers who want to go the full monty, then add a good pinch of cayenne pepper - you'll see: bittersweet dark chocolate with cayenne is incredible!

How to Serve Chocolate Fondant Cake in France
Either serve on its own slightly warmed or at room temperature with vanilla ice cream (my favourite recipe is in my first book, 'Mad About Macarons') or this non-churn Drambuie ice cream.
However, if you want to serve it Parisian restaurant style, serve with a classic vanilla Crème Anglaise (the French answer to custard but served chilled and runny).
In Autumn, I love adding a touch of spice to the French custard, simply by adding some Chai tea.
This Chai Tea Creme Anglaise is the perfect match with just enough warming spice to complement the chocolate ginger fondant cake.
Chocolate Fondant vs Lava Cake
In France, we're used to seeing chocolate fondant cakes as an evenly fudgy cake.  Normally there is no runny middle. It's normally served in French restaurants as a slice surrounded by some runny vanilla custard, the crème anglaise.
However, lava cakes are very like fondant cakes but the difference is that lava - like the name implies - has a runny centre. In French lava or molten cakes are known as les Moelleux au Chocolat avec son coeur coulant - with runny hearts.
Chocolate Fondant Cake with Ginger
A deliciously fondant dark, bittersweet fudgy chocolate cake with candied ginger for that extra kick - a French classic which can easily be turned into a gluten-free dessert by replacing the spoonful of flour with almond flour or rice flour. Best made in advance and served next day at room temperature.
Ingredients
200

g (7oz)

dark (bittersweet) chocolate

No less than 60% cacao

200

g (7oz)

unsalted butter

cut roughly into cubes

150

g (5.5oz)

sugar

½

teaspoon

salt (fleur de sel)

(or teaspoon coffee granules if making a plain chocolate cake)*

5

organic eggs

(medium)

1

tablespoon

plain (all-purpose) flour

For GLUTEN FREE, replace with almond or rice flour

50

g (2oz)

candied ginger

(or one stem ginger in syrup, sliced)
Instructions
Preheat oven to 180°C/160°C fan/360°F/Gas 4.
Grease a round cake tin (25cm/10 inch) and line with cooking parchment.

Over a pot of simmering water, place the chocolate and butter in a heatproof bowl (bain-marie) and melt the chocolate gently for about 10 minutes.

As soon as the chocolate and butter have melted, take off the heat. Add the sugar and mix together with a spoon, gradually add the eggs and then add the flour, mixing until just combined.

Place the candied ginger at the bottom of the cake tin then pour over the chocolate mixture and bake for 20 minutes.

Remove from the oven (don't worry if it looks uneven, it will flatten out while cooling) and leave to cool for about 20 minutes then turn out of the tin on to a serving plate.
Notes
Nutritional Information per serving:
454 Calories; 6g protein; 35g Carbohydrates; 32g fat.
Serve with the Chai Tea Crème Anglaise or with a dollop of Drambuie ice cream for a special occasion - or simply on its own.
* add a couple of pinches of cayenne pepper for that extra subtle dynamite.