How to make French Moelleux au Chocolat, individual Lava Cakes, using only 5 basic good quality ingredients. Quick and easy to prepare in just 30 minutes for that gooey, molten centre. Close your eyes and imagine you're in a Parisian restaurant for a most wicked chocolate dessert.
Moelleux au Chocolat in English & French
How many times have you seen lava cakes (or chocolate molten cakes in English) on dessert menus?
In Paris, it's one of the most popular desserts in restaurants and at home - referred to as moelleux au chocolat, with its soft and almost runny fondant centre.
The Parisians have it down to a fine art. Call the French romantics but many restaurants entice you with moelleux au chocolat et son coeur fondant or coulant, meaning lava cakes with its melting heart.  Just how can you resist that one? Don't forget to call it by its French name to be romantic on Valentine's Day (See my top Light Valentine desserts)!
Less poetic than chocolate coulant, I've seen them referred to as simply mi-cuit or half-cooked. It's less sexy but at least you know you'll be presented with dark chocolate oozing on the plate like a volcano's lava when you plunge that spoon into the middle!
Is Lava Cake Raw in the Middle?
This is where the art of cooking the cakes are important.  The oven temperature is high and the secret is to ensure your cakes are cooked enough but not overcooked. Overcooking can happen really quickly, so follow the recipe timings  below.
The shorter cooking time but high temperature for each individual lava cake (only 8 minutes) ensures the molten hearts are just cooked but slightly ooze on to the plate as you open it.
French Moelleux au Chocolat - Reduced Sugar Recipe
This lava cake recipe for French Moelleux au Chocolat has evolved over the years from a classic recipe I saw years ago in the French edition of Elle magazine. I've cut down the amount of sugar as much as I dare. That way, the dark bittersweet chocolate shines through.
Seriously, though, why do people add so much unnecessary sugar in dessert recipes? Too much sugar actually masks the gorgeous flavours of the dark, bittersweet chocolate.
Please use only good quality dark chocolate (bittersweet for my American friends) - a minimum of 60% cacao. For example, I use either Valrhona (Manjari 64% or Caraïbe 66%); Barry (Saint Domingue: 70%); or Nestlé Corsé dark cooking chocolate (64%).
It's also a handy recipe to have up your sleeve when guests arrive unexpectedly and you need that wow-factor dessert that's whipped up in no time.  Just prepare before dinner and pop them in the oven just before ready for dessert.
What to Serve with Lava Cakes?
Serve with a dollop of whipped cream, vanilla ice cream, fresh raspberries, mango slices or clementines.
Lava cakes are also delicious served with homemade chestnut and vanilla ice cream, salted caramel sauce or wow your guests with a scoop of soft speculoos (Biscoff) ice cream from my second book, "Teatime in Paris!".
Moelleux au Chocolat or Lava Cake vs Fondant au Chocolat
What's the difference between a French Moelleux au Chocolat, Lava Cake and a chocolate fondant? To be honest, this is a difficult one, as I've seen them all referred to as the same thing by many French chefs and in restaurants! One thing is for sure: they are both intense in chocolate and soft. Fondant cakes are usually made as one big fudgy cake and served by the slice.
While the recipe for Chocolate Fondant is soft and fudgy, it bakes slightly longer (20 minutes) in the oven so that there is no runny centre. So, although the inside is soft, the centre doesn't have a runny chocolate centre as does the Moelleux or Lava cakes.
Lava Cake Moulds
As you can see from the photos, I love using briochette (mini brioche), muffin or demi-sphere moulds for these individual cakes. Ideally use non-stick or silicone moulds so that there's no need to even butter the moulds first. Frankly, there's enough butter in the chocolate cakes.
What are the Ingredients for Lava Cake?
Only five basic ingredients are needed for lava cake: good quality dark chocolate, butter, eggs, sugar and flour. The addition of coffee powder is purely optional, but add this to bring out the intense chocolate flavours. However, if you prefer, use a good pinch of fleur de sel salt instead.
Lava Cake Recipe for 2
Making this as a romantic dinner for two? Then simply half the recipe ingredients (2 eggs etc.) and continue to bake as indicated in the recipe by filling 2-3 individual mould cavities.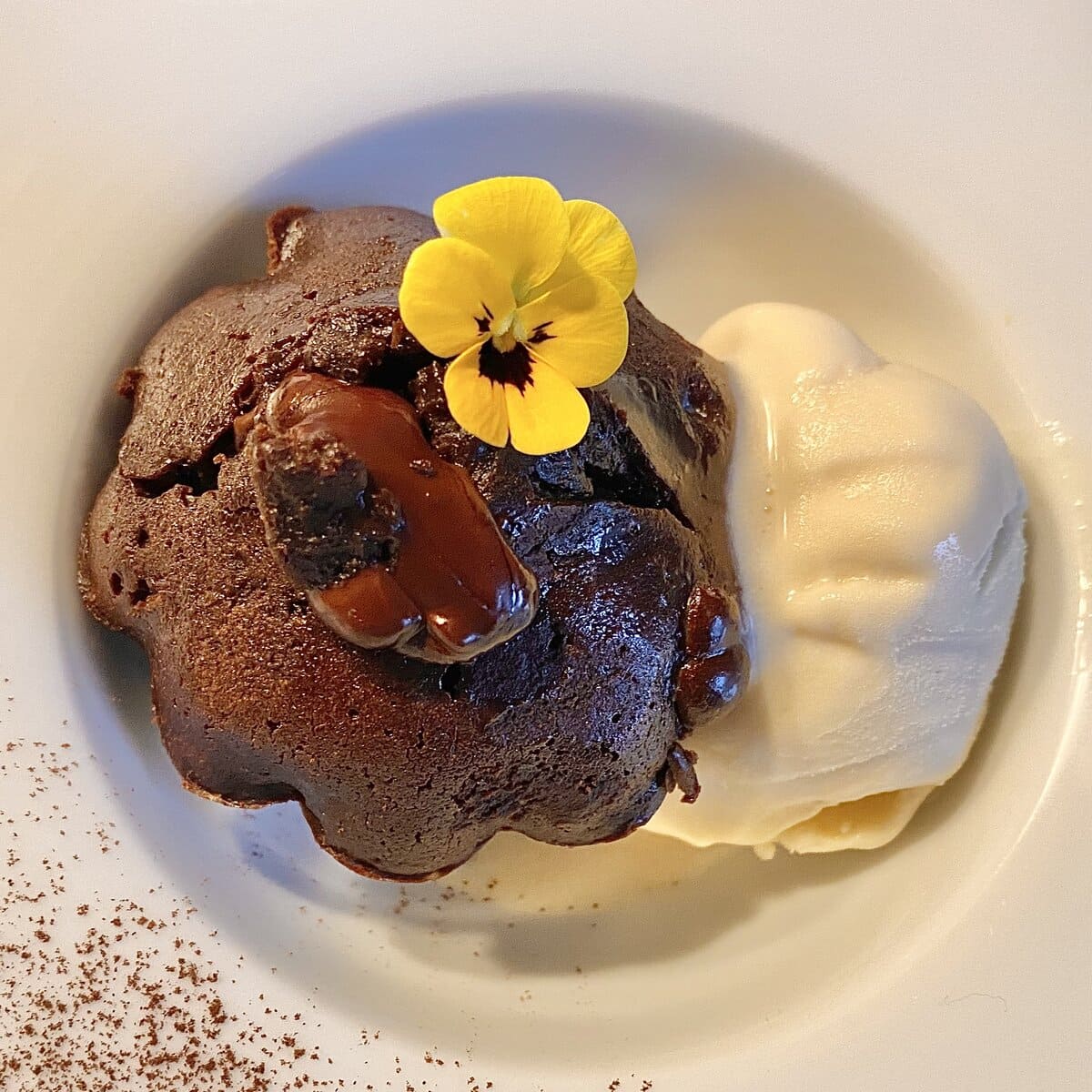 Lava Cakes
Quick recipe for French classic Moelleux au Chocolat - better known as molten lava cakes with 5 basic quality ingredients. Easy to prepare, yet elegant to whip up in 30 mins for family or special occasions.
Ingredients
180

g (6oz)

dark, bittersweet chocolate

(good quality; min. 64% cocoa solids)

70

g (3oz/ ⅓ cup)

butter

unsalted

1

teaspoon

Instant espresso coffee powder

(or good pinch fleur de sel salt)

4

fresh medium eggs

organic

60

g (2.5oz/ ⅓ cup

soft brown sugar

40

g (1.5oz/ ¼ cup)

plain (all-purpose) flour

(or replace with 20g cornflour to make gluten free)
Instructions
Preheat oven to 210°C/190°C fan/410°F

Break the chocolate into a glass bowl and add the butter, chopped roughly into bits. Place the bowl over a pan of simmering water (bain-marie), ensuring that the chocolate doesn't touch the water underneath. Add the coffee powder or salt and stir gently with a spatula. As soon as it melts, take off the heat.

Add the sugar, then gradually break the eggs into the mixture, stirring well after each addition. Mix in the flour and stir until just combined (don't overmix).

Pour the mixture into non-stick x6 muffin or demi-sphere moulds (here I use silicone briochette moulds). If using standard muffin moulds, then first grease them with butter.

Bake for no more than 8 minutes for that moist, gooey centre. Remove from the oven and leave to rest for a couple of minutes then turn them out onto serving plates.
Notes
Make in advance: The batter can be prepared the day before or earlier in the day and kept in the fridge. Remove from the fridge and preheat the oven before starting your meal and when ready to prepare, bake in the oven.
To Serve: For a special celebratory touch, top with golden food lustre or edible gold leaf and serve with a dollop of whipped cream, vanilla ice cream, fresh raspberries, slices of mango or clementines.
Also delicious served with homemade chestnut and vanilla ice cream.
Note on Measures: Cup measurements by volume are given as an approximate guide. I recommend weighing ingredients in grams using digital scales for the best, and consistent, results.
This recipe was first published in May 2013 but is now completely updated with new images and text.