Planning to make the perfect dessert for Valentine's Day? Here are my top Valentine Dessert Ideas - my latest collection of free recipes. At first it was my top ten but now I find it too hard to choose.
So here are at least 30 desserts. All are healthy, can be made in advance and are easy to make for your romantic dinner for two at home. Whether it's individual desserts, mini desserts, fine dining, with strawberries, with or without chocolate - I have you covered.
Add that extra wow factor by serving them with your own homemade macarons from my books - more below.
These extra light mousses without cream are ideal for an easy, make-ahead dessert.
This is not unlike our favourite French chocolate mousse without cream (the recipe is also on video).
However, in this recipe I added passion fruit and used just egg whites - then topped each pot with some caramel nougatine. The extra nougatine can keep days longer to linger on delicious moments.
This is my healthy French answer to red velvet chocolate cake. This recipe both gluten free and reduced in butter and sugar! My best recipe, recently updated for an exciting upcoming scientific food experiment, is so fudgy, fondant and moist, there's no need for any frosting or creamy filling.
Incredibly moreish, it uses good quality melted dark chocolate, based on a classic French flourless chocolate cake but adapted for the added beetroot. Similar, have you tried my purple carrot cake?
For a melting heart of chocolate, make these easy individual lava cakes. Just call them 'moelleux au chocolat' (pronounced mwa-le o'shokolah) in your most romantic French accent.
Made in just under 30 minutes! If "You've lost that loving feeling; Woah-woh-oh...", add a warming glow of ground or candied ginger to these classic lava cakes and add a few raspberries or pomegranate seeds.
Halve the recipe quantity (for 6) if you're wanting dessert for two - with one left to share. Prepare the batter and have them ready in the moulds just before dessert. When ready to serve, bake for no more than 8 minutes.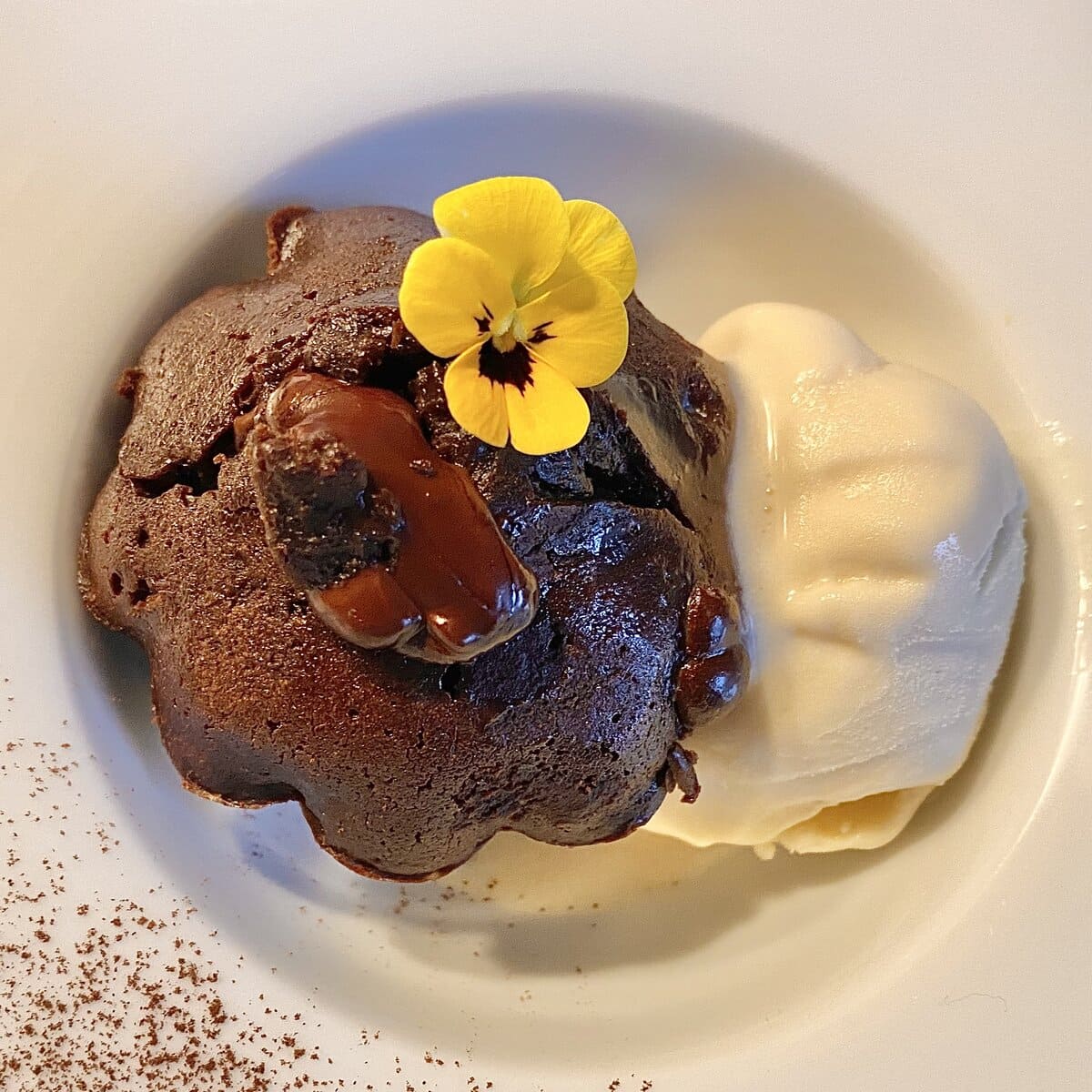 White Chocolate Mousse with Rose
A fluffy light white chocolate mousse with whipped cream and an egg white. Rose and orange blossom are added for that extra French touch. Healthy with no added sugar, this is great on its own or as part of a bigger dessert below. Serve with pink macaron shells for something special.
This rose and white chocolate mousse doesn't just stop there.
Add a layer of rhubarb & strawberry compote or cheat and use good quality rhubarb compote (Bonne Maman do a good one). Serve with strawberries and tuiles.
These easy, make-ahead desserts are topped with cream and cherries soaked in Kirsch. They're delicious served with macarons with a chocolate cherry ganache.
Love pink and roses at Valentines? Then pair rose with white chocolate in a panna cotta. Here I cheated with the sauce using frozen dark cherries as they're not in season but the partnership is wonderful.
Add a heart-shaped macaron or two to add the perfect finale to this gluten-free dessert.
Here's a quick tutorial how to pipe out macaron hearts.
A gluten free dessert inspired by the Parisian Ispahan with rose, raspberry and lychees.
See more pink inspiration with these pink macarons.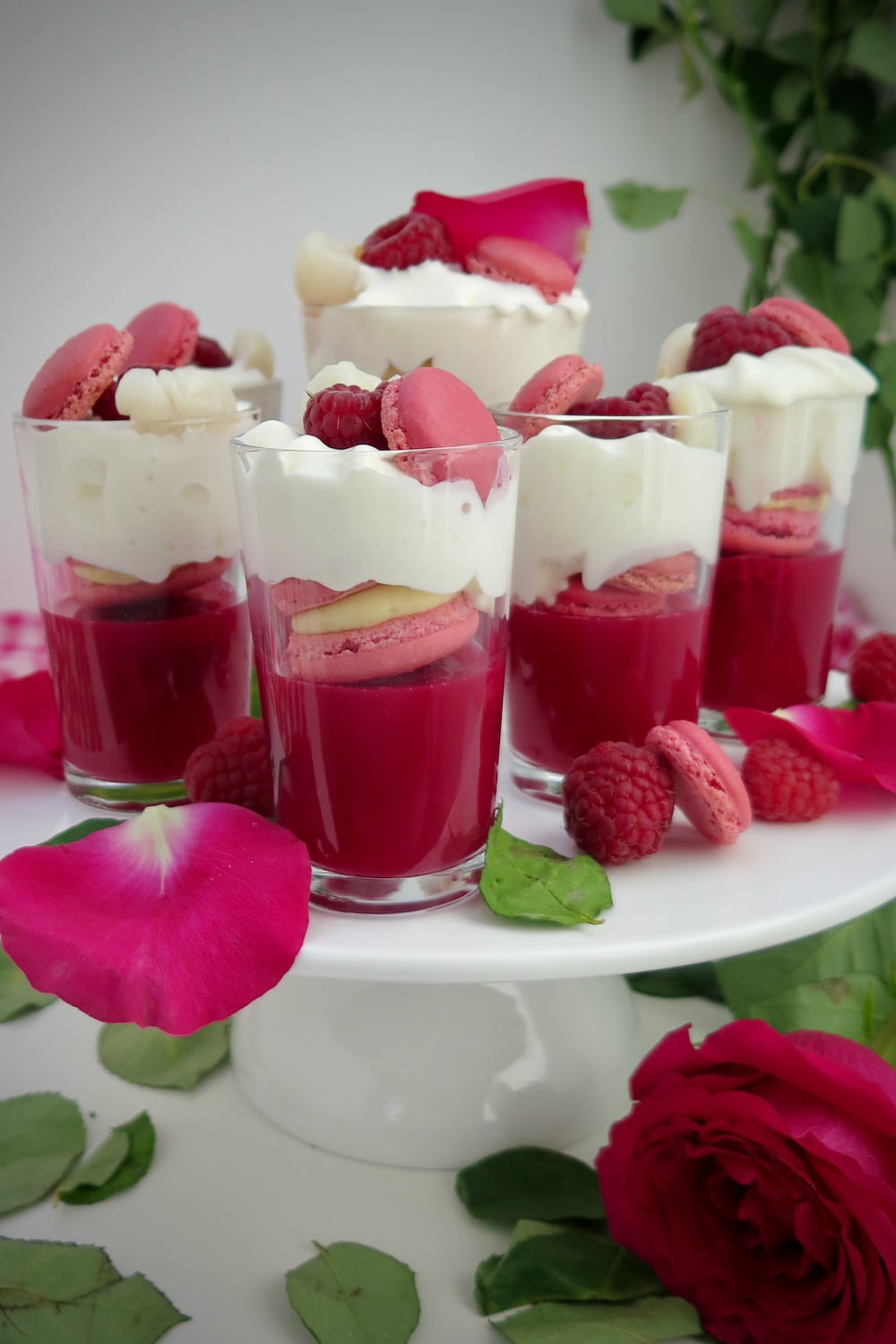 For more desserts on a rose theme, this is one of the most popular macaron flavours in Paris. So, recreate a Parisian macaron dessert with the recipe from my book, Teatime in Paris for the most scrumptious raspberry and rose filling.
You can't go wrong with this French classic, served in so many brasseries around Paris. This easy recipe is ideal to make a day or two in advance and is particularly light, as it uses whole milk, not cream. Moreover, it's lighter on the sugar than many classic recipes, as the caramel is sweet enough. Perfect recipe for two.
Like the French, serve on its own, with palets bretons or with a couple of strawberries.
Crack into this easy recipe for milk chocolate crème brûlée with passionfruit. A French classic dessert with a fruity, acidic twist with chocolate – or surprise your Valentine instead with a centre of melted dark chocolate.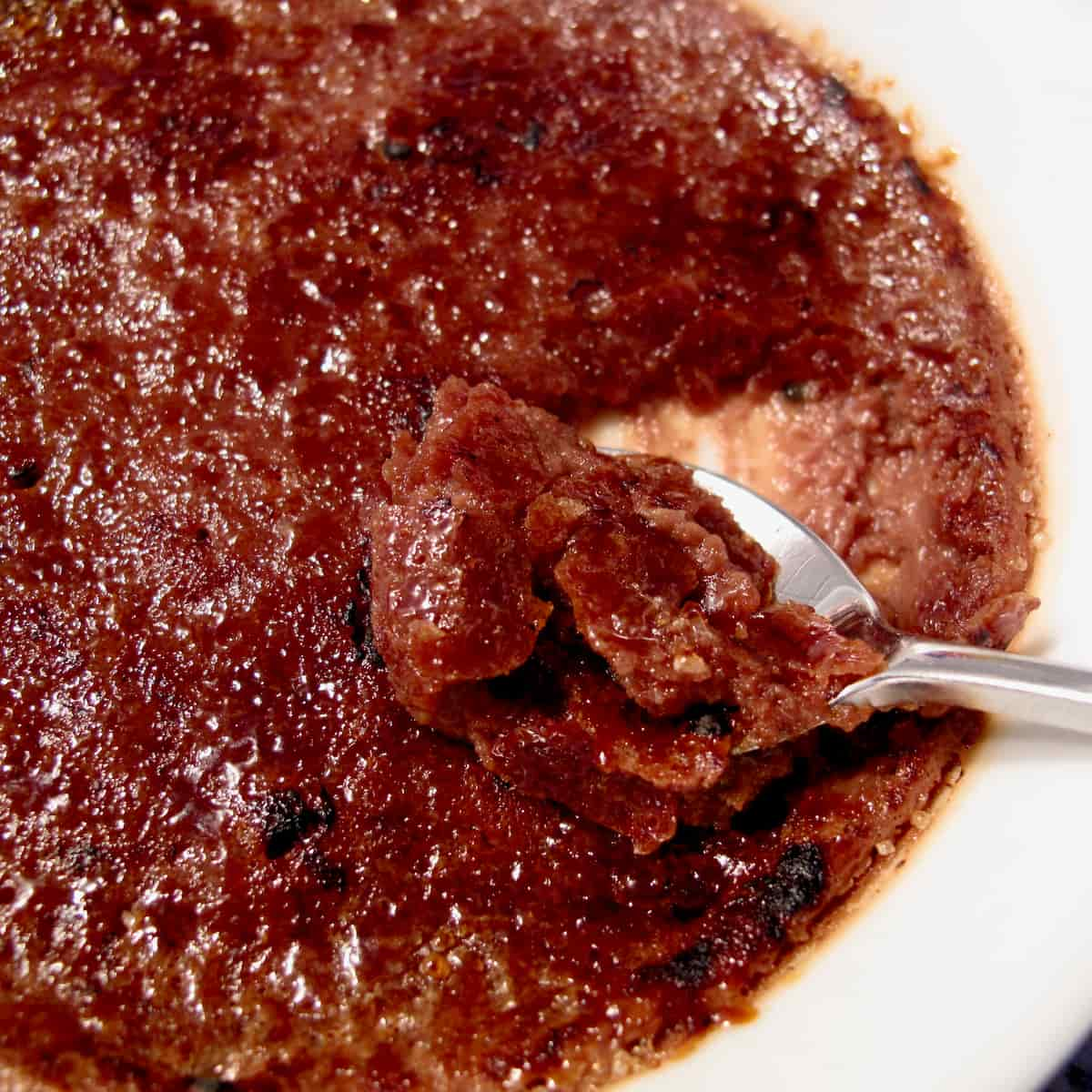 This is a quick and light French summer recipe – made with fresh berries, topped with an elderflower sabayon and toasted under the grill. An elegant dessert that can be whipped up in 30 minutes. For those lucky enough to find fresh, flavoursome berries on other side of the world from France.
These classic thin pancakes are always the perfect treat. Make them at home and have all sorts of typical fillings we enjoy and imagine you're walking hand in hand with them around the streets of Paris.
Top with sugar and lemon, Nutella, homemade apricot and lavender jam, crème de marrons (chestnut and vanilla spread) or orange curd and serve with a few chopped strawberries or raspberries. However, our personal favourite for a Valentine dessert is with this salted caramel sauce below.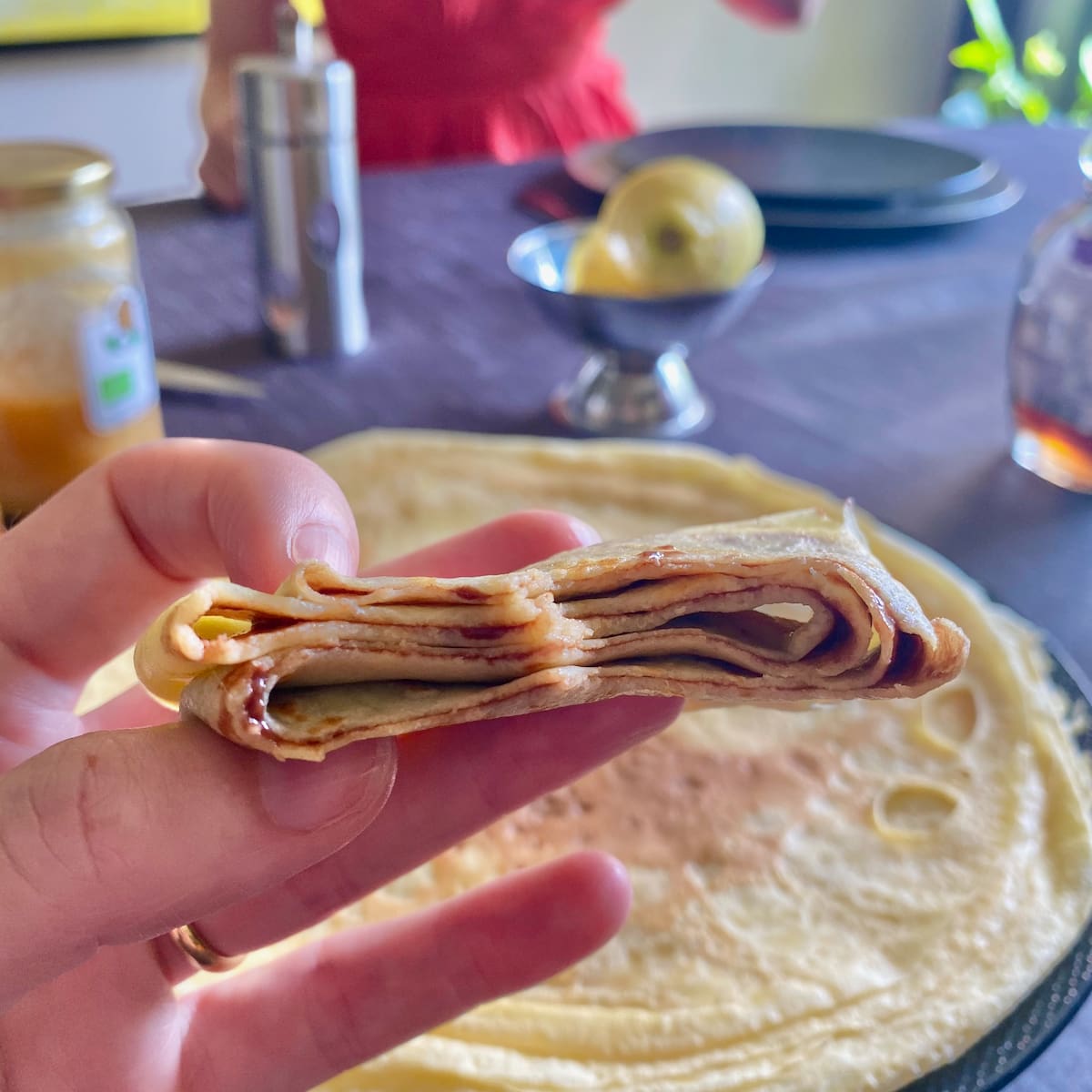 Known as caramel au beurre salé, this salted butter caramel sauce is perfect to accompany many Valentine's Day desserts. Not just for these crêpes and drop scones (scotch pancakes) but great to accompany all of our favourite apple treats, such as a French Apple Nougat Tart.
It's exotic and hot! Easy recipe for sliced roasted pineapple – oven baked in a sticky vanilla, ginger, cayenne pepper/chilli caramel with dark rum.
Either serve with coconut macaroons or layer each pineapple slice underneath a mound of candied fruit (plombières) ice cream (no churn). To make the dried pineapple slices, follow my easy recipe for dried rhubarb chips.
Why is it that salt added to caramel is so agonisingly addictive? As a result, this must be the most popular macaron flavour – confirmed by the Parisian pâtisseries in my Top 20 Best Macarons in Paris. This is my recipe from my book, Teatime in Paris for the most scrumptious filling for your macarons.
I have many more apple tarts - but seduce your Valentine with the ultimate Parisian Bourdaloue tart.
It's a classic pear and almond tart found in many patisseries, and has been glazing around Paris since the 1900s.
Remember Brandy Snaps, the retro crispy caramel wafer-like tubes filled with light whipped cream? Give them 2 snaps and a twist with mint, lime and rum and turn them into Mojito Snaps! They're a lot easier to make than you think. Find out how to store them, fill them and stop them from getting soft or chewy.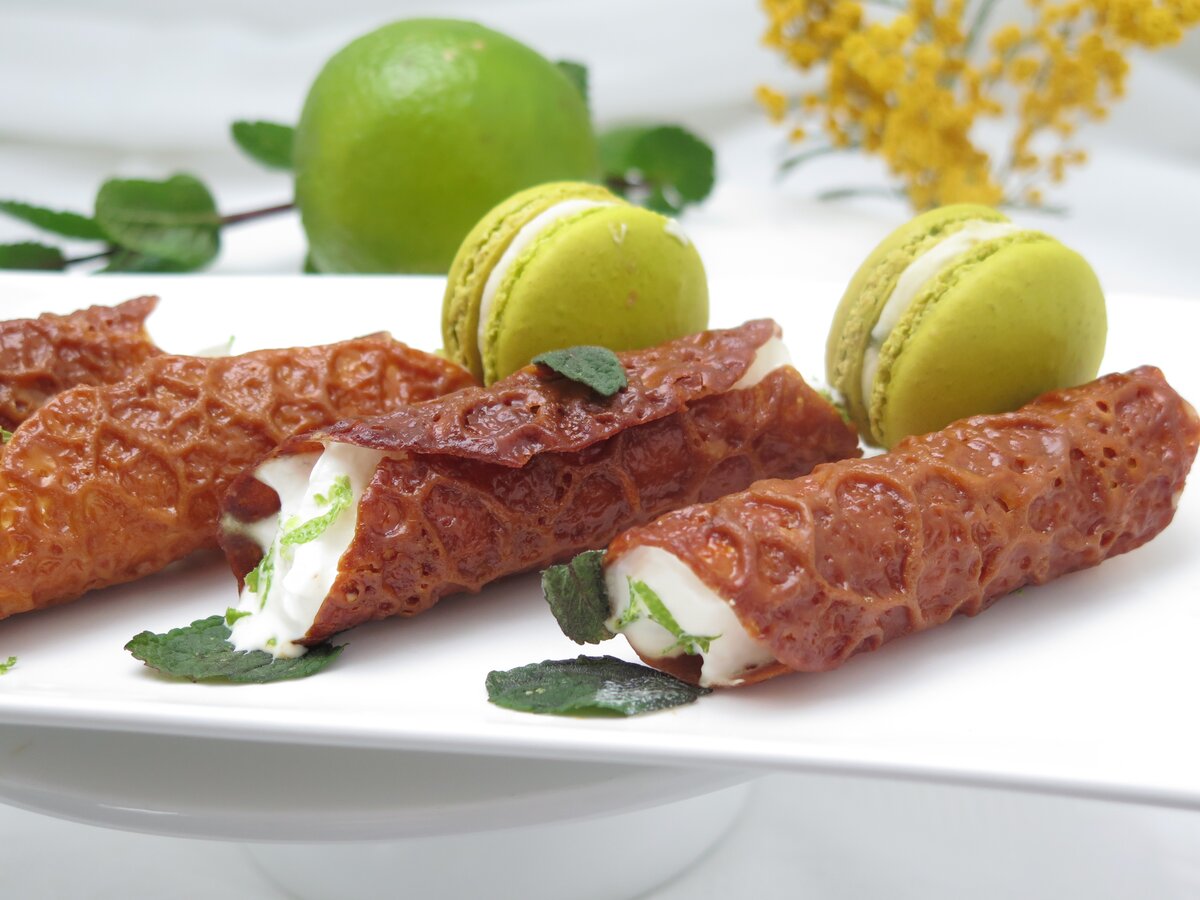 Best made with fresh blueberries - but can also be made using frozen berries. A fruity and light gluten-free recipe, it's also an easy no-bake French dessert. Similar to an Italian Panna Cotta, the French make it with fruit purée and less cream. Add a touch of roasted coriander to bring out their subtle flavours and get that extra oh-là-là! The recipe is for 4, so just halve the quantities for a romantic dessert for 2.
Top with edible flowers, such as winter pansies or violas, and add some lemon macarons. It's a speed-dating trick that works.
Love blueberries and lemon? Then enjoy this by the slice. Again, either with fresh or frozen blueberries and the best lemons you can find.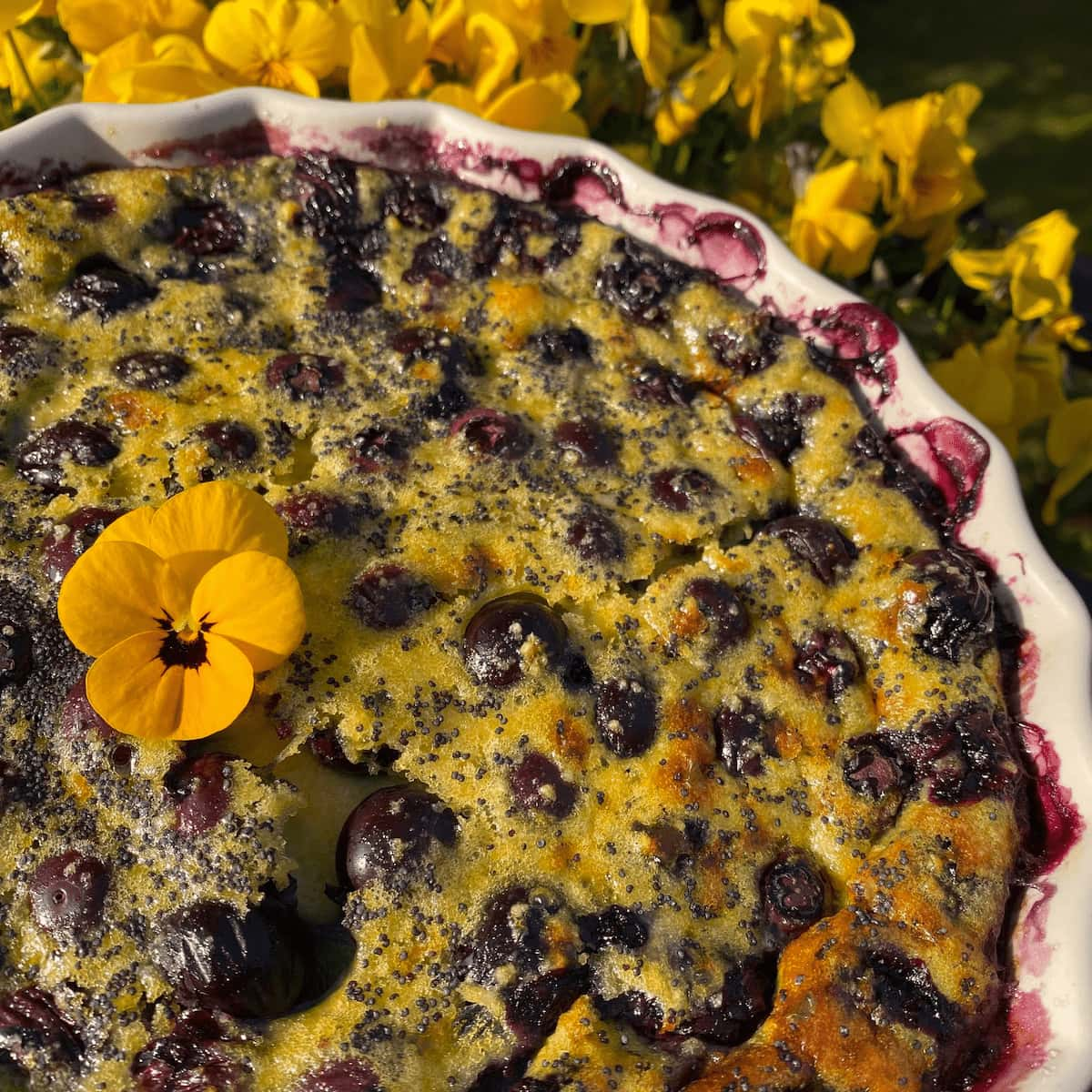 As it's pineapple season, cut out heart shapes in the middle of each pineapple slice to make these individual rice puddings with caramelised pineapple, French style.
Shape the rice pudding around the pineapple rings and serve it in the vanilla caramel sauce used to roast the pineapple. Or serve just the plain roasted vanilla pineapple with rum.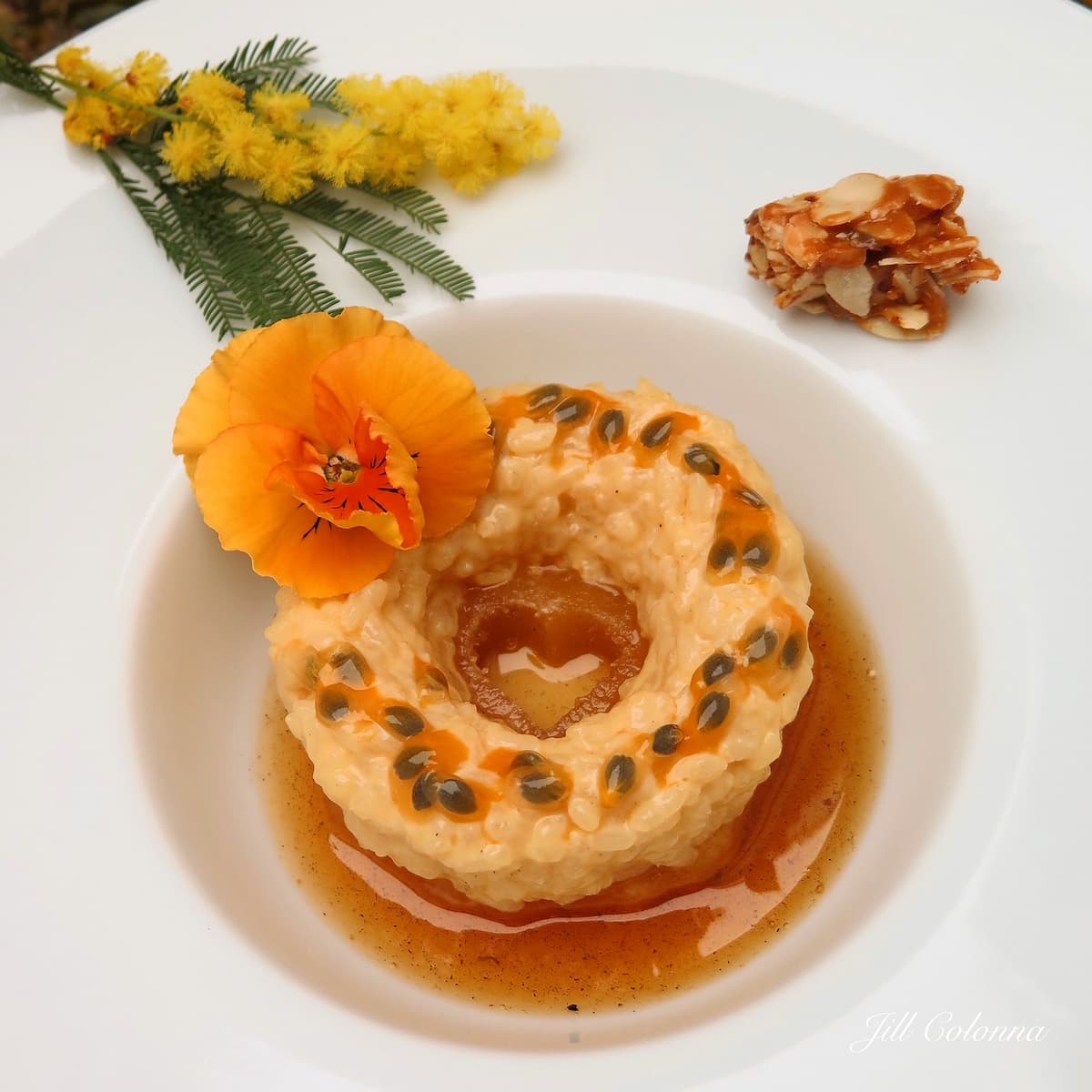 Make individual pistachio tartlets and top with a fanned strawberry or a chocolate. This recipe was one of my sources of inspiration for my book, Teatime in Paris, where you'll find the original tartlet recipe with their step-by-step instructions in more detail in the chapter on tarts.
Surprise your Valentine when cutting into these filled meringues.
Inside is the most delicious combination of tart lemon and a layer of roasted hazelnut praline and finished off with a vanilla and chestnut cream. The meringue is hollow so it's easy to fill and prepare each stage in advance.
Where France meets Italy for dessert. We love tiramisu macarons but what about making a tiramisu dessert with Parisian macaron shells to replace the traditional savoiardi ladyfinger biscuits? The result is a gluten free version of the Italian creamy coffee classic.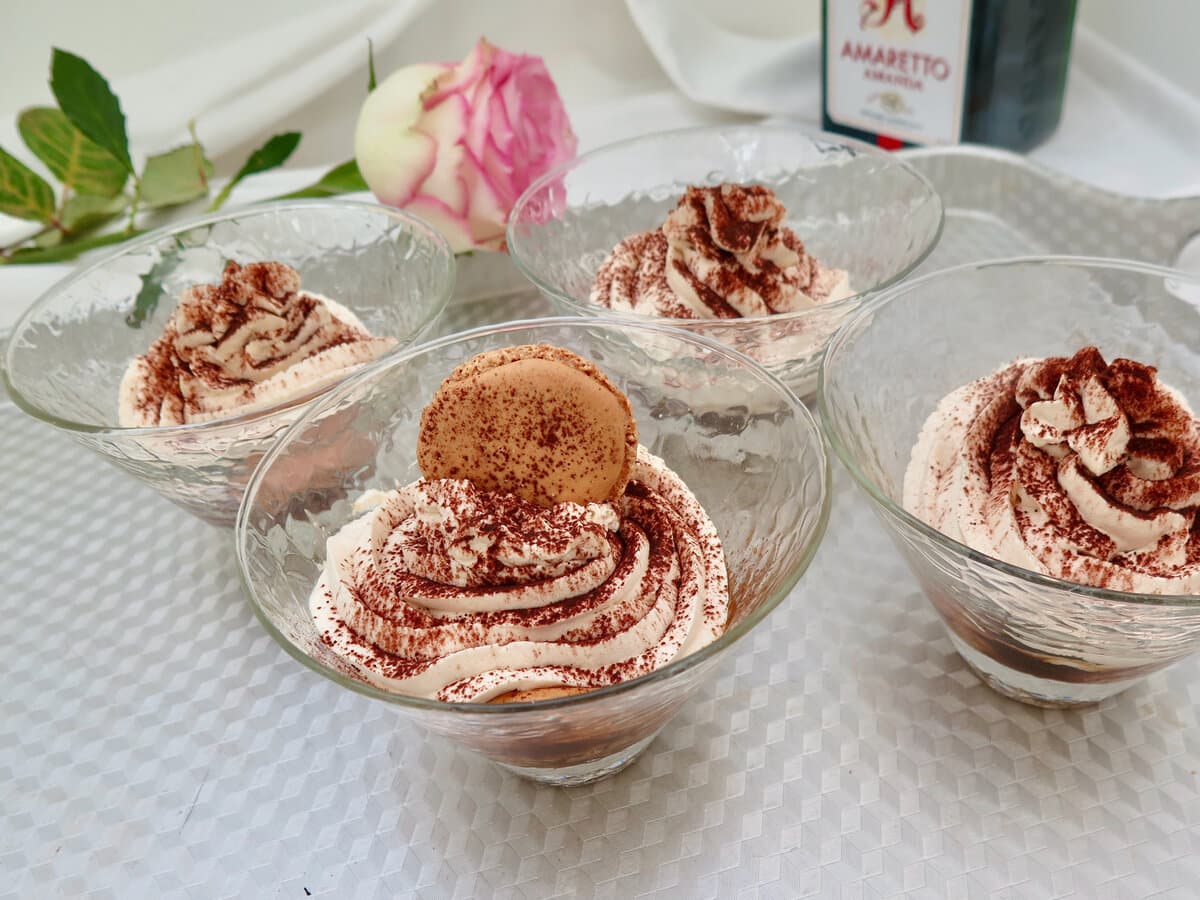 I thought poaching pears was difficult and fussy when I first came to Paris, but these poached pears with coffee (gluten-free) couldn't be easier. Coffee and pears make a great couple. Serve in large bowls to catch the lovely poaching juice and have fun decorating the sides with a large paintbrush.
Although the dessert is without chocolate, decorate the bowls with melted chocolate and serve with chocolate or mocha macarons. Also good with French chocolate mendiants with dried fruits (they last a few days).
Prefer without chocolate? Serve with coffee or vanilla macarons - coconut macaroons (rochers coco) or Palets Bretons (irresistible salted butter biscuits from Brittany).
Cranachan Parfaits - with Oat Praline & Shortbread Thins
Cranachan is a traditional Scottish dessert often served for St Andrew's Day, a Burn's supper in January or just a good Scottish celebration. To celebrate the Auld Alliance in France with Scotland, I have given it my own original French twist to make a Cranachan Parfait.
The result is a no-churn honey and Whisky ice cream topped with crispy oat praline and served with fresh raspberries on thin rounds of buttery shortbread.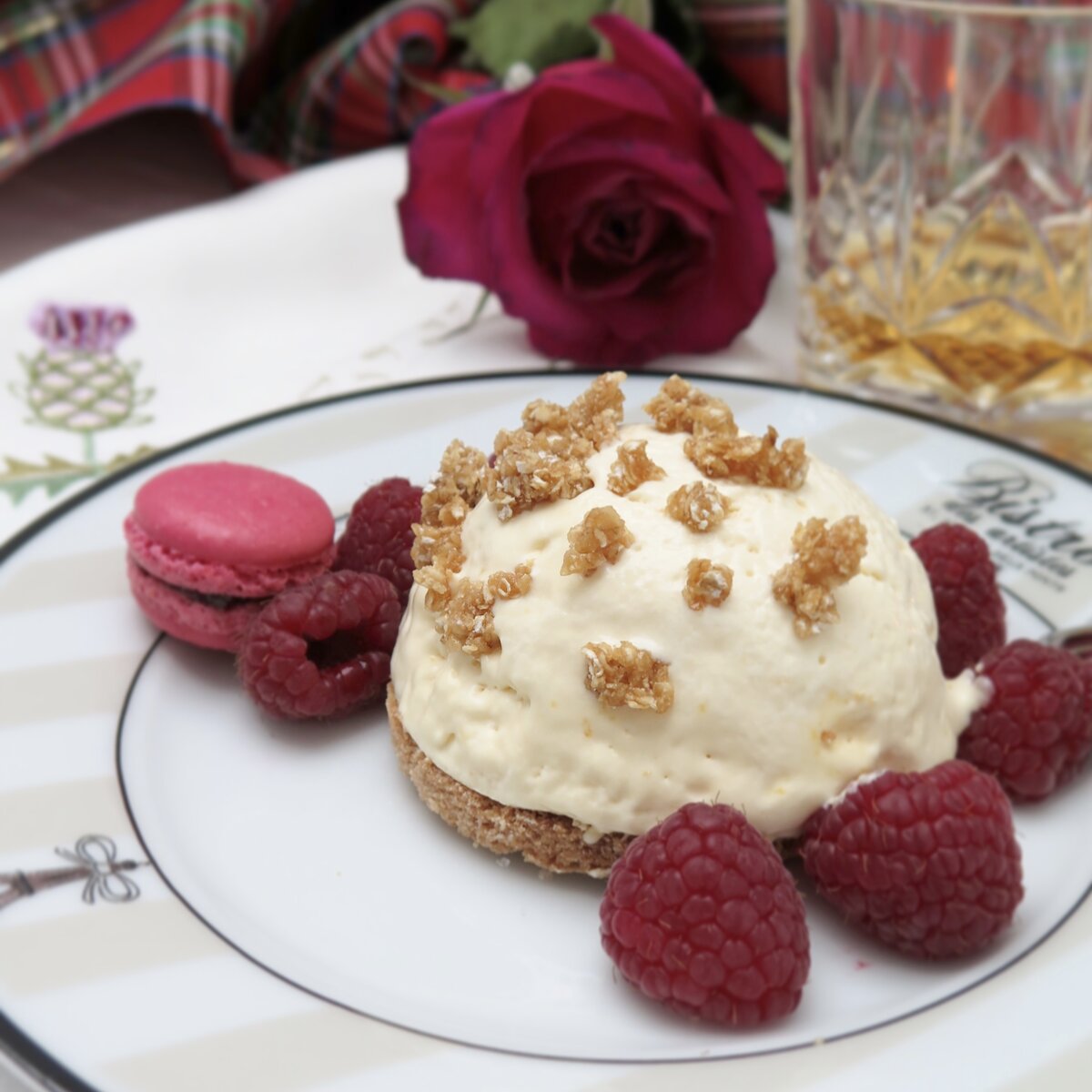 Don't churn down the idea of homemade ice creams in February! (Pun groan...)
This will keep your hot Valentine cool. Serve with strawberries and a macaron or two.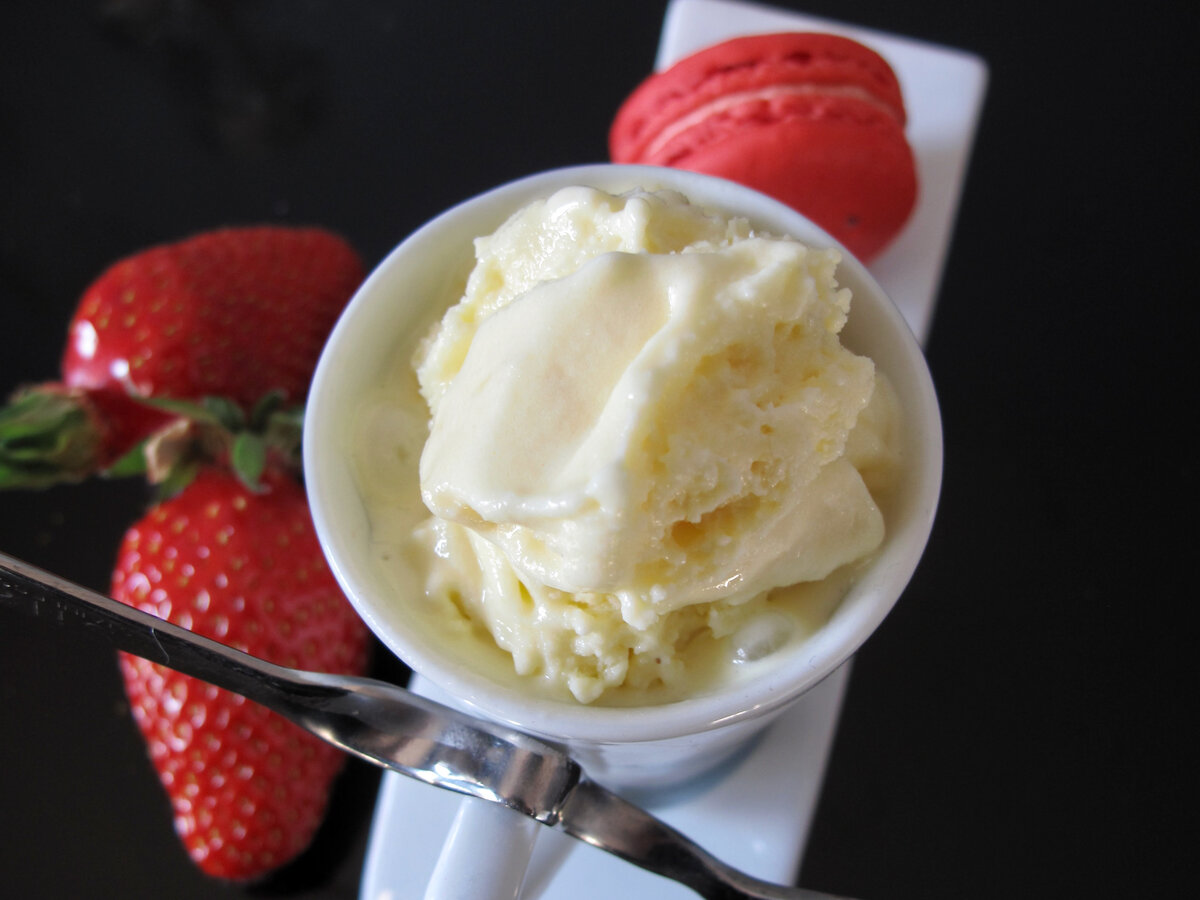 This Chestnut Vanilla Ice Cream makes me dream of holidays in France – and particularly of my husband's island of Corsica. Candied chestnuts are such a festive French treat during the holiday season but I love this light and easy dessert for a Valentine's Day treat with a few macarons.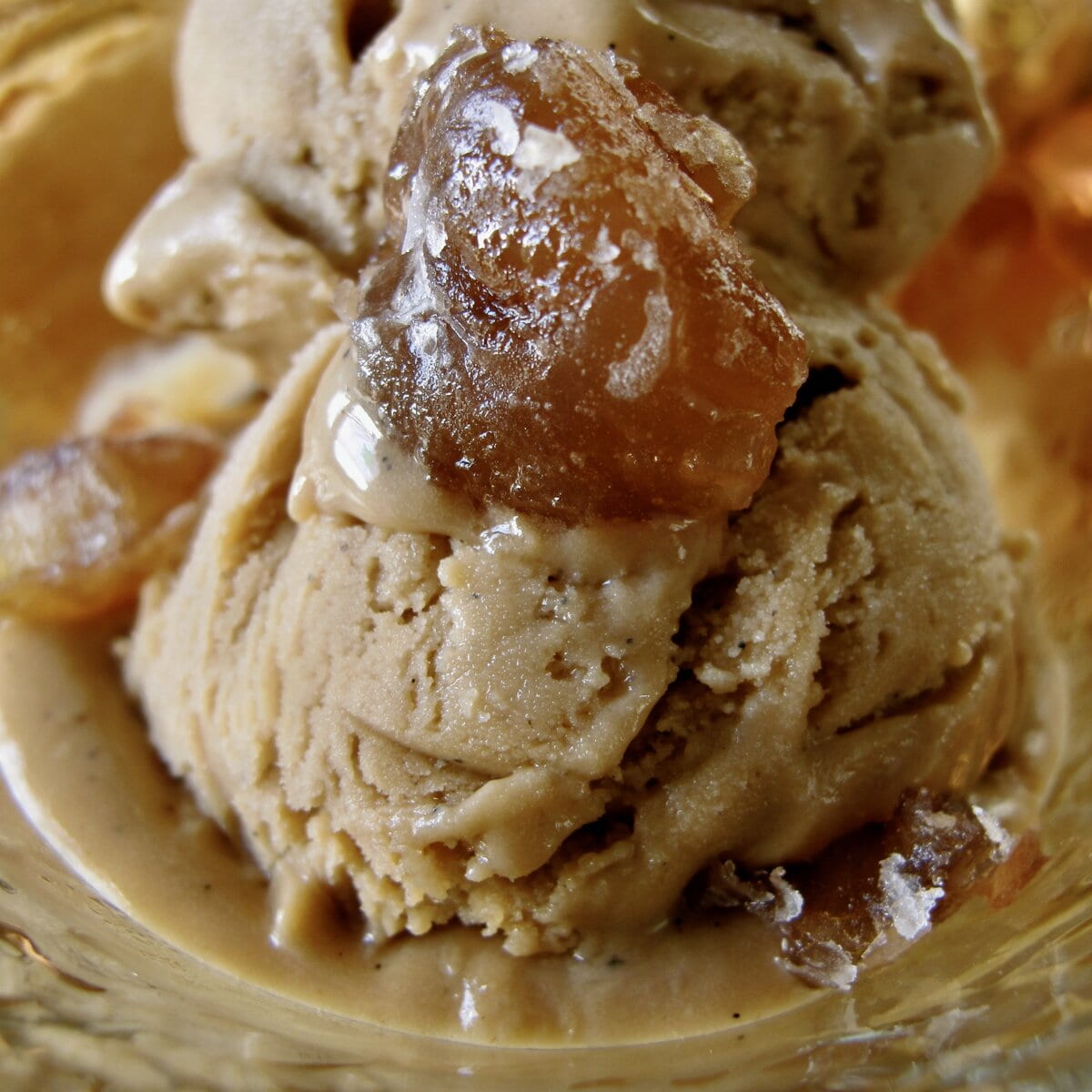 This popular French ice cream cake dessert is ideal for Valentine's Day. A celebratory dessert (gluten free), it's often found in the freezer cabinets in French pâtisseries. To make your own, just add a tub of sorbet, meringue and whipped cream.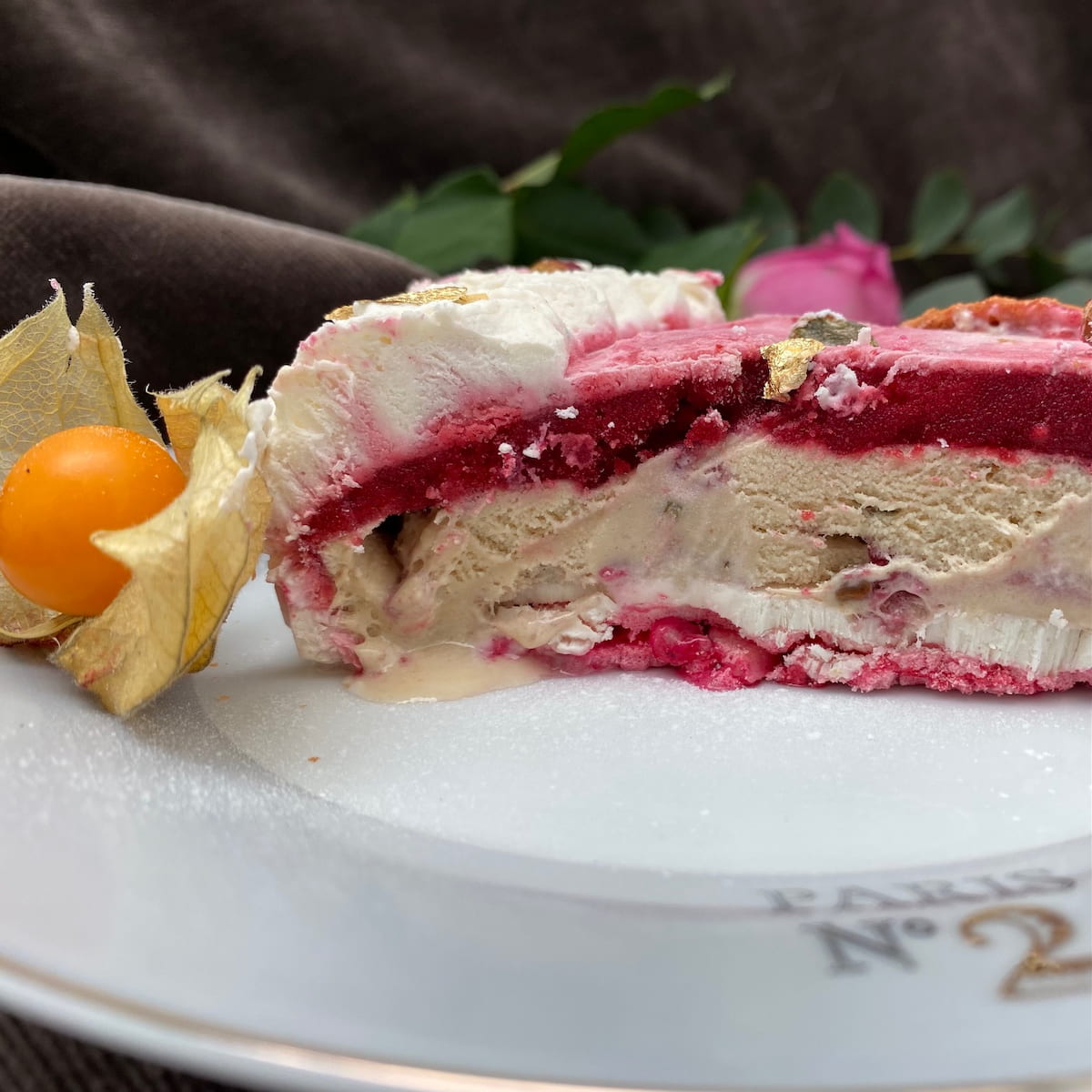 These ice creams are great with crispy French tuiles. Even better, they are made using the leftover egg whites used by making the ice creams' custard.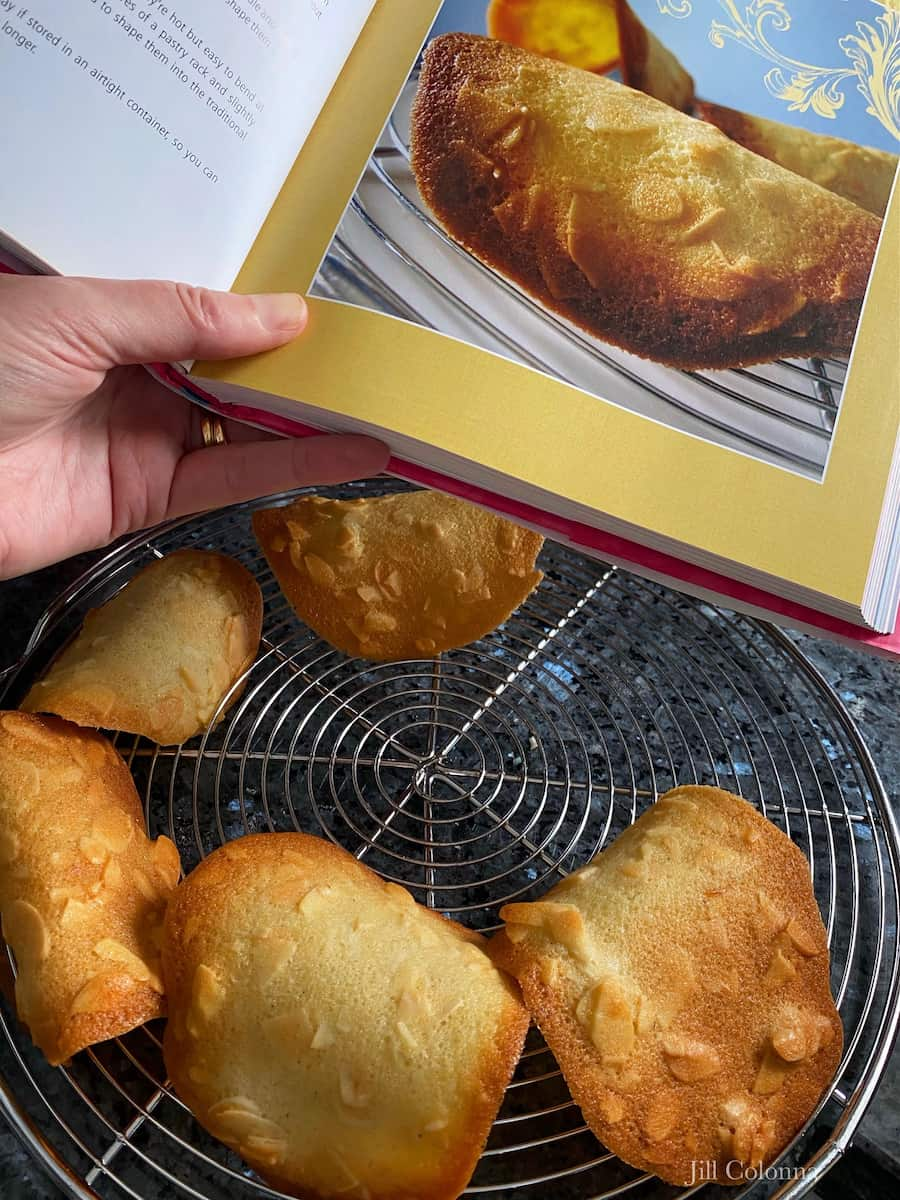 The Ultimate Valentine Dessert Gift Idea
I've given you the recipes above from le blog - but don't forget that the step-by-step macaron and pastry recipes are in my recipe books, Mad About Macarons and Teatime in Paris!
Plus, at the bargain price of each book, you can bring Parisian tarts, éclairs, teacakes and much more to your own kitchen with a recipe tour of the best pâtisseries thrown in! It's a gift that keeps on giving.
Have a very Happy Valentine's from Paris. Cheers and Santé with a Kir Royal
This post was originally published 11 February 2016 but is now completely updated to include more recent recipes from le blog.