Rice pudding served "à la Condé" on top of caramelised pineapple and topped with passion fruit. A light dessert for any occasion. A perfect light yet special dessert for any occasion - and a chic way of serving vanilla rice pudding! Inspired by the Condé Pineapple dessert, normally served as one big dessert.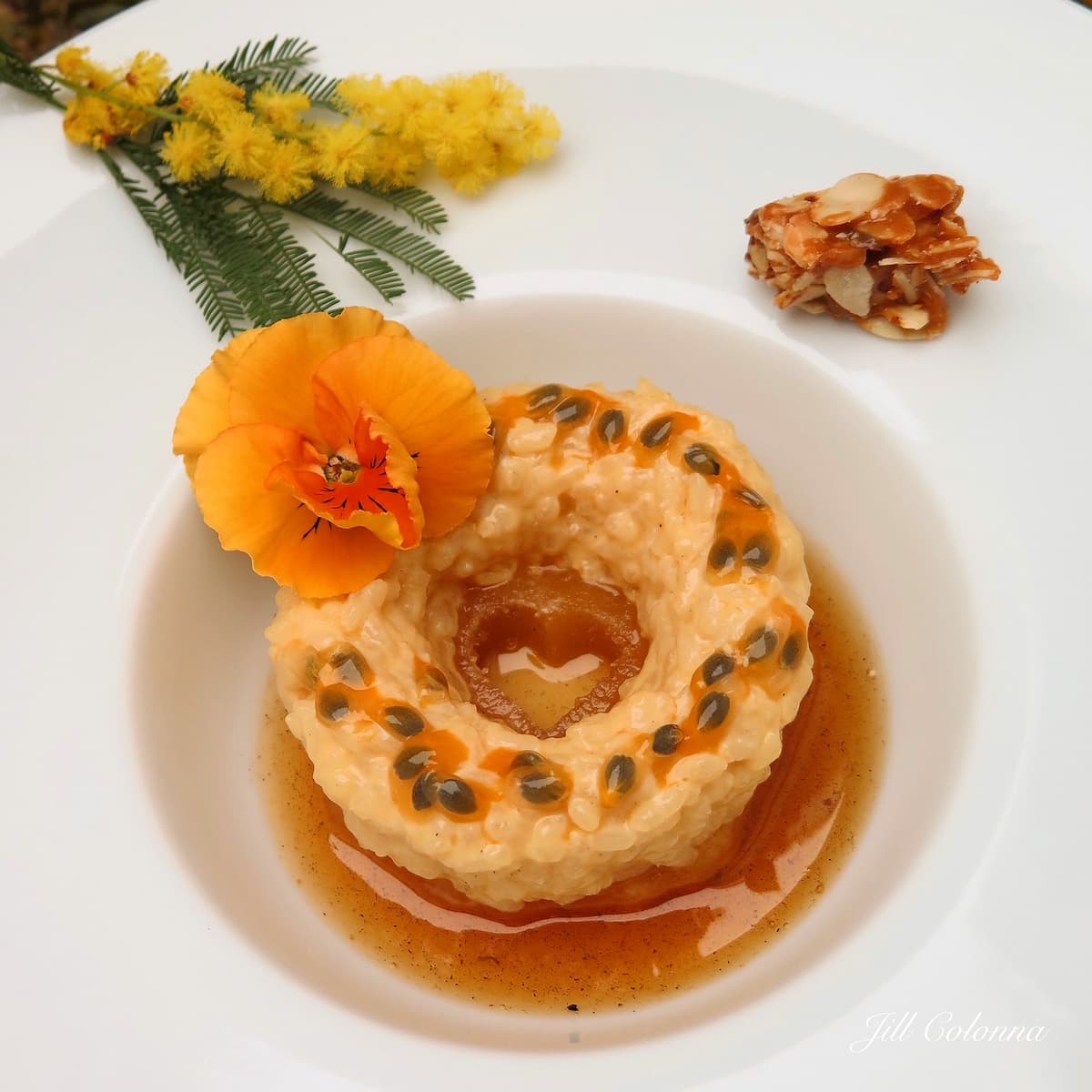 My Gourmet Challenge Near Paris
I love a gourmet challenge - as you can tell from my latest Vegan Raspberry Macarons. However, you may recall in my latest newsletter, our regional Seine Saint Germain tourist office set me a local French culinary challenge. So here's my first recipe, Caramelised Pineapple Rice Pudding. 
The aim is to recreate recipes of author, Alexandre Dumas (The Count of Monte Cristo, 3 Muskateers...). During some initial research, I discovered a fruity French rice pudding dessert made with pineapple or apricots and, after a twist or two to Ananas à la Condé, have come up with individual desserts to make a Dumas-style version of French rice pudding.
What is Condé Rice Pudding (Riz à la Condé)?
According to Larousse and other more recent French culinary dictionaries, Condé (or à la Condé) is a chilled entremet (old French for the modern dessert) made of rice pudding cooked in milk, presented in a savarin or crown-like mould and served with poached fruits in syrup. The classic is made either with apricots or pineapple slices soaked in Kirsch and decorated with candied fruits.
Why the name, Condé? It refers to the Prince of Condé (aka le Grand Condé), chief subordinate to King Louis XIV and occupied the family's estate of the Château de Chantilly. The Prince of Condé allured such influential guests as Molière, Racine, La Fontaine and Bourdaloue (a French minister/preacher, who's Parisian street, rue de la Bourdaloue, is named after him and is where the Bourdaloue Tart was invented.
The Prince of Condé's butler/chef was the legendary Vatel, renowned for committing suicide since the fish didn't arrive on time for Louis XIV visit. Did Vatel invent this dish? Who knows, but it certainly wasn't with pineapple. Pineapples didn't arrive in France until 1733 under King Louis XV, when they could be grown in the Potager's greenhouses in Versailles.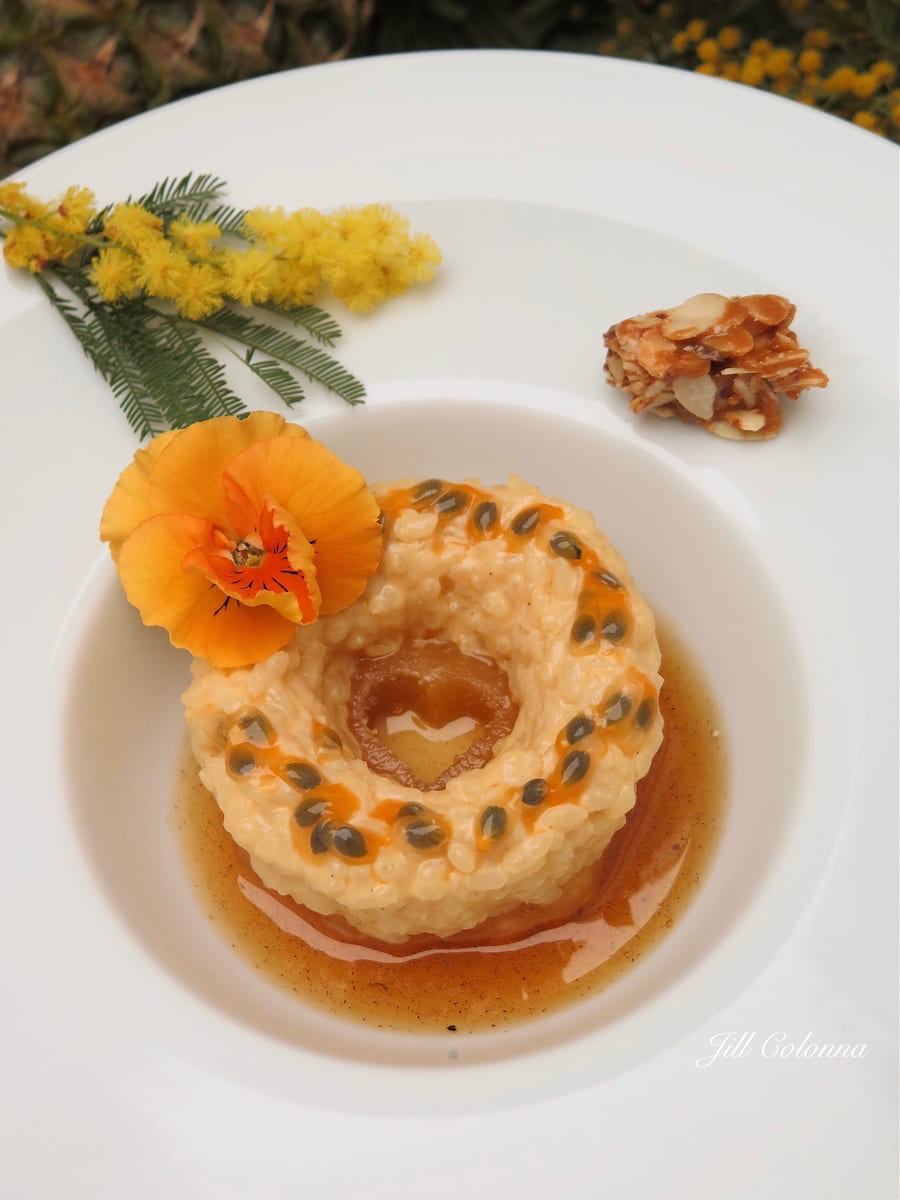 Alexandre Dumas Gourmet Challenge
With 172 years apart, our famous novelist neighbour, Alexandre Dumas, built the Château de Monte Cristo in Port Marly and, as of 1847, held lavish parties centred around the most gastronomic of feasts with impressive wines. Towards the end of his life, Dumas wrote Le Grand Dictionnaire de Cuisine, documenting many of the classic ingredients and recipes around - all of them, no doubt, served at his castle-like demeure in les Yvelines.
My challenge is to recreate some of his recipes, although it's not as easy as I thought.According to a few menus documented in the Chateau de Monte Cristo, he doesn't even specify many of the desserts (entremets) but cites mainly "Seasonal Fresh Fruit" or a "Basket of Fruits".
The pineapple was the height of luxury as so difficult to come by, and was seen more as a symbol that adorned not just Versailles but the aristocratic homes in the 19th Century. They were so expensive that it was big business - you could even RENT a pineapple to show off.
As Alexandre Dumas was proud to show off his wealth to his guests, I figure the pineapple is a fitting recipe for a Dumas recipe challenge!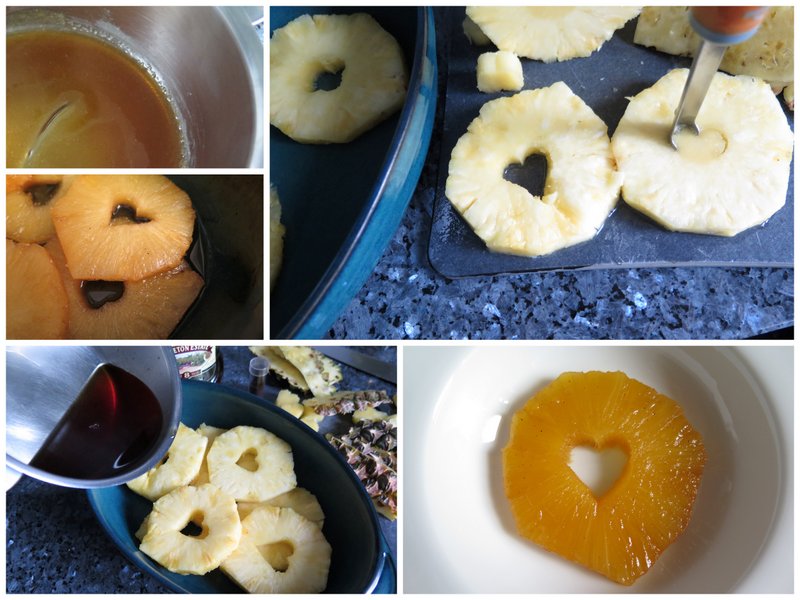 How To Make Pineapple Love Hearts
Quite by accident, I cut out pineapple love-hearts for Valentines using a small corer. As the corer was a bit too small, I cut out 2 rounds, realising it turned into a heart. No pinks, no ribbons - just a heart that's hiding secretly, drowned in the most lush pool of vanilla and rum syrup.
Caramelised Pineapple Rice Pudding
This recipe classic is normally one large rice pudding, augmented with vanilla and egg yolks to hold its shape, placed in a large crown-like savarin mould and decorated with pineapple slices macerated in Kirsch.
In order to boil off the alcohol and make this recipe family friendly, I caramelise pineapple slices in a rum syrup (it's a variation to this whole roasted rum pineapple recipe), place individual vanilla rice puddings (in mini savarin moulds) on top of a slice of caramelised pineapple and serve with nougatine for added crunchy texture.
Caramelised Pineapple Rice Pudding
A French Rice Pudding served "à la Condé" style on top of caramelised pineapple roasted in a rum syrup and topped with passion fruit. A perfect light yet special dessert for any occasion - and a chic way of serving vanilla rice pudding! The pineapple can be roasted a day in advance to make the dessert even easier to prepare.
Ingredients
Caramelised Rum Pineapple
1

pineapple, medium

1

vanilla pod/bean

(or 1 teaspoon vanilla powder)

150

g (5.5oz)

sugar

125

ml (4.5oz)

boiling water

2

tablespoon

dark rum

1

passion fruit

(optional, to decorate)
Vanilla Rice Pudding
150

g (5.5oz)

round pudding rice

75

g (3oz)

brown cane sugar

500

ml (18fl oz)

full cream milk

1

vanilla pod/bean

(or 1tsp vanilla powder)

3

egg yolks

40

g (1.5oz)

butter, unsalted
Instructions
For the Caramelised Pineapple
Caramelise the sugar with a couple of drops of water over a low heat without stirring. Meanwhile, cut the vanilla pod down the middle and scrape out the seeds using a sharp knife (even easier, just add a teaspoon vanilla powder). Reserve the emptied pods, if using.

As soon as the caramel turns a dark golden colour, add the boiling water and vanilla seeds. Stir using a wooden spoon and bring to the boil. Take off the heat and add the rum.

Preheat the oven to 200°C/180°C fan/400°F/Gas 6. Prepare the pineapple by cutting off the outer skin with a sharp knife. Remove the inside core using a corer or sharp knife. Place in a roasting tin, pour over the syrup and roast in the oven for 35 minutes (adding the scraped vanilla pod, if using) - coating the pineapple with the syrup a couple of times. Remove from the oven and cool.
For the Rice Puddings
Meanwhile, while the pineapple is in the oven, weigh out the pudding rice, sugar, milk in a saucepan. Add the vanilla and stir to combine. Cook over a medium heat, half covered, stirring a couple of times during cooking. After about 35 minutes the rice will have thickened.

Take off the heat and beat in the 3 yolks and butter. Press the mixture into 6 individual savarin moulds (I use silicone but buttered moulds such as muffin tins will do if you don't have savarin). Leave to cool first then chill in the fridge for at least 2 hours or overnight or transfer for up to an hour in the freezer.
To Serve
Place a pineapple ring in each bowl, turn out the rice puddings from the moulds and place on top. Dribble over the caramelised vanilla and rum syrup and top with some passion fruit seeds. Serve chilled and decorate with an edible flower.
Notes
Serve with Nougatine to give some added crunch for texture.
For more details on how to caramelise the pineapple, see my recipe for roasted pineapple slices.