Let me be your local guide to the best tea rooms in Paris - with my personal selection of 'salons de thé' (pronounced: 'salon de tay'). Includes details of their speciality pastries from hotels and historical restaurants to cosy teatimes for all budgets.
While I try my best to keep this up to date (I am on my own without a team!), please be aware there may be timing changes, particularly in August when most places shut for the holidays. So I suggest you check directly on their corresponding websites for opening times.
To best use this guide, first choose using the location link box.
Last updated: 03 September 2023.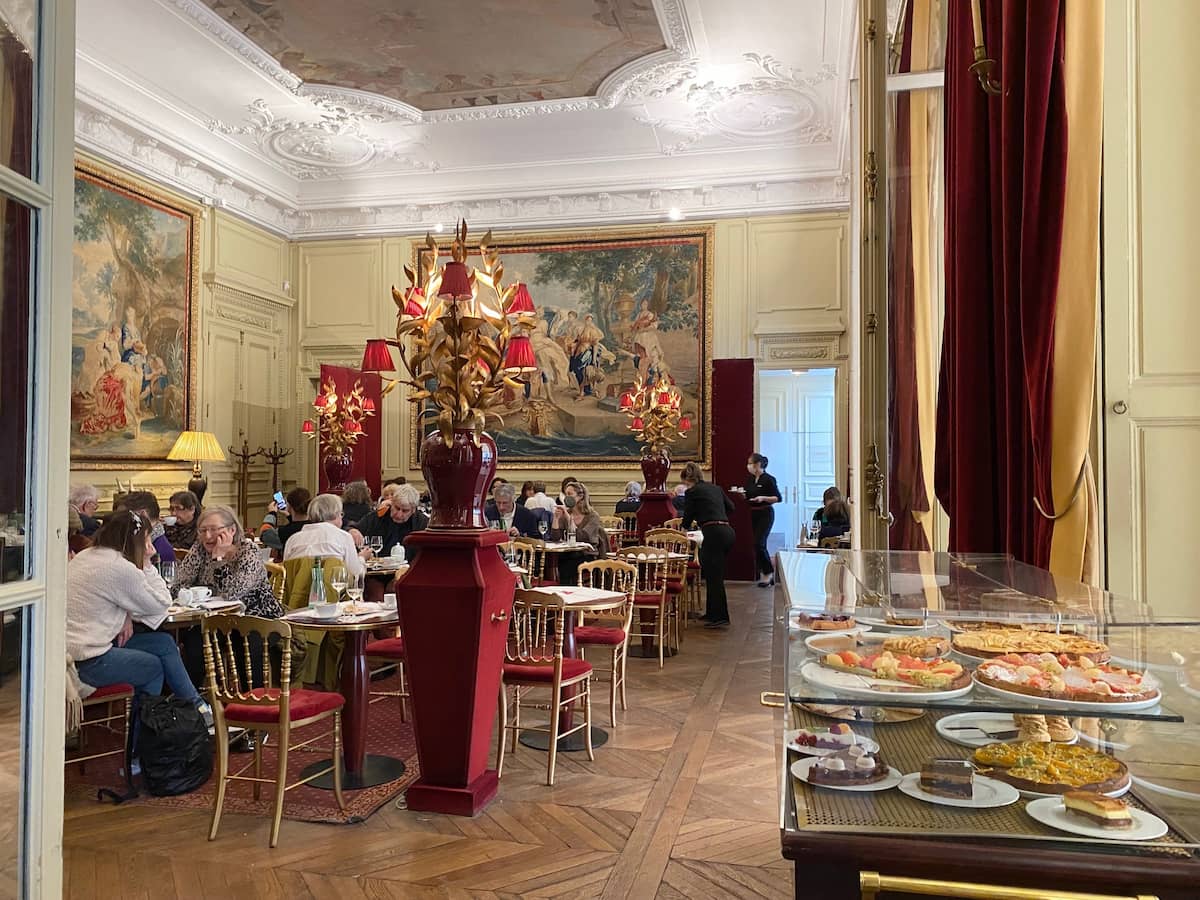 Do the French have Tea Time?
The French have an official 'snack' time in the middle of the afternoon, called Goûter (pronouned goo-tay). This is normally enjoyed by school children coming out of school but adults often enjoy goûter too (although not necessarily every day, as it's a treat!). It's often tea, hot chocolate or other refreshment with a pastry/cake or macarons.
What do the French Eat for Afternoon Tea?
The French don't normally have a full-blown 'Afternoon Tea', as this is more British in style. My list below largely features tea rooms that serve typical French-style afternoon tea, hot chocolate or other refreshment with a pastry/cake or macarons.
Where Can I Eat a British-Style Afternoon Tea with Scones in Paris?
Looking for Paris tea rooms with a more English-style afternoon tea complete with dainty sandwiches, scones, and optional Champagne for a special occasion? These are most likely served in the many Parisian Palace hotels (e.g. the Ritz, Plaza Athénée, George V, Prince de Galles, The Peninsula, Le Bristol, le Crillon, Shangri-La, Burgundy's Baudelaire...).
For the more cosy Paris tea rooms that serve British style cakes: see Smith & Son (1st), The Tea Caddy (5th), Le Jardin des Mademoiselles (7th), Le Tea Bar (11th), T'Cup (13th), High Societhé (14th), La Bossue (18th), and the Rose Bakery, now at many locations: Romantic Museum (9th), Bon Marché, tea stand at the Tuileries Garden, Maison Balzac (16th) and Bibliothèque National. See more by arrondissement.
Alternatively make your own British style teatime with these recipes: cheese scones, brandy snaps, carrot cakes, rhubarb cake with rose and orange and lemon cake with syrup.
Many of these tea rooms are mentioned in my second book, Teatime in Paris with their corresponding specialities with recipes. Don't see your favourite pastry shop in the list? That's because many top pastry shops don't have a tea room to sit down and enjoy their creations - so I recommend tasting them in the plenty of beautiful parks in Paris.
Are All Paris Tea Rooms Air Conditioned?
Not all tea salons have air conditioning so I've marked Tea Salons (AC) that are air conditioned. However, those that don't have seating outside are well aired. Since Covid, many of the addresses below now also have terraces to enjoy outside eating.
Paris Tea Rooms - Opening Times
Unless stated otherwise, all addresses below are open all week although opening times often risk changing, so I encourage you to check with their own website for details.
Updated List of Best Tea Rooms in Paris
This growing, updated list reflects my own personal choice of best tea rooms in Paris. While I call them my best, please note that things can change and I can't be held responsible if any of the establishments below do not meet your own criteria. However, they are my own favourites and do hope you'll find something that suits in every budget.
Each offers a typical French teatime consisting of a pastry/cake or macarons with tea, hot chocolate or other refreshments. Happily, pâtisseries are increasingly including a bar area for a quicker teatime or goûter. Paris's Grands Magasins (large department stores) also have teatime venues, so can have a shopping break with teatime too.
Whether you're looking for value-for-money, casual to elegant patisserie salons or splashing out at the chic luxury Palace hotels, find your preferred address below in my Paris Guide to many of the Best Tea Rooms.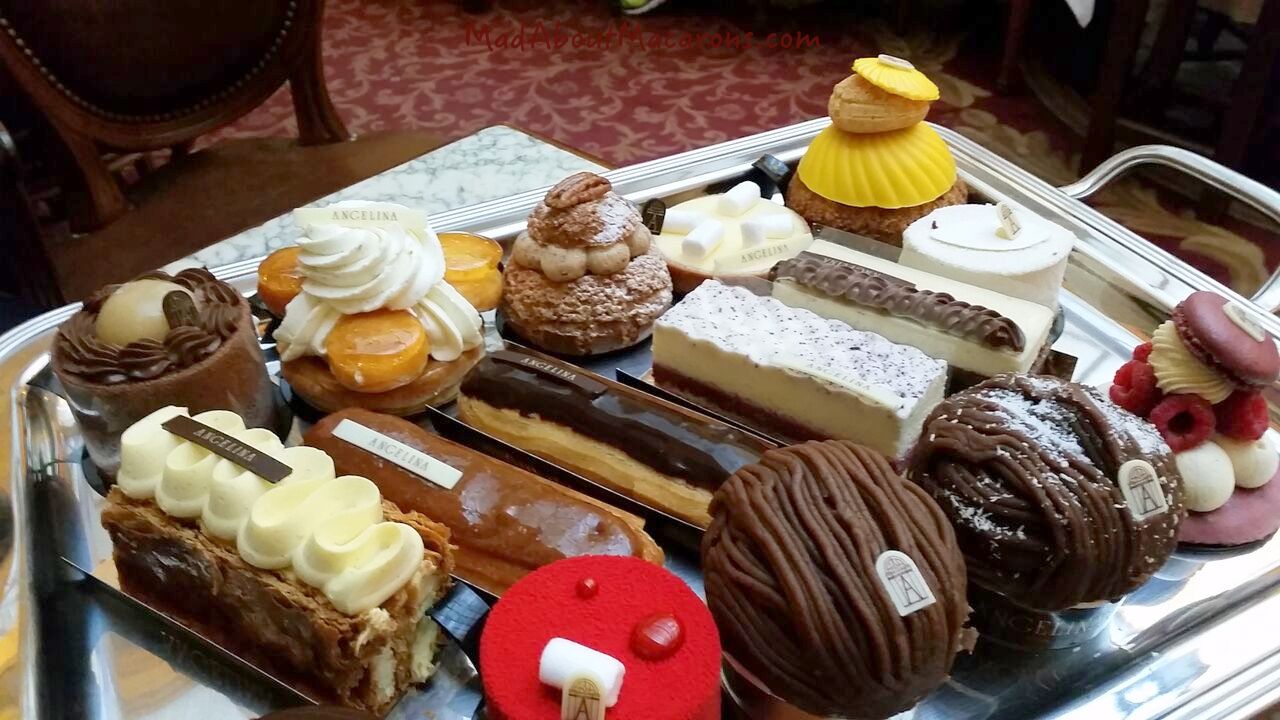 Is your best tea room in Paris not mentioned on this list? Please contact me – I'll test it out and share it.
None of the above listed Paris Tea Rooms are sponsored. This is my own personal selection based on my teatime experiences and none of the above addresses were invitations by the establishments mentioned.