Guide to the Best Tea Rooms in Paris
Let me be your local guide to the best tea rooms in Paris – with my personal selection of 'salons de thé'  (pronounced: 'salon de tay'). Includes details of their speciality pastries from hotels and historical restaurants to cosy teatimes for all budgets.
While I try my best to keep this up to date (I am on my own without a team!), please be aware there may be timing changes. So I suggest you check directly on their corresponding websites for opening times.
To best use this guide, first choose using the location link box at the top of this page.
Last updated: 30 March 2023.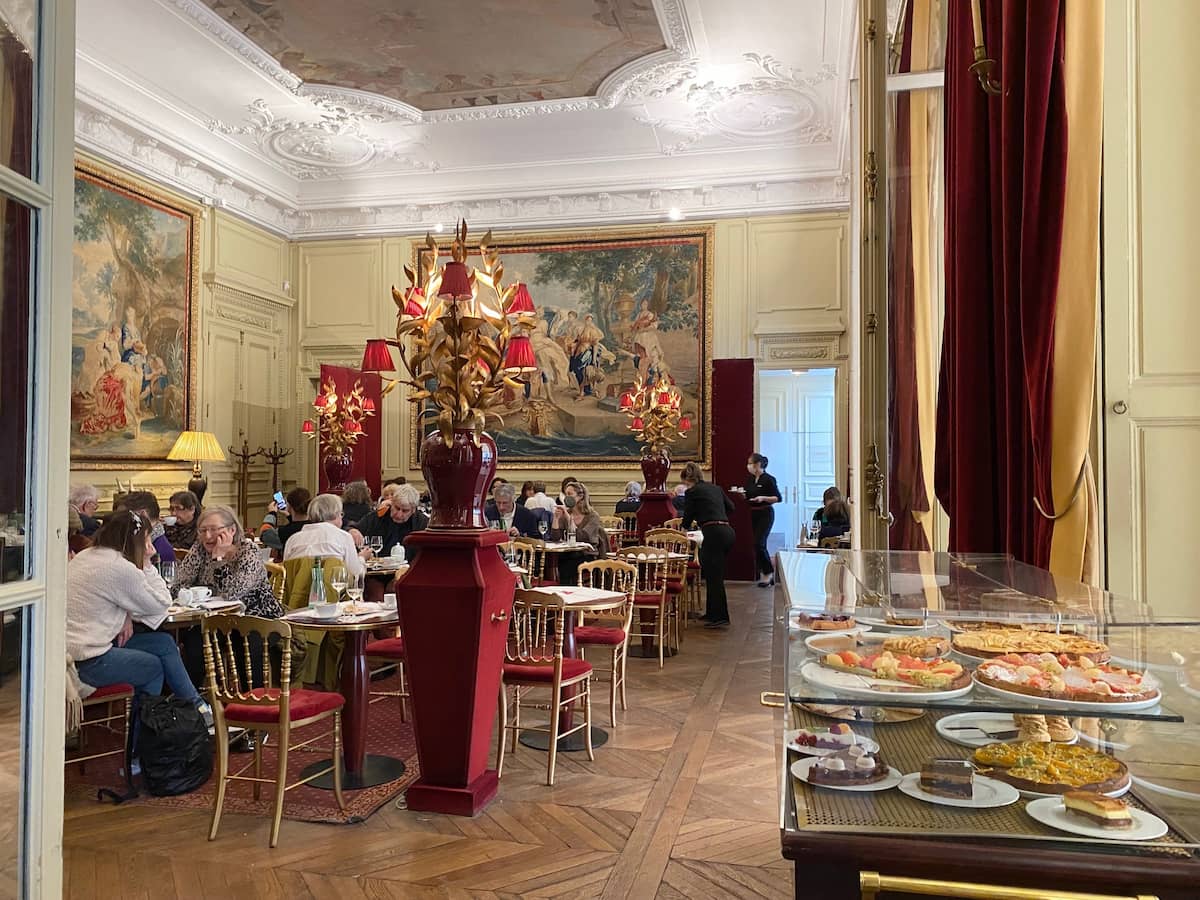 Do the French have Tea Time?
The French have an official 'snack' time in the middle of the afternoon, called Goûter (pronouned goo-tay). This is normally enjoyed by school children coming out of school but adults often enjoy goûter too (although not necessarily every day, as it's a treat!). It's often tea, hot chocolate or other refreshment with a pastry/cake or macarons.
What do the French Eat for Afternoon Tea?
The French don't normally have a full-blown 'Afternoon Tea', as this is more British in style. My list below largely features tea rooms that serve typical French-style afternoon tea, hot chocolate or other refreshment with a pastry/cake or macarons.
Where Can I Eat a British-Style Afternoon Tea with Scones in Paris?
Looking for Paris tea rooms with a more English-style afternoon tea complete with dainty sandwiches, scones, and optional Champagne for a special occasion? These are most likely served in the many Parisian Palace hotels (e.g. the Ritz, Plaza Athénée, George V, Prince de Galles, The Peninsula, Le Bristol, le Crillon, Shangri-La, Burgundy's Baudelaire…).
For the more cosy Paris tea rooms that serve British style cakes: see Smith & Son (1st), The Tea Caddy (5th), Le Tea Bar (11th), T'Cup (13th), High Societhé (14th), La Bossue (18th), and the Rose Bakery at the Romantic Museum (9th), Bon Marché and newly opened at the Bibliothèque National. All are detailed below by arrondissement.
Alternatively make your own British style teatime with these recipes: cheese scones, brandy snaps, carrot cakes, rhubarb cake with rose and orange and lemon cake with syrup.
Many of these tea rooms are mentioned in my second book, Teatime in Paris with their corresponding specialities with recipes. Don't see your favourite pastry shop in the list? That's because many top pastry shops don't have a tea room to sit down and enjoy their creations – so I recommend tasting them in the plenty of beautiful parks in Paris.
Are All Paris Tea Rooms Air Conditioned?
Not all tea salons have air conditioning so I've marked Tea Salons (AC) that are air conditioned. However, those that don't have seating outside are well aired. Since Covid, many of the addresses below now also have terraces to enjoy outside eating.
Paris Tea Rooms – Opening Times
Unless stated otherwise, all addresses below are open all week although opening times often risk changing, so I encourage you to check with their own website for details.
Updated List of Best Tea Rooms in Paris
This growing, updated list reflects my own personal choice of best tea rooms in Paris. While I call them my best, please note that things can change and I can't be held responsible if any of the establishments below do not meet your own criteria. However, they are my own favourites and do hope you'll find something that suits in every budget.
Each offers a typical French teatime consisting of a pastry/cake or macarons with tea, hot chocolate or other refreshments. Happily, pâtisseries are increasingly including a bar area for a quicker teatime or goûter. Paris's Grands Magasins (large department stores) also have teatime venues, so can have a shopping break with teatime too.
Whether you're looking for value-for-money, casual to elegant patisserie salons or splashing out at the chic luxury Palace hotels, find your preferred address below in my Paris Guide to many of the Best Tea Rooms.
---
Paris 01 (Le Louvre)
Near Tuileries, Place Vendôme
ANGELINA
This popular Belle Epoque institution is a mecca for sweet-toothed tourists – especially to taste Angelina's famous "l'Africain" hot chocolate, one of the richest in Paris and a meal in itself. Angelina opened its doors in rue de Rivoli in 1903 and since then has been a favourite address with Parisian fashion celebrities. Just imagine being seated at the same marble table as Coco Chanel.
If you're after something lighter than the hot chocolate, try their Mont-Blanc tea that accompanies their Mont-Blanc speciality of meringue, sweetened chestnut and cream. Great choice of classic, seasonal pastries and macarons. Out this 2021 season is the Mont-Blanc caramel, le Délice vanille & Le Voyage passion-ananas. Queues during holiday season can be crazy (although less on Tuesdays when le Louvre is closed) so reservations highly recommended. Their sister tea salon is in the Musée du Luxembourg (no tickets necessary to enter for tea – see below, Paris 6). See more details of Angelina's famous pastries in my article. (AC)
Angelina Tea Room, 226 rue de Rivoli, Paris 1
CAFÉ VERLET
Open since 1880, Verlet is the oldest Parisian coffee company. A few minutes from the Louvre and Palais Royal, open their doors to the aromas of fresh coffee beans and tins containing sticky vanilla beans. Since 1920, it has also become a favourite tea room with a huge variety of teas and coffees on the menu. Usually packed around 4pm (French goûter time), the good news is there's an upstairs salon for the overflow. 
Candied fruits from La Maison Lilament de Saint-Rémy de Provence line the tempting trolley that can be enjoyed on their own with tea served with mini rum babas and Chantilly cream. Good choice of teacakes such as Madeleines, Financiers, larger 'travel cakes' and a mi-cuit au chocolat lava cake with a molten coffee centre. Their hot chocolate is much lighter than most and not sweet, so easier to digest and enjoy with a cake. Speaking of which, a choice of the top pastries from Carl Marletti are also offered daily. Open Mondays (AC).
Café Verlet, 256 rue Saint Honoré, Paris 1
CAMELIA CAKE SHOP
Pastry chef, Adrien Bozzolo takes the Saint Honoré pastry to contemporary artistic heights in his generous afternoon tea to celebrate the street where the legendary Parisian patisserie was invented by Chef Chiboust in 1847. Choose from a wide range of scones, sandwiches, cannelés, fruit desserts and Champagne option. Did you know it's the original location of the most famous circus in Paris during la Belle Epoque, where Chocolat the clown hit stardom? For more details, see my article on Chocolat the clown at the Camelia. Enjoy their new Winter Teatime with a special Gingerbread Mille-feuille with vanilla-tonka cream or candied apple caramel cake. (AC)
Camelia Cake Shop, Mandarin Oriental, rue Saint-Honoré, Paris 1
DALLOYAU – LA SAMARITAINE
Tucked away by the emblematic staircase, chef and dessert champion, Jérémy Del Val creates a few pastries exclusively for this luxury store. If you particularly love nuts you're in for a treat with nutty creations and praline.  From an exotic peanut flower to an exclusive nuts and lemon featuring lemon Femminello cream (of course we know of Femminello, right?) 
Macarons delicious (including turron and popcorn flavours) – even if they call them macaroons (read my article, Macarons vs Macaroons, please :-). Open every day.
Dalloyau, La Samaritaine, 9 rue de la Monnaie, Paris 1
LE DALI, HÔTEL MEURICE
If you feel the need to splash out for a special occasion, then this ultimate afternoon tea, complete with savoury finger sandwiches and a Champagne option is the ultimate treat made by the World's top pastry chef (2018), Cédric Grolet. Taste his legendary pastry artworks of fruit look-a-likes, from lemons to hazelnuts. If that's not enough, warm financiers or madeleines are served throughout teatime. More details in my article on Parisian afternoon tea at ParisPerfect. (AC)
Le Dali, Hôtel Meurice, 228 rue de Rivoli, Paris 1
FRENCH TEATIME AU RITZ
How much is afternoon tea at the Ritz? Well it depends, as there are two main kinds of afternoon tea at the Ritz plus either with or without Champagne. There's either the full monty English-style served with finger sandwiches and cakes in the Bar Vendome (starting at 68 euros). Personally, I prefer the French teatime (goûter à la française) that takes place in the Salon Proust (read much more in detail on my tea time at the Ritz.) It's an unforgettable treat with 4 different types to choose from, starting at 68 euros for the chocolate fondue, tea and cakes to 103 euros including a dessert and Champagne Baron de Rothschild Réserve. 
Enjoy the magic pastry chef skills of François Perret, under the watchful portrait's eye of Marcel Proust. Typical French biscuits and cakes are from Proust's era, where he sat by his favourite fireplace and enjoyed his legendary Madeleines, which are given – quite rightly – centre stage here. (AC)
French Teatime (Goûter à la française)
Ritz Hotel, 15 Place Vendôme, Paris 1

LE GRAND VÉFOUR
Update October 2022: for the moment, it appears that teatime is no longer taking place.
Please check with the restaurant first. I'm hoping this is temporary so keeping this post for now!
Since May 2021, this historical Parisian institution at the Palais Royal also serves a delectable teatime between 3-5pm. Step into Le Grand Véfour's 200-year history and be transported by the sumptuous surroundings followed by a stroll in the Palais Royal gardens. Chef Guy Martin's pastry chef conjures up a teatime package (le plateau Teatime) on Fridays and Saturdays with 7 seasonal treats along with a hot drink, with or without Champagne (although possibility Tues/Wed/Thurs if you book in advance).
Small selection of teas by Mariage Frères and infusions by the Herboristerie du Palais Royal, Valhrona hot chocolate – or choose from the list of cocktails. When I was there (weekday in March 2022 with a pre-booked platter), we were offered 8 exquisite and light pastries. Possibility of taking away what you can't eat – I loved my leftovers for breakfast next day.
Pineapple choux with a mint pesto, praline madeleine, lemon/lime meringue tartlet, creamy vanilla flan, brioche feuillétée with blueberries (myrtilles), and an intense chocolate cookie with salted butter caramel, to name a few. Incredible value for such a luxurious address for 31 euros. Outside terrace when weather fitting. (AC)
Le Grand Véfour
17 rue de Beaujolais, Paris 1
LOUIS VUITTON CAFÉ – LV Dream
This pop-up café and pastry bar in the centre of Paris is part of the temporary exhibition of Louis Vuitton, LV Dream. What's more, the modern coffee bar, surrounded by tropical plants, highlights the superb pastries by Chef Pâtisserie, Maxime Frédéric from le Cheval Blanc in Paris.
Menu items include the LV signature chocolate eclair, a pear charlotte, lemon meringue pie and marble cake. Chocolate treats include damier tablets, macarons and a house grand cru hot chocolate (14 euros). Just opposite the Samaritaine and a few steps away from le Pont Neuf.
Open until 15 November 2023, no reservations are needed for the café or chocolaterie. Eat in or take away.
LV Dream Café
26 quai de la Mégisserie, Paris 1
OLIVIER STEHLY
Opened in May 2019 as a sit-down venue rather than Olivier Stehly's Montparnasse bar, this boutique is just a stone's throw from Châtelet Les Halles. This is not cutesy old-fashioned Paris nor cosy but if it's fun, delicious pastries in a modern setting you're after, this is it. His signature mushroom pastry is excellent. The '1 Up' mushroom is full of blackcurrants in a vanilla mousse. Love the novel large round table with a centre-piece woodland. Great choice of macarons too. Part of Les Citadines hotel next door. Small selection of Kusmi teas and latte coffee good.
Tip: be sure not to sit in front of the sliding door on a cold day. (AC)
Olivier Stehly, 4 rue des Innocents, Paris 1
(sortie 1 Châtelet Metro)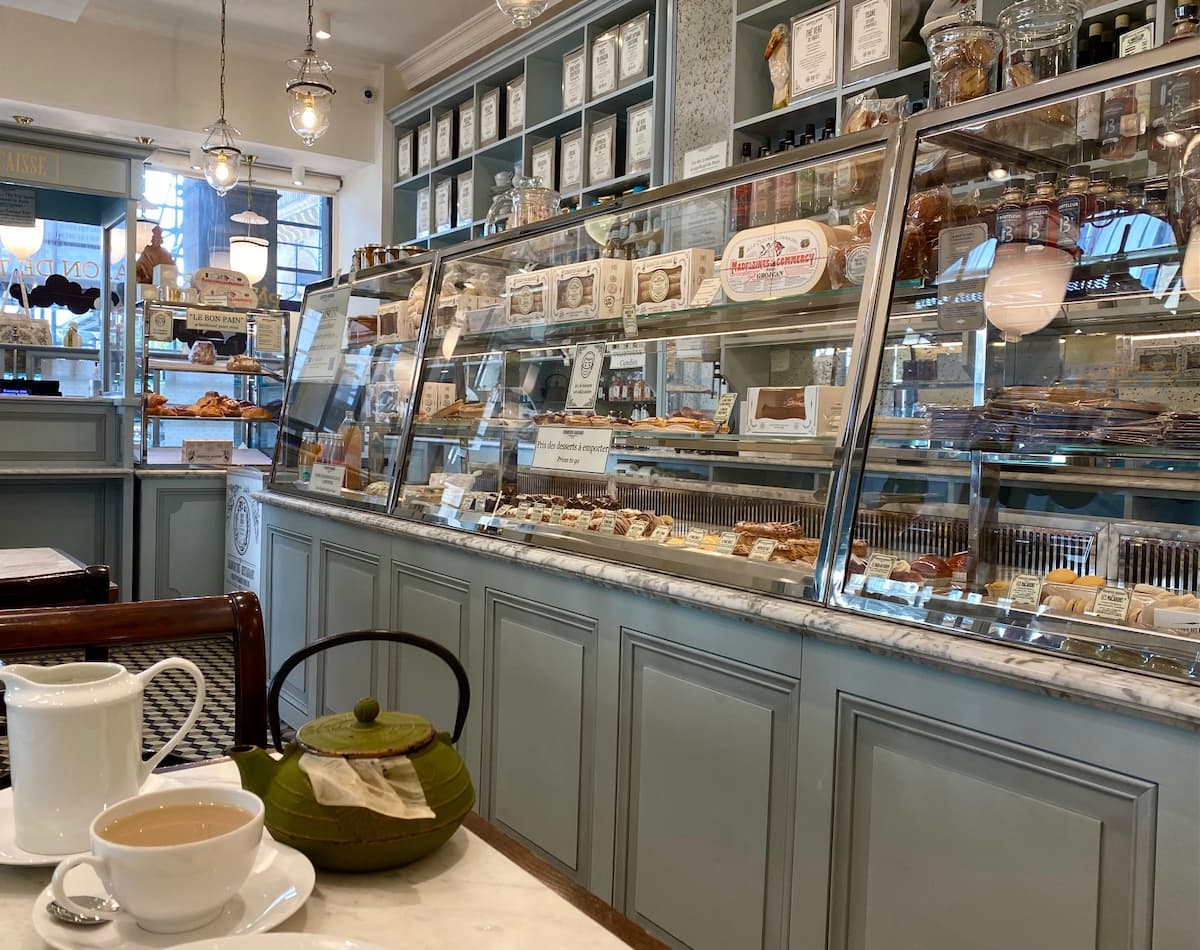 SEBASTIEN GAUDARD
Passed on from father to son since 1955, Daniel Gaudard said of his son, Sebastien, "While other children were playing with playdough, my son was playing with almond paste". While the main boutique is in rue des Martyrs, luckily for us if you're visiting Le Louvre, the tea salon is just across from the Tuileries Gardens (behind the golden statue of Jean d'Arc). Looking at the pastries in the window, it resembles an image from a Christmas chocolate box. The Salon de Thé upstairs has been refurbished with 2-3 tables downstairs and tables outside. Ensure you get there before it gets popular around 4pm, as teatime is served between 3-5pm (open also for breakfast and lunch). 
Try le Mont Blanc, Merveilleux, Framboisier, Duchesse Café (coffee éclairs), Paris Brest or lemon tart classics or, my personal favourites, Le Cerisier with its almond genoise sponge, pistachio cream with slightly acidic Griotte cherries all topped off with caramelised almonds, or Mussipontain, an almond speciality created by Daniel Gaudard, with vanilla cream and caramelised almonds. There are also seasonal pastries – the autumnal spiced chestnut pumpkin (potimarron) tarts are simply divine! Great choice of teas, including a semi-fermented Oolong with orange blossom. His Kougelhopf is one of the top 3 in Paris – so get some for tomorrow's breakfast if you don't have room to try them all. (AC)
Sébastien Gaudard, 1 rue des Pyramides, Paris 1
TORAYA
One of the oldest patisseries in Japan came to Paris in 1980 to spread the custom of enjoying wagashi (Japanese traditional cakes to accompany Matcha green tea – more details in my article, Teatime in Japan). Typical flavours include dorayaki pancakes with azuki (red bean paste), as well as their similar tasting delicious macarons. Hot chocolate with Matcha a speciality (Yokan), as is the buckwheat tea (Soba-Tcha), which was a real hit even with my non-tea-drinking husband! (AC) Closed Sunday.
Toraya, 10 rue Saint-Florentin, Paris 1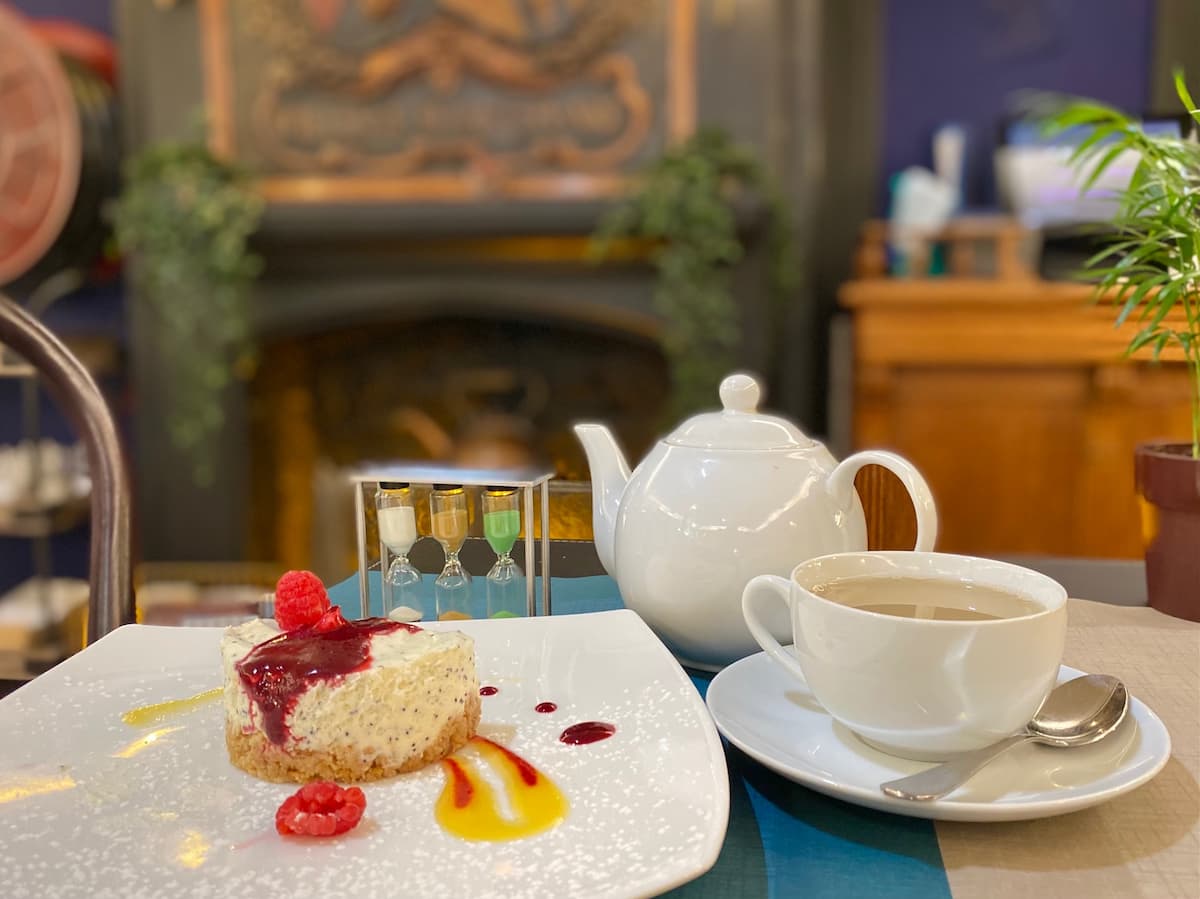 SMITH & SON CAFÉ
Previously known as the Twinings Tea Room, the new first floor café of the English-speaking bookshop (previously WHSmith Paris) overlooks rue de Rivoli. This is my quiet haven – hard to believe just a block away from Concorde and the bustle of rue Royale! Pretend you're travelling by old-style steam train in the middle section: the decor is nicely done and well spaced out. Great for a pot of tea and wedge of British-style cake, although choice is limited (the cheesecake when I was there was homemade, otherwise a gluten free carrot cake). Two teatime options such as the Bronte both include scones. Lunches also served (mainly around British cheddar and toasties). Lovely memories here of my first book event in Paris for Mad About Macarons! If you don't see Teatime in Paris, please do ask them for it, as the last time I visited they were out of stock 😉 . (AC)
Smith & Son 1st Floor, Rue de Rivoli, Paris 1
---
Paris 02 (Bourse)
Near Stock Exchange, Grands Blvds, Opéra
AKI CAFÉ
Situated along Paris's most influential Japanese street on rue Sainte-Anne, this more casual address has an impressive collection of Japanese-style cakes, such as Strawberry Shortcake, Matcha Chiffon Cake, Yuzu Crêpe Cake, Dorayaki and all sorts of Matcha specialities, including éclairs, plus Neji Neji praline, strawberry, chestnut and azuki breads. Only disappointment is that for sitting in, many drinks are still served in plastic but seating is comfortable and spacious.
During a summer heatwave, try the iced Yuzu Thé Glacé or Matcha Latte. (AC) Closed Sunday.
Aki Café, 75 rue Sainte-Anne, Paris 2
CEDRIC GROLET
Ever since this pastry chef star of le Meurice won the title for Best Pastry Chef in the World in 1997, the queues have been forming for his pastry shop in rue de Castiglione and then this Opéra address. The tea salon is upstairs and relatively small and, as it's also open for breakfast and lunch, reservations online are recommended at the link below to avoid disappointment.
Needless to say, try his famous pâtisserie, inspired by flowers. Fleur d'Opéra Café, Fleur lime meringue and Fleur Paris-Brest, to cite our favourites.
Cédric Grolet, 35 Avenue de l'Opéra, Paris 2
ECLAIR de GENIE COFFEE SHOP
Christophe Adam's fame of l'Éclair de Génie started with his first boutique in Rue Pavée in the Marais (I mention him in more detail in my book, Teatime in Paris). This has just opened in October 2022 and yet to try but will update here soon. Seasonal pastries as well as his chocolate flowers are just as tempting as his famous éclairs in a contemporary setting around a marble bar.
Closed Monday. (AC)
Eclair de Génie Café, 122 rue Montmartre, Paris 2
LE VALENTIN
Excellent if it's particularly hot or rainy – head to the passageways of Paris! An offspring from the original tea salon in Passage Jouffroy (next to the Musée Grevin), Le Valentin have also opened in the historical Passage Vivienne. Try their seasonal fruit tarts and their signature peanut or pecan tartlets, rum babas or Mont Blanc along with a huge choice of teas or coffees.
Le Valentin, Galérie Vivienne, 4 rue des Petits Champs, Paris 2
TOMO
Ever since I tasted the most exquisite Doriyaki pancakes in Japan filled with anko, the perfect concoction of lightly sweetened azuki red bean paste, I've been looking for the equivalent experience in Paris. Here at Tomo is a real gastronomic pleasure that takes the Dorayaki to another level, topping the fluffy Japanese pancake with delicious edible art (e.g. lemon & yuzu). Try the traditional dorayaki but the seasonal specials are a must. For example, try their tarte tatin served on a fluffy doriyaki with a surprising centre of mouth-watering blackcurrant (cassis). My plus points: pastries are very delicate and not that sweet.
The most exquisite of Japanese teatime patisserie, their 'wagashi' (mini cakes) are all around the seasons with Matcha green tea, yuzu, sesame and plum flower to accompany their teas.
For more on Japanese teatime, see my article, Teatime in Japan. Closed Monday. (AC).
Tomo, 11 Rue Chabanais, Paris 2
---
Paris 03 (Marais)
Near Place des Vosges, Carnavalet Museum

BONTEMPS (Jardin Secret)
A most delightful hidden jewel north of the Marais, a few steps away from the market, Les Enfants Rouges. Named the Secret Garden, it's in a cobbled courtyard, next to their patisserie. With a light fragrance of orange blossom, plenty of light, flowers, greenery and mirrors, it has a real happy feel-good ambience. Don't miss their speciality: lightly salted sablés, from biscuits to beautiful pastries constructed around them. I love not only their fruit tarts but try the Mont Blanc in both winter (classic with chestnut, cream infused with Earl Grey tea) or summer (the lightest whipped vanilla Chantilly cream served with Gariguette strawberries). Not just a relaxed tea salon but great for breakfast, brunch and light lunches too (see more in my article on Bontemps) – just don't come without trying my favourite tarts and get that mix of salt and sugar in one! Seating also outside in the courtyard. (AC) Closed Mon/Tues.
Bontemps, 57 Rue de Bretagne, Paris 3
CARETTE
Opened in the Marais in 2010. See description below for the original Trocadero address, Paris 16. However, I prefer this salon de thé to Trocadero, as it is less crowded and cosier in the cooler months. (AC)
Carette, 25 Place des Vosges, Paris 3
JACQUES GENIN
Since listing as part of my favourite Paris tea salons, Chef Genin (since June 2019) stopped the plush tearoom for a tasting area, where you can sit briefly to enjoy the gourmet experience and perhaps share the experience with the chef himself. It's hard not to marvel at the staircase, leading up to his lab. Sink in to a velvet hot chocolate, try his éclairs, lemon, lime & basil tart and don't leave without tasting the legendary exotic caramels (try ginger, raspberry, and mango-passion) plus the best fruit jellies (rhubarb, cassis), including savoury. In summer, try his freshly made ice-creams based on fruits, spices and herbs, served in crispy dentelle or langue-de-chat cones. More in my article on Genin on rue du Bac. (AC) Closed Monday.
Jacques Genin Salon de Thé, 133 rue de Turenne, Paris 3
MAISON PLUME
This is a gem of an address by chef Tara Pidoux for those looking for pâtisseries entirely gluten free – but also for those following a Keto diet, and/or who are diabetic, as all pastries and biscuits (cookies) have a low glycemic index. Enjoy a savoury tart of the day – I had a deliciously light courgette/zucchini quiche with goats cheese and thoroughly recommend as very tasty. If you have a sweet tooth, individual pâtisseries are made with waffled choux dough (with ingredients such as hazelnut flour, olive oil, Stevia) and almond cakes: lemon meringue tart, apple cinnamon cake and the Plume pur noisette made with a hazelnut ganache. Just be aware that they do have a very healthy taste, as they are trying to cater to 3 different diets. The tea room is small but with a cosy atmosphere.
Maison Plume, 61 rue Charlot, Paris 3
T'CUP
An informal British style Afternoon Tea is served at the T'Cup, around the corner from Place des Vosges. A place where "It's always T-Time" with lunches too although teatime is only served between 4-7pm. Tiered plate with sandwiches, scones and choice of cake of the day with tea (€24). Portions of cakes are rather enormous, so if you're planning on dinner, don't forget you can ask for a box to take home ('à emporter'). Lemon and lime tart is more like a cheesecake and funnily enough, a huge wedge of fluffy carrot cake is the lighter alternative. Good address if looking for somewhere cosy or cool indoors in summer. Terrace outside (AC).
T'Cup, 16 Rue des Minimes, Paris 3
---
Paris 04 (Bastille)
North of Notre Dame, Pompidou Centre, Bastille – Marais
LE LOIR DANS LA THÉIÈRE
Literally a dormouse in the teapot, this popular cosy, Mad Hatter Alice-in-Wonderland spot in the Marais is included in my book's Parisian Annex guide. Nothing fancy; just a good, classic French goûter with a laid-back ambience with rather worn sofas. Particularly good crumbles and Tarte Bourdaloue. Tends to be busy so if a huge queue, suggest TCup nearby (see entry just above).
Le Loir dans la Théière, 3 rue de Rosiers, Paris 4
YANN COUVREUR
Enjoy a quick stop and grab a stool to enjoy the mouthwatering wonders from this foxy (his signature is a renard) rising star of pastry in his relatively new boutique on this historical pedestrian street. Try his rectangular chocolate éclairs, lemon & lime meringue tart that's far from square, Madagascan Vanilla Flan or the ultimate Baba au Rhum with a vanilla riz au lait (rice pudding). Also at Galeries Lafayette Gourmet on Boulevard Haussmann. (AC)
Yann Couvreur, 23bis Rue des Rosiers, Paris 4
---
Paris 05 (Panthéon)
Near Jardins des Plantes, Panthéon, South of Notre Dame

AUX PORTES DE L'ORIENT (Paris Mosque)
After a visit to the Grand Mosque of Paris and its lush rose garden with tranquil fountains, this veritable oasis has a welcome tea salon just behind the mosque. Enjoy authentic oriental pastries and mint tea either served inside under the cedar arches on comfy seating or amongst the birds chirping in the quiet courtyard.
It's also an ideal teatime spent following a visit to the Jardins des Plantes (botanical gardens), just across the road.
La Mosquée de Paris, Salon de Thé, 9, rue Saint-Hilaire, Paris 5
A. LACROIX PÂTISSIER
A great wee spot with a fabulous view and right opposite Notre Dame. Good ground coffee, a selection of teas and delectable pastries, including macarons made by pastry chef, Arnaud Lacroix. Try one of the specialities, Le Notre Dame, a realistically shiny green apple patisserie with a hidden filling of green apple mousse and confit with a moist almond cake. Good English spoken. (AC)
A.Lacroix Pâtissier, 11 Quai de Montebello, Paris 5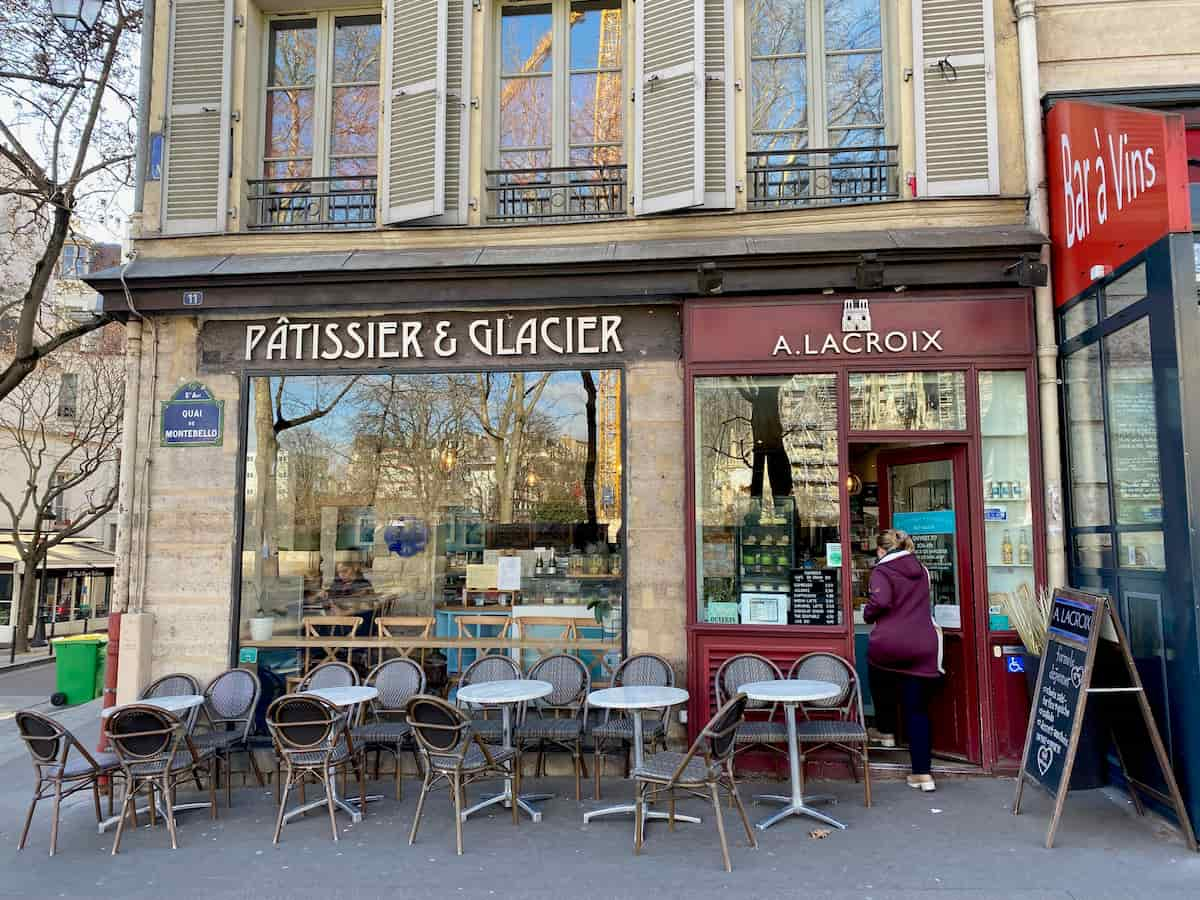 THE TEA CADDY
One of the rare Oh-so-British style, cosy tea salons, just across from Notre Dame. It's so British in feel, that it's hard to believe you're in Paris! Founded by Miss Klinklin in 1928, enjoy a range of British teas, cakes, tarts and scones with clotted cream.
English spoken. (AC)
The Tea Caddy, 14 Rue Saint-Julien le Pauvre, Paris 5
---
Paris 06 (St Germain-des-Prés)
Saint Germain, Luxembourg Gardens

CAFÉ DE FLORE
Like the Café next door, Les Deux Magots, this is an historical Parisian institution, luring writers and artists for decades – see more of the history of writers and stars. Although not a tea room – rather a café for any time of day, known today for the place to be seen with a pastry and hot chocolate out on the terrace. As well as a homemade tart of the day, try their speciality classic, the Tarte Tatin. Selection also of tarts and pastries from Hugo & Victor pâtisserie.
Café de Flore, 172 boulevard Saint-Germain, Paris 6
CAFÉ PAVANE
Tea salon run by Manon Hévin since 2018, daughter of famous chocolatier – for more, see my post on Jean-Paul Hévin's chocolate collections. Just opposite the Palais and Luxembourg gardens, enjoy a selection of Japanese and Chinese teas with her father's exquisite pastries. Don't forget to try the house speciality hot chocolate, which is renowned for its whipped chocolate with spices.
Café Pavane, 22 rue de Vaugirard, Paris 6
COLOROVA
Pastry Chef Guillaume Gil (ex Ferrandi cooking school, which is just across the road) changes his pastries according to season so regularly that it's easy to return and discover so many new delicacies on the teatime menu. Their hot chocolate is excellent and great value. At my last visit, I had the most incredible black sesame pastry with green tea. Sublime. Choice of latte, including black sesame. (AC) 
Colorova, 47 Rue de l'Abbé Grégoire, Paris 6
IL GELATO DEL MARCHESE
Alas, this elegant Italian tea salon has closed but the good news is they moved just next door! In summer, outside seating only in the the bustling Saint Germain des Prés area. Feast on luxury Italian gelati with natural, organic ice creams (try the Sicilian pistachio) and fabulously fruity sorbets. Exquisite with the most delicious homemade wafers, made fresh off the griddle. More details on Il Gelato del Marchese's luxury ice creams in Paris. (AC)
Il Gelato del Marchese, 3 rue des Quatre Vents, Paris 6
LADURÉE
It's hard not to bump in to Ladurée on any trip to Paris, as the boutiques are now all over, and you're surrounded by them at the airports. Although not historical as its location, the Bonaparte tea salon evokes what Louis Ernest Ladurée set out to achieve with his first tea room-Patisserie in Rue Royale in 1871. Enticing French ladies to take tea in the afternoon with a pastry, it would be a real wardrobe-changing event in the 19th century.
Today, known for their macarons and credited to have been the creators behind the first Gerbet Parisian macaron in the 1900s, my favourites are still vanilla and orange blossom with new ones added according to season. Pastry-wise it's the Réligieuse à la Rose, two choux buns filled with a rose pastry cream (recipe in my book, Teatime in Paris) and served in style with the silver. Nicolas Haelewyn, has now taken up the post of pastry chef, so those of you sad to see Karamel go in the 7th, will no doubt be happy to know that his caramel legend continues on. (AC)
Ladurée Paris Bonaparte Tea Room, 21 rue Bonaparte, Paris 6
L'HEURE GOURMANDE
Tucked away in a little passageway, this cosy tearoom is a quiet haven away from the tourist bustle of Saint Germain-des-Prés. Excellent hot chocolate, wide range of teas from le Palais des Thés and family-style French dessert classics such as clafoutis, chocolate fondant, fruit tarts and the lightest French-style cheesecake (gateau de fromage) that just melts in the mouth with a touch of coulis on the side.
(No AC but as it's in a courtyard passageway in the shade, air circulates).
L'Heure Gourmande, 22 Passage Dauphine, Paris 6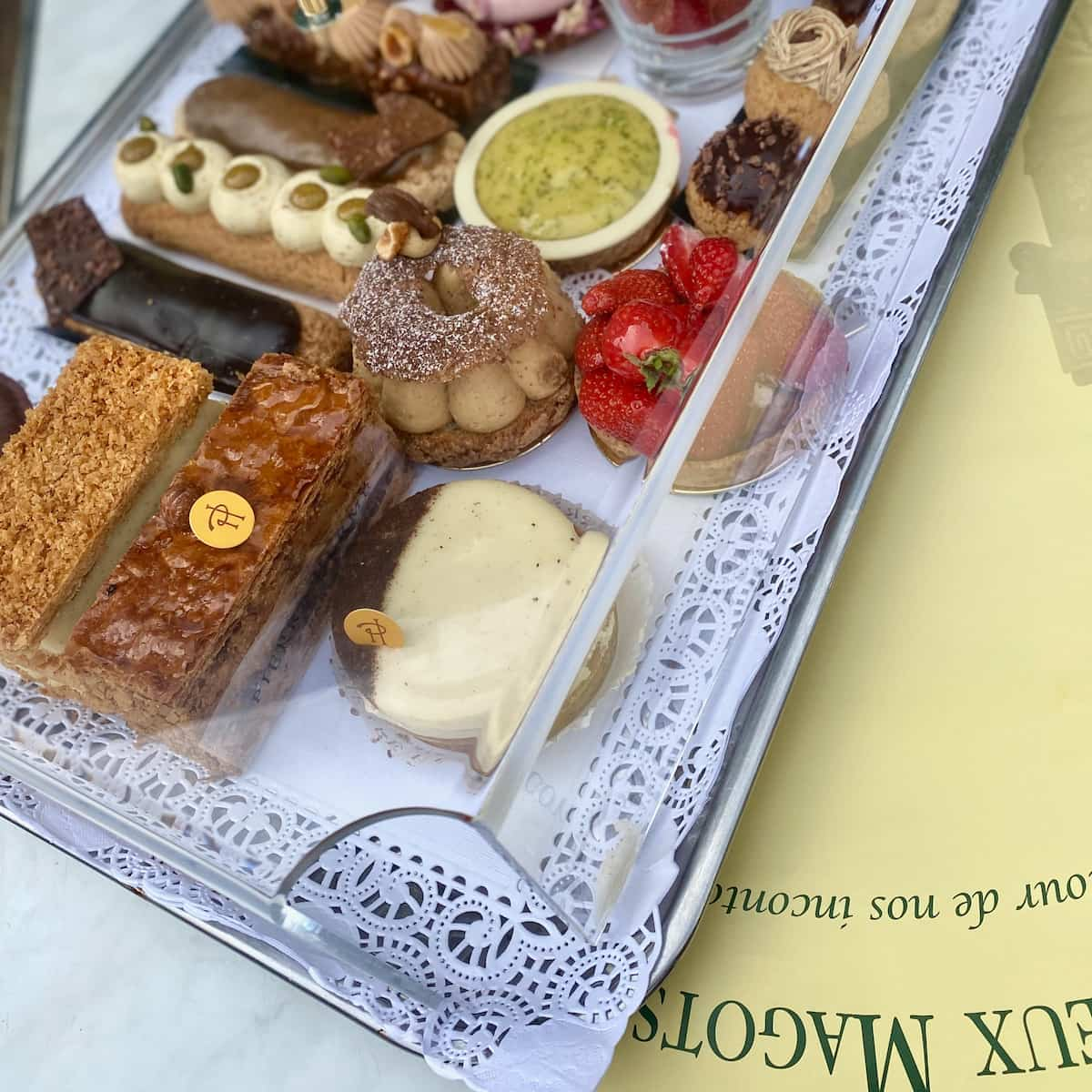 LES DEUX MAGOTS
Although slightly pricey, this legendary café (founded in 1812) is a must address when visiting Paris – along with the Café de Flore next door. The name refers not to 2 magots but to the two Chinese wooden figurines by the bar. Attracting famous artists and literary figures, today visitors flock for the tables outside, watching the world go by, in front of the church of Saint Germain-des-Prés. The last time I visited over a weekend, live jazz was playing across the street and so adds to a wonderful ambience.
Choose from the pâtisserie platter from Pierre Hermé, CinqSens, La Grande Épicerie de Paris, and Ernest & Valentin. Ice cream desserts and sorbets are all from Berthillon. Hot chocolate is traditionally extremely thick and intense, so be warned if planning to enjoy with pastries too, as it can be rather rich. Try the Café Gourmand with tea or coffee to enjoy a sampling platter of mini desserts.
Les Deux Magots, 6 Place de Saint-Germain-des-Prés, Paris 6
MADEMOISELLE ANGELINA
Sister tea room of the popular Angelina's on rue de Rivoli, this smaller address in the Musée de Luxembourg has a contemporary decor with all the pastries and frills in the heart of the Luxembourg gardens. Try la Demoiselle tatin, seasonal Mille-feuille or a chestnut crêpe filled with their crème de marrons as well as their famous classics. More on Angelina.
No entrance ticket needed to access the tea room.
Mademoiselle Angelina, 19, rue de Vaugirard, Paris 6
MAMIE GATEAUX
As the name implies, this real family-style nostalgic ambience has you indeed believing you've stepped into a welcoming French Granny's home on a Sunday to taste her succulent cakes in a school-like decor. Excellent teas, bowls of hot chocolate and wonderful ambience, with their brocante store next door. Closed Monday.
Mamie Gateaux, 66 rue du Cherche-Midi, Paris 6
MARIAGE FRÈRES
Two brothers, Henri et Edouard Mariage, started up this tea house in 1854 and for more of their story, head upstairs to the tea museum. This is the little brother of three tearooms (the others in rue du Bourg Tibourg, Paris 4 & in rue Cler, Paris 7) but I have a penchant for this one as it's quieter and a great spot next to the Seine after a long walk around Saint Germain-des-Prés. Cakes are tea-inspired such as financiers, madeleines and cannelés (recipes in my book) plus scones and French waffles are served with tea-infused jams. (AC)
Mariage Frères, 13 rue des Grands-Augustins, Paris 6
TIPANA
For a voyage to the Middle East next to the St Germain market, this pâtisserie's tea room fusions French with oriental touches. Chef Dima Al Husseini features main ingredients such as pistachio, fig, orange blossom or rose water. Don't leave without trying their signature, 'le Tipana', a light mousse on an almond biscuit with subtle flavours. Indeed be transported for goûter, with tastes of the orient express!
Tipana Pâtisserie Nomade, 2 rue Clément, Paris 6
UN DIMANCHE À PARIS
Alas, one of my favourites has closed here at its historical location and is currently looking for new Parisian premises. In the meantime, if you're in Dubai, then that's where you'll find them.
Un Dimanche à Paris, rue Paris 6
---
Paris 07 (Eiffel Tower)
Near Ecole Militaire, les Invalides, Orsay Museum, Rue du Bac

BAC À GLACES
The real McCoy: Parisian, homemade ice cream has been made here since 1955. With a choice of over 60 ice creams, they are all 100% natural (no additives, colouring, flavours, stabilisers, chemicals etc.) and include ice creams without eggs. Natural stevia is used to sweeten their sorbets, so are ideal for those on a lactose-free diet too. For those who prefer their sorbets with alcohol, you're covered too! Our favourite classics? Roasted Pistachio, Cinnamon, Gingerbread and Sesame Halva (have you tried my black sesame ice cream yet?).
Cosy seating is also available inside in their tea room, where you can also taste their ice cream desserts, including many delicious variations to the Classic Vacherin Dessert. Vegans will be happy to hear their cones are made for them too!
Bac à Glaces, 109 rue du Bac, Paris 7
CAFÉ PIERRE HERMÉ BEAUPASSAGE
Enter via the trendy courtyard area of Beaupassage from Rue du Bac (see my article on Paris's Pastry street of Rue du Bac). It's a beautiful passageway – almost secret that unravels an exciting plethora of new cafés and restaurants where you can eat indoors or outside on the terrace. So hide between the foliage with your pastry or macarons and tea or coffee.
Café-Restaurant Pierre Hermé, Beaupassage, 53-57 rue de Grenelle, Paris 7
FOUCHER CHOCOLATERIE
Looking for a quick stop for fabulous hot chocolate (chocolat chaud) around rue du Bac? Foucher have a small seating area at the back of their boutique for sit-in tastings, otherwise they offer take-out for a pick-me-up.
Foucher, 134 rue du Bac, Paris 7
LES DEUX ABEILLES
The two bees create a real buzz with their extra thick hot chocolate topped with the lightest of Chantilly cream. Amidst old-fashioned decor, white tablecloths and textile-flowered walls, try the lemon meringue tarts, or Fondant au Chocolat. Closed Sunday.
Les Deux Abeilles, 189 rue de l'université, Paris 7
KARAMEL
Looking for Karamel on rue Saint-Dominique? Sadly, Breton chef Nicolas Haelewyn closed the doors of this lovely tea room in May 2020 but you'll find him now at Ladurée where he continues his caramel legend as executive pastry chef.
See article on pastry shops and tea rooms on Rue Saint-Dominique.
LE JARDIN DE MADEMOISELLE
This charming tea shop and tea room on the Invalides side of rue Saint-Dominique is very small but incredibly sweet, run by Aline and Floriane. With very little tables (there were only 4 when I last visited), there's no room for prams or trotinettes but that's also why we like it – along with the fluffy cushions. Teatime offerings have a more British ambience with scones (cream and jam), carrot cake, pecan pancakes and a cookie of the day. More French:  chocolate fondant, financiers and a gâteau du jour. Tea fans will love the huge selection but also a great choice of coffee with speciality lattes and hot chocolates – fans of chestnuts? This is your address, as they love making chestnut versions of their fondant cake, as a latte and hot chocolate. Ensure you book for their brunch, the first Saturday of the month.
Le Jardin de Mademoiselle, 69 bis, rue Saint-Dominique, Paris 7
MARIAGE FRÈRES – TOUR EIFFEL
Originally set up by the Mariage brothers, Henri & Edouard in 1854, this tea room is near the Eiffel Tower on the pedestrian street of rue Cler at Ecole Militaire. All cakes are tea-inspired such as financiers, madeleines and cannelés (recipes in my teatime book) plus scones and French waffles are served with tea-infused jams. (AC)
Tend to close over the summer holidays so check with their website.
Mariage Frères, 56 rue Cler, Paris 7
MISS MARPLE (Alas, now closed)
SADAHARU AOKI
If you're not far from the Eiffel Tower, head to a most gourmet block on rue Saint Dominique as it's so less touristy and if you're like me and adore Japanese-influenced French pastries, then Aoki is your address. In true Japanese ambience, it's relaxed and quiet at the back of the boutique. More details on Sadaharu Aoki's pastries but try the 'Bamboo', Chef Aoki's clever chocolate & green tea Japanese take on an Opéra pastry, the 'Zen' with a sesame pastry, topped with sesame creams, white chocolate and Cognac, plus the 'Forêt Verte Kyoto', a boozy cherry Matcha slice of green tea velvet – not too sweet, just sublime. Eclairs, cream choux buns and macarons are in all infused with different favourite Japanese teas. (AC) Also in Galeries Lafayette Gourmet. Closed Monday.
Sadaharu Aoki, 103 rue Saint Dominique, Paris 7
For more patisseries near the Eiffel Tower, read my article on Best Pastries on Rue Saint-Dominique.
---
Paris 08 (Champs-Elysées)
Near Grand Palais, Arc de Triomphe, Madeleine, Gare St Lazare, Parc Monceau, Jacquemart André Museum

CAFÉ CITRON
This Mediterranean addition in Paris has had a lot of hype following designer Simon Porte Jacquemus and Caviar Kaspia's provencal ambience on the 1st floor of Galeries Lafayette. Although open at all hours for breakfast, lunch and cocktails, it's teatime that brings me here to enjoy Stohrer's pastries (the oldest Parisian patisserie), calissons and nougats of À la Mère de Famille plus the crème de la créme, 'Citron' by Cédric Grolet (celebrity pastry chef of le Meurice), the incredible lemon look-a-like – although be prepared to pay 25 euros for the piece if you don't want to queue at his boutique on rue de Castiglione.
(AC but don't sit at the window overlooking the Champs-Elysées, as it gets very hot here!)
Café Citron, Galeries Lafayette, 60 Avenue Champs-Elysées, Paris 8
CAFÉ POUCHKINE
Alas, now closed, Place de la Madeleine.
DALLOYAU
This was the first tea salon in Paris in 1820 to open its doors by the Dalloyau family in the same spot, which previously housed the first Maison de Gastronomie for 18 years. Members of the Dalloyau family (continuing over 4 generations) had the honour of serving Louis XIV, who was one of the first amateurs of drinking French tea. In 1955, however, Cyriaque Gavillon (a descendent) created the Opéra pastry here, the rectangular layered coffee sponge cake sandwiched with coffee buttercream and chocolate ganache. More in my book! One of my favourites is their Fraisier. (AC)
For another Dalloyau address, they're in Samaritaine with exclusive pastries (see Paris 1)
Dalloyau, 101, rue du Faubourg Saint-Honoré, Paris 8

JACQUEMART-ANDRÉ CAFÉ
Come for teatime after 3pm after visiting the museum – although having a ticket to the museum isn't necessary to eat here. This is the mansion's former dining room and so is a real treat. Not just for the choice of delectable pastries made by Francesca from Notre Pâtisserie (see more on my article on Best bakeries near the Eiffel Tower) with Betjeman & Barton teas, but also for the grandeur of the surroundings. 
Don't forget to look up at the ceiling and admire Tiepolo's fresco and the walls of which are decorated with 5 18th-century Flemish tapestries evoking the story of Achilles. 
The Café, Jacquemart-André Museum, 158 Boulevard Haussmann, Paris 8
LADURÉE
Would you believe the popular address on the Champs-Elysées only opened in 1997? Thanks to architect, Jacques Garcia, the ambience is second empire reminiscent of the original tea room at 16-18 Rue Royale which is celebrating its 160 anniversary. Choice of elegant rooms including the Salon Castiglione on the 1st floor, library and chocolaterie. It gets popular around teatime (any time really!), so I recommend booking in advance to avoid disappointment at either address. Otherwise there's the 'overflow' annex on the Champs-Elysée's covered terrace which, personally, isn't quite the same elegance for the same high prices.
Ladurée, 75 Avenue des Champs-Elysées, Paris 8
 L'OCCITANE & PIERRE HERMÉ – 86 CHAMPS
Interesting concept here by the famous pastry chef, Pierre Hermé – rather different to the many cafés he now has around Paris. He merges perfumes of the Provençal garden of Occitane with his floral inspired macarons and pâtisserie. As well as the macaron boutique inside, at the back is a lovely Salon de Thé, restaurant area and bar where you can enjoy the popular Ispahan (more about it in my Ispahan macaron dessert recipe) and my favourite Infiniment Vanille, a tartlet made with 3 different kinds of vanilla from Mexico, Tahiti and Madagascar.
86 Champs, 86, avenue des Champs-Elysées, Paris 8
PAGES BLANCHES
Japanese pastry chef, Kaori Akazawa is creating waves around Paris with her new pâtisserie and salon de thé on Boulevard de Courcelles (nearest to metro Villiers). A fusion of French classic savoir-faire with flavours of Japan, don't miss the sought after Parisian flan with matcha green tea. It's incredibly creamy and love that it's not too sweet. Closed Mondays/Tuesdays.
Pages Blanches, 11 boulevard de Courcelles, Paris 8
---
Paris 09 (Opéra)
Near Opéra Garnier & North to Pigalle

LE VALENTIN
I have a soft spot for Le Valentin, as it was one of my first exciting discoveries in Paris before it became really popular next to the Musée Grevin. Located in one of Paris's oldest roofed Passages (1845), ensure you grab a table and sofa upstairs with the old-fashioned lampshades and peruse the enormous tea menu.
Complete with serving suggestions with the appropriate cakes, try the Polonaise, the Chiboust or their sumptuous macarons. Perhaps my personal favourites are both the pecan and peanut tartlets plus Le Gaillard, a small cubed cake filled with prunes in Armagnac and not too sweet. Good news! They've opened another tea salon in Passage Vivienne in the 2nd arrondissement. (AC)
Le Valentin, 30 passage Jouffroy, Paris 9
LES COMMÈRES
The first pâtisserie bar in Paris has an American coffee shop style in south Pigalle (nicknamed 'SoPi'). House pâtisseries are associated with sweet, fruity cocktails such as le Fifi or le Rosy. Try the Saint-Honoré with pistachio and wild strawberry choux buns when in season – or the pineapple and passion fruit tart. It's also possible to create your own pastry, so it's up to your mood and creativity. The highlight is to watch chefs Adèle and Lulu spiral caramel on the turntable. 
Les Commères, 31 rue Victor Massé, Paris 9
ROMANTIC MUSEUM TEA ROOM / ROSE BAKERY
Great news since my book, Teatime in Paris was published. The Rose Bakery have taken over the tearoom and it's now also open all year round. Expect to find more English-style treats such as scones or carrot cake with tea. Nothing fancy in terms of seating but the rose garden setting is beautiful and (rare in Paris) the museum is free ! Closed Monday.
FYI – the Rose Bakery is also in le Bon Marché Department Store (AC) and in Rue des Martyrs.
Musée Romantique, 16 rue Chaptal, Paris 9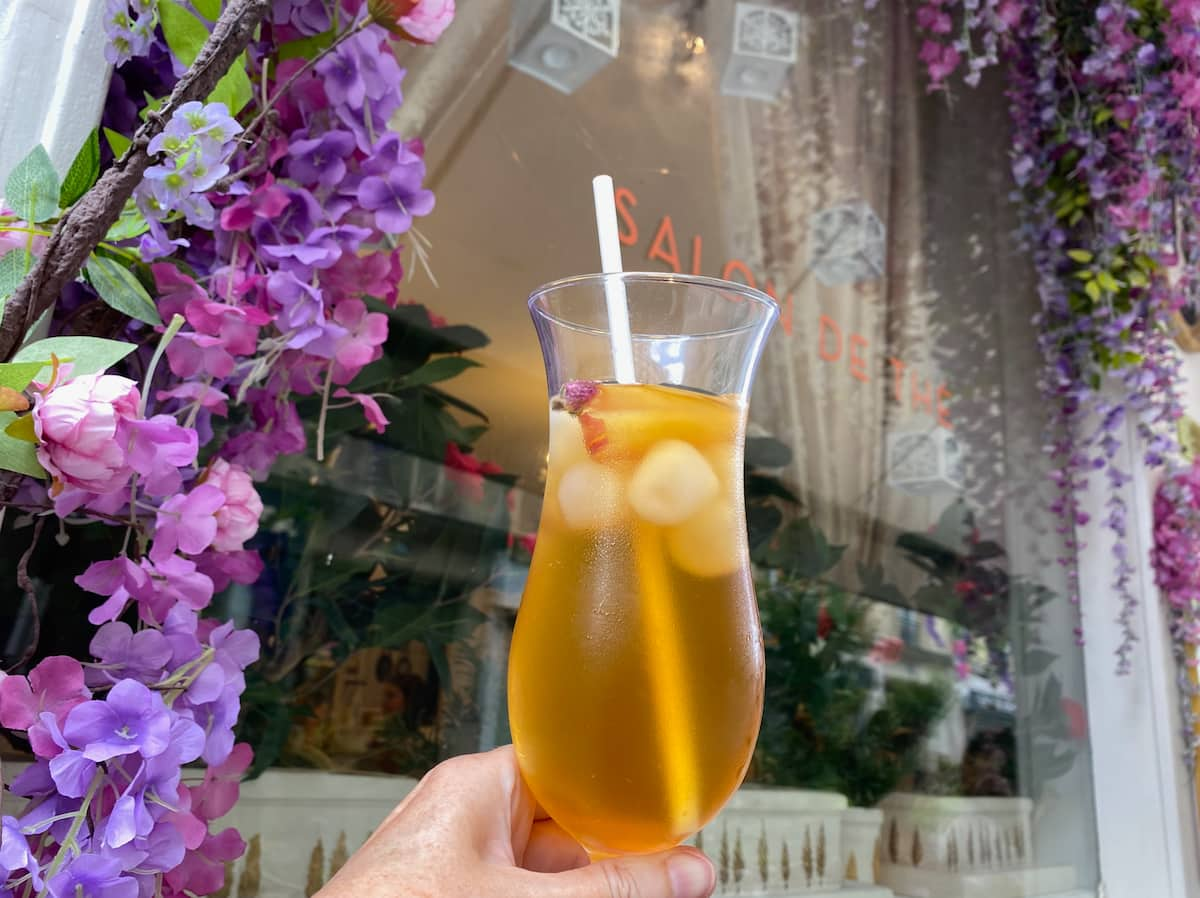 VIOLETTA ET ALFREDO
Looking for a lovely tea room with an opera theme? Here's a pretty flowery, instagrammable address, about 15 mins walk from the Opera Garnier behind les Grands Boulevards.
Served as of 2pm, their teatime is great value (€20 for choice of hot drink, choice of homemade cake, 2 small savouries and small teacakes). However, I couldn't wait and had a light lunch here with their house 'churger' (filled cheese gougère with salmon, avocado and colourful beetroot frills). Have an extra 20 minutes to spare? House speciality is their fluffy pancakes (savoury and sweet). Excellent choice of teas, hot chocolates, summer smoothies and sweet peach ice tea on ice. A few seats outside on the street. (AC although they tend to open the door so it's not that cool inside.)
Violette et Alfredo, 30 rue de Trévise, Paris 9
---
Paris 10 (Gare du Nord)
Near Gare de l'Est
MICHALAK CAFÉ
Relatively new on le block as the 4th location in Paris, this is where the Masterclass workshops take place (why doesn't he keep the K theme and call it MasterKlass?) behind the boutique. Sit and gaze at the 'fantastik' range of Christophe Michalak's pastries. My favourites? Tarte Pomme Tatin with a Calvados pastry cream hidden underneath the most beautiful, shiny caramelised apple and finished off with crumble. Also try his beautifully light signature, Mon Koeur, a work of art on its own: Caribbean chocolate cream with exotic fruit compote, yuzu cream and milk chocolate mousse. Frankly, I dream of taking off on his chocolate space-ship! (AC) Closed Sunday.
Michalak Café, 60 Faubourg Poissonnière, Paris 10
---
Paris 11 (North Marais)
CHAMBELLAND (Gluten Free)
Nathaniel Doboin and Thomas Teffri-Chambelland did indeed rise to the baking challenge in 2014 when they set up this emerging segment specialising in 100% gluten free breads. To ensure their flours are entirely gluten-free, they even built their own mill (in the Haute-Provence region); flours are made from organic rice, buckwheat, sorghum and millet.
Although essentially a boulangerie, this bakery has a seating area to relax and enjoy their cheesecakes, lemon meringue, chocolate lava cakes and chocolate tartlets. I loved their brownies so much, I posted this gluten-free pistachio brownie recipe from them here. Chouquettes are labeled as "gourmands et légèeeeeeres", along with muffins and poppy seed cookies. (No AC but with a terrasse). Closed Monday.
Chambelland, 14 Rue Ternaux, Paris 11
LA CHOCOLATERIE
Following Cyril Lignac's (French TV celebrity pastry chef) boutique nearby, together with Benoit Couvrand they've created a new concept for chocolate lovers: a cocoa lounge. With a large guest table and two sunny terraces, choose from a worldwide selection of vintage chocolate bars, chocolate viennoiseries and candy bars. (AC)
La Chocolaterie, 25 rue Chanzy, Paris 11
LE TEA BAR, Betjeman & Barton
The first tea bar in Paris, near the Cirque d'Hiver. Fans of this British tea house will be happy to choose from 150 varieties of tea (plus iced & monthly bubble teas) to either sit in the modern, bold setting or order a 'Tea to Go'. British style cakes served.
Closed Sunday. (AC)
Betjeman & Barton Tea Bar, 24 boulevard des Filles du Calvaire, Paris 11
---
Paris 13 (Buttes-aux-Cailles)
L'OISIVETHÉ ET TRICOT
Hidden behind the bustle of Place d'Italie is the student ambience of Les Buttes-aux-Cailles. This charming little corner wool shop happens to serve a wide range of teas (including Damman) plus a small choice of desserts and a cake du jour. I particularly enjoyed their semi-fermented Oolong with chestnut, a perfect sweet and sane sip for Autumn. Seating is so close, expect to become friendly with your teatime neighbour, a real delight if you want to start conversing over knitting and take it to the 'next row'. Personally, I hope to see them cover their teapots in winter with their own knitted tea-cosies. Closed Monday.
L'Oisivethé, 1 rue Jean Marie Jégo, Paris 13
---
Paris 14 (Montparnasse, Catacombes)
HIGH SOCIETHÉ
This is a cosy address if you're looking for a very British style teatime with homemade scones or carrot cake, all homemade by Leanne. Although I have yet to try, word is out fast of her legendary Bakewell tart and Victoria sponge, too. Great address after visiting the Catacombes. Closed Monday & Tuesday.
High Societhé, 100 avenue Denfert Rochereau, Paris 14
---
Paris 15 (Parc André Citroën, Grenelle)
AU MATCHA
Japanese tea salon featuring classic sweets and teas with an outside terrace.
Yet to try it but comes recommended with good reviews.
Au Matcha, 161 rue Saint Charles, Paris 15
---
Paris 16 (Monet Museum)
Near Trocadéro, Museums Marmottan Monet, Guimet & Yves Saint Laurent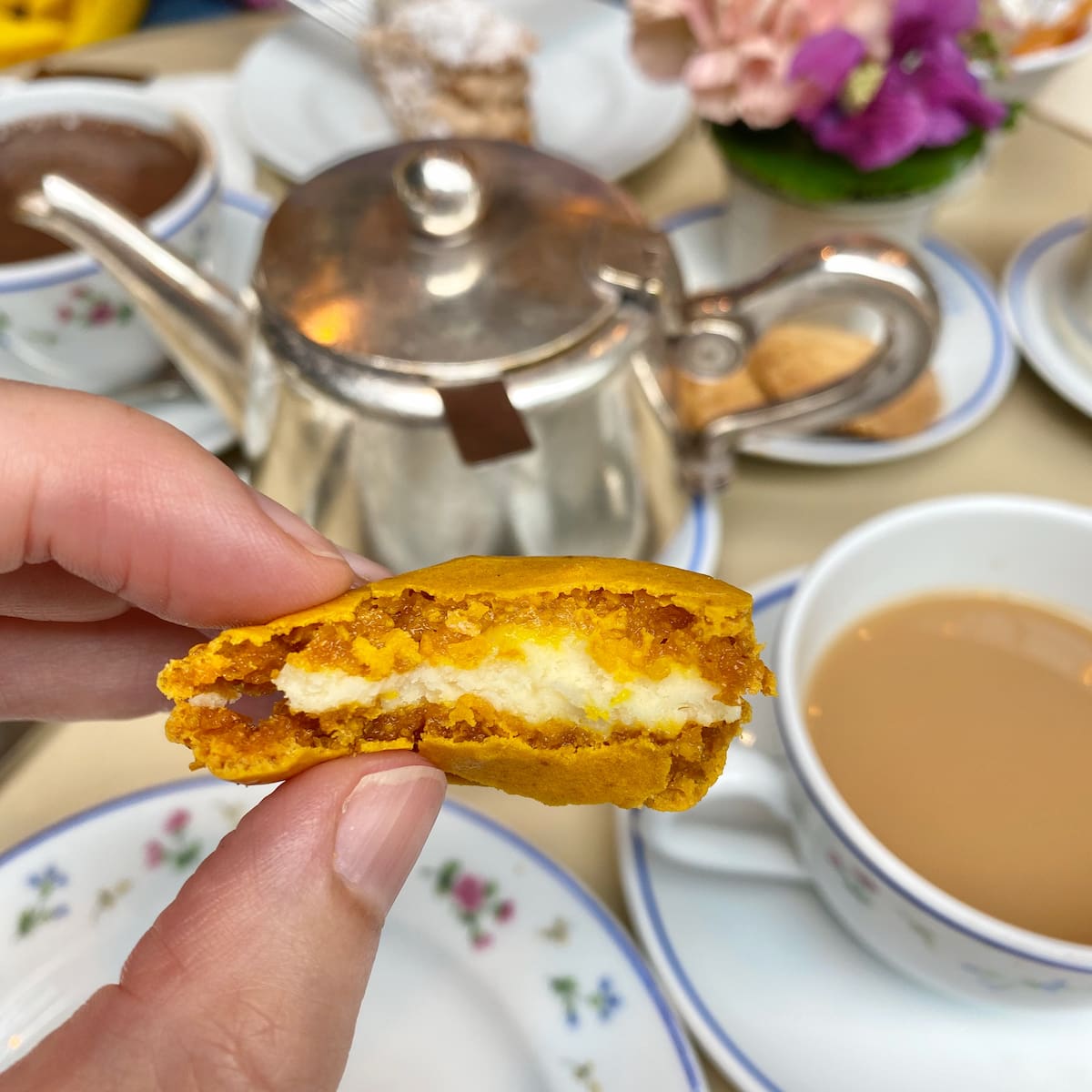 CARETTE
Jean Carette opened his art déco tea salon in Trocadero in 1927. His wife's portrait looks on the salon, as teatime is served with elegance and flowers on the table. I think it's the tartest lemon tart I've ever had: the one that puckers up the mouth for minutes after a forkful, a real treat with any of their teas chosen from Damman frères. Of course, try their legendary macarons such as salted caramel or lemon (they're good at doing lemon!) and watch the world go by – either at Trocadero or on Place des Vosges. (AC)
Carette, 4 Place du Trocadero, Paris 16
JAPANESE TEA PAVILION AT THE MUSÉE GUIMET
Experience an authentic Japanese tea ceremony in Paris at the tea pavilion in the gardens next door to the Asian Musée Guimet.
For more details and how to reserve a tea ceremony part of their cultural activities, all is documented directly on the Guimet Museum's website, La Voie du Thé (Tea Trail). Reservations are made the preceding month and each tea ceremony lasts an hour. It is recommended to bring socks to enter the tea pavilion and wear loose clothing for ease of sitting comfortably on the knees. For more on a typical tea ceremony and wagashi, see Teatime in Japan.
Guimet Museum, Place d'Iéna, Paris 16
LA BAUHINIA, HÔTEL SHANGRI-LA
Pastry chef, Maxence Barbot serves up the lightest, seasonal French pastries for dessert and teatime.
Teatime is now on Saturdays and Sundays (3-6pm), when they prepare an iconic 3 tiers of cakes and savouries.
All in a grand setting in the former palace of Prince Roland Bonaparte (grand-nephew of Napoleon), listed as a National Historical Monument.
With Betjeman and Barton, plus Dilmah teas from Sri Lanka (Ceylon) and China, including black (plus Ceylon Grand Crus in order of strength), green, white, blue, red and herbal infusions. See much more in my article about the palace. (AC)
Shangri-La Palace Hotel, 10 Avenue d'Iena, Paris 16
THÉ COOL
It took me a while to realise the play on words in French (tu es cool), as I'd pass this tearoom many a time for 10 years when I worked nearby. Hidden behind Rue de Passy's shopping mecca, this is where the 16th ladies head for the goûter in a relaxed, elegant atmosphere. Enjoy a variety of cakes, the lemon meringue tart and their speciality? La Starlette: Cheesecake made with 0% fromage blanc, no eggs, sugar, no flour or butter (I still end up going for the normal ones – but if you've tried it, let me know!) Closed Sunday.
Thé Cool, 10 Rue Jean Bologne, Paris 16
YAMAZAKI
Looking for a taste of Tokyo? Hidden between the Ranelagh gardens with the Marmottan Monet museum and not far from the Maison Balzac, this has been my go-to peaceful tea room at La Muette since I worked nearby for 10 years. Nothing much has changed since then: the lightest classic pastries (opéra, variety of choux, and try the caramel millefeuille!) as well as the lightest Japanese-style sponge cakes. All served with Benjamin and Barton teas, this small salon has a quiet area at the back if you want to avoid the paparazzi and listen to Japanese whispers of loyal locals.
Yamazaki, 6 Chaussée de la Muette, Paris 16
---
Paris 17 (Batignolles)
Near Palais de Congrès
KL PATISSERIE
Relax in this contemporary tea salon created by pastry chef Kévin Lacote, and watch the chefs from the open lab prepare the 'création à la minute' where many of their specialities are assembled at the last minute to retain their freshness.
I adore their vanilla flan which is one of the best in Paris. He makes a pistachio version which is worth waiting for in regular queues! Also try the house speciality: KL vanilla Churros served with an orange-passion compote and chocolate sauce, which is remarkably light and not too sweet. Also worth noting is the vanilla-caramel millefeuille or the brioche pain perdu served on a confiture de lait. (AC) Closed Monday.
KL Patisserie, 78 Avenue de Villiers, Paris 17
LENÔTRE
Choose from the patisserie trolley of today's specials, crafted by chef Guy Krenzer and his team following on from Gaston Lenôtre's creation of modern patisserie. Try the Schuss, the signature dessert created by Gaston Lenôtre in 1968 for the Winter Olympic Games in Grenoble, the Bagatelle (created in 1966) resembling a Fraisier with added raspberry jelly, plus their chocolate-yuzu and jasmine macarons. More in my article on Le Nôtre. (AC)
Lenôtre, 121 avenue de Wagram, Paris 17
---
Paris 18 (Montmartre)
Near Sacré Coeur
AUX MERVEILLEUX DE FRED
Now with a tea salon on the first floor, this popular chain concentrates around these sweet merveilleux meringue and whipped cream cakes. Just opposite the metro, Blanche, the entrance to the tearoom is up on the right, at the bottom of rue Lepic. I love the original entrance, as before climbing the steps (there's also a lift) to the tearoom, the aromas of cramique brioches waft around as you look on to them making these goodies behind a large window screen. Choices are limited but you're covered from hot chocolate to a half bottle of Champagne, Belgian waffles (gaufre flamande), cramique, pain au lait to the Merveilleux specialities.  For those with a more savoury tooth, however, they also have a couple of 'Clubs cramiques' – brioche club sandwiches. (AC)
See my Guide to Aux Merveilleux de Fred for more.
Aux Merveilleux de Fred, 2 rue Lepic, Paris 18

CHRISTOPHE ROUSSEL DUO AVEC JULIE
The legendary chocolatier and pastry chef from La Baule has added a chocolate bar to his Montmartre boutique, primarily for hot chocolate, tea, coffee and for tasting his teacakes, chocolates and huge range of macarons (cheesecake, Tulameen raspberry). Special treat on weekends with his pastries direct from the west coast.  A great pick-me-up before heading up the steps – try his Butte de Montmartre chocolates, made especially for us in Paris. Try the fun flavours including one with crackling sugar!
See much more on Christophe Roussel in my article. (AC) Closed Wednesday.
Christophe Roussel, 5 rue Tardieu, Paris 18
LA BOSSUE
Popular at all times but service is slick and friendly. Many varieties of home-baked French cakes, viennoiseries, scones and teas are a lovely welcome at the counter and, through the back, check out the open kitchen where quiches are being prepared with salads for lunch. I need to return to taste more but my favourites so far? Try the brioche feuillétée and their gluten-free financiers (almond, hazelnut or coconut) are just perfectly dosed with the right amount of sugar: not too much, not too little.
Good coffee and excellent choices of tea.
Open for breakfast, lunch, and teatime. Weekend brunch: reservation only. Closed Mon/Tues.
La Bossue Patisserie, 9 rue Joseph de Maistre, Paris 18
For many more of the best pastry, chocolate and macaron shops near Sacré Coeur, see my Chocolate Pastry Walk in Montmartre.
Is your best tea room in Paris not mentioned on this list? Please contact me – I'll test it out and share it.
None of the above listed Paris Tea Rooms are sponsored. This is my own personal selection based on my teatime experiences and none of the above addresses were invitations by the establishments mentioned.