Light, moist carrot cake muffins. Easy recipe made healthy with a low sugar cream cheese frosting with orange and vanilla. Great for parties, picnics and school bake sales. Just as good without the frosting, serve them warmed for breakfast.
Carrot Cupcakes for a School Bake Sale
These individual carrot cakes were the practical answer for a school bake sale. Just mention that day and I'm still cringing.
It could have been straight from a Desperate Housewives' scene; standing in frilly apron, smiling proudly behind the school baking stall at the Lycée's Summer Fête looking at her carrot cakes. Perfectly stacked on the stall they were, with cream cheese frosting and a little price tag for the school's charity fund.
Just as the director of the school picked one of these cakes for his offspring, my mouth somehow opened on my behalf and said, "I baked these." No big deal, I know but it was just one of those wincing-induced moments. However, they were great for a school bake sale and a lot easier to handle than having to cut into one big layered carrot cake!
Moist Carrot Cake Muffins
I don't think I've met anyone yet who doesn't love a good carrot cake. Even my French husband, who is sceptical of any kind of big wedge of British or American style 'cake' was asking for more of these individual carrot cake muffins.
It's because they're moist, light and fluffy and not too sugary. As you know by my mantra by now, too much sugar kills flavour. As a result, the balance of sugar ratios between cake and frosting in this recipe are well and truly tested over and over with a firm thumbs up.
The secret to moist carrot cake muffins is the large quantity of grated fresh carrots used. Rather than use butter, a neutral oil helps make them extra moist with a light crumb.
Can I use Any Oil to Bake with?
Any good vegetable oil (huile végétale) can be used to bake muffins and cakes such as banana coffee cake. Any neutral oils are best without any flavour so that they don't interfere with the cake's taste.
Use sunflower oil (huile de tournesol), grapeseed oil (huile de raisins) or canola oil, also known as rapeseed or colza oil (huile de canola/colza).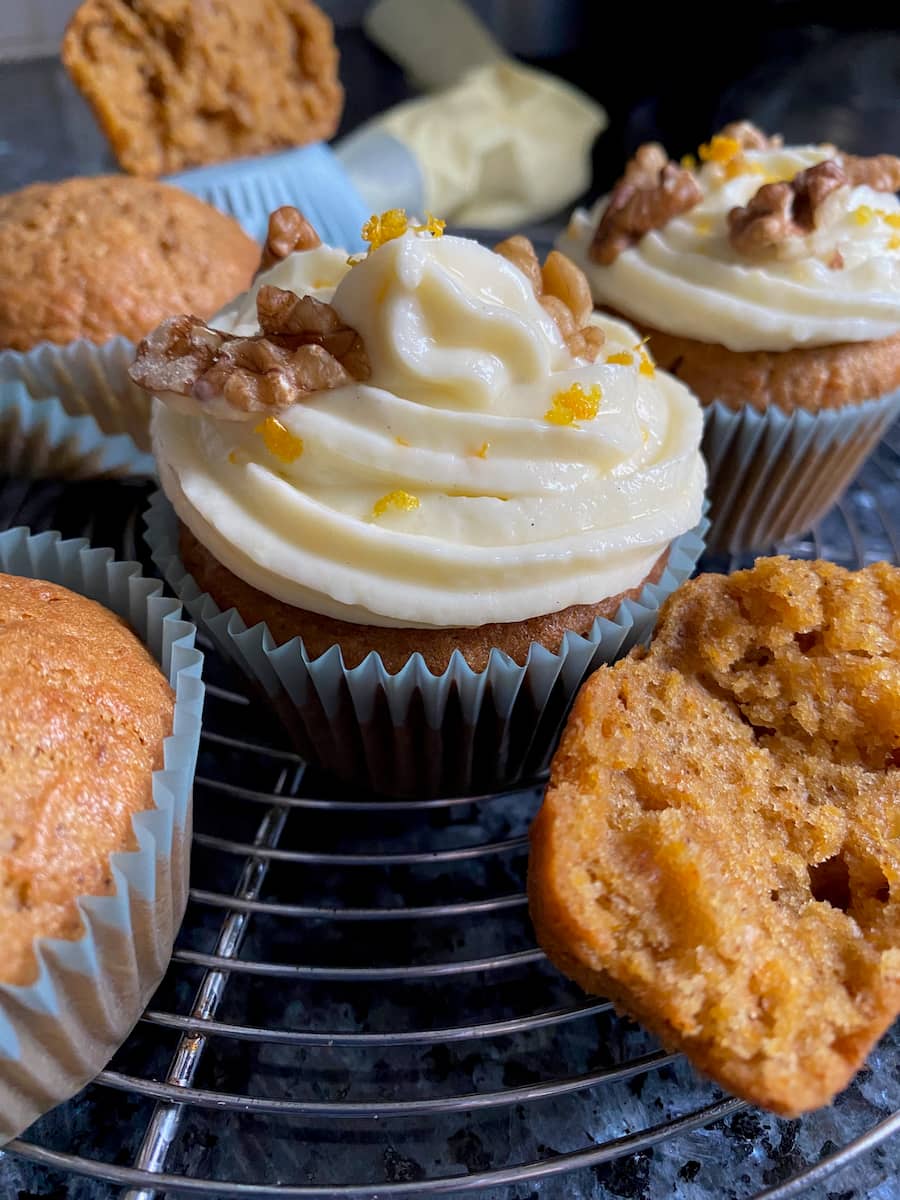 Healthy Carrot Cake Muffins
These carrot cakes are so much healthier than sugary cakes. I see cakes around the internet overloaded with far too much unnecessary sugar. You know the ones I mean where the sugar is so overpowering, it's treated as a flavour.
I originally adapted Sarah Cook's cupcake recipe in the BBC Good Food Magazine (May 2010 issue). The recipe is healthier in that there is not as much sugar as other recipes I've tried. I also love the high proportion of carrots, making the cakes very light and moist with oil and 3 large eggs.
So I increased the quantities from 12 to 18 muffins and further reduced the sugar quantity (as much as I dare for the balance of flavours), plus added vanilla powder. The addition of orange zest to the frosting just gives the whole taste more zing.
Makes 18 carrot cakes using muffin tins lined with paper cases (@ 7cm diameter) or one large cake.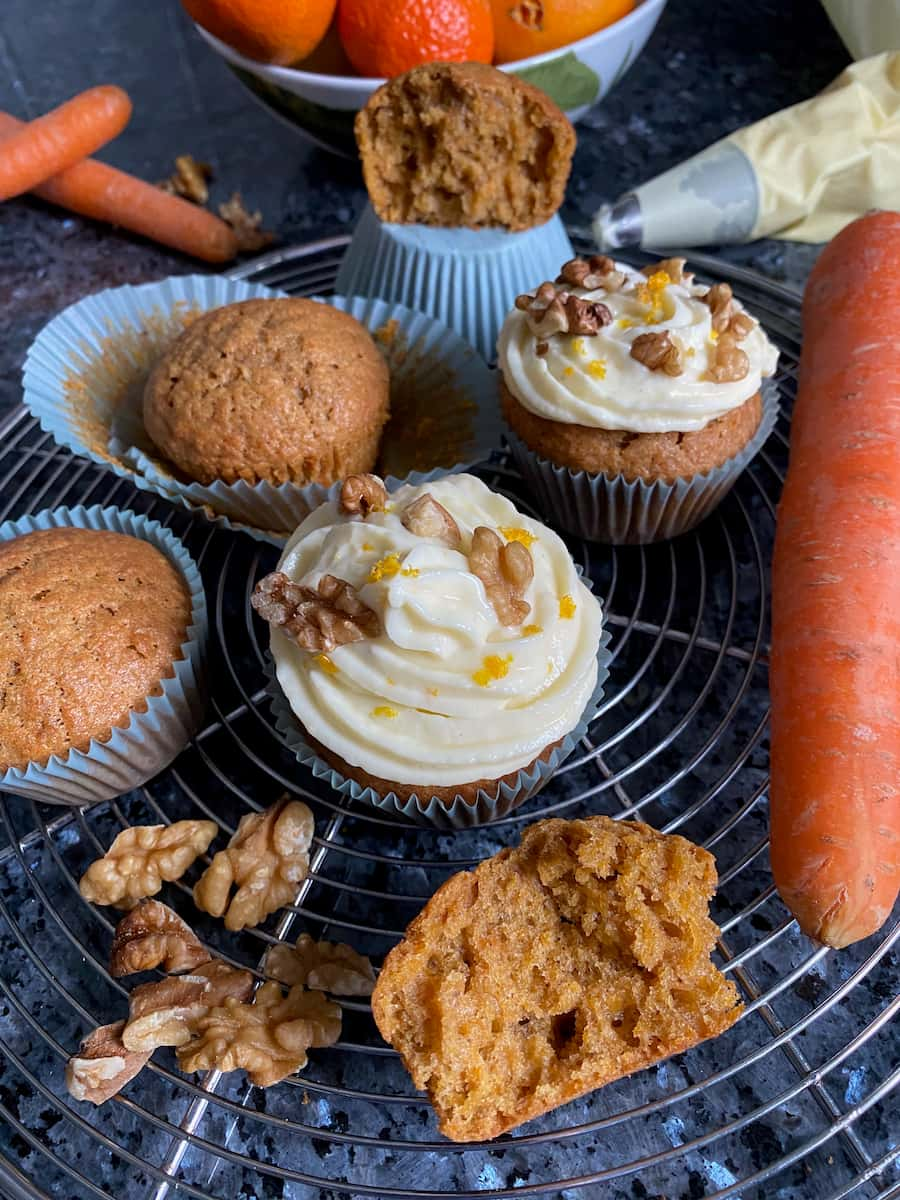 How to Make Carrot Cake Muffins - Easy Recipe
First prepare all your ingredients and weigh them out using a digital kitchen scale.
If you don't yet use one, I can't recommend enough you do. It will change your life in baking, taking the math out of preparation plus guarantees the same, successful results. See why we need digital scales;
Grate the fresh carrots. I say fresh, as I've seen people use up limp, forgotten carrots at the bottom of fridge. Please use fresh as the taste is so much better! Finely grate the carrots with a good quality grater (Terraillon, Cuispro, etc. with sharp blades).
Ensure that the cream cheese and butter are taken out of the fridge so that they are at room temperature when you're ready to make the frosting.
Measure out all the dry ingredients in a bowl then add most of the orange zest from an unwaxed/organic orange (keep a teaspoon worth aside for the frosting). Add the grated fresh carrots.
Although great with orange, enjoy also with lemon or lime zest
In a separate container (I like to use a jug), prepare the wet ingredients: the neutral oil (sunflower or rapeseed/canola/colza) and eggs beaten together. Then gradually mix in to the dry ingredients.
This method ensures there are no lumps in the batter.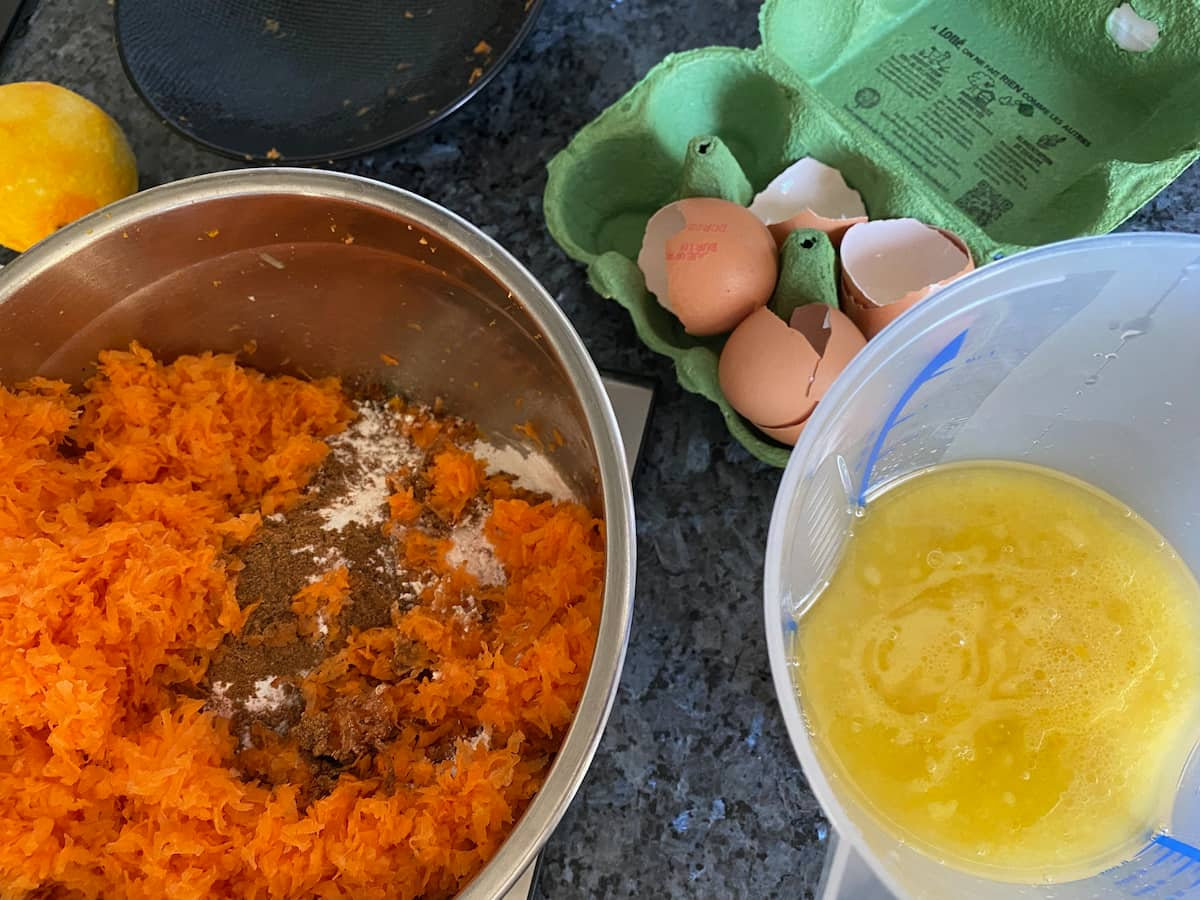 When mixed together and smooth, spoon into paper cases placed in muffin moulds. This recipe makes 18 muffins. The uncooked batter and frosting can easily keep sealed in the fridge for 2-3 days so it's easy to make half of the recipe first and the rest later.
Fill the muffin cases up to ¾ of the way to the top and bake for about 20 minutes. Meanwhile prepare the frosting.

Best Cream Cheese Frosting for Carrot Cake Muffins
This is my best recipe for cream cheese frosting as it contains less sugar than classic recipes.
The result is a slightly sweet and sour combination with the cakes and topping - with added orange zest and vanilla. It's also delicious to top this purple carrot cake.
Did you know that carrots were not always orange?
Purple carrots were the norm before the Dutch changed them to make orange fashionable! More on the Market Produce page on Carrots.
Carrot cake icing is primarily made of good quality cream cheese, unsalted butter and icing or powdered sugar. I like to add orange zest and vanilla to compensate for less sugar.
The combination together with the muffins means a more balanced amount of sugar and the ability to taste all the ingredients.
What cream cheese is best for icing? It's easy. It all depends what kind of consistency you prefer but for a thicker texture, go for one that has at least 30% fat like Philadelphia.
If using lower fat cream cheese, the result is a more runny consistency but the taste is the same. It's perhaps healthier but not as pretty. So if you prefer yours piped for a more elegant look, go for the original version rather than lower fat;
Is the frosting better with butter or cream? I personally prefer butter. There's half the amount compared with cream cheese which is a good balance. Ensure it's unsalted and good quality (French butter if possible);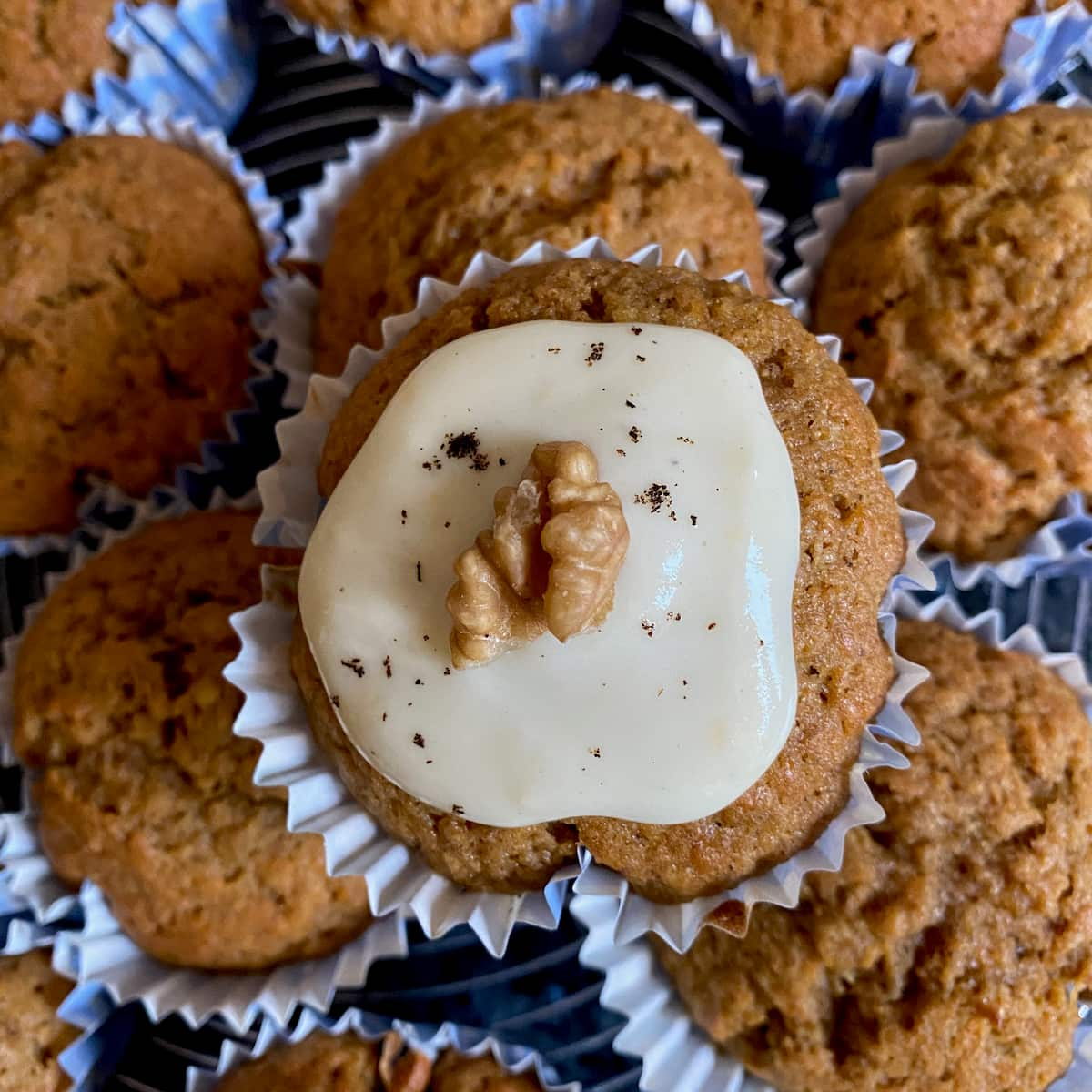 More healthy muffin recipes: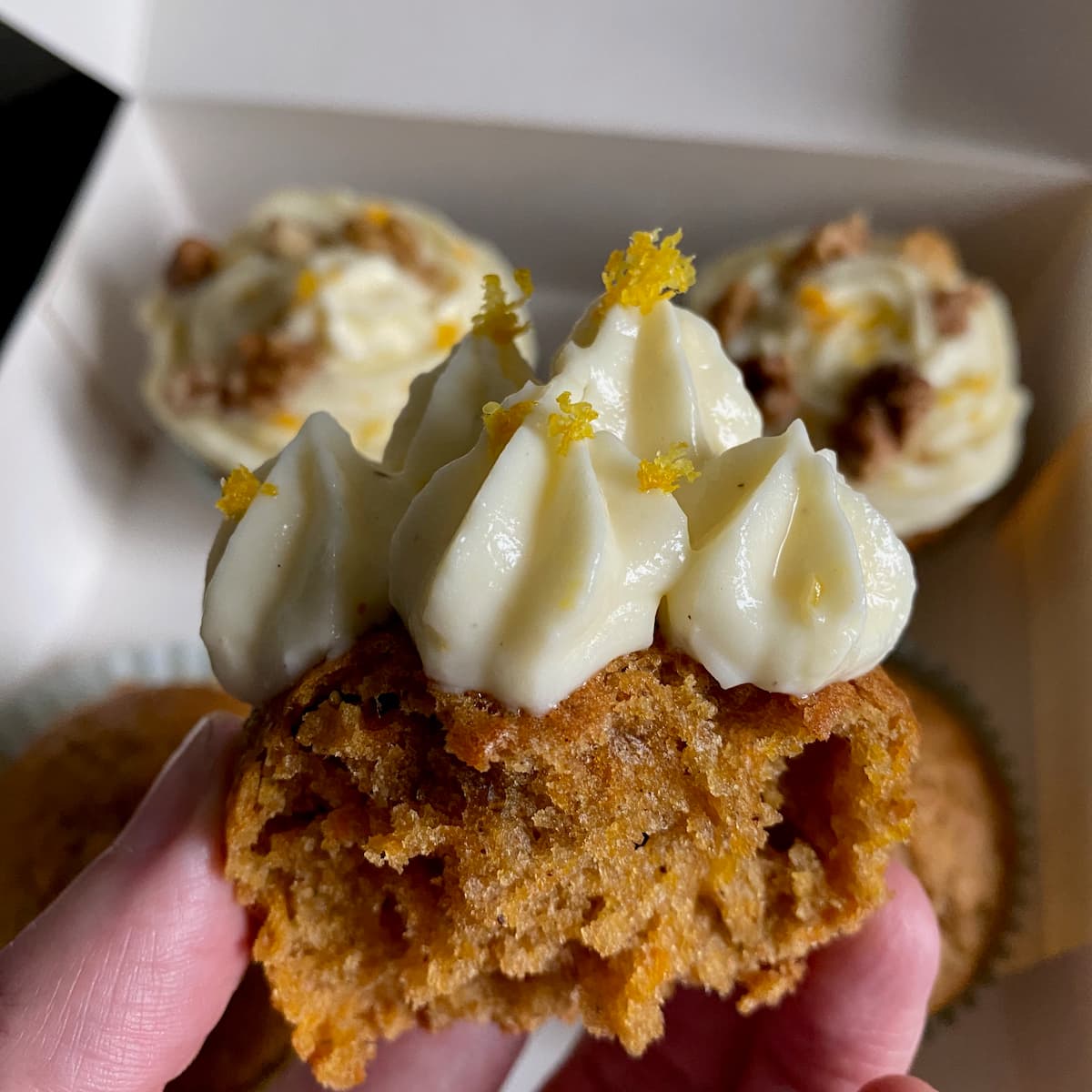 How to Store Muffins
Keep muffins stored in an airtight container, either with or without the frosting, for up to 3 days.
The muffins also freeze well. Freeze them in a large sealed bag or container without the topping for up to 3 months and top with the cream cheese when defrosted.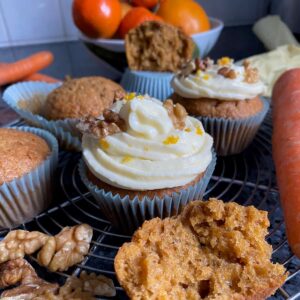 Carrot Cake Muffins
Individual moist and fluffy muffins made healthy with reduced sugar in the cakes and in a light cream cheese frosting with orange.
Equipment
Muffin tins with total of 18 cavities
Ingredients
Carrot Cake Muffins:
300

g (10.5oz/ 3¼ cups)

fresh carrots

organic, finely grated (weight after peeled)

1

orange - zest only

unwaxed/organic (keep 1 teaspoon aside for the frosting)

300

g (10.5oz/ 2½ cups)

plain (all purpose) flour

or ½ each of plain and wholemeal flour

175

g (6oz/ ¾ cup)

cane/light brown sugar

3

teaspoon

baking powder

½

teaspoon

bicarbonate of soda

½

teaspoon

salt (fleur de sel)

3

teaspoon

mixed ground spice

(pain d'épices/gingerbread spices or pumpkin spice)

3

large

eggs

organic (or 4 medium)

175

g (6oz/ ¾ cup)

sunflower oil

or other neutral oil (e.g. canola)
Cream Cheese Frosting:
75

g (3oz/¼ cup)

unsalted butter

softened

210

g (7.5oz/1 cup)

soft cream cheese (33% fat)

at room temperature (e.g. Philadelphia)*

75

g (3oz/ ⅓ cup)

icing/confectioner's sugar

sifted

1

teaspoon

orange zest

¼

teaspoon

vanilla powder

or extract

broken walnuts or pecans

to decorate (optional)
Instructions
For the muffins:
Heat oven to 180°C/160°C fan/360°F (Gas 4) and prepare all cake ingredients first. For frosting later, ensure butter and cream cheese are out of the fridge.

In a large mixing bowl, mix the flour, sugar, baking powder, bicarbonate of soda, salt, spice and orange zest. Whisk together the eggs and oil, then stir into the dry ingredients with the grated carrot.

Prepare muffin tins lined with 18 paper cases. Divide the mixture between cases, filling ¾ of the way up. Bake for 20-22 minutes until a skewer poked in comes out clean.

(If making a large cake, then bake for 40-45 minutes or until the skewer comes out clean and leave to cool in the tin for 10 minutes before transferring to a cooling rack).

Remove the muffins from the tins as soon as they are out of the oven and transfer to cool on a wire rack.
To make the frosting:
Beat the softened butter until light creamy, then beat in the softened cream cheese, icing sugar, vanilla and orange zest. Either by hand or using beaters of a mixer.

Either swirl the icing on top of the cakes using a palette knife or use a piping bag with a star tip to pipe out spiral toppings.

Sprinkle with broken or crushed nuts, a little vanilla powder or extra grated orange zest.
Notes
*Cream cheese: after making the same frosting using French St Moret cheese (it's a healthy low fat cheese), the frosting was runny as it doesn't contain enough fat.
The result tastes just as good but if you wish to pipe out your frosting to make it pretty, choose a cream cheese with at least 33% fat to reach perfect piping consistency.
Storage: keep in an airtight container for up to 3 days or freeze (without the topping) for up to 3 months.
For recipes and more on healthy carrots, read the market produce carrot page.
Measures: Please note that all my recipes are best made using digital kitchen scales in precise metric grams. Both ounces (and cups) are given as an approximate guide. 
This recipe was first published 31 May 2015 but is now completely updated.