If you're reducing sugar in your diet, these healthy banana oat muffins are perfect for breakfast. With no added sugar whatsoever, enjoy them loaded with naturally sweet bananas and dried fruits for an extra boost to start your day. Made in just 30 minutes!
Are Banana Oat Muffins Healthy?
This recipe for banana muffins is particularly healthy. For a start, they're made with oats which contain important soluble fibre (beta glucan), which helps to lower cholesterol if eaten regularly. Oats help to release energy slowly to keep you going throughout the morning (this will help to avoid snacking between meals). Oats are also a good source of protein, minerals and vitamins.
To discover much more why oats are so healthy, see my favourite Scottish porridge oats at Hamlyns for more about the health benefits of oats.
Much like my other low sugar breakfast recipes like Breakfast Bran Muffins or moist banana nut bread, they are perfect if you're cutting down on sugar. These muffins contain absolutely no added sugar whatsoever. There's no need!
Instead they rely heavily on the natural fruit sugars using a couple of ripe bananas and moist, dried fruits such as sultanas, cranberries, apricots and walnuts from the pantry. If you can use organic apricots, even better - they are particularly high in magnesium and excellent if you ever have a twitchy eye syndrome.
So these healthy muffins are also a great source of daily fibre. Perfect for rustling up a quick breakfast that's good for you too.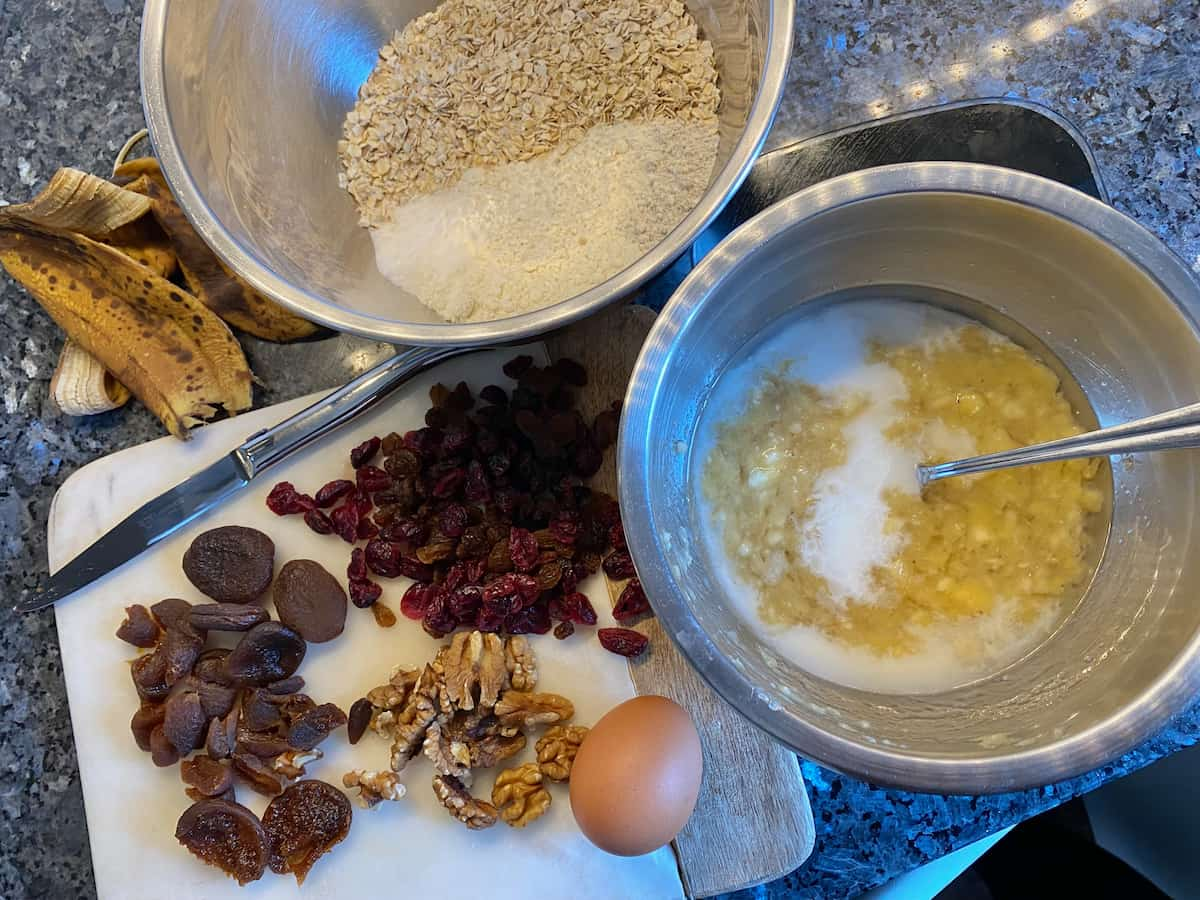 Is it Better to Add Oil or Butter to Muffins?
These banana and oat muffins contain grape oil but any neutral oil is good. Sunflower oil is also good but be aware that olive oil is strong in flavour and so neutral oils are best for these.
Coconut oil is also good, as only small amount is needed.
If you prefer to use melted unsalted butter, then that's good too - there's nothing wrong with good quality French butter! (See my UK/US glossary for French ingredients).
How Many Calories are in a Banana Oat Muffin?
So, not only are they healthy but they are also low in calories - with less than 150 calories a muffin.
However, we use calories only as a rough guide. We don't count them. As long as we eat a balanced diet and don't snack between meals  and avoid ultra processed foods, then that's really what we feel matters.
Thyroid Cancer Awareness
You could say I've been even more of a 'Health Nut' lately, ever since I was diagnosed with thyroid cancer in 2019. It all happened quite by accident: no visible lumps on the neck, no symptoms (no strange change in voice, coughing or trouble swallowing).  Instead I saw a new GP last summer for something different since my usual doc was on holiday.  He asked questions, then felt my neck and asked me to get a deep lump scanned. Two biopsies later, I was told I had cancer.
The following month saw a dizzying thyroidectomy, parathyroidectomy and 3 tumours removed. Thankfully recovery time is normally fast and my scar is hardly even noticeable today. Even after radioactive iodine treatment with a few days of surreal quarantine (it was just before Covid hit and then heard much of quarantines), it's all good. Luckily, this is a cancer that's easiest to treat if discovered soon enough, with follow-up scans and blood tests every 6 months.
The weird thing is, I've always been sensitive to too much sugar and don't consume over-processed sugar-loaded foods plus walk everywhere! There are so many other factors it could be. However, I am using this to pass on the message to consult your doctor if you suspect anything on your neck.
Easy Recipe
These banana muffins are so easy to make.
Basically weigh all the dry ingredients together in one bowl then add the dried chopped fruit;
In another bowl, mash the bananas and gradually add/weigh the wet ingredients: milk, oil and egg;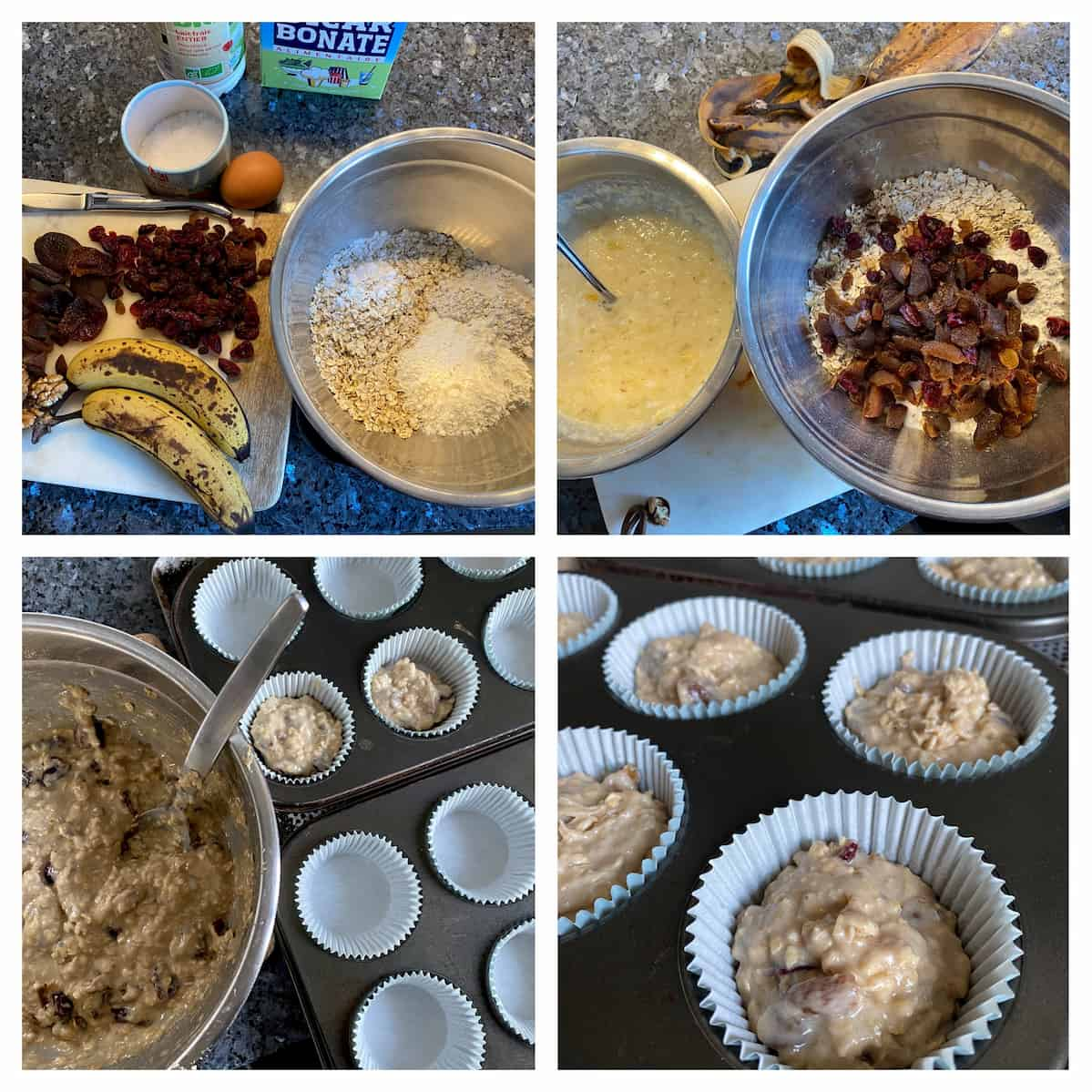 Combine the 2 mixtures by stirring together then spoon into a 12 cavity muffin tin, lined with either paper cases or parchment paper;
Bake in the oven for about 15 minutes or until golden brown.

Healthy Banana Muffins with Oats
So, in a delicious nutshell, if you're like me and have a 'sweet tooth' at breakfast, I can't urge you enough to try these healthy muffins. As you know, I'm already extremely sensitive and avoid the temptation to add too much sugar in cakes and French patisserie (too much sugar kills flavour) - and muffins are no exception.
These banana oat muffins have no added sugar at all. They simply don't need any.  This is because they are already loaded with good quality dried fruits and bananas, making them moist and pleasantly naturally sweet. Let me know if you think they're sweet enough in the comments below. Enjoy served slightly warm.
More Healthy Breakfast Options with Oats
As we love to add healthy oats in the morning for daily fibre, here are a few more recipes with breakfast porridge oats:
Healthy Banana Oat Muffins Recipe (No Added Sugar)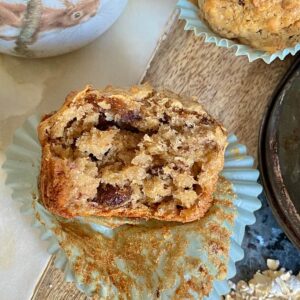 Healthy Banana Oat Muffins (no added sugar)
Reducing sugar in your diet? These healthy muffins are perfect for breakfast with no added sugar whatsoever. Enjoy them packed with naturally sweet and moist dried fruits and banana for an extra boost to start your day.
Equipment
12 cavity muffin tin

with paper cases (or parchment paper)
Ingredients
2

small

bananas

very ripe

100

g (3.5oz/1¼ cups)

porridge oats

medium oats (or oatmeal)

100

g (3.5oz/ ¾ cup)

wholemeal flour

or mix with plain (all-purpose) flour

1

teaspoon

baking powder

½

teaspoon

bicarbonate of soda

(baking soda)

75

g (3oz / ⅓ cup)

dried apricots

finely chopped (or prunes)

75

g (3oz / ⅓ cup)

sultanas

and/or dried cranberries

75

ml (3 floz)

sunflower oil

(or other neutral oil e.g. grape seed)

1

organic egg

large

125

ml (4 floz /½ cup)

whole milk

25

g (2 tbsp)

walnuts

broken (or mix of nuts)
Instructions
Preheat the oven to 200°C/180°C fan/400°F; Gas 6. Either grease a muffin tin or line with 12 paper cases.

In a large bowl, mash the banana and stir in the oil, egg, and milk until combined. In another bowl, prepare the dry ingredients: oats, flour, baking powder, soda, chopped apricots, nuts and sultanas, coating in the flour mix. Mix the 2 together using a spoon until well combined.

Spoon the mixture into the cases or parchment in the muffin tin. Fill ¾ of the way up.

Bake in the oven for 15-20 minutes or until golden and a skewer inserted comes out clean.

Leave to cool slightly for about 5-10 minutes before taking out of the tin.
Notes
To serve: Fresh and still warm from the oven, although once cool can be frozen in sealed packs to enjoy defrosted at any time in the next month.
No Sugar: As no sugar at all is added (not even honey or maple syrup), this recipe relies heavily on the banana and dried fruits to give it the natural sweetness for breakfast. 
Variations:
Sprinkle sesame seeds on top with the oats before baking, for added calcium;
Substitute dried fruits: e.g. dates, prunes, currants, dried cranberries or blueberries in place of the apricots. Note that some packaged dried fruits have added sugar so avoid these if possible.
Measures: Please note that all my recipes are best made using digital kitchen scales in precise metric grams. Both ounces (and cups) are given as an approximate guide. 
Calories: 142 calories per muffin (3g protein, 3g lipids)
This recipe was first published 30 September 2019 but has now been completely updated.