Easy recipe for healthy flapjacks with oats, dried fruits, nuts, seeds, butter and honey (no golden syrup or added sugar) for breakfast or teatime.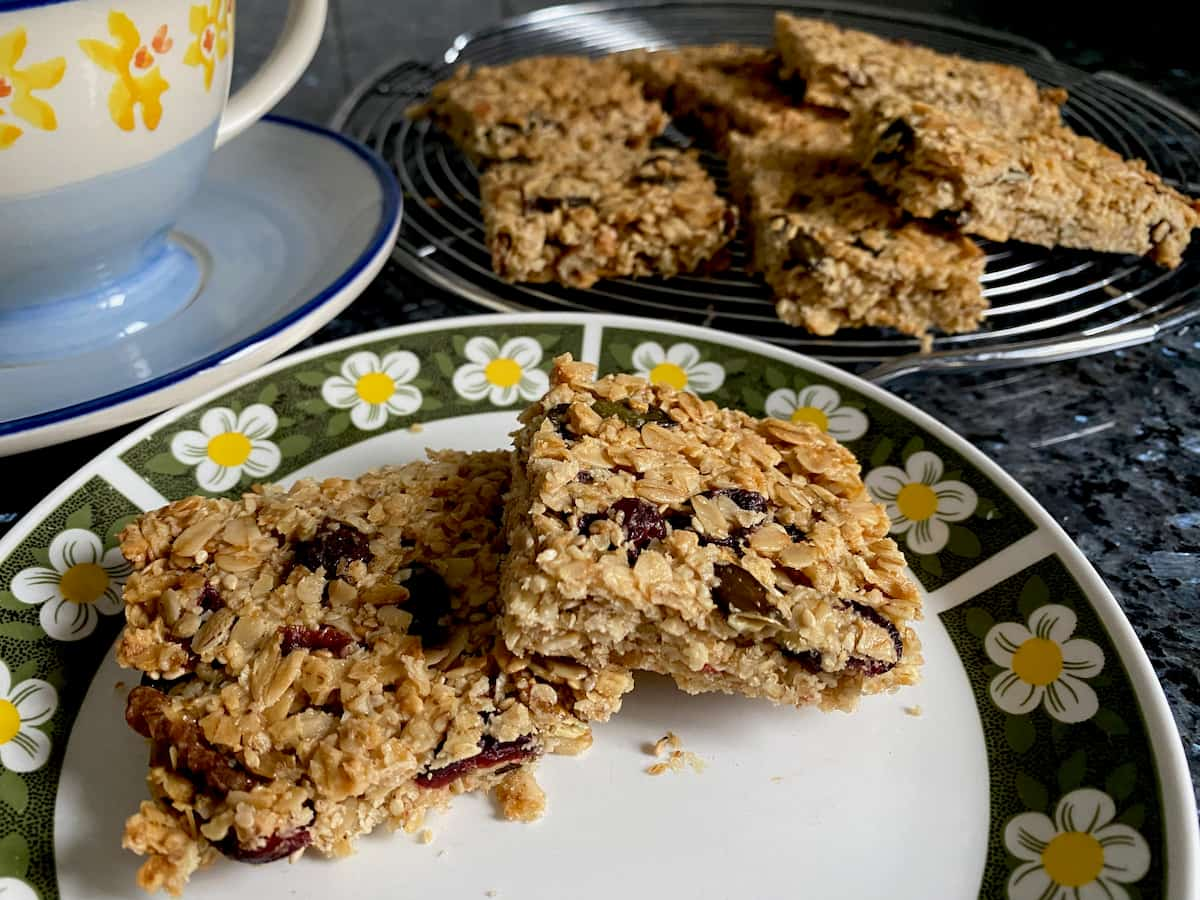 Breakfast Oats
There's something about the new year that urges some kind of resolution-making.  I always struggle to keep new rules but, adapting to improved routines, change is always welcome. This change came gradually over many years of cutting down drastically on sugar.
As I was toasting the weekly batch (yes, it's popular so make it almost every week!) of our favourite healthy Maple Granola, I thought about using the oats, seeds, nuts and fruits and converting them into these healthy flapjacks.
We're addicted to homemade granola - including a chocolate granola (on video). Once you start making it, there's no turning back to the commercial packeted cereals - and love serving it with yoghurt, fresh fruit or compote.
So flapjacks seemed like a refreshing change. After all, flapjacks are basically granola bars. Albeit, there's added butter to bind them together but that's not a bad thing! So I developed this recipe after a few trials and crumbs later.
Healthy Flapjacks without Sugar
My fond memories of flapjacks were quickly turned to disappointment when I made an old family recipe. Traditionally flapjacks are made with classic golden syrup and a whopping amount of sugar on top of that. The resulting taste was simply FAR too sweet. So I omitted the sugar for a start.
Sugar is really not needed in these flapjacks. No white sugar, no brown sugar - none of it! - Jill
Without the sugar, the flapjacks can still bind together easily with the ingredients in the recipe card below. Just ensure that you leave the flapjacks to cool completely before cutting, so they are less crumbly.
Even as author of two patisserie recipe books, I don't have a really sweet tooth. It sounds bizarre, I know, but that's why I love French patisserie so much.  The irony is that the best French cakes, pastries and desserts are not that sweet.
These days there's a rise of healthy pâtisseries around Paris that specialise in reducing sugar (e.g. Helmut Newcake, Noglu, Chambelland - see their GF brownies, Maison Plume, Oh Oui).
See my article on Pâtisseries for Diabetics in Paris for more.

Sugar Replaced with Honey
Honey has many virtues and is a natural way of replacing sugar.
According to Dr Claude Nonotte-Varly for the French 'Que Choisir Santé' Magazine (N°175-October 2022), honey even tastes extra sweet: refined sugar's sugar level is at 100 whereas for honey, it's 130. So less honey is used to achieve the same sweetness level. What's more, honey is not just delicious but contains vitamins, minerals and antioxidants.
What Can I Use Instead of Golden Syrup for Flapjacks?
I replace the traditional golden syrup with runny honey (Acacia). Please use good quality and ensure it's the real thing.
Alas, honey sees one of the biggest counterfeits in the food industry so be aware of cheap own brands and labels that don't say where the honey was sourced.
To test if your honey is the real genuine article, see how to in my recipe post for pork in honey sauce.
Another replacement for golden syrup in flapjacks is maple syrup. So it's up to you.
How to Make your Own Healthy Flapjacks (no added sugar)
To make your own healthy flapjacks, the recipe couldn't be easier. Add honey and melted butter to dry ingredients then pack into a lined shortbread tin and bake for 20 minutes. All details are in the printable recipe card below.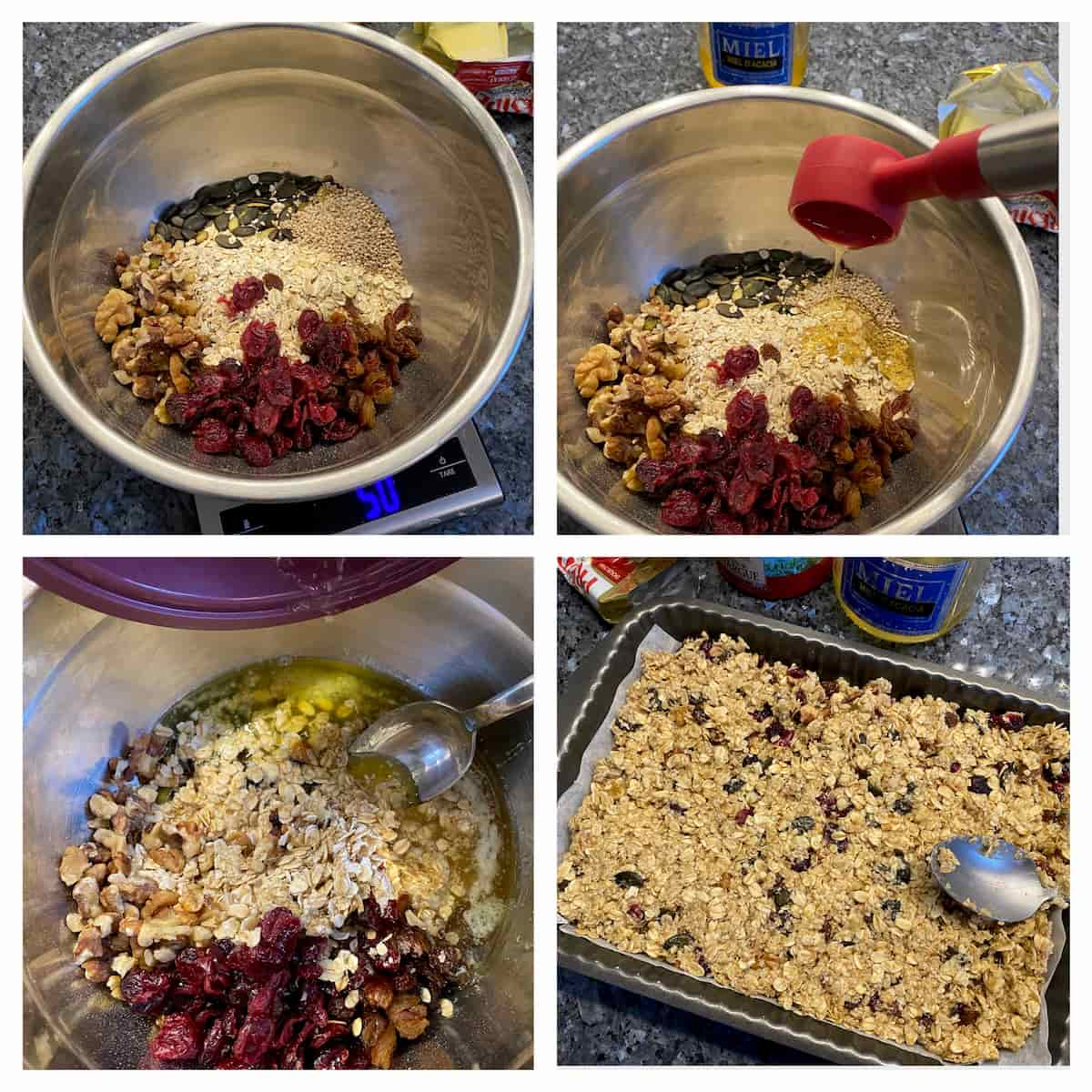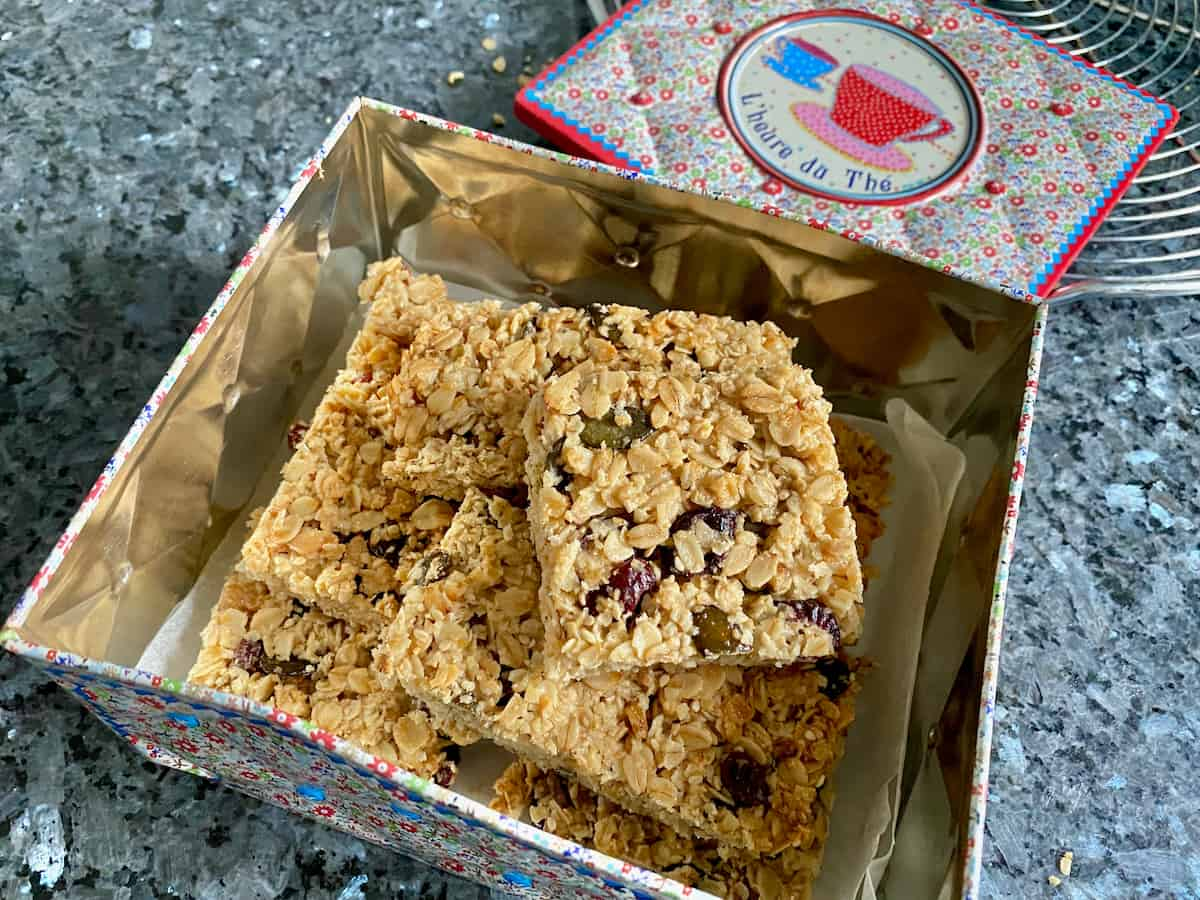 How Long Will They Keep?
These healthy flapjacks are best eaten on the day of baking. Any leftovers or want to save them for later? Store your leftover homemade flapjacks in a tin box or an airtight container in a cool place for up to 3 days.

Healthy Flapjacks with Honey
So my answer is this healthier recipe of oat flapjacks (or granola bars). They are naturally sweetened with just honey and dried fruits to replace the traditional golden syrup and sugar. We've tried and tested them over and over and these receive the thumbs up from the family. What's more, vary the dried fruits: dried cranberries, apricots, dates and/or raisins as well as the seeds.
However, I shall leave YOU to judge them for yourself: would you add extra sugar to them or not?  If you do feel they need more sugar, then I dare you make some change to your diet and start cutting back on unnecessary sugar.
Healthy Flapjacks
Easy recipe for healthy flapjacks with oats, dried fruits, nuts, seeds, butter and honey (no golden syrup or sugar) for breakfast or teatime.
Equipment
rectangular baking tin

26 x 18 cm (10 x 7 inches)
Ingredients
200

g (7oz / 1¼ cups)

medium porridge oats

20

g (0.75oz)

pepitas (pumpkin seeds)

10

g (1 tbsp)

linseeds or sesame seeds

30

g (1oz/2 tbsp)

walnuts or hazelnuts

broken

50

g (1.75oz)

dried fruits

(cranberries, raisins, finely chopped dried apricots or dates)

good

pinch

salt

fleur de sel (Maldon or Celtic sea salt)

100

g (3.5oz/1 stick)

butter, unsalted

melted

120

g (8 tbsp)

runny honey

(e.g. Acacia)
Instructions
Preheat the oven to 180°C/360°F/160°C Fan (Mark 4).

In a large bowl, mix together all the dry ingredients then add the melted butter and honey.

Press the mixture into a high-sided baking tin (a rectangular shortbread tin) lined with greaseproof paper/baking parchment and bake for about 20 minutes or until golden brown.

Cool completely in the tin then cut into squares.
Notes
Storage: Best eaten on the day of baking but store any leftover squares in an airtight container in a cool place for up to 3 days. Measures: Please note that all my recipes are best made using digital kitchen scales in precise metric grams. Both ounces (and cups) are given as an approximate guide.  Nutritional Values: For 6 servings @88g portion (about 4 each): 404 calories; 6g protein, 22g fat, 46 carbohydrates.
This recipe was first published 8 September 2016 but has now been completely updated