This healthy homemade granola has no added sugar and made with oats, nuts, seeds and dried fruits. It also happens to be vegan and gluten free, as contains no wheat.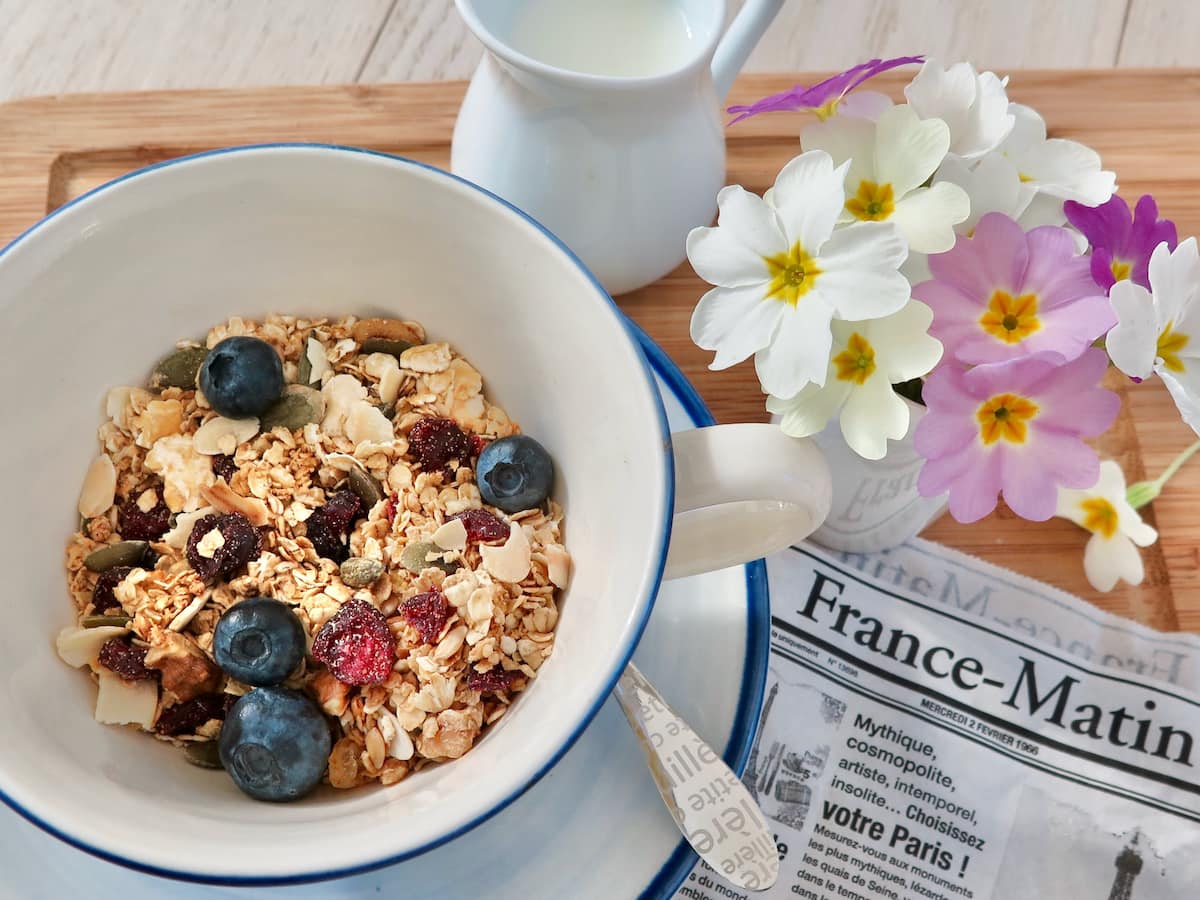 Homemade Granola
Breakfast cereal somehow dropped down the shopping list since I moved to France. Living in and around Paris, we are surrounded by the most incredible bakeries with croissants, pain au chocolat, pain aux raisins and fluffy brioche always tempting us from the local boulangeries.
So, each time I saw homemade granola on friends' blogs, such as Kim of LivLife's lovely cinnamon and coconut cereal, I didn't pick up on the craze until later. Now I'm hooked, Antoine is hooked too - as are my parents who make this every week and Jean-Pierre, my French father-in-law, goes nuts for this when he stays with us.
Since I made this homemade granola in 2014 then constantly changed it to make it healthier, we now need our granola breakfast most mornings. It's healthy and it's delicious.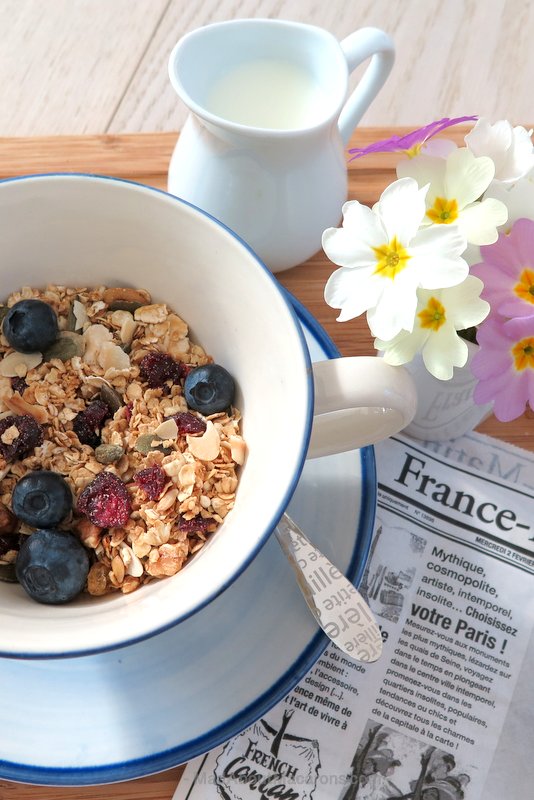 Healthy Granola Recipe No Sugar
This recipe came about via an old thumbed Elle magazine at the orthodontist, while waiting for the girls after school. It was one of the only recipes that wasn't ripped out: Granola Maison au sirop d'érable (Homemade Granola with Maple Syrup). When I tried the original recipe, it was ridiculously sweet.
It took many experiments to come to this to suit our family's taste - not too many nuts, bigger oats please, plus the addition of pepitas or roasted pumpkin seeds (graines de courges in French) gives that extra crispy texture.
The magazine's recipe has, as a result, changed beyond recognition and its original whopping 140 grams sugar (that's ¾ cup!) has now been omitted entirely.
No sugar is necessary in homemade granola; the dried fruits and the maple syrup are naturally sweet.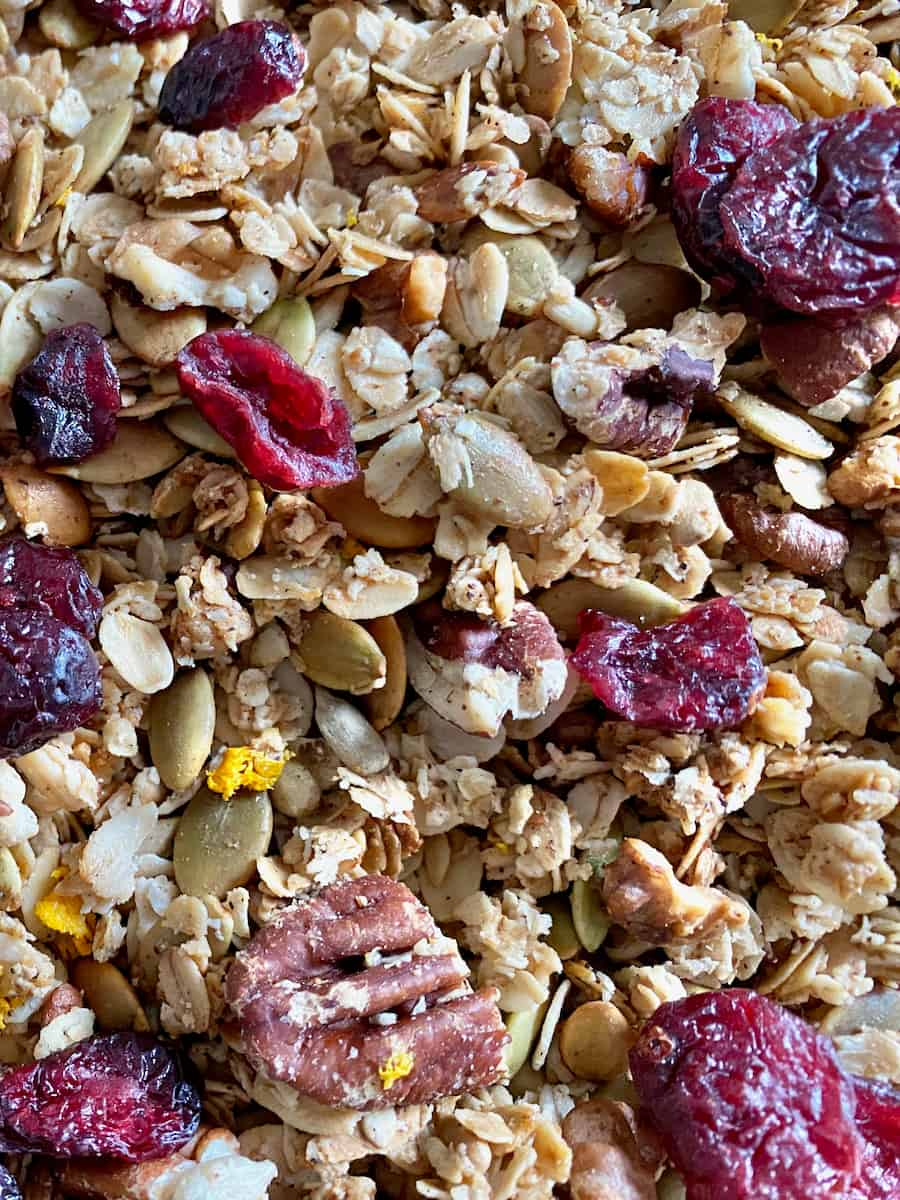 What Makes Granola Healthy?
So first and foremost, granola is healthy when not packed with sugar. As I say, this recipe has no sugar added and relies on the natural sweetness of the maple syrup and dried fruits. Likewise, the dried fruits are not baked but added once the granola has cooled, thus keeping their nutritional properties.
Oats, being the main ingredient, also make this particularly healthy as they contain soluble fibre and have antioxidant properties. Nuts are also full of energy and if using walnuts, like oats, they help to reduce cholesterol.
lt's also important to note which oil is used for your own homemade granola. Oils like grape seed (huile de raisins) or sunflower oil are best. Be very wary of using coconut oil. Much that the flavour is good, it's to be used on occasion only as it contains so much saturated fat. That's why coconut oil solidifies when cool. So use sparingly!
Feel free to adapt the quantities and ingredients to your own liking after trying this recipe first.
Is it Cheaper to Make your Own Granola?
On a family budget, we have also cut down on costs and commercial packaging by going to our local organic health food store (La Vie Claire, Bio c Bon etc.). We find it's cheaper to buy larger amounts of oats and seeds in our re-usable bags (buying 'en vrac' in French). They're even better quality too.
Also ensure that your ingredients are organic. Your body will thank you and the taste buds, as we've found it has more flavour.
There is one 'downside' of this recipe, however. As we love it so much, I need to make it about once a week!
How to Keep Homemade Granola Crispy
Your toasted homemade granola will remain crispy when kept in a sealed airtight tin or jar. Best stored in a cool, dry place and can keep at its best for up to 10 days.
How to Serve Granola
Although we enjoy this maple granola recipe for breakfast, this is a healthy snack for any meal of the day (the French don't snack in between meals but if you have to, then this is a better option).
In fact, for any time of year, as we eat granola with fresh berries in Summer; topped with rhubarb compote in Spring and even in the winter months, as the compote freezes well.
When no fresh berries are at hand, top with plenty of dried cranberries, golden sultana raisins, dried apricots or freeze-dried blueberries.
What's more, add some spices (pain d'épices or gingerbread spice) to make your own Christmas Granola.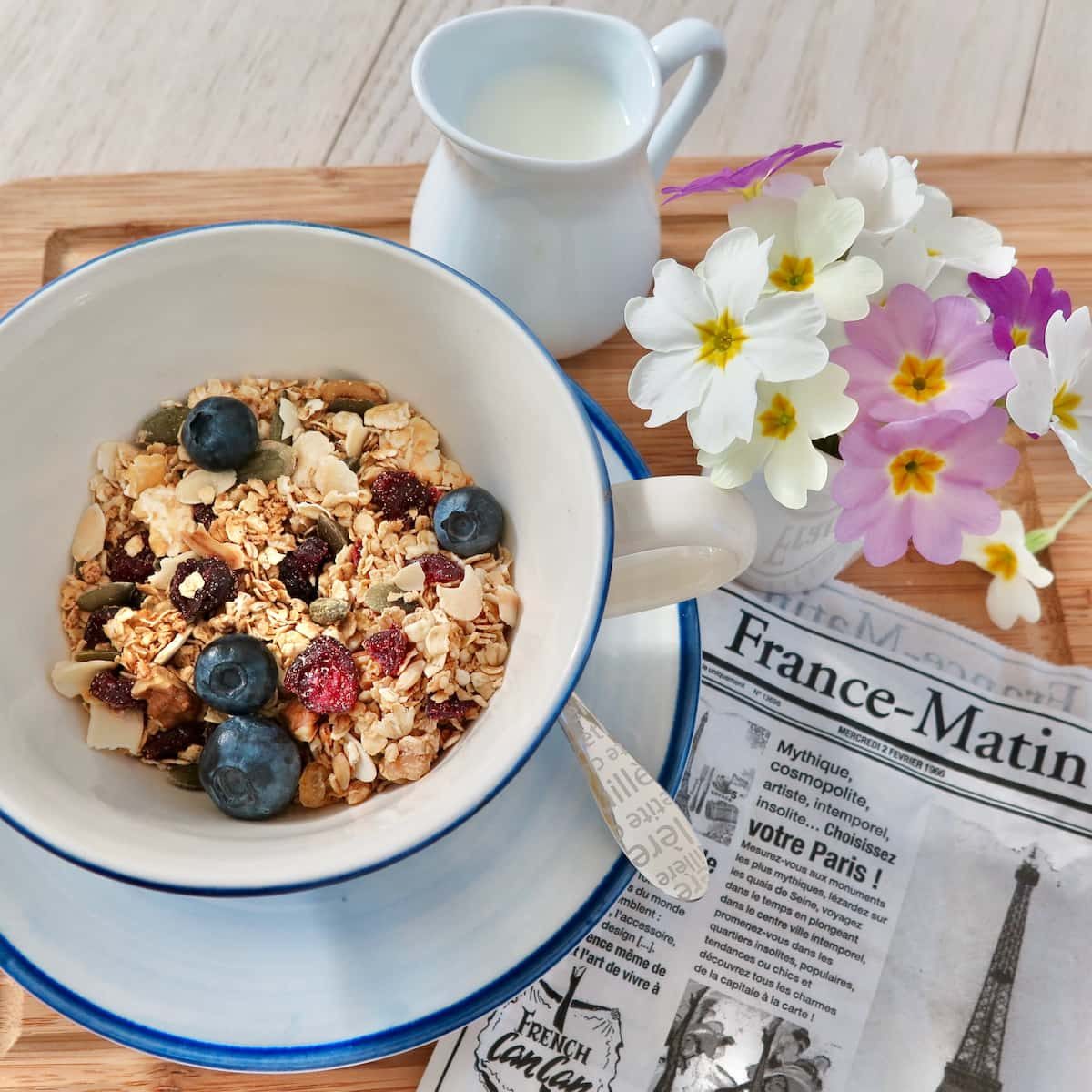 Watch the video demonstration for this healthy chocolate and coconut granola, using the same homemade granola recipe base. For healthy granola bars for breakfast, see my recipe for healthy flapjacks.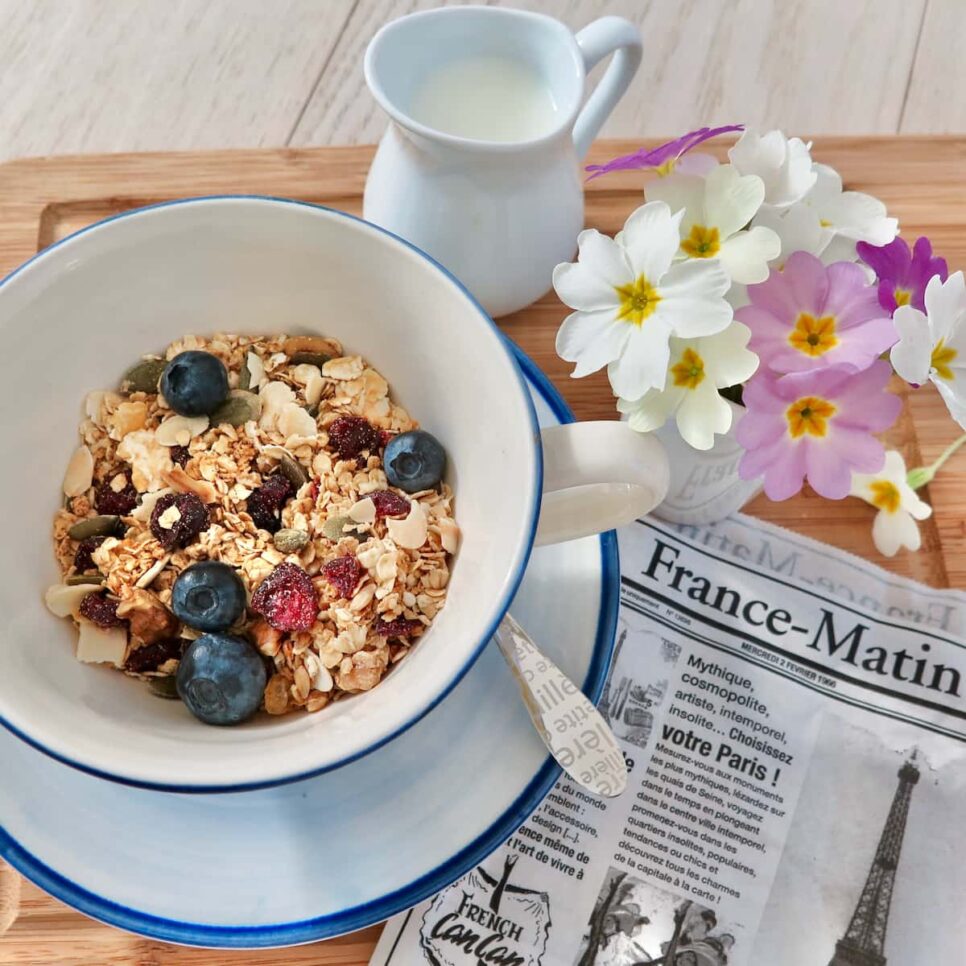 Maple Granola
Homemade granola, a tasty yet healthy recipe made with oats, nuts, seeds and dried fruits but with no sugar.
Ingredients
300

g (10.5oz/2 cups)

medium porridge oats

*

50

g (2oz/1/3 cup)

pepitas

(pumpkin seeds)

50

g (2oz/1/3 cup)

sunflower seeds

(or a mixture with flax, sesame)

100

g (3.5oz/¾ cup)

walnuts

(broken)

pinch

salt

fleur de sel

¼

teaspoon

ground cinnamon

45

g (3 tbsp)

neutral oil

grape seed or sunflower oil

75

g (5 tbsp)

maple syrup

organic

1

tablespoon

flaked/slivered almonds

100

g (3.5oz/¾ cup)

dried cranberries

(or dried blueberries/golden sultana raisins)
Instructions
Preheat the oven to 170°C (150°C fan)/340°F (Gas 3).

Measure all the ingredients (except the almonds and dried fruits) in a large bowl and stir to mix them all well together.

Cover a baking tray with baking paper (or use a silicone mat). Spread out the oat mixture by shaking the tray gently from side to side.

Bake in the oven for about 10-15 minutes, turn over the mixture and sprinkle on the slivered almonds and bake for a further 10-15 minutes.

Leave to cool then add the dried fruits.
Notes
* If following a strict gluten free diet, ensure the oats are 100% gluten free.
To Store: Once cool, pour into a sealed airtight container or a cookie jar to keep your granola crispy. Store at room temperature and enjoy within 10 days.
To Serve: with the milk of your choice or yogurt and fresh berries or dried apricots. Also delicious with homemade rhubarb compote. 
Measures: Please note that all my recipes are best made using digital kitchen scales in precise metric grams. Both ounces (and cups) are given as an approximate guide. 
This recipe was first published 13 March 2015 but text and images are now updated.
Have you enjoyed this recipe? Please do hit the stars by leaving a review below. Thank you so much for all your support.