Le pain d'épices, or pain d'épice, is a classic French gingerbread ('spice bread') in English, mainly made of honey. Loaves or slabs of them are sold particularly at Christmas markets around France for the festive season. Ideally made in advance, it tastes best a few days' later thanks to the honey.
Rye Flour
When this loaf was in the oven, in the space of only 20 minutes the smell was so beautiful around the house. That's what I call a giant French gingerbread house without the effort! The girls had no idea I was baking this; they thought by the fragrance wafting from the kitchen was my sticky toffee pudding with apple. Aha! Playing tricks on ze nose.
Could it be the fragrance from the rye flour? Rye flour has an interesting sour and slightly acidic taste but it's also low in gluten.
Holiday Recipes Best Made in Advance
This is also a handy recipe to have at the ready during the festive season, as it is best made a couple of days in advance of eating - or even up to a week for the flavours to intensify. The honey also keeps in the moisture.
It was also known as 'cake du voyage' as a travelling cake, as it could keep so well over the centuries. Wait, it can't keep for centuries. (Why do I want to keep that in?)
What's more, it freezes well up to 2 months.
Easy French Gingerbread Recipe
This recipe is slightly adapted from French boulanger, Julien Cantenot of Atelier P1 bakery in Paris. If you haven't tried his breads, then discover his talent from his boulangerie workshop in the 18th arrondissement on rue Marcadet in Montmartre.
Chef Cantenot kindly posted it last year in the November/December issue of the French Fou de Pâtisserie Magazine. For fans of rye flour (farine de siegle), it uses 100% of it, without an often classic mix of plain flour. The chef called for a particularly large amount of bicarbonate of soda which I ended up reducing after testing, as I felt it was a bit too strong. I also doubled the quantity of the recipe, as prefer making more of it for the festive season.
Otherwise I adore this recipe. It is slightly moist, not too sweet with a lovely crumb. It's also just perfectly dosed with spices without being overpowering and I love the look of the loaf just out of the oven - it looks like the glossy gingerbreads sold at our French markets.
Where does Pain d'Épices Come From?
Pronounced, "pan-day-piece", according to Larousse Gastronomique, Pain d'épices came from China in the 10th century with a version of honey bread called mi-kong. It came via Europe and France after the Crusades via Flanders by the Dukes of Burgundy.
In 1596, King Henri IV founded the pain d'épiciers in Reims, which was made with only rye flour (like this recipe).
What are the French Capitals of Gingerbread?
Pain d'épices is particularly famous in the three French towns of Reims, Dijon (see more in my article), and Gertwiller in Alsace.
Each town has their own emblematic creators of French gingerbread which continue today: Fossier in Reims, Mulot & Petitjean in Dijon, and Fortwenger and Lips in Gerwiller. Each make slight variations depending on type of honey (mainly acacia but in Alsace it's popular to use chestnut honey (miel châtaignier) and must contain at least 50% honey in order to be considered pain d'épices. If it mentions that it's 'pur miel' then there is only honey and no other sugar.
There's even a gingerbread museum (Musée du pain d'épices) in Gertwiller (Bas-Rhin) for all you need to know about it and its traditions.
This is the softer, cake-like version of gingerbread, not to be confused by gingerbread men or large, brioche-type known as mennele.
Pain d'épices Spice Mix
If you can't find pain d'épice spice mix, then it's easy to make your own. As I mention, different regions use slightly different spices but so use what you prefer really by picking your favourites from either Alsace, Dijon or Reims. Generally speaking, it's mainly made with ground cinnamon plus ground ginger, nutmeg and anise.
I love adding the ground spices but also infusing a couple of cloves, cardamom seeds (from 4 green pods) and a star anise (étoile badiane). It may look a lot but I can assure you it's not overly spiced but beautifully fragrant.
How to Make it
Pain d'épices is very quick to make.
Preheat the oven to 180°C (160°C fan) and generously butter a loaf tin.
Just heat together the honey, water, sugar and spices together in a saucepan. Once all dissolved, melt in the butter.
Meanwhile, sift the rye flour together in a bowl with the bicarbonate of soda, salt and ground spices.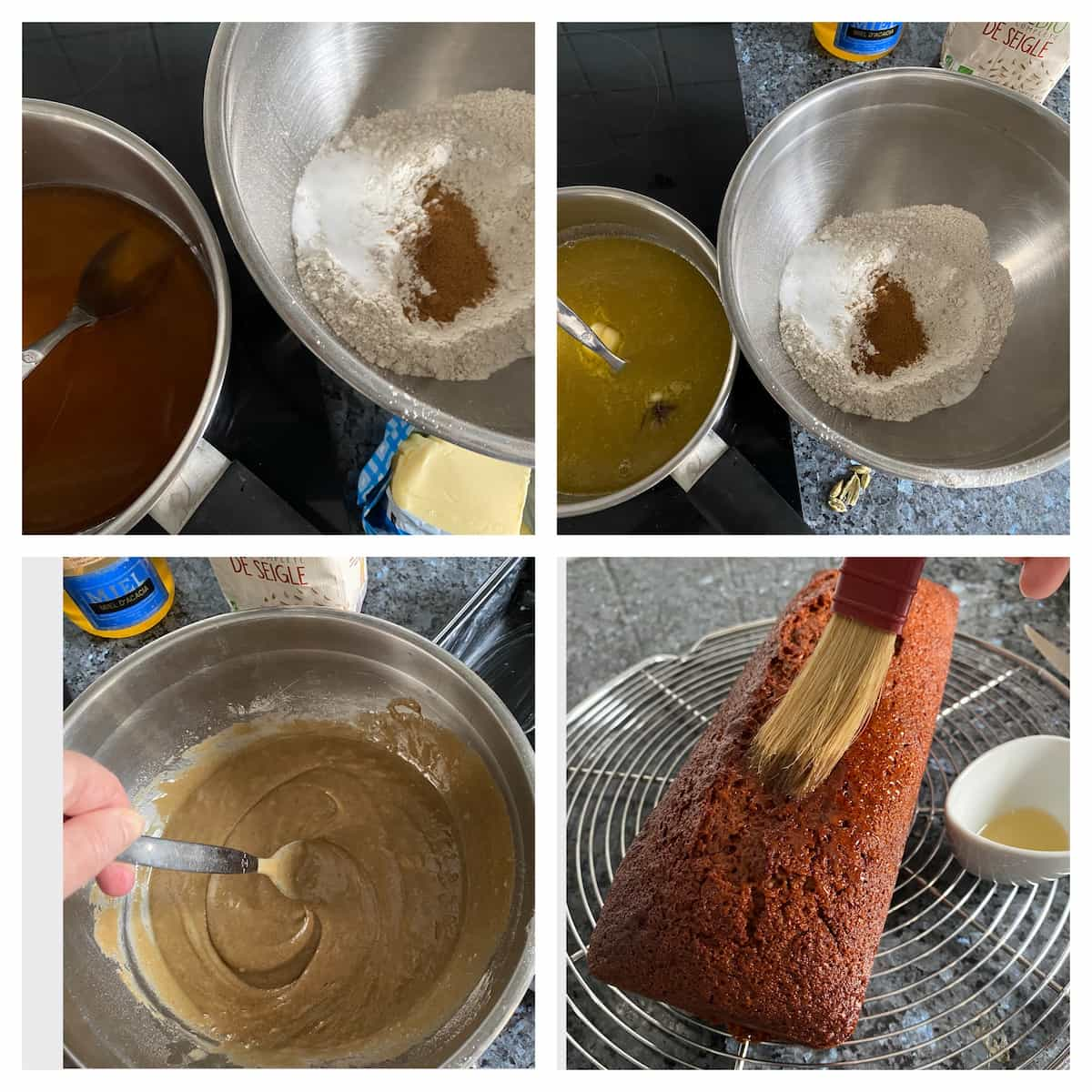 Gradually stir the warmed honey and melted butter mix into the flour until all blended together. It's so easy, I don't even use a mixer. The batter will be quite liquid.
Pour the batter into the greased loaf tin and bake for 40-50 minutes. (The original recipe by chef Cantenot called for baking for only 30 minutes with half the quantity and in a 500g tin).
Leave the cake to rest and cool in the tin for about 10 minutes then turn out on to a wire tray to cool.
What to Eat with Pain d'Épices?
Normally the French don't eat anything with pain d'épices at teatime. As a light teatime treat, it's served with tea, coffee or chocolat chaud and delicious served with clementine oranges.
The French also serve this as an apéritif or as a starter during the holiday season as it goes well with foie gras. As this recipe is not too sweet, it's ideal served with stronger French cheeses too. For the ultimate luxury, enjoy with a little fig jam (confiture de figues).
This also makes a great base for my gingerbread and apple caramel trifles.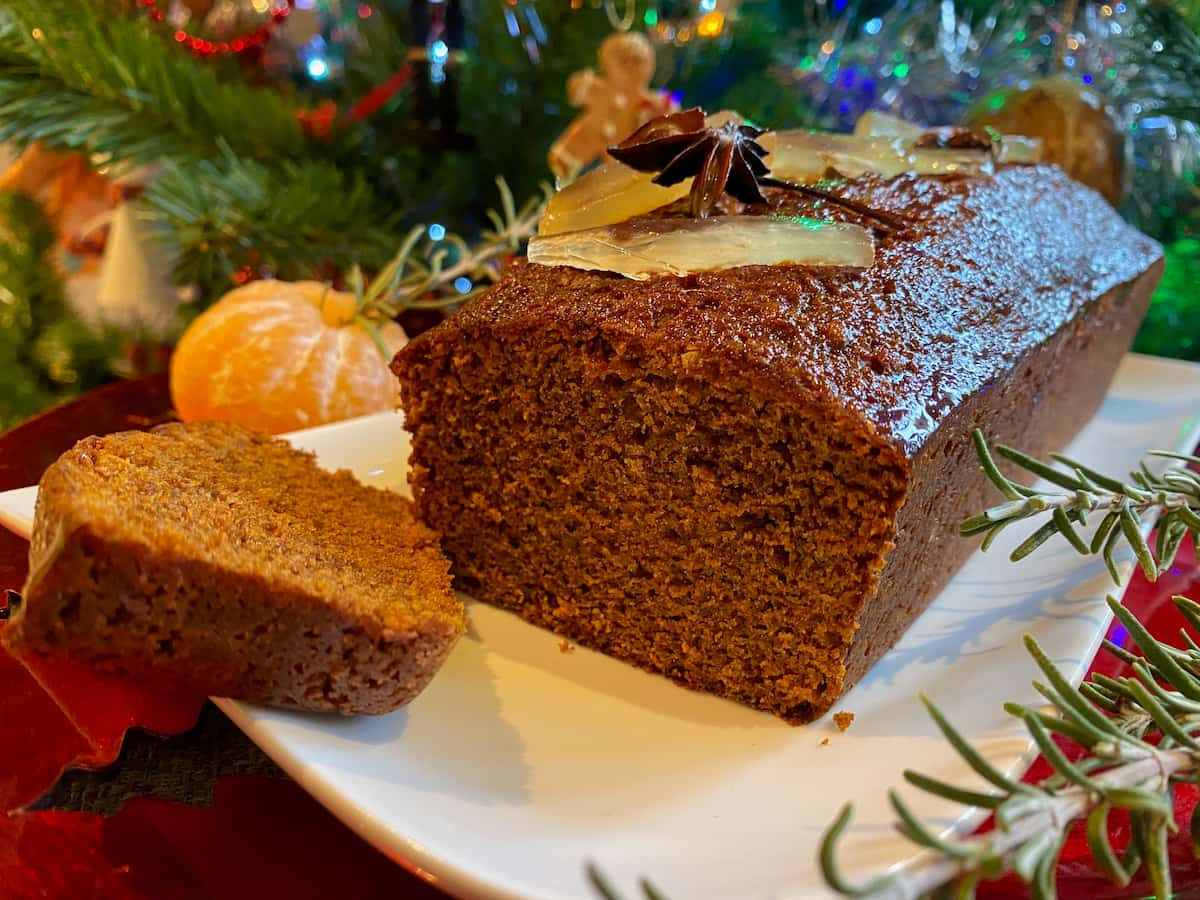 Pain d'épices
Recipe for French gingerbread, a classic served around Christmas time, best made a few days before eating. Made with mainly honey and rye flour (no eggs), it's quick to make. Adapted and translated from Julien Cantenot's recipe in Nov/Dec 2021 issue of Fou de Pâtisserie Magazine and doubled the recipe for a larger loaf tin.
Equipment
loaf tin (24cm / 4x 9-10 inch)

900g / 2lb
Ingredients
250

g (9oz / 2 cups

rye flour

T85

250

g (9oz / ⅔ cup

honey

(Acacia or chestnut honey)

250

ml (9 fl oz/1 cup)

water

100

g (3.5oz/ ½ cup)

cane sugar

150

g (5.5oz / ⅔ cup

butter, unsalted

roughly chopped (use a little to grease the tin)

4

g (1½ tsp)

gingerbread spice

see NOTES*

4

cardamom pods, seeds only

2

cloves

2

star anise

good

pinch

salt

fleur de sel, Maldon or Celtic sea salt

12

g (2½ tsp)

bicarbonate of soda

1

tablespoon

candied fruits

mixture of sliced ginger, orange etc.
Instructions
Grease the loaf tin with butter and preheat the oven to 180°C/160°C fan/ 360°F/ Gas 4.

Boil the water, honey, sugar and whole spices together in a saucepan until the liquids dissolve. Turn off the heat and leave to infuse for 5 minutes with the spices. Remove the cloves and star anise to decorate the loaf at the end.

In a bowl, stir together the rye flour, bicarbonate of soda, salt and ground spices. Gradually add the warm honey mixture and whisk or stir until the mixture is smooth. The result will be a batter that is quite liquid.

Pour the batter into the loaf tin, ¾ to the top. Bake in the oven for about 40 minutes or until dark brown.

Leave in the tin for about 10 minutes to cool slightly before turning out on to a wire tray. Decorate with candied fruits and the leftover star anise.
Notes
Gingerbread spices: sold in France as 'melange de pain d'épices': a mixture of ground cinnamon, ginger, nutmeg, aniseed.
Make your own with 1 teaspoon ground cinnamon, ½ teaspoon ground ginger, ¼ teaspoon ground nutmeg, ¼ teaspoon ground aniseed. To serve: best eaten at least a day to 2 days after baking and up to a week. I like to brush the top with more heated honey to give extra shine to the cake.
Serve on its own, with jam or with foie gras. Storage: Pain d'épices keeps at its best for about a week in an airtight container or covered in aluminium foil outside of the fridge (as contains mainly honey which retains moisture). Can freeze for up to 2 months. Measures: Please note that all my recipes are best made using digital kitchen scales in precise metric grams. Both ounces (and cups) are given as a guide.