Lush sticky toffee pudding recipe with apple – baked in a pool of dark toffee sauce and served with even more at the table. Although more easily made as a family size, we love to serve them individually and freeze the rest for later.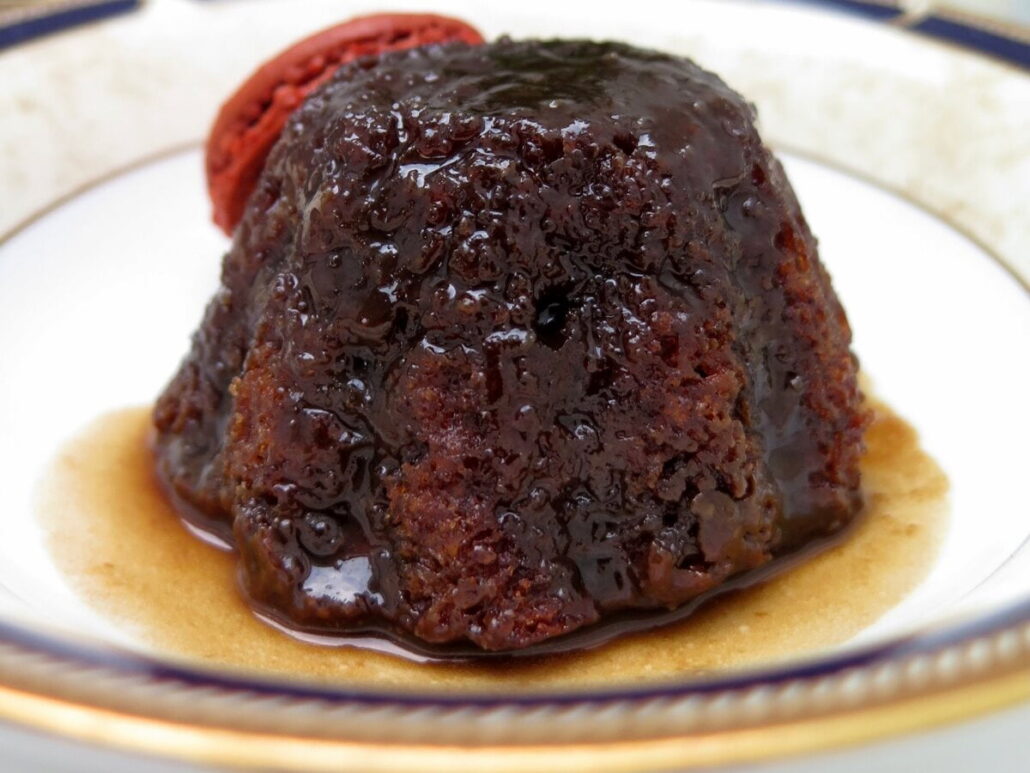 Shall we Make Some S.T.P.?
Known affectionately in our family as S.T.P. – or Sticky Toffee Pudding. I make this, however, with a grated tart apple (Granny Smith), giving it a twist to the classic just made with dates. Somehow adding an apple makes us feel a bit better with the decadent luscious toffee sauce's scrumptiousness!
This pudding goes against my French-style eating habits: I love dessert but shy away from over-sugared and filling puddings.  This is our exception – and the version below is my final answer to this most delicious dilemma called Sticky Toffee Pudding Syndrome.
What Nationality is Sticky Toffee Pudding?
Growing up with STP in Scotland, my parents would often drive my wee brother and I down to the Lake District in England.
The highlight of our trips there were mandatory stops at the legendary Cartmel Village Shop to stock up and taste their version. Known as the "Home of Sticky Toffee", this is where it seems to have originated, making it another prized British pudding. Today, however, you'll find it almost anywhere in the UK as its popularity has grown.
Did you know I converted Sticky Toffee Pudding into a STP macaron for my first book, Mad About Macarons? It makes it an entirely gluten-free version – both as a regular-sized macaron and as a giant macaron dessert.
Funnily enough, some American critics initially thought that S.T.P. was a "bit too British" for a macaron book – but little did they know that the recipe for sticky toffee pudding may well have originated in Canada, just like my Scottish Granny's Matrimonial Cake (oaty date squares). Alas, I can't find enough sources for this, so if you have any ideas of its history, please let me know in the comments below.

Dark Sticky Toffee Pudding Toffee Sauce
I distinctly remember the look and taste of the original pudding from Cartmel in the Lake District. The difference over many other sticky toffee puddings we tried was that the original was distinctly dark and lush, covered in the darkest ever toffee sauce.
What I love about this recipe is that the sauce is used in baking the pudding and the extra sauce is poured over at the end.
Living in France has meant the necessity of making this at home, as it's not something we can just run out to our local pâtisserie or boulangerie and find – so this Sticky Toffee Apple Pudding was created along the way. It's often requested by my beau-père, Jean-Pierre, who's accent is adorable: can we have more of that steeecky toa-fee pood-eeeng?
Well, here it is, beau-papa.
Sticky Toffee Family-Sized Pudding
There are two ways of making this recipe.
Normally it's made as a flat cake, batter sitting (nearly floating) on top of a pool of toffee sauce then baked in a buttered ovenproof pie or gratin dish (20 x 30 x 6cm). It's served spooned into pudding bowls – or teacups, inspired by Carina Contini's family recipe for Sticky Ginger & Date Pudding in her Kitchen Garden Cookbook.
I adapted the recipe, cutting down slightly on the butter and sugar, plus I added a grated apple, since my Granny always mixed dates with apple. That's a deliciously nostalgic family tradition I am continuing. Then I added 2 tablespoons of dark rum to the sticky toffee sauce. This makes the whole lusciousness extra heavenly for those cold, dark nights.
You could call this version a Tipsy Sticky Toffee Pudding! Plus don't forget the apple.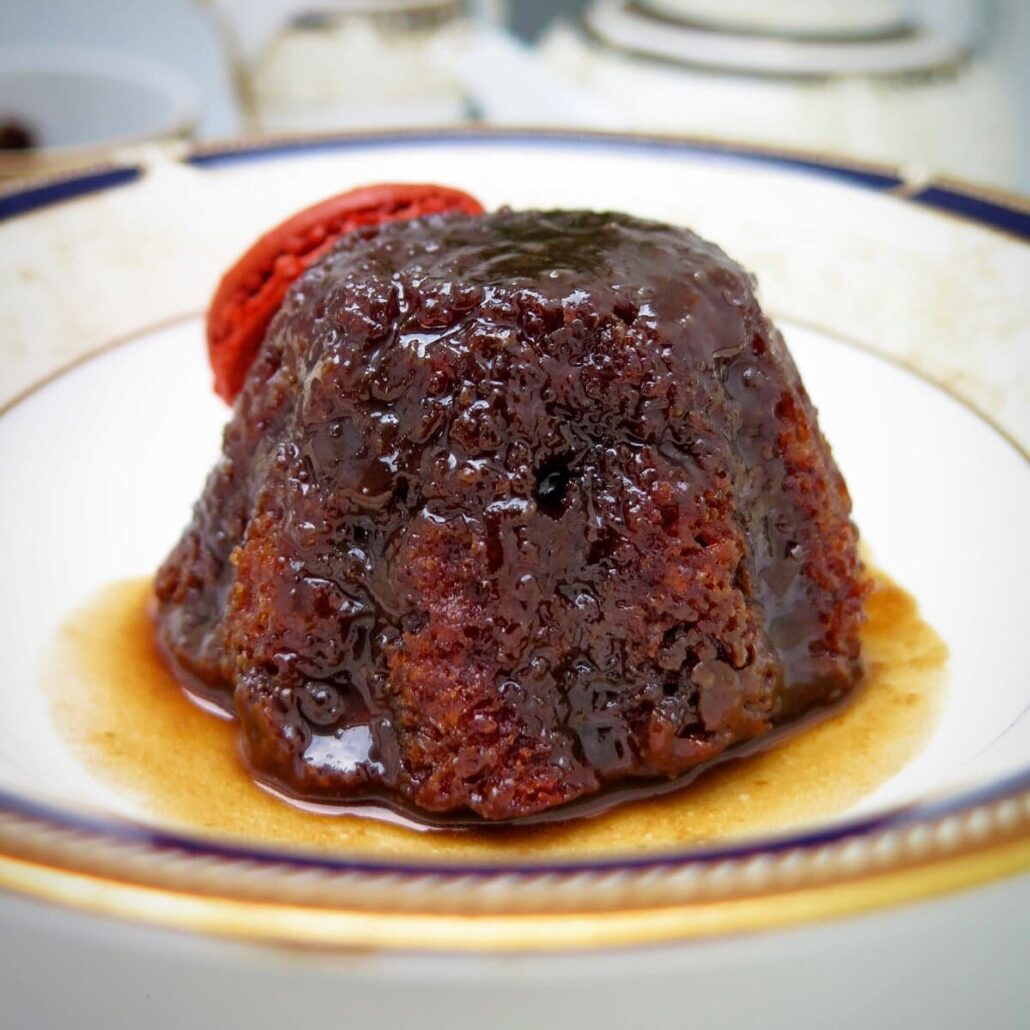 Individual Sticky Toffee Puddings
However, the above family-sized flat cake version has one HUGE problem: we normally have at least second portions and it can get out of control. It's what we call the Sticky Toffee Pudding Syndrome.
So, to avoid such sticky toffee impulses, my preferred method is to make individual puddings. 
To make individual puddings, pour the batter into standard muffin moulds. Use either buttered metallic moulds – even better, non-stick or silicone moulds so no greasing is necessary.
The result is just enough for each person without the seconds. That way we eat half and freeze the rest directly in their moulds before anyone can ask for more. You have to be cruel to be kind, as these are rather too comforting and decadent.
Moreover, they're so easy to freeze when removed from their silicone moulds and reheat when needed – making them so handy to serve stress-free for a dinner party later!
Sticky Toffee Apple Pudding
---
Description
Lush Sticky Toffee Pudding with apple, baked in a pool of dark toffee sauce and served with more at the table. Serve individually using standard non-stick or silicone brioche/muffin or dariole moulds. If making as one big pudding in a gratin dish/cake tin, bake for 10 minutes longer.
The puddings and sauce also freeze well so a good make-ahead dessert recipe.
Ingredients
Sticky Toffee Sauce:
175

g (6oz/¾ cup)

butter, unsalted

pinch

salt

(fleur de sel, Maldon or Celtic sea salt)

250

g (9oz/1½ cups)

dark Muscovado sugar

Vergeoise Brun or soft dark brown sugar

225

g (8oz/1 cup)

whipping cream

(30% fat) or heavy cream

2

tbsp

dark rum
Pudding Batter:
175

g (6oz/1 cup)

pitted dates

roughly chopped

175

ml (6fl oz/¾ cup)

water

1

tsp

bicarbonate of soda

(baking soda)

1

tart apple (e.g. Granny Smith)

peeled & grated

75

g (3oz/ 1/3 cup)

butter, unsalted

110

g (4oz/½ cup + tbsp)

soft dark brown sugar

(Muscovado)

2

medium

eggs

organic

150

g (5.5oz/1 ¼ cups)

plain flour (all purpose)

1

tsp

baking powder

(no need if use self-raising flour above)

1

tsp

ground ginger
Instructions
Sticky Toffee Sauce:
Melt the butter, sugar, cream and rum in a large saucepan over medium heat. Once dissolved, turn down the heat to low and stir occasionally until the sauce becomes smooth and glossy (about 10 minutes). Set aside to cool.
Sticky Toffee Pudding Batter:
In a saucepan, cover the chopped dates with the water and bring to the boil. Add the baking soda then mash until a smooth paste. Leave to cool for 10 minutes then stir in the grated apple until well combined.

Preheat the oven to 180°C/160°C fan/360°F/Gas 4.

Cream the butter and sugar together in a large bowl or in a large stand-mixer until pale and creamy. Gradually beat in the eggs, flour and ground ginger. Fold in the date and apple mixture until mixed together.

Individual puddings: Pour 1/4 of the sauce (about a dessert spoon) at the bottom of each muffin cavity. Top with the batter until 1/3 from the top, giving enough room for the batter to rise. Bake for 25 minutes.(Large Version: Pour 1/4 of the sauce into the bottom of a buttered standard gratin dish. Bake for 30-35 minutes.)

Remove the puddings from the moulds after 5 minutes cooling and place directly on serving dishes. Reheat the remaining 3/4 of toffee sauce and pour over each pudding. 
Notes
The puddings freeze well. To freeze, first cool the puddings, chill then transfer to a zip-lock bag or in containers. I decant the rest of the sauce separately into a jam jar to freeze. Just defrost and reheat before serving.
If you prefer the pudding without alcohol, then simply omit the rum.