Welcome to my Montmartre Chocolate Pastry Walk – an online self-guided Paris tour created around my favourite chocolate, pastry and macaron shops. I've even added some famous  landmarks too – all in the less crowded parts of Paris's famous artistic hilltop village.
Lately some Paris visitors have asked if I still lead my fun chocolate, pastry & macaron tours in Saint-Germain-des-Prés. Alas I stopped for a while due to health reasons but, to make up for it, I have created this self-guided walk.
This walk came about when my French girlfriends came up north for our annual girls' weekend and, as we had so much fun previously exploring chocolate and pastries in Saint-Germain, I surprised them by preparing my new Montmartre chocolate pastry walk – around the more hidden side of Paris's most famous village.
It wasn't completely a chocolate and pastry 'tour' as such, but more of a day-long, meandering walk while munching on chocolate, pastries and macarons along the way. We added a simple Amélie-style lunch, drinks then a historic dinner – where we could feel Toulouse-Lautrec keeping a more low-profiled, spectacled eye on us, as we checked out the absinthe being poured at the next table, comme à l'époque.
As you can imagine, I can't possibly mention everything to do here, but the following guide will show there is more to Montmartre than Sacré Coeur and Place de Tertre, much as they're special.
Are you ready? Take a seat and on y va!
Montmartre Chocolate & Pastry Guided Tour
My self-guided Montmartre chocolate pastry walk starts at Metro Blanche, with Hector Guimard's familiar Art Nouveau entrance. As Montmartre's hill ('la butte') is 130m and boasts 38 staircases, we want a minimum to climb so this is a good starting point.
L'Etoile d'Or: Best French Chocolate Under One Roof in Pigalle
For an immediate dose of chocolate endorphins, head to 30 rue Fontaine, a bit south of Place Pigalle, À l'Etoile d'Or. See my separate post on a visit to the pigtailed chocolate goddess, Denise Acabo's boutique.
Did you know that just above the shop was one of 3 apartments where Toulouse-Lautrec lived on the same street? He also lived at N°19bis, where Degas had his workshop – although didn't get the chance to exchange with the more illustrious artist at the time. Can you imagine being une mouche on the wall, witnessing them crossing on the staircase?
Stock up on a bag of chocolate Sauternes-soaked raisins, and head to the Cemetery of Montmartre, passing the iconic cabaret, Le Moulin Rouge, which celebrated its 130th birthday (1889) this year.
Entrance to the beautiful Montmartre Cemetery (the 3rd largest in Paris) is via avenue Rachel. Grab a reference map by the door on the left, as there are many avenues to negotiate to find your favourite famous personalities. Ours included Michel Berger & France Gall, Emile Zola, Offenbach, Berlioz, Degas, Dalida, Sacha Guitry (he's right there at the entrance with a funny greeting) and Louise Weber, known as La Goulue, creator of the French Cancan. For famous French chefs, you'll also find Marie-Antoine Carême, who founded haute cuisine.
Rue Lepic: Famous Cafés, Music, Film and FOOD!
The 18th arrondissement of Montmartre beckons with a walk up Rue Lepic. Queue many film soundtracks from here, one of my favourites being 'Les Ripoux' (1984) starring Philippe Noiret and Thierry Lhermitte. Spellbinding accordian waltzes from Yann Tiersen came in 2001 with Jean-Pierre Jeunet's film, 'Le Fabuleux Destin d'Amelie Poulain' (aka Amelie, played by Audrey Tautou).
For a treat, I sometimes book lunch at Amelie's Café des 2 Moulins (referring to the 2 remaining windmills). Normally during the day it's bustling, with 2CV cars stopping by so I managed to snap it later during a rare, tranquil moment!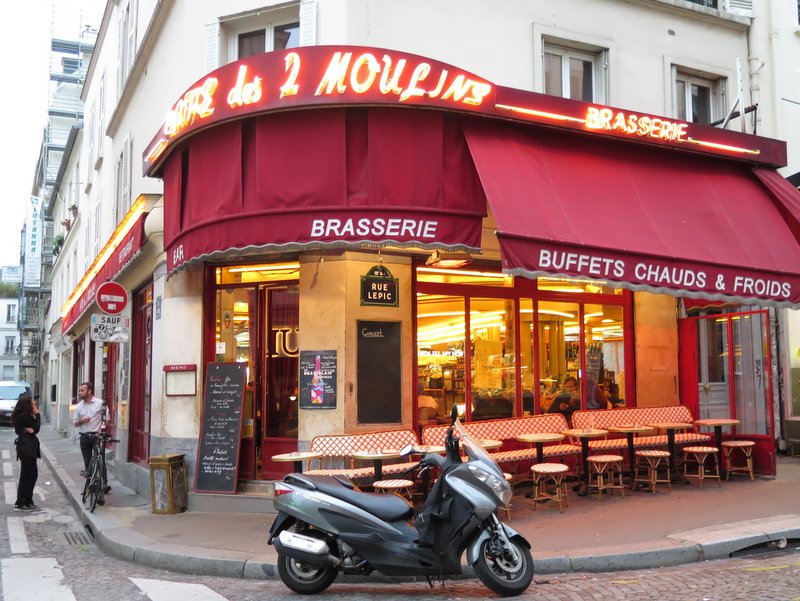 Stopping for a drink here can be pricey but a no-fuss brasserie-style lunch is great, soaking in the ambience by the familiar zinc bar. We could have gone for Amélie's favourite crème brûlée, cracking into the caramel layer with the back of a spoon. However, with so many places still to see and treats to try, we kept space for the rest like good French girls. Although they also make a savoury foie gras crème brûlée – for next time!
Montmartre Tarts: Les Petits Mitrons
You'll find many people at both windows – à faire du lèche-vitrine – literal window-licking at Les Petits Mitrons, also on rue Lepic. This family-run artisanal bakery is The Montmartre address for les tartes, churning out the most delicious seasonal vegetable or thinly caramel-crusted fresh fruit tarts.
My 'radishing' girlfriends couldn't decide the best and I'm still tasting to find out – although the plum and apple tarts are rather exquisite in Autumn.
That wasn't me holding radishes for a wee snack: there's a small market by the side of the street, just in case there's not enough food already from the boucher, poissonier and fromagerie to choose from here!
Oldest Parisian Chocolate & Pastry Shops Together
Across the street is À la Mère de Famille, known as Paris' oldest chocolate shop. The first green and gold-facade shop opened as a grocery in rue du Faubourg-Montmartre in 1761 (I strongly recommend you visit the original, classed a French national historical monument with wooden counter and rows of confectionary jars).
Today the family has an impressive chain of 14 chocolate-confectionary boutiques around Paris, all reminiscent of la Belle Epoque (Rue Cler, Rue Cambronne, Rue Bonaparte etc. and now in Saint-Germain-en-Laye west of the City). Fans of chocolate orange will love their different orangettes plus calissons d'Aix: losange-shaped, mouth-sized iced marzipans from Aix-en-Provence.
Recently, À la Mère de Famille joined with Paris's oldest Patisserie, Stohrer, and so now propose an assortment of pastries and cakes too.
Chocolat Illené: Where Korea Meets French Savoir-Faire
Turn right onto rue des Abbesses then first left on rue Tholozé for Chocolat Illèné.
Since 2015, Koreans Hyunsoo Ahn and Hyejin Cho both set up shop here after a star-studded chocolate-pastry career in Paris. While Hyunsoo was being trained by chocolatiers Michel Chaudun and Patrice Chapon, Hyejin was learning from pastry chefs Christophe Adam at Fauchon and Camille Lesecq at le Meurice.
Don't be shocked by this macaron tower. It's a mix of the smooth Parisian gerbet macarons and deliberately cracked, old-fashioned macarons à l'ancienne which are simply melt-in-the-mouth gluten-free almond deliciousness. (I've written an article for more on the different kinds of French macarons.)
Choose from seasonal flavours or the favourites at all times of year: pistachio, caramel, sesame, black sesame and soya milk. I was most intrigued by l'Armoise. Yes, you can even taste a MUGWORT herbal macaron, which I believe should have a more scrumptious name in English, don't you?
Their signature chocolate, l'Illené, with timut pepper ganache and typical Korean candied plum demonstrates their astonishing art of blending Korean culture with French savoir-faire.
Montmartrois Humour
Although we could continue and see the many interesting cafés, bars, brasseries, bakeries (Grenier à Pain) cheese shops, ice cream shops (Une Glace à Paris, Emmanuel Ryon MOF is a must), etc. on rue des Abbesses,
TURN BACK towards rue Lepic, as we're going to follow it around uphill, now that we need to a break from eating and discover the rest of Montmartre's 'butte' or hill!
First, some typical Montmartrois' quirky humour.
You'll spot artistic graffiti with their play on words on many corners and alleys (I loved 'Gilles est jaune', sounds like my name Jill in French, Cheeeele, Giles is yellow – referring to the Gilets Jaunes yellow vests) but this one is a cracker, referring to the difference between Macaron vs Macaroon.
La Bossue: The Hunchback of Montmartre
While we're here, La Bossue is a cosy address on the corner of rue Lepic for weekend brunch (reservations essential), plus lunches or for tea and cake. Thanks to my bubbly local friend, Lily Heise, we nibbled on the most delectable homemade gluten-free financiers and I immediately added this gem to my growing list of best-loved Parisian tearooms. Lily is the author of Parisian romance novels and her blog features the most romantic places to visit in Paris.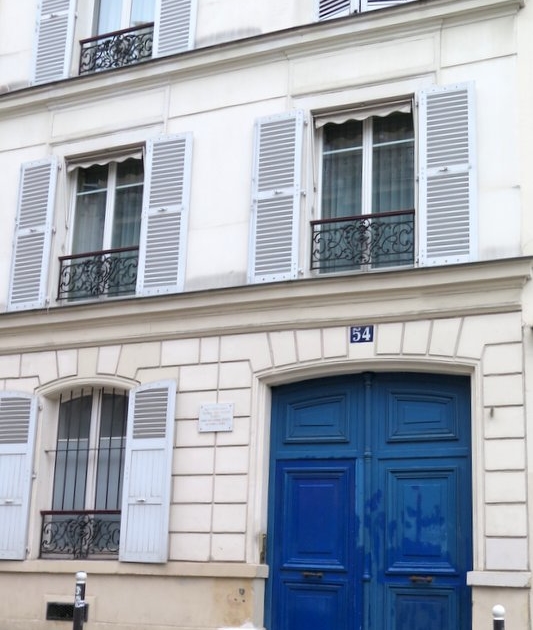 Just opposite, continuing on Rue Lepic at N°54 is a blue door that, paradoxically, always looks like it needs a paint! It's where Vincent Van Gogh stayed with his brother, Theo (1886-88) before he moved south.
Gontran Cherrier: Bold, Buttery Boulangerie
Continue gently up the hill here by just one block, turn left on rue Tourleque and check out the bold and buttery viennoiseries (croissants, pains au chocolat, pain aux raisins…) from artisan boulanger, Gontran Cherrier.

Try his naughty Kouign Amann: Breton for butter cake (if you love these, try also Georges Larnicol's 'Kouignettes' on rue Steinkerque, which earned him Meilleur Ouvrier de France, MOF). Gontran Cherrier also makes curry and squid ink baguettes and buns, if you fancy something that bit deliciously different. Henri de Toulouse-Lautrec's workshop is just across the road (corner of rue Tourleque/rue Caulinacourt).
Incidentally, further up rue Caulinacourt, is another MOF, Arnaud Lahrer. Try his macarons or his speciality, Le Pavé de Montmartre, a sumptuous, moist biscuit of almonds and marzipan. For the sake of this walk, however, let's stick to our path.
Montmartre's Windmills
Returning up the winding hill of rue Lepic, follow it around until it stops at the Moulin Radet (built in 1717), now the restaurant of Le Moulin de la Galette. A windmill site for centuries, this one turned into a dancing club which inspired Renoir's Le Bal du Moulin de la Galette (Musée d'Orsay), also immortilised by Van Gogh, Toulouse-Lautrec and Utrillo. The other remaining windmill, Le Blute Fin (1622), is behind this but now private.
Where did I get this lemon madeleine? Patience – it's coming.
Turn left onto rue Girardon and then right on rue Norvins passing Place Marcel Aymé, dedicated to the local writer who lived here and wrote The Passer Through Walls (Le Passe-Muraille). Actor Jean Marais immortalised the sad tale with this sculpture (1989).
If you plan on seeing Place du Tertre, continue along the busier half of rue Norvins. While there, pop into the Biscuiterie de Montmartre – otherwise I recommend taking the other oldest parallel street in Montmartre, rue Saint Rustique.
Oldest Streets in Montmartre
La Bonne Franquette (playing on a French expression meaning unfussy, simple food) has been a legendary restaurant with the local Montmartrois. Regulars such as Degas, Renoir, Sisley and Toulouse-Lautrec all loved to love, eat, drink and sing here.
Turn left onto rue du Mont Cenis. At N°13 stood the Cabaret Patachou, now an art gallery. Go in to the foyer and feel the echos of Edith Piaf's last public performance. It's also where Brassens, Brel and Charles Aznavour started out.
Montmartre's Oldest House
Turn left onto Rue Cortot, looking right to N°6 where composer Erik Satie (known for his piano Gymnopédies) lived for 8 years. As I discovered at the Satie Museum in Honfleur, he had an oh-là-là wee affair with painter Suzanne Valadon a couple of doors down at 17th century La Maison du Bel Air, the oldest house in Montmartre – now the Montmartre Museum.
If you have time, I thoroughly recommend a visit to the Montmartre Museum plus a drink in the Renoir Gardens (see my article on the Café Renoir), where you can see the famous swing immortalised by the painter, who also lived there.
On the crossroads of rue de l'Abrevoir and rue des Saules is La Maison Rose. It's a restaurant-café made famous by Utrillo's paintings (son of Suzanne Valadon) and where Charles Aznavour enjoyed many after-song drinks on la Butte. Lucky for us it was renovated in 2017.
Montmartre's Vineyard
It's hard to believe you're in Montmartre at this point: right on rue des Saules, discover the last vineyard in Paris, le Clos de Montmartre, at the back of the Musée de Montmartre.
The annual Fête des Vendanges is quite an event since 1934 every second Saturday of October – see my wine harvest festival article for a wee online taste.
Gill's Red-Scarfed French Rabbit
I'm aware we're further away from the chocolate and pastries in Montmartre, but you can't come here without seeing just the next corner – and the next. The Cabaret, Au Lapin Agile was frequented by many artists and authors. In the 1880s the owner of the former "Assassins' Cabaret" asked the caricaturist, André Gill (pronounce that 'cheel' again), to paint a logo. He produced a rabbit wearing a red scarf and green hat, avoiding being cooked in a pan while balancing a wine bottle on his paw. The locals called it 'Le Lapin de Gill' and the name transformed – just-like-that!
The story goes that Picasso lunched regularly here and paid with his unsigned drawings. When the owner asked why they were never signed, Picasso wasn't popular afterwards when he retorted, "I just want to buy lunch, not the restaurant!"
Fall for Autumn in Montmartre
Turn left onto rue Saint-Vincent, especially in Autumn. It's also where the last scene of Amélie is filmed.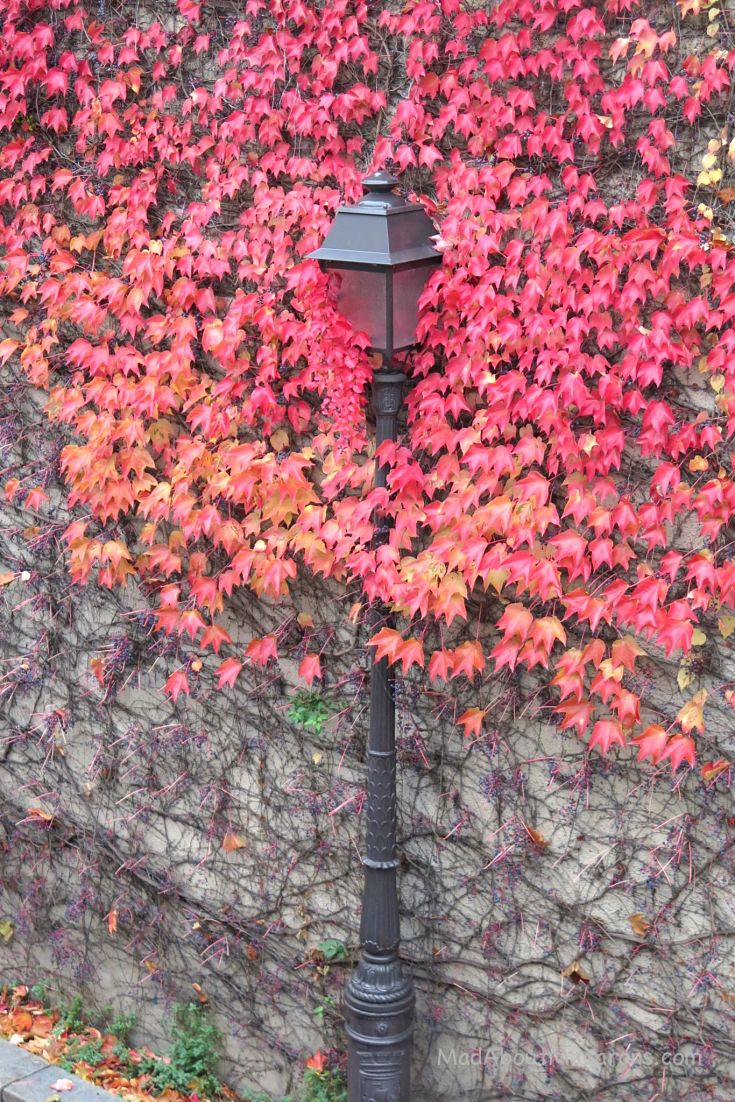 Then a macaron comes into view and the eyes go blurry.
That's a sign of a true macaron-ivore. For the macaron recipe, tips and how to control Parisian macaronivore symptoms, see my book Mad About Macarons.
Macarons? Jings, we've walked so much it's time to head back down la Butte de Montmartre for more chocolate, cakes and macarons. This is Christophe Roussel's melt-in-the-mouth cheesecake macaron.
Moreover, just for the raspberry-coloured autumnal ivy treat, we'll have to walk UP a flight of steps on the left – the only one going up on this walk (not bad). I've saved you a Petite Butte de Montmartre pistachio chocolate – finally coming below at Christophe Roussel, our last stop on this Montmartre chocolate pastry walk.
A post-chocolate sprint up the steps and Place Dalida awaits with a statue in memory of the famous French-Egyptian singer. I'll leave you with the surprise to see what the locals do – to either keep their hands warm or carry on a warming tradition!
Look up at rue l'Abrevoir. We're nearly there and it's all downhill now. Next stop: the French's favourite hunchbacked cake, baked by Gilles Marchal.
Ahead in Montmartre with Saint-Denis
Walking straight on rue Girardon is the entrance to Square Suzanne Buisson. Come here in November and this tranquil public garden is alive with chrysanthemums, symbol of immortality following Toussaint's 1 November French tradition.
Here the statue of the first bishop of Paris, Saint Denis, is holding his own head. Decapitated in Montmartre in 250AD, legend has it that when he dropped dead, his head rolled down the hill to the spot that became the famous royal Abbey and Basilica of Saint-Denis.
Exiting onto Avenue Junot with a view of the second Blute Fin windmill, rows of stunning private villas continue down to the cul-de-sac of Villa Léandre. Here is home to celebrities, fluffy watchful cats and a pianist who often practises if you're lucky to catch the sounds with a window open. Back DOWN rue Girardon, walk past singer Dalida's mansion house on rue d'Orchampt until Le Bateau Lavoir on Place Emile Goudeais, which was home to Picasso and Modigliani and the birth of cubism.
Montmartre Madeleine Moments
On the corner of rue Ravignan, you'll find the delights of Pastry chef, Gilles Marchal. Also from Lorraine, like the scalloped madeleine cake made famous by Marcel Proust, try his speciality: fresh madeleines. Choose from his classic salted caramel, chocolate, orange, Sicilian pistachio – or even nature.
For Autumn, Monsieur l'écureuil's (squirrel) praline is a cracker and I personally love the glazed lemon madeleine. If you're lucky, he may have some truffle madeleines warm from the oven. His pastries are also divine – try the pear and almond tart (like the Bourdaloue tart), les mille-feuilles and éclairs.
Metro Abbesses, the Deepest in Paris
Continue downhill on rue Ravignan and turn left onto Place des Abbesses. Wafts of roasted chestnuts are at the famous Art Nouveau metro entrance, signalling Autumn and Winter in Paris. Pick this metro as your Montmartre starting point and either take the lift or be prepared to climb 181 steps. It's the deepest metro station in Paris (36m underground). Mind you, the climb is interesting, as 7 artworks of Montmartre were added after its renovation in 2007.
Behind in Place Jean Rictus is wall fresco by Frédéric Baron saying "I love you" in 311 languages. Queue these chocolate kisses from our next and last stop! Walk down rue des Trois Frères, stopping en route at N°56 to see 'Collignon's' grocery from Amelie, then turn left on rue Tardieu.
Montmartre's Exclusive 'Butte' Chocolates
Location is spot on here. Imagine tantalising us with a chocolate and macaron boutique right in front of a flight of 222 steps, next to the Funiculaire (price of a metro ticket) up to Sacré Coeur? If you prefer to start your walk here from Anvers or Abbesses metro, then ensure that you stop for a chocolat chaud and stock up your goodie bag first from Christophe Roussel Duo Avec Julie in Rue Tardieu.
Christophe Roussel is The veritable chocolate and pastry star from La Baule and along France's north-west coast. Thankfully for us chocolate and macaron fans, he recently opened this Paris boutique with his wife, Julie (read my introduction to Christophe Roussel).
Sensitive to environmental and social practices, Christophe has chosen his exclusive, signature chocolate as pure origin Bahiana® from Brazil. All dark chocolates and pralines are rich and intense, with 65% cacao – my personal favourites? Taste his crispy raspberry 'Kisses From', Tokyo Sésame Pralines, petites buttes de Montmartre range and chunky Electro'chocs – all Oh-là-là divine.
As I say in my recipe book, Teatime in Paris – Christophe is one of the most genuine, talented yet fun-loving pastry chefs I know. I'm also extremely proud and flattered to have been twice (they even asked the clown-girl back?) on such a prestigious French jury for his annual Amateur Pastry Competition in la Baule – the latest challenge was end June 2019. Pop in for a taste of this high-end yet convivial French pastry-making Roussel challenge. Who knows, perhaps you could give it a go next year?
Don't leave without trying Christophe Roussel's 'Petites Buttes de Montmartre'. These little chocolate hills of heaven are produced ONLY for the boutique in Montmartre. One of my favourites is a milk chocolate coconut praline with sparkling candy (sucre pétillant). Your mouth is guaranteed to fizz and turn like the carrousel with Sacré Coeur looking on.
For me, it's the final flurry of fireworks to end this Montmartre Chocolate Pastry Walk.
Absinthe-Minded in Montmartre
If you're looking for some authenticity for dinner, Montmartre's oldest restaurant, Le Bon Bock on rue Dancourt still has original decor from 1879. If it wasn't for clients' clothes and mobile 'phones, one could really imagine being transported to la Belle Époque, even if it's not even Midnight in Paris!
This is one of the rare establishments left that still serves Absinthe as it was done during the time of Toulouse-Lautrec. Call me a wimp but I prefer to look on others trying it out. Instead, I stuck with bubbling Mamie's Gratinée à l'oignon and poulet fermier with Camembert. Somehow, after all the treats we had, I just couldn't manage dessert.
I wonder why?
Montmartre Guided Walking Tours
This is a whirlwind online walk and I can't possibly mention everything I'd normally ramble on about in person. The best way to really do Montmartre is with a guided tour. See my list of recommended Paris Food Tours.
For more information, consult the Official Tourism Office of Montmartre.
They also have a wonderful "Discover Montmartre" map and fliers on the village's history and what's on.
Montmartre Chocolate Pastry Walk Tips
Even off-season, Montmartre is busy – especially around Sacré-Coeur, Place de Tertre and the metro stations. PLEASE be careful of pickpockets.
Montmartre is on a rather steep hill, so wear comfortable shoes and be prepared to walk a lot;
Bring water with you, especially if you plan to enjoy a lot of chocolate – regardless of the weather;
I recommend these addresses and specialities for this Montmartre chocolate pastry walk – don't forget to pace yourself and do try to keep some aside for later;
To really enjoy Montmartre to its fullest, please allow a whole day – or at least an afternoon – for the walk.
Disclaimer: None of the addresses or recommendations in this post are sponsored. All opinions, as always, are entirely my own.