A walk around Paris around Easter time means seeing a huge choice of chocolate in bakeries, pâtisseries and chocolateries.
As one of the busiest seasons of the year, the artisanal chocolate shops work flat out for Easter. But what are the traditions in France for Easter and what brings chocolate on Easter in France? Let's take a look at some of their windows and discover why we see mainly bells and fish, as well as traditional eggs on display.
What are The 4 Traditional Chocolate Shapes for Easter in France?
There are four traditional chocolate shapes for Easter in France:
Eggs
Bells
Hens/chicks and
Fish.
So before we get cracking with a sampling of Easter eggs (oeufs de Pâques) and the others below, let's start with the most typically French shapes in the Chocolateries: bells.
Already the choice of eggs in itself is awe-inspiring. Most shops have us melting at the window at the array of traditional chocolate sculptures. What's more, other animals feature each year: such as cats, dogs, lambs, sheep, pandas, pigs, bears, ducks, mice and bees - now even crocodiles and lions!
Who Brings the Eggs on Easter in France?
So why do the French have bells at Easter?
French tradition has it that the bells bring chocolate on Easter (cloches de Pâques). This is why you'll see so many chocolate bell shapes at Easter time.
Listen carefully for the Church bells over Easter weekend. In France the bells (les cloches) stop ringing from Good Friday (when Jesus died) to Easter Sunday morning, as they have flown to the Vatican in Rome.
After Church Mass, to celebrate Christ's resurrection, the bells joyously peel around France as they fly back from Saint Peter's in Rome, dropping chocolate eggs in gardens as the children are eager to hunt for them.
Even my French girls have always found bells bringing chocolate eggs a crazy tradition - perhaps as parents we simply poorly described it. So imagine trying to explain to your kids that church bells had flown with wings all the way to the Vatican to be blessed by the Pope to help everyone in mourning, then returned (with no hands) to hide chocolate.
Does the Easter Bunny exist in France?
Well, no. It's the bells that bring the chocolate and bunnies have nothing to do with eggs either (say my kids). Over the years, however, more bunnies (lapins) have gradually been hopping into the boutiques - such as these dark, milk or white chocolate cuties by Christophe & Julie Roussel in Montmartre. It's also design bunnies at Pierre Marcolini.
While on the subject of bunnies, the equivalent of the tooth fairy in France is the mouse - so you may just see some mice around too, in the spirit of animal shapes.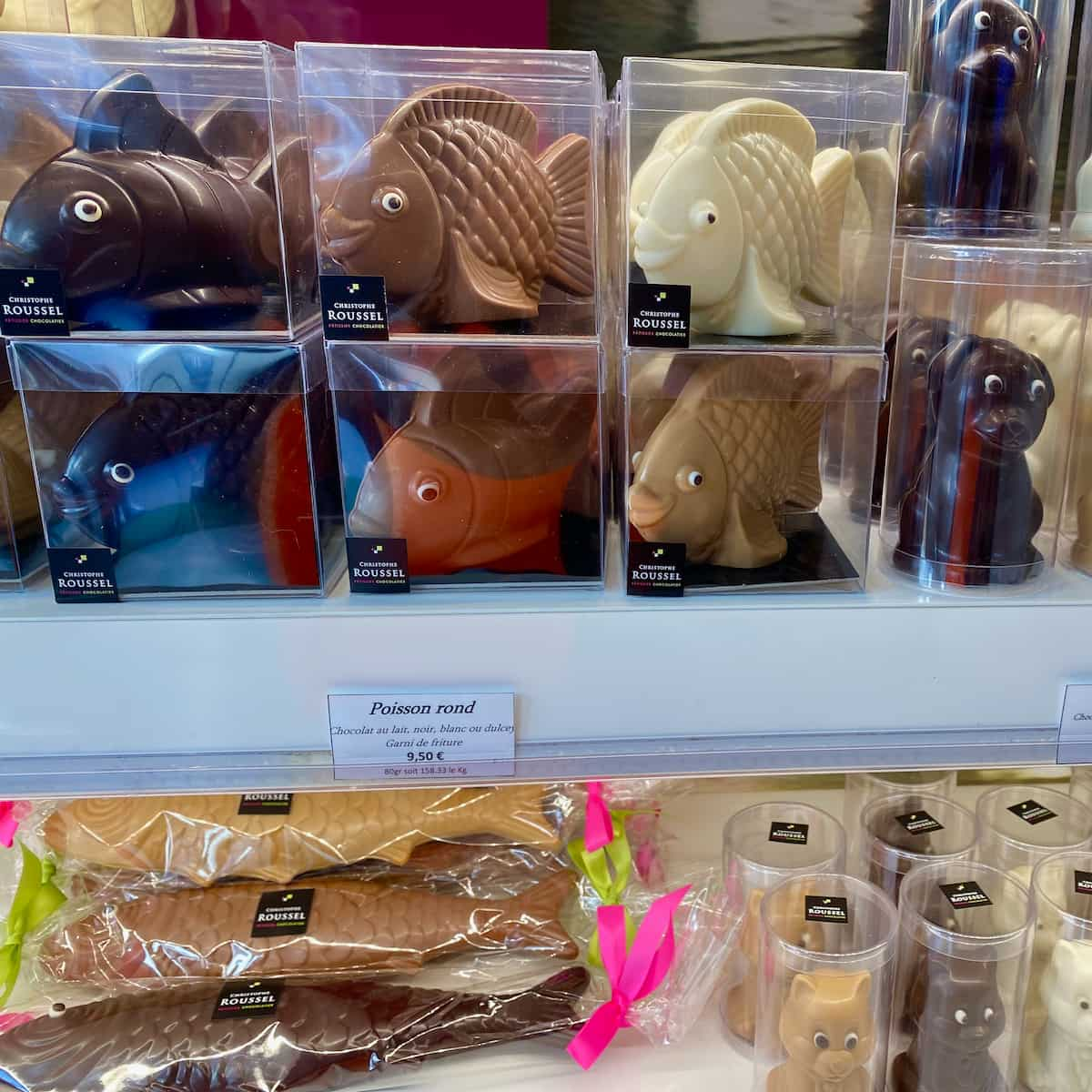 What is Poisson d'Avril?
Have you noticed chocolate fish in chocolaterie windows in Paris end March and beginning April?
April Fool's Day is known as April fish or Poisson d'avril in French. If you're any decently duped April Fool in France, we don't shout "April Fool!" but 'Poisson d'avril' (pronounced pwa-song dav-reel).
So, if caught out, you'll probably be sporting a school of colourful paper fish taped to your back. There was one year I discovered that, after various not-so-discrete pressing into my back, I had been modelling a mobile primary school wall.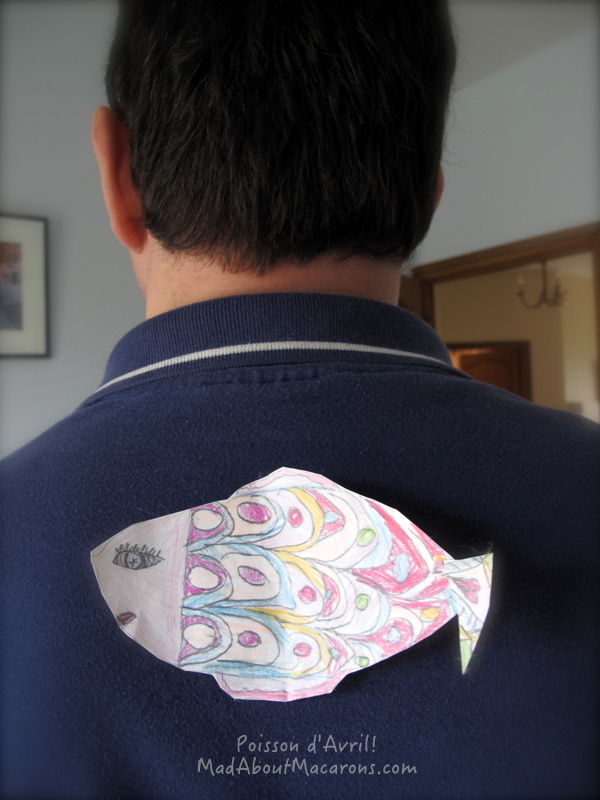 Why do the French Eat Chocolate Fish at Easter?
The fishy story remains rather unclear. Various sources cite the most popular: it goes back to the 16th Century under Charles IX reign, who changed the New Year to the 1st January.
Until then in France, the New Year started around 1st April and was celebrated by fresh fish to herald the arrival of Spring (following the zodiac sign of Pisces, perhaps). As not everyone was au courant or kept forgetting this new calendar, jokes gradually spread the custom of pinning fish on their backs.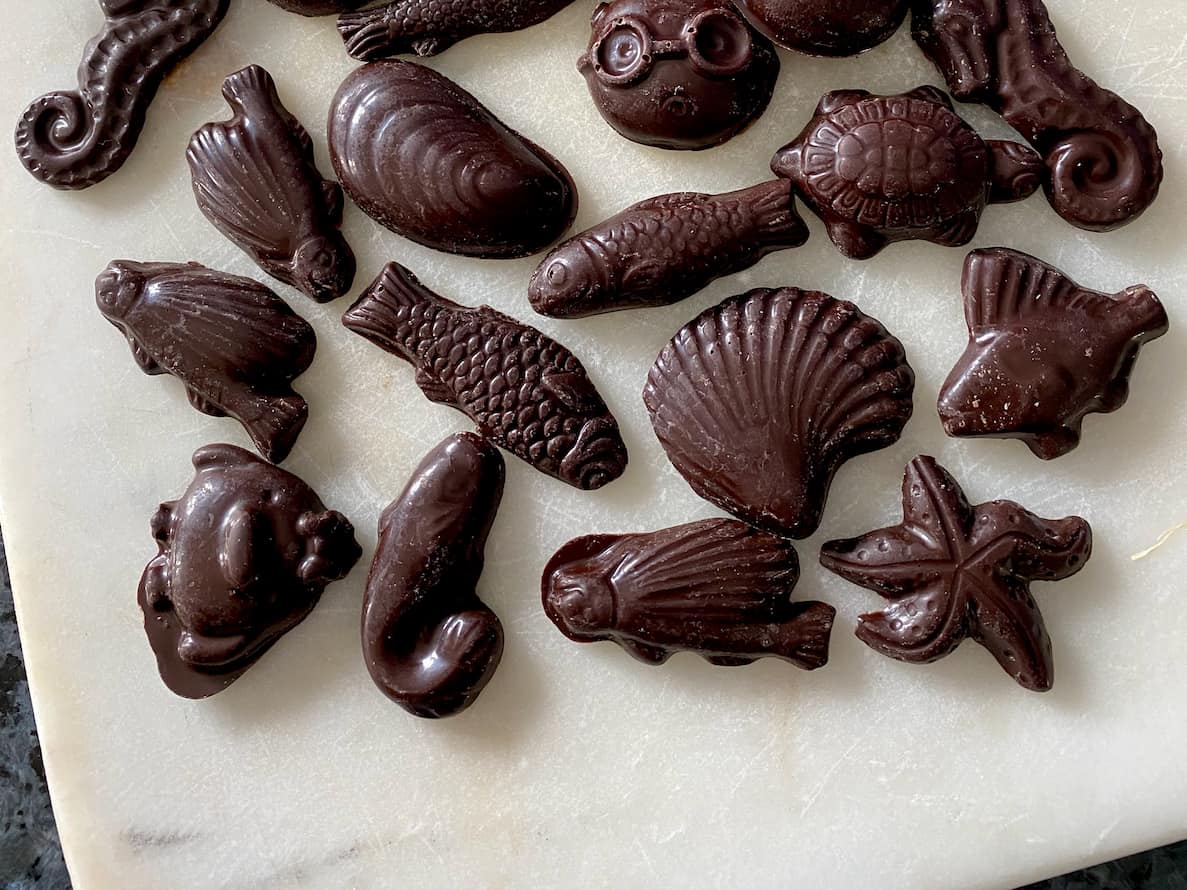 Mini Chocolate Fish - Fritures
Most French chocolatiers have a huge choice of chocolate fish and scallop shells. Like eggs, many are garnished inside with mini eggs but it's also more than likely that you'll see miniature fish and seafood shapes.
The smallest fish and other seafood shapes, called fritures, often garnish the insides of the bigger Easter eggs or are sold in sachets to eat 'comme ça' - just like that. We love to have some around for 1st April, Poisson d'avril.
Chocolate Easter Eggs in Paris
As with outside of France, eggs are still the most popular at Easter and over the years they've gradually transformed from brightly decorated hard-boiled to more chocolate.
Symbolising the Resurrection of Jesus on Easter Sunday with the rolling stone that covered Christ's tomb, the rolling of eggs transformed death into life, bringing new life and fertility - much like a chick popping from its egg.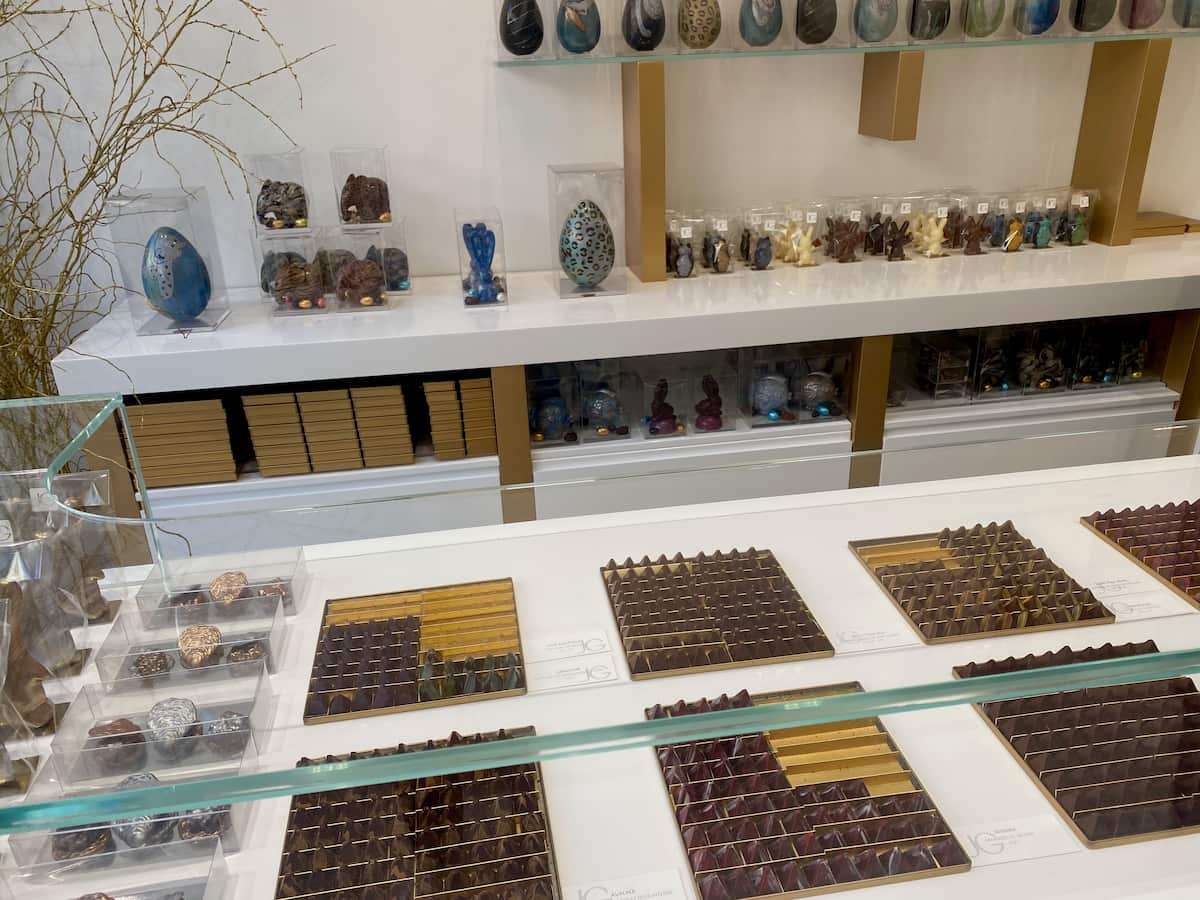 Many high-end chocolate boutiques, confiseries (candy shops), pâtisseries, or top hotels have created their eggs from simply chic, amusing, to popular characters, or impressive giant sculptures as works of art. For example, on top of these angry looking poussin chicks (photo above) at la Maison du Chocolat, Nicolas Cloiseau also features flowery Spring creations.
Looking for low glycemic index chocolate eggs? Well the oeuf surprise is a perfect choice for diabetics (types 1 & 2) in Paris at Les Belles Envies - see more in my article on Pâtisseries for Diabetics in Paris.
Jacques Genin normally goes wonderfully wild with a vivid, brilliant lacquered look for his masterpieces with more fish and hens to choose from.
Now Jade Genin continues her father's chocolate traditions with her own chocolate shop on l'avenue de l'Opéra. Just next door to Cédric Grolet, already the address is chic but the incredible smell of chocolate from her lab at the back draws you in further! I particularly love her sophisticated blue-themed Easter eggs, elephant sculptures to simplistic little eggs with flat hens on top.
Meanwhile, many flowery eggs at Patrice Chapon. Have you tried his chocolate mousse made with 100% bitter chocolate? More on Chapon in my article on rue du Bac.
Why are there so Many Chocolate Chicks and Hens in Paris?
During the 40-day Christian tradition of Lent, meat or eggs were not allowed to be eaten.
Meanwhile, hens continued to lay their eggs. So by the time Easter arrived signalling the end of Lent, there were so many eggs to be used.
Chocolate versions simply symbolised them, plus the rolling of the eggs. Cute chocolate chicks are in this window at Yves Thuriès around Paris with the theme, 'The Party in the Village', plus Patrick Roger always has pretty lifelike chicks (poussins).
Many hens are garnished with miniature eggs and fritures - either plain or with praline. Hens are featured everywhere really.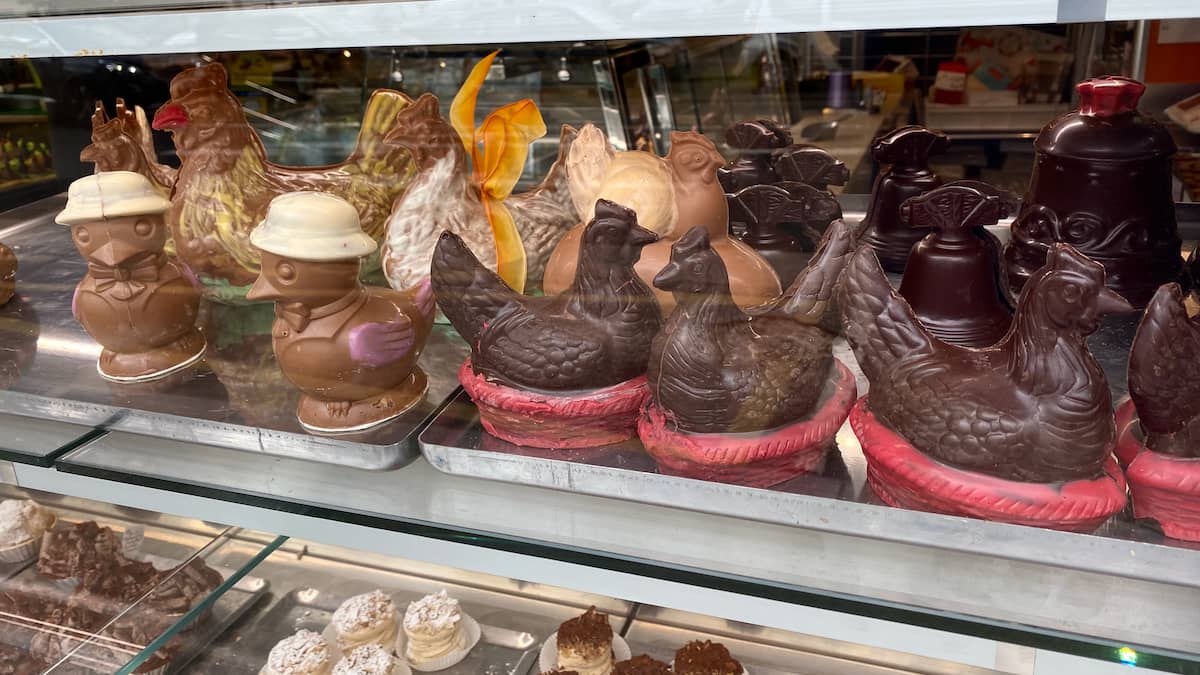 Love pralines? Head to Pascal Caffet, Meilleur Ouvrier de France, aka the King of praline, using hazelnuts from Piemonte. See much more in my article on his art.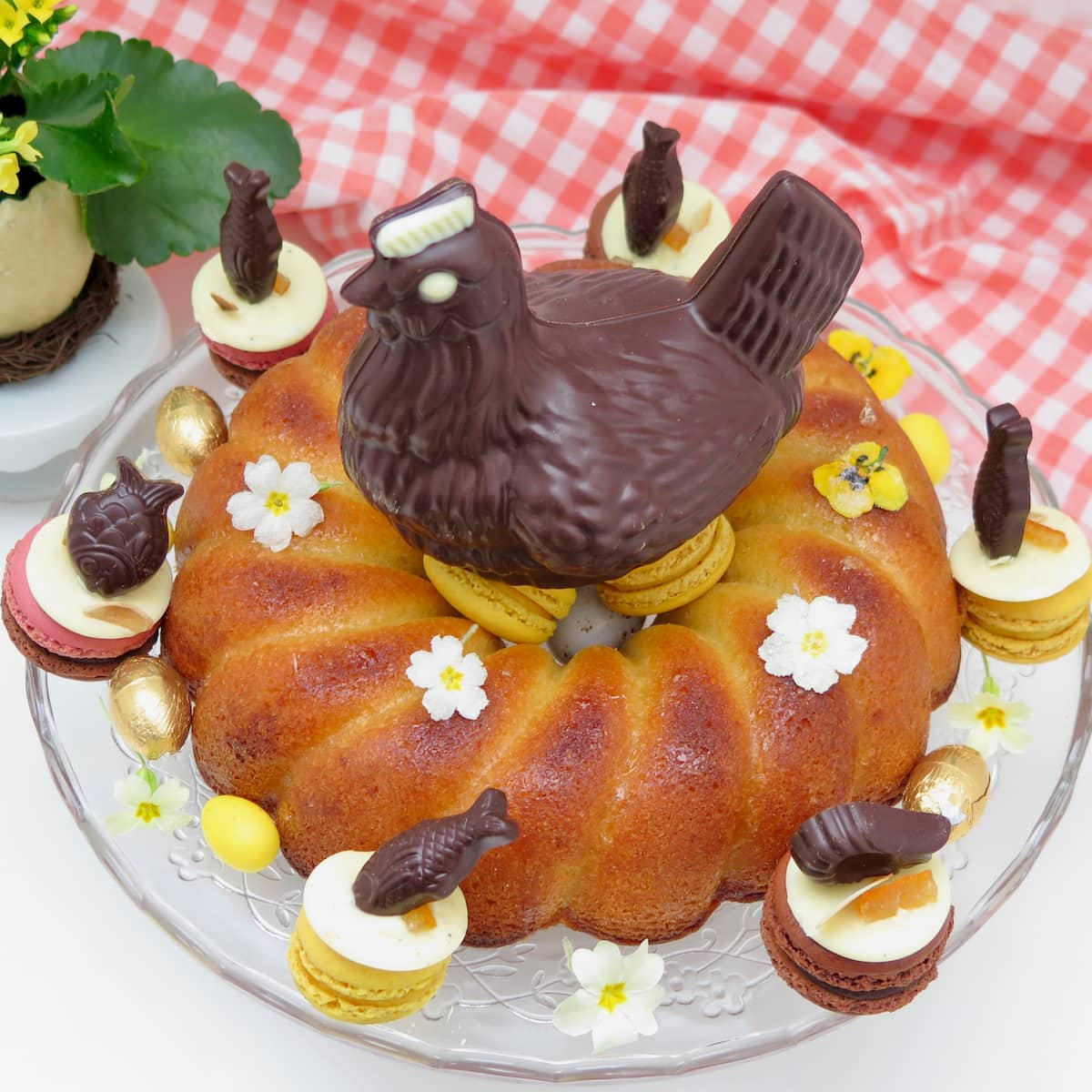 Meanwhile, here's an idea for a chocolate hen. Make this lemon nest cake (gluten free with almonds) and have fun decorating it.
Limited Edition Easter Chocolate in Paris
Each year, the pastry chefs from Paris's Palace hotels release their limited edition chocolate sculptures for Spring (in February). Such creations include spectacular works of art, some animated - and are only available to order for a limited time.
Highlights for 2023 include:
Easter Hatching in the shape of a rose by Maxime Frederic (Cheval Blanc);
Matthieu Carlin's antique hand mirror with a blue butterfly (Hôtel de Crillon);
Anthony Coquereau's Lumière de Paris in the shape of a lantern (Fouquet's);
Mad-Poule and Mad-Oeuf resembling chocolate madeleines from François Perret (Ritz Paris);
Naraé Kim's luminous Easter egg, resembling stained-glass windows (Park Hyatt Paris-Vendôme).
More accessible are the large Mendiant eggs in many boutiques, such as À la Mère de Famille and at Le Valentin.
To make your own chocolate fruity disks, see my easy recipe for Mendiants.
I'll leave you with this giant chocolate egg sculpture by Pascal le Gac (previously Maison du Chocolate) with a various flowers, chicks and butterflies.
To discover more of chocolate very near Paris, I recommend an afternoon to the royal town of Saint-Germain-en-Laye (near Versailles) - just 20 minutes by RER train from the city.
See more at my self-guided chocolate tour in Saint-Germain-en-Laye.
Happy Easter to you from Paris! I'll post more on social media over Easter and don't forget to sign up to my FREE monthly Newsletter from Paris to stay informed.
This post was originally published 21 March 2016 but now completely updated, including new images.