An extra moist almond lemon cake shaped like a nest for Easter. Drizzled with lemon syrup, decorate with macarons, chocolate eggs, sugared edible flowers and French mendiants (chocolate disks). Moreover, the recipe just so happens to be gluten free.
Easter Nest Cake
Who loves lemon? We've been seeing such gorgeous lemons at the market recently, bringing their springy southern sunshine to Paris, that this moist Almond Lemon Cake is giving us a bit of much needed zest at this time of year. Bake the cake in a savarin or bundt tin and it's an Easter nest.
What fun it has been to put this simple, sticky cake together and decorate it with sugared edible flowers, macarons and Easter chocolates. It's festive to celebrate Spring, as we traditionally welcome Spring with Macaron Day in Paris.
However, take the decorations away and it's still a luscious lemon cake in its own right at any time of year.
French Easter Chocolate Traditions
Why is there a chocolate hen nesting on the cake?
In the UK, we're used to mainly chocolate eggs and Easter Bunny sculptures. In France, however, there are many more added to the traditional chocolate Easter parade – from supermarkets to the high-end Chocolatiers. These are hens, bells and fish.  For a more detailed explanation and a seasonal online tour around Paris, see my previous Parisian chocolate Easter displays (which I shall update shortly).
Why French Easter Hens, Bells & Fish?
What are some traditional shapes for Easter in France? Plus, who brings chocolate for Easter?
Here's a quick summary:
HENS: As hens continue to lay their eggs even during the 40-day Christian tradition of Lent when meat or eggs are not allowed to be eaten, Easter's arrival signalling the end of Lent means that there are a lot of eggs to be used.
BELLS: Tradition has it that church bells fly to the Vatican in Rome on Good Friday (bells therefore don't ring for 2 days) and return with chocolate to distribute on Easter Sunday after joyfully ringing in the Mass to celebrate Christ's resurrection.
FISH: Easter falls around 1st April, April Fool's Day. Known as Poisson d'avril (April Fish) in French, any decently duped April Fool in France will probably be sporting a school of colourful paper fish taped to their back.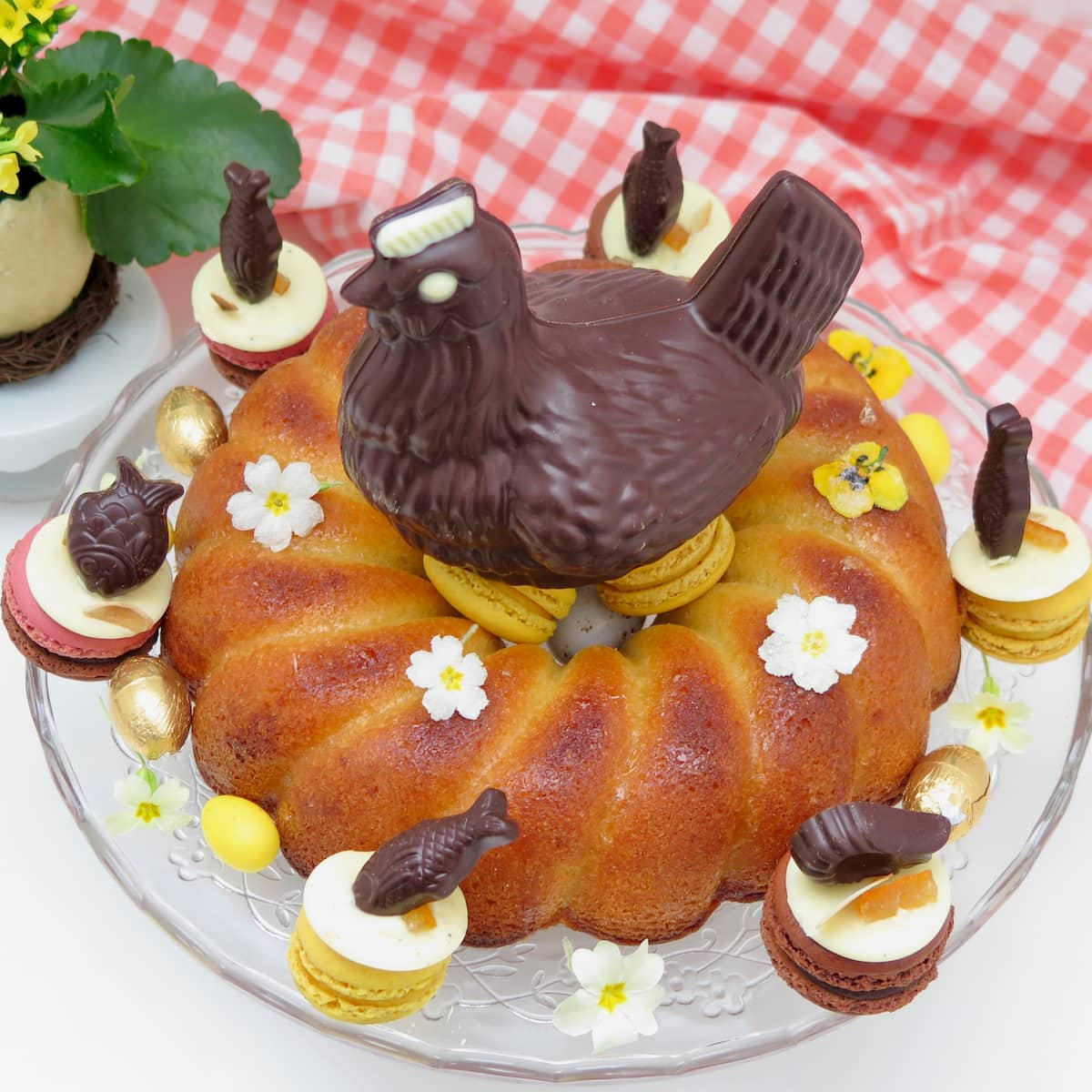 French Easter Chocolate Decorations
You'll see all sorts of bags of dark, milk or white chocolate fritures, a mixture of fish, seafood and shell shapes. As I previously made Mendiants of Easter macaron bonnets, I couldn't resist melting some white chocolate and sticking on some fritures with candied orange peel and toasted almonds.
What's more, I used my silicone macaron mat (have you seen my macaron mat review here?) to make them. Gently melt white chocolate in a bowl over simmering water (bain marie) until 3/4 melted, quickly take it off the heat and stir to melt the rest of the chocolate, and leave for 5 minutes to cool.
Spoon into the macaron circles (or simply onto baking parchment) and as soon as the chocolate appears to set (about 10 minutes later), quickly press in candied fruit, nuts and miniature chocolate eggs or friture. Leave in a cool place for about 20 minutes then peel off the mendiants.
How to Make Edible Sugared Flowers
To make edible sugared flowers, it's easy.
Pick some untreated, clean edible flowers such as primroses, primula, winter pansies or violas.
Lightly brush with egg white from back to the fronts of the flowers, then sprinkle lightly with caster sugar.
Leave to dry in a cool, dry place and use within a month.
For the macarons, use the recipes that are in either of my books, Mad About Macarons or Teatime in Paris!
Gluten Free Extra Moist Lemon Cake
This recipe uses cornflour instead of flour, making the cake extra light – and gluten free. The addition of ground almonds or almond flour makes this cake extra moist.
I used a cake mould of 23cm diameter but any similar-sized cake tin will work well.  Ensure that your lemon is unwaxed before grating the zest.  If not, pour over boiling water and brush off the wax with a clean kitchen brush and pat dry on kitchen paper.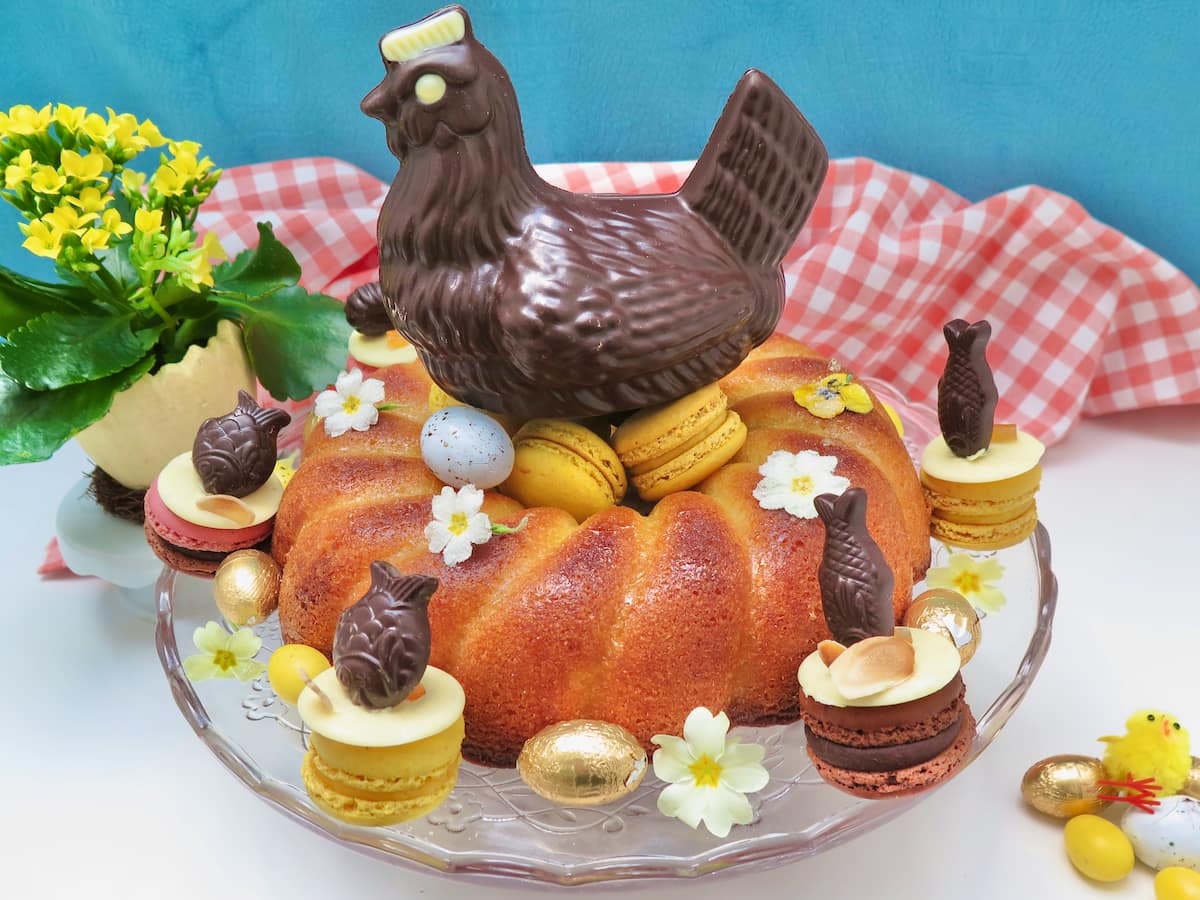 Moist Lemon & Almond Easter Cake (Gluten-Free)
Almond Lemon Easter Cake
---
Description
An extra moist lemon cake with ground almonds and drizzled in tart lemon syrup that is gluten free. Decorate it for Easter with chocolate mendiants, mini Easter eggs and lemon macarons.
Ingredients
175

g (6oz)

butter, unsalted

(softened)

150

g (5.25oz)

sugar

4

eggs

(organic)

250

g (9oz)

ground almonds (almond flour)

2

tbsp

cornflour

2

tsp

baking powder

1

large unwaxed lemon

finely grated zest
Syrup
50

g (1.75oz)

lemon juice

(from the rest of the lemon)

40

g (1.5oz)

sugar
Instructions
Preheat the oven to 180°C/360°F/160°C fan/Gas 4.
Cream together the butter and sugar in a large bowl, either using a balloon whisk or mix together in a mixer until pale, smooth and creamy.

Continue to mix together, gradually adding the eggs, ground almonds, cornflour, baking powder and lemon zest until the batter is smooth.

Transfer to a cake mould (I used a shaped mould, 23cm diameter, although a normal cake tin is good) and bake in the oven for about 35-40 minutes, until golden.

Meanwhile, make the syrup: squeeze out the juice in a bowl via a strainer to sift out the pips then weigh the juice and sugar together in a saucepan. Stir over a medium heat until it thickens slightly for about 10 minutes. Remove from heat.

Cool the cake in the mould for about 10 minutes then take out of the tin and cool on a wire rack. Pour over the syrup all over the cake and decorate as you wish.
Notes
Can keep for up to 5 days if kept in an airtight container in a cool, dry place.  Freezes well.
NUTRITIONAL INFORMATION
350 Calories per serving; 7g protein; 26g lipids; Gluten Free.
This post was originally published in March 2018 but is now updated and refreshed after a Spring clean.