Mendiants are simply French chocolate disks topped with nuts and dried fruits.
Read on why they are called mendiants, how to pronounce them plus discover the recipe that is so easy to make at home.
An easy and delicious decoration for chocolate cakes, Easter or Christmas holiday bakes and perfect for making macaron hats.
Why are Mendiants so Expensive in Paris?
If any of you have walked around the inviting chocolate shops and patisseries in Paris, you may have spotted these mendiants - at a price.
French Chocolate Mendiants are delicious disks of good quality chocolate covered in colourful dried fruits and nuts. In many high-end chocolate shops, alas, they are expensive. They use top quality ingredients.
This is why we love to make them at home - what's more, they are so much fun to make with kids. Traditionally served at Christmas, they're seen in luxury chocolate shops at any time of year.
Read on for the story behind them but in the meantime, I think they make perfect hats to top macarons, cupcakes, cookies - or any of your favourite sweet treats for some fun. In this case, add a few mini Easter eggs and you have the perfect Easter Bonnet!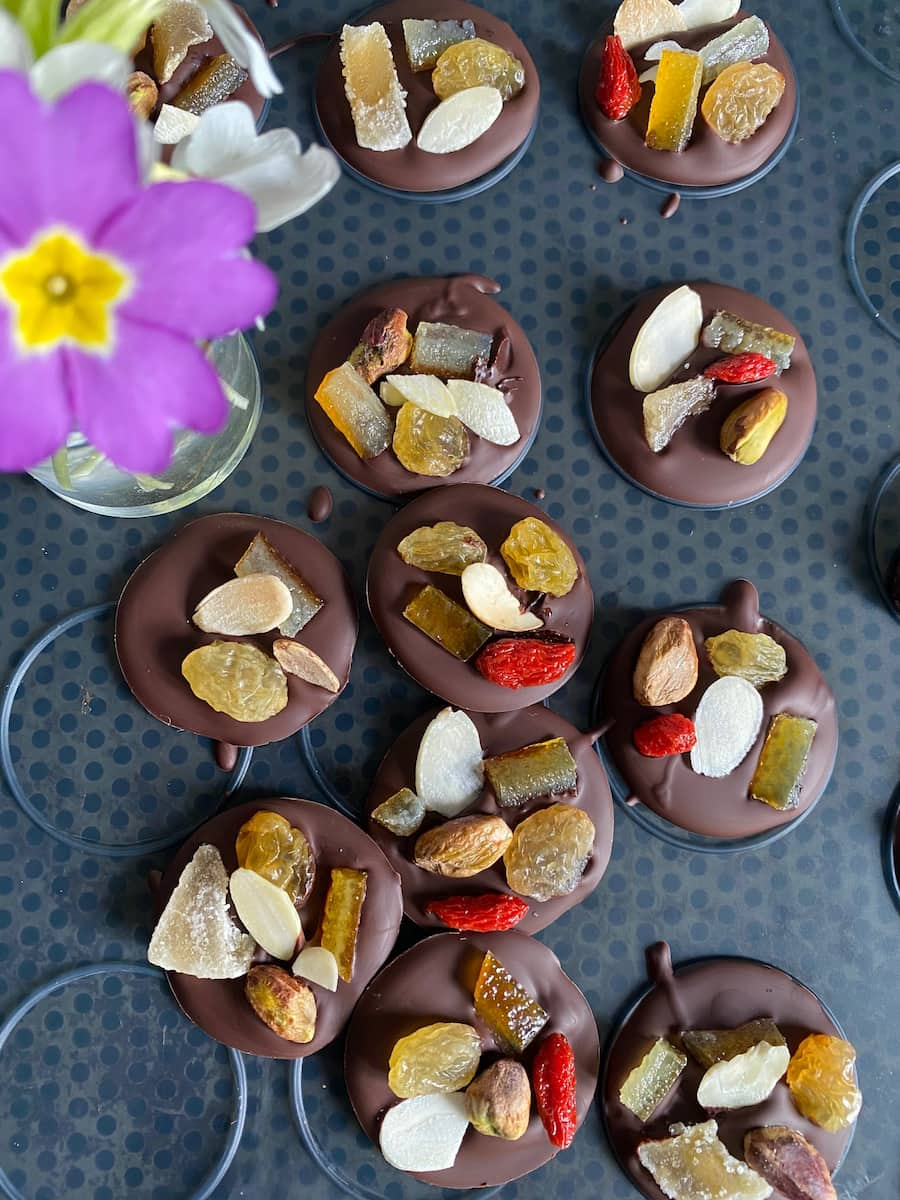 What is the Meaning of the Word Mendiant?
Mendiant (pronounced mon-dee-ong) literally means 'beggar' in French.
More popular today, Mendiants is the name given to one of the most popular chocolate confectionaries (confiseries) in France. They're simple disks of chocolate (dark, milk or white) with at least four kinds of dried fruit and nuts.
Why the word for beggar? Because each chocolate disk, or mendiant, represents the historical robe colours of four mendicant monastic orders from the Middle Ages.
Mendiants are great for serving as mini bites or mignardises with coffee after dinner but are normally seen for special occasions such as Christmas. But since we're talking chocolate - let's make them for Easter... or for any time of year!
I'm a mendiant mixed with melted white chocolate into the end of the bowl of dark chocolate
History of Chocolate Mendiants
So, according to French history, the traditional four mendicant monastic orders from the Middle Ages corresponds to their historical robe colours.
As a result, the mendiant recipe includes four traditional toppings to the chocolate disks:
However, over time things have become a bit de-robed! Modern confectioners are adding orange peel, pistachio nuts, candied ginger and now I've added goji berries soaked in Kirsch (only because I forgot to buy some cranberries). In true French style at Easter, even French chocolate fish and mini praline eggs. See more topping ideas below.
How to Make French Chocolate Mendiants
Mendiants can be made with either plain (bittersweet) dark, milk or white chocolate.
As you can see, I've just used baking parchment to spoon the melted chocolate and - using the back of a spoon - form circles directly onto the sheet without any guide.  There's no need!  They don't need to be absolutely perfect: the spoon actually does make them into circles themselves.
Over time, however, I did eventually find a use for my silicone macaron mat (my non-sponsored review), as I don't need fancy gadgets to make homemade macarons (tips are all in my books).
By using the macaron mat with it's raised, grooved circles, just spoon the melted chocolate into them, then peel them off once the chocolate is set.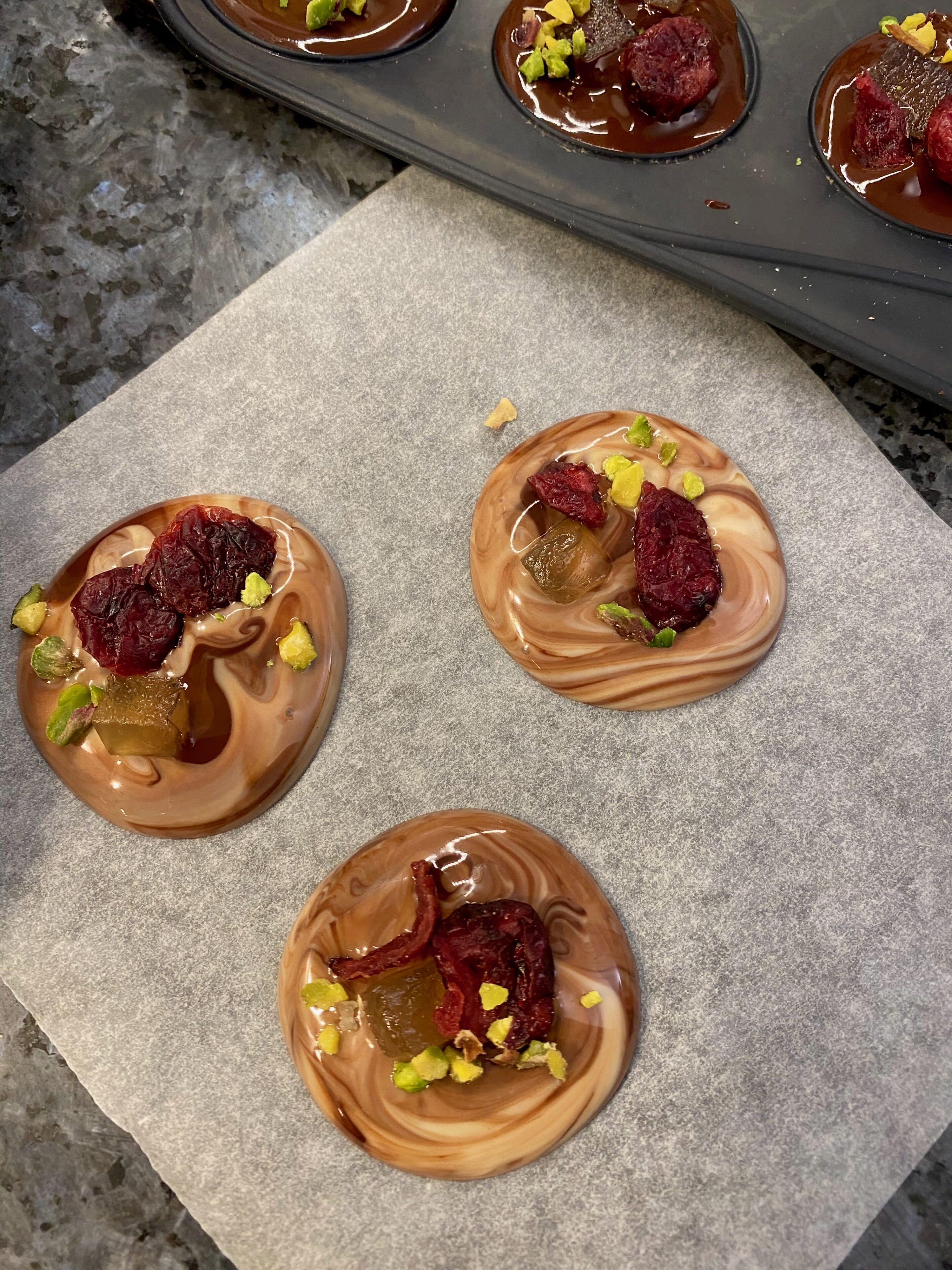 Ideas for Mendiant Toppings
Top your mendiants with different nuts and dried fruits.
Nuts are best toasted either in a frying pan or under the grill for a couple of minutes to add depth of flavour. Dried fruits to add a contrast in textures and flavours.
Use toasted walnuts, hazelnuts, pecans, pistachios. During the festive season, add candied fruits such as orange and ginger, for example, or marrons glacés (candied chestnuts).
I also added broken Mikado sticks (do you have these in America?) and homemade zig-zag sticks (just by melting chocolate and zig-zagging it on baking paper, then peeling off when set) for a nest and mini Easter eggs.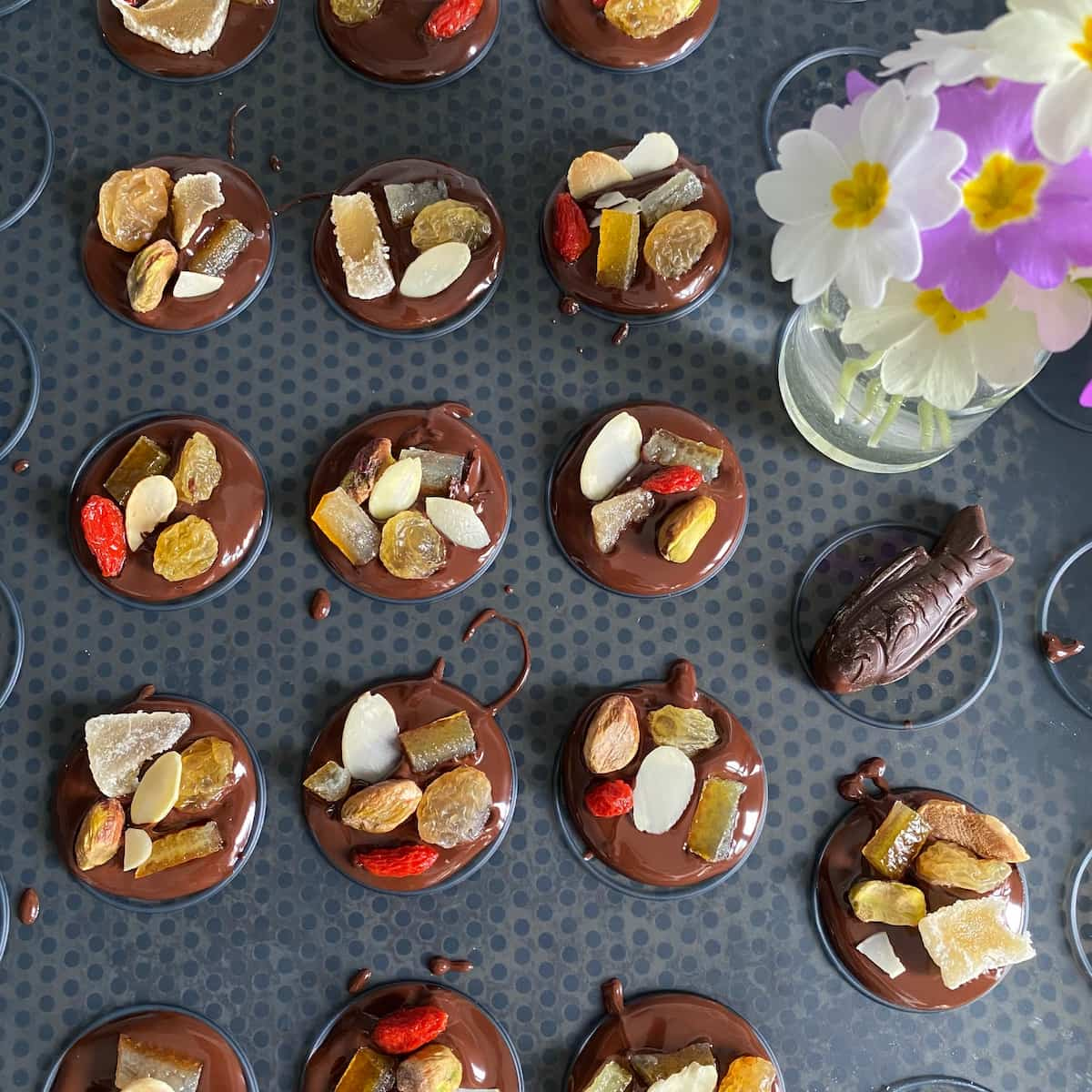 Do I need to Temper Chocolate for Mendiants?
Normally, professional chocolatiers temper their chocolate to sell Mendiants.  The reason being, they last so much longer and are prettier.
As I'm just making them at home with the idea of eating them quickly over the next few days, I honestly haven't needed to.  Melt the chocolate in a Bain-Marie (in a glass bowl over simmering water) and spoon out on to a baking sheet.  As the chocolate takes a good 30 minutes to set, you have enough time to enjoy topping them.
As you can see, it's not even a recipe: just melt good quality chocolate and plonk on the dried fruits and (toasted) nuts of your choice!
Mendiant Tip: just before finishing the last of the dark melted chocolate, add a little white chocolate and melt over the water bath then marble the 2 together to create a beautiful effect.
Join me on Instagram for a Daily Dose of French Life
I have just posted my first Reel.  Jings - that wasn't as easy as I thought. It's amazing how much time all these things take and I'm not even sure you're seeing them!  So, if you'd like to follow me for a dose of daily French life, please do join me on Instagram.
It's where I post shots from in and around Paris (at the moment it's more outside Paris due to lockdown, as I live next to Saint Germain-en-Laye between Paris and Versailles), food snippets of recipes or the market - or just some fun stuff!
See my short video how to make mendiants.
Here I topped chocolate macarons with French chocolate mendiants for an Easter bonnet look.
You could do the same by decorating cupcakes, brownies, banana muffins, chocolate mousse, etc. with them. Even easier, just devour them on their own.
How to Store Mendiants
Store mendiants in an airtight container in a cool, dry place for up to 3 days.  However, if you have tempered the chocolate, they can last for longer.  As our family usually eats them far too quickly, this has never been a problem to store them for long!
Mendiants
French mendiants, chocolate disks traditionally topped with dried fruits and nuts, resembling the 4 monastic robes from the Middle Ages, seen in chocolate shops around France
Ingredients
200

g (7oz/ 1¼ cups)

bittersweet chocolate

(at least 64% cacao)

handful each

raisins

or golden sultanas

dried figs

finely chopped (cranberries or goji berries)

toasted flaked almonds

hazelnuts

(or walnuts)

candied orange peel

(optional)
Instructions
Line a perfectly flat baking sheet with baking paper (or silicone mat - even better, a macaron mat will set them perfectly into round shapes).

Break up the chocolate in a glass bowl and place over a pan of simmering water over a gentle heat (bain-marie) until the chocolate has melted.

Using a spoon, pour the melted chocolate onto the baking paper, pressing each one down with the back of the spoon to make a circle (don't worry if they are a bit messy - it will set well later!)

Gradually decorate with the dried fruit and nuts using different colours and textures for toppings. Don't worry about the chocolate hardening; you will have enough time to enjoy dressing each disk before it hardens.

Leave to cool for about 30 minutes. When set, remove each mendiant carefully from the sheet with your fingers or a palette knife.
Notes
* Adults only: soak dried fruits in Kirsch, Chambord, Armagnac, Frangelico or any of your favourite liqueurs. For the nuts: they are even better when toasted so dry fry them for a 2-3 minutes first in a frying pan or a few seconds under the grill. Storage: keep in an airtight container for up to 3 days (if you can wait that long!)
This recipe was originally published on 6 April 2012 but the text and photos have been updated with a new printable recipe card.