Mix just 5 quality basic ingredients together and what do you get? Palets Bretons, the popular thick French butter cookies (or biscuits) from Brittany. So quick and easy to make - these golden classics are also used as a base for many kinds of French patisseries.
I finally got around to making these last night, Jill, and honestly, what took me so long? They were perfect with tea ... so easy and delicious! Another great recipe from you!

Betty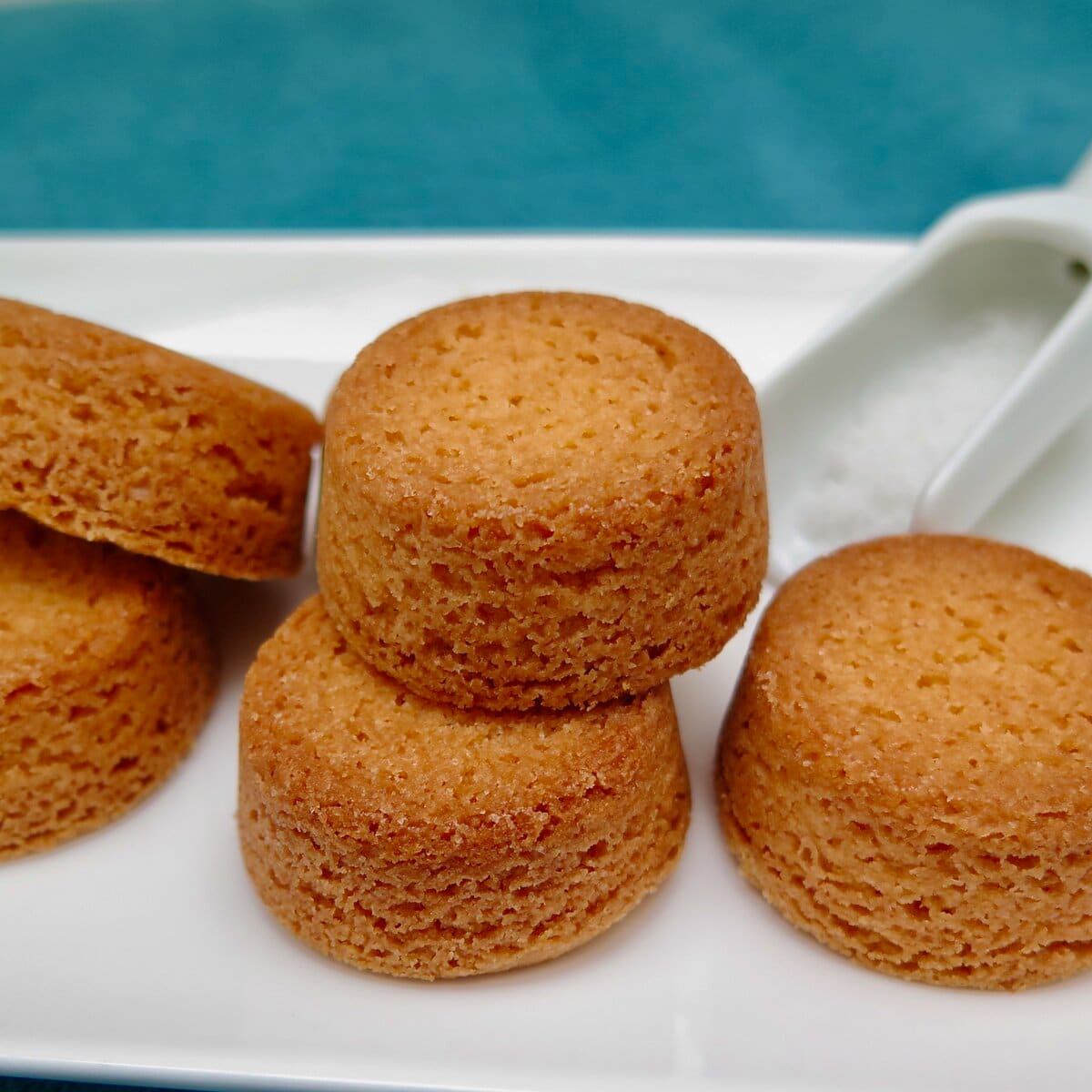 What is the Most Popular Cookie in France?
These delicious salted French butter cookies (or biscuits as we call them in the UK and France) are most popular in French homes.
Why? Palets Bretons are not generally found in patisseries around Paris - but most popular in Brittany, where they're from. However, you'll easily find them in the cookie aisles in most French supermarkets.
However, let me warn you: once you make them yourself, you'll not want to buy the regular brands again.
Where to Find the Best Salted Butter Biscuits in France
If you do buy them, look for the best brands in France. The ultimate is to go to the authentic source where the palet breton was created in 1920 by Alexis Le Villain at Traou Mad® in Pont Aven.
Another good brand to look out for is the Biscuiterie des Vénètes from the Morbihan, Brittany. These are the most authentic in that they don't have much sugar and have a good quantity of salt added.
Otherwise, the most famous outside of France is La Mère Poulard, who often sneaks herself into these individually packaged cookies served on French flights to Paris.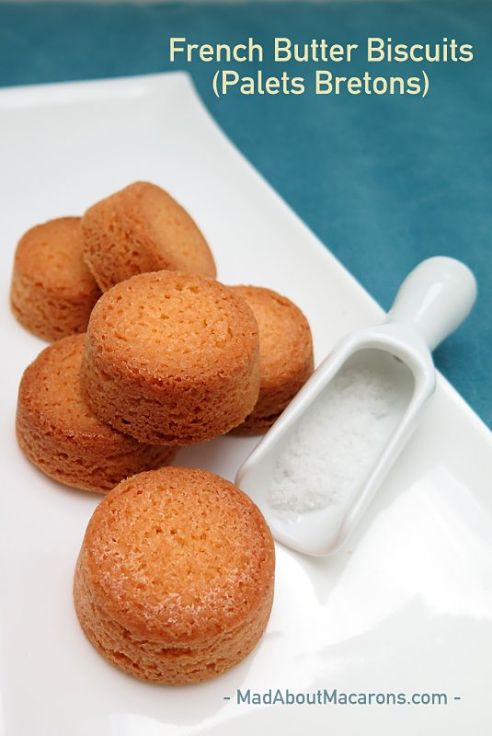 What's the Difference Between Sablés and Palets Bretons?
Both biscuits are 'Breton' - they come from Brittany (Bretagne), are round and very similar in taste, thanks to the salt. Both are made using plain flour. The main difference is their thickness.
Sablés Bretons are much thinner and shiny.
Their surface is shiny with an egg yolk glaze and often decorated with criss-cross patterns. They resemble shortbread: sablé means sand in French, which refers to the crumb-like texture of the dough. They also contain egg yolks - so are slightly richer than shortbread which doesn't contain eggs (see my Scottish shortbread recipe). They also don't contain baking powder, as they are meant to be thin.
So, to make Sablés Bretons, just cut them thinner, omit the baking powder and reduce the baking time in the recipe below.
Palets Bretons are thicker (about 1.5cm) and have a more airy appearance with 'puck'ered complexion (couldn't resist that pun).
Their name comes from the board game, Le Palet Breton, which is like Boules but played using cast iron disks (or puks) thrown from 5 metres on to a wooden board. The cookies have their characteristic air-hole appearance - caused by the baking powder and thicker size - and are lightly crispy.
Due to their bigger size, they are often used as a base for strawberry cakes in French pâtisseries in the summer and lemon tarts in winter.
What Butter is Best for French Butter Cookies (Palets Bretons)?
Perfect with an afternoon cup of tea, the best part is that le Palet Breton isn't really sweet. This is due to the large amount (about 20%) of the famous Breton salted butter from the North coast of France - and what makes them rather compulsive eating! You'll know what I mean when you try 'just one'.
In France we use good quality salted butter from Brittany for this recipe. French or European butter contains 82% butterfat and less moisture - so try to use if you can. Please, please don't substitute with margarine or low fat spreads.
However, as French quality salted butter isn't always easy to find outside of France, I recommend you use unsalted butter and add good quality sea salt from Brittany such as fleur de sel from the Guérande, so that the resulting taste is more authentic.
Can't find fleur de sel (flower salt)? Then use Maldon salt flakes or Celtic sea salt.
French Butter Cookies - Traditional Ingredients
Other than good quality salted butter, the rest of the ingredients are simply egg yolks, sugar, baking powder and plain flour (all-purpose).
For flour, I'm amazed to see some confused people say that these French butter cookies contain buckwheat flour. No they don't! Palets Bretons are not to be confused with Galettes Bretonnes, which are the French thin buckwheat pancakes or savoury crêpes from Brittany.
How to Make Palets Bretons
Many French chefs tell you to roll out the dough between two baking sheets, cut out circles using cookie cutters and bake them directly in pastry rings.
As I'm making them at home and don't have that many pastry rings (who does?), I find it so much quicker and easier to roll out the dough into a sausage shape and bake them in muffin moulds.
This recipe makes enough for about 10 large Palets Breton biscuits using regular muffin moulds (at 156 calories per large biscuit). I love making these mini versions below (using mini muffin moulds) but if you prefer the bigger version, then just double the recipe quantity below.
The dough also freezes well up to a month in its sausage shape. Defrost in the fridge before use and cut to size for the rest of the recipe.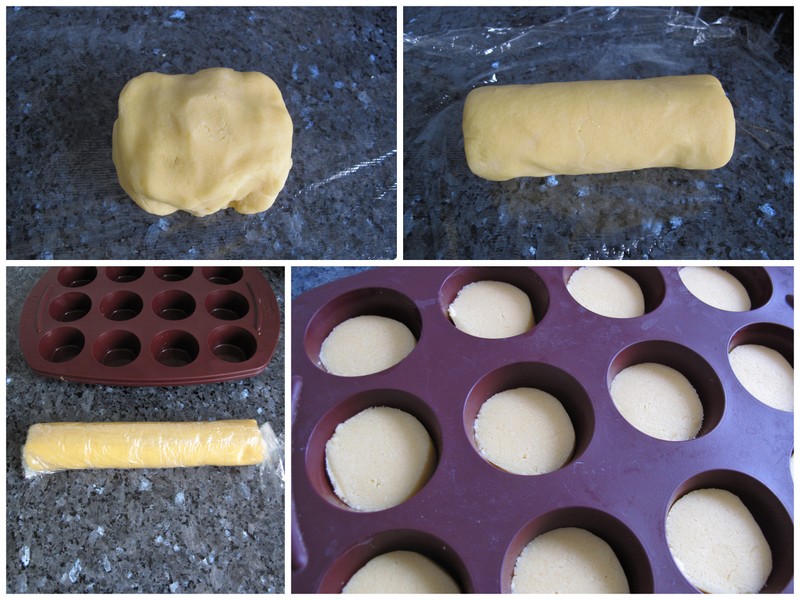 Ensure butter is at room temperature and combine all ingredients to mix to a dough.
Roll the buttery dough into a sausage shape the size of your muffin moulds then chill to set for at least 30 minutes;
Press directly into unbuttered muffin moulds.
Bake for only about 20 minutes or until golden.
Leave to cool then turn out the thick biscuits on a cooling rack.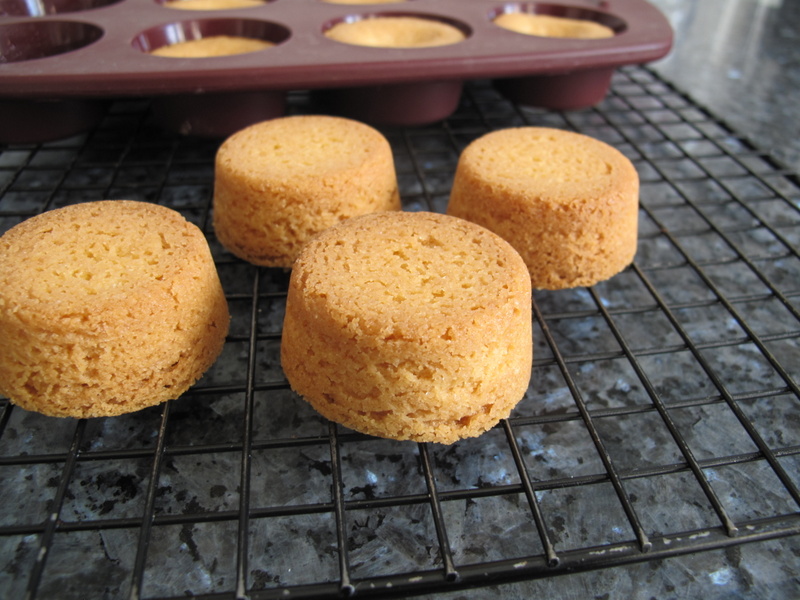 Your Oven and Over-Baked 'Bitter' Biscuits
Just a quick tip: be careful not to over-bake them. You know your own oven best: all recipes stating oven temperatures are there as a guide.
So if after 15 minutes your Palets Bretons already look golden brown, then they're ready. If you're not sure about your ovens and temperatures, then check yours out with an oven thermometer, just to make sure it's doing what it says it's doing.
If they're dark brown, then they're over-baked and could even taste a bit bitter (I saw someone do this on video - not the same flavour at all). In fact, they'll no longer be French Salted Butter Biscuits but Bitter Biscuits!
How to Serve Palets Bretons
I know you may be tempted to add vanilla, cinnamon, or lemon zest – but there's nothing to beat Palets Bretons plain with tea or coffee for Teatime or French goûter. That way you can enjoy their irresistible, salty and buttery addictiveness.
As they have the salty taste to them, they go really well with caramel - well, anything in Brittany is covered in salted caramel! I jest but it's not far.
So serve them plain with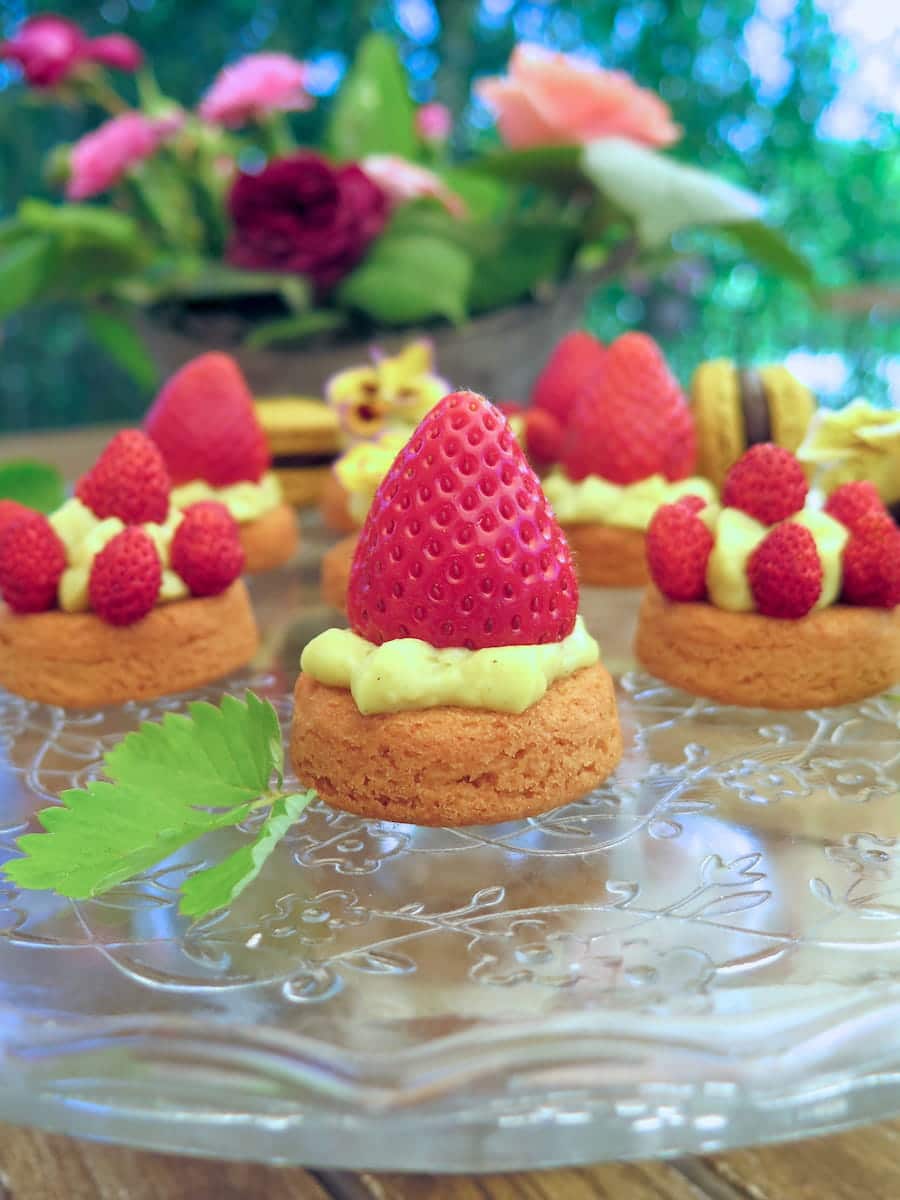 French Butter Cookies as a Pastry Base
Palets Bretons also serve as a cookie base for many cakes in French pâtisseries or pastries. So this recipe is handy to have. Use as a base for many elegant desserts, such as:
What to Make with the Leftover Egg Whites?
As this recipe uses 2 egg yolks, save the leftover egg whites to make more quick and easy French cookies later. In the meantime, check out my recipe video below.
The egg whites can keep sealed in a jar in the fridge for up to 5 days or frozen.
Here are some recipes to make with the leftover whites:
coconut macaroons (rochers coco)
plus any of the macaron recipes from both my books, Mad About Macarons and Teatime in Paris!
Palets Bretons - French Butter Biscuits
Easy French recipe for the Palet Breton - the popular thick salted butter biscuit/cookie from Brittany. Most often enjoyed on their own, they are also a classic base for many French pastries or cakes.
Ingredients
90

g (3oz/½ cup)

butter

(unsalted)* at room temperature

75

g (2.5oz/ ⅓ cup)

sugar

¼

teaspoon

salt (fleur de sel)

omit if using good quality French salted butter

2

egg yolks

organic

125

g (4oz/1 cup)

Plain flour

(all-purpose)

½

teaspoon

baking powder
Instructions
Using a mixer, beat together the softened butter, sugar and salt until light and creamy.  Mix in the egg yolks then the flour and baking powder until a lovely soft dough forms.

(If you don't have a mixer or electric whisk, this can be done by hand in a large bowl).

Using the palm of your hands, roll the dough back and forward to create a sausage shape until the diameter is the size of your moulds (here I used mini muffin silicone moulds @5cm diameter).

Wrap in cling film and chill in the fridge for at least 30 minutes to set the sausage shape.

Meanwhile, preheat oven to 180°C/360°F/160°C fan (gas mark 4)

Cut disks of 1.5cm (¾ inch) and press them into the muffin moulds (unbuttered – there's enough butter in the biscuits!)

Bake in the oven for about 20 minutes or until golden brown.

Leave to cool in the moulds then turn them out on to a baking rack, pretty side up.
Notes
* As finding good quality salted butter from Brittany can be difficult to find outside of France, make this recipe using unsalted European butter (82% fat) and add good quality 'fleur de sel' from the Guérande (nearest equivalents are Maldon salt or Celtic sea salt).
Delicious on their own with a cup of tea (such as Jasmine green tea or Ceylon).
Also delicious topped with chocolate mousse, Chantilly cream and strawberries.
Measures: Please note that all my recipes are best made using digital kitchen scales in precise metric grams. Both ounces (and cups) are given as a guide. 
This recipe was originally published 10 April 2016. Now updated to include its accompanying recipe video.