Cranachan Parfait, a traditional Scottish dessert given a French twist. Iced honey and Whisky parfaits (no-churn honeycomb ice cream) are served on shortbread and topped with crunchy oat praline and fresh raspberries.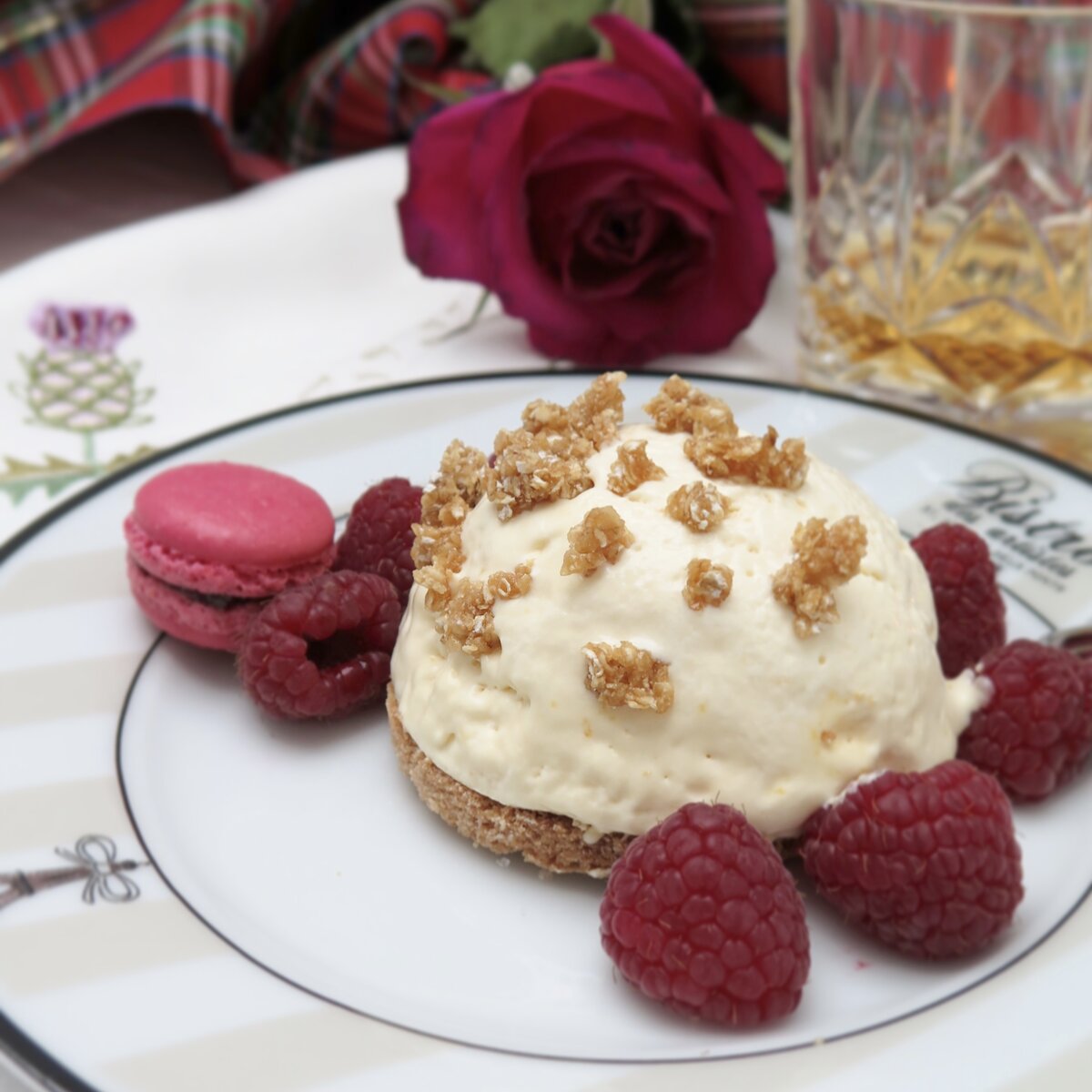 What is Scottish Cranachan?
The Scottish Cranachan is a dessert originally served to celebrate the summer harvest festival. For Scottish celebrations such as Saint Andrew's Night and Burn's Night, however, it's more than likely you'll see this on the dessert menu.
No matter how much people say their raspberries are better, there's nothing to beat fresh Scottish berries! Even the best French ones don't match up to them, in my humble opinion.
However, when it comes to the major Scottish celebration dinners such as Burn's Night on 25th January and Saint Andrew's Night on 30th November, we're always short for fresh, seasonal raspberries.
Luckily at our local Farmers' market yesterday, I found some delicious raspberries – from Morocco! Surprisingly, they were full of flavour but as I prefer to buy local and seasonal, the berries are just for show here. Without fresh berries, thinly spread some good quality raspberry jam on the shortbread rounds before placing the Cranachan parfaits on top.
Cranachan Parfait: Developing the Recipe
For the parfaits, I took inspiration from Michelin starred chef, Anne-Sophie Pic, who makes a vanilla parfait by making a hot syrup and pouring it directly onto egg yolks and whisks until frothy. She then adds whipped cream and turns it into spherical moulds. Here, I replaced the syrup with runny floral honey (ideally in Scotland, use heather honey) and since I was adding Whisky to the cream, doubled the portion of egg yolks in order for it to solidify more in the freezer, even although they will still be beautifully soft.
If you prefer a stronger-in-alcohol Scottish dessert, then try this non-churn Drambuie ice cream, delicious with chocolate ginger fondant cake!
Although made the night before, the parfaits can keep in the freezer for up to 10 days, so it's parfait to prepare this dessert in advance.
I'll post a separate recipe for Shortbread later – as my Granny's Black Book of recipes contains several! Here I've used one of my favourites which uses more butter and, once the Shortbread is still warm and soft out of the oven, just cut out disks the same size of moulds.
Can I make this Scottish Dessert without the moulds?
No moulds? No worries. This Cranachan Parfait recipe doesn't have to be made using moulds.
Make it easier by placing the cream into a cake tin lined with parchment paper and freeze as a whole block, cutting off slices when ready to serve.
Add the Crunch with Oat Praline
Instead of oatmeal for the traditional dessert, soaked in Whisky overnight, I've made a simple praline with porridge oats to add some crunch for the texture. If you love crunchy praline on desserts, try this nutty nougatine recipe.
Want to go the Full Monty? Serve with Cranachan Macarons, the recipe of which is in my first book, Mad About Macarons.
If you would like to try the classic, more traditional recipes for Cranachan, see my Scottish friends' recipes, from both Christina's Cucina and Janice's Farmhouse Kitchen version, based on a Whisky Mac.
If you prefer to make this a gluten-free dessert then replace the shortbread with a giant pink macaron. There's a whole chapter about giant macaron desserts, also in my book, Mad About Macarons!
Enjoy this for any Scottish occasion, or at any time of the year and ideally serve with a good single Malt Whisky.
Just add blueberries if wanting to be patriotic for a red-white-blue dessert.
Incidentally, the Gaelic word for cheers translates as Health, just like the French. Cheers, Santé, Sláinte !
P.S. This is part of the egg yolk recipe database, as it uses 4 yolks.  Keep the egg whites for 3-4 days in a clean jam jar in the fridge (or freeze until ready to bake) to make macarons, financiers, tuiles or meringues from my books and le blog!
More Traditional Scottish Sweets
Cranachan Parfait – A Chilled Scottish Dessert
Cranachan Parfait
---
Description
Cranachan Parfait, a French twist to the traditional Scottish dessert of cream, honey, Whisky, oats, served with raspberries, buttery shortbread and topped with a crunchy oat praline.
Ingredients
Cranachan Parfaits
4

egg yolks

(organic, farm fresh)

4

tbsp

runny honey

(Heather honey, if possible)

1

tbsp

Malt Whisky

350

gr (12oz)

Whipping Cream (30%)

Crème fleurette
Oat Praline Crumble
75

g (3oz)

rolled oats

75

g (3oz)

granulated sugar

10

g (0.5oz)

unsalted butter
Shortbread
200

g (7oz)

unsalted butter

(softened)

75

g (3oz)

caster sugar

200

g (7oz)

flour

(all-purpose)

75

g (3oz)

rice flour

(or cornflour)

pinch

salt

fresh raspberries

to serve
Instructions
Cranachan Parfaits
Chill a large bowl in the fridge for the cream. Place the egg yolks in another large bowl, heat the honey without boiling it (I put it a few seconds in the microwave) and pour it over the yolks and beat with electric beaters (or a stand mixer) for about 10 minutes until thick and moussy. Add the Whisky and beat again until well mixed.

In the chilled bowl, whisk the cream like a Crème Chantilly until soft peaks and the same consistency as the yolk-honey mixture. Gently fold the 2 mixtures together and spoon either into spherical silicone moulds (this used 10 spheres), greased muffin tins, or in a lined cake tin. Transfer to the freezer and leave overnight to set.
Oat Praline Crumble
In a saucepan, heat the sugar with a few drops of water. Just as it starts to change colour after about 5 minutes, stir using a wooden spoon until the sugar is completely dissolved and the caramel is medium golden. Add the butter and stir to mix well then pour in the oats. Stir until the oats are well covered then immediately transfer to a baking tray.

Once cool, break the praline into small pieces and reserve in a jam jar. (This can keep for about 10 days)
Shortbread
Preheat the oven to 180°C/160°C fan/360°F/Gas 4.
Cream the butter and sugar together in a large bowl until pale and creamy (either by hand or in a stand mixer). Gradually add the flour, rice flour and salt until the mixture comes together into a dough that's easy to work with.

Spread the mixture into a greased non-stick baking tin and thinly even it out using a palette knife. Alternatively roll the dough out with a rolling-pin until about 1cm thick and bake in the oven for about 25 minutes until golden brown.

When the mixture is still soft and warm, cut out disks with a cookie cutter (the same size as the moulds). Leave to cool on a wire tray.
To Serve
When ready to serve, place the shortbread disk on each plate (spread each with raspberry jam if no fresh raspberries), turn out the frozen parfaits at the last minute and place on top. Sprinkle with the oat praline and, if using, serve with fresh raspberries.
Notes
This recipe can be made even easier without the moulds or shortbread. Simply freeze the honey and Whisky cream in a lined cake tin overnight and slice before serving. Serve with the oat praline and fresh raspberries.
Store the egg whites in the fridge for 3-4 days and make macarons or financiers with them (recipes in my books) or these French Tuiles. Otherwise freeze the whites until later!