Recipe for traditional Cullen Skink, a thick and creamy Smoked Haddock Soup from Cullen in Scotland with potato, onion and milk with added bay leaf and parsley.
Often served on Scottish occasions such as Burn's Night (25 January) or Saint Andrew's Day (30 November), or simply in many Scottish restaurants. French friends particularly love this for something deliciously different as a starter in Winter. What's more, discover a tartan connection between Scotland and France.
What is Cullen Skink?
Cullen Skink is a classic Scottish soup - much like a creamy, thick chowder. It's traditionally made using Finnan Haddie (Finnan Haddock), a cold-smoked haddock known for its smoking methods in North-East Scotland. However, most of the time it's made with un-dyed smoked haddock, potatoes and onion.
In my recipe, however, I often use leek instead of onion. So it tastes much like a creamy leek and potato soup with the added smoky flavour of the fish. For textures, I love the smoothness of the soup with added chunks of the poached fish, flaked in at the end of cooking.
Why is it called Cullen Skink?
Why is this smoked haddock soup called Cullen Skink?
Skink is an old Scots word for soup or an essence - as it's wonderfully strong and flavourful.
Cullen is a small fishing village on the Moray Firth on the North-East coast of Scotland. As it's where haddock is particularly popular, it's no surprise it's where the soup originated. So that's what the Cullen part means.
Cullen Skink Ingredients
Recipes for Cullen Skink vary but the basic ingredients for traditional Cullen Skink are un-dyed smoked haddock (preferably a Finnan Haddie to be authentic), milk/cream, potato, onion, a bay leaf and fresh parsley. There is no butter.
In Scottish restaurants, I've had light versions but overloaded with potato chunks with not much fish.  I've also had extra thick versions, loaded with rich cream that by the time the main dish arrived, I'd already had my fill since it was too rich. So I prefer mine with semi-skimmed milk - the result is a creamy texture at only 190 calories a bowl.
Scottish purists may scream, but I often make it using a leek (we love leeks!) but if you prefer to make Cullen Skink the traditional way, use an onion instead. For the potato, if you like a more firm variety, pick an all-rounder such as Charlotte, Yellow or Yukon Gold. However, we love a more floury potato, so pick from Russet, King Edward, Maris Piper, Desiree or Binje (See more on potato varieties in cooking).
My favourite way of making this soup has been a mix of many different approaches: I simply poach the fish in semi-skimmed milk and use no cream - and no water either.
I only half blitz it with the hand mixer until smooth and creamy, so leave some chunks of potato then flake in the poached fish at the end, topping with chopped fresh parsley.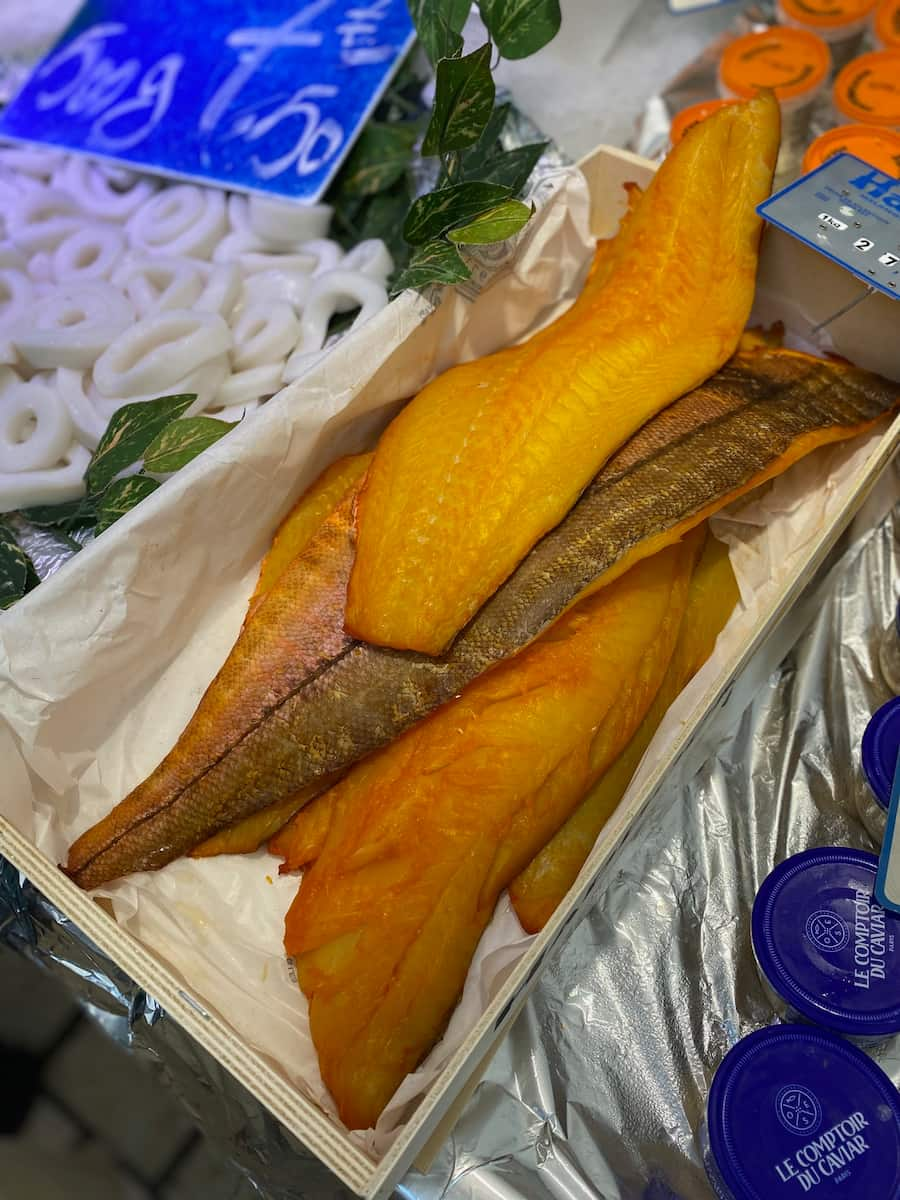 What is Smoked Haddock in French?
Ideally traditional Scottish recipes call for Finnan haddock or undyed smoked haddock fillets.  As it's not that easy to find them in France, I take the only smoked haddock I can find. It's simply called "Haddock" (pronounced 'addock - the French don't pronounce the 'H'). Years ago, when I called it Haddock Fumé with my Jane Birkin accent, I was corrected. So, just saying.
If you want plain, unsmoked haddock in France, it's known as Eglefin.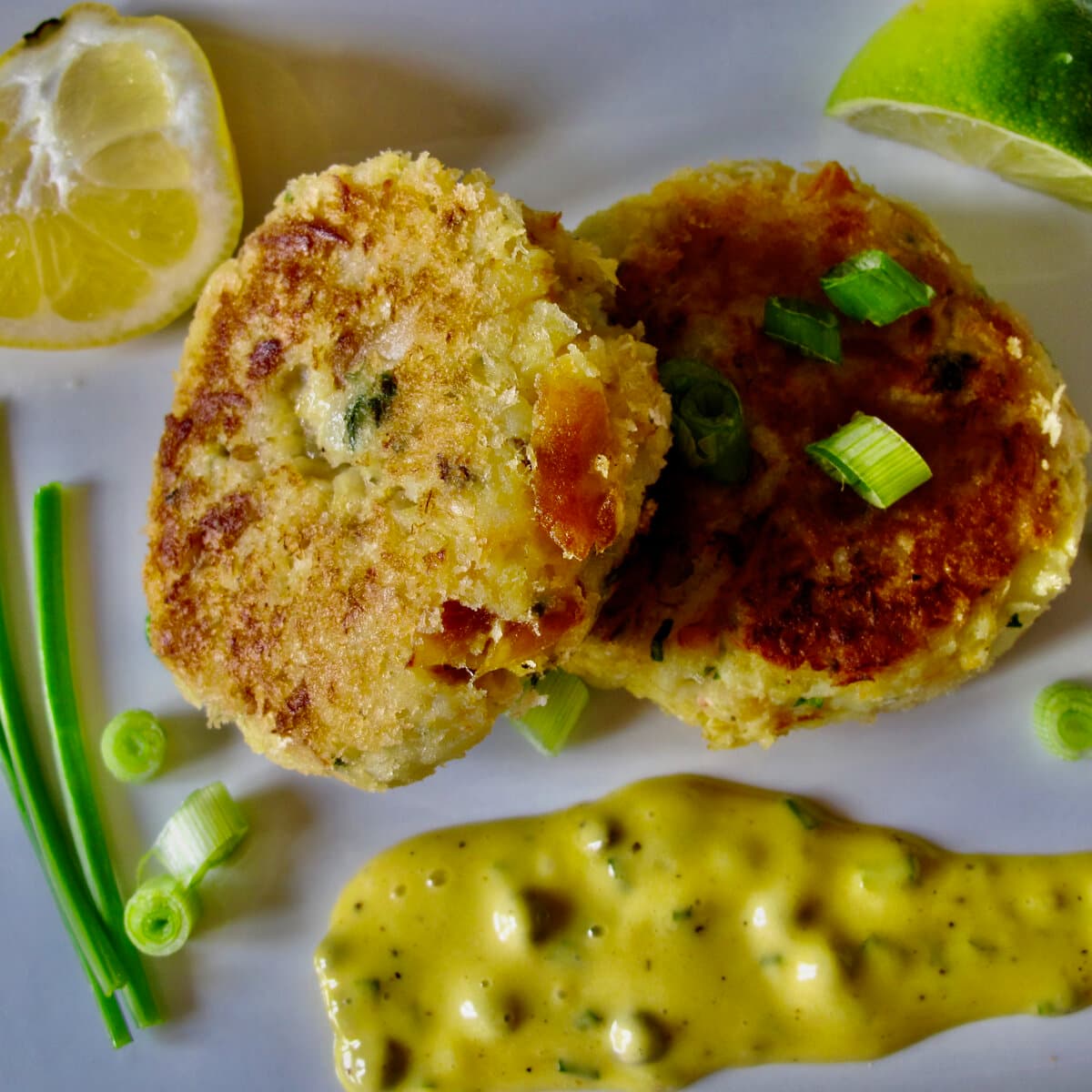 What do you Make with Smoked Haddock?
Fishmongers at our French local market in Saint-Germain-en-Laye are surprised that I use smoked haddock to make soup. In fact, it surprises the French each time I tell them about this recipe. So, even if this recipe is in English, this is for you, Mesdames, Messieurs - and our French dinner guests who love this as it's something a bit different as a starter.
For something more classic, make these delicious smoked haddock fish cakes. Serve them with homemade Tartare Sauce (mine is in the shape of Corsica here!).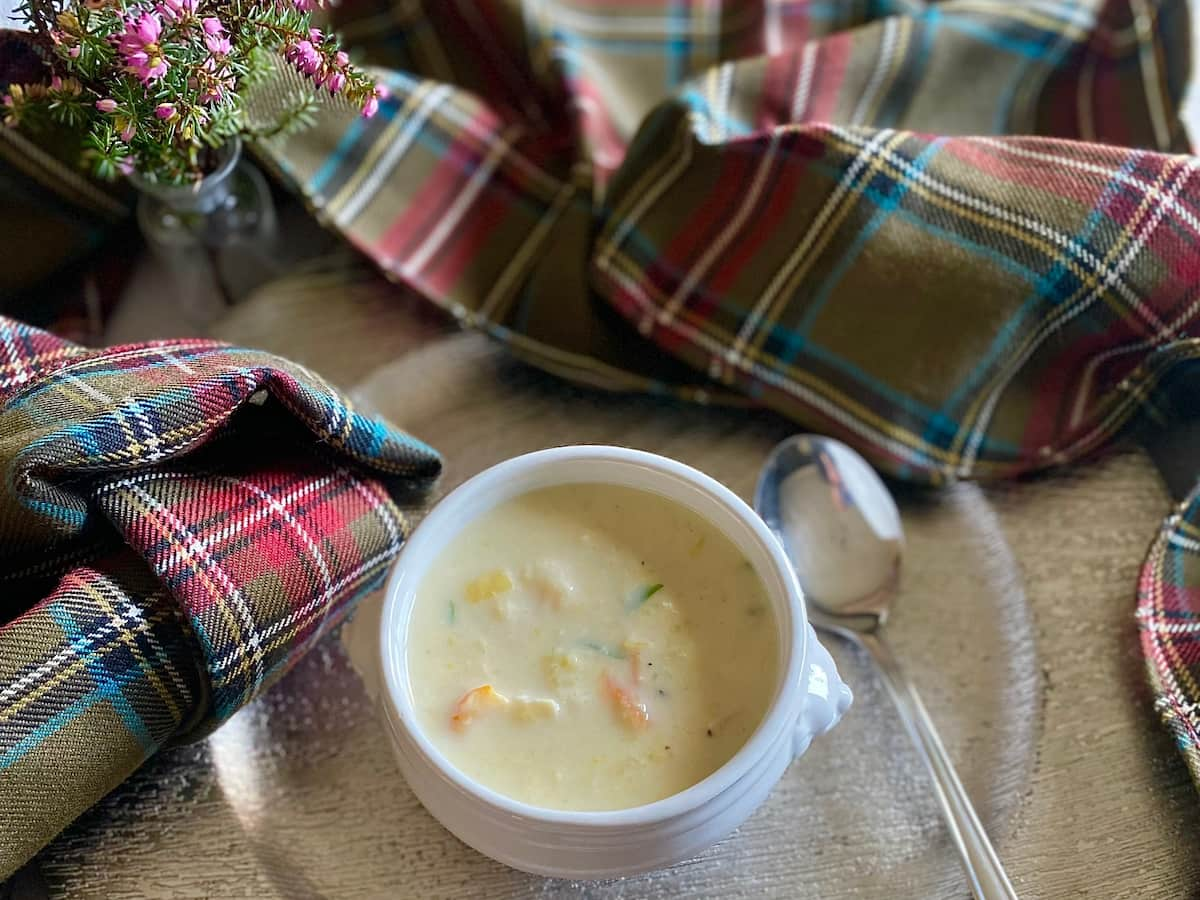 Is there a Scottish Tartan in France?
Indeed there is. As a pure Scot myself and French citizen, I'm proud to show this as a continuing alliance between the French and the Scots.
Since 1984, the French town of Saint-Germain-en-Laye near Paris has been twinned with Ayr in Scotland.  This Scottish tartan, 'the Princess Mary', in the photo above is the special tartan created in 2001 for the French and Scottish Twin Association between Ayr and Saint-Germain-en-Laye by the Queen's Chancellory and the Court of the Lord Lyon in Edinburgh.
The Scottish connection with France and Saint-Germain-en-Laye goes back to the young Mary Queen of Scots, who lived for a short while as a child with the young Dauphin in the Château of Saint-Germain. Later, with James VII of Scotland (and II of England), the Stuart family lived here in exile, thanks to James's cousin, Louis XIV. James VII (grandfather of Bonnie Prince Charlie) stayed the rest of his life here and is buried in the church across from the Château.  As a result, the tartan is based on the Stuart tartan.
For more about the royal town, see my introduction to Saint-Germain-en-Laye - I highly recommend visiting from Paris.
Did you know there's even an Auld Alliance museum in France? It's in Aubigny-sur-Nère where there's an annual Scottish-French festival to celebrate the Auld Alliance in France.
How do You Make a Cullen Skink?
Back to this soup. I couldn't resist saying that, as it sounds like a joke, doesn't it? It makes me think of the one, "How do you stop a skunk from smelling?" Answer: "Hold its nose."
Here's how to make a Cullen Skink, or a Scottish Smoked Haddock Soup/Chowder from scratch.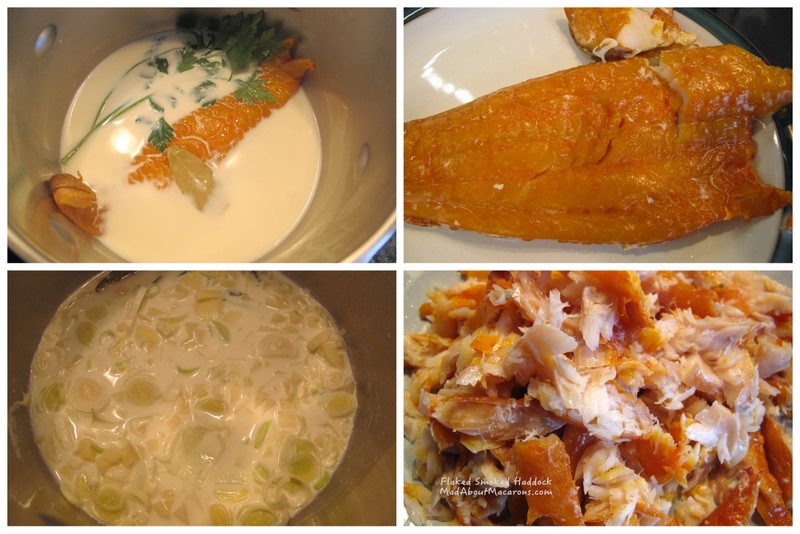 Put the smoked haddock, bay leaf and parsley in a large pan and pour over the milk.
Cover and poach very gently over a low heat for about 10 minutes (please don't overcook the fish otherwise it will turn rubbery).
I've been 'bowled over' (groan!) to discover that French friends find it an impressive dish served as a starter. It's perhaps not just the comforting thickness and creaminess of the soup but the smoky fragrance just gives it that something extra special.
I'll also let you in to a cunning secret: I serve small to medium-sized portions of this to start the meal, leaving friends wanting just a bit more.
The added bonus is that Cullen Skink freezes well too for up to 2 months.
Scottish Cullen Skink Soup (Smoked Haddock Chowder)
Traditional recipe for Cullen Skink, a creamy smoked haddock soup - much like a chowder -originally from the fishing village of Cullen in Scotland. Healthy recipe using semi-skimmed milk instead of cream.
Ingredients
300

g (10.5oz)

Smoked haddock

(1 large fillet)

1

litre (1.5 pints/4 ¼ cups)

semi-skimmed milk

1

bay leaf

few

stalks

parsley

(keep the leaves for later)

1

large

onion (or optional leek, white part only)

finely chopped

500

g (2-3)

potatoes

see notes*

½

tablespoon

fresh parsley leaves

finely chopped

freshly cracked pepper

to taste
Instructions
Put the smoked haddock, bay leaf and freshly parsley with the stalks in a large pan and pour over the milk (keep parsley leaves for later).

Cover and poach very gently over a low-medium heat for about 10 minutes (don't overcook the fish otherwise it will turn rubbery).

Remove the fish with a slotted spoon and set aside on a plate to cool.  Throw in the chopped potato and onion (or leek), cover and leave to cook gently until soft for 15-20 minutes.

Meanwhile, take off the fish skin and flake the fish with your fingers, removing any bones.

Remove the bay leaf and parsley stalks from the pan then half blitz the soup with a hand blender (or transfer to a liquidiser or food processor) until the desired consistency. I like to blend only half way to have some chunks of potato.

Add some pepper (a few turns of the pepper mill) and stir in the flaked smoked haddock and chopped parsley and gently heat. Only add some salt to your taste but not necessary with the smoky fish.
Notes
Potatoes: if you like your soup chunky, then use waxy potatoes like Charlotte - otherwise if blending to a smooth chowder, use a floury potato such as Binje. See more on the Potato Market page.
This post was originally published January 2016 but has now been updated with new images and text.
Have you made this recipe?
I'd love to know how it turned out. Please let me know by leaving a rated review below. It means so much to have your support.
On Instagram? Share a photo and tag @JillColonna and hashtag it #madaboutmacarons. À bientôt!