Cullen Skink, a Scottish classic dish of Smoked Haddock soup or chowder made with potatoes and onion.
Often served on Scottish occasions such as Burn's Night or Saint Andrew's Night or simply in many Scottish restaurants. French friends particularly love this for something deliciously different as a starter in Winter.
What is Cullen Skink?
Cullen Skink is a classic Scottish soup or chowder. It's traditionally made using Finnan Haddie (Finnan Haddock), a cold-smoked haddock known for its smoking methods in North-East Scotland. However, most of the time it's made with undyed smoked haddock, potatoes and onion.
Why is it called Cullen Skink?
Why is this smoked haddock soup called Cullen Skink? Skink is an old Scots word for soup or an essence – as it's wonderfully strong and flavourful. Cullen is a small fishing village on the Moray Firth on the North-East coast of Scotland, where haddock is particularly popular.
I've been 'bowled over' (groan!) to discover that French friends find it an impressive dish served as a starter. It's perhaps not just the comforting thickness and creaminess of the soup but the smoky fragrance just gives it that something extra special.
I'll also let you in to a cunning secret: I serve small to medium-sized portions of this to start the meal, leaving friends wanting just a bit more.
Recipes for Cullen Skink vary. In Scottish restaurants, I've had light versions but overloaded with cubes of potato with not much fish.  I've also had extra thick versions, loaded with rich cream that by the time the main dish arrived, I'd had my fill.
My favourite way of making this has been a mix of many different approaches: I simply poach the fish in semi-skimmed milk and use no cream – and no water either. I only half blitz it with the hand mixer until smooth and creamy, so leave some chunks of potato.
Scottish purists may scream, but I make it using a leek (we love leeks!) but if you prefer to make Cullen Skink the traditional way, use an onion instead.
What is Smoked Haddock in French?
Ideally traditional Scottish recipes call for Finnan haddock or undyed smoked haddock fillets.  As it's not that easy to find them in France, I take the only smoked haddock I can find, simply called "Haddock" (pronounced 'addock – the French don't pronounce the 'H'). Years ago, when I called it Haddock Fumé with my Jane Birkin accent, I was corrected. So, just saying.
If you want plain, unsmoked haddock in France, it's known as Eglefin.
More Smoked Haddock Recipes
When I asked our local fishmonger in Saint-Germain-en-Laye for some smoked haddock, this lovely French lady behind me in the queue suddenly asked me what I did with it.
So, this is for you, chère Madame, as I promised you the recipe – even if it's in English.
You can also make delicious smoked haddock fish cakes with it too.
How do You Make a Cullen Skink?
I couldn't resist saying that, as it sounds like a joke, doesn't it? Here's how to make a Cullen Skink, or a Scottish Smoked Haddock Soup/Chowder from scratch.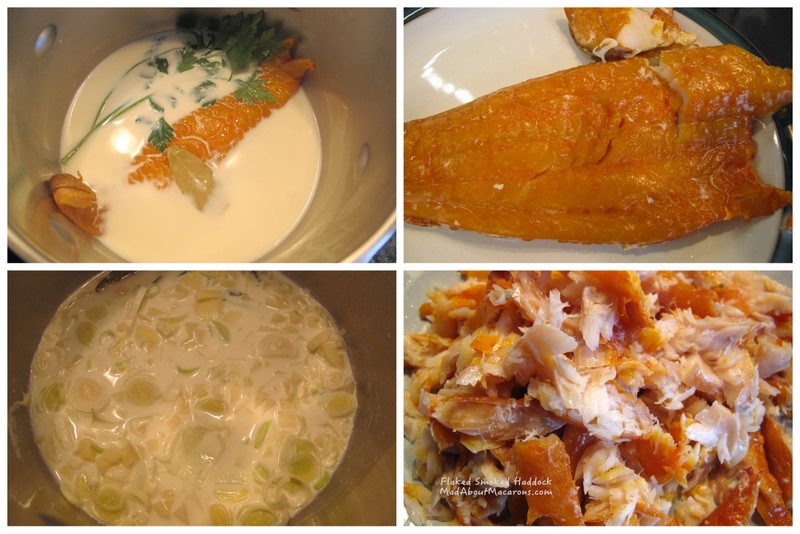 Put the smoked haddock, bay leaf and parsley in a large pan and pour over the milk.
Cover and poach very gently over a low heat for about 10 minutes (you don't want to overcook the fish otherwise it will turn rubbery).
Take out the fish to cool on a plate, then add the potatoes and leeks (or onion) until cooked. Blitz then flake in the fish.
Scottish Cullen Skink Soup (Smoked Haddock Chowder)
---
Description
Scottish classic recipe for Cullen Skink, a smoked haddock chowder from the Scottish fishing village of Cullen
Ingredients
300

g (10.5oz)

Smoked haddock

900

ml (1.5 pints)

semi-skimmed milk

1

bay leaf

1

stalk

parsley

1

leek, white part only (or an onion)

finely chopped

400

g (1-2)

potatoes

see notes*

1/2

tbsp

chives

finely cut (for decor)

salt/pepper

to taste
Instructions
Put the smoked haddock, bay leaf and parsley in a large pan and pour over the milk.

Cover and poach very gently over a low heat for about 10 minutes (you don't want to overcook the fish otherwise it will turn rubbery).

Remove the fish with a slotted spoon and set aside on a plate to cool.  Throw in the chopped potato and leek, cover and leave to cook gently until soft for 15-20 minutes.

Meanwhile, take off the fish skin and flake the fish with your fingers, removing any bones.

Remove the bay leaf and parsley from the pan then blitz the soup with a hand blender (or transfer to a liquidiser or food processor).  Add some pepper (a few turns of the pepper mill) and stir in the flaked smoked haddock and gently heat.

Snip some chives with scissors, adding into the soup or to decorate.
Notes
Potatoes: if you like your soup chunky, then use waxy potatoes like Charlotte - otherwise if blending to a smooth chowder, use a floury potato such as Binje. See more on the Potato Market page.