How to make the most light and fluffy cheese scones, plus the secret how to make your scones rise and what to serve with them. Easy recipe using plain flour - and also on video.
Best scones ever! I've always made dry or crumbly scones boooo so a very huge THANK YOU for sharing your awesome recipe, and the tips were so helpful.

Emma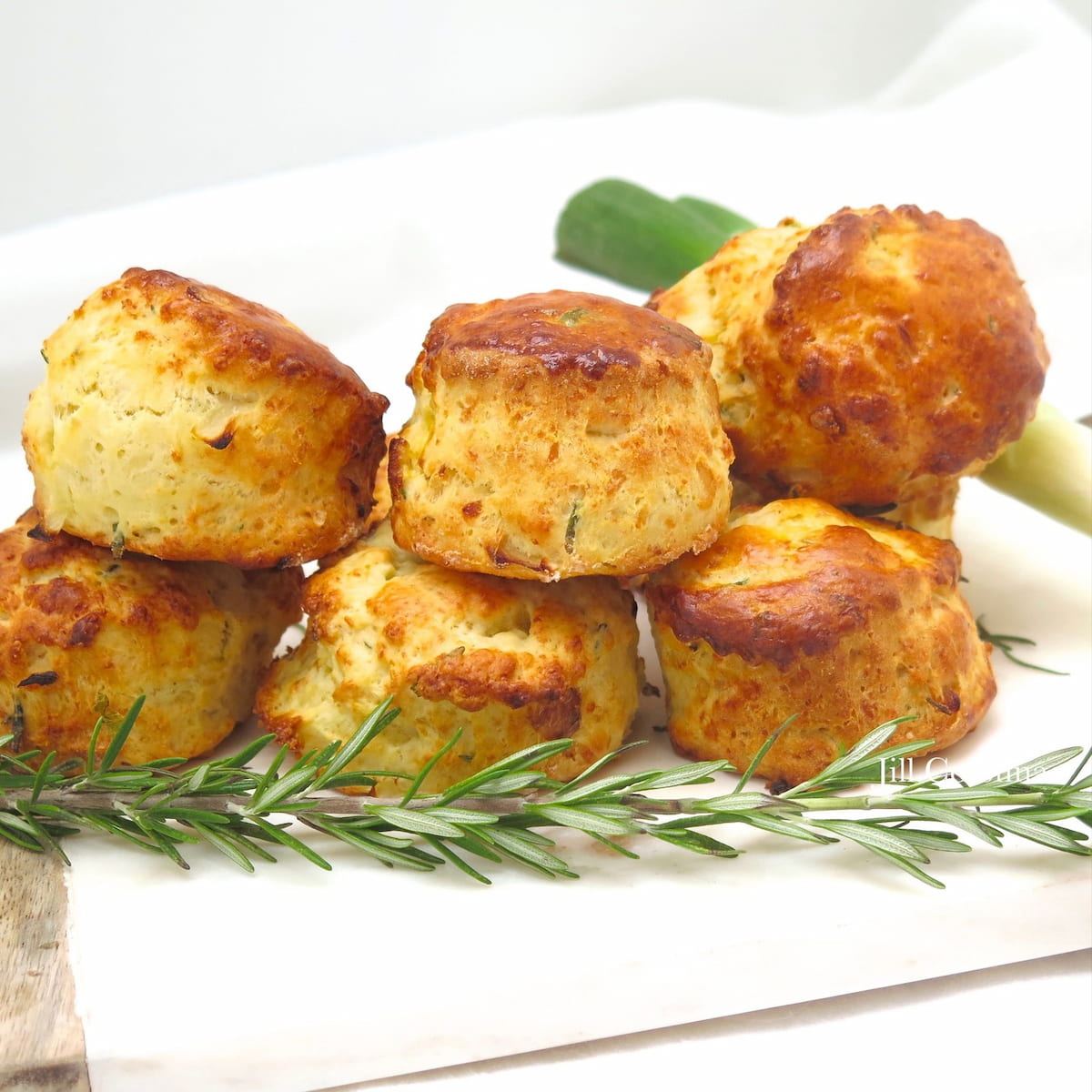 Whatever time of day it is, there's something incredibly comforting about serving warm, light and fluffy cheese scones with melted butter and a pot of tea.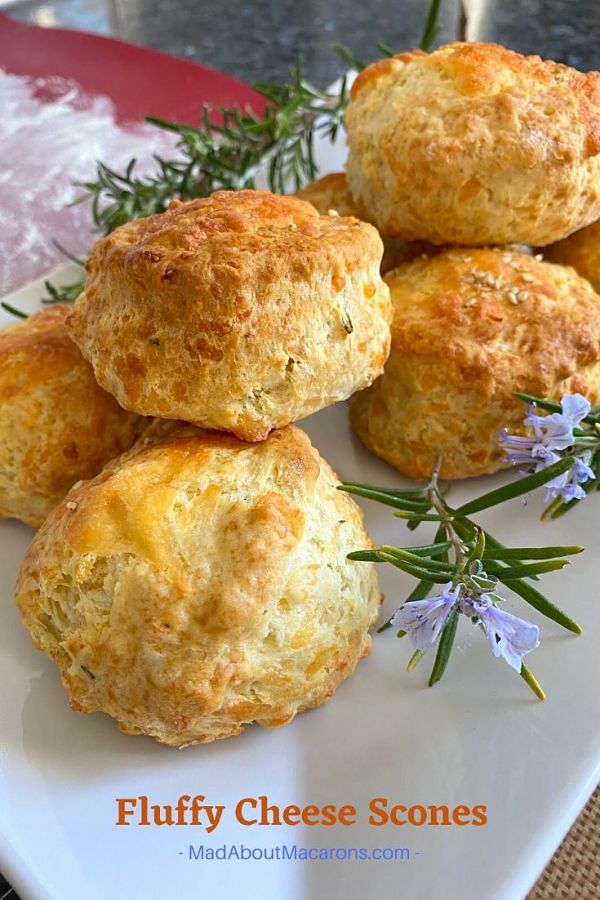 Homemade Cheesy Scones
My teenage girls are both French and British. When they were little, we'd jump on our cheap shuttle flights from Beauvais to Prestwick, and on arrival, it was so exciting to see Granny and Grandpa waiting for us. This was always followed with our family tradition: we'd head straight to the nearest garden centre for a pot of tea and the most delicious cheesy scones served with lashings of butter. They were so good, it wasn't for elevenses (in France, this doesn't exist!) but at 11am we'd instead call it lunch.
The girls would always associate their trips to Scotland with cheese scones and so they'd ask to have them occasionally at home for a special treats (in between the macarons, tuiles, éclairs and tarts, les pauvres!). However, living in France, cheese scones are not one of the treats you'll find in Parisian bakeries.
As a result, I make cheese scones at home, as they are - surprisingly - so quick and easy to make.
How to Make Your Cheese Scones Rise
What makes a good cheese scone? It's light, high and fluffy. I started off many years ago using the classic recipe in the Be-Ro Flour Cookbook. Now, over the years I have used this slightly adapted recipe which ensures they have a lovely height. I also prefer using plain flour for the recipe, so I can control how much baking powder goes in.
This scone recipe also includes an egg.
These are my 3 tricks to making perfect, high rise fluffy scones (well, no longer a secret, is it?):
Don't be shy on the baking powder. Even if using self-raising flour, add a teaspoon;
Scone dough should be wet. It's messy but I assure you, it works. Too dry makes them crumbly; and
Don't work the dough too much - including not rolling it out too flat. Keep it quite thick, cutting them with a scone or cookie cutter.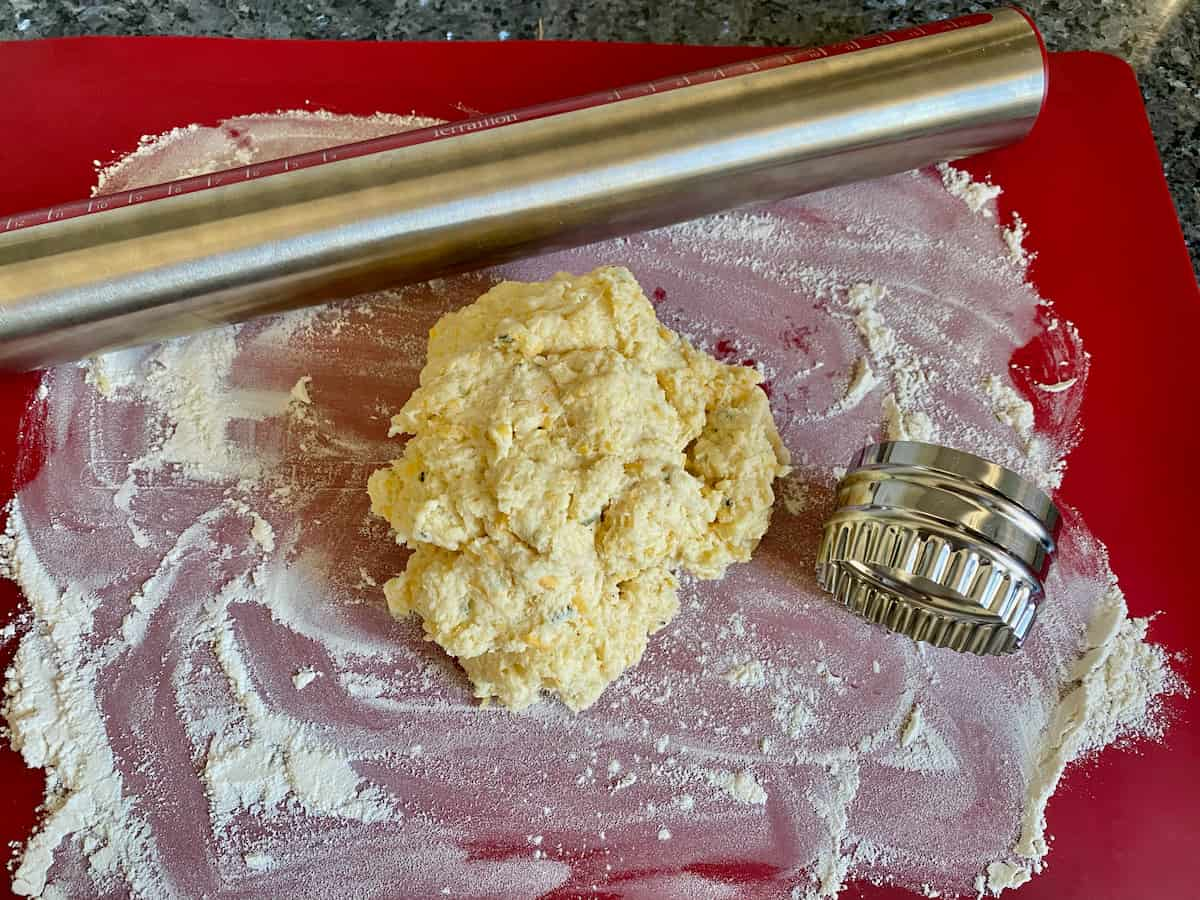 Best Cheese to Use for Savoury Scones
Ideally use a good, strong, mature cheddar (orange will give it a lovely colour but it's not necessary) as the flavour should shine through. Using half of grated aged parmesan or a mature hard orange vieille mimolette adds extra punch too. The stronger the better!
Personally, as we don't have the easiest access to the best mature cheddar in France, I use a half and half mix of what orange cheddar I can find with best quality French Comté cheese (preference 12-18 months mature), thus making them a bit of a Scottish-French Auld Alliance.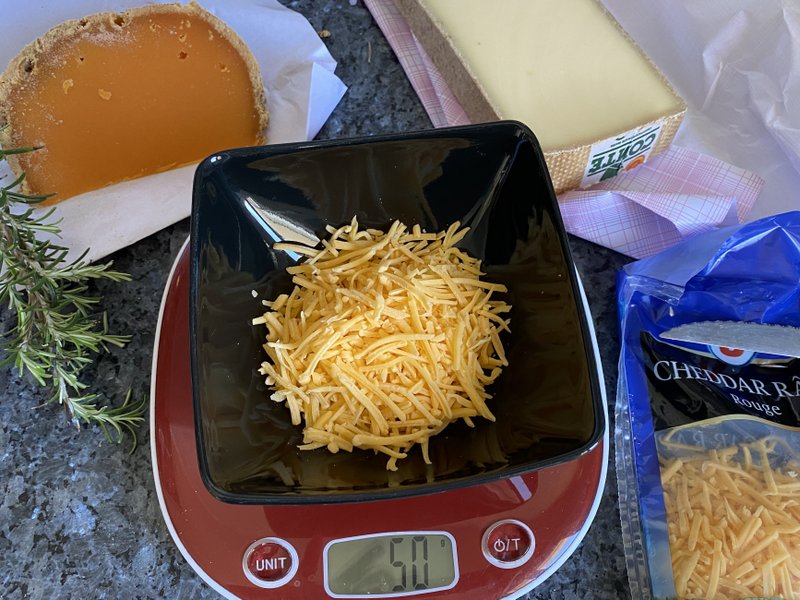 Fluffy Cheese Scones - The Perfect Glazed Look
For a shiny royal scone look, the best way is to brush the tops of the scones with a milk and egg yolk glaze.
If you don't have any extra eggs to hand, however, you can brush the tops of the scones with milk only (alas, for the pictures here, we ran out of eggs as they were rationing them at the market at the start of the pandemic).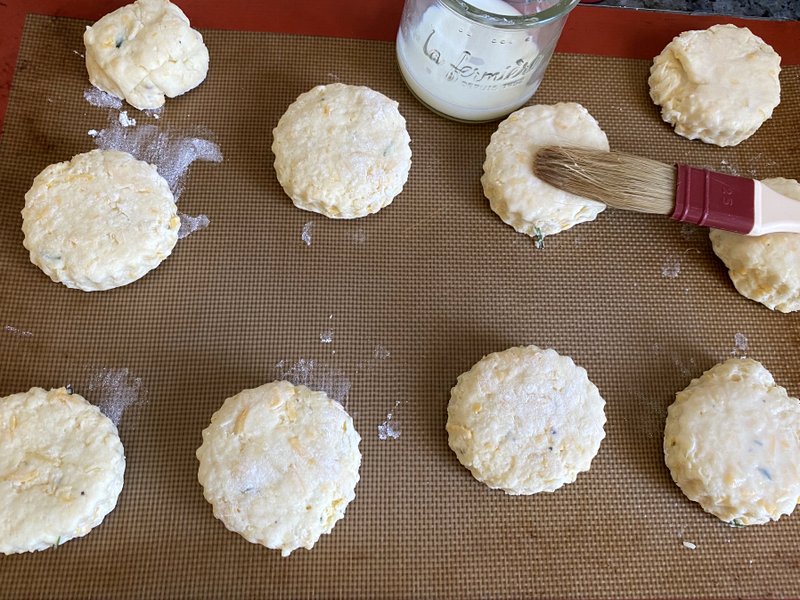 Topping Ideas
Before they go in the oven, top the scones with more grated cheese and/or poppy seeds and sesame seeds.
The result? The cheese scones have a lovely, finished shine that gives that slight crunch to the outside and split open warm, they're soft, light and fluffy inside - ready to spread with quickly melting butter!
What's more, we love making mini cheese scones for teatime. Just cut out smaller rounds and bake for a couple of minutes less.

What To Serve with Cheese Scones?
How do you eat your cheese scones? Split cheese scones in half while warm and spread on a little butter, watching it melt.
They're perfect with a cup of tea for teatime or French goûter - or for lunch with a comforting bowl of soup (see soup ideas below, ideal with cheese scones).
When Should you Eat Them?
Cheese scones are delicious as part of a British style afternoon tea with finger sandwiches - ideally served before the sweet individual cakes. See more French teatime recipes.
They are also a real treat served for a light lunch with comforting bowls of soup in winter.
Here are some ideas for homemade soup, using little from the pantry:
Just one of the latest reviews:

"Having never gotten on with buttermilk scone recipes, I tried this recipe and it is AMAZING, scones come out perfect every single time. I've made them about 5 times in a fortnight.
Can't recommend enough 12/10 thank you!"

Leanne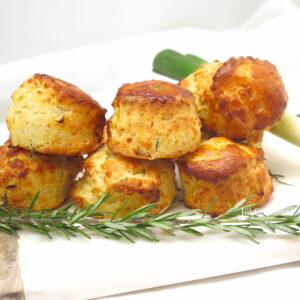 Fluffy Cheese Scones
An easy recipe using plain flour - with tips on how to make the fluffiest, high-rise light cheese scones for teatime
Ingredients
250

g (9oz/ 2 cups)

Plain (all-purpose) flour

T55

1

tablespoon

Baking powder

(use only 1 teaspoon if using self-raising flour)

1

teaspoon

Bicarbonate of soda

pinch

salt & pepper

50

g (2oz/ ¼ cup)

Butter, unsalted

(at room temperature)

100

g (3.5oz/ 1 cup)

Cheese, finely grated

(Cheddar, French Comté, Mimolette)*

1

tablespoon

Rosemary, finely chopped

(or fresh thyme, chives, dried Herbes de Provence)

1

egg (@60g)

100

ml (3.5fl oz/ ½ cup)

Milk

(whole or semi-skimmed)
Scone Glaze
1

egg yolk

(optional)

1

tablespoon

milk

1

teaspoon

sesame or poppy seeds

(optional)
Instructions
Heat oven to 220°C/425°F/200°C fan/Gas 7. Line a baking tray with parchment paper or a silicone mat.

Mix together the flour, baking powder/soda, salt, pepper, and rosemary (or other herbs) in a large bowl.  Either rub in the butter using your fingers but if you have a mixer, this is even better.  Mix just until the butter looks like breadcrumbs in the flour then add the cheese. Add the egg and milk and mix until fully combined. The result should be a sticky, wet dough. If you find it's too dry, add a little bit more milk.

Roll out on a floured surface to about 2 cm thick (nearly an inch) and using a scone/cookie cutter (6cm/2.5"), cut out medium-sized rounds. Alternatively, to save time or if you don't have cutters, roll into a circle (use a plate as a guide) and cut into triangles with a sharp knife.

Place on the baking tray and brush with a mixture of egg yolk and a little milk to glaze (yolk is optional but recommended for a shiny glaze).

Bake for 10-15 minutes until golden brown.
Notes
YIELD: Makes 10-12 scones.
CALORIES: One portion of 2 scones is 293 calories.
CHEESES: mature, strong cheeses are best such as cheddar, mimolette, parmesan, comté & gruyère.
BUTTERMILK SCONES: If you replace the milk with buttermilk, omit 1 teaspoon of baking powder, but personally I prefer cheese scones made with milk, as find they rise better.
See how to make scones from scratch on video.
WALNUTS: Why not replace the rosemary with crushed walnuts? Delicious with the cheese! (see the Walnut page) or a couple of finely chopped sundried tomatoes
Measures: Please note that all my recipes are best made using digital kitchen scales in precise metric grams. Both ounces (and cups) are given as an approximate guide. 
Have you made this recipe?
I'd love to know how it turned out. Please let me know by leaving a rated review below. It means so much to have your support. On Instagram? Share a photo and tag @JillColonna and hashtag it #madaboutmacarons. À bientôt!
Looking for more cheesy recipes? Try our favourite cheese waffles.