Sweetcorn and red pepper soup, a creamy healthy chowder with smoked paprika. Suitable for vegetarians, as it uses fresh homemade corn stock. Add a savoury macaron, pour it from a jug and imagine you're in a Parisian restaurant!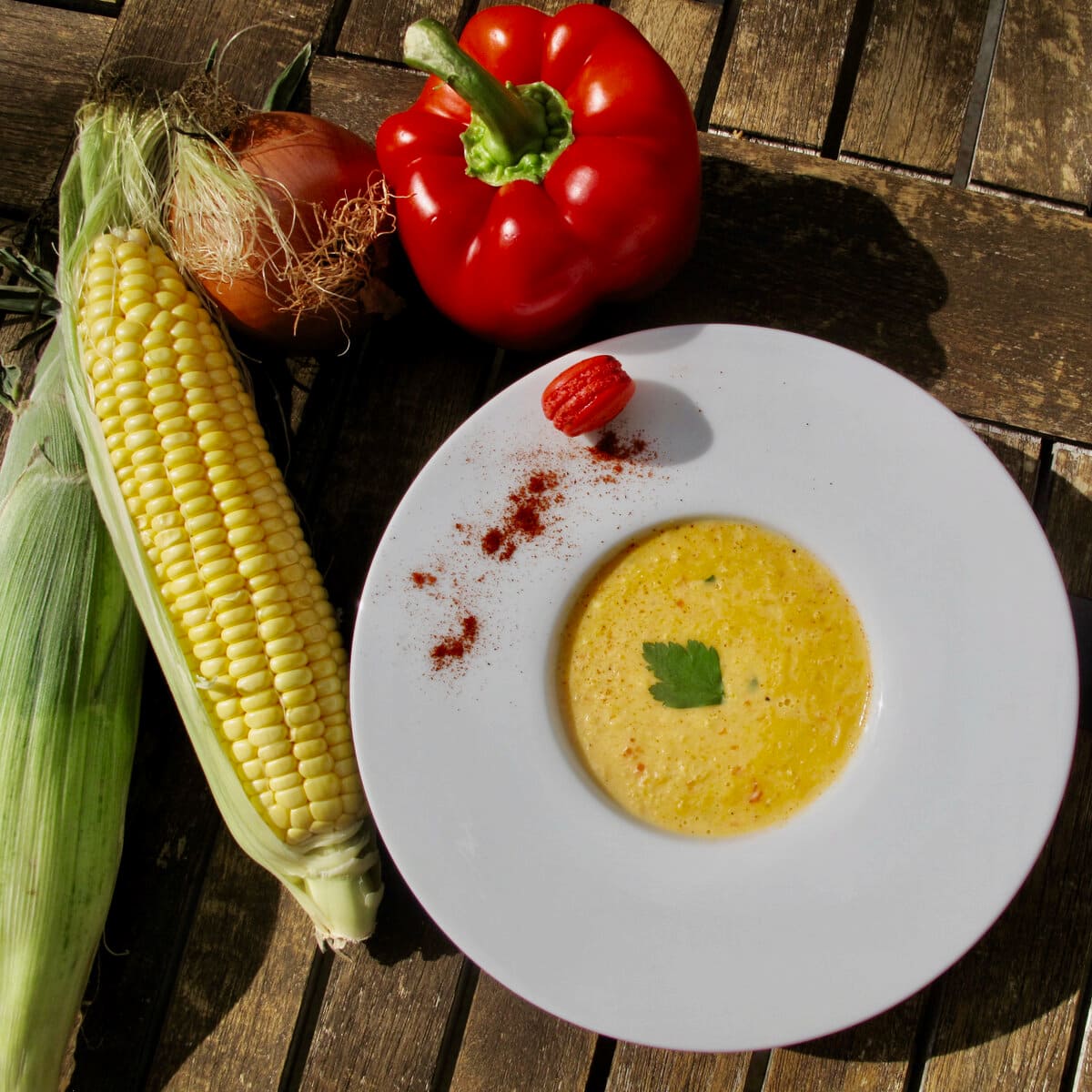 What Can I make with Fresh Corn on the Cob?
The freshest corn on the cob has been rare this year outside Paris. Call me a food snob but there was no way I was going for prepackaged corn, wilting under cellophane in the supermarket. So when I saw a magnificent pile of fresh corn at our local farmers' market last week, I pounced on them like there was no tomorrow.
Autumn may officially be upon us but I'm still hanging on by a corn thread to the last best fruits and vegetables of French summer.
How to Serve Corn Chowder the Restaurant Way
I first tasted the most creamy sweetcorn chowder or soup on our last visit to South Africa in the French colonial wine town of Franschhoek, near Cape Town. Antoine and I had splashed out to celebrate our wedding anniversary at Grande Provence wine estate, where the chef had 'bowled us over with his soup' (quick pause here for a pun groan).
It was simply, but elegantly, poured at the table from a white porcelain milk jug into an oversized rimmed porcelain bowl, serving as a moat around a heap of turnip purée and crowned with a gigantic tempura prawn, along with a few other fancy garnishes.
I was in awe. Antoine knows that these kind of special eating-out moments are always a good investment, as I'll probably try to copy the experience at home. Well, in this case, without the fancy frills part. Over the last couple of years, this creamy, velvety velouté soup has turned into a much simpler but delicious starter for dinner guests.
Corn and Bell Pepper
To cut the sweetness of the (sweet) corn, add a red bell pepper and smoked paprika. If you can't find fresh corn on the cob (which is best), then use frozen kernels and ¾ litre vegetable stock.
How to Serve Sweetcorn and Red Pepper Soup
Serve small portions in large bowls with an extra dusting of smoked paprika and freshly chopped parsley. When parsley is added at the end, don't forget it's healthiest and preserves its high vitamin C content.
Serve with plenty of crusty bread - or why not with a gluten free savoury macaron or two from my book, Mad About Macarons?
Also delicious served with warm, fluffy cheese scones.
See more of our family recipes for healthy soups.
Sweetcorn and Red Pepper Soup
Sweetcorn and red pepper soup, a creamy healthy chowder with smoked paprika. Suitable for vegetarians, as it uses fresh homemade corn stock.
Ingredients
3

fresh corns on the cob

20

g (1oz)

butter

1

red bell pepper

finely chopped

1

onion

finely chopped

salt and pepper

1

teaspoon

smoked paprika

2

sprigs flat parsley leaves

100

g (3.5fl oz)

single cream

(I use 15% half fat crème fleurette)
Instructions
Rip off the outer leaves and threads and snap off the bases with a twist of the wrist. Cut the kernels from the cobs and throw them into a large heavy-based pan, including the bare cobs (this will help make your natural stock). Pour over just enough water to cover the lot (about 1.25 litres) and bring to the boil then boil for another 5 minutes.

Melt the butter in a large saucepan and soften the onion and pepper gently over low to medium heat for about 10 minutes until translucent then add the smoked paprika. Meanwhile, using a strainer, remove and discard the cobs. Strain off the corn and add to the onion and peppers. Continue to gently soften for another 5 minutes and continue to reduce the corn stock during this time.

Add the sweetcorn stock and cream to the vegetables and simmer for another 5 minutes. Add the parsley and season to taste then liquidise either in a blender or using a stick blender. If the soup is too thick, I add a dash of semi-skimmed milk.
Notes
Serve with fresh bread and salted butter. For a gluten free twist, serve with a savoury macaron (Recipes in my book, Mad About Macarons)