Savoury macarons from my first book, Mad About Macarons and some festive starter ideas to serve with them. Guaranteed as something surprisingly different on your holiday menu!
Do Savoury Macarons Still Need Sugar?
A Parisian macaron needs sugar in the recipe in order for the macaron shells to work but can we cut down on sugar for making savoury macarons? The cool answer is YES!
While I was developing the recipe for the savoury macaron chapter in my first book, Mad About Macarons, I aimed at cutting down on the sugar as much as I could dare. The result? I couldn't believe that the macarons still worked!
Mad About Savoury Macarons (Hot & Spicy)
Savoury macarons may perhaps sound strange if you haven't tried them yet – and once you have with a glass of bubbly during the festive season or for a special occasion, the result is pretty mind-blowing: they're surprisingly delicious!
If you've tried any of the savoury macaron recipes from my first book's 'Mad Macs' chapter, you'll discover that many of them are HOT and SPICY, which makes an interesting tasting sensation: the sweetness of the macaron helps put out the fire after the first couple of seconds!
In this post, I'd like to share 15 starter recipe ideas to serve with your savoury macarons.  They're not just for an apéritif: served with a bowl of soup or on top of a bright and cheerful salad – or even a risotto – the surprise element is taken to the next level and adds a touch of gourmet fun to the table.
Beetroot & Horseradish Macarons
Gourmet meals can be given that extra touch of chic with a horseradish and beetroot macaron (recipe on page 103 of my book). Here I've served it with Salar Scottish hot smoked salmon with an apple and horseradish sauce recipe.
On a family visit to my husband's island of Corsica, we had a surprising gourmet starter consisting of this Corsican Terre et Mer salad. It's so simple yet sophisticated. It may look and sound unusual but, believe me, the mix of smoked salmon with smoky charcuterie dried hams just works.
Back in my kitchen, I added chiogga beetroot and apple slices (marinated in lemon juice) for an extra healthy crunch. However, adding this spicy macaron adds that je ne sais quoi WOW FACTOR.
It totally works. Do try this, it's a tasting delight.
Beetroot and horseradish macarons will also be fabulous with this artichoke, red onion and roquefort salad. The garden herb macarons (page 97) will also make this salad really sensational.
Why not serve them with a mini portion of beetroot and horseradish risotto, especially designed to accompany your mini savoury macaron on top?
Tikka Curry Macarons (Perfect with Soup!)
Mini tikka curry macarons (on page 100) are brilliant for pre-dinner drinks (apéritif) with a Gin & Tonic but served with food?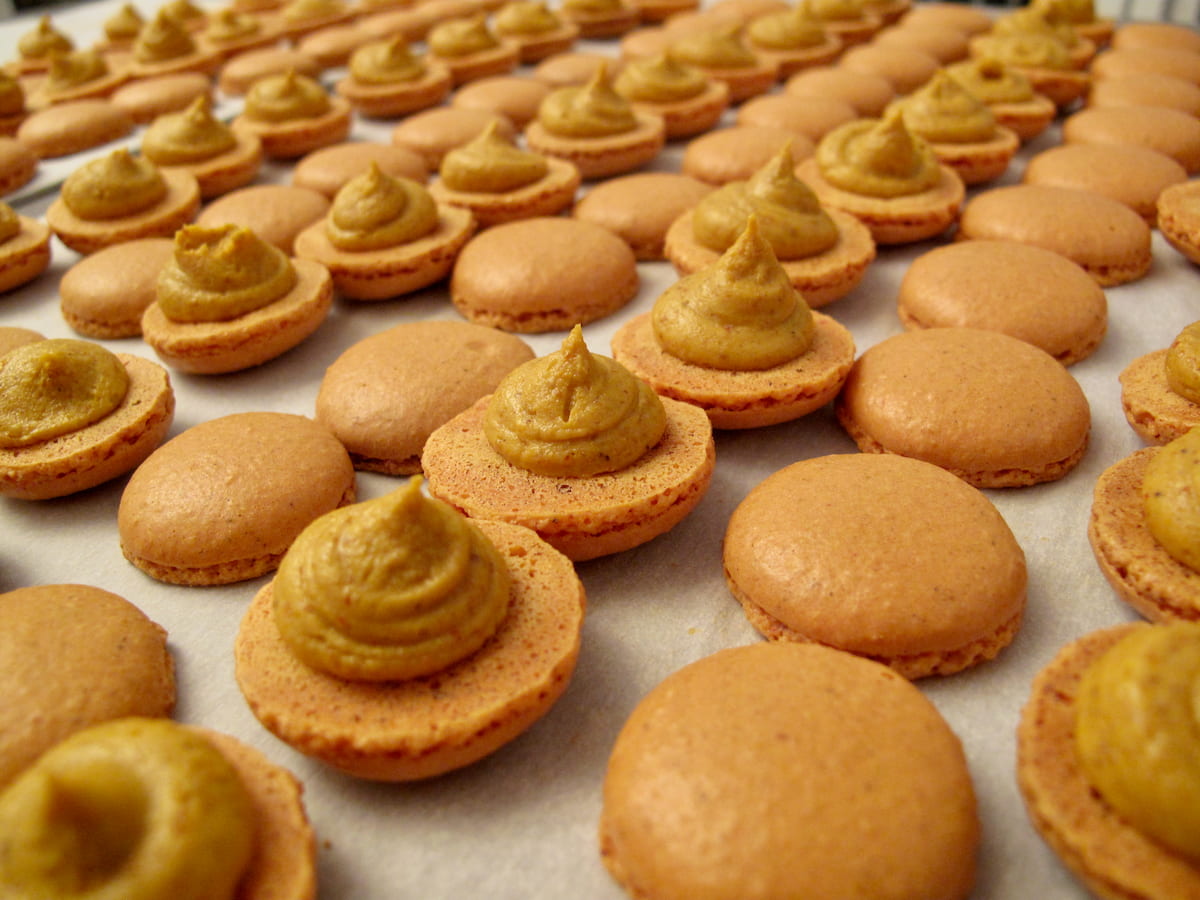 They're a spicy surprise on the side to velvety soups, like this leek, pumpkin and ginger velouté soup.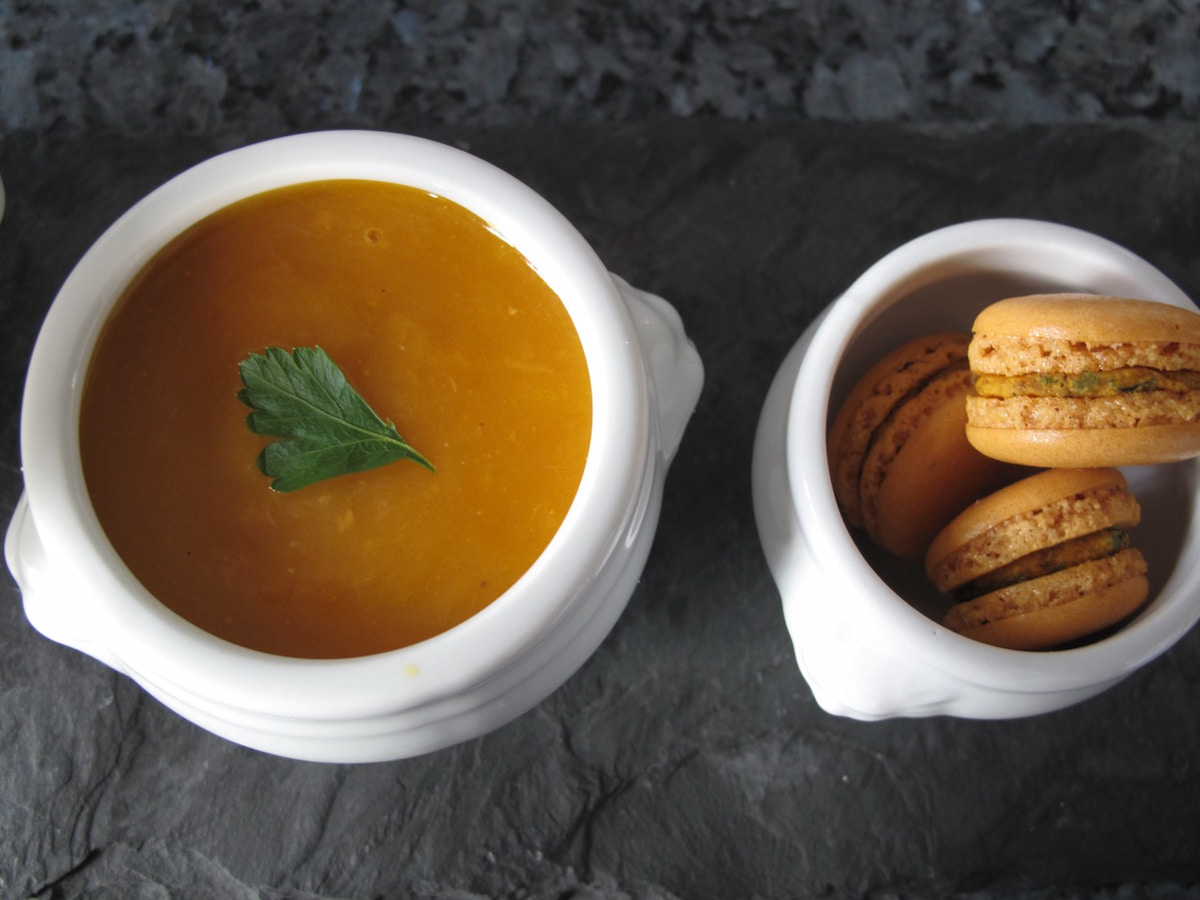 Curry Macarons with Cauliflower
Mini Tikka MacSala macarons are that delicious French touch with a cauliflower soup. Did you know that anything referred to as Dubarry in French cuisine refers to a dish made of cauliflower? This Crème Dubarry is probably the most creamy, classic French soup and was created for Madame du Barry, King Louis XV's last and favourite mistress.
For more about the romantic story, see the recipe post for this Crème Dubarry.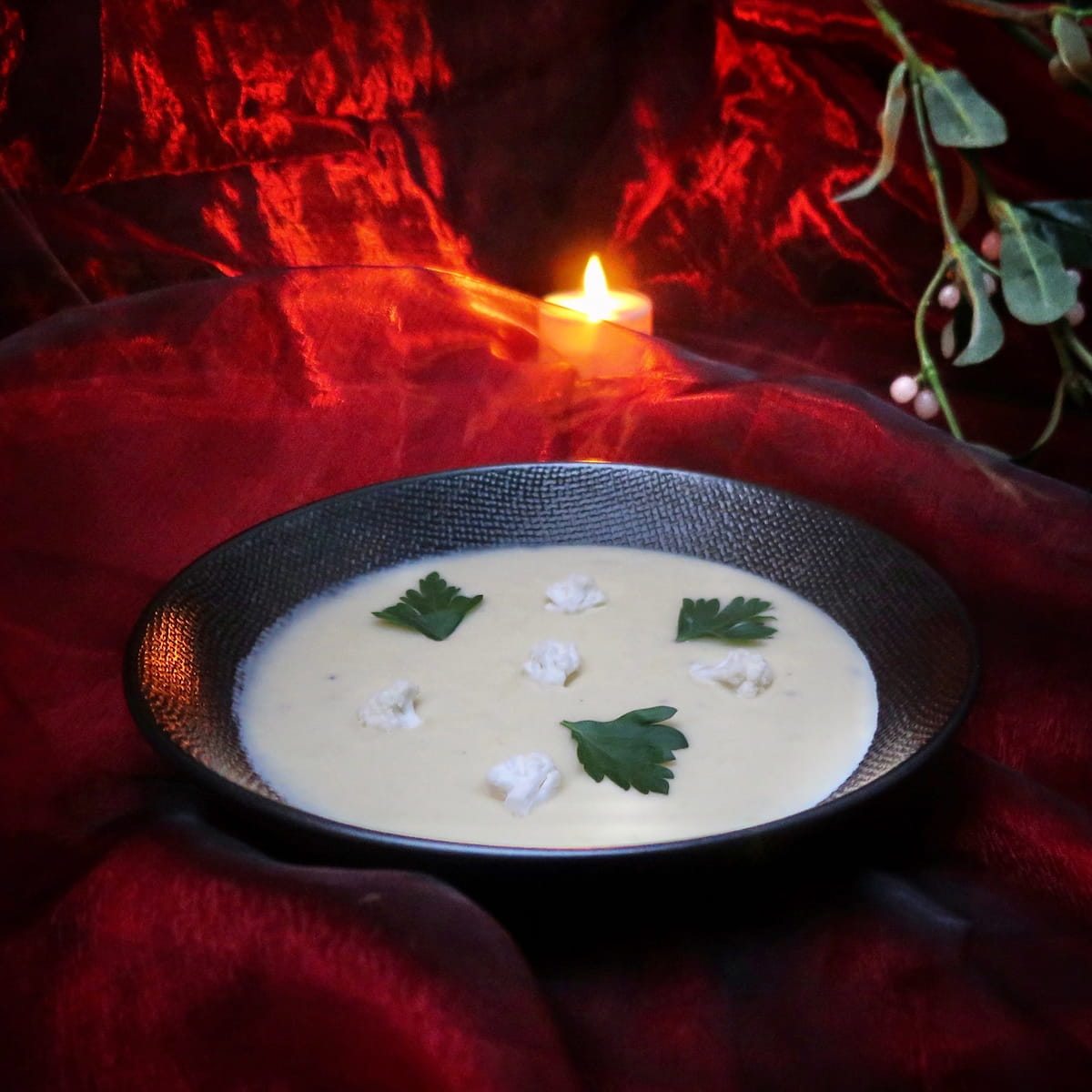 Or with an extra dose of curry, mini tikka macs are just as delicious with a Curried Cauliflower Velouté too, with a sunken, seared scallop or two…
Tikka macarons, predominantly with cumin in them for spice, also go well with this Moroccan Chicken & Prune Tagine.
Add some Extra Surprise!
Even better, I found extra mini porcelain tagine dishes in Paris that could hide a mini cumin macaron in them for that extra fun surprise at the table.
Thai Red/Green Curry Macarons
Curry fans can make it hot under the mistletoe with the mini Thai curry macarons. Make them red or green, depending on your mood with a hint of coconut. Again, great with a Gin & Tonic but try them with food to get the party well and truly started.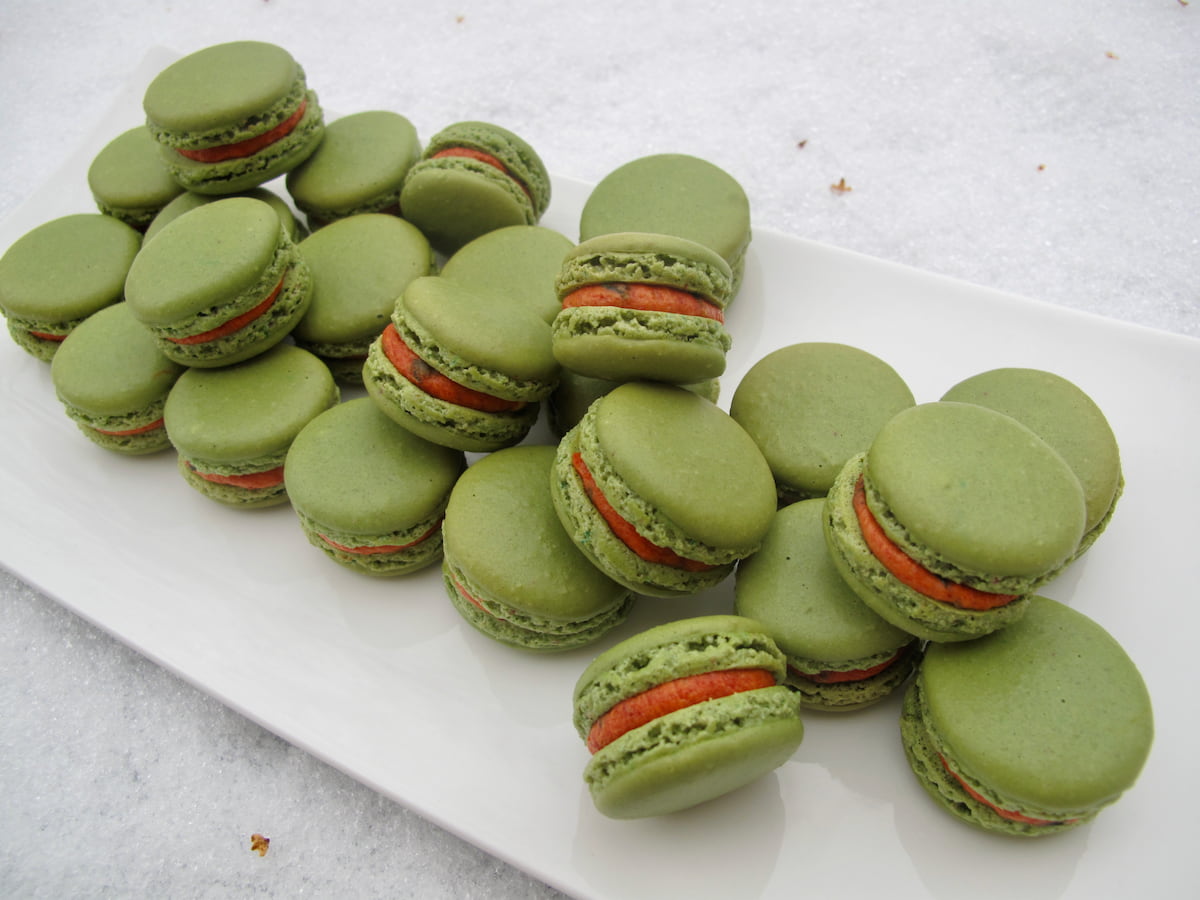 Ever played a blind-tasting game with your dinner guests or family? They'll love this one: try this Arugula or Rocket Soup with Smoked Garlic. Can't find smoked garlic? Just replace with smoked paprika.  It's incredible how rocket can taste so delicious in a soup – and add a Thai mini curry macaron and we're talking HOT!
Garden Herb Macarons
Inspiration for this warming French watercress soup (soupe au cresson) came after a trip to the beautiful watercress beds in Normandy. Serve with garden herb macarons (recipe on page 97 of the book).
Or surprise your guests with mini herb macarons as a side to this cherry tomato, wild strawberry and rocket salad, peut-être? It's perfect for those of you lucky sun-kissed macaronivores in the Southern Hemisphere.
Bloody Mary Macarons (for Adults Only!)
Moreover, serve the above salad with a Bloody Mary macaron for a surprise with a slightly bigger punch (although please do ensure that you inform guests that there is a touch of vodka in them). Vodka lovers will adore the delicious surprise element, having these served as an apéritif.
Why not serve a few mini Bloody Mary Macarons with these roasted tomato & mozzarella bites? They're ideal as nibbles in the winter, when tomatoes are not usually as tasty out of season. So roasting them slightly in this way concentrates their flavour.
Intersperse Bloody Mary macs on sticks with these party toffee cherry tomatoes – great fun!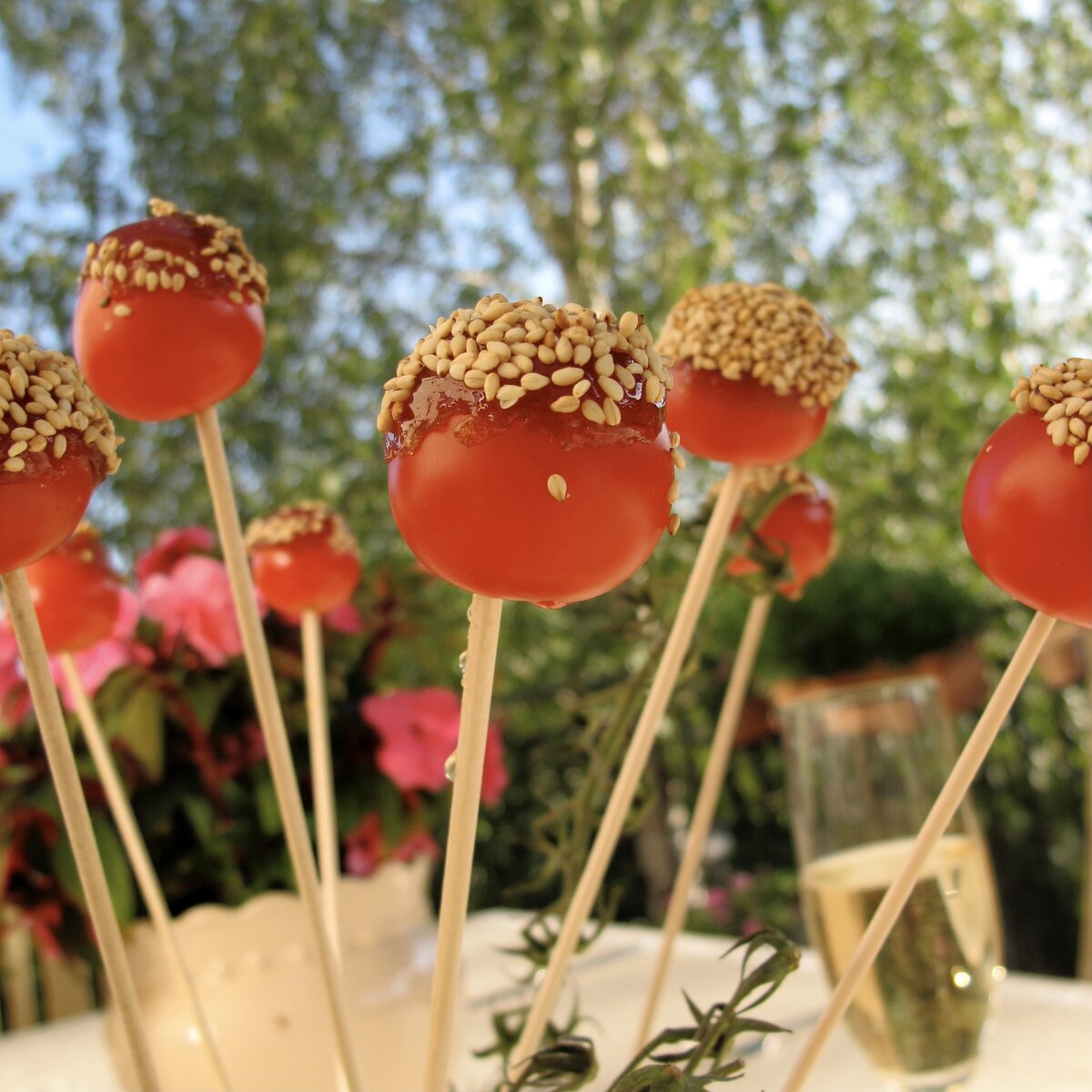 We're back to that warming bowl of soup again, though. Serve Bloody Mary Macarons with a smooth  Sweetcorn & Red Pepper Chowder. In fact, most of the savoury macarons in my book goes with this, as a touch of spice is sensational wrapped up in a tiny, chic Parisian macaron.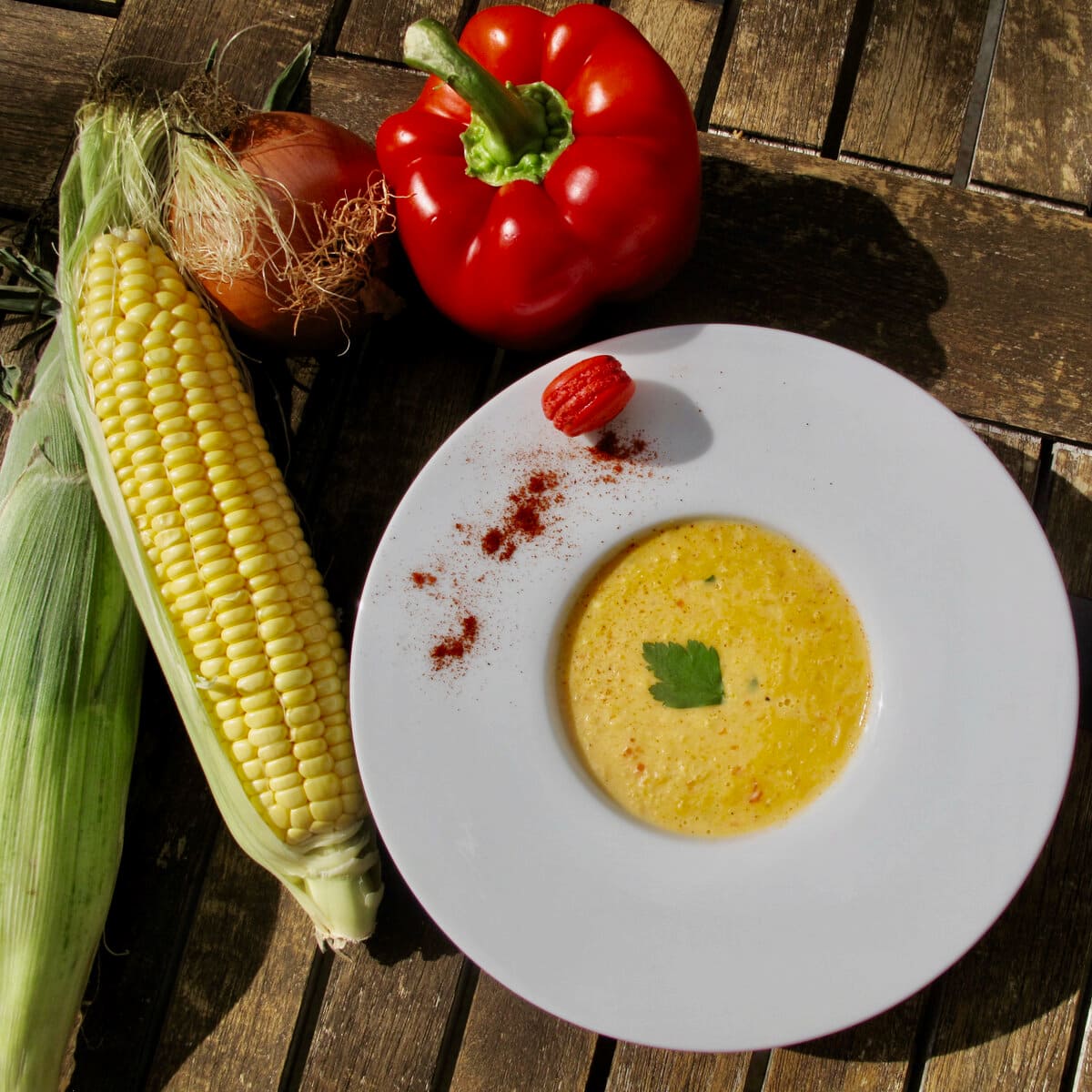 Savoury Macarons: The Recipes
All of the above mentioned savoury macarons are in their very own Mad Macs Chapter in my first book, Mad About Macarons.
They're not just fun but utterly delicious and add a fun side to the festive table or special occasions at any time of year.
Traditional Parisian Macarons
Not ready to make the plunge to savoury macarons? Then I still have plenty of sweet macaron recipes to choose from! As you can understand, for copyright reasons with my publisher, the macaron recipes are not here on le blog but you'll find all the recipes, tips and more in both my books, Mad About Macarons and Teatime in Paris.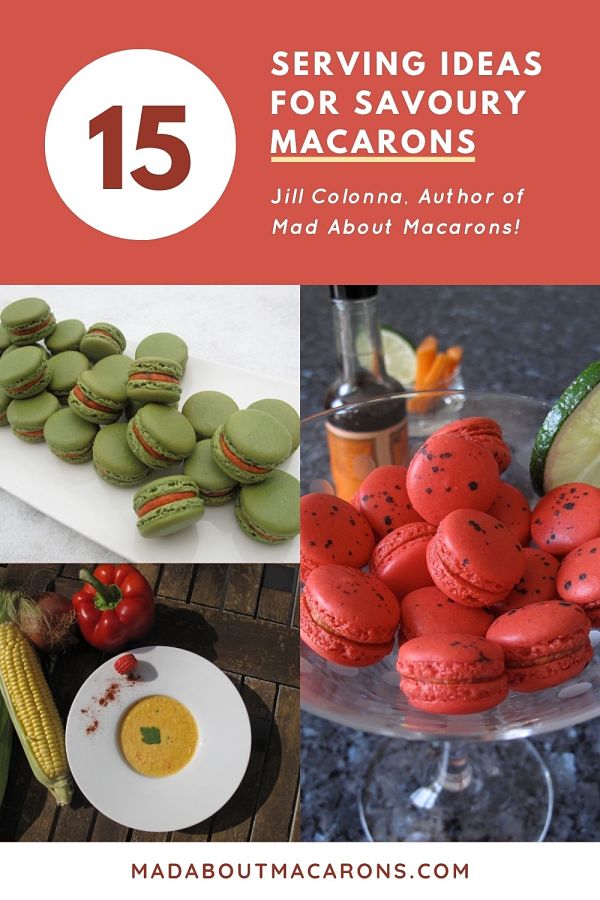 This post was originally published on 20 December 2013, but is now updated to include many more recipe links since this was posted.